Update: 'The building was swaying'; 5.1 magnitude earthquake rattles nerves in Bay Area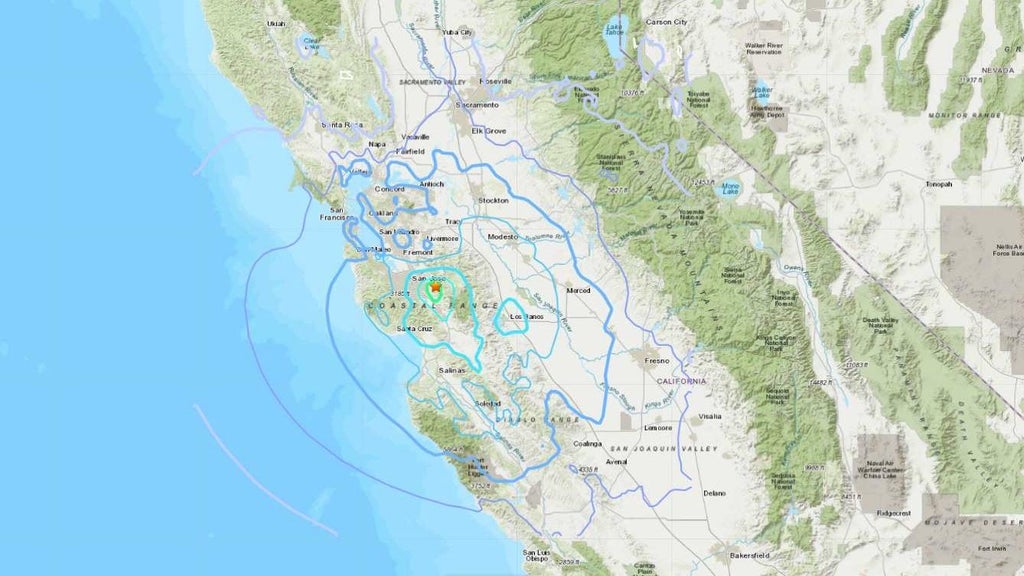 SAN JOSE — A magnitude 5.1 earthquake quickly followed by a 3.1 aftershock struck the South Bay late Tuesday morning, rattling windows, shelves and nerves across the Bay Area.
According to the U.S. Geological Survey, the initial temblor struck at 11:42 a.m. with an epicenter near Mt. Hamilton along the Calaveras Fault with a second jolt at 11:46 a.m.
It was the largest earthquake in the Bay Area since a magnitude 6.0 jolt in the Napa wine country in 2014. It was also the largest quake on the northern end of the central segment of the Calaveras Fault since a 5.4-magnitude quake in 2007.
The earth continued to rumble later in the day. A 3.5 aftershock rattled the region at 3:08 p.m. and a magnitude 2.8 temblor at 5:20 p.m.
Dr. Annemarie Baltay from the USGS said the Calaveras Fault system is very seismically active.
"Numerous moderate earthquakes have happened in the area including the 6.2 magnitude Morgan Hill earthquake in 1984," she said.
According to the USGS forecast, there is a 2% chance of one or more aftershocks that are larger than magnitude 5, which can be damaging, within the next week.
There will likely be smaller aftershocks within the next week, with up to 11 magnitude-3 or higher aftershocks. Magnitude 3 and higher aftershocks are large enough to be felt nearby.
"One of the reasons why we felt the earthquake so strongly even though it was a 5.1 is that it was a shallow earthquake," Kimberly Blisniak of the San Jose State geology department said.
Many people also received advanced notification seconds before the quake happened via the MyShake smartphone app developed at the University of California at Berkeley, according to the Governor's Office of Emergency Services.
Even though the quake was widely felt across the Bay Area, there were no immediate reports of damage or injuries.
"SJFD has received no emergency calls related to this morning's #earthquake," San Jose Fire officials posted.
ALSO READ:
Meanwhile, PG&E officials said they checked out their equipment and found no signs of damage.
"We have evaluated the impact to our gas and electric facilities due to the earthquake and have found no damage to our assets," officials said. "We remain vigilant and will continue to monitor our operations to ensure safe and reliable delivery of gas and electric service to our customers."
BART service was halted for several minutes followed by inspections of the system. Passengers were advised there would be major delays as crews performed safety procedures.
VTA and Caltrain also announced delays to conduct safety inspections of their systems.
Thousand of residents from Napa to Walnut Creek to San Francisco to San Jose felt the initial jolt.
Mama Double-U took to Twitter to post: "The dog and I are still under the kitchen table. Very strong in San Jose."
People across the Bay Area reported feeling the earthquake, with many describing the feeling as a rolling motion more than a jolt.
In San Jose, many people said this quake was the strongest they've felt in a long time.
"I thought someone was driving by with loud music, then I thought maybe it's a big plane going overhead," said Nikki Edwards, who lives in San Jose's Rose Garden neighborhood. "I got up and looked around and then I felt the house shaking and I said OK, this is a major earthquake, but I don't know how major. You know where we live."
"It didn't scare me because it didn't last very long," said resident Patsy Paul, whose family members are no strangers to big earthquakes. They lost their home in the Santa Cruz mountains during the 1989 Loma Prieta earthquake when their two-story house slid 15 feet off its foundation. It was something she immediately thought of when she felt Tuesday's quake.
"I remember it. It was October 17th, yes!" said Paul. "And here we are again!"
Chris Alexander was in his office on the 16th floor of San Jose's City Hall when he felt the quake.
"The building was swaying, like you could feel it rocking back and forth and so it didn't take more than a second to know that it was an earthquake," he said.
"Since I just moved to California maybe 8 months ago, this was actually my second earthquake. And so it literally had everything shaking, I was watching the windows shake, it kinda of spooked me just a little bit but not too bad," said Keith Arceneaux.
"We were upstairs on the second floor, the whole thing just started shaking, and I thought oh my god we're having an earthquake… cause the last one that we were in that felt that strong was like Loma Prieta," said Fran Friedman.
"I was in my anatomy class when that happened, and we didn't do the duck and cover thing. But my teaacher kind of stopped teaching, while it was going on, and it was a little rumble, it was honestly the first earthquake I ever felt, and it was kind of cool," said Mateo Porta of San Jose.
San Jose police and fire departments said they did not receive any reports of major damage or injuries.
Meanwhile, Paula Ellis felt it in Monterey and Bev Thompson posted it was a sharp jolt in Santa Clara.
Tracy in Santa Cruz posted — "Felt it in Santa Cruz near hospital. Long rumble then strong shake. My fish were rocking!"
In San Francisco, ValerieGuillardHeinn posted that her home swayed during the quake — "Roller here in San Francisco"
When the paper decorations starting moving, San Francisco teacher Peter Lomba knew he was in for another earthquake.
"It started really shaking, and then I kind of felt it on the ground, it was more wobbly. Then the last one, there was a smaller earthquake a few weeks ago that you could hear the papers but not really feel it, so once it started shaking the floor, we really knew it was an earthquake," said Lomba.
He was alone in the classroom at the Stratford School in Ingleside.
"And then I kind of ran acrosss the hallway to check on another class, to see if i don't know if i was kind of crazy or if i had imagined it for something," said Lomba. "And they were all underneath their desks, holding on like we had just done an earthquake drill last week for the great shakeout."
"And then there were also students who didn't feel it at all, I think kids were outside or in the gym, they had no idea," added Lomba.
It shook up Sea Queen who lives in the Santa Cruz Mountains.
"Boulder Creek," she posted. "More of a shaker than a roller for me. Rattled windows an bottles but that's all. Well, rattled me too, but it's leftover PTSD from 89. Got a quake alert on my phone!"
Peter Swearengen posted in San Francisco — "Bouncy in SF. Like the house was on a trampoline."
For Norma Orozco, the rocking grew in intensity.
"Felt is for few in Emeryville. Felt like Big truck going by at first," she posted. "Then, it started shaking quiet a bit."
Nearly 100,000 people reported receiving a warning before the shaking started through California's earthquake early warning system, according to the California Governor's Office of Emergency Services, or Cal OES.
"Advance notice varied from two seconds for those very near the epicenter to 18 seconds for those in San Francisco," the agency said.
MyShake, a statewide cellphone app that went live to the general public in late 2019, relies on an earthquake detection and notification system developed by the U.S. Geological Survey and partners.