This Creative Director's Istanbul Home is A Collector's Dream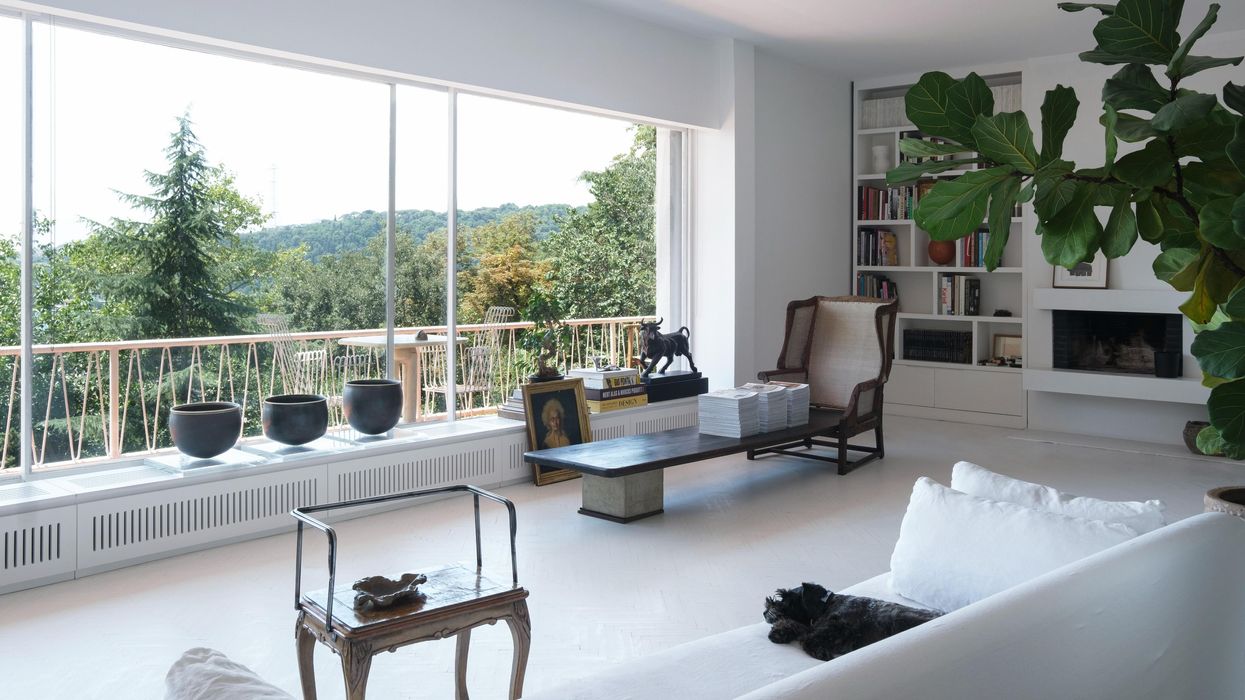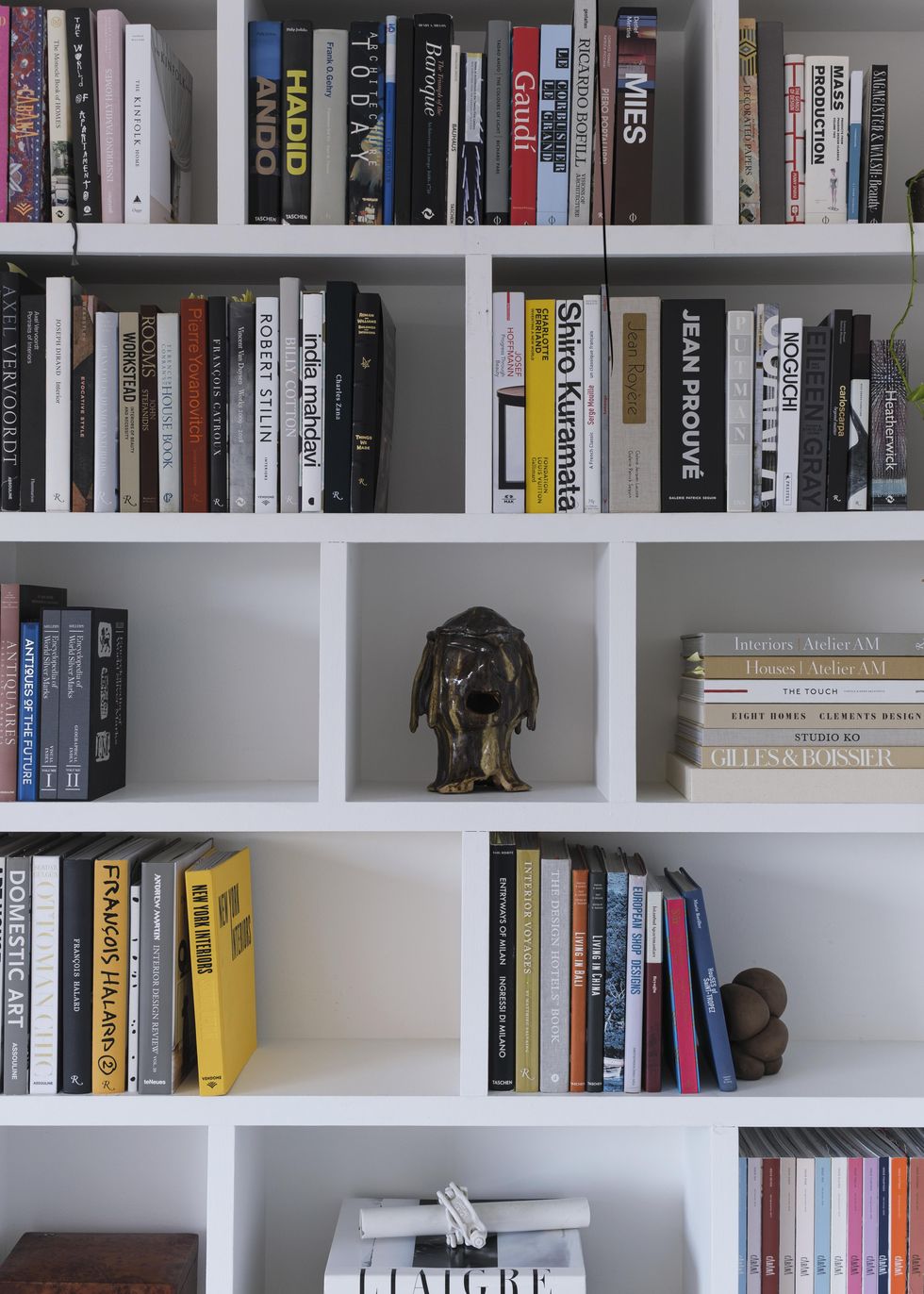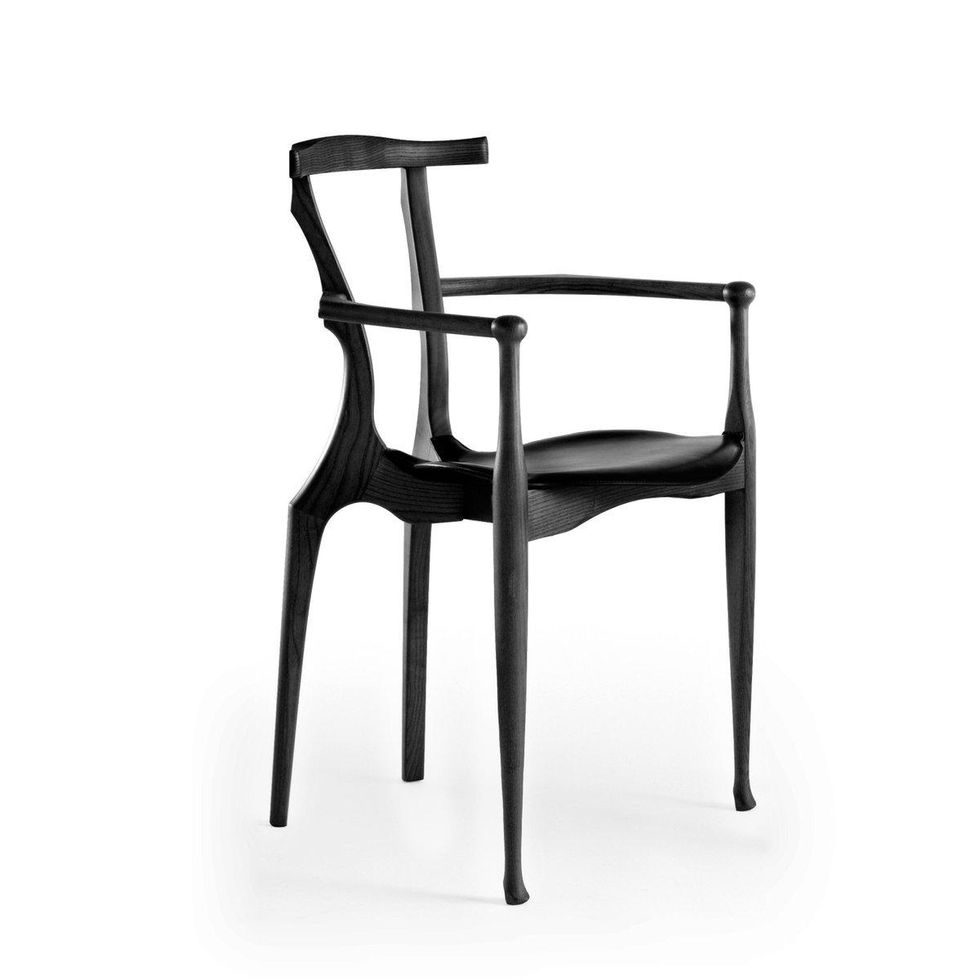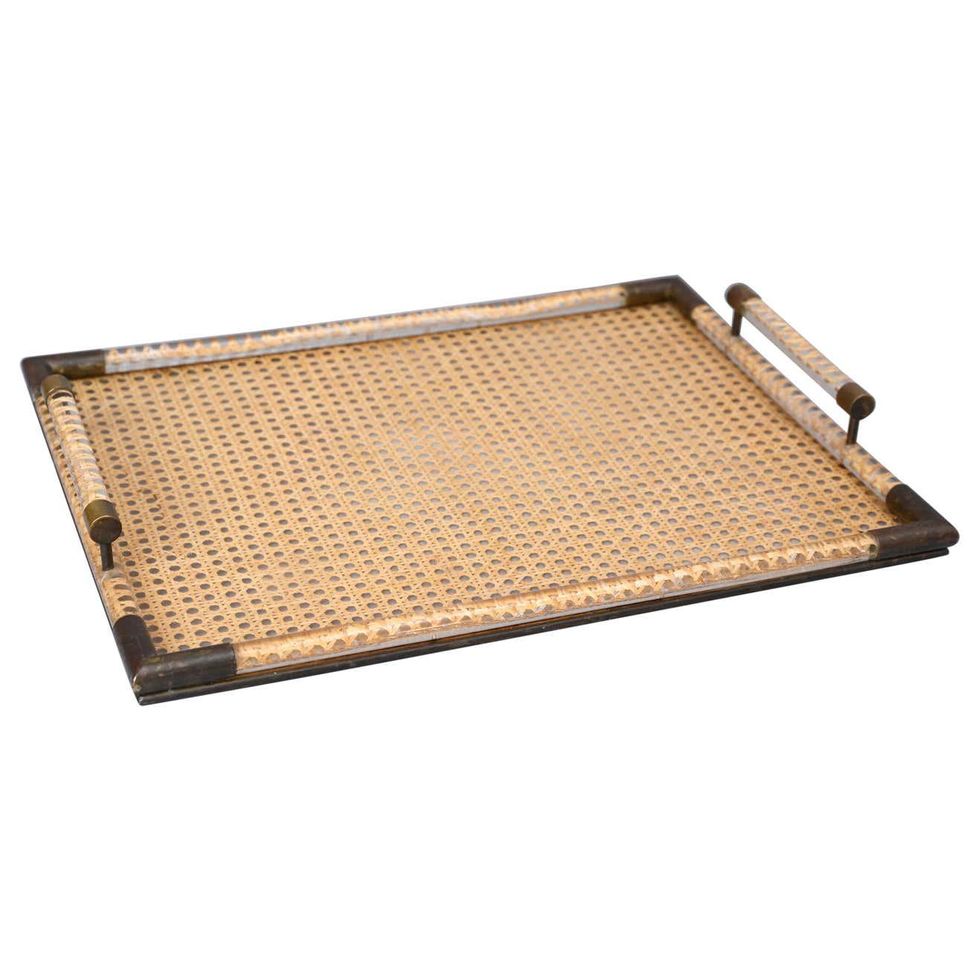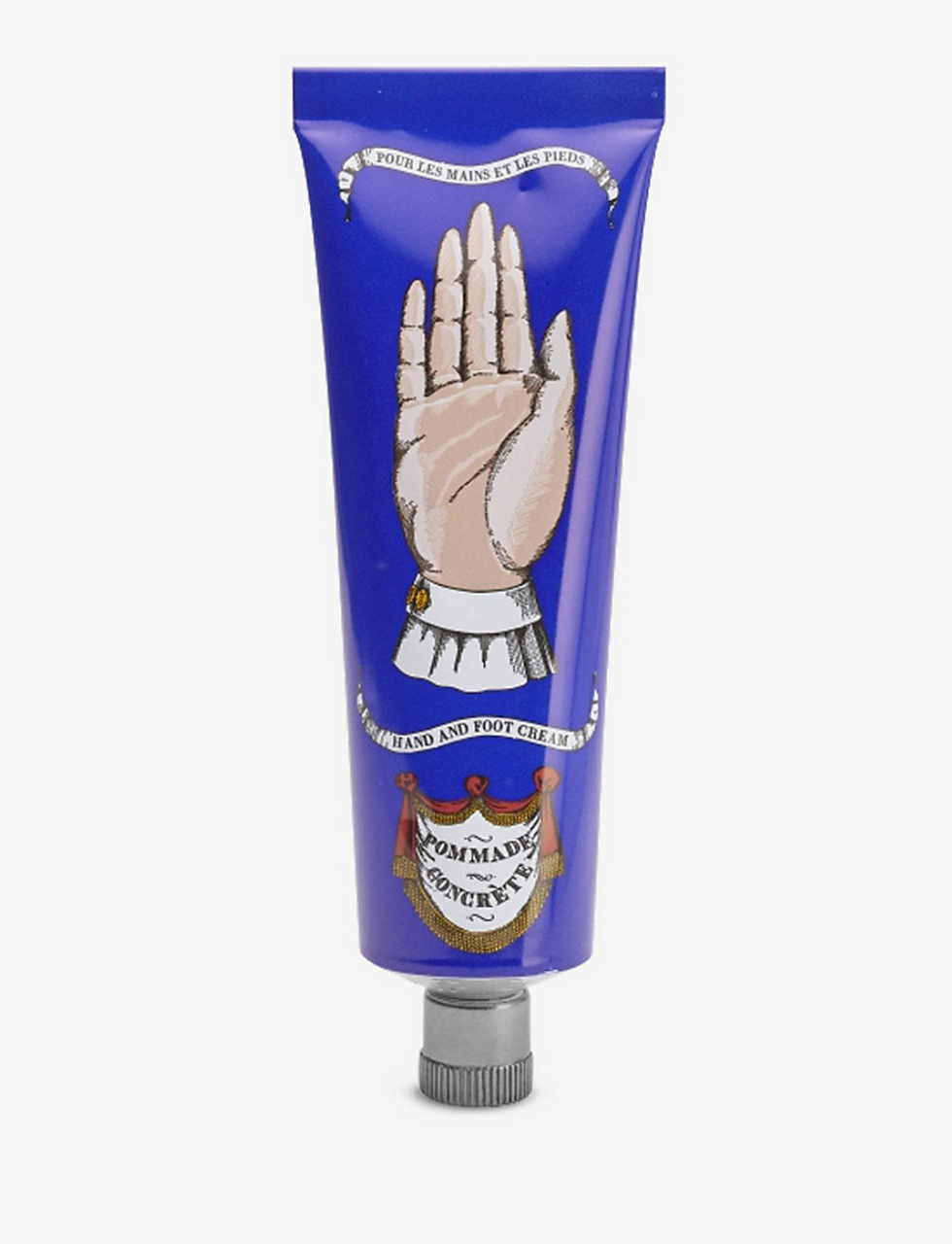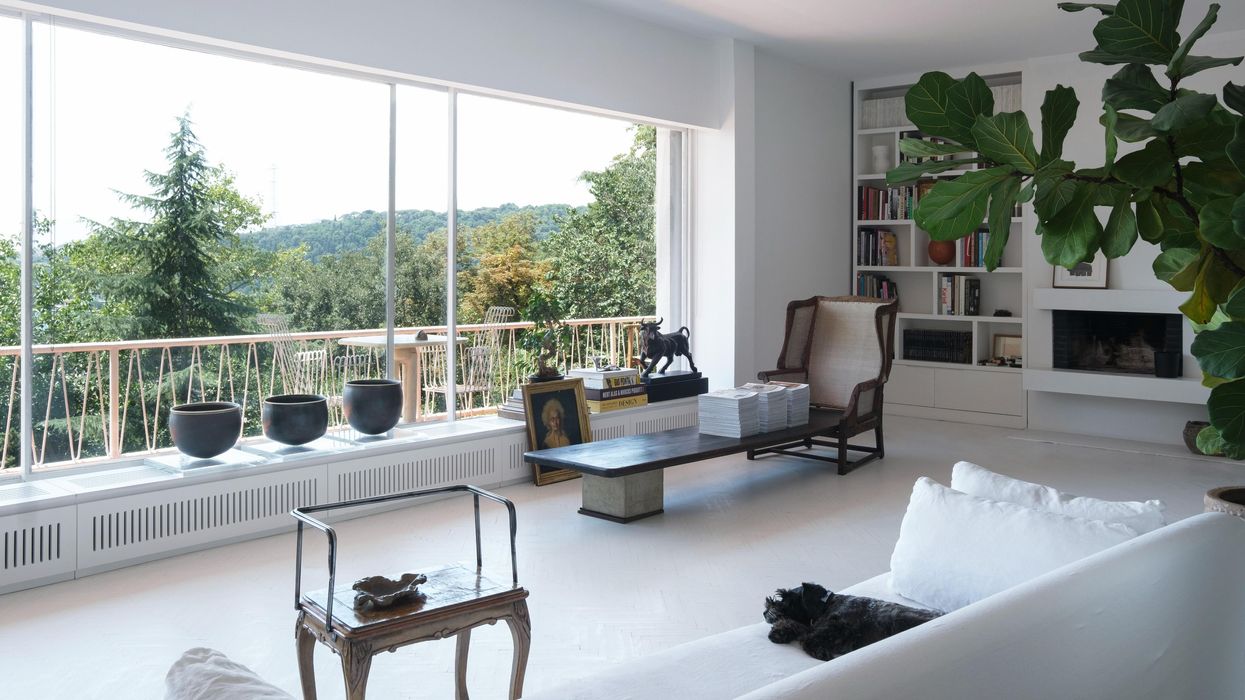 "Just a second," Enis Karavil calls out as he darts off screen, returning with a handful of antique rulers. Some are wooden, some chrome, one even unfolds in his hands. "I have maybe 50 of them." Later in the interview, he pauses to lean the laptop towards a chrome set of ultra slim drawers, each containing stacks of magazine tear-outs. "My Pinterest," he laughs. The SANAYI313 creative director is a collector bred from a family of collectors, namely an antique-minded grandmother. His spoils range from rulers, magazines, and teapots to art, furniture, and decorative objects. "I believe when you collect the same things but different versions from different years, you see what changes about that product or object over time," Karavil explains. Once he has enough variety across appearances, eras, and makers, the collection is ready for display. The likes of which he exhibits in his Istanbul home.
The home itself is extremely minimal, full of clean, white lines. Huge windows line the living room—"I don't watch TV; I prefer to watch the view." A white linen couch essentially fades into the background. The items he's added to this empty box are typically black, white, silver, or gold and they likely won't stay put for long. The designer admittedly bores easily. At this moment, a winged bench by James Plum rests as a focal point in the center of the room. Oliver Gustav chairs sit as if in conversation in front of a painting. "I believe in minimal stuff with maximal details," is how he describes his furniture and decor. Nestled about are stacks of books and magazines, sculptures resting in the middle of the floor, paintings resting precariously against the wall.
If the design is austere, the artwork is haunting. Two eyes gaze eerily out over the dining room table from a wizened face the size of a small human (a work of art by Vasilis Poulios that reminds the owner of his grandmother). Next to that, hang suspended birds by Mathieu Miljavac which Karavil commissioned. "I like things to be a bit disturbing, somehow." But not everything is that harsh. Karavil infuses greenery and wood (in the form of a large fiddle leaf fig and an antique French dining table, respectively) to quell the severity. And despite this sense of curation in lieu of decoration, "the house is not museum." The interior architect and designer is not precious with his objects—no matter how old or odd.
Whether it's a Gaulino chair or candle holders sourced from a flea market, color is a rarity in the space. It can, however, be found in his assemblage of books and in one singular painting by Ammon Rost in his bedroom. A creative, he seeks out this desaturation. Karavil dresses in head-to-toe black but he sleeps in white. His correspondingly all-white bed is on the floor so he can't see a thing when he sleeps. But, he assures me, his dreams are all in color.
"I like empty space—so you leave room for your future memories and future purchases. And I don't like perfection even though at work, I'm a perfectionist. I think imperfection gives you peace and a bit of relaxation at home. Once you hang something, you can't change it as easily. So I just prefer to leave it on the floor."
"I was looking for a dining table for so long. My friends were like, 'You're an architect, you're interior designer, you have to have a dining table,' but I was like, 'the dining table will find me.' I went to the old palace in Turkey, owned by an antique shop owner. So I saw this table that the owner was throwing away. So I was like, 'just give it to me.' She bought it from the south of France a long time ago. The space is white metal, black, and white. So I like a bit of oak wood there to give it some nice warmth. It creates a variety of materials there."
"My books are colorful but my art is usually black and white±except this Amon piece. When I like something colorful, I always think, "Am I going to be able to integrate it with my collection?" I couldn't hang this Amon piece to the living room because I don't think it speaks up with the rest of the room. But I think in the bedroom, it gives a nice vibe. It's my job to create spaces and create places for people but I like to be as simple as possible with myself. [Other than that artwork] my bedroom's completely white—and I always sleep with white clothes. Since my bed is on the floor, I don't see anything when I sleep. When I'm dreaming, [I see] colors."
"I like the look of stainless steel a lot. I think it goes nicely with anything. You can pair it with wood or something with antique, shiny, matte, anything. I like professional-looking kitchens, even though I'm a very bad cook. So I like that stainless steel feel because it gives an industrial look to a kitchen. It is a very important part of the house even though I don't use it that much. And then I like to add some collected items like an ice box or a little old teapot. Candles, some artwork. Here I did it again with gold and metal. And some surprising artworks. That's what I like."
"I am always changing things. I bring them to the gallery, take them to home. I believe artists and artworks and one-of-a-kind objects bring a very rare and special [element] to a place."
"I come from a family of collectors, especially my grandmother. She collected antiques and silverware. So I think that affected me while I was growing up. I started to collect magazines, because my mom was very into interior design magazines. I've been collecting since I was seven years old."
"My design is always about contrast. So if I'm using a gold old chair, I prefer [to add] something silver, shiny. I always use black, white, then a color of wood to warm it up a bit and create a contrast. Here, the artwork tones it all down but the black [lamp] gives some masculinity. I like to play around with [those elements]."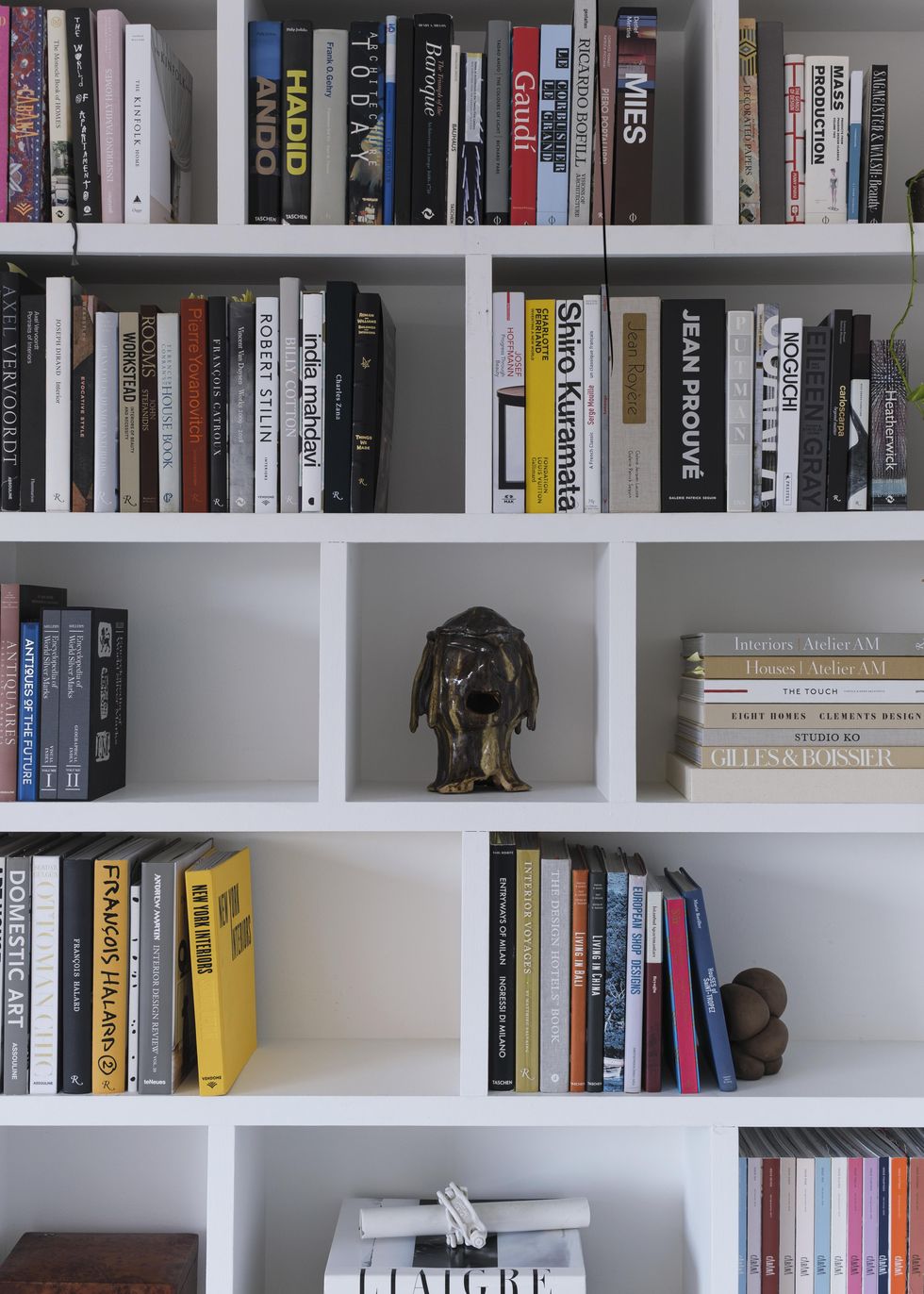 "My book collection is centered around interior design, architecture, art, some fashion. And then I have magazine collections. I have AD, Cabana, World of Interiors. This is just a portion of my book collection because I have some at the office, some at home in England."
"To be honest, the living room is dedicated to the view. I don't watch TV; I prefer to watch the view at night and look around. I don't have much lighting at home. I prefer low lights and darkish interiors—even though it's white. I have those two little black chairs, which I bought from Oliver Gustav in New York when they were at a store in 11 Howard Hotel. I saw the pieces and I fell in love. I bought them, but I was living in a different apartment three years ago so I didn't use them. Even things you fall in love with have to find the right spot for themselves. So I curate, basically."
"I have many little pretty things. I like little wooden boxes and [display] them. I'm obsessed with Buly products because I love that they're bringing back old things into our modern world. At the same time, [the space] very clean because I like to show what's there and I wanted to see this art piece on the wall because I think it shows a lady that with kgs on top like this she's having… Something is very heavy for her or she has a problem. So I like to see that from the reflection of the mirror. I think it's cool and I think because the bathroom is very clean cut, I think it puts the artwork in front."
Shop the Story:
Ghost Sofa
Price Upon Request
1 Arm Standing Lamp
Chair
10313
Price Upon Request
Fledermaus Chairs and Table
Gaulino Chair Set of 8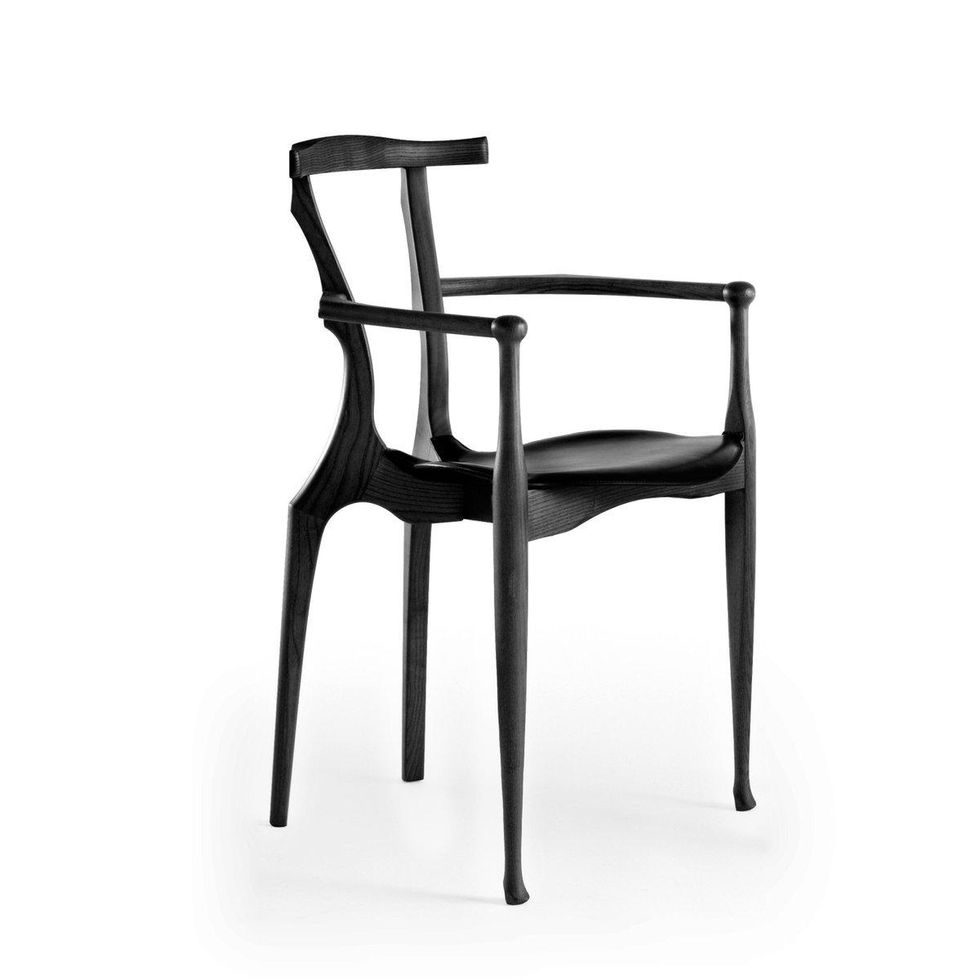 Acrylic and Vienna Straw Tray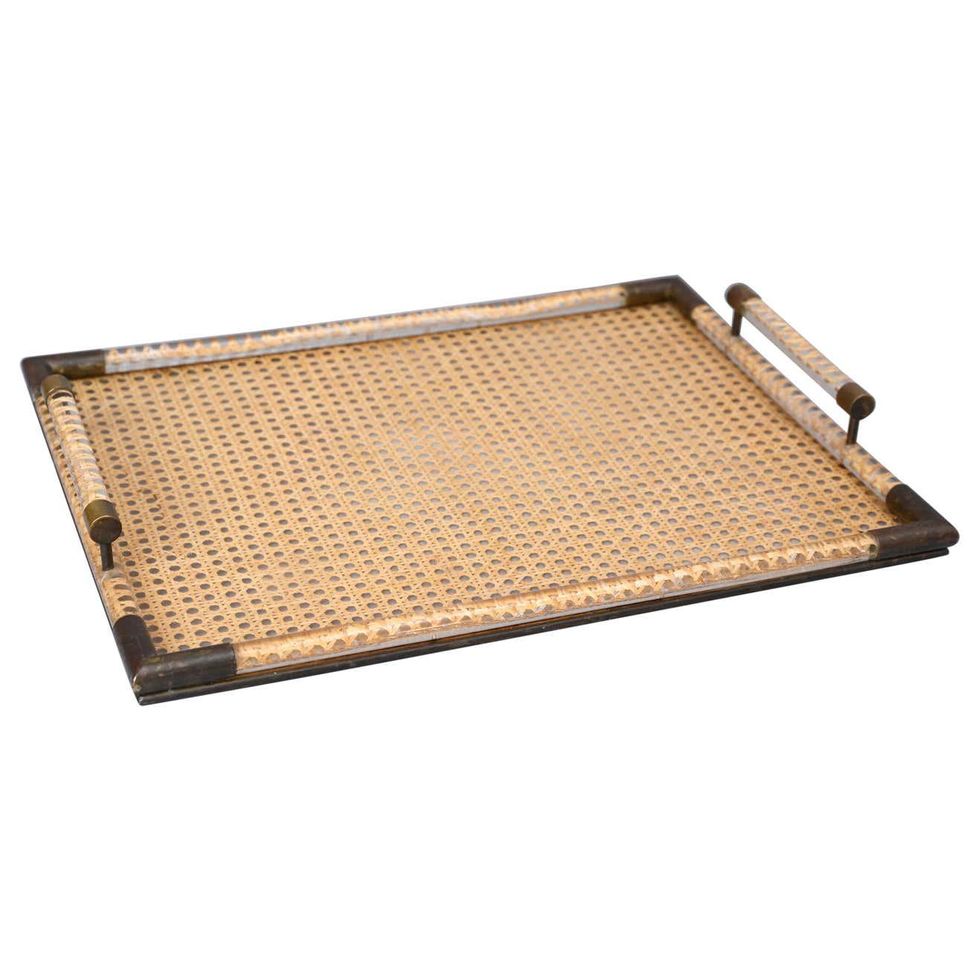 Art Deco 1930 Teapot
Pommade Concrete Hand and Foot Cream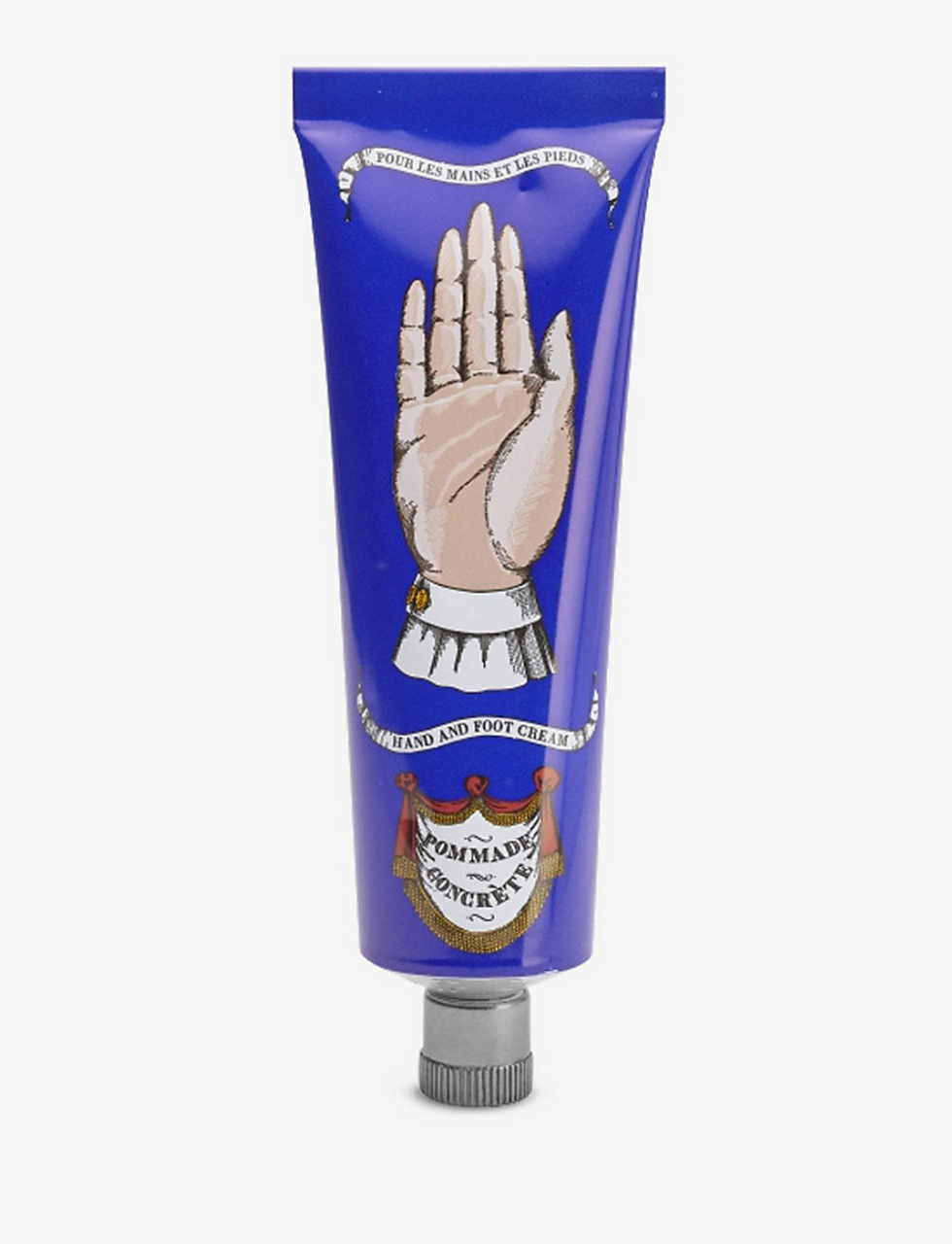 Want more stories like this?
A Chicago Apartment That Celebrates the Mix of High & Low
This London Flat Is A Treasure of the World's Aesthetic Wonders
A Live-In Art Studio Where Quirky Shapes Reign Supreme