Suni Lee Has Used This Cult-Favorite Sunscreen Every Day Since The Olympics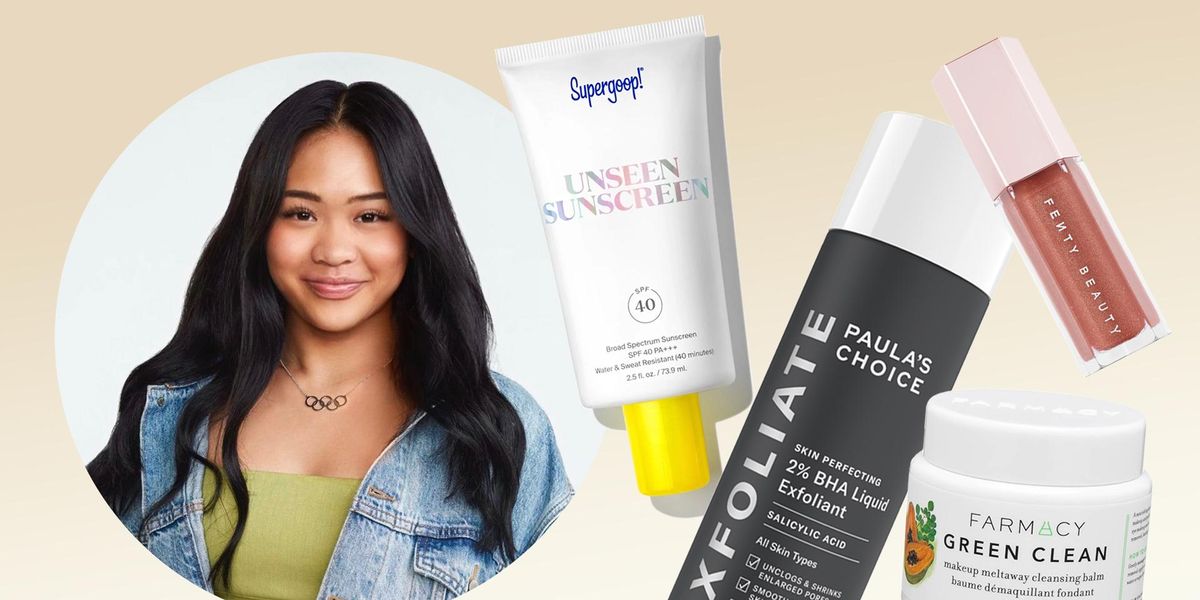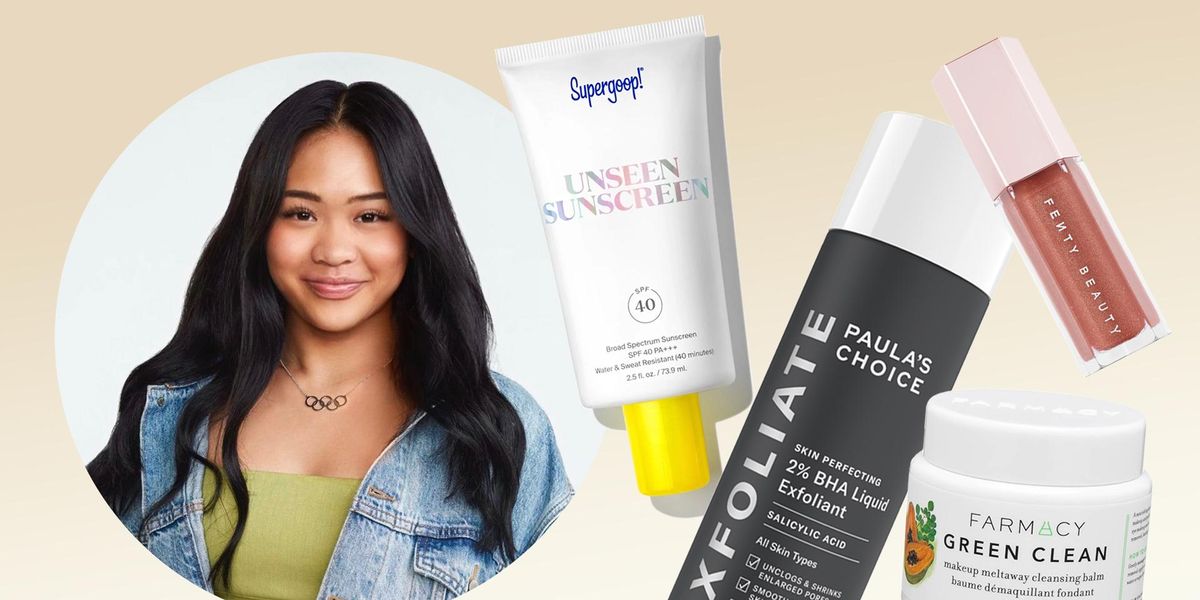 Welcome to I Swear By This, an interview series where we chat with our favorite fashion and beauty insiders about the beauty products they use down to the last drop. This week, we asked Olympic gold medalist Suni Lee to share all of the beauty essentials she swears by on her college campus and on the floor at meets.
Suni Lee's gold medal moment at last summer's Olympics was nothing short of iconic. As she cemented herself as one of the country's foremost gymnasts, she also established herself as a burgeoning beauty star. Between her braided updo, her fluttery lashes, and her Olympic-themed nail art, we were checking out more than her hardware when she took home gold for women's all-around.
"When I'm competing I'm usually focusing on my routine, but the makeup look is definitely something I like to have fun with before meets," she tells Coveteur. "I do like to get hype before my meets, so I like to do my makeup while I listen to music really loudly. It makes it so much more fun and adds a little bit of oomph." Though she typically sticks to neutral tones, matching her shadow to her leotards is a way that she likes to make her looks pop. "I like to just make sure that I feel good when I go out there. When you look good, you feel good and when you feel good, you compete well—that's what helps me get through all of my meets."
And though it took a lifetime of prep to bring her to that moment at the Olympics, a secret weapon in her road to gold is her skincare routine. Early on in my chat with the 19-year-old Team USA gymnast and Dancing With the Stars alum, she made the case for a skincare routine as a legitimate means of athletic prep—while she gets hyped up from doing her makeup, her skincare routine calms her down. It lulls her to sleep, she says, which is essential for recovery. "It's so relaxing to me. Of course, I do it before I go to bed and I just love feeling good before I go to bed because I know I'm going to sleep really well," she explains. "That's also really important for my recovery because I'm an athlete and I'm practicing a lot, so to get the rest that I need is important."
Since her smile is seen by so many, both online and on the floor, her Invisalign Aligners have become an indispensable part of her getting ready routine. "It's important to me to have a nice smile and my Invisalign Aligners have really helped me to do that," she admits. "Invisalign Aligners have also been a really great thing to happen to me because I don't have to make as many trips to the dentist—I can always bring them where I want to go. It's been perfect." Now, as she kicks off her sophomore year at Auburn University, where she'll be the first Olympic all-around champ to compete in college league gymnastics, she's partnering with Invisalign to keep her smile in top shape.
Though she admits she doesn't wear makeup to class every day ("I have practice, so I'm going to end up sweating it off anyways," she admits), ahead, Lee shares her must-have beauty essentials.
Aligners
"I recently switched from braces to Invisalign and it's been such an amazing boost in my confidence. I'm constantly on the go while I'm at school so having steps in my routine that are hassle and drama-free is essential. A big bonus for me is that my Invisalign Aligners have fewer emergency appointments to worry about than braces do. I really don't have the time, so it's very convenient. I'm also so much more confident in my smile."
Peptide Lip Treatment
"This is so good. I have it in Salted Caramel and it's so hydrating. Plus, it's not sticky at all. Some glosses are [sticky] and I hate that. I'm absolutely obsessed with Hailey [Bieber], she's literally my favorite person ever—she's so beautiful, so nice, and so sweet so I love supporting her brand. Her and Justin [Bieber] are like, my favorite people ever."
Skin Perfecting 2% BHA Liquid Exfoliant
"This product is absolutely amazing. It saved my skin. It makes my skin feel so clean and it helps with breakouts. I'll use this when I'm toning my skin, then I'll put moisturizer on top and when I wake up in the morning, I feel like my acne scars fade a little bit. I had really bad acne but now I'm a lot more confident in my skin."
Unseen Sunscreen SPF 40 PA+++
"[Wearing sunscreen every day] is so important and I'm absolutely obsessed with this Supergoop! one. I've been using it every single day since the Olympics—after the Olympics, that's when I started transitioning into my 'Clean Girl Aesthetic'. It's so important to be sun safe because I've been going out in the sun a lot and good makeup starts with good skin. It has a really cool texture and it's very good under makeup."
Glued Spray Wax
"I use this when I compete—this is my holy grail spray. It keeps my hair in place. I've also recently been loving slick-backs because they're so easy. I've been wearing slicked-back buns and ponytails and the Got2b Glued Spray Wax is amazing for those."
Green Clean Makeup Removing Cleansing Balm
"I really like this because I can just wash it off with water. Then I use my Youth to the People Cleanser and my skin feels so clean. Depending on the day, like if I have a shoot for work or a meet, I'll wear a lot of makeup and this will melt away all of that. I absolutely love it. It makes it so much easier."
Gloss Bomb Universal Lip Luminizer
"I love this lip gloss. I also love Rihanna, she's the best. Her lip glosses are just absolutely amazing. The glossiness that my lips get from this is great. They also always feel hydrated from it, so I always keep this in my bag. I've used the red one, the clear one, I have a whole bunch and I just love them."
Pitera Facial Treatment Mask
"This SK-II Mask is so good if my skin needs some extra TLC. I like to use a jade roller over it to really press the serum from the mask into my skin. My skin feels so hydrated and clean after, it's my favorite thing ever. I'm really a mask person so I do this twice a week and it's just very relaxing. I'll do a face mask while I'm journaling and have a little spa moment."
Want more stories like this?
The Olympic Gold Medal Was Suni Lee's Biggest 2021 Plot Twist
Getting Ready with Simone Biles & Aly Raisman
7 Women Share Their Experience with Invisalign