Shopping in Capri, Italy (Where to Splurge and Where to Save)
Capri, Italy is the playground of the rich and famous. This fabled island off the Amalfi Coast has been a vacation destination for the jet set for decades, if not longer. While yachting, eating, and drinking are the past-times in Capri, the most popular sport is shopping. Designer shops line the main avenues of Capri Town. This would lead you to think that a Capri shopping spree would be limited only to the wealthy.
However, not every shop displays the same designer wares that you can find in every fashion capital of the world. There are still some local goods that are worth spending your Euros on to bring home some special Italian souvenirs from Capri. While some purchases require splurges, others have options for every visitor's budget.
My in-laws have been visiting Capri for over 30 years, and I've had the privilege of joining them on three different occasions. After spending days walking up and down the shopping streets of Capri, peeking into shops that looked like they might offer something I can afford, I came up with some recommendations on where to shop in Capri, Italy. I've focused primarily on locally-made or owned businesses that sell goods that can't be found just anywhere.

Where to Shop in Capri, Italy
There are three main shopping streets in Capri, as well as the area around the Piazzetta di Capri. The main street off the Piazzetta is Via Vittoria Emanuele. This street curves around to Via Camerelle in front of the Hotel Quisisana. This is where you will find the major designer shops. If you want things that are a little more off-the-beaten-path (read: not as expensive), head over to the narrow Via le Botteghe.
By the way, don't be surprised when you see models about town (beyond those vacationing there) from the Capri Style shop. They are showing off stylish linen outfits, which are both overpriced and beautiful. Sometimes these models will wander through restaurants at night to show off their clothes.
After shopping, be sure to stroll down Via Tragara to the scenic viewpoint at the end of this road. You can stop for a lemon granita along the way.
If you are looking for some unique Capri souvenirs beyond the designer brands, here is where you should go shopping in Capri:
Capri Watch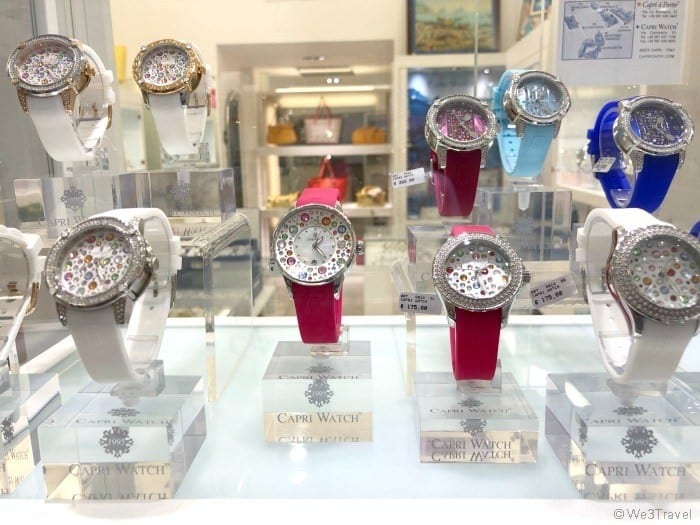 From the minute you board the funicular in Marina Grande, you are bombarded with advertisements for Capri Watch. These colorfully-jeweled watches and neoprene bags are offered at multiple namesake shops around town. Since I'm not big on bling or large watch faces, I didn't think I would find anything to suit me. Yet ever since my watch gave up the ghost, I've been searching for another. I was thrilled to find a rose-gold watch with a navy face, embellished only by a few carefully-placed jewels, and at a manageable price point.
Capri Watch is located at Via Vittorio Emanuele, 54, 80073 Capri NA, Italy
Bottega Capri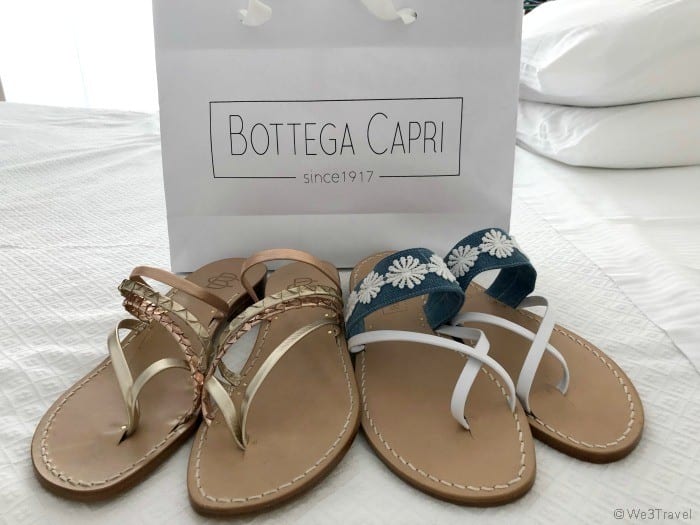 A few years ago when shopping in Positano, I had a pair of custom sandals made and they have remained a very special souvenir. I was thrilled to find Bottega Capri, a shop that also makes handmade, custom-designed sandals. They have many samples to give you ideas but you pick your heel height, leather sole color, and strap style.
You can then choose from an abundance of colorful leather straps to complete the look. They will size you and then create your custom sandals. When you come back, they will make sure the straps fit your foot perfectly and finalize the sandals on the spot. I loved so many of the styles that I bought two pairs!
Bottega Capri is located at Via le Botteghe, 21, 80073 Capri NA, Italy
Carthusia
Carthusia I Profumi di Capri offers up the scents of the herbs and flowers of the island. The perfumes, candles, soaps, and lotions will allow you to bring the fragrance of Capri home, and the gift sets make lovely gifts.
There are multiple shops in Capri and Anacapri, as well as Naples and other spots on the Amalfi Coast.
Carthusia i Profumi di Capri is located at Via Camerelle, 10, 80076 Capri NA, Italy
Alberto Guardiani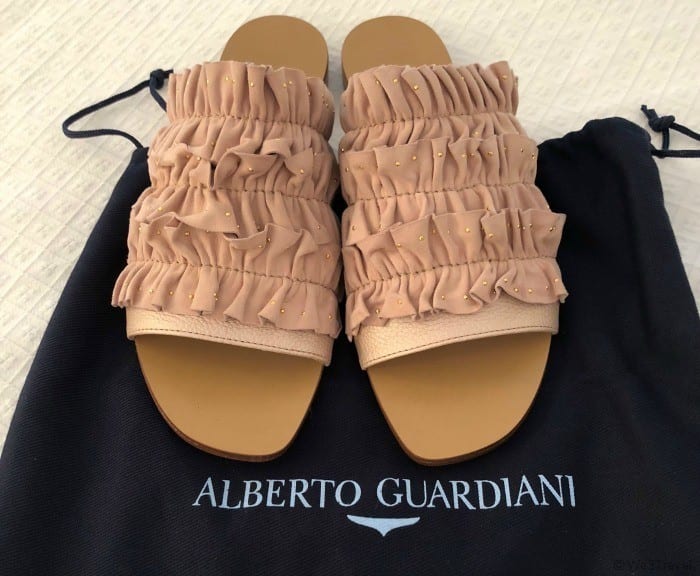 The Italians know shoes, and if you are willing to splurge a bit (but not outrageously), Alberto Guardiani should be on your Capri shopping list. My husband found a great casual shoe and loafer/driving shoe and I splurged on something a bit higher fashion than my standard fare.
Alberto Guardiani is located at Via Vittorio Emanuele, 30, 80073 Capri NA, Italy
La Campannina Gift Shop
La Campannina Restaurant is a staple in the Capri dining scene. This sphere of influence now extends to their gift shop where you can purchase everything limoncello. These make great souvenirs and gifts for those back at home.
La Campannina is located at Via Vittorio Emanuele, 18, 80073 Capri NA, Italy
Where to Shop in Positano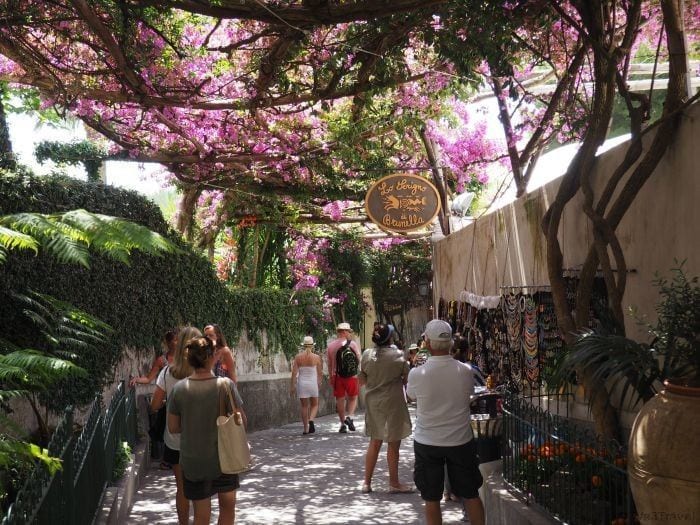 If you get a chance to take the ferry over to Positano, there are a few shops you should check out including:
Casa e Bottega offers linens and home goods at Viale Pasitea, 100, 84017 Positano SA, Italy
Boutique Luisa offers women and children's clothing at Viale Pasitea, 78, 84017 Positano SA, Italy
Nadir Positano offers moderately-priced women's clothing at Viale Pasitea, 44, 84017 Positano SA, Italy
Antica Sartoria offers beautiful, Positano-style clothing at Piazza dei Mulini, 1/3, 84017 Positano SA, Italy
Find handmade sandals at Artigianato Rallo is located at Viale Pasitea, 58, 84017 Positano SA, Italy
Where to Stay in Capri
We have always enjoyed staying a bit out of the tourist fray at both Hotel La Scalinatella or Casa Morgano (these hotels have the same owners and are next door to each other.) Both are five-star properties with exceptional service, views, and food. However, only Casa Morgano allows children.
PIN THIS FOR LATER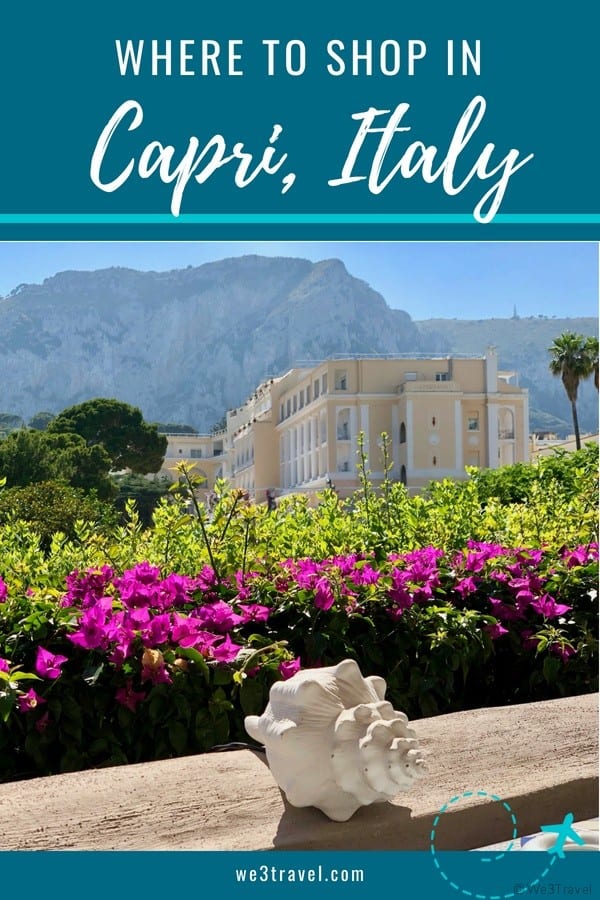 SaveSaveSaveSaveSaveSaveSaveSaveSaveSaveSaveSaveSaveSaveSaveSaveSaveSaveSaveSave
The post Shopping in Capri, Italy (Where to Splurge and Where to Save) appeared first on We3Travel.