Quick Points: Reserve premium economy seats for the price of a coach seat on select wide-body domestic routes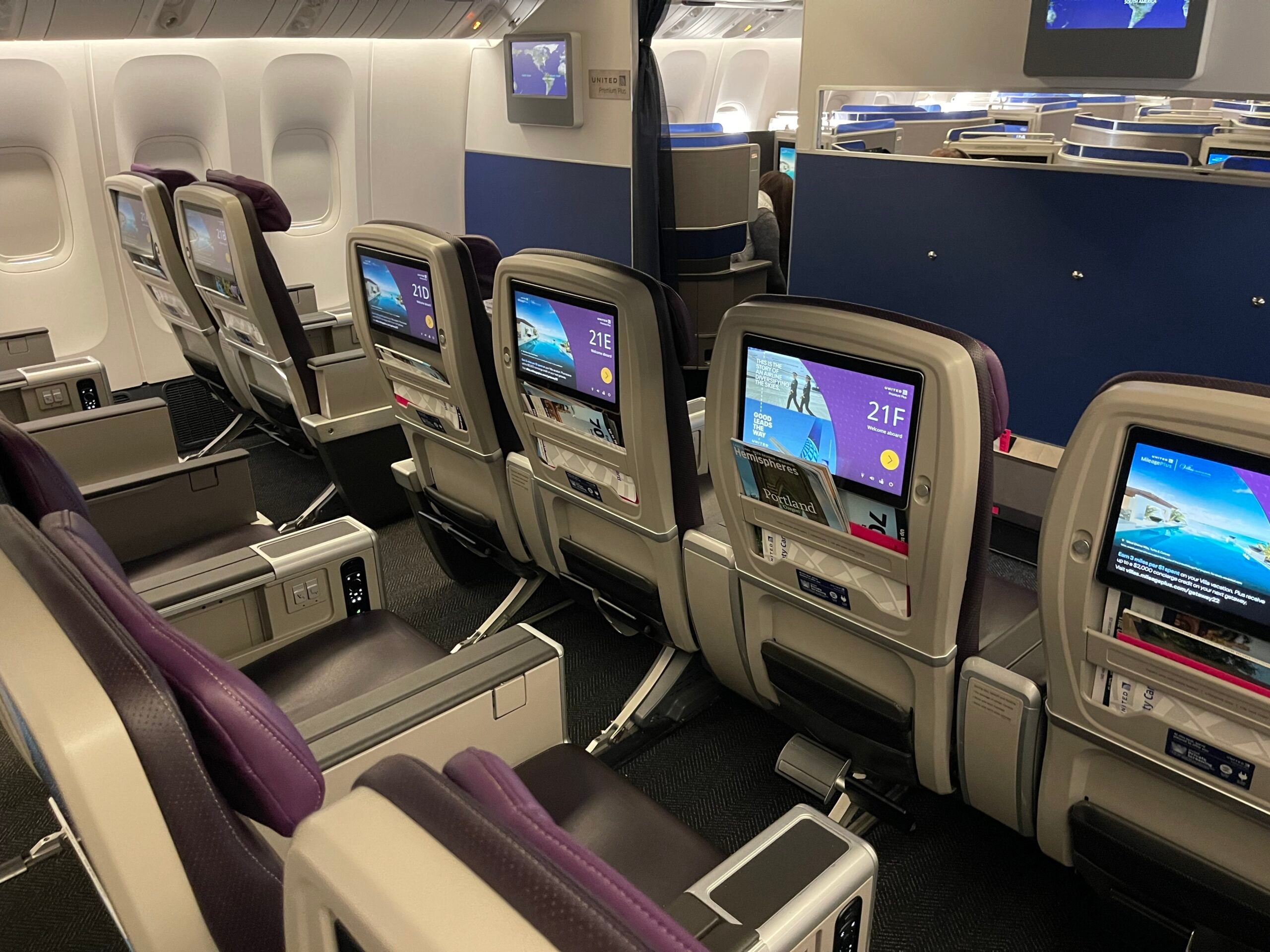 Although the Big Three carriers operate single-aisle planes — like the Airbus A320 and Boeing 737 — on most domestic flights, United Airlines, American Airlines and Delta Air Lines fly twin-aisle jets on some of their most popular domestic routes.
Airlines generally fly wide-body jets on longer-haul flights, so they generally come with a better inflight experience (think: seatback TV, power outlets and larger overhead bins). But undoubtedly, the best part of these wide-body jets is the ability to reserve premium economy seating at no additional cost.
Here's what you need to know about getting a "free" upgrade to a premium economy seat on your next flight.
How to find "free" premium economy seats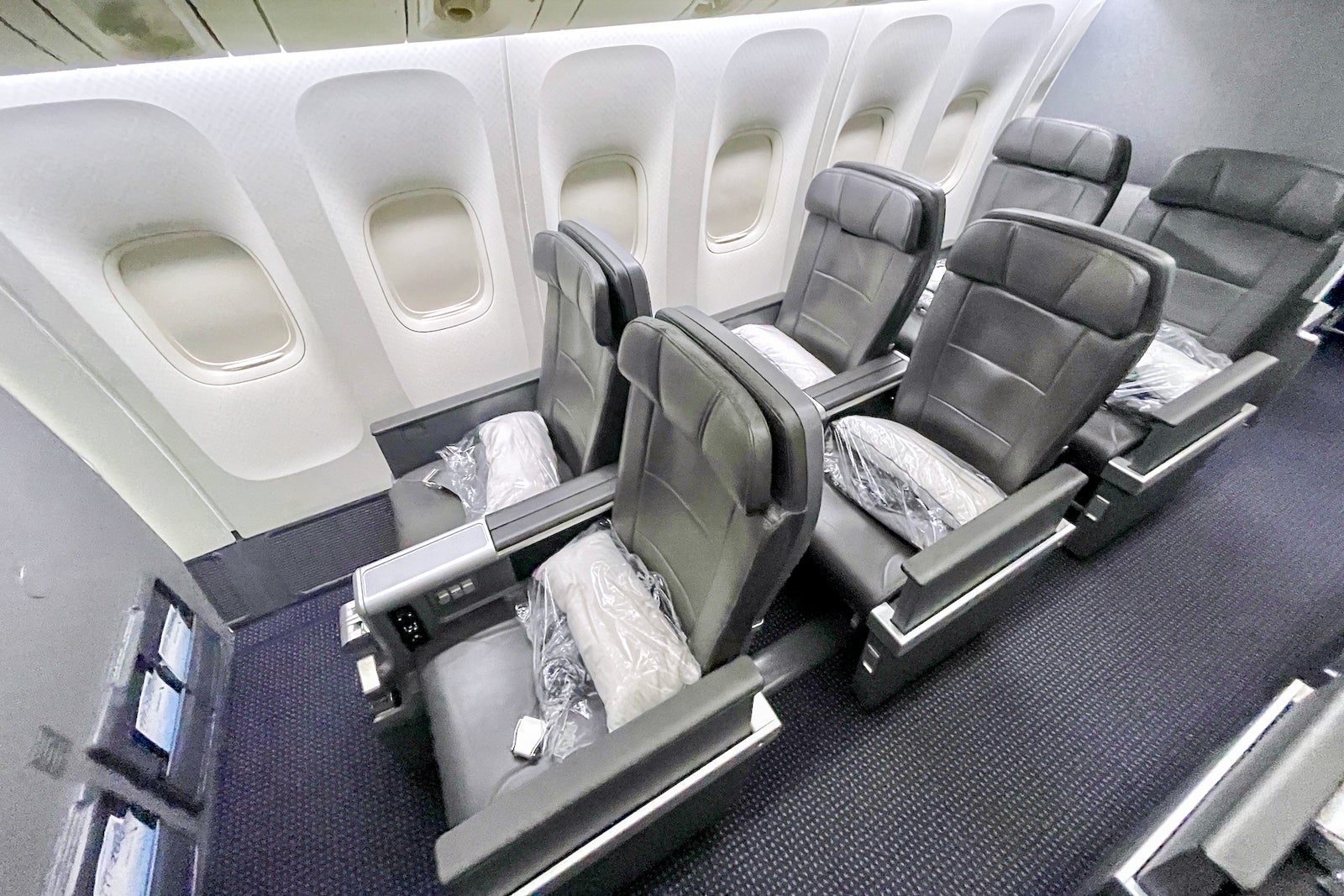 Except for a few cases where the airline sells premium economy seats as a separate cabin (mainly long-haul flights to Hawaii), you can reserve domestic premium economy seats as United Economy Plus, American Main Cabin Extra or Delta Comfort+.
That means you can use your complimentary extra legroom seating — an elite status benefit — to reserve premium economy seats. You can pay to select these seats if you don't have elite status. Expect the same benefits and service you'd get if traveling in an extra legroom seat, but naturally, the premium economy seat is better.
When booking a flight, check the aircraft type that operates the flight. Pull up the seat map if you see a wide-body jet like an Airbus A330, A350, Boeing 767, 777 or 787.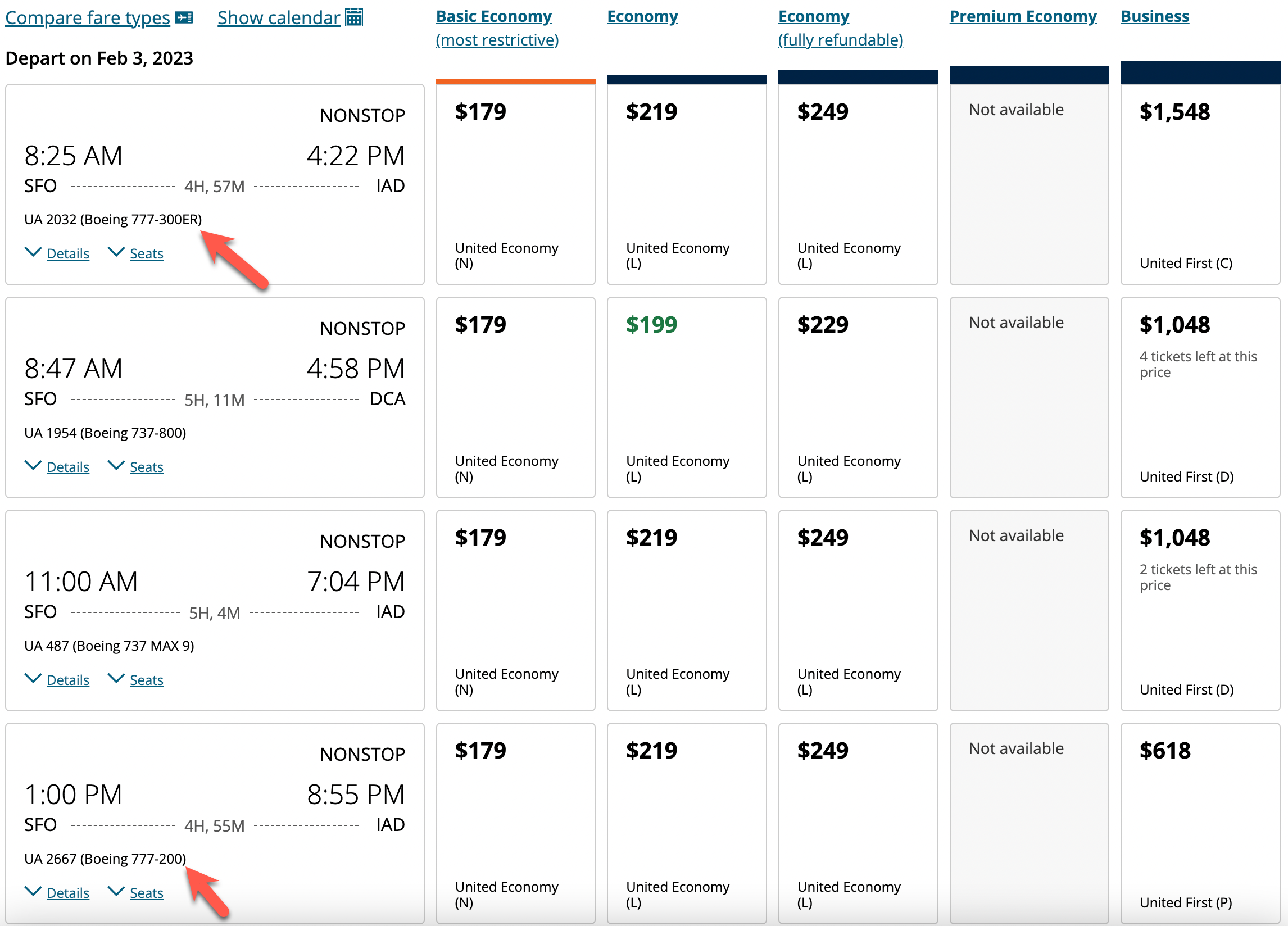 If you know what to look for, you'll be able to tell if the seats are premium economy.

For one, the seat configuration will be different than the rest of the economy cabin. On Boeing 777s, like the one above, a common premium economy seating configuration is 2-4-2 instead of the standard economy 3-4-3.
Additionally, in the case of United's Premium Plus cabin, the row numbers of the premium economy cabin (rows 20, 21 and 22) are significantly different from the rest of the Economy Plus cabin (rows 30-34, 40 and 41). On this plane, all blue seats, including those in premium economy, can be reserved as Economy Plus. That means Premier Silver members are eligible to get them for free at check-in; Premier Gold, Platinum, 1K and Global Service members can select those seats now without charge — and United's generous Economy Plus companion rules still apply.
Related: What is United Airlines elite status worth?
American makes it a little trickier. You can't immediately tell from the row number that you're in premium economy, so pay close attention to the seating layout on the seat map. Premium economy is in a 2-3-2 configuration on this plane, as opposed to the standard 3-3-3 configuration on the rest of the plane.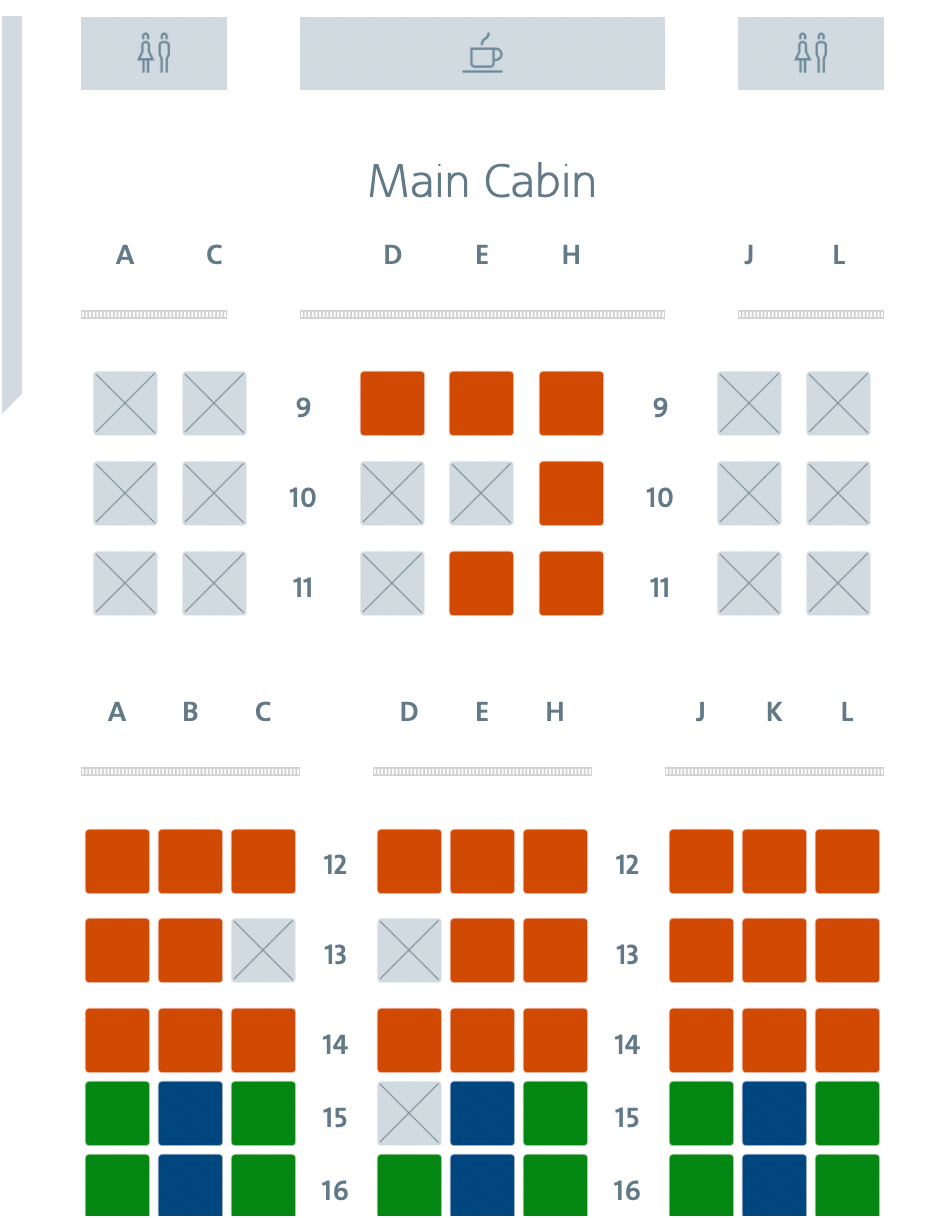 All orange seats, including those in premium economy, can be reserved as Main Cabin Extra on this flight.
Delta Air Lines, which tends to have larger premium economy cabins than United or American, designates some of its domestic premium economy seats as Comfort+. If your status entitles you to complimentary Comfort+, you can snag one of these seats free of charge.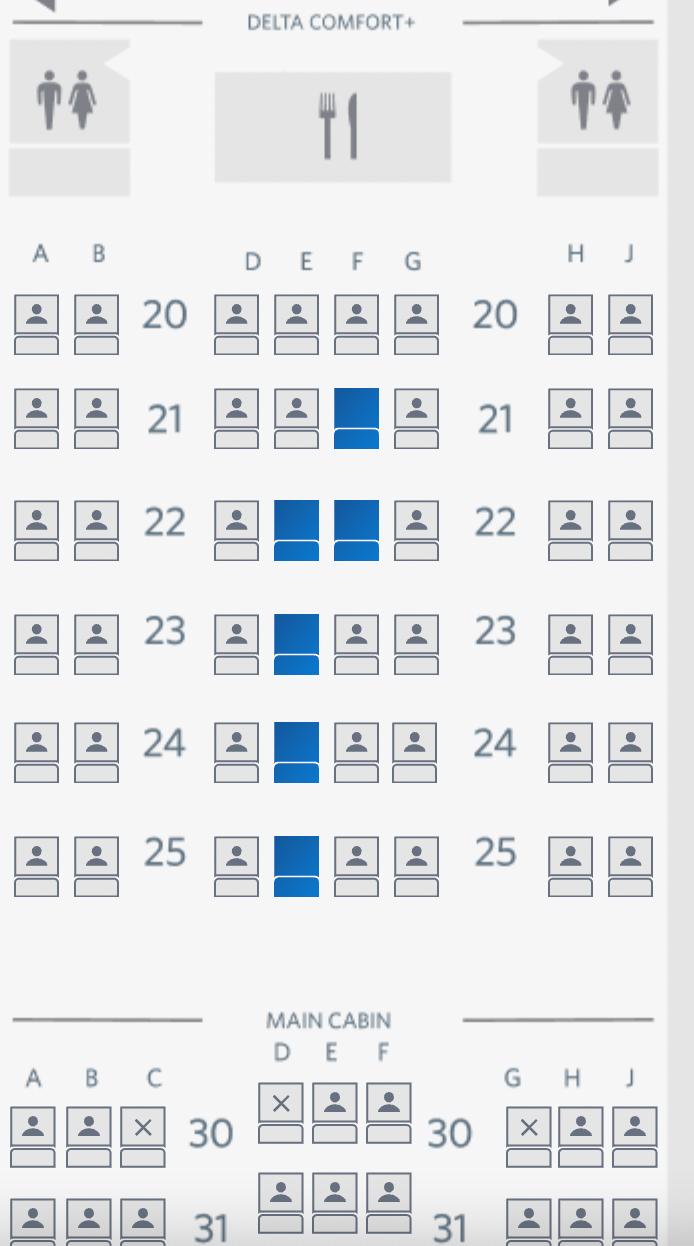 If you're unhappy with the premium economy seat available when you book your flight or if all the premium economy seats are taken, set an ExpertFlyer (owned by TPG's parent company Red Ventures) seat reminder. If a seat becomes available, you'll get an email alert. ExpertFlyer has helped me get out of center premium economy seats multiple times.
Related: How to use ExpertFlyer alerts to snag a better seat

Premium economy seats vs. domestic first class
Now, the fun part.
Premium economy seats are significantly better than what you get with standard extra legroom seats. The seat is roughly in line with what you'd get on a single-aisle domestic first class seat.
Let's compare seat dimensions using United's fleet. These measurements come from United's website.
| | | | |
| --- | --- | --- | --- |
| | Boeing 777-200 Economy Plus | Boeing 777-200 premium economy | Boeing 737-800 first class |
| Pitch | 34 inches. | 38 inches. | 37 inches. |
| Width | 17.05 inches. | 18.5 inches. | 20.5 inches. |
| Recline | 4 inches. | 6 inches. | 5 inches. |
As you can see, while the width isn't quite as much as what you would find on Boeing 737 in first class, the pitch and recline are more than what you'd find in narrow-body first class.
So let's go back to this example.
For $219, Premier Gold and higher members can reserve a premium economy seat — roughly equivalent to a first class seat selling for more than $1,000. Of course, the first class seat offers a proper meal, additional check luggage allowance, Premier Access and better service. Still, the two are roughly in line if you look solely at the seat.
United could change its equipment, possibly moving you to a standard Economy Plus seat, but from my experience, that happens only once in a blue moon.
Related: Why United's expanded Premium Plus rollout isn't exclusively good news
Domestic routes with wide-body jets
Here are some of the domestic flights on which United and American and Delta commonly have use wide-body services (at the time of writing). In our tests, you can reserve premium economy seats as extra legroom seats on these routes. As you can see, these are on high-traffic routes to, from or between hubs. These routes are subject to change.
United
San Francisco International Airport (SFO) to Dulles International Airport (IAD), George Bush Intercontinental Airport (IAH), O'Hare International Airport (ORD), Daniel K. Inouye International Airport (HNL) and Kahului Airport (OGG).
Los Angeles International Airport (LAX) to IAD, ORD, HNL and IAH.
Denver International Airport (DEN) to ORD and IAD.
Newark Liberty International Airport (EWR) to IAH.
Note that United also operates multiple daily premium economy services from SFO and LAX to EWR, which United sells as a separate cabin.
American
Miami International Airport (MIA) to Dallas Fort Worth International Airport (DFW), Phoenix Sky Harbor International Airport (PHX), Charlotte Douglas International Airport (CLT), Tampa International Airport (TPA), LAX and ORD.
DFW to Orlando International Airport (MCO), Cancun International Airport (CUN), ORD and LAX.
Philadelphia International Airport (PHL) to CUN and PHX.
Delta
Hartsfield-Jackson Atlanta International Airport (ATL) to LAX, Boston Logan International Airport (BOS), Minneapolis-St. Paul International Airport (MSP), Seattle-Tacoma International Airport (SEA), Detroit Metropolitan Wayne County Airport (DTW) and John F. Kennedy International Airport (JFK).
LAX to DTW.
Related: Perfectly fine but nothing more: American Airlines premium economy across the Atlantic
Bottom line
In addition to a separate cabin located closer to the front of the plane, premium economy seats tend to offer an inflight entertainment system with a remote, a more generous seat recline, a small footrest and (my favorite) a tray table in the armrest that's wide enough that you don't have to play elbow war with your seatmate.
While your airline can always change its aircraft type, reserving premium economy for the price of an extra legroom seat is one of the best domestic flight secrets. The next time you see a wide-body jet on a flight that you're considering booking, remember that some extra legroom seats could be much better than the others.