My business-class seat was broken. Can I get a refund?
On a recent flight from Zurich to Philadelphia, American Airlines business-class passenger Jyotish Bhalla discovered her seat was broken. 
A business-class seat that was supposed to lie flat froze in an awkward, upright position. Bhalla, who had hoped to rest on the nine-hour flight, spent most of it unpleasantly stuck in a single position.
Bhalla says she paid $4,800 to fly in that broken business-class seat and wants a refund. But American Airlines rejected that request and instead awarded her just 5,000 miles for the mishap.
That "insulting" response to her complaint only served to make this seat fiasco worse, Bhalla says.
Now she's hoping that TPG can convince American Airlines to provide a refund for her disappointing flight.
Booking and rebooking a Viking cruise
As soon as the cruise industry began its revival last year, Bhalla started making plans of her own. 
"I booked a Viking river cruise scheduled for July 2021," she told me. "I paid for the entire trip, including airfare, but then, soon after, the cruise was canceled."
Crestfallen, but not entirely surprised by the cancellation, Bhalla chose to rebook the same Rhine river cruise itinerary several months later. She hoped by that time the pandemic would no longer be affecting the cruise industry.
Unfortunately, the coronavirus wasn't entirely done wreaking havoc around the world, and Bhalla didn't cruise on the backup voyage either. She was beginning to wonder if she'd ever find herself relaxing aboard Viking's Egdir as it made its way through the Rhine Valley.
Undeterred, she rebooked the same cruise one more time. Finally, it looked like the ship was going to sail. 
But then, a health crisis threatened Bhalla's cruising plans. 
An unexpected surgery and a necessary business-class upgrade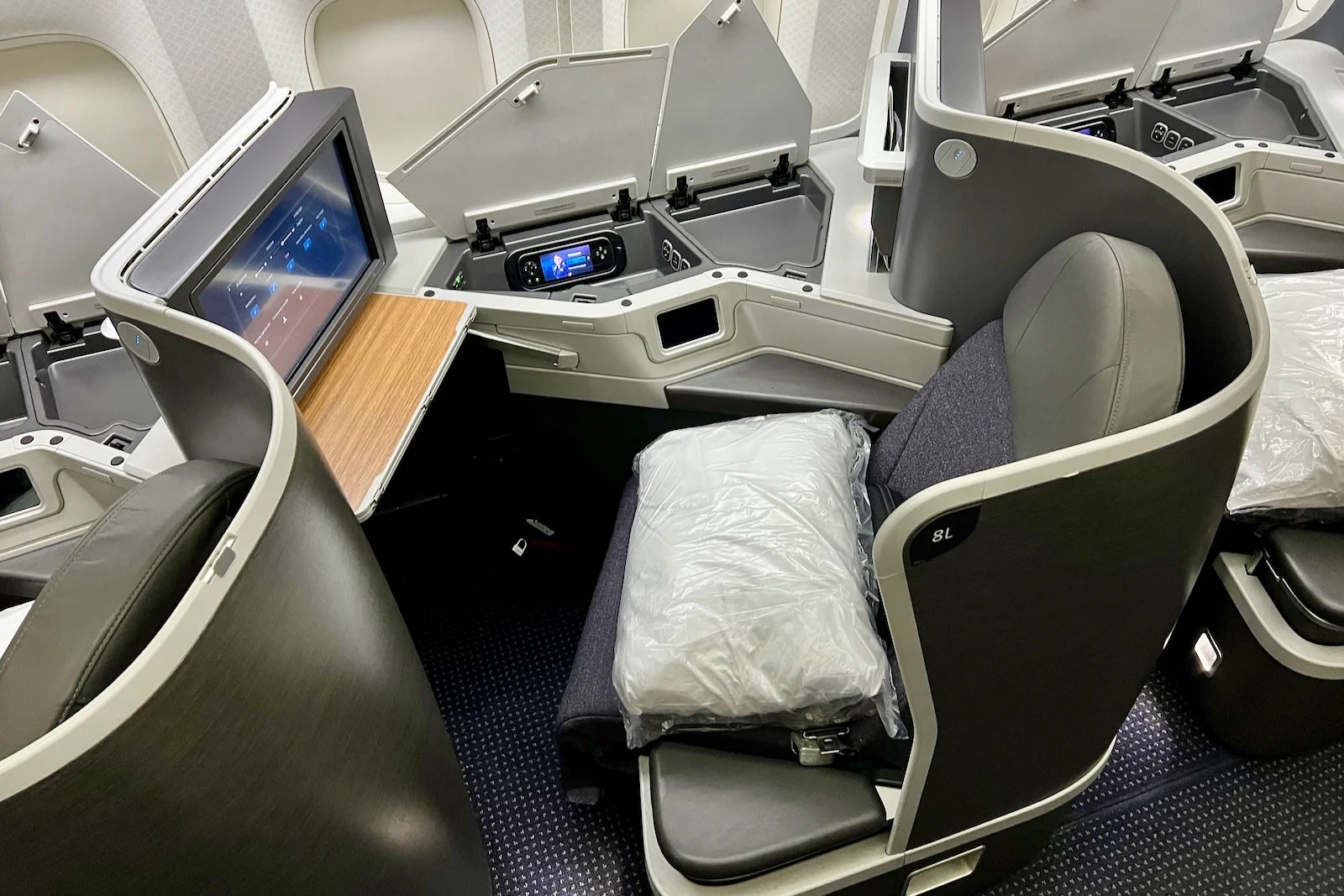 As the cruise date loomed, Bhalla had an unexpected medical crisis that forced her to have surgery on her foot. After the procedure, she decided to continue with her plans to take the long-awaited Viking cruise. On the advice of her physician, she paid to upgrade to business class to keep her leg elevated throughout the long flight. 
Applying some leftover credits from her previously canceled cruise, Viking charged Bhalla around an additional $3,000 to upgrade her ticket to business class. 
At the end of July, after nearly two years of waiting for a chance to safely cruise again, Bhalla boarded an American Airlines flight headed to Europe. 
As she reclined her comfy business-class seat into its fully flat position, she was pleased that she'd chosen to go through with the trip. She would soon be taking in the view of the Rhine River from her balcony on Viking Egdir. It was exactly what she needed.
Sitting in a broken business-class seat the whole way home
For the next week, Bhalla had a wonderful time. The Viking river cruise was everything she hoped it would be. Her adventure had been a massive success. 
That is, until she boarded the flight home from Zurich. And then things took a decidedly awful turn. 
Bhalla had very much enjoyed all the features of her business-class seat on the way to Europe. She was anticipating the same comfort as she settled in for the long flight home. But to her surprise, nothing happened when she pressed the button to extend the leg rest. She pushed it again, but still nothing. Then she tried to recline and the headrest moved slightly, then froze altogether. 
All around Bhalla, the other business-class passengers were getting comfortable, but her seat remained nonfunctional. 
"The head purser came to me and tried to help," Bhalla told me. "He reset the system, and then he tried some other things. But it was clear my business-class seat was broken. He apologized and said he had nowhere to move me."
When Bhalla, a doctor, explained to the purser why her legs needed to be elevated during the flight, he came up with an idea. 
A makeshift business-class seat
The purser disappeared into the galley and soon returned with some supplies: pillows, a blanket and a metal box. 
First, the purser forced the seat into a 45-degree recline. Next, he set up the metal box on the floor in front of Bhalla. Then he layered several blankets and pillows on top of the metal box until it was high enough for Bhalla to elevate her legs.
"In addition to being quite cumbersome," Bhalla explained, "it was perhaps a little unsafe to climb over the crate to get out into the aisle."
But given no other option, this makeshift setup would have to do. Bhalla spent the rest of the flight with her seat stuck in that position. She tried as best as possible to keep her legs elevated on top of the metal box, pillows and blankets. It was a clumsy contraption.
"I definitely did not get the business-class seat I paid for," Bhalla said. 
Asking American Airlines to refund the flight
Many hours later, when the flight landed, Bhalla was frustrated and tired. Now she had a four-hour drive to get home and was anxious to get on the road. The helpful purser assured her that he would file an incident report and someone from American Airlines would be in touch about compensation. 
Several days after arriving home, Bhalla received a short email from American Airlines and a compensation notification. 
"American Airlines expected me to accept 5,000 miles as compensation," Bhalla complained. "I paid $4,500 for a round-trip business-class seat, and mine was completely broken on the way back. Five thousand miles as compensation is insulting."
Bhalla then emailed American Airlines directly about the broken business-class seat she had no choice but to fly in despite her medical condition. She made it clear her expectations included a refund for that flight:
I am a Gold [AAdvantage] member and have long been a customer of American Airlines. On August 2, I flew flight AA 93 from Zürich to Philadelphia in business class, seat 3A. 

The seat did not function at all. Having had recent surgery and despite wearing compression hose, I needed to keep my leg elevated to prevent swelling, pain, and subsequent problems, for which I now have an appointment with my surgeon. 

In addition, it was vital for me to lie flat and get adequate sleep as I had a four Hour drive from Philadelphia to my residence. Neither of these was possible as there were no other seats available. The purser provided me with a box and pillows so I could try to keep my leg elevated. 

This was not the business class experience I purchased.
American Airlines: No further compensation
In response to her follow-up complaint, American Airlines reevaluated its initial offer and awarded Bhalla a $300 trip credit. 
Still unsatisfied and feeling as if American Airlines was not valuing a long-term, loyal customer, Bhalla sent more emails. And more emails. 
But American Airlines let Bhalla know there would be no further compensation:
In this case, the bonus miles were intended as a tangible apology to show that we care about you and your experience. I can see that you feel strongly about this issue; therefore, I've reviewed our prior correspondence.

Regrettably, I don't see any information that would change our resolution.

Rest assured, we are not unmindful of your concerns. We take your feedback seriously, as it helps us identify areas we need to improve. Please know that we are grateful for the benefit of your perspective.

We appreciate your AAdvantage® loyalty very much, Dr. Bhalla, and hope to have the opportunity to welcome you on board another American flight.
With her frustration turning to anger at American Airlines, the last thing she could imagine was allowing the airline to welcome her aboard another flight. 
Bhalla then decided to send her complaint to tips@thepointsguy.com and see if we could help. 
Asking American Airlines to reconsider this passenger's plight
When I reviewed the details of Bhalla's experience in the broken business-class seat, I certainly thought she deserved more than a $300 future credit. 
Reading through the correspondence between Bhalla and some of the American Airlines agents, I didn't get the feeling that any of the employees fully grasped the situation. 
At one point, an American Airlines representative suggested that if Bhalla really hadn't wanted to accept that broken business-class seat, she could have just asked to be moved to a different flight. Hardly a practical solution since the aircraft was 30,000 feet above the ground when it became clear the seat was nonfunctional. 
Unfortunately, as a consumer advocate, I know that not all customer service agents are as attentive and helpful as we might hope. It seemed that Bhalla had uncovered a few of the less-than-caring representatives. In fact, she says that one representative called her on the phone and then rudely hung up on her when they didn't see eye to eye on the situation. 
It was time to escalate this case to our helpful American Airlines executive and see what her team could do for Bhalla. This person is a media contact that we can approach directly about cases like this rather than a public-facing customer service representative.
The good news: An acceptable resolution from American Airlines
I sent all the details of Bhalla's experience to our executive contact at American Airlines. I included a drawing Bhalla created to illustrate her broken business-class seat and the contraption that the purser set up to attempt to accommodate her need to elevate her legs. 
Then we hit a snag. 
Cruise lines buy specially priced tickets in bulk from the airlines. So when a passenger purchases their airfare via the cruise line, the airline cannot always pin down the actual value of the ticket. 
The American Airlines executive team wanted to offer a fair resolution based on the value of the ticket, but that value was unclear. 
Additionally, we all agreed that a full refund was not warranted since the airline did transport Bhalla across the pond back home. She also received the food and beverage services associated with business class. 
After some additional digging through the Viking contract, American Airlines agreed to raise the compensation to a $1,000 trip credit transferable to friends and family, plus 5,000 miles. 
And although Bhalla is not happy with her business-class experience or the subsequent battle to get justice, she is delighted with the outcome. 
What to do about a broken business-class seat
Here's what you can do before, during and after takeoff if you're confronted with a broken seat in business class or any other cabin. 
Check your seat's functions ASAP
When you board your business-class flight, your first thought might be to check out the amenity kit or order a drink. But you should always check your seat for its functionality first. 
That's when the cabin crew can reassign you if your seat is not working correctly. Remember, most airlines fill empty business-class seats with people on the upgrade list before takeoff.
So the longer you wait to check that your seat is working properly, the higher the likelihood that there won't be an open seat to switch to if needed. 
Ask for an upgrade or downgrade
If there are no open seats in your cabin, you can ask to be upgraded to the first-class cabin if your flight has one. 
Your next option is to consider a downgrade if the state of your seat is not tolerable or is unsafe (for instance, if the seat belt is nonfunctional). 
Keep in mind if you're flying from Europe or flying on a European airline in either direction, under Article 10 of EU261, you can apply for involuntary downgrade compensation if you have no choice but to accept a move to a lower class of service. The payment is based on the flight length and only applies to the downgraded portion of the trip. 
Downgraded flights between the U.S. and Europe qualify for a 75% refund. You can read more about the passenger protections EU261 provides in TPG's guide.
Ask to be moved to a later flight
Of course, this only applies if you're still on the ground. But if the problem with your seat is not something you can tolerate and a downgrade or upgrade is not an option, you can ask to be moved to the next available flight. 
Again, if you are in Europe, the airline will have an additional "duty of care" responsibility for you. EU261 ensures that if you are forced off the flight because of your seat issue, the airline should provide hotel, food and transportation costs to and from the airport if an overnight stay is necessary. 
Tolerate the broken seat
As long as the problem with your seat doesn't pose a safety issue, you may decide to tolerate the situation. In this case, take photos and videos of the nonfunctioning seat. 
Later, when you file your complaint with the airline, those photos will support your grievance. Showing a customer service agent or executive contact at a company exactly what you tolerated will often garner a more sympathetic response than just your narrative of the problem. 
Request compensation from the airline
There are a few steps you must take in order to request compensation from an airline if you think you're due any. 
When you arrive home, compose a short, polite and reasonable request for compensation to the airline.

When writing this email, remember that you want to make the person receiving your message want to help you.

Refrain from threatening never to fly the airline again or implying that you're getting a lawyer involved.

Do not blast email multiple executives within the company. This type of complaint often lands in the virtual garbage can since each person on that list can assume someone else will respond, and you'll get no response at all. 
File a complaint with the US Department of Transportation
If you were forced to sit in a broken seat and the airline ignores your complaint for compensation, your last step is to file a complaint with the Department of Transportation. 
The airline must respond to your complaint via the DOT within 60 days. It might ignore you, but I promise it will not ignore the DOT. 
Bottom line
No one wants to fly across the Atlantic in a broken business-class seat. Although it doesn't happen frequently, if you're the unlucky passenger who gets assigned a nonfunctioning seat, those stats won't matter.
Do what you can to resolve the matter on board, but then follow up on the ground, have documentation on hand, and make your case firmly but politely … then hope for the best.
If you find yourself in a similar situation that you can't fix on your own, send your problem to tips@thepointsguy.com, and I'll be happy to help you, too.