I stayed at an IHG voco hotel for the 1st time — here are 7 reasons I'd stay again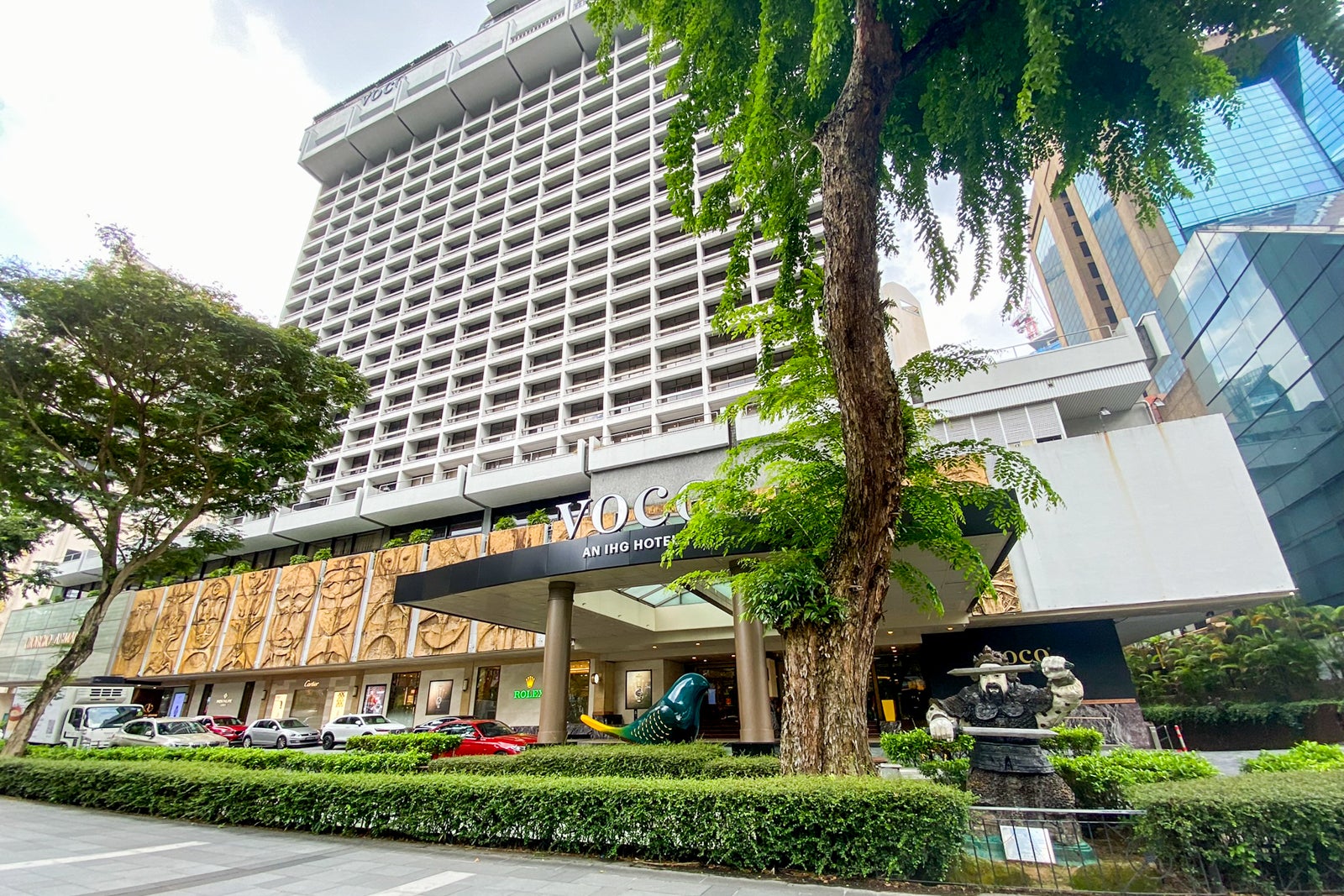 When I booked my first trip to Singapore in July, there were a few different hotels on my radar.
I could stay at the iconic Raffles Singapore, opt for ultra-luxe Regent Singapore or choose something a bit more budget-friendly, such as the Courtyard Singapore Novena or the Four Points by Sheraton Singapore, Riverview. As I started to narrow down my options, however, I ultimately decided on the voco Orchard Singapore.
Not only was it my first opportunity to stay at a voco property, but it was also affordable with points, and its location on bustling Orchard Road made it even more appealing.
Designed with budget-conscious travelers who prefer boutique properties in mind, this voco outpost seemed like a solid alternative to other chains' cookie-cutter brands with low price points — although some of the hallmarks of its previous life as a Hilton, such as some generic finishes and out-of-date furnishings, still came through. However, its unstuffy, inviting atmosphere — which draws you in from the moment you arrive at the door, where a "come on in" doormat greets you — fit the vibe I was looking for during my stay in Singapore.
So, I decided to take a leap of faith and book a three-night stay at the property. As soon as I arrived, jet-lagged and casually dressed in athletic wear, I was relieved to discover I'd made the right decision.
Here are seven things I learned about voco Orchard Singapore — and why I would choose this property, and brand, again the next time I travel.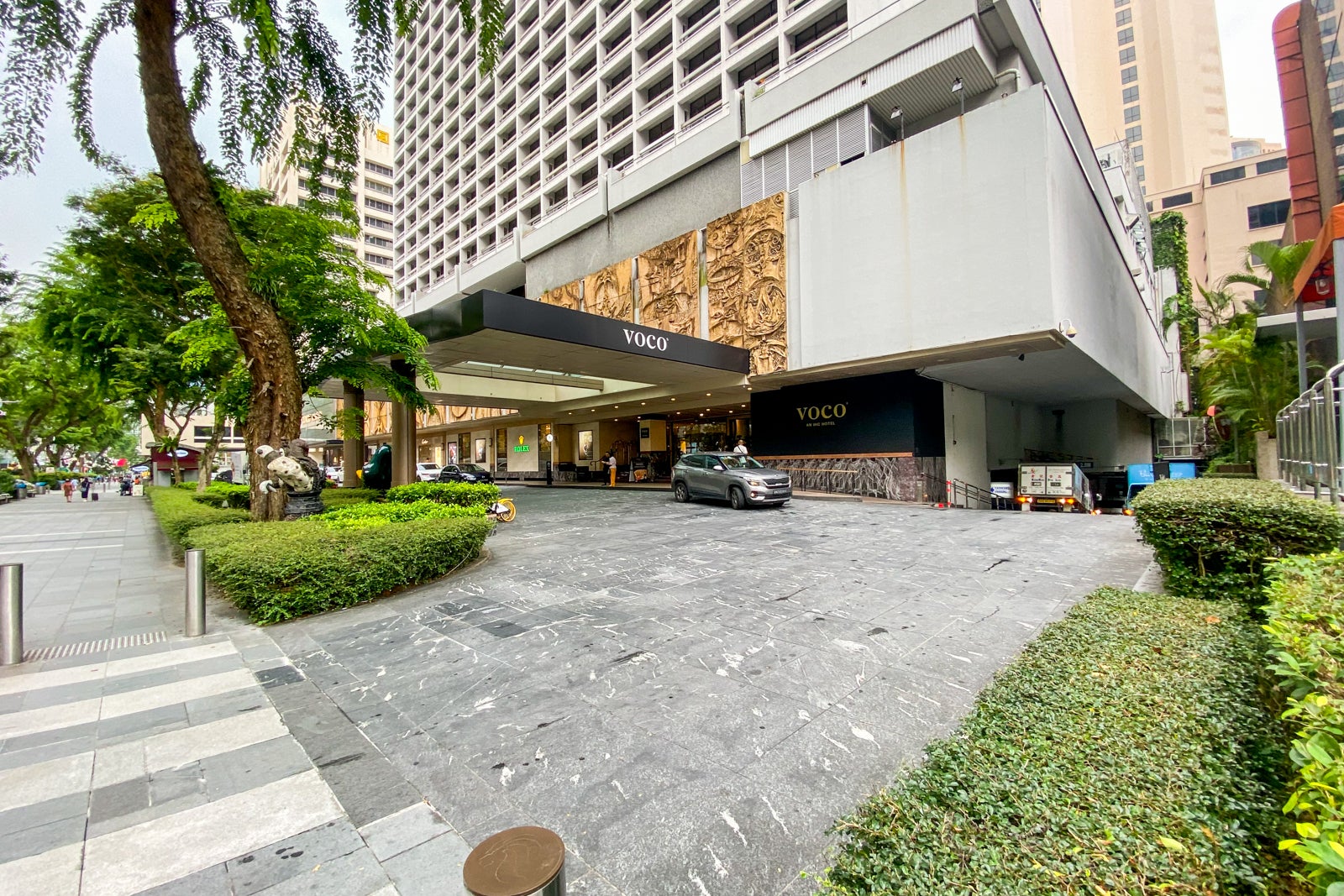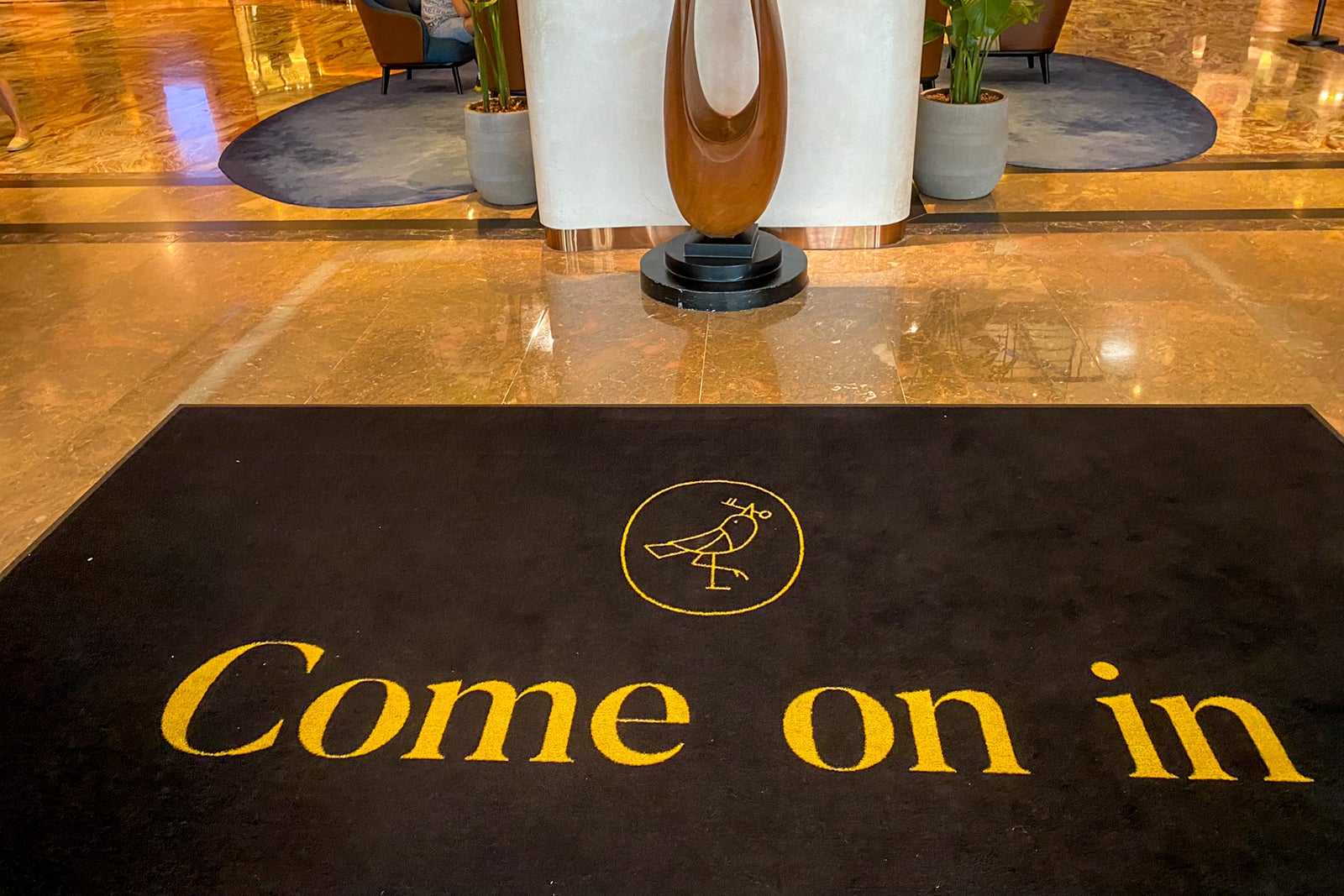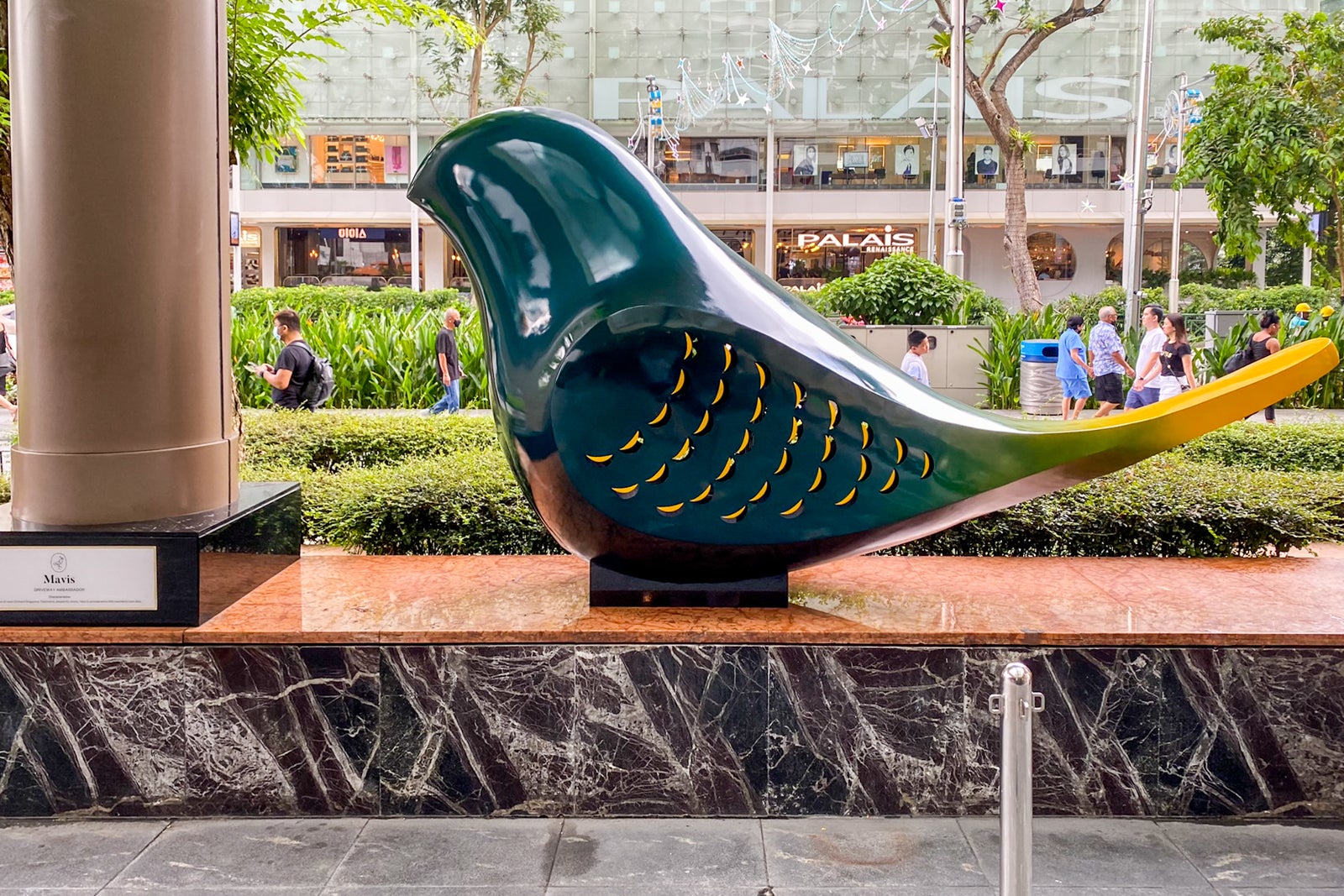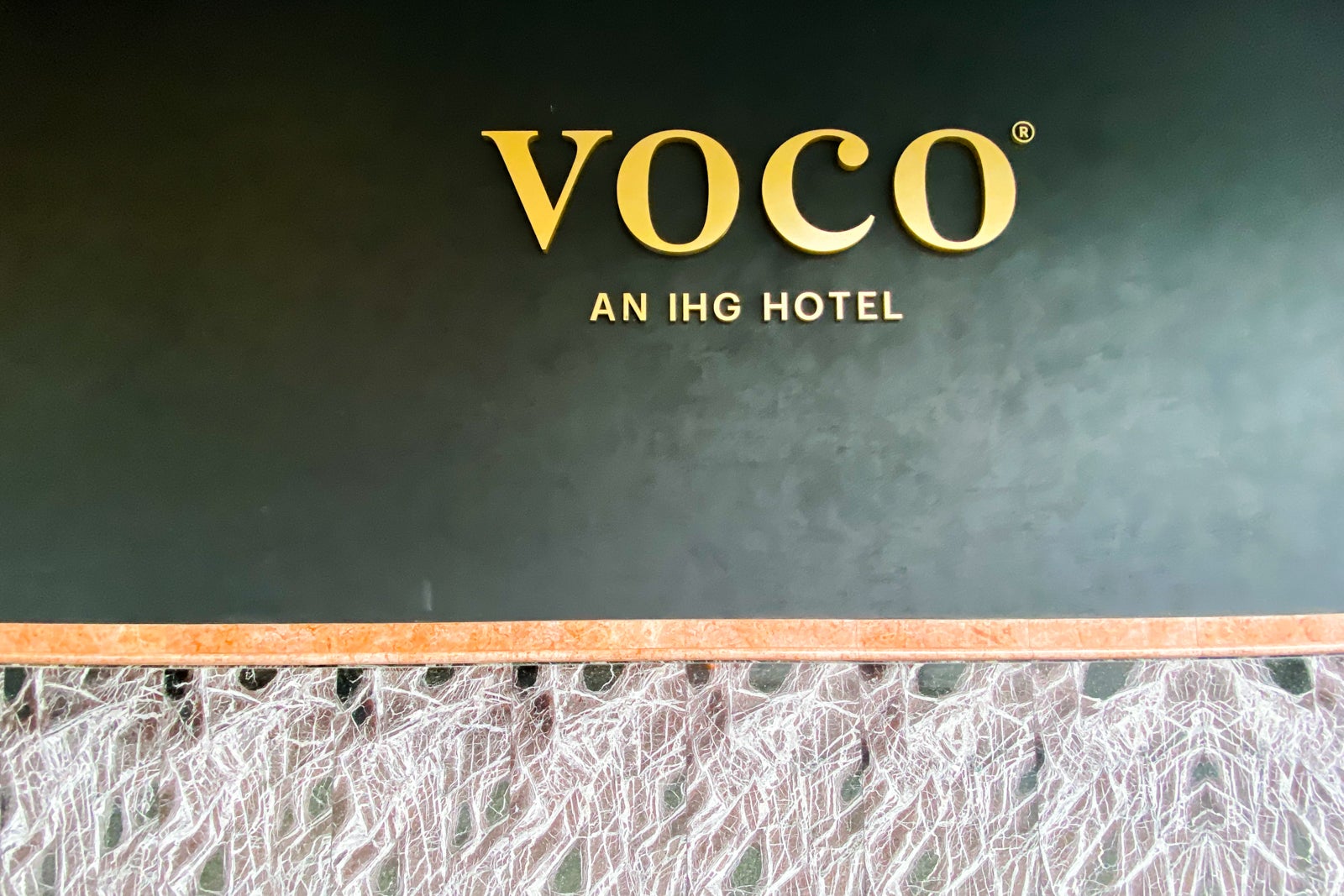 The great location
Situated across from the opulent Royal Thai Embassy along the Lion City's bustling Orchard Road thoroughfare, some aspects of voco Orchard Singapore make it feel luxurious, despite its budget-friendly price point. For example, within a five-minute walk of the property, you'll stumble across outposts of Four Seasons, Shangri-La, St. Regis and Grand Hyatt, imbuing this less-expensive property with the patina of its higher-end neighbors.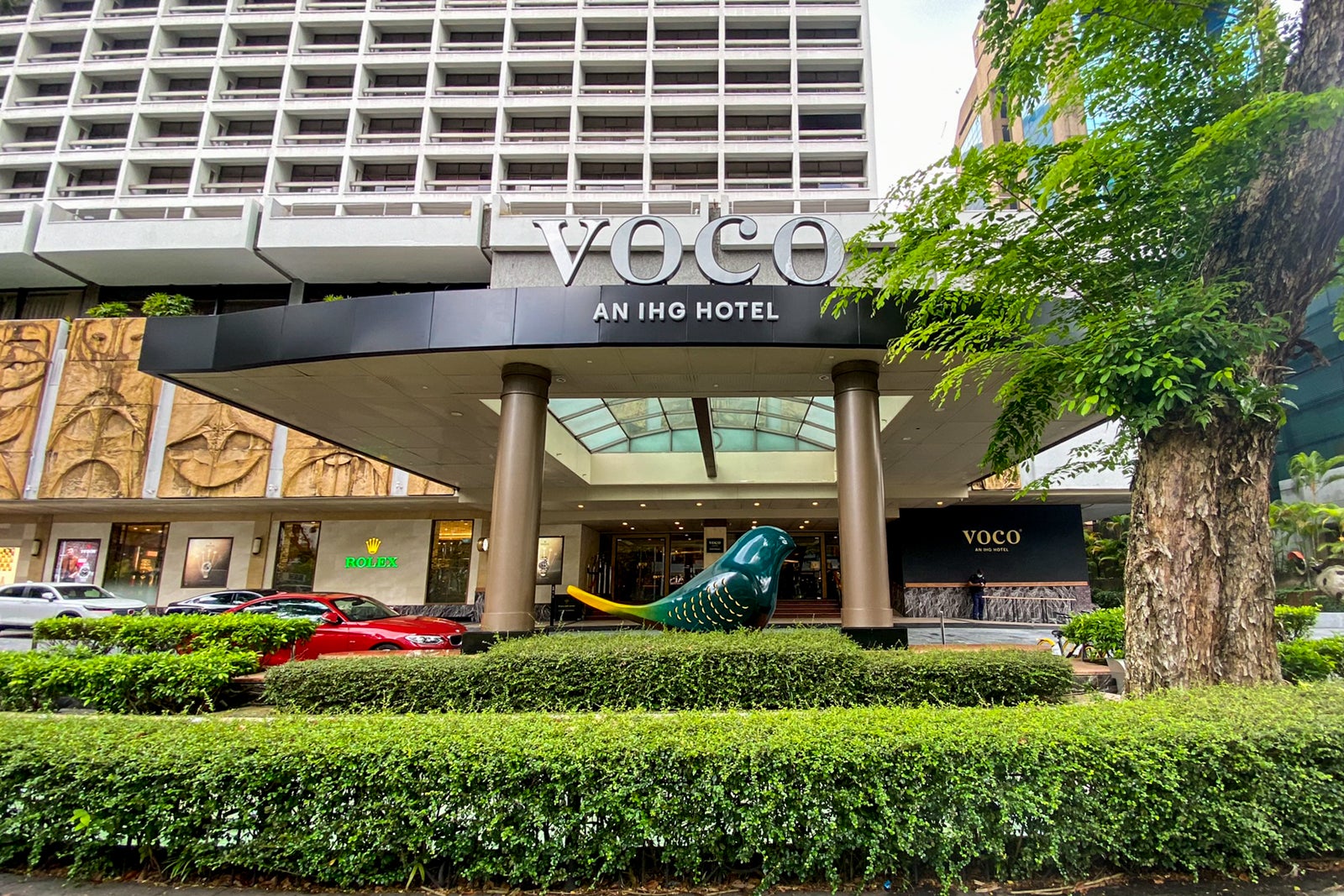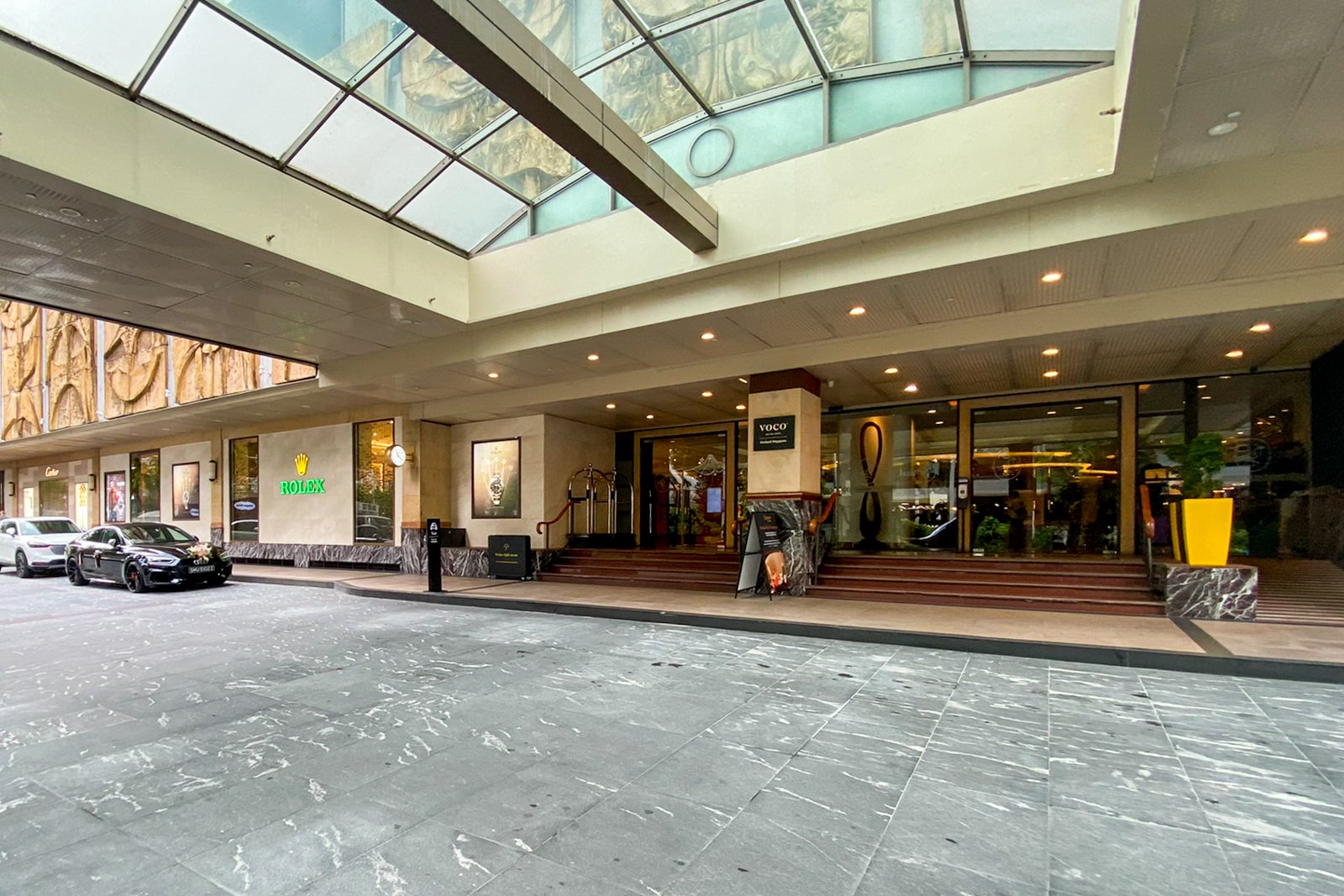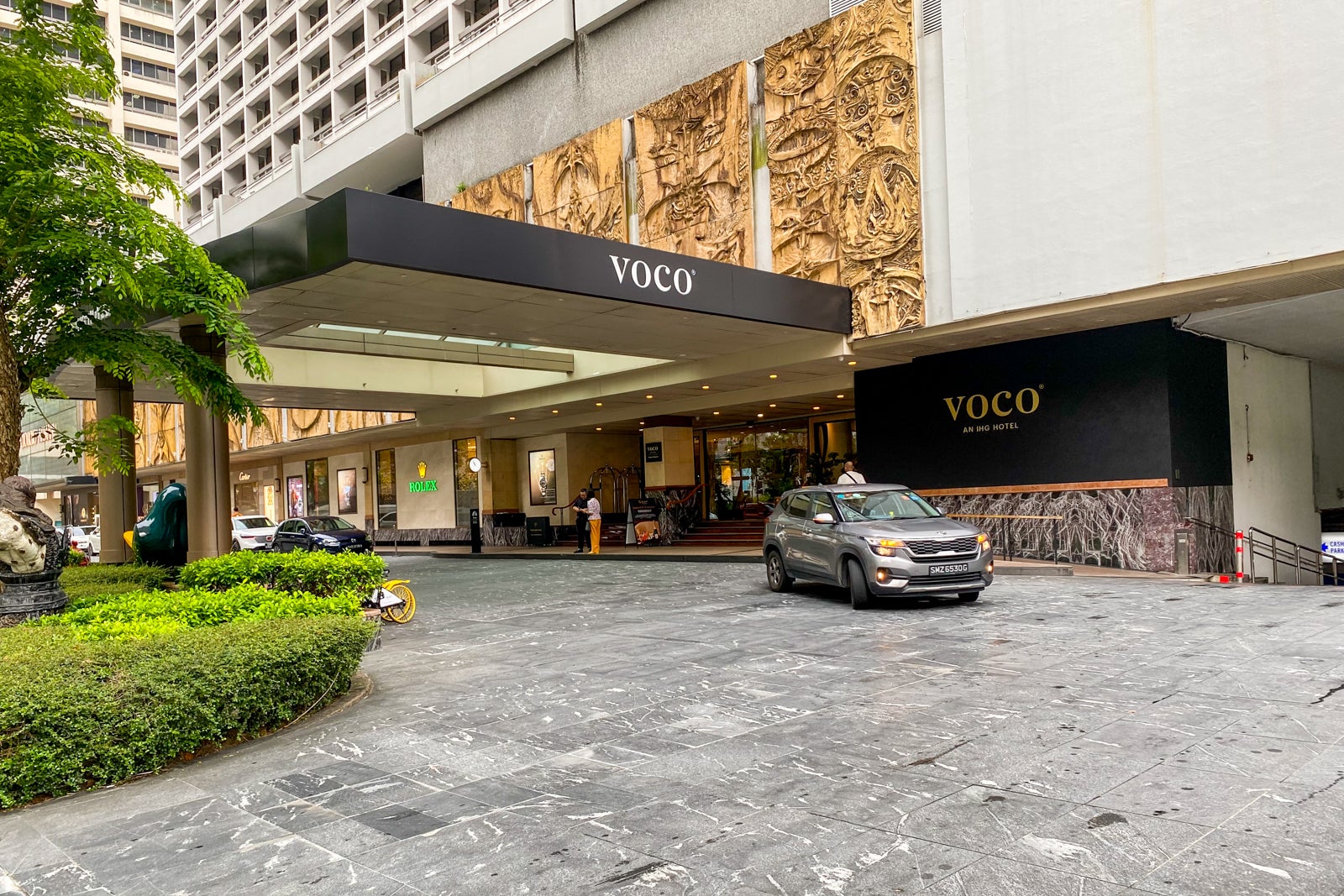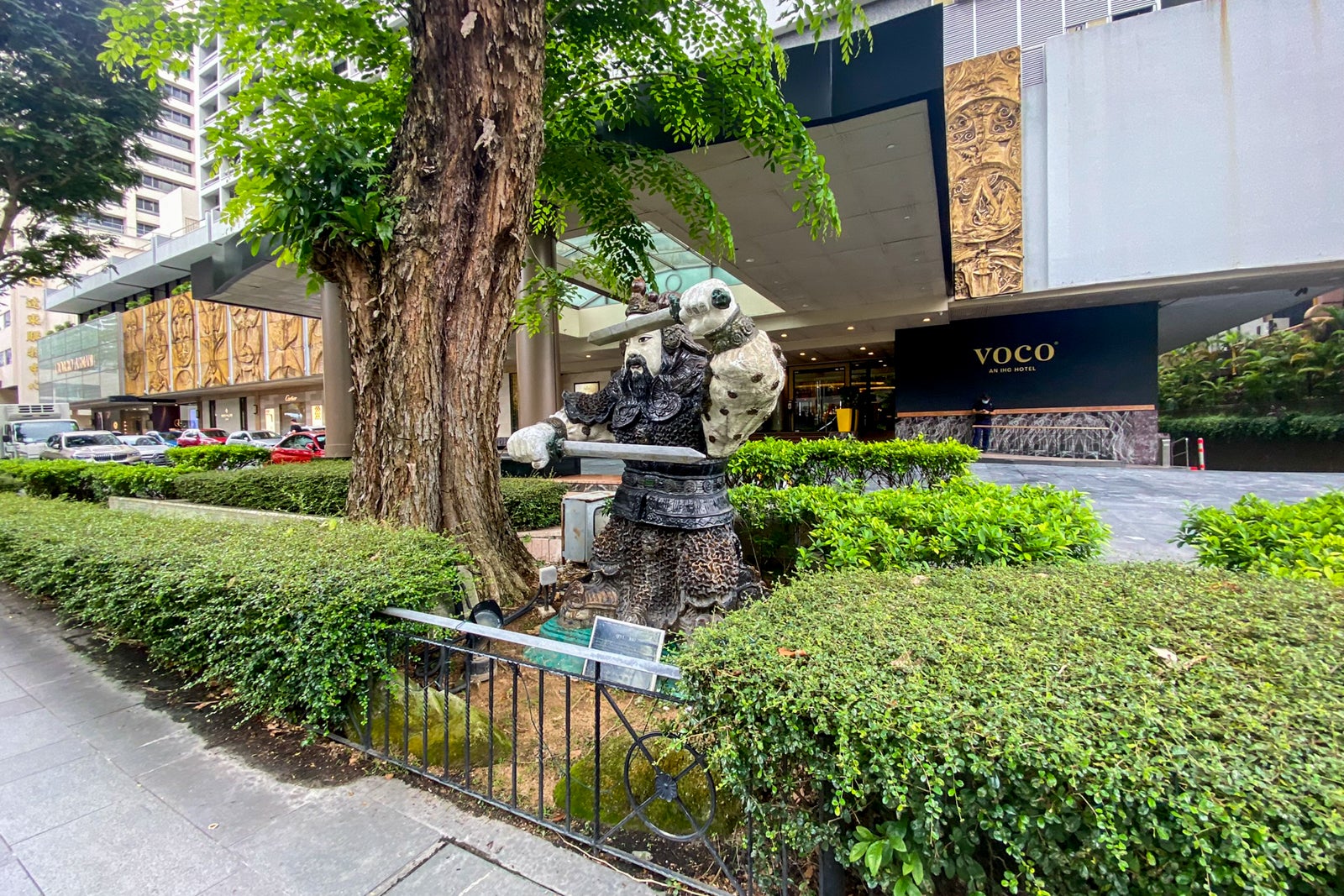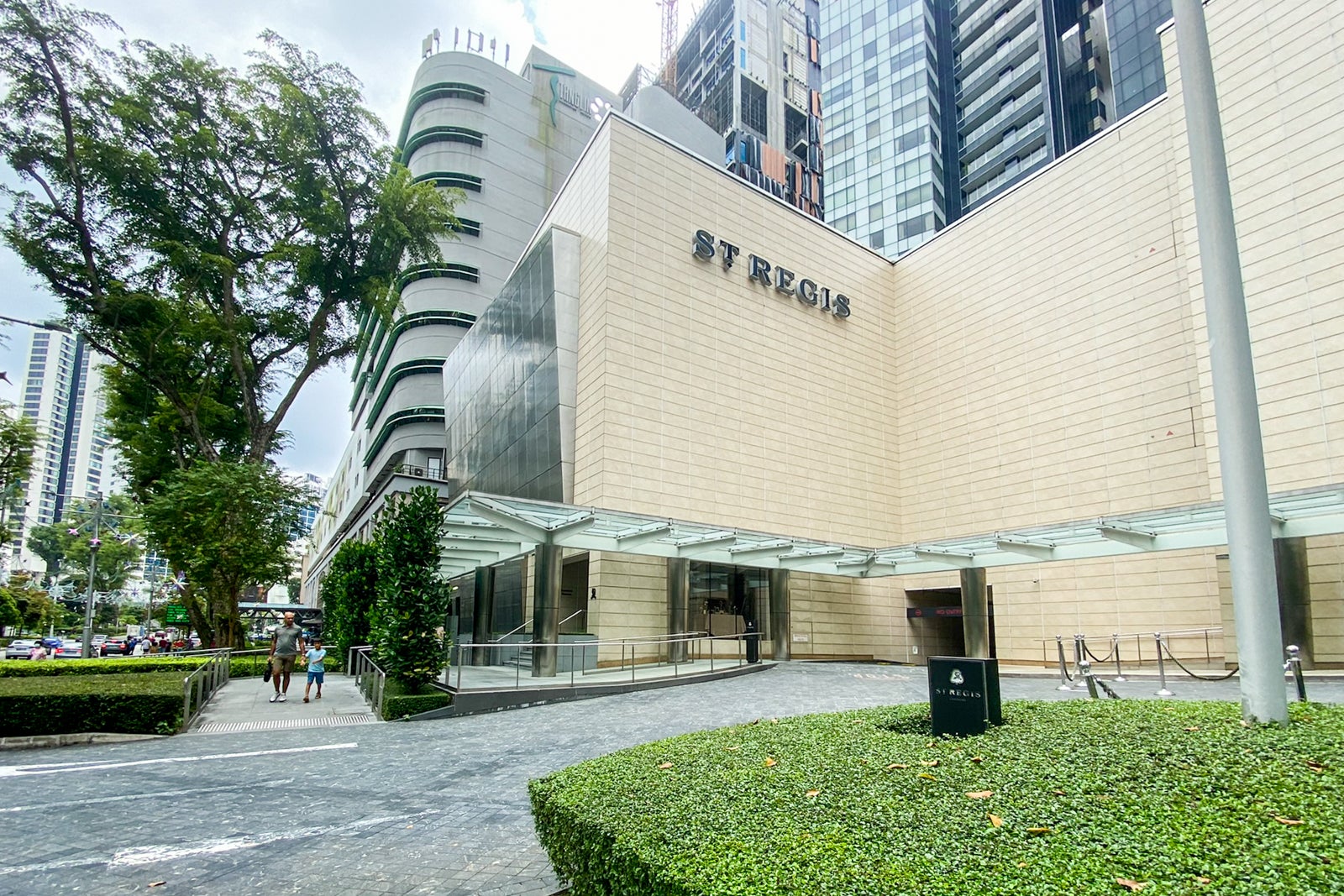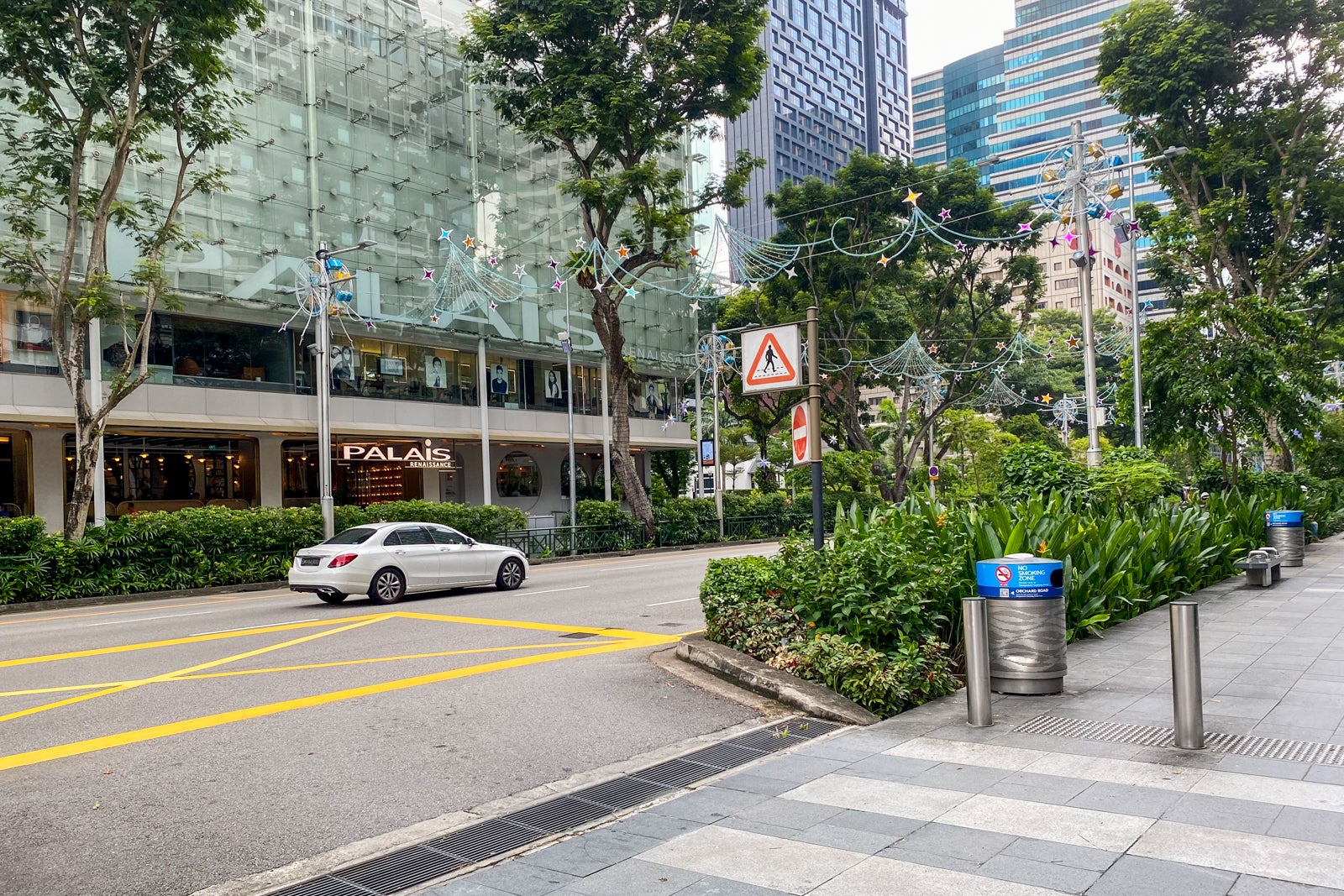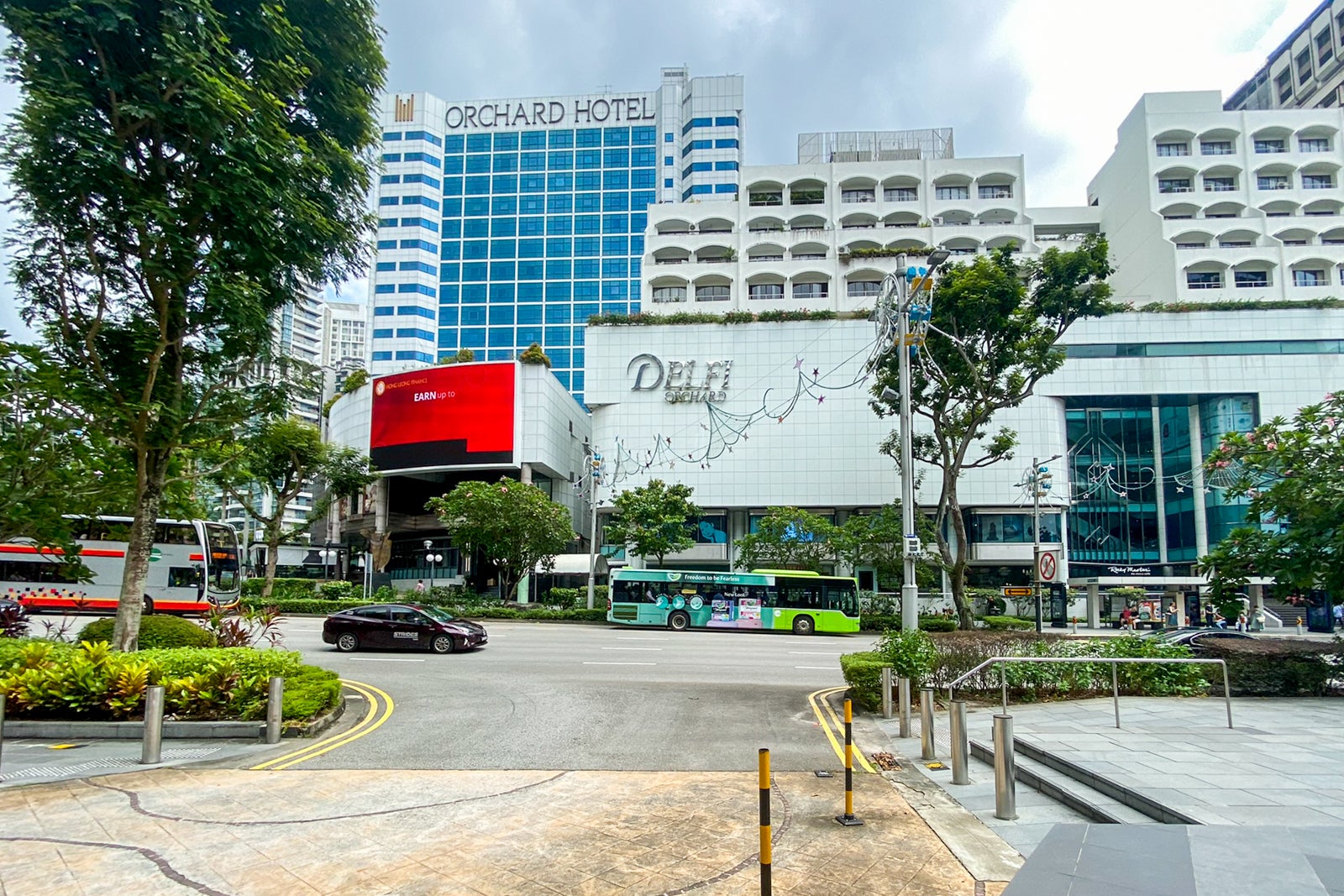 Plus, you'll find a multistory mall full of upscale boutiques on nearly every corner along the boulevard. In fact, four malls sit within a block of the hotel, though you could easily get your retail therapy fix without stepping foot outside thanks to the two-story Shopping Gallery connected to the hotel.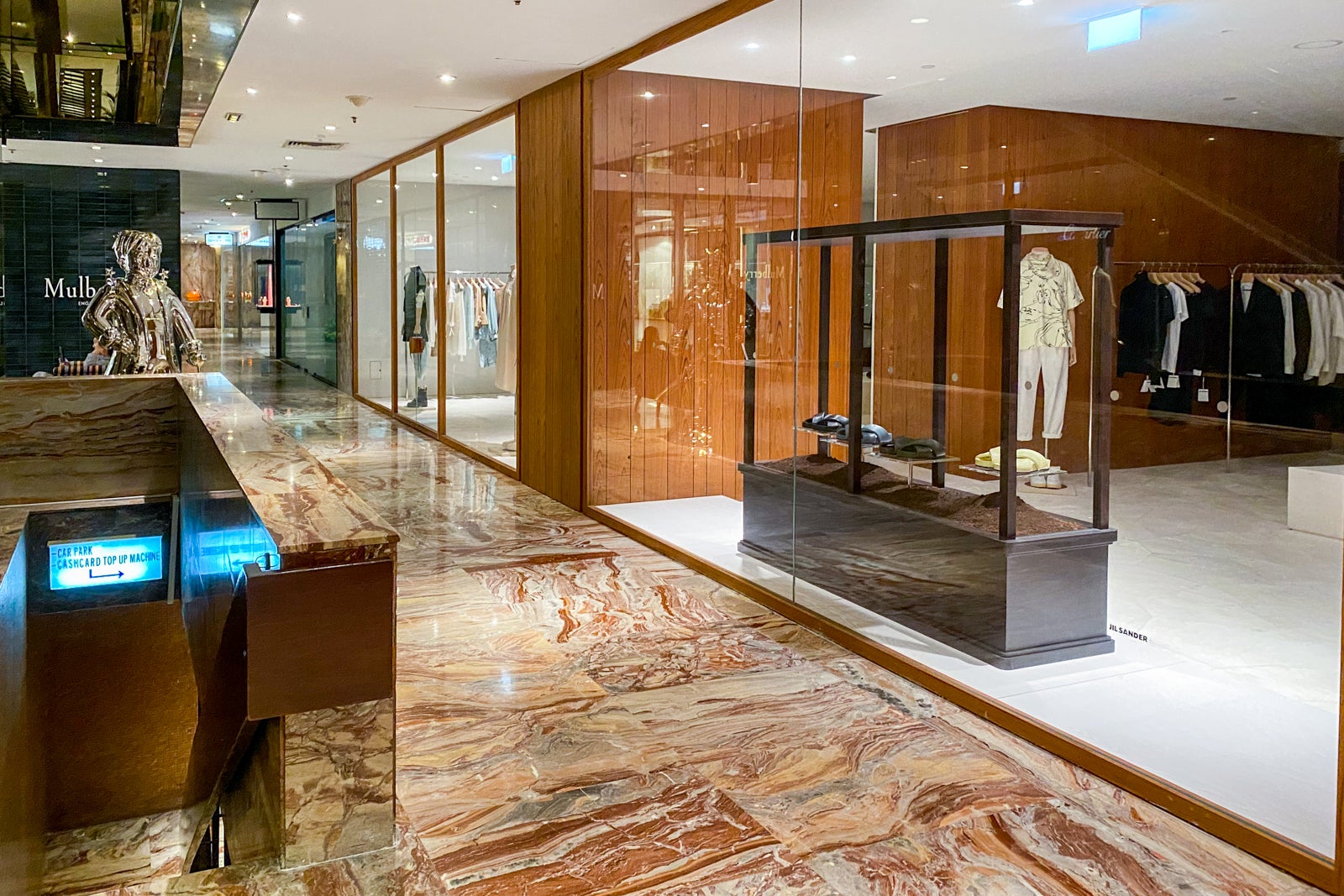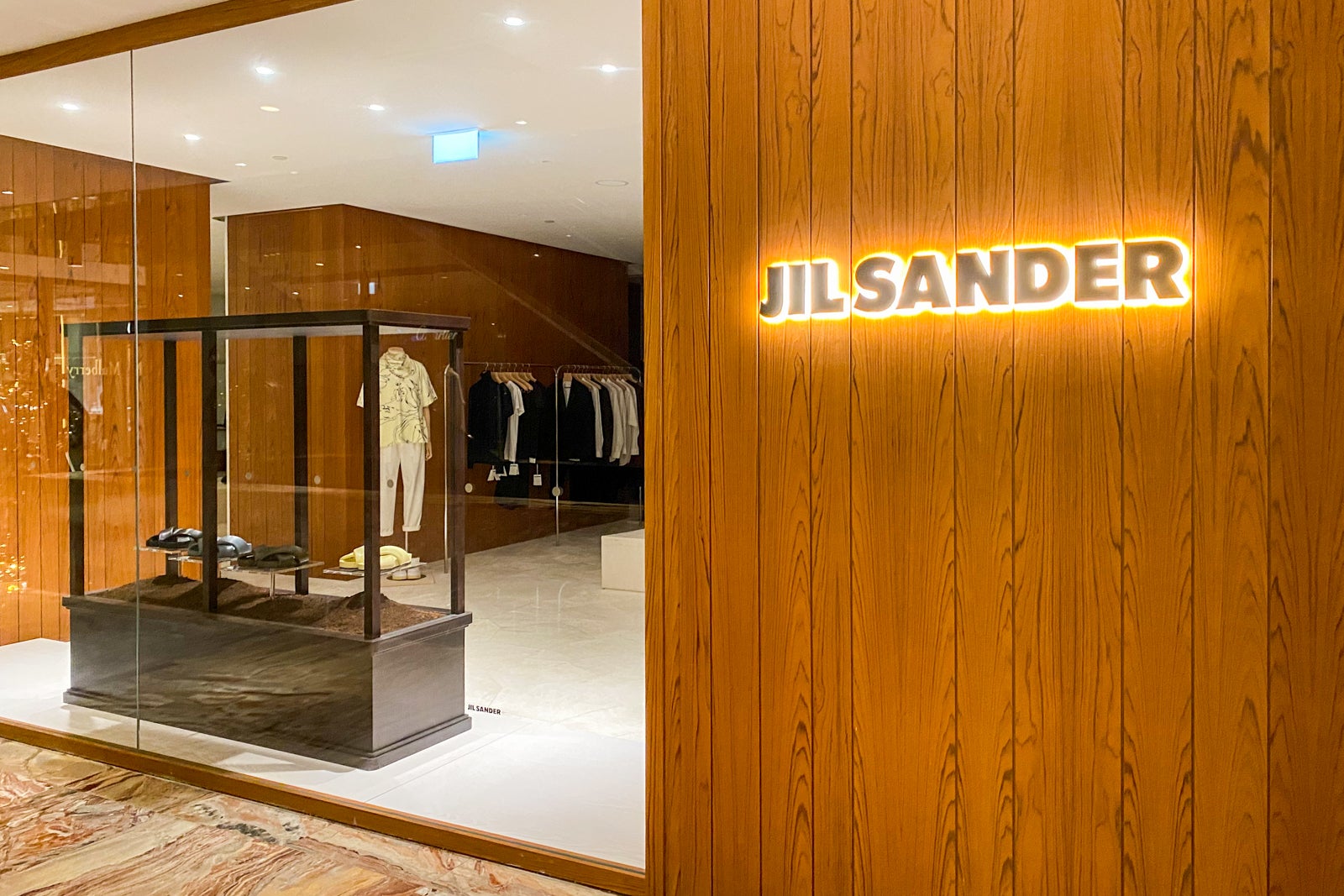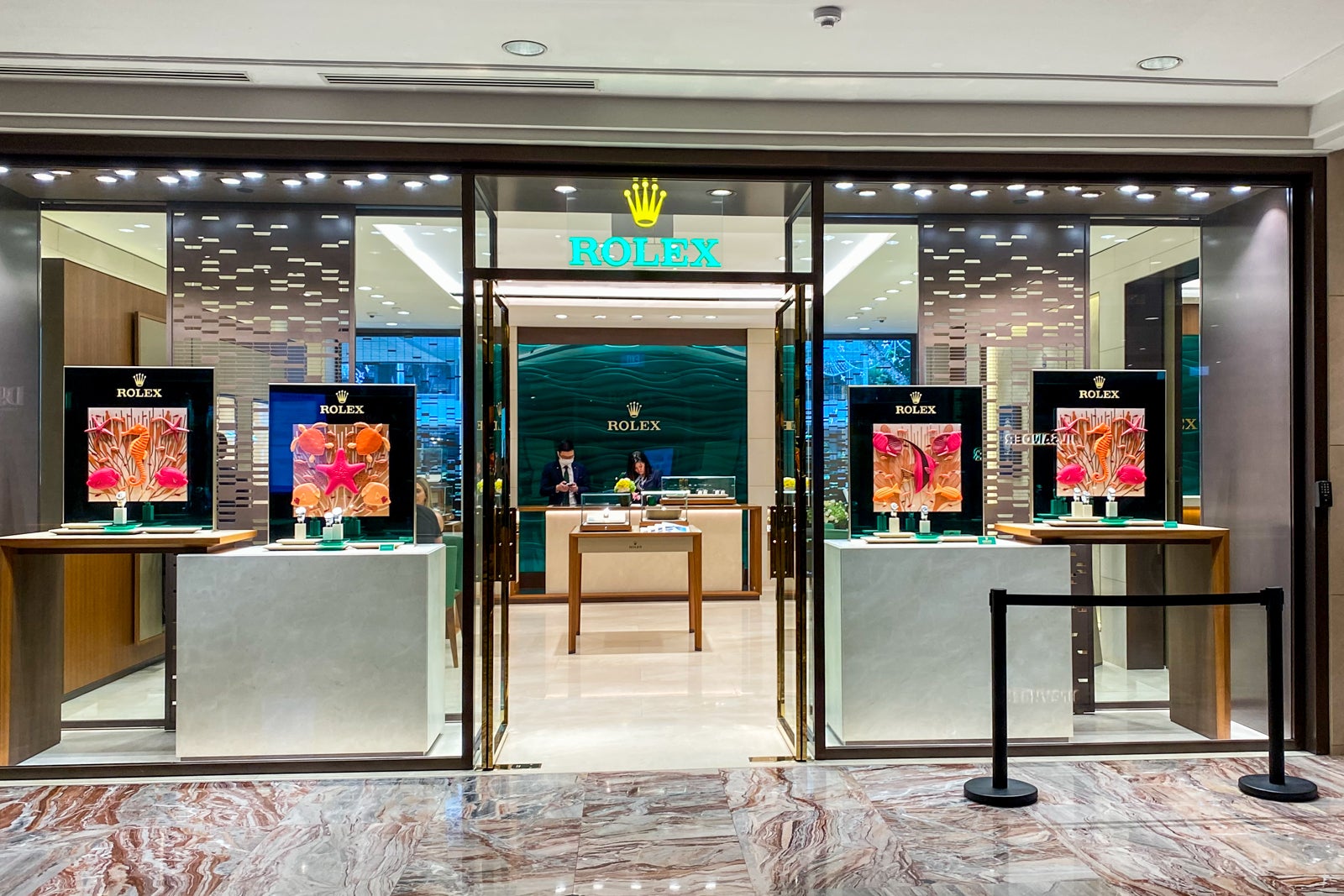 Should you prefer to spend a little less during your shopping spree, there are more affordable malls within walking distance, too, such as Forum, Far East and Tanglin. At these malls is a selection of less expensive shops, casual restaurants, coffee shops and massage parlors.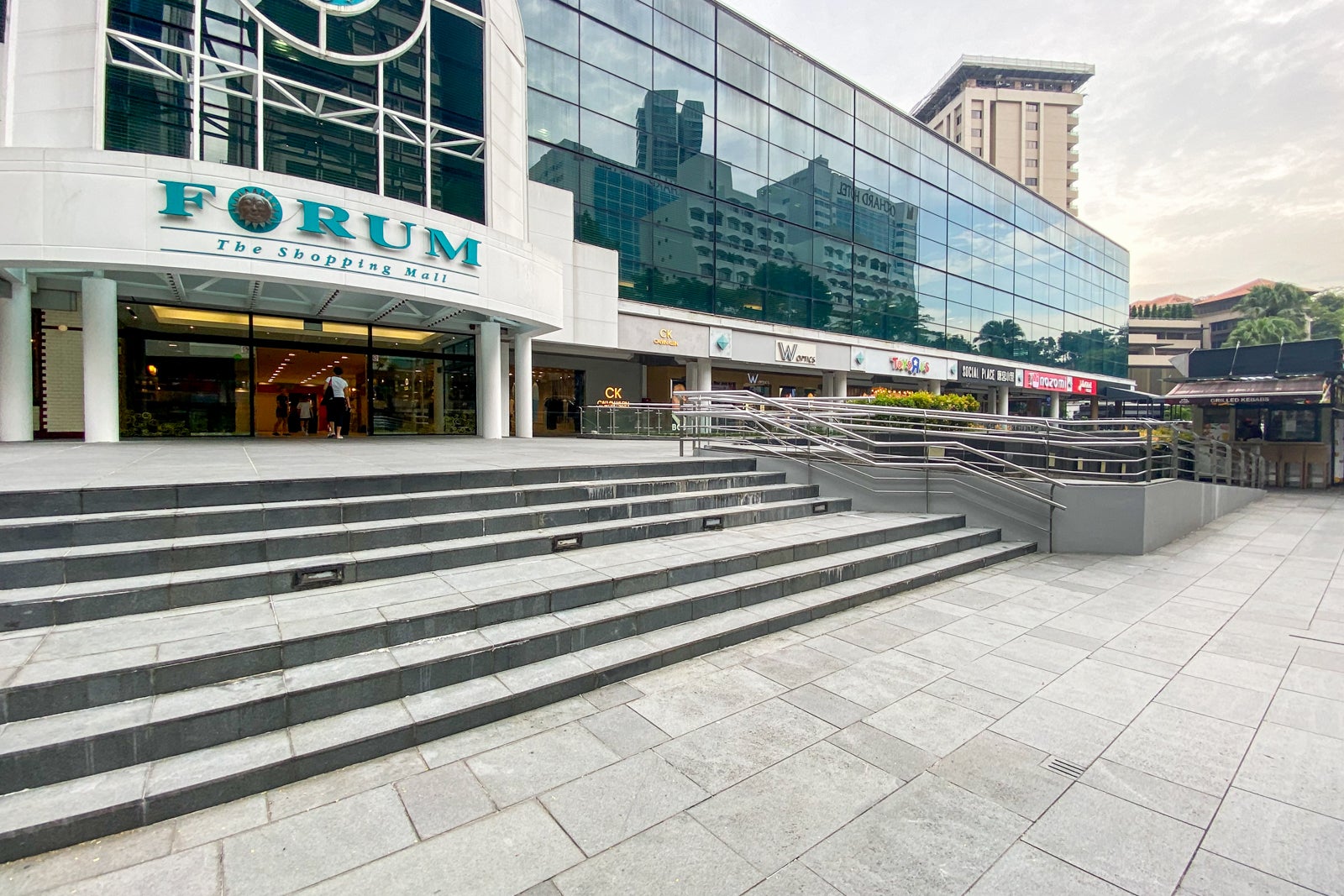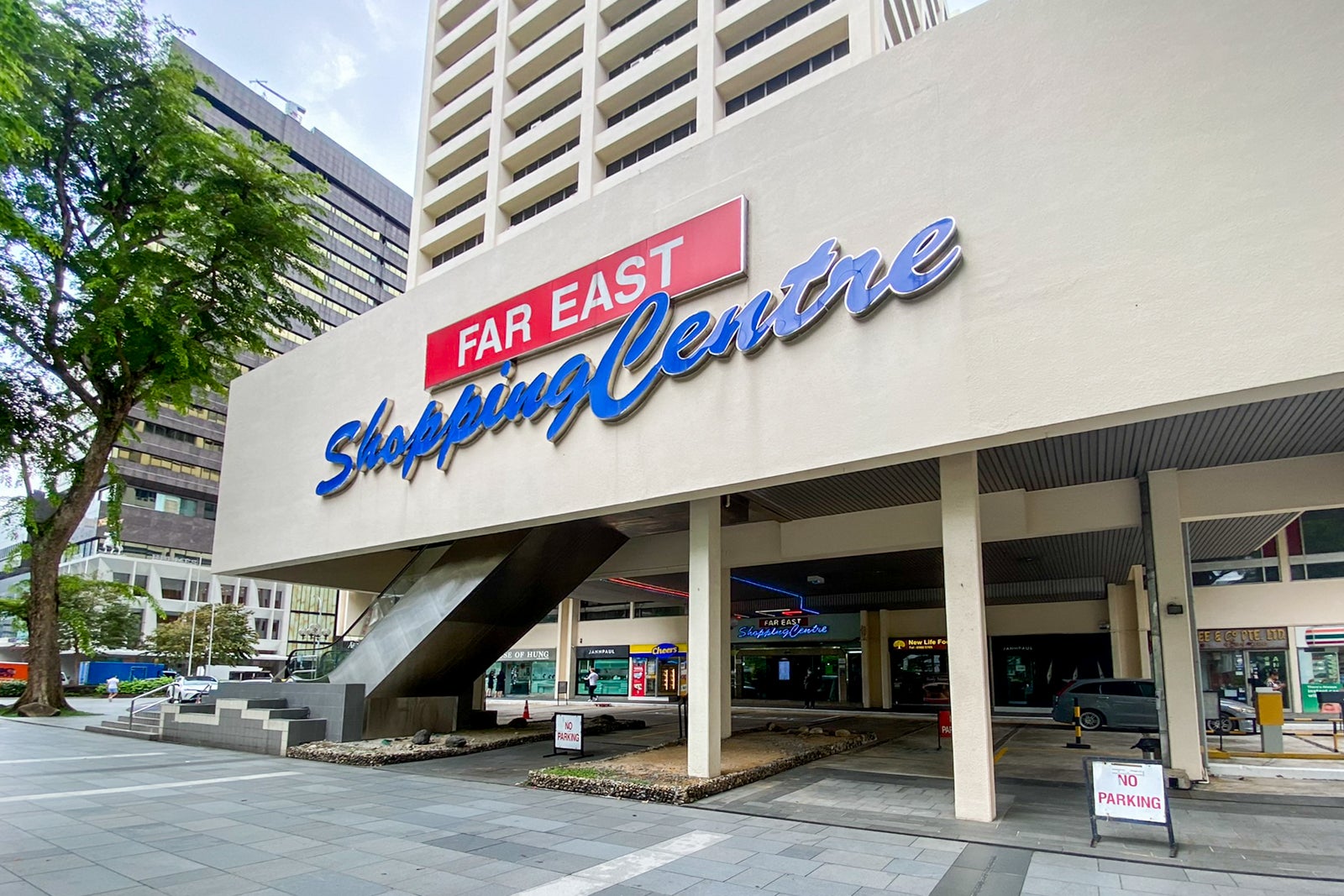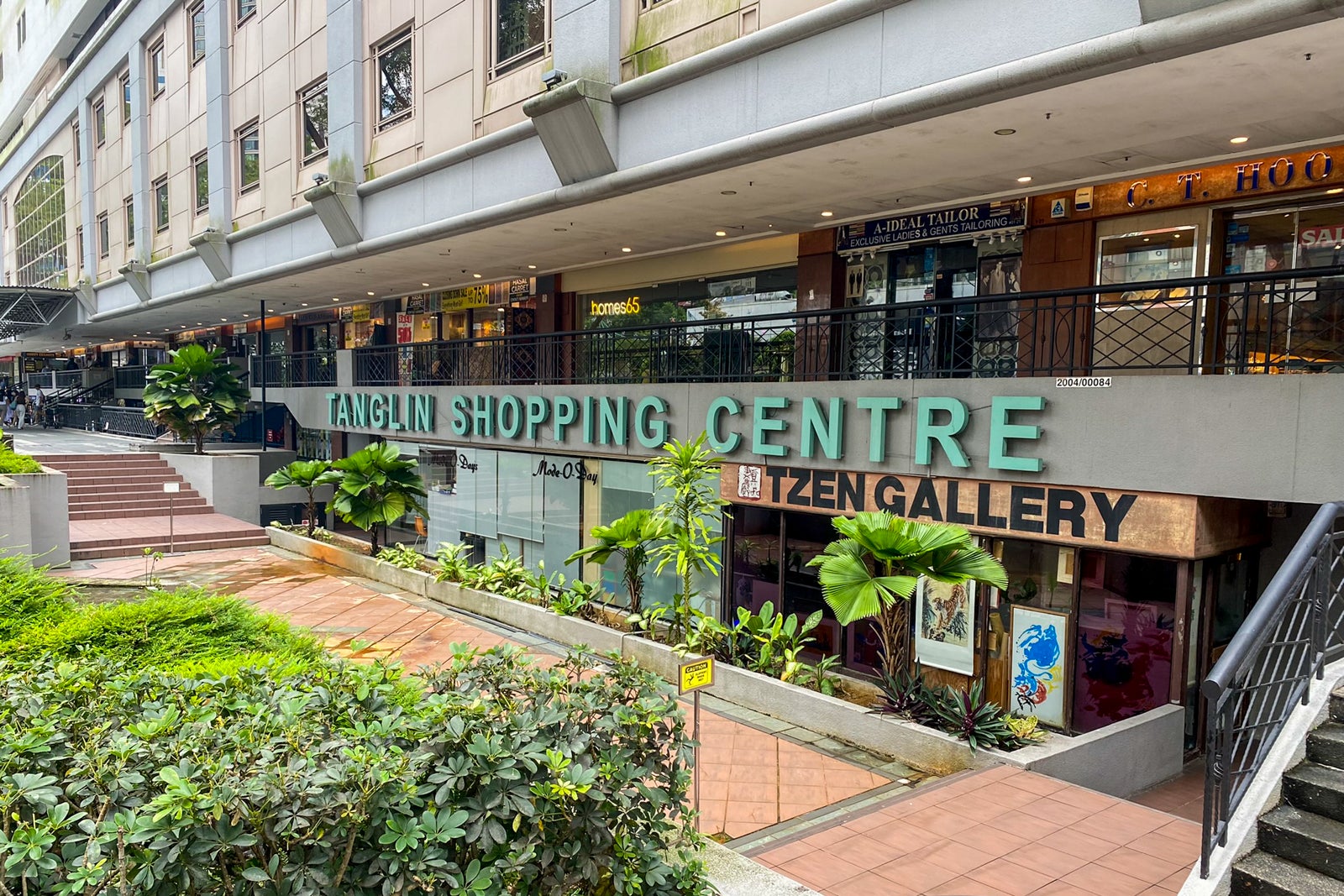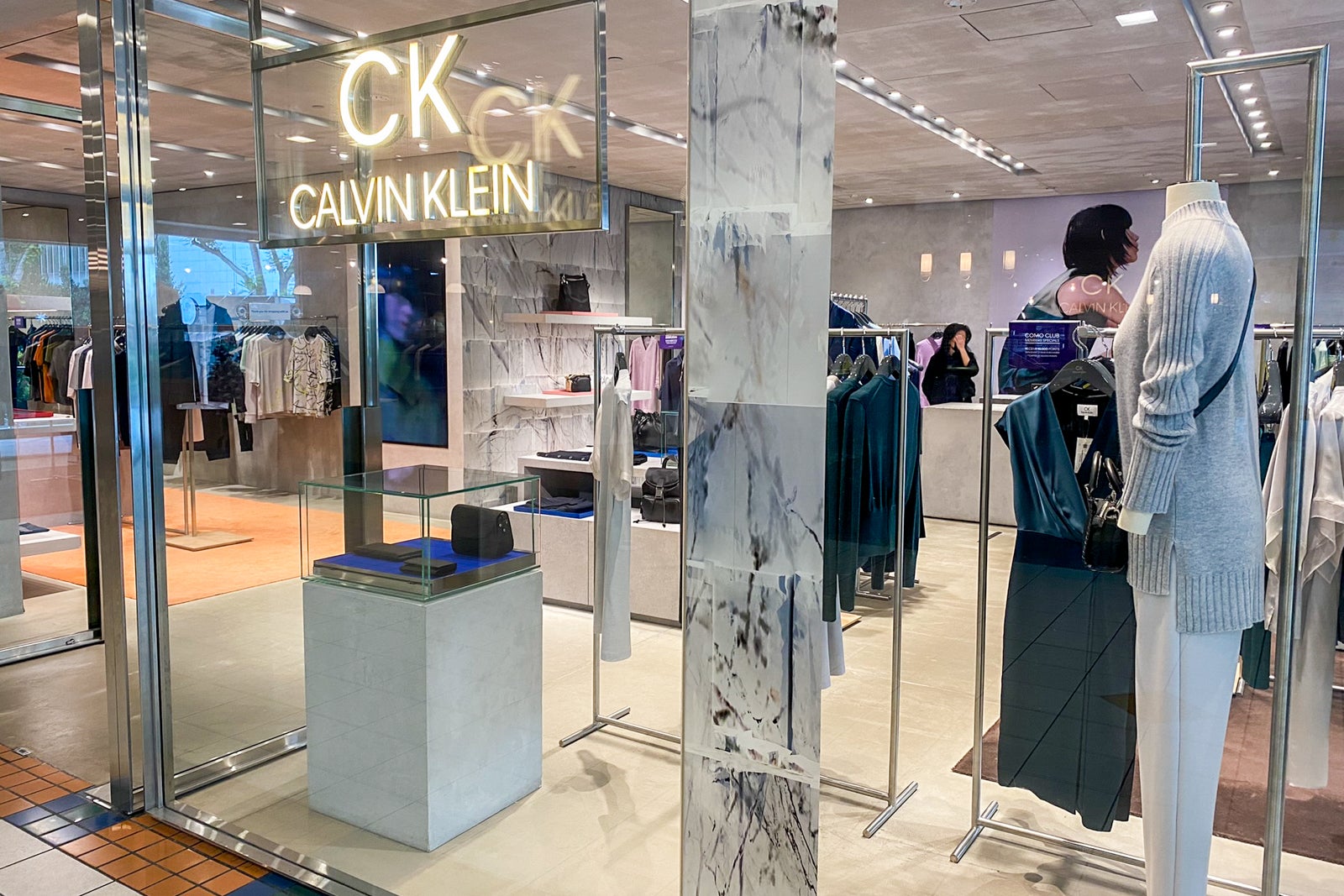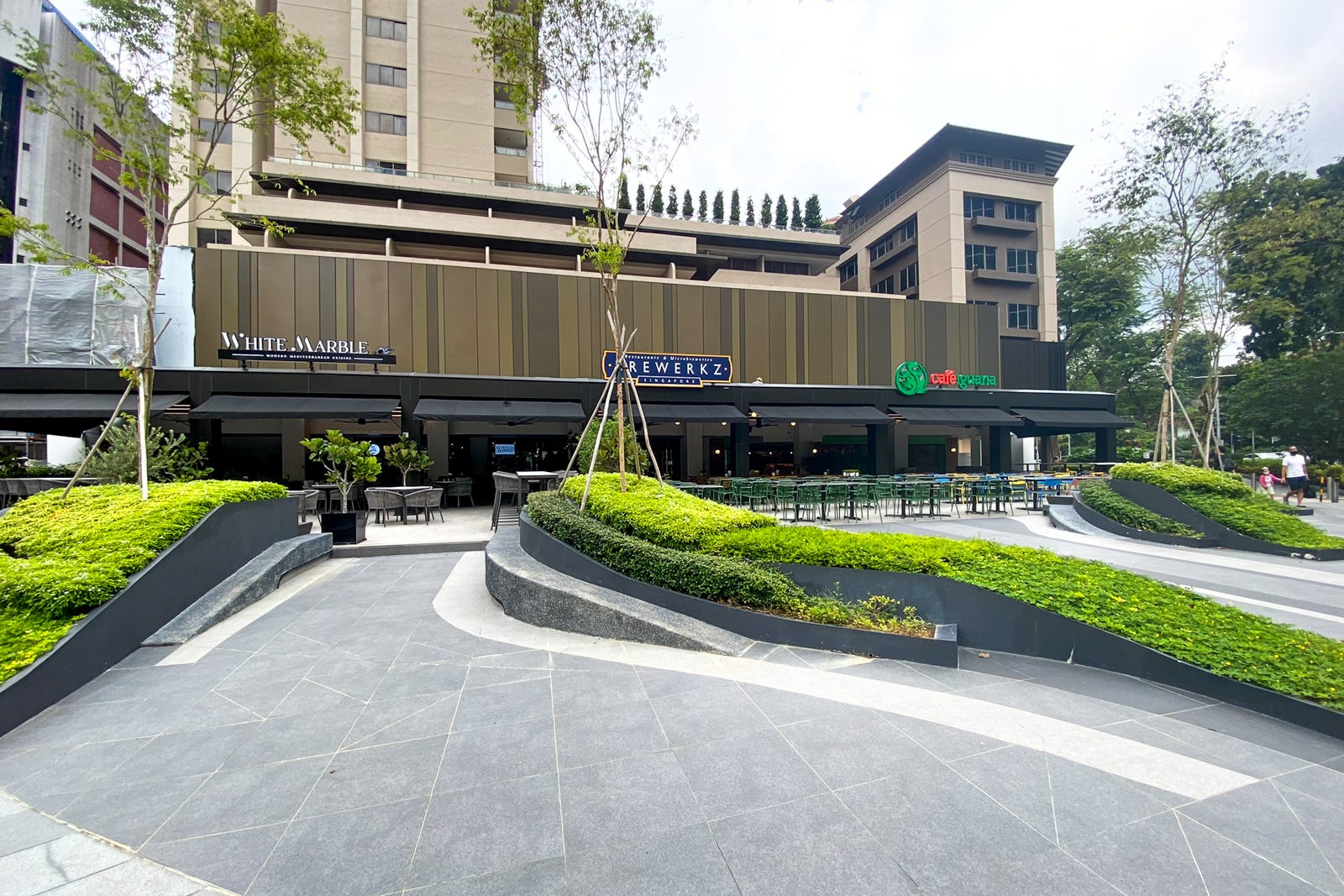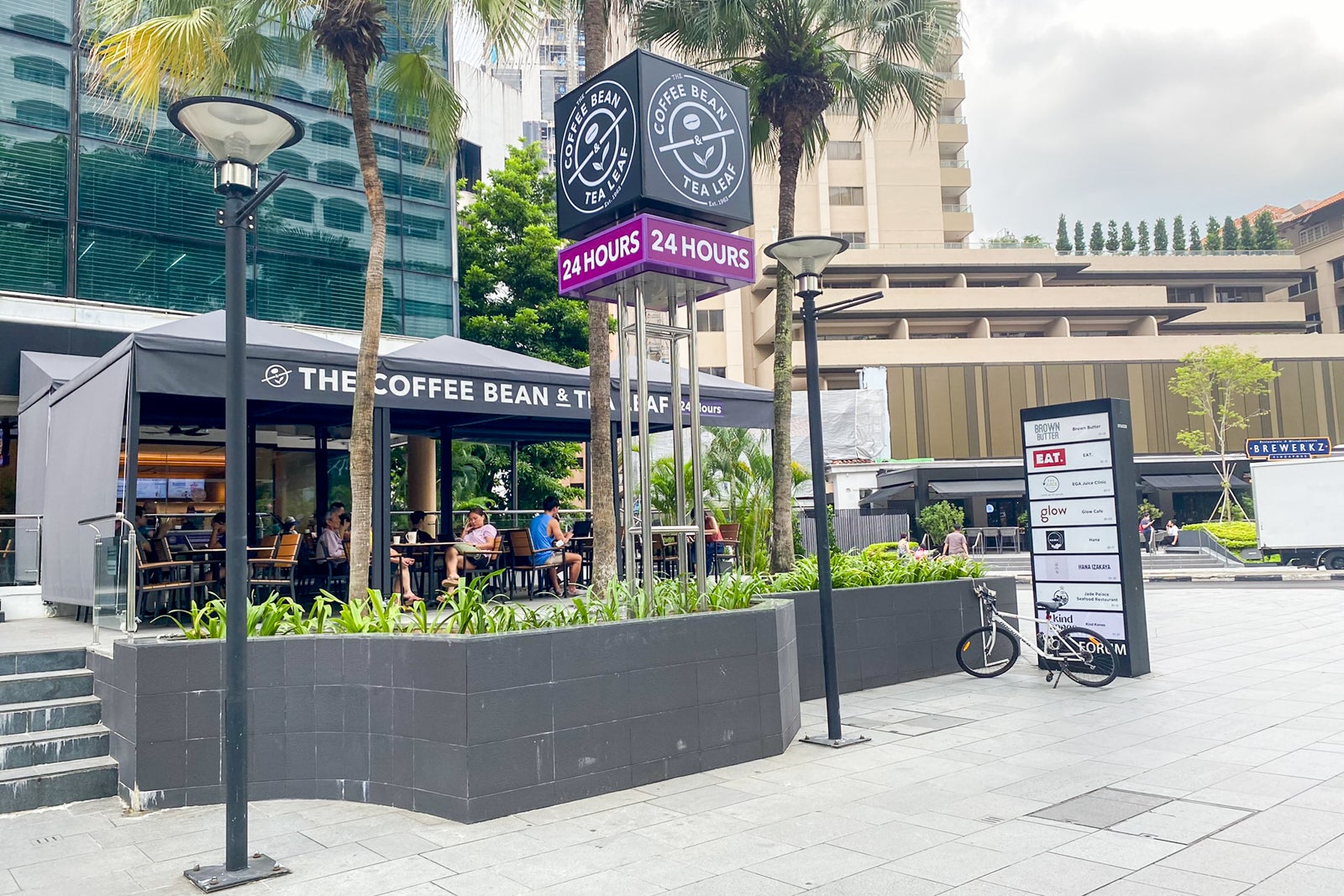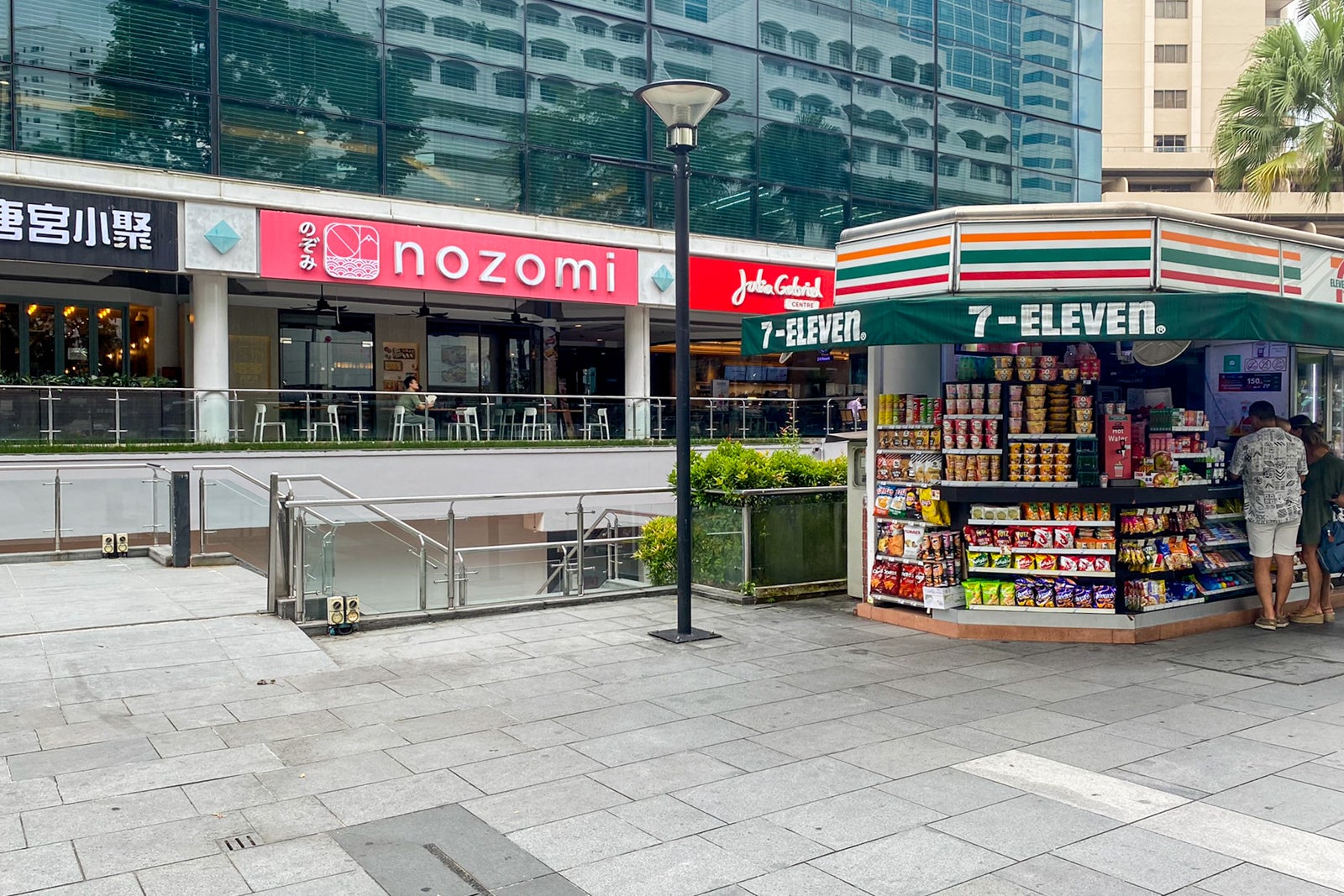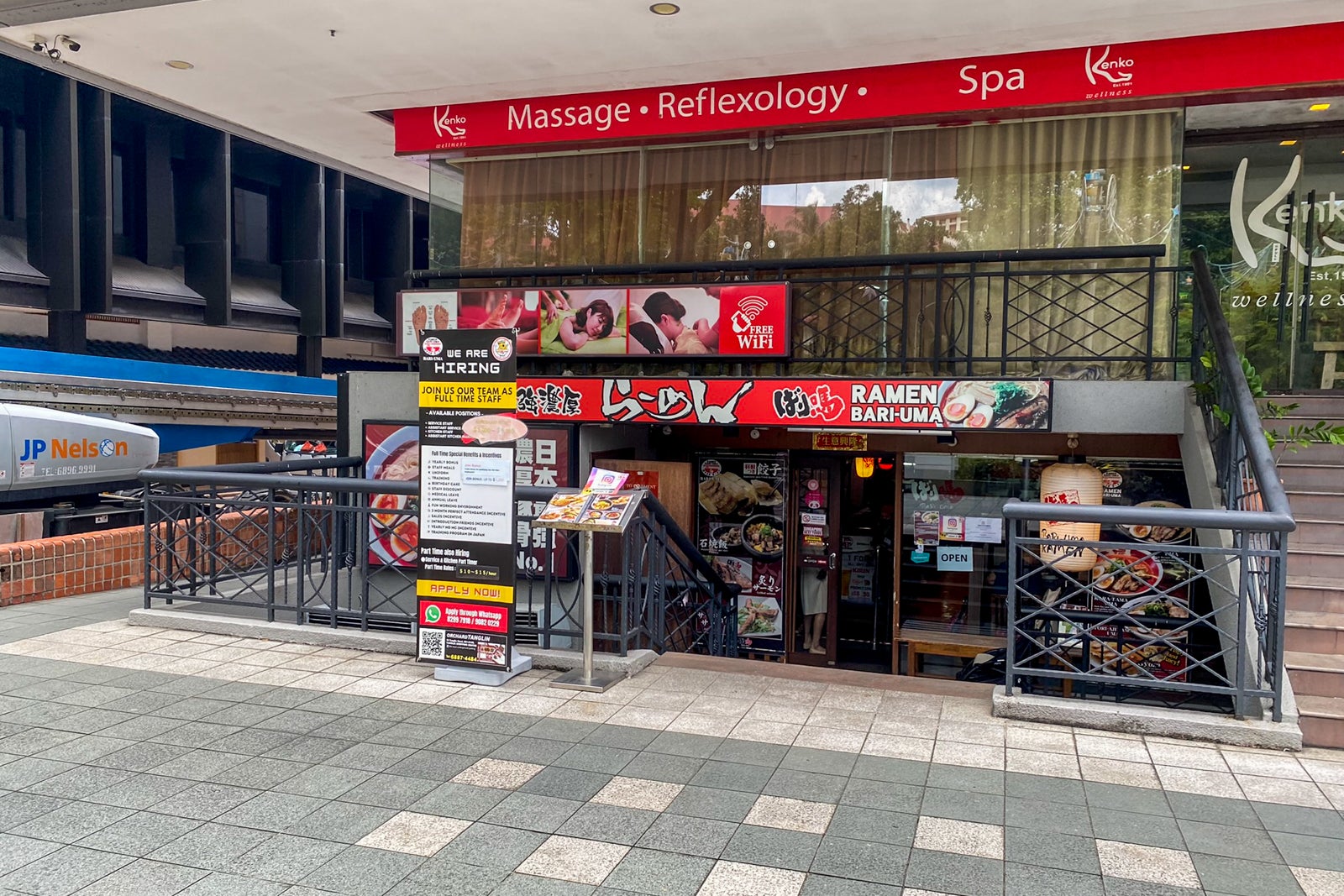 Some of Singapore's most popular attractions are a short drive away, making the property convenient for sightseeing. For example, the eye-catching Gardens by the Bay is a 10-minute drive from the hotel, while the UNESCO World Heritage-listed Singapore Botanic Gardens is only six minutes away by car. The closest station for Mass Rapid Transit (Singapore's public transportation system), Orchard, is a mere 10 minutes away on foot as well, so you can easily reach other parts of the city.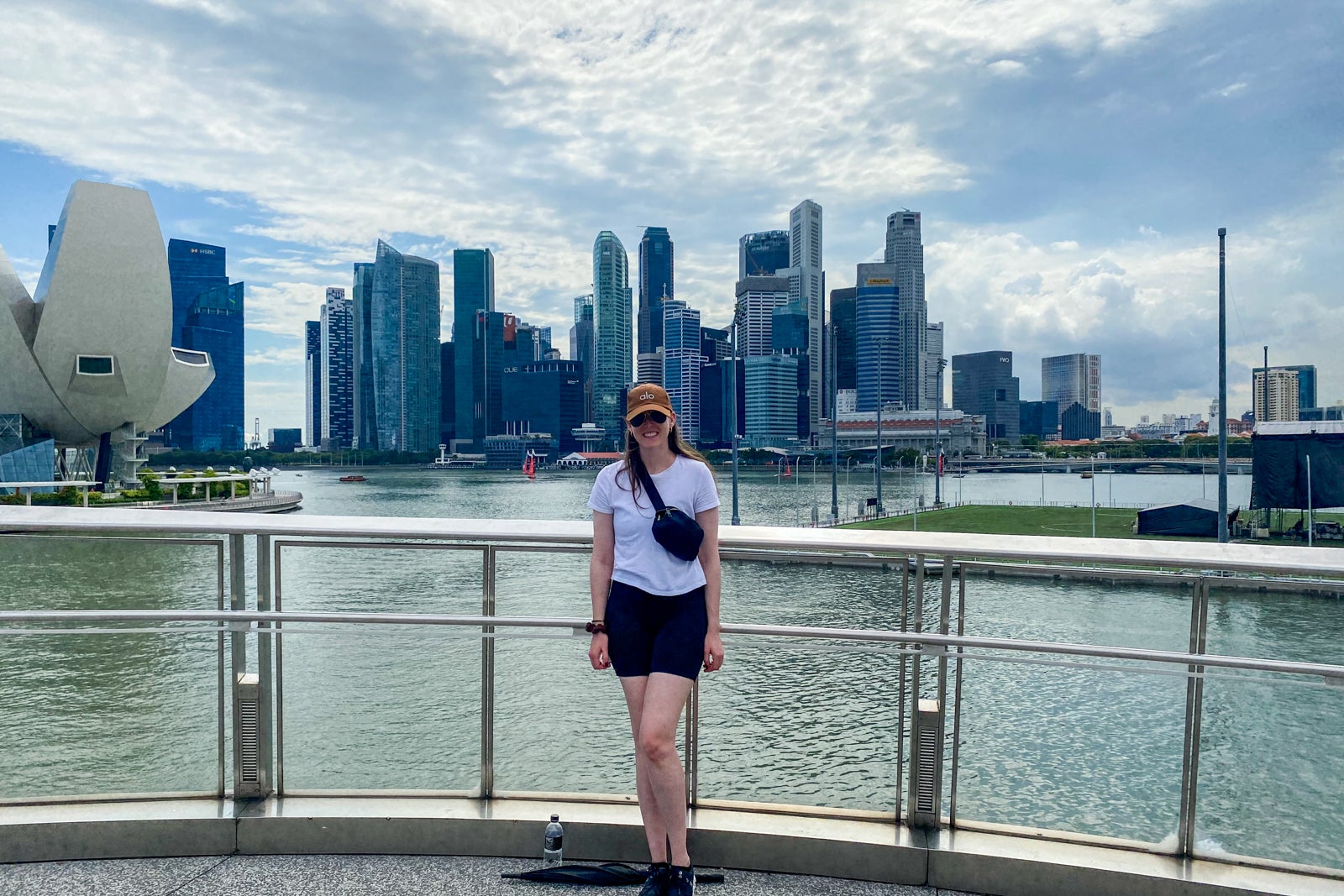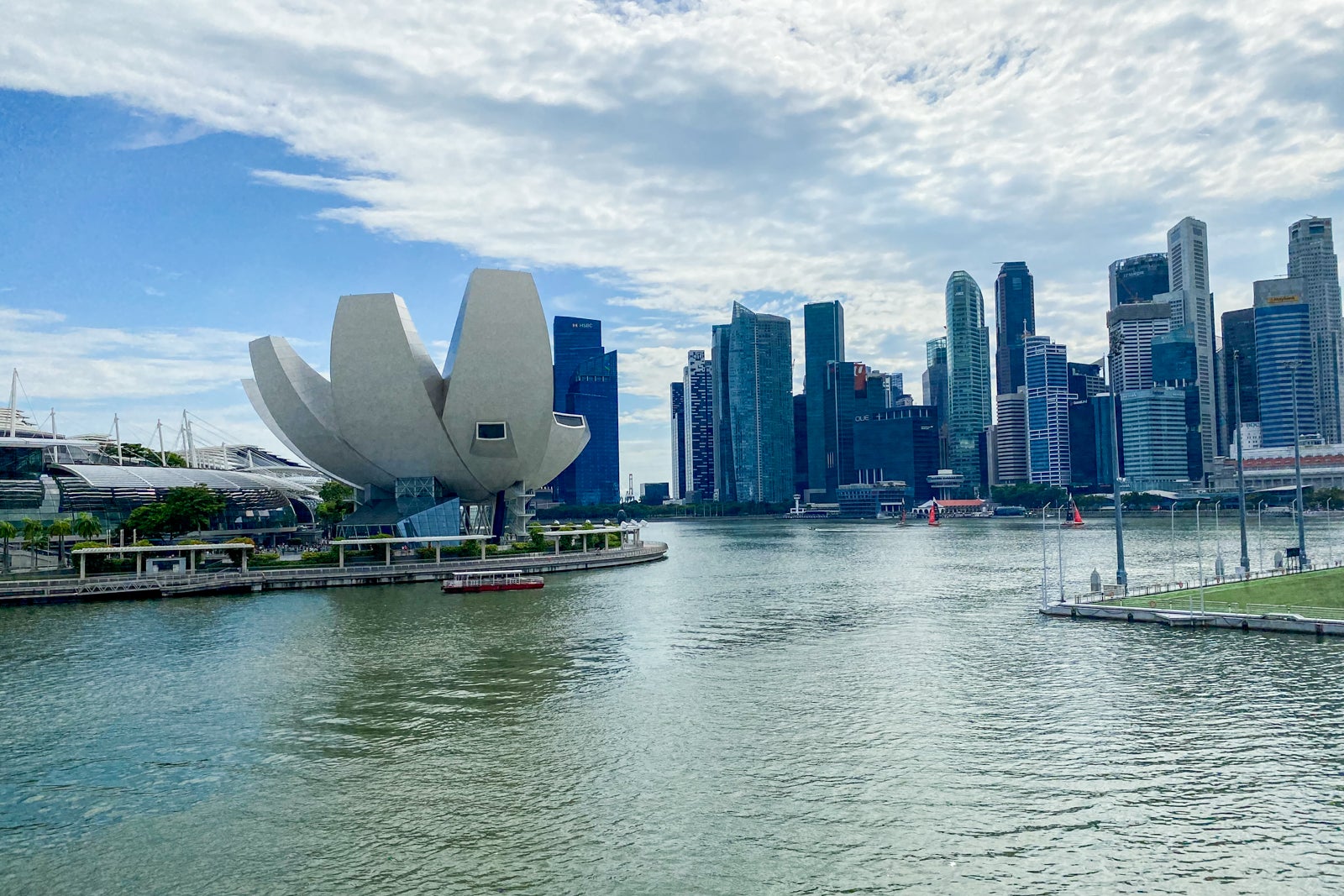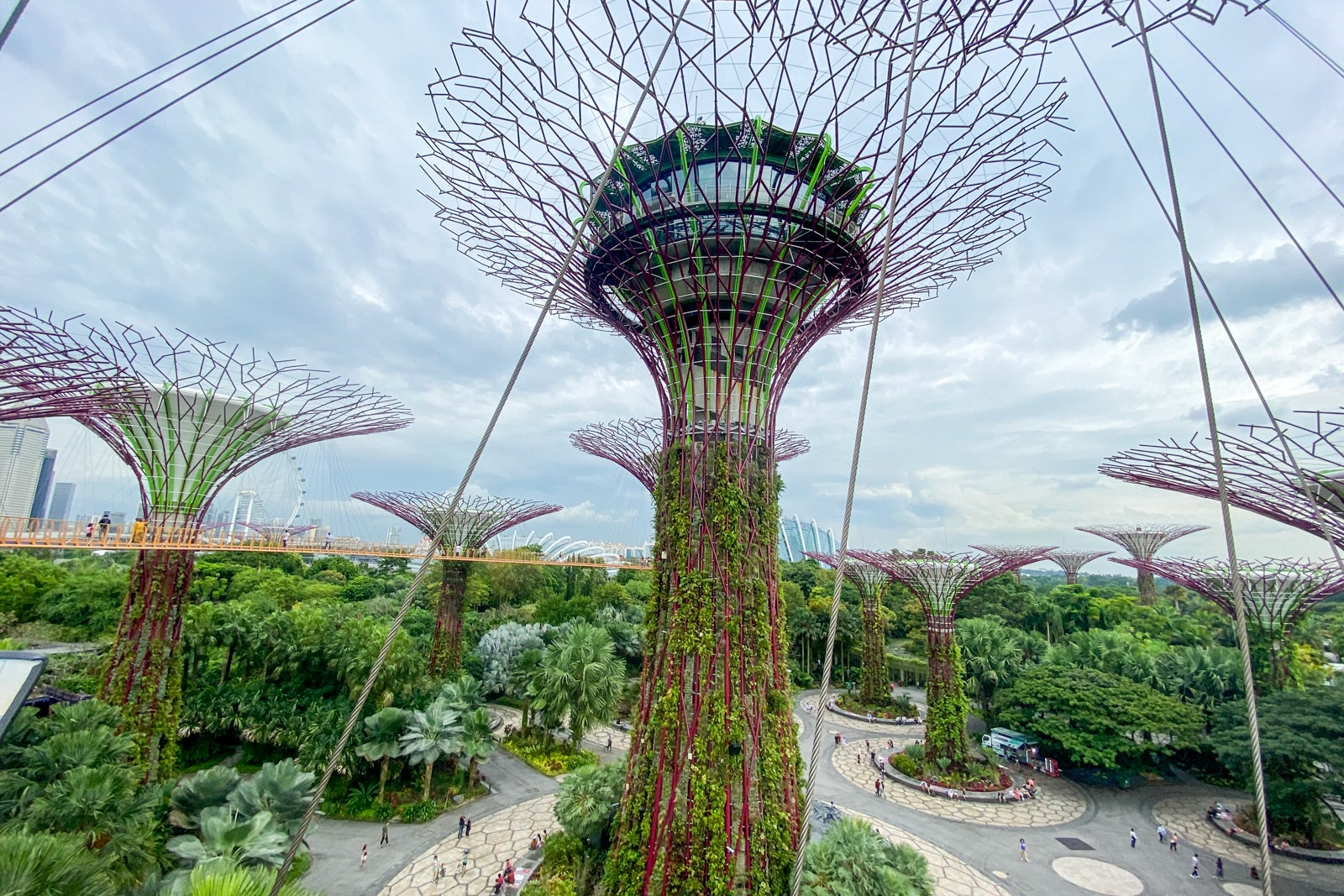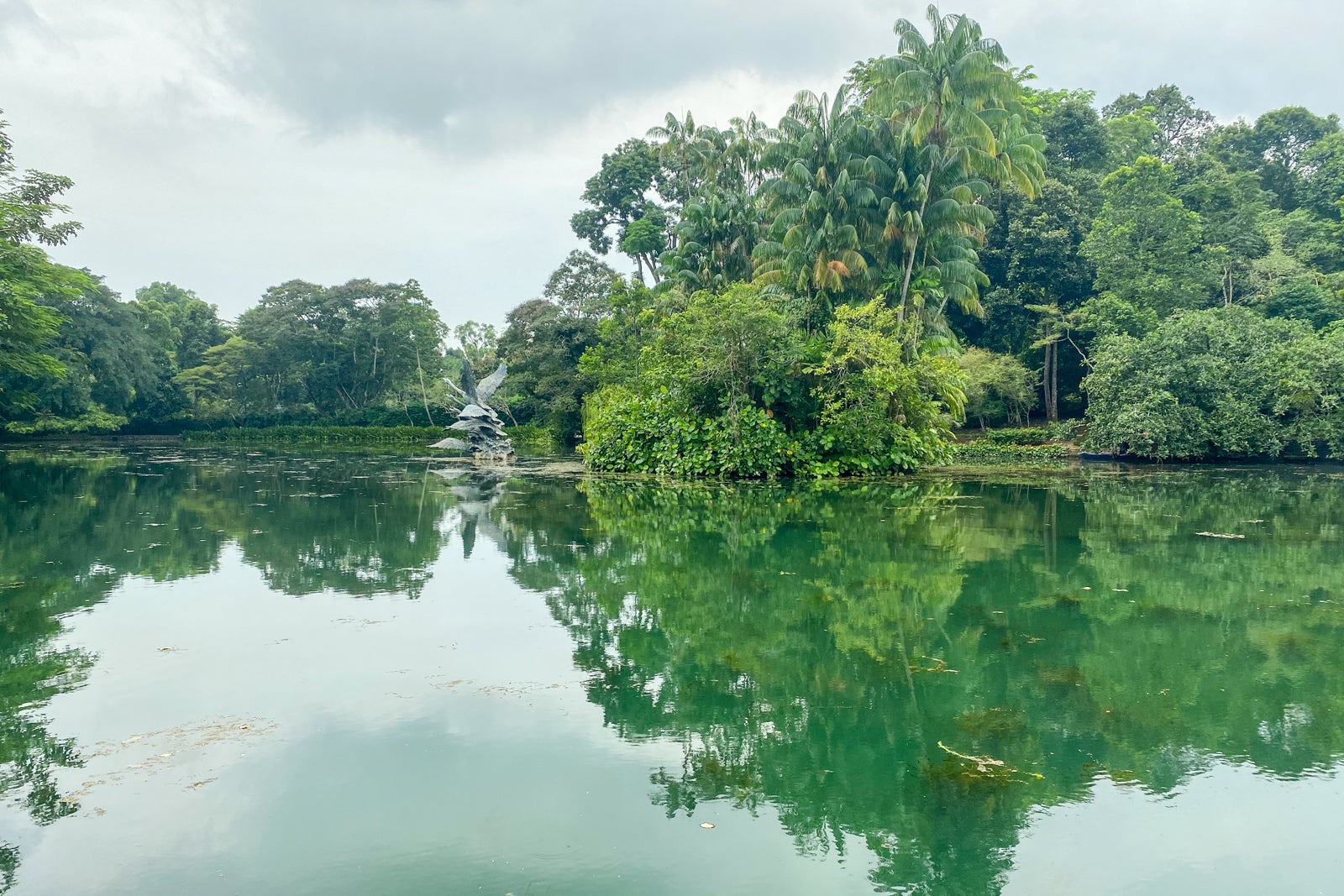 Related: A first-timer's guide to Singapore's hawker centers
You can get a good deal
As a TPG reporter, I'm always on the hunt for smart ways to use my points and miles when I travel. So, when I saw I could book my three-night October stay with a little more than 100,000 IHG One Rewards points instead of spending a total of $857 for the same deluxe room with a king-size bed, I knew using points was the way to go.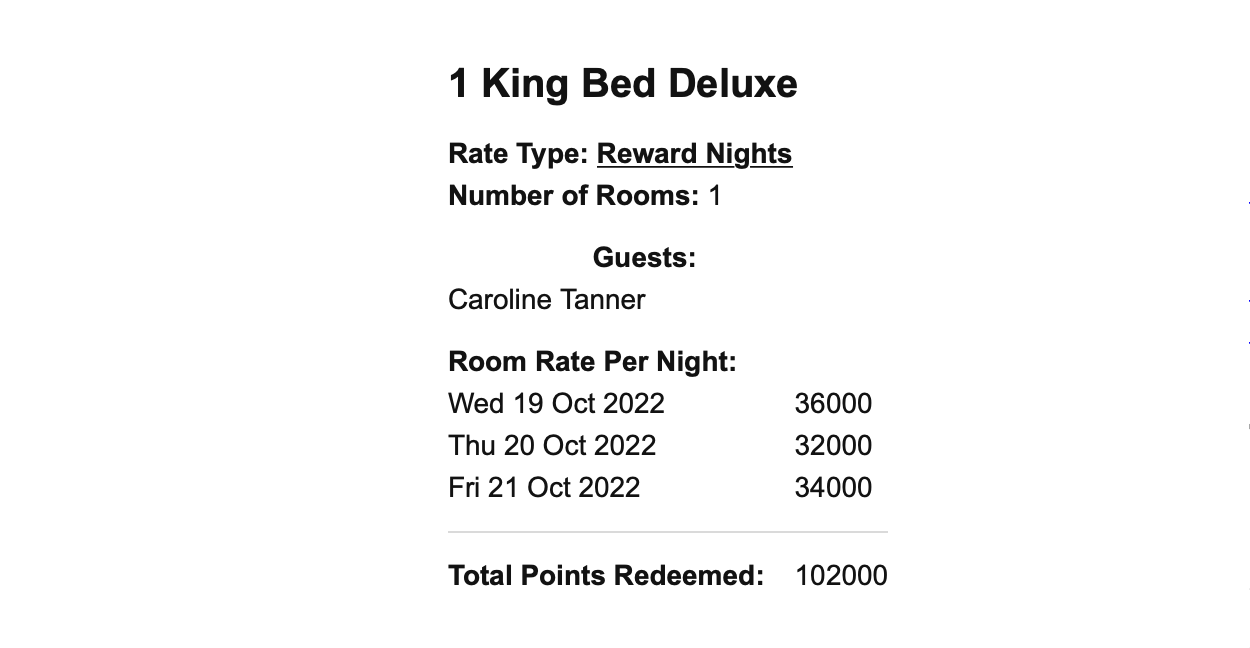 IHG One Rewards points are currently valued at 0.5 cents per point, according to TPG's latest valuations, so booking with 102,000 points was like paying $510 rather than $857.
Nightly cash rates may be lower than the $286 I would have paid. Depending on when you book, you may see rooms going for as little as $250 per night (including all taxes and fees), which is a much lower price point than other comparable properties along Orchard Road.
It's a new hotel — mostly
Despite its new name and brand affiliation, voco Orchard Singapore lacked the fully updated look I expected to find.
Still, I was pleasantly surprised to learn two days before I arrived that I was being upgraded to a larger room thanks to my IHG Diamond elite status.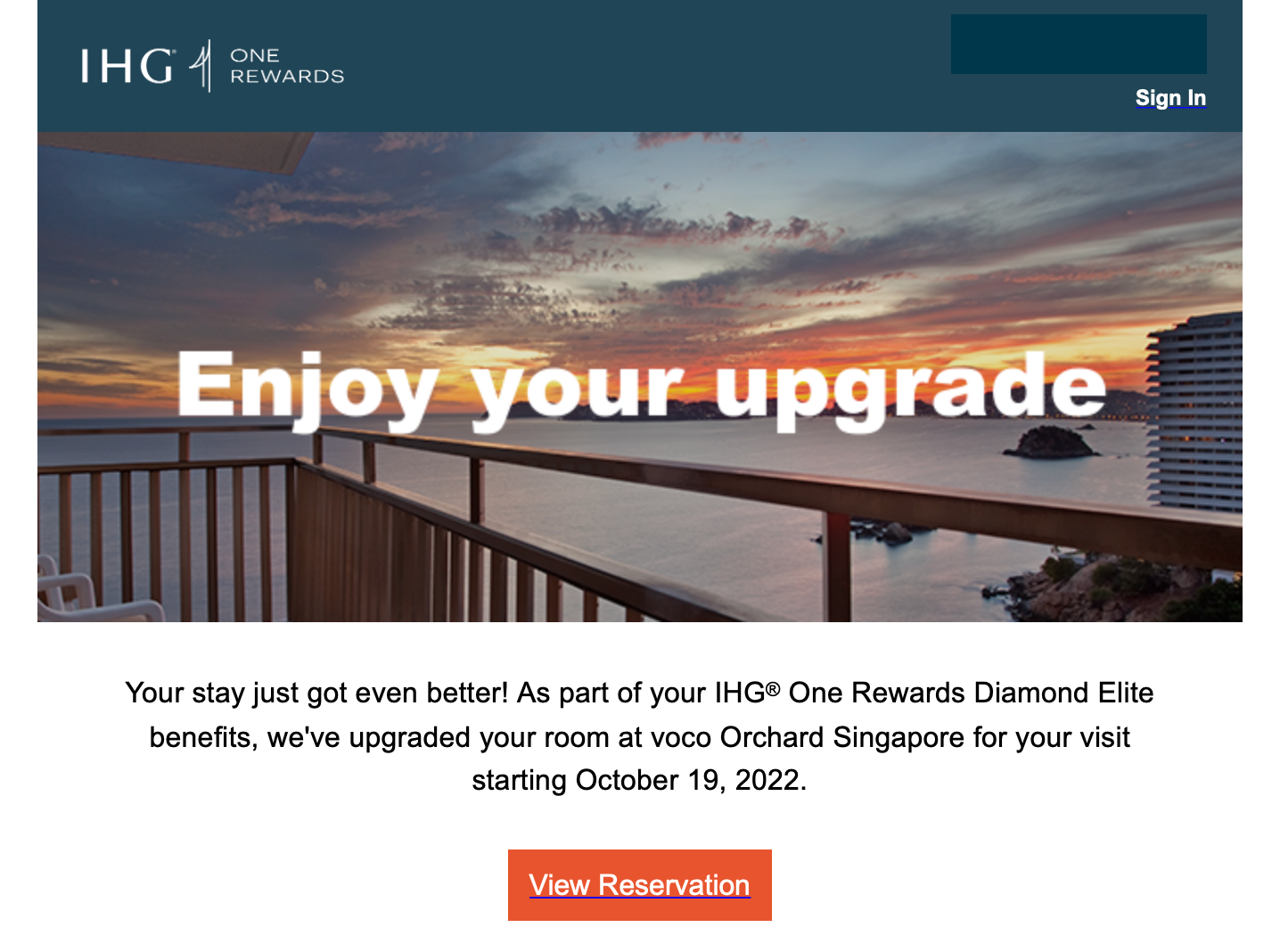 Instead of the standard king bed deluxe room I'd booked, I was assigned a deluxe room on a high floor. These accommodations can be found on floors 14 to 16 and overlook Orchard Road.
When I entered my 344-square-foot room on the 15th floor, I immediately noticed (and appreciated) the spacious floor plan.
Inside the main room, which had a neutral color scheme with pops of yellow in accent pillows and the plaid carpet, was a comfortable king-size bed, a stand for suitcases plus a glass desk with an ergonomic chair that might have been leftovers from the hotel's Hilton days, if I had to guess.
I appreciated the overall look and functionality of the room. The clean lines of the nightstands and entertainment unit created a modern feel despite their tired, light-wood finishes, and a number of must-have conveniences were available, including a minifridge and a 55-inch smart TV.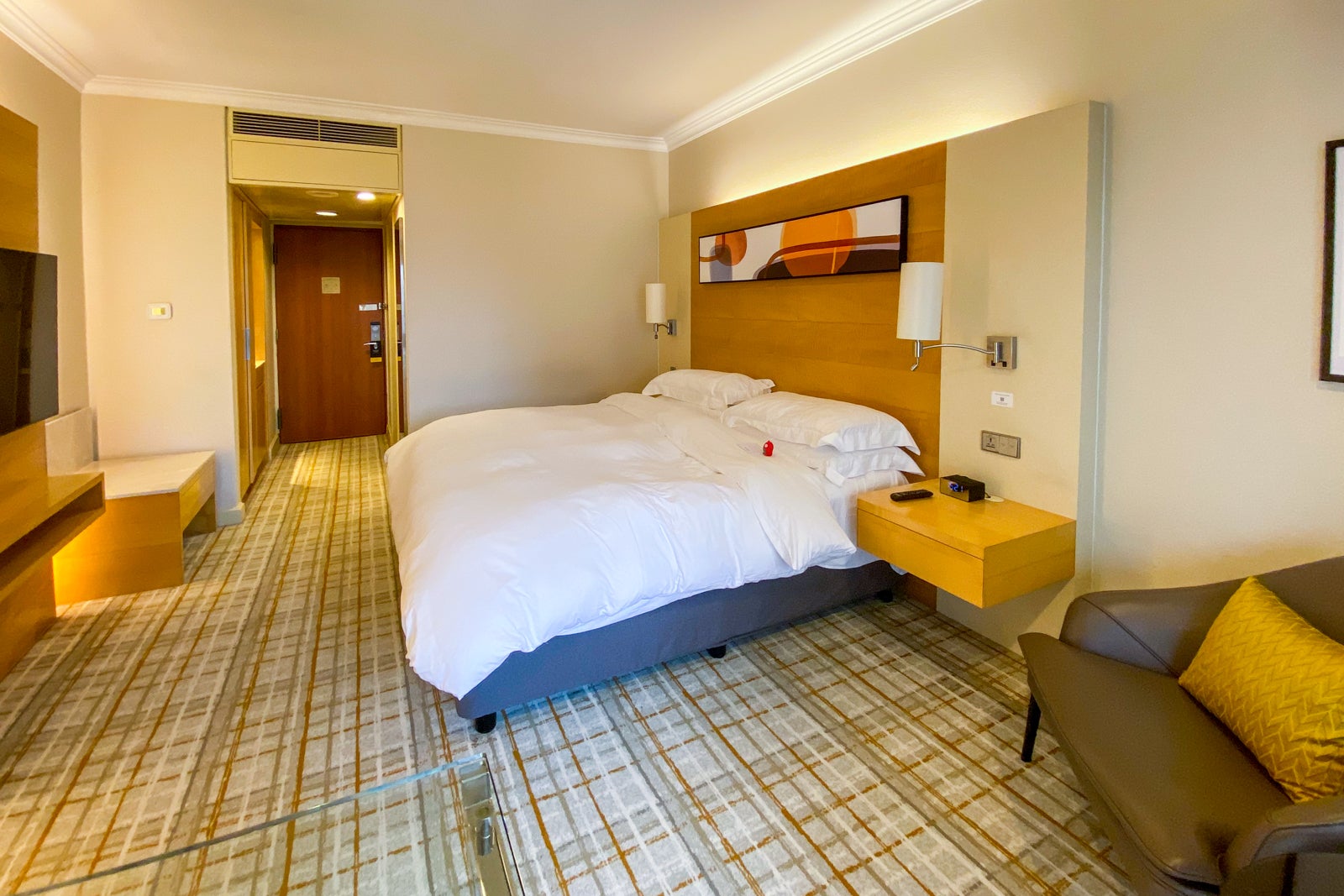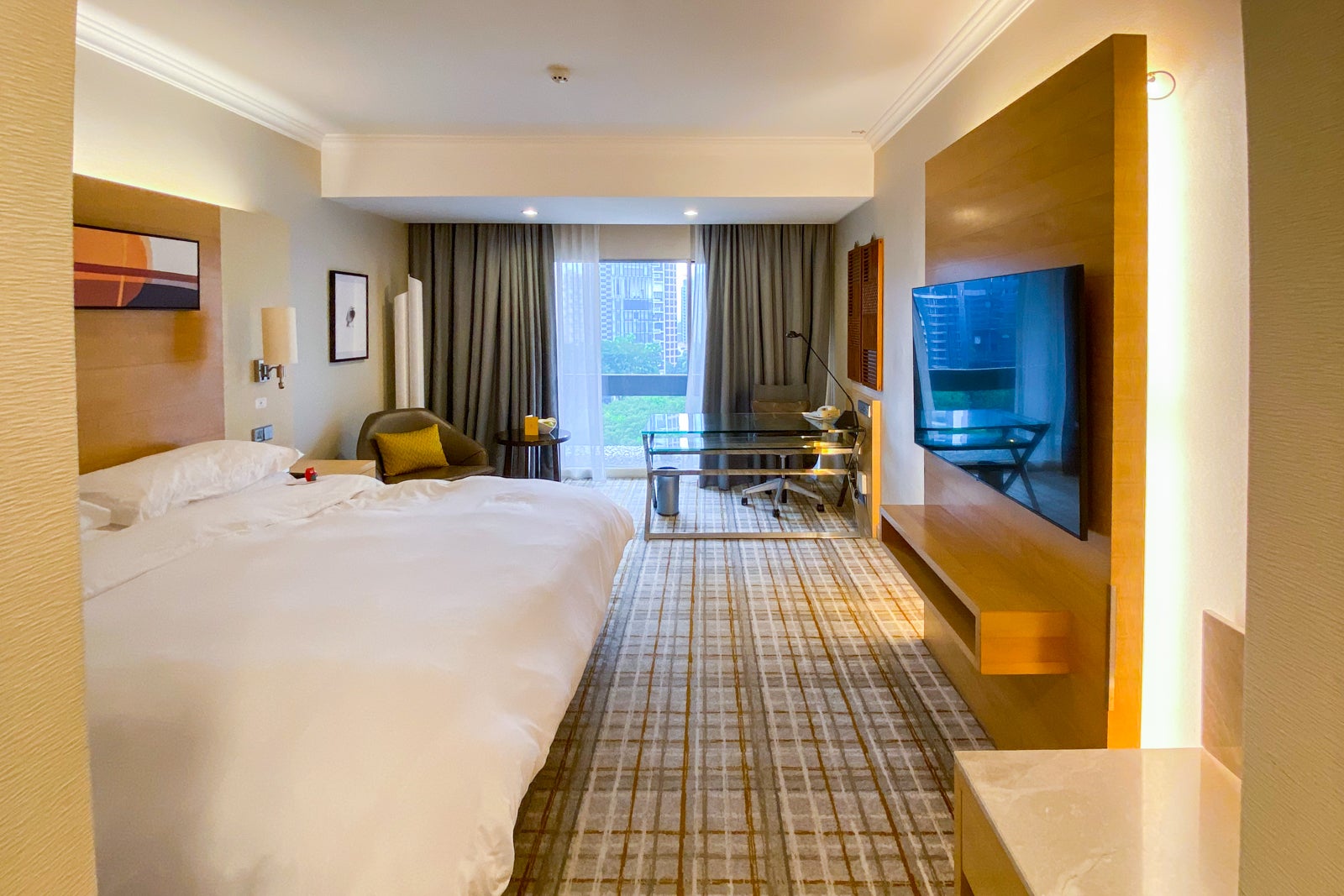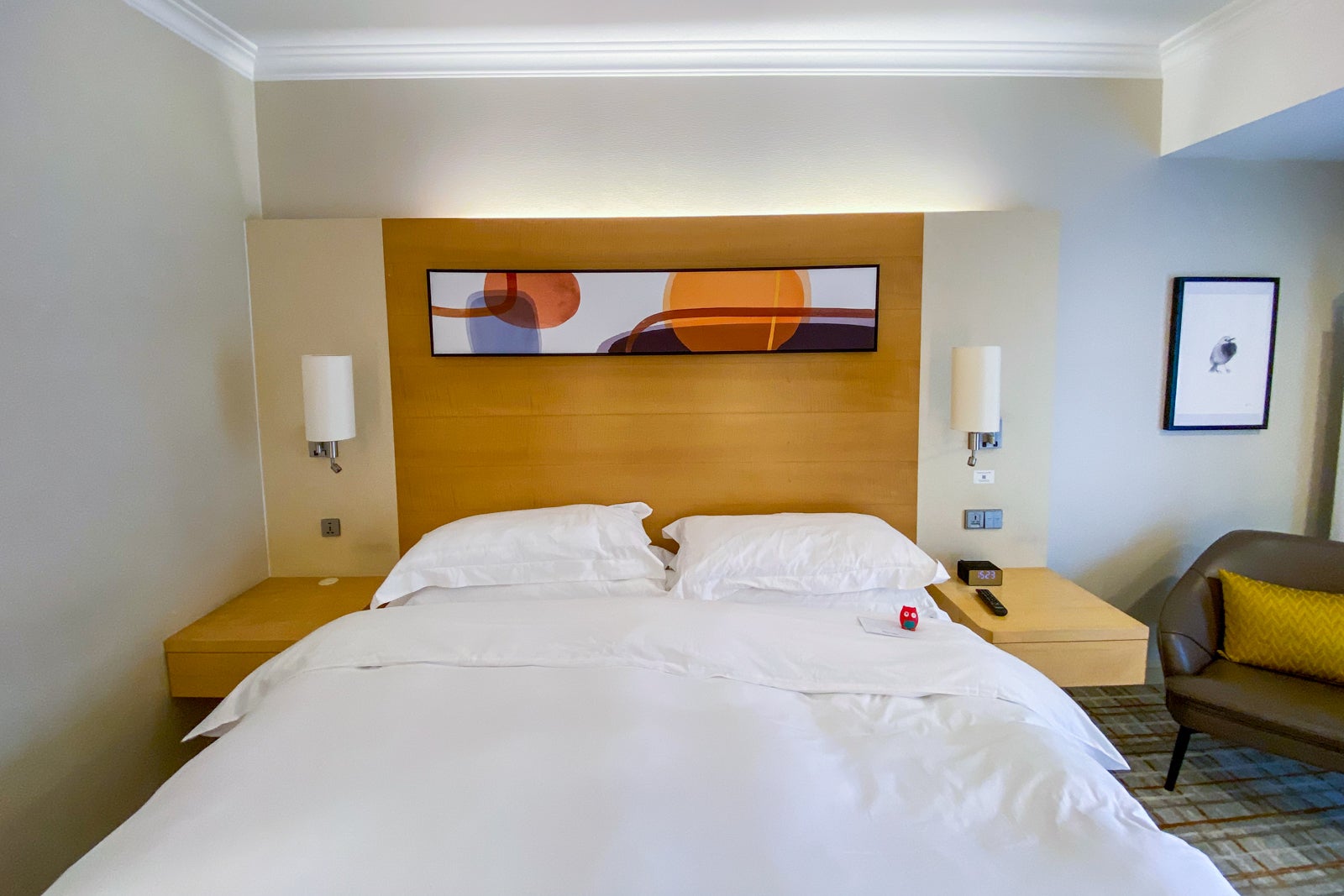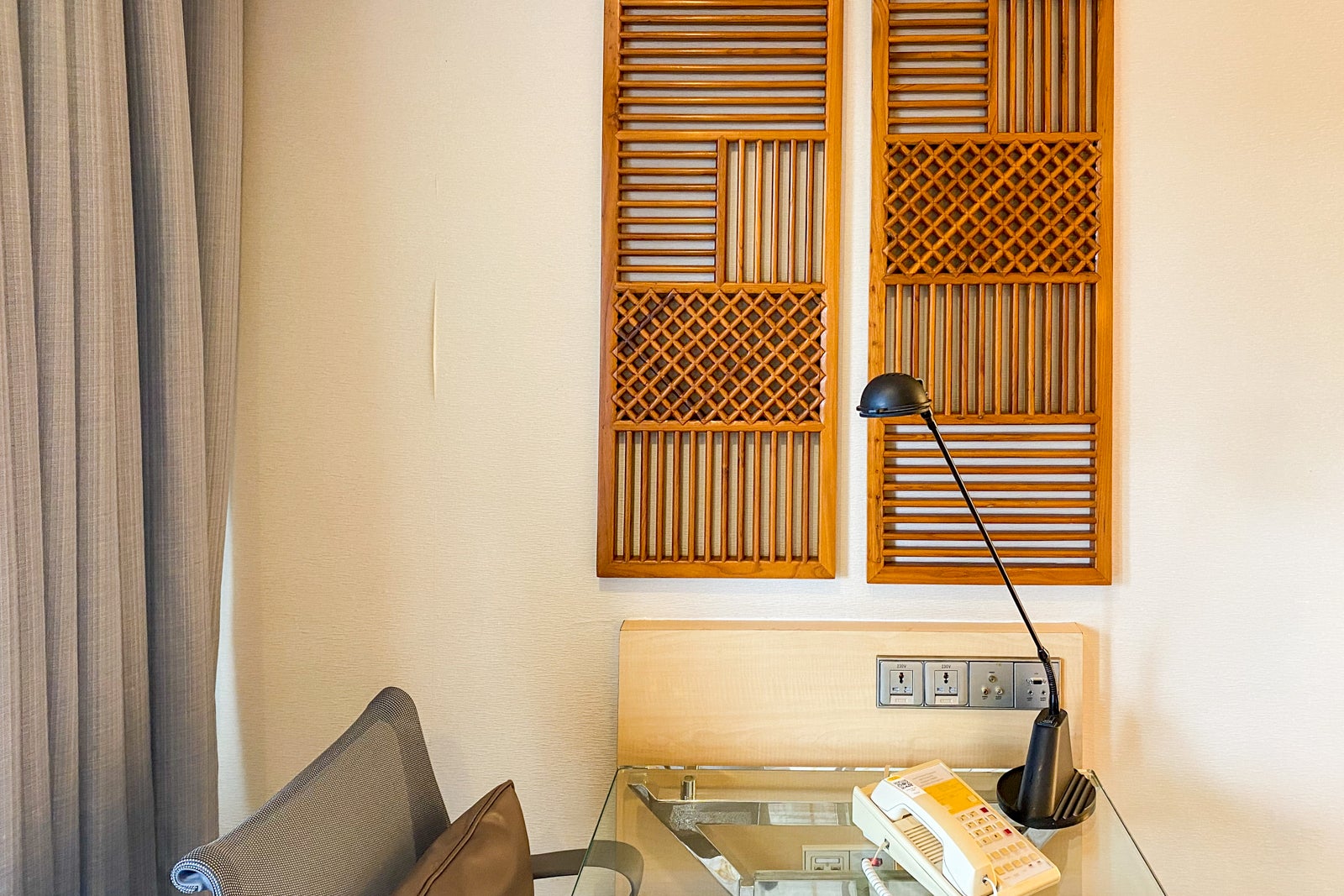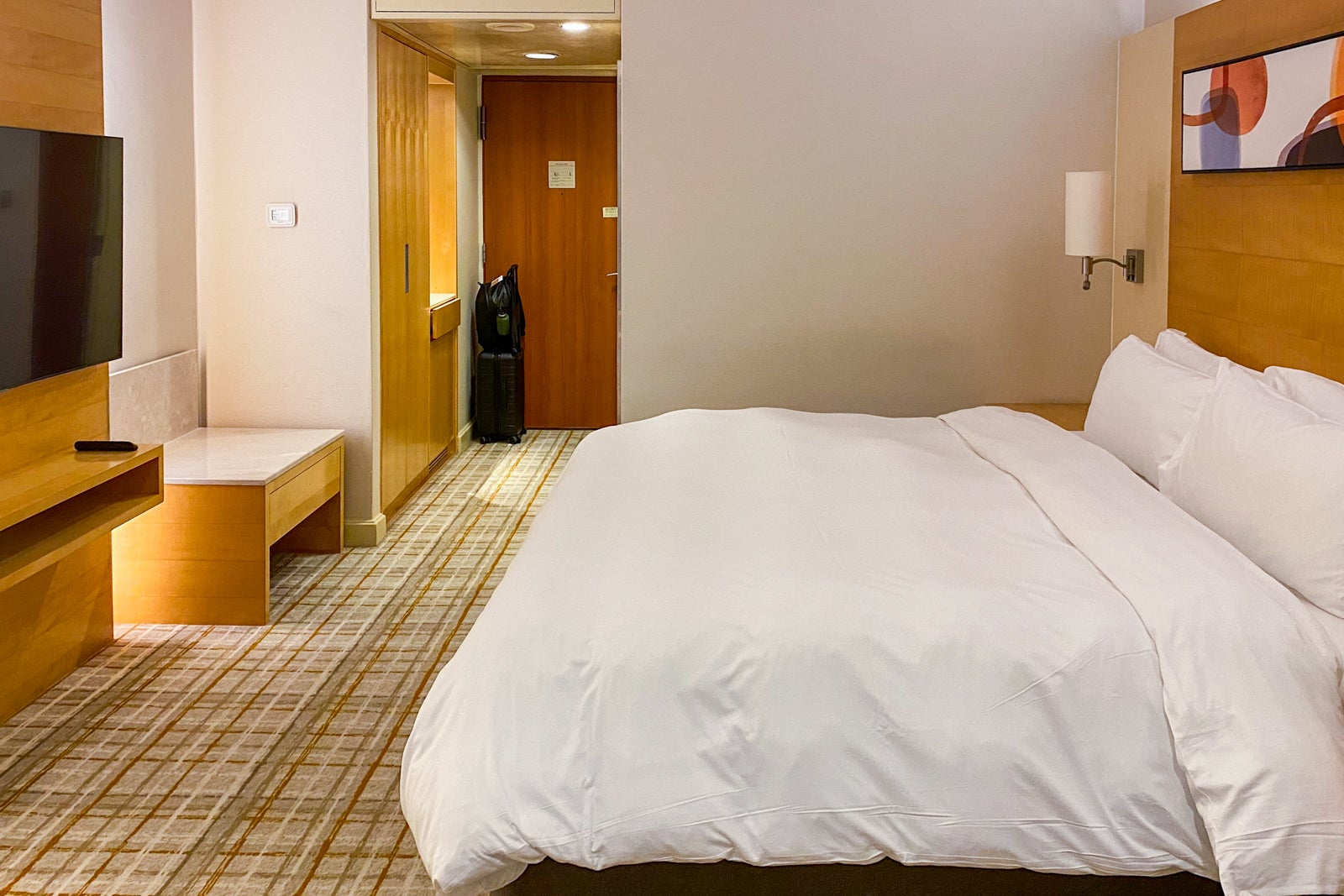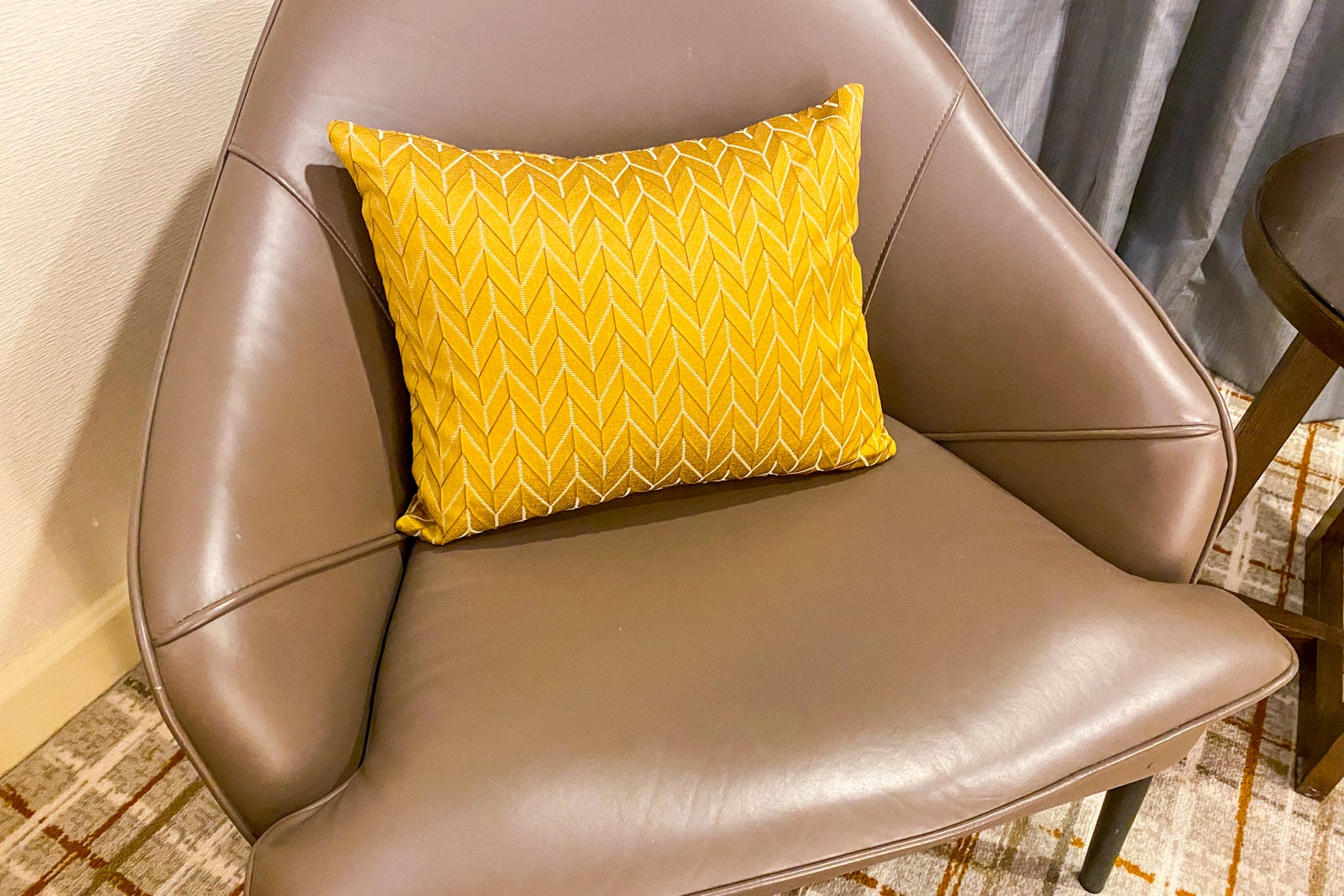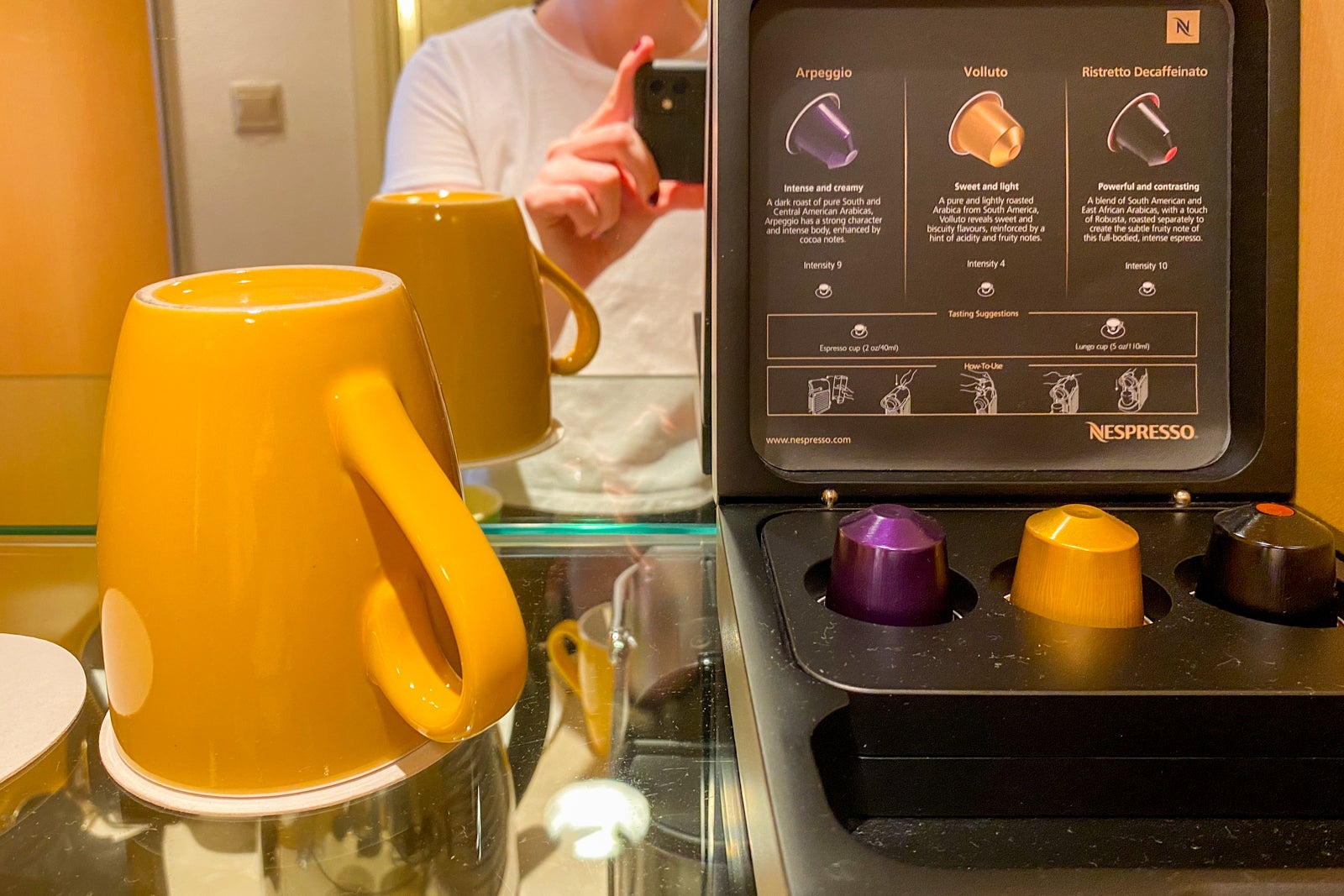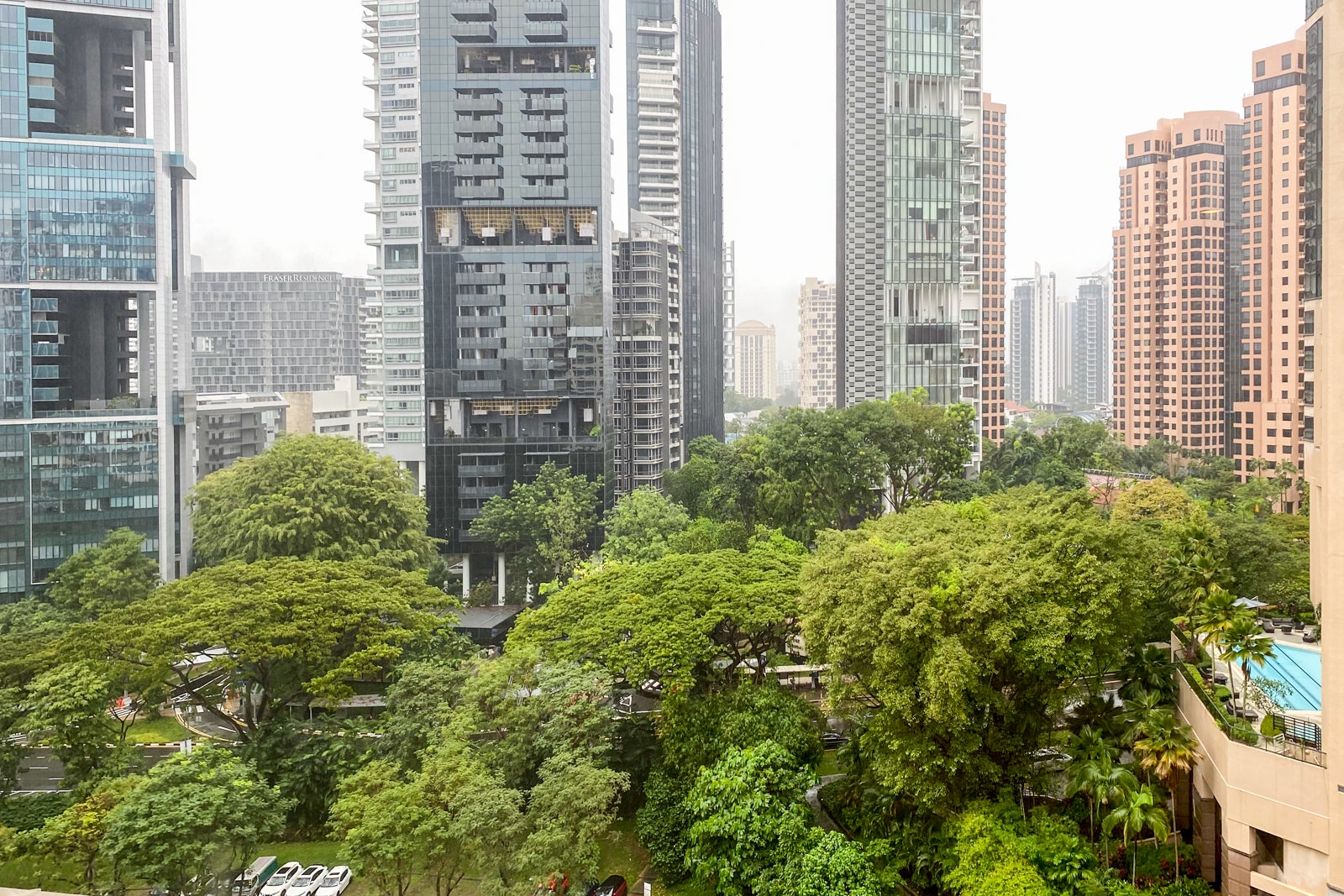 As a business traveler, I was thrilled to find everything I needed to comfortably work remotely from the room, such as five USB and charging ports by the desk and a Nespresso machine for staying caffeinated while on the clock. The two layers of shades were an extra touch I was also thankful to have, as they made it easier to go to bed early and nap as needed while adjusting to a new time zone. The complimentary bottled water, which could be tossed in the lobby's recycling center after use, and a provided kettle for making hot tea were both much appreciated as well.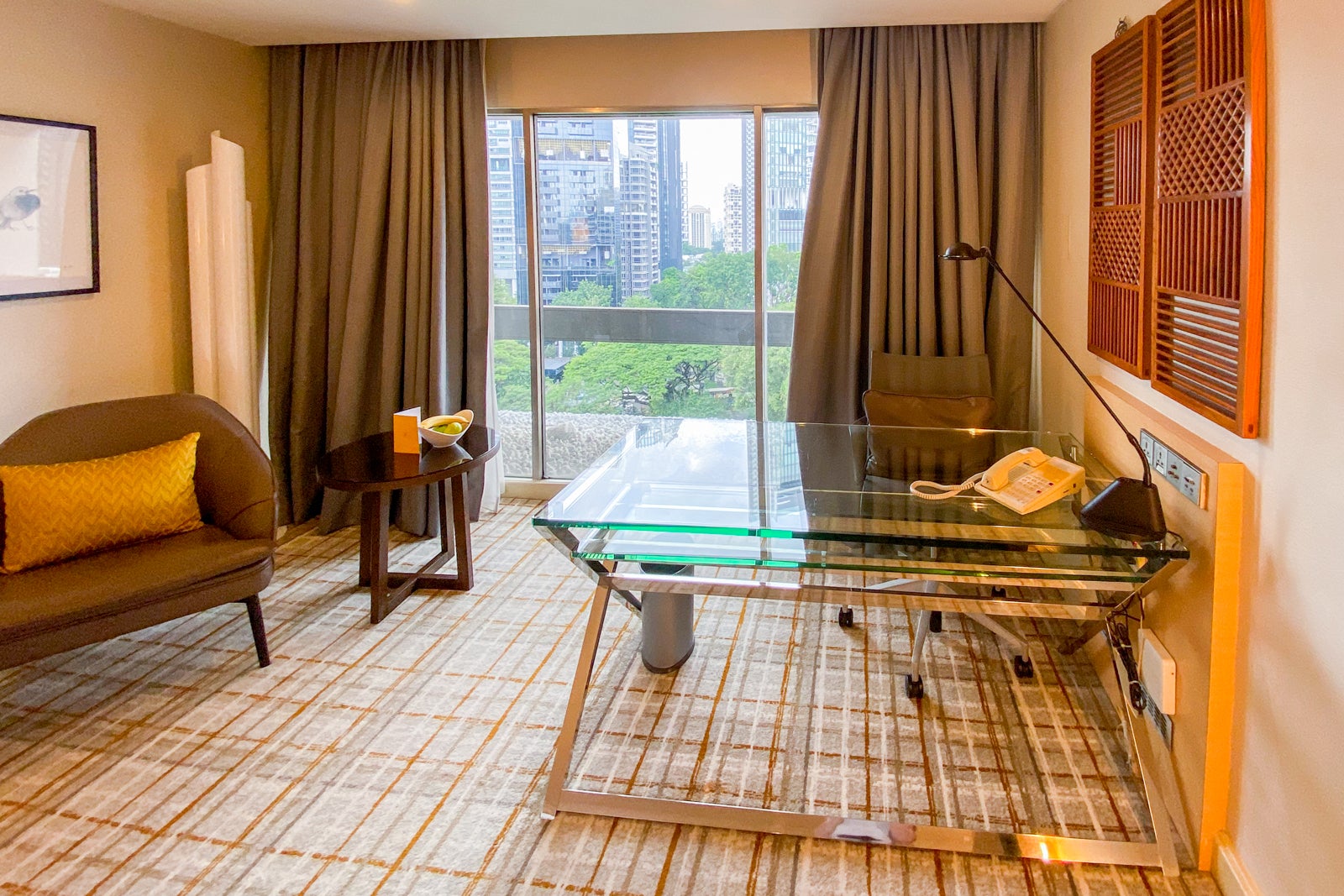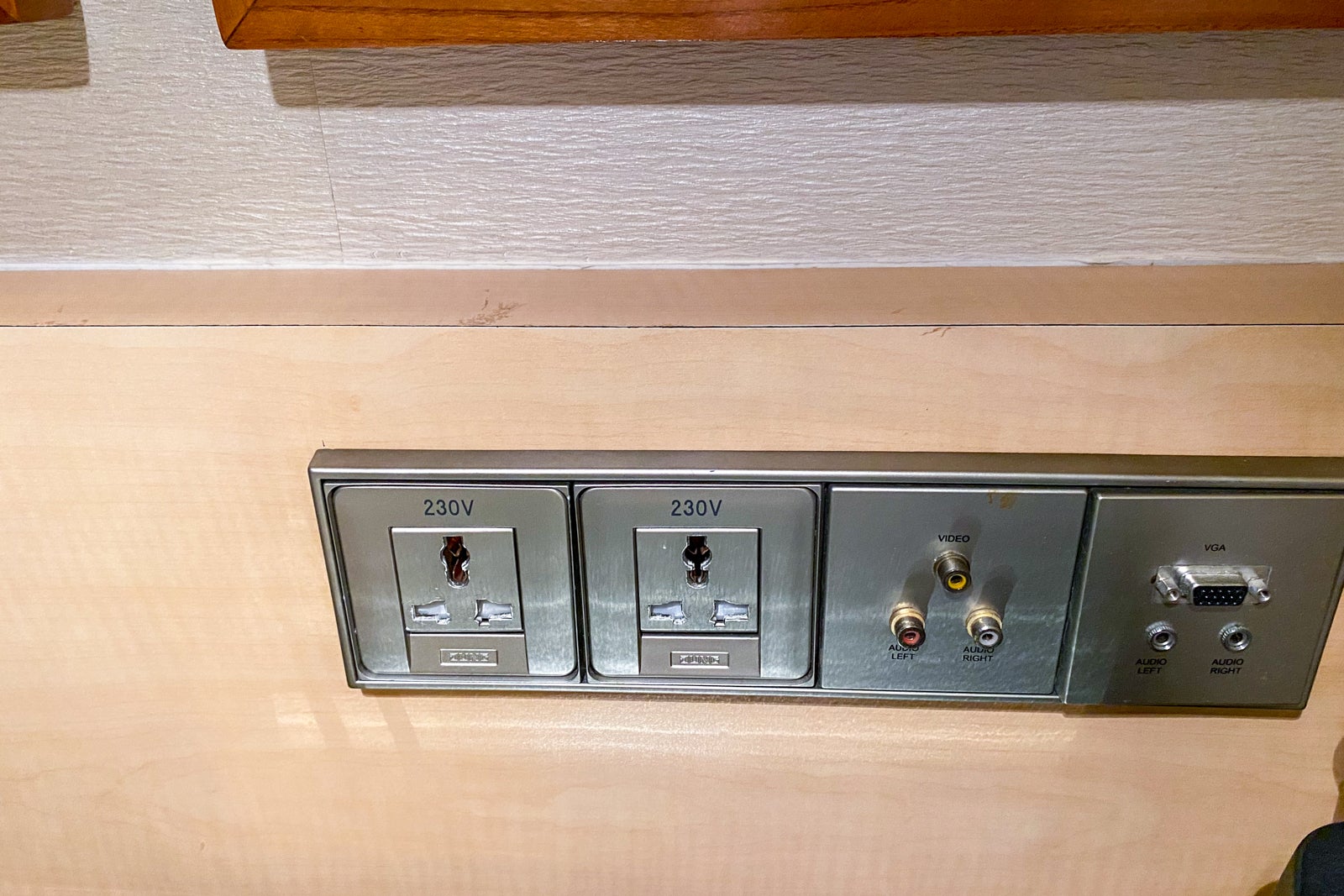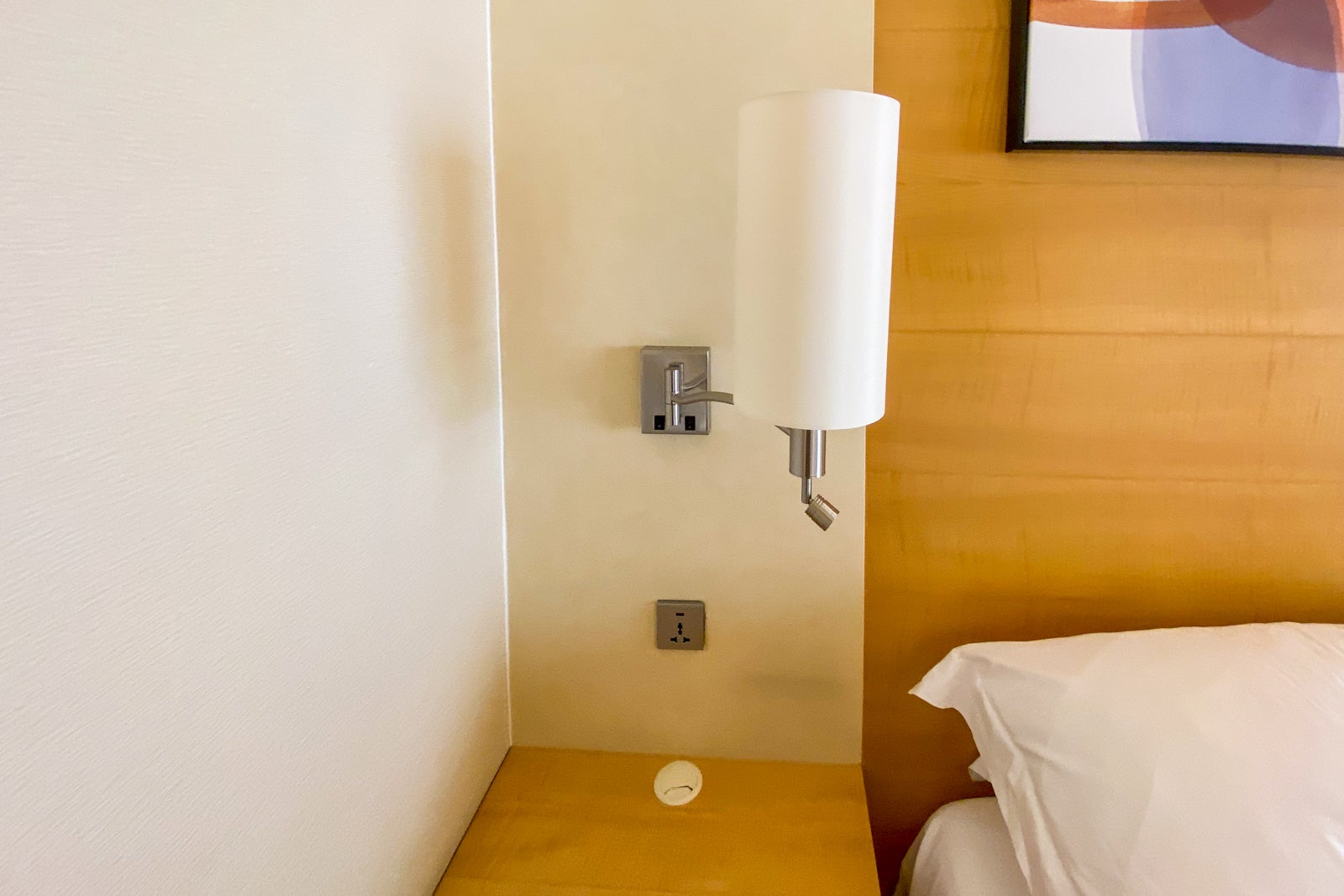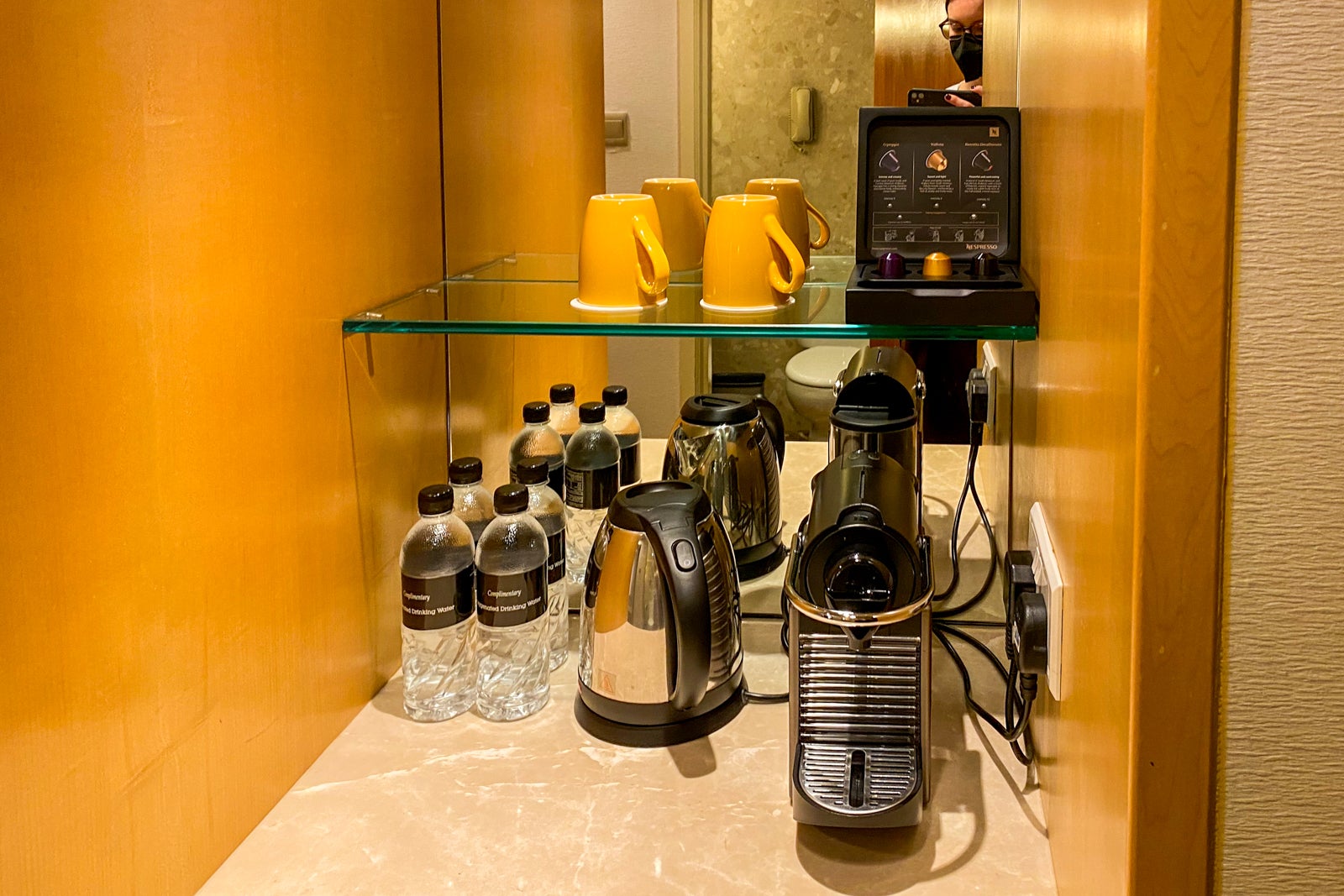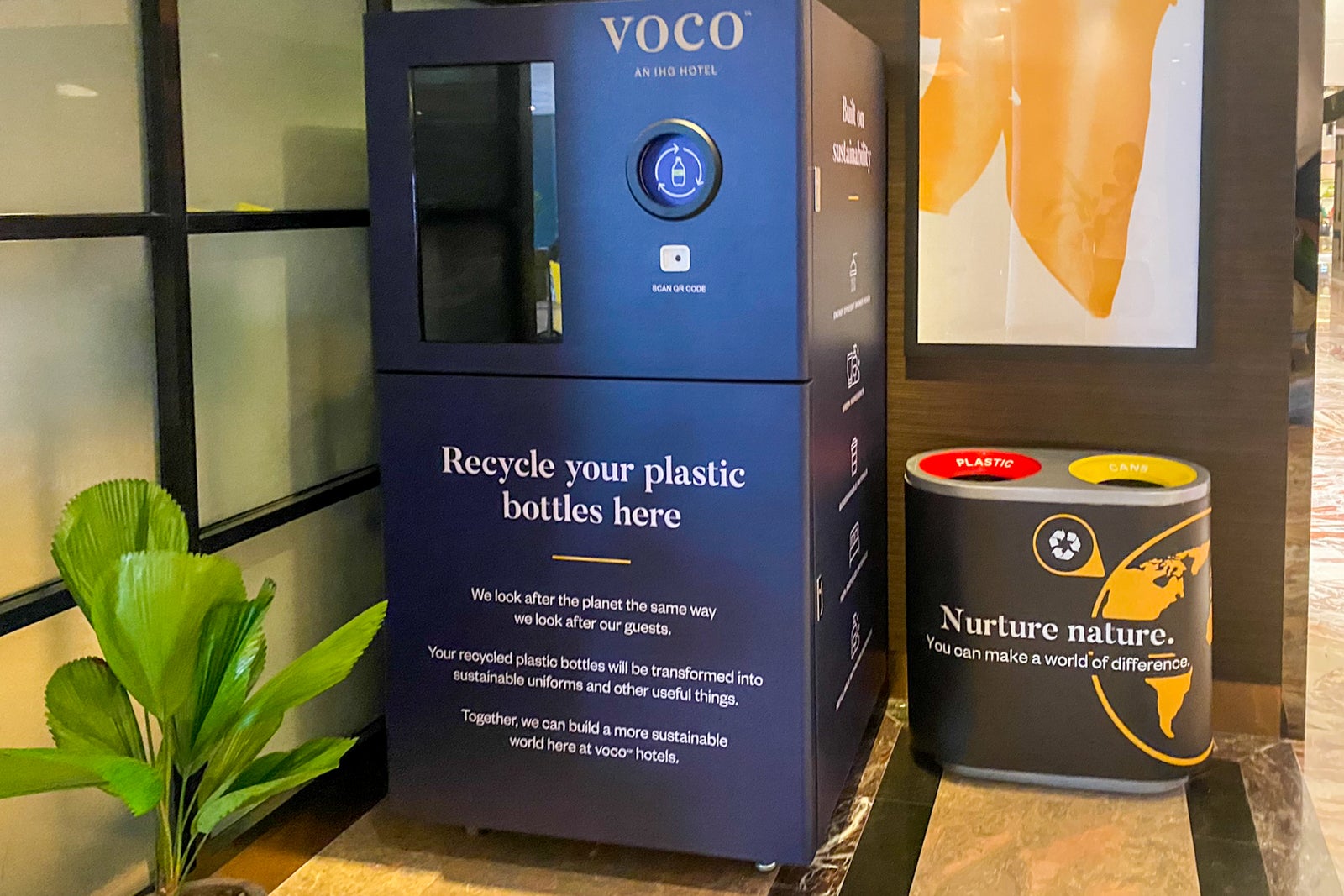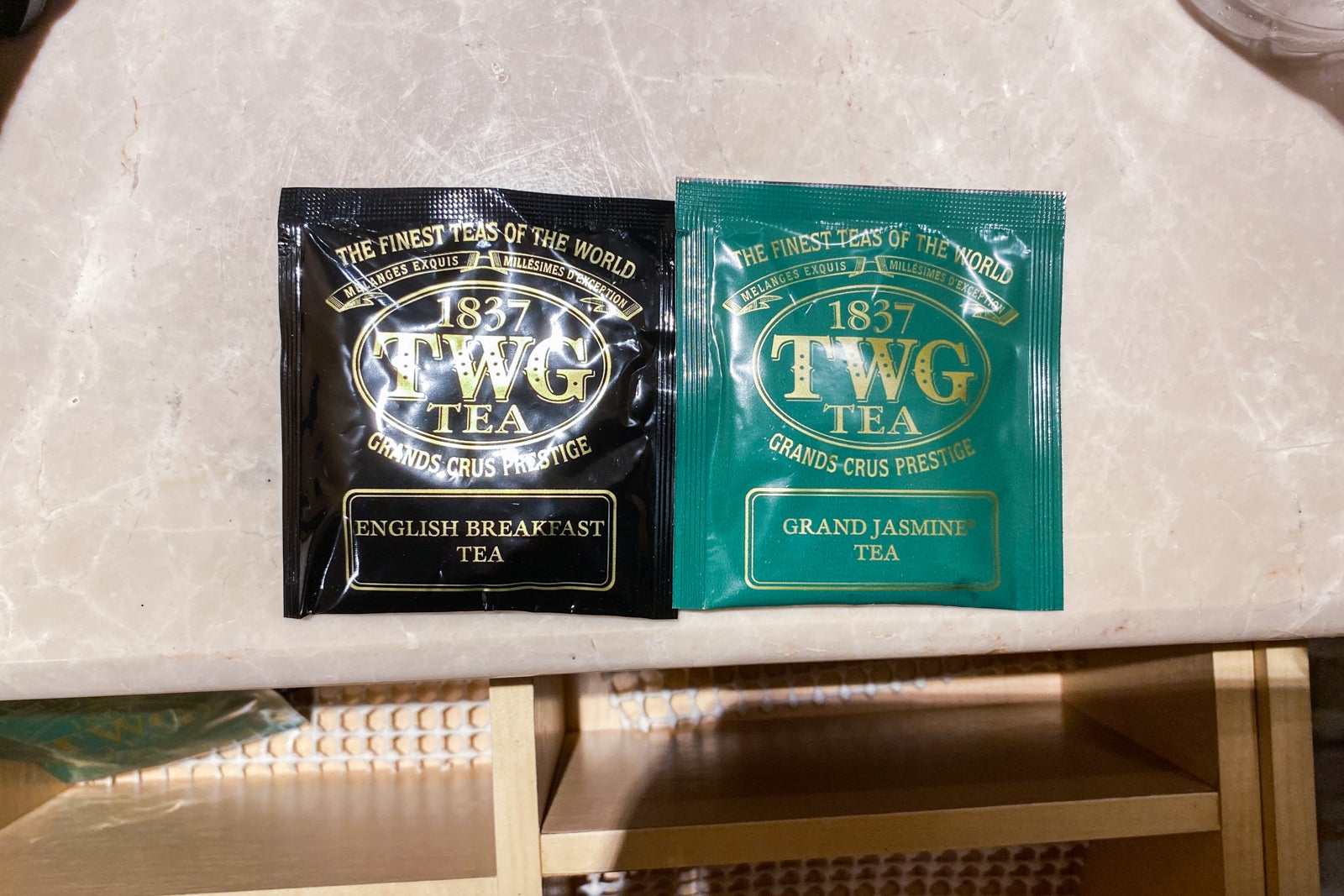 Like the rest of the room, the bathroom was more than sufficient, offering all the amenities you'd expect to find at a luxury hotel. A thin bathrobe aside, the amenities like dental and shaving kits along with plant-based toiletries (shampoo, conditioner, body lotion and body wash) from Brooklyn-based Apotheke were nice touches.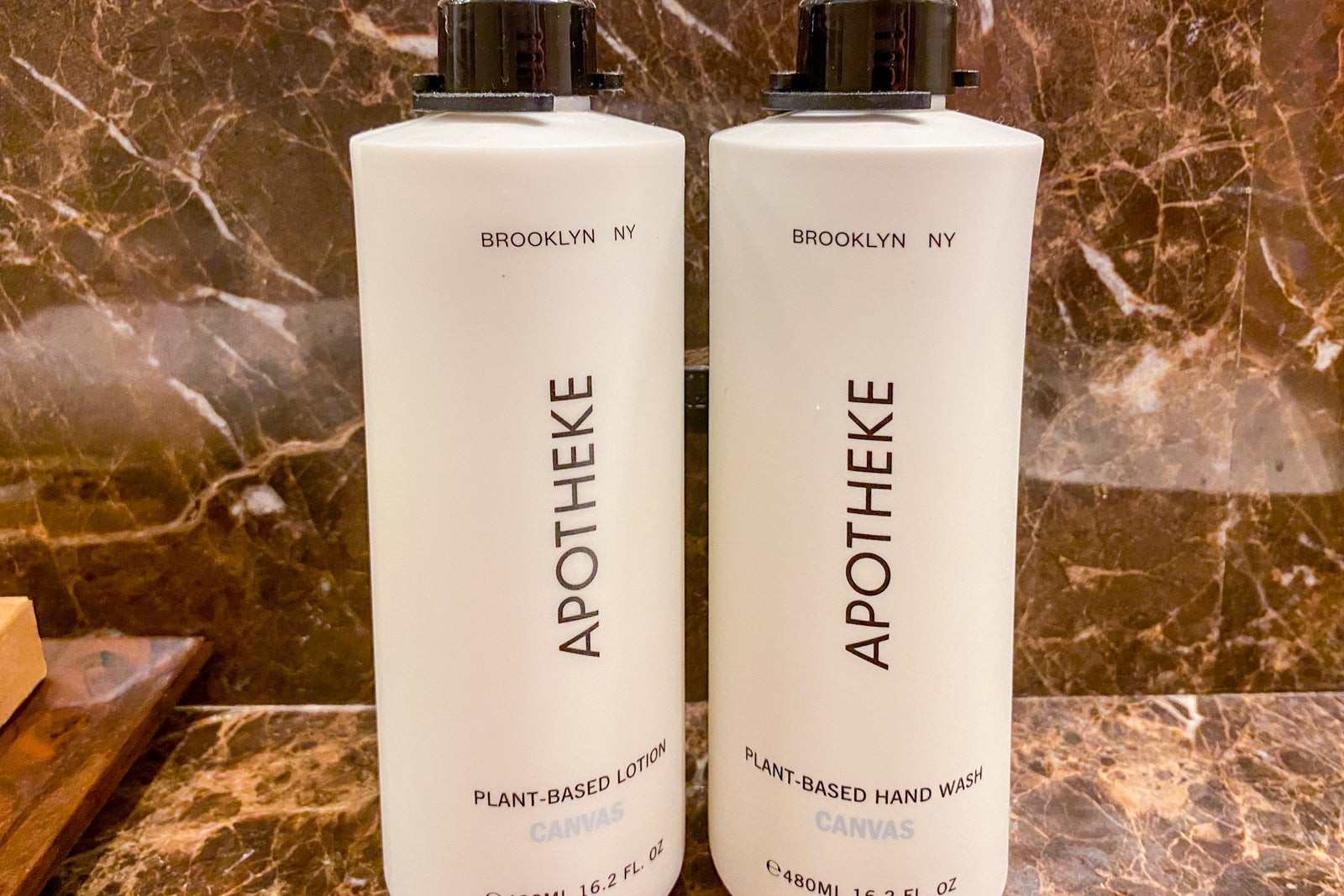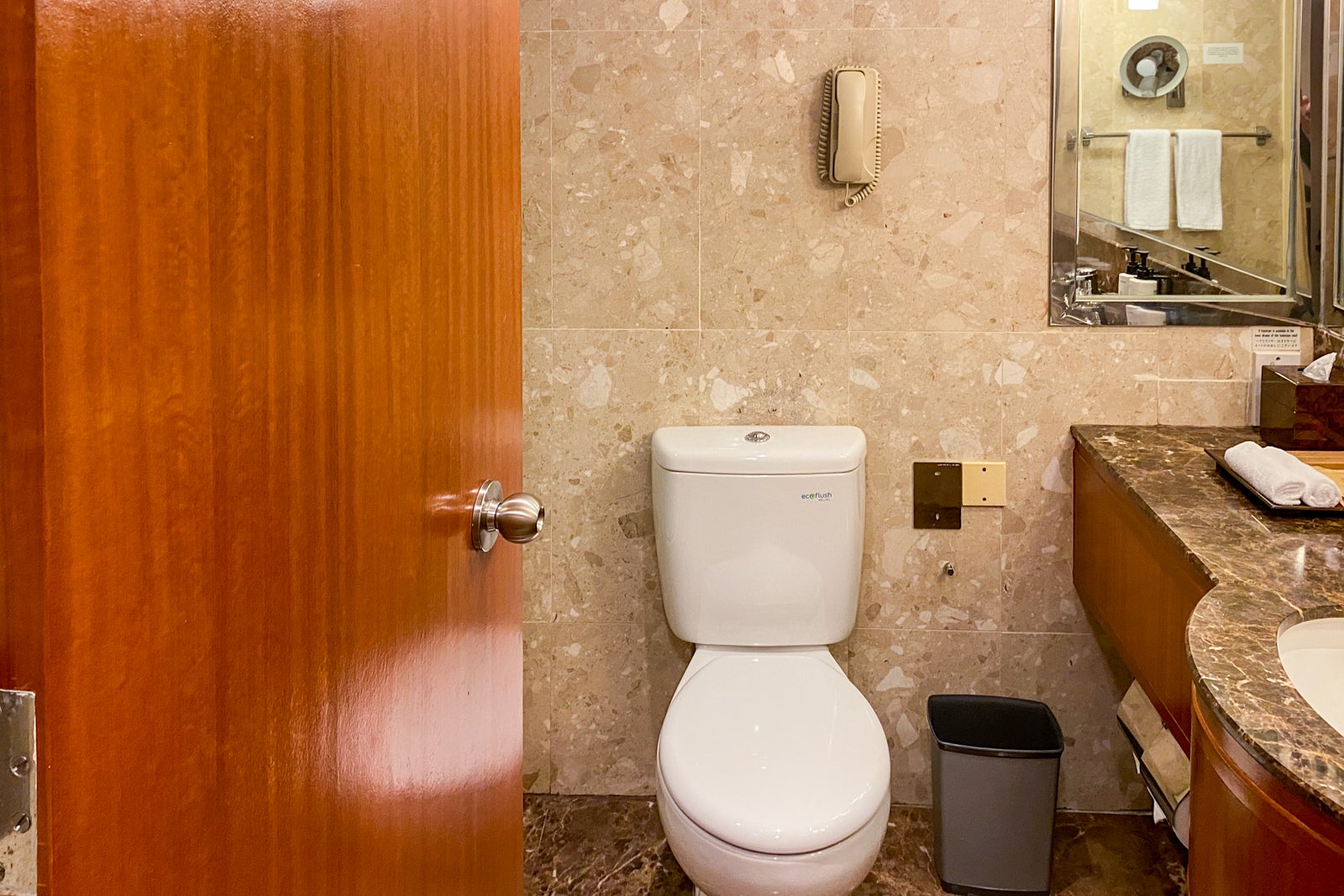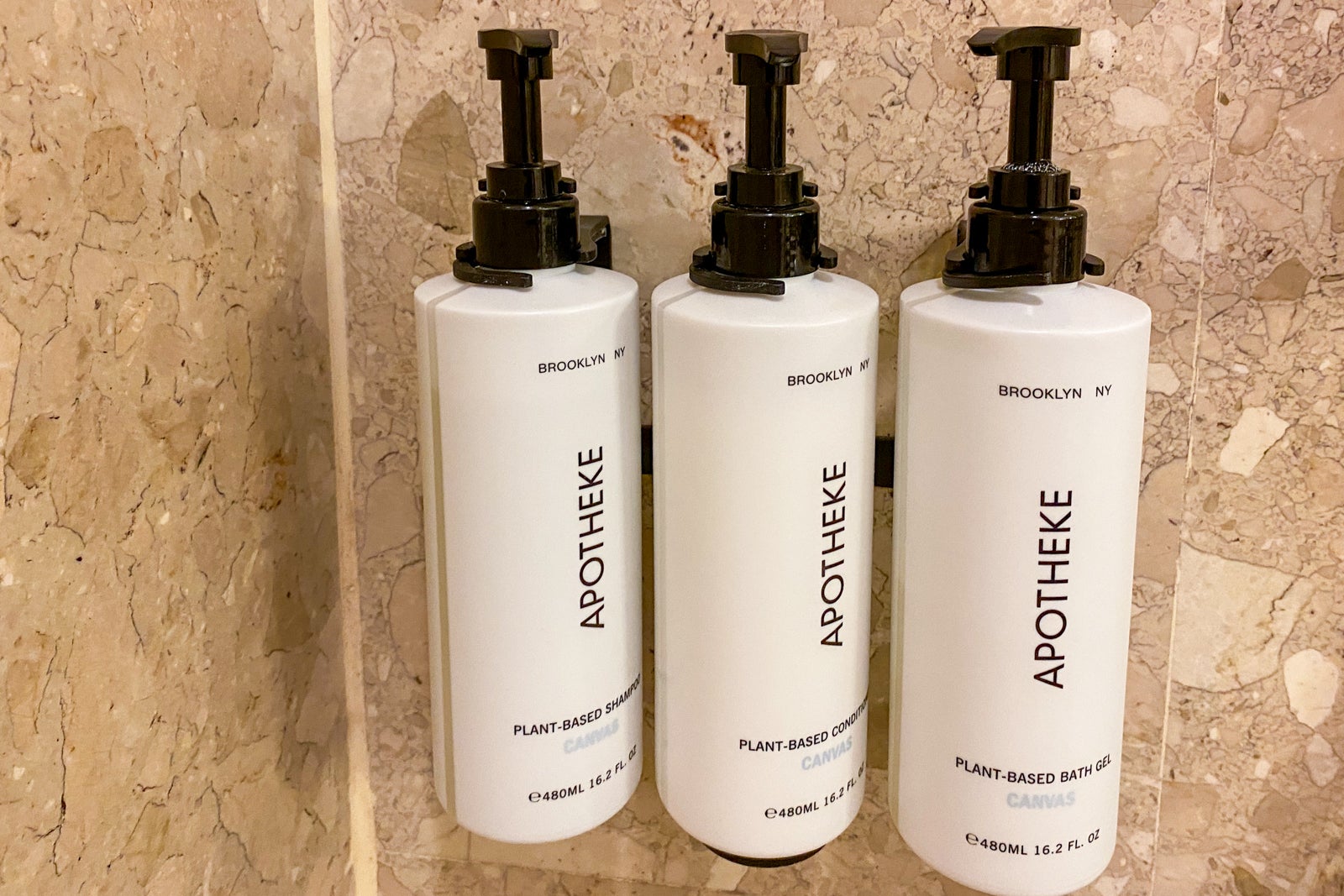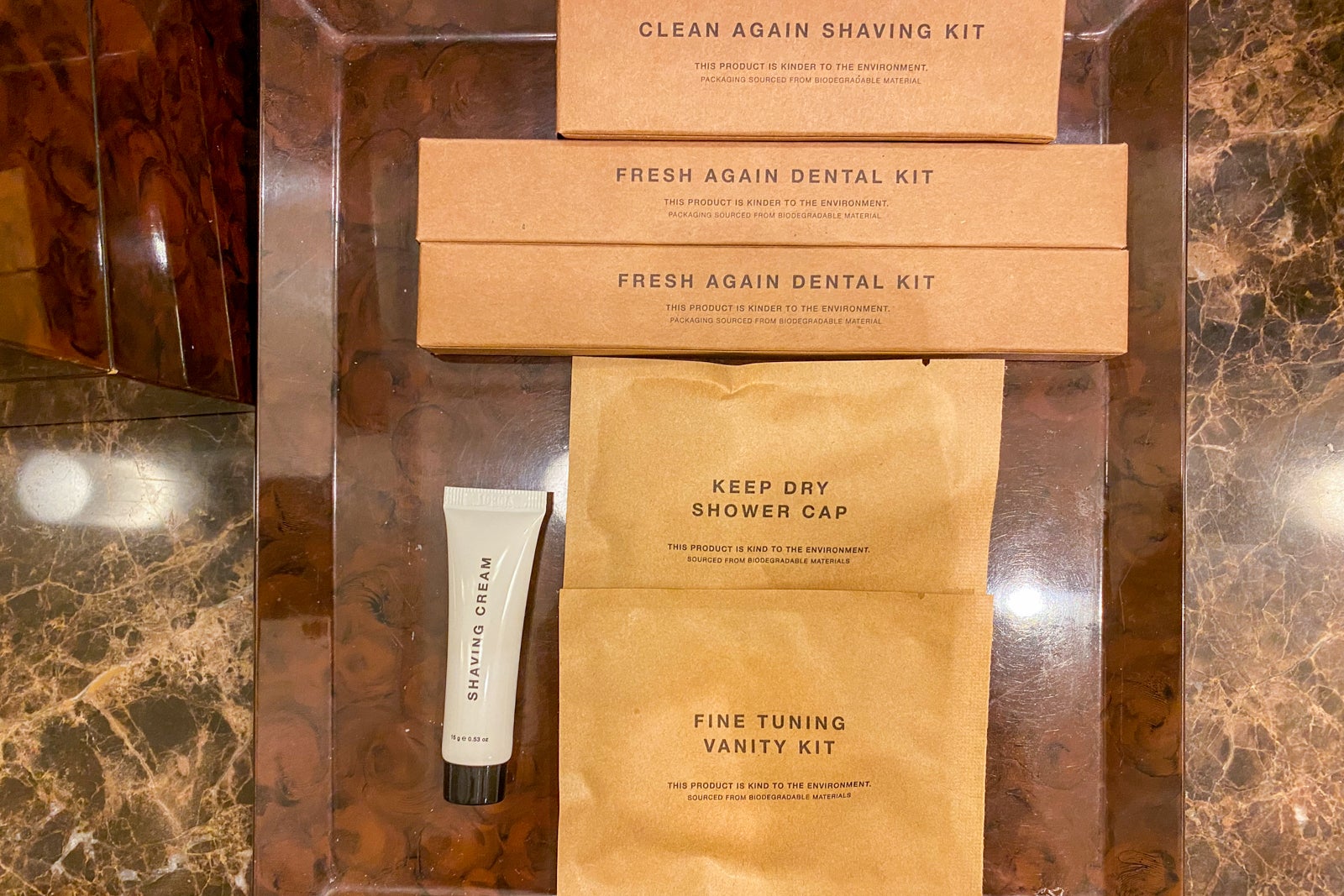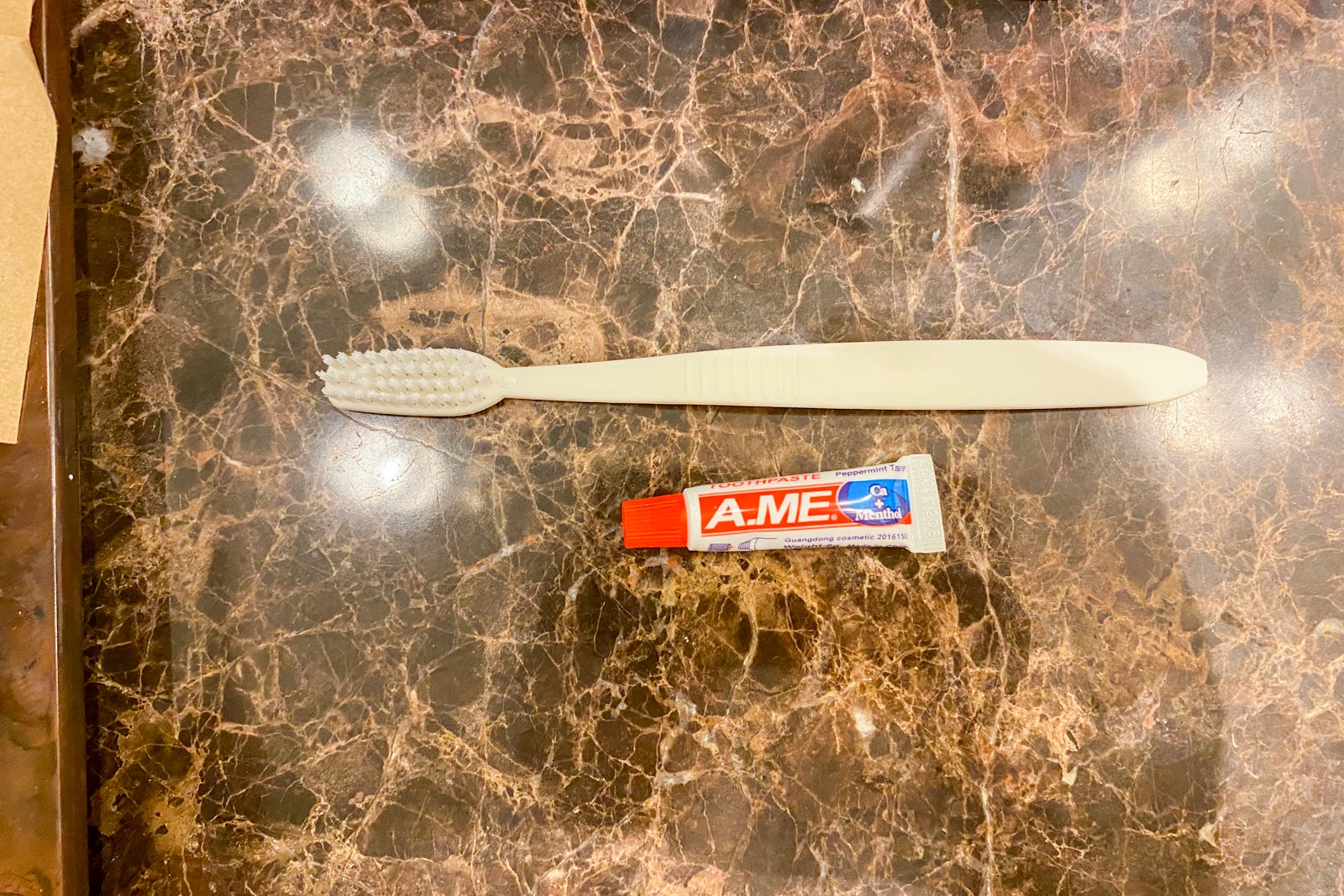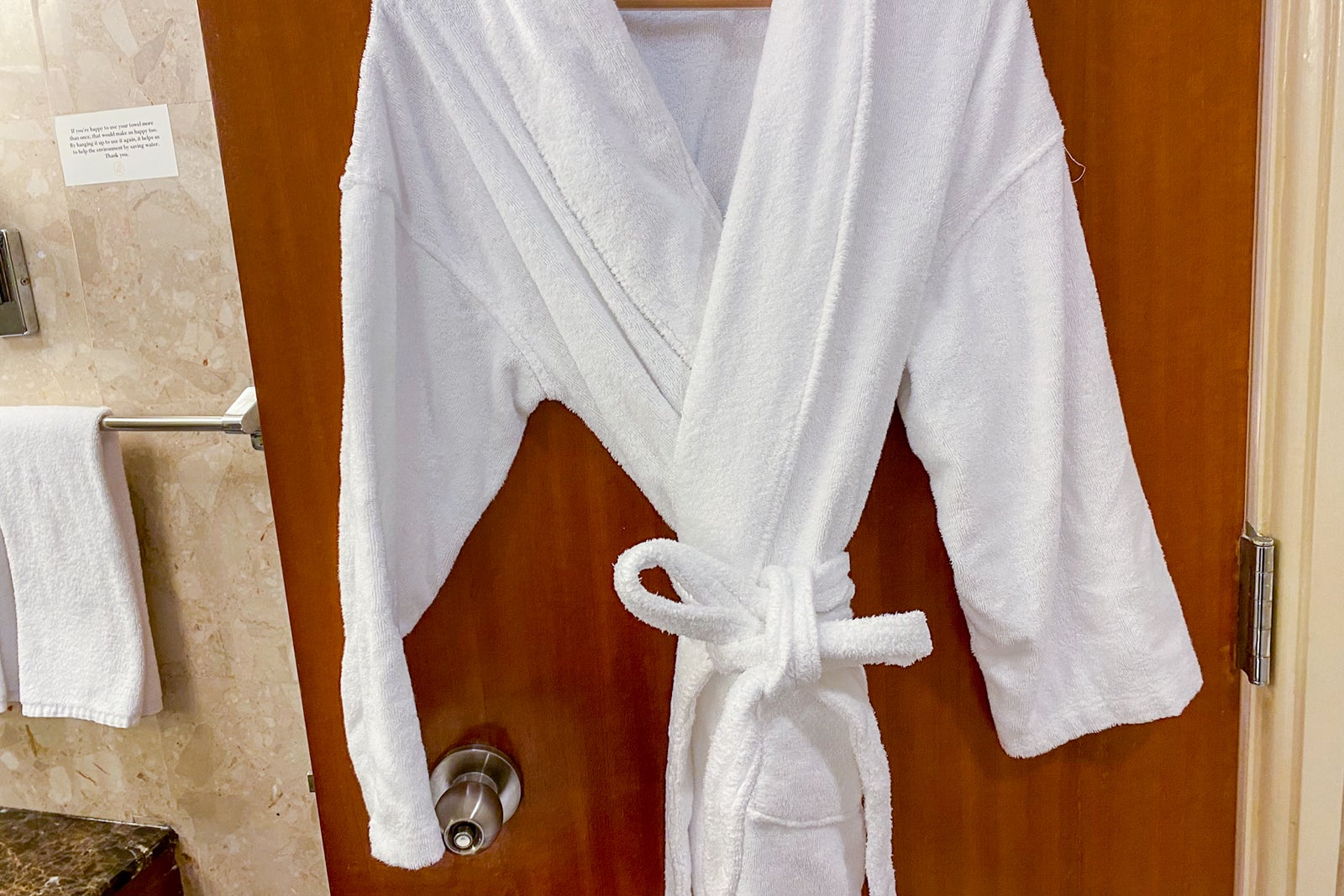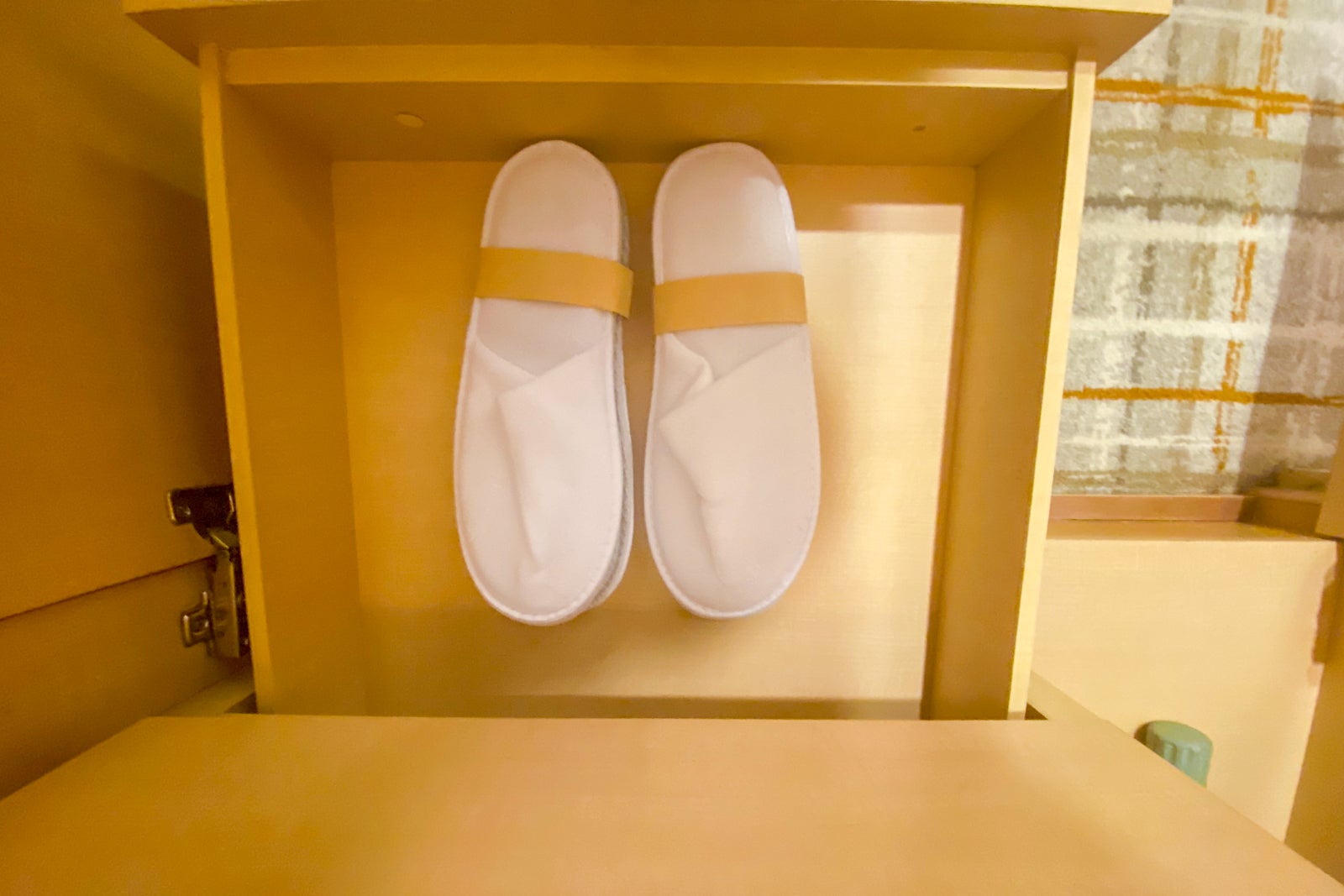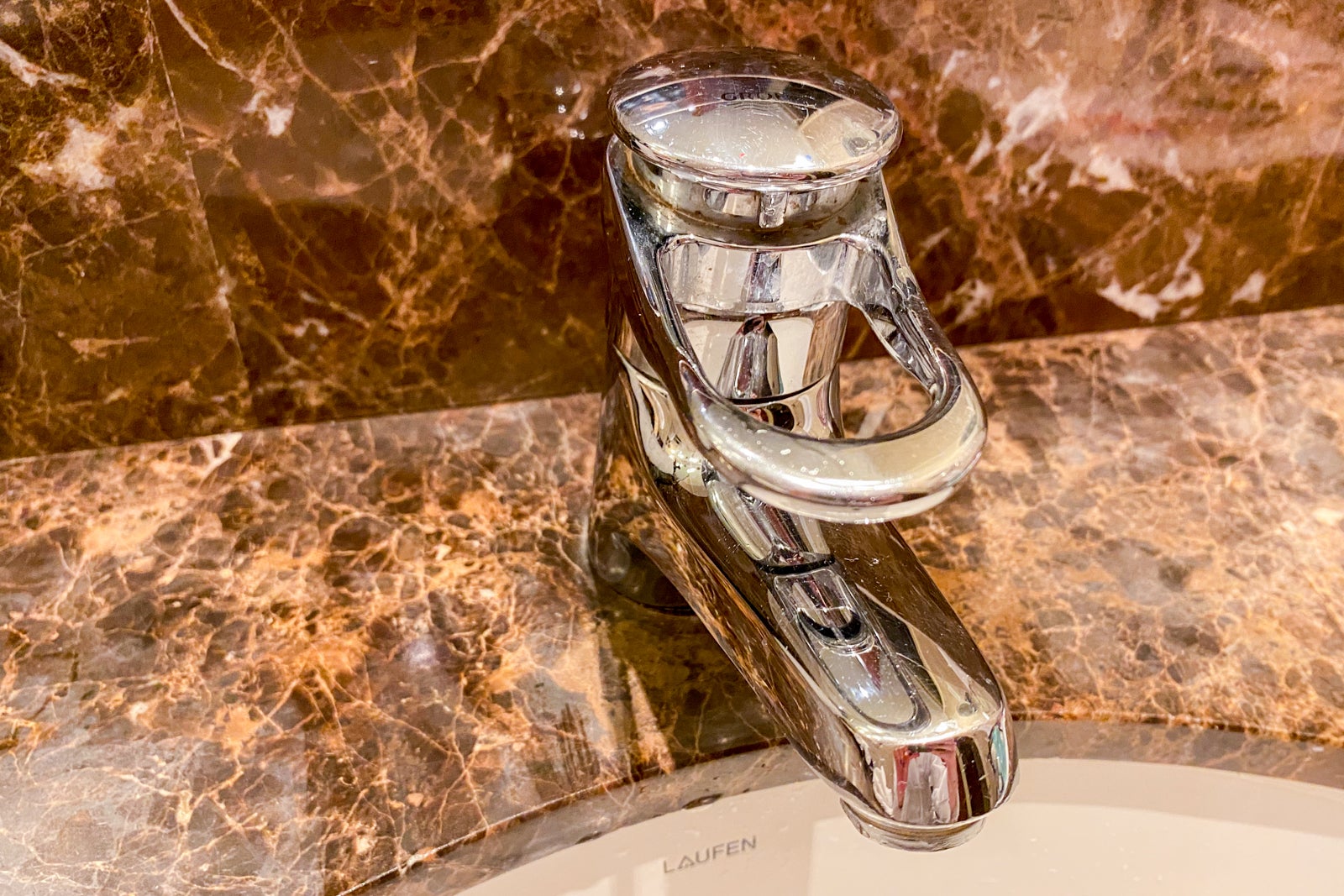 The impressive breakfast buffet
My experience with hotel breakfast buffets has been lackluster at best over the years, especially as a traveler with dietary restrictions, so I decided to book the cheapest IHG One Rewards member rate instead of paying 44 Singapore dollars (about $32) more for the same room plus daily breakfast at Opus Bar & Grill. It didn't take long for me to regret that decision.
Since I was curious to see how the buffet would be, I decided to add one breakfast for 30 Singapore dollars ($21) when checking in. Much to my surprise, the expansive spread, which is available every day between 6:30 and 10:30 a.m., was the best buffet I have ever experienced to date. It was so unexpectedly tasty that I went back to the front desk to pay for it for the remainder of my stay, costing me a total of SG$90 ($65) for the three days.
Forget your watery eggs and day-old bagels. The breakfast buffet at voco Orchard Singapore showcases regional cuisines from Singapore, India, the U.S. and more, so you'll have a variety of dishes to choose from. During my visit, there was a made-to-order omelet bar, fresh cheeses, multiple kinds of fruit and juice (think: dragonfruit, carrot-orange juice and watermelon juice), lunch meats, a selection of cereal and local delicacies, including dough fritters, Nasi Kerabu and traditional Singapore noodles. Additionally, premade lattes and iced coffee were available, or you could make your own caffeinated beverage of choice (or order one from the waitstaff).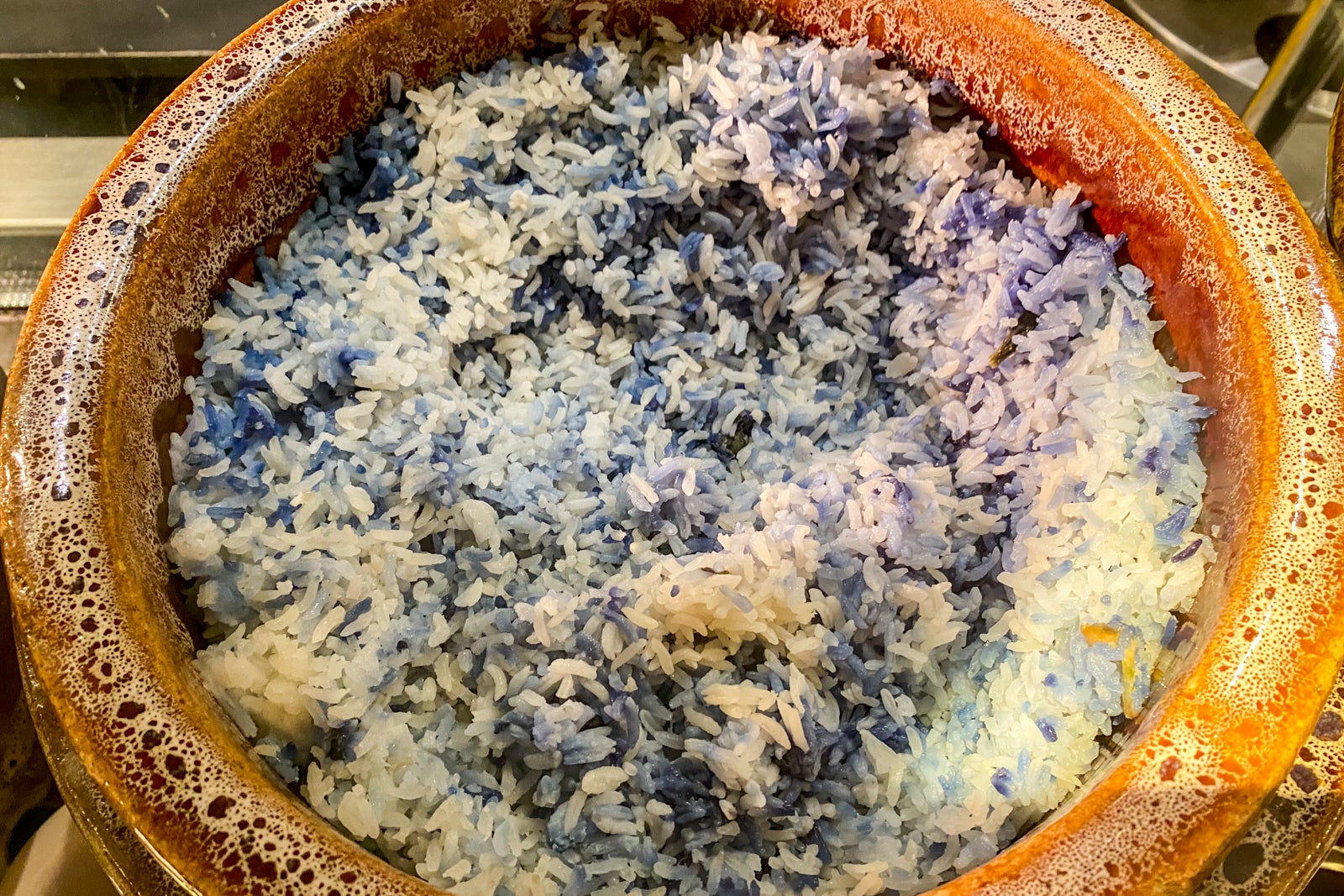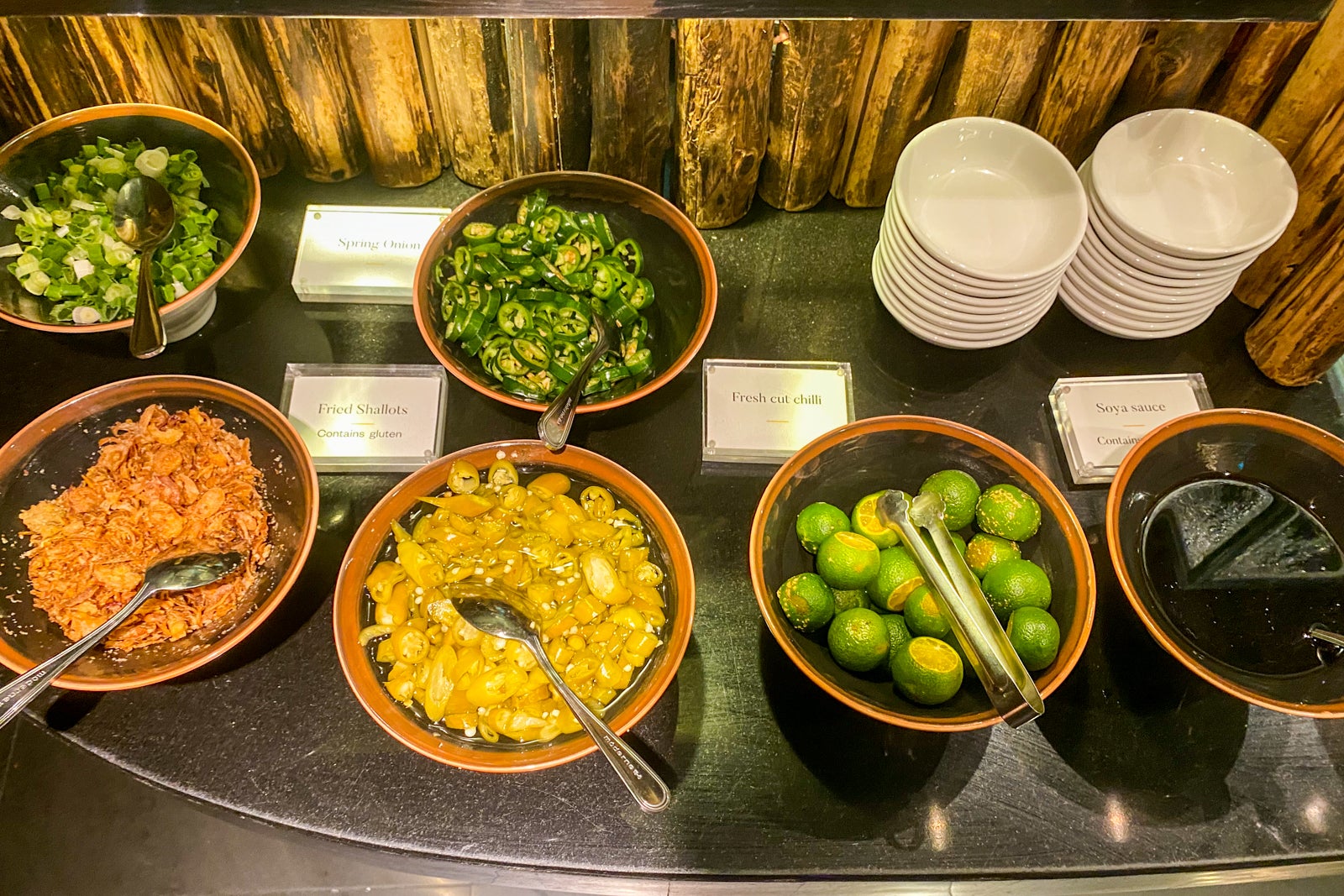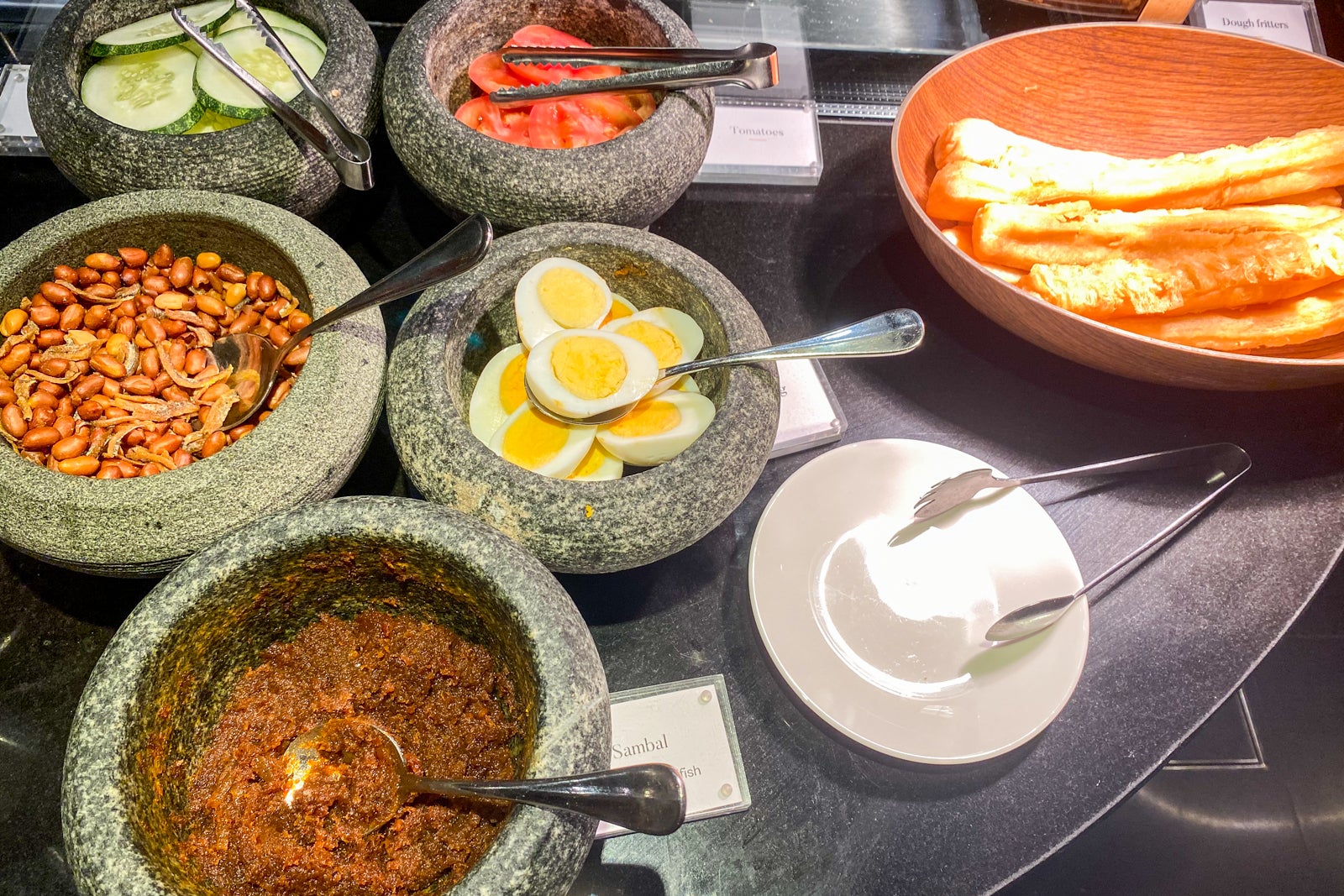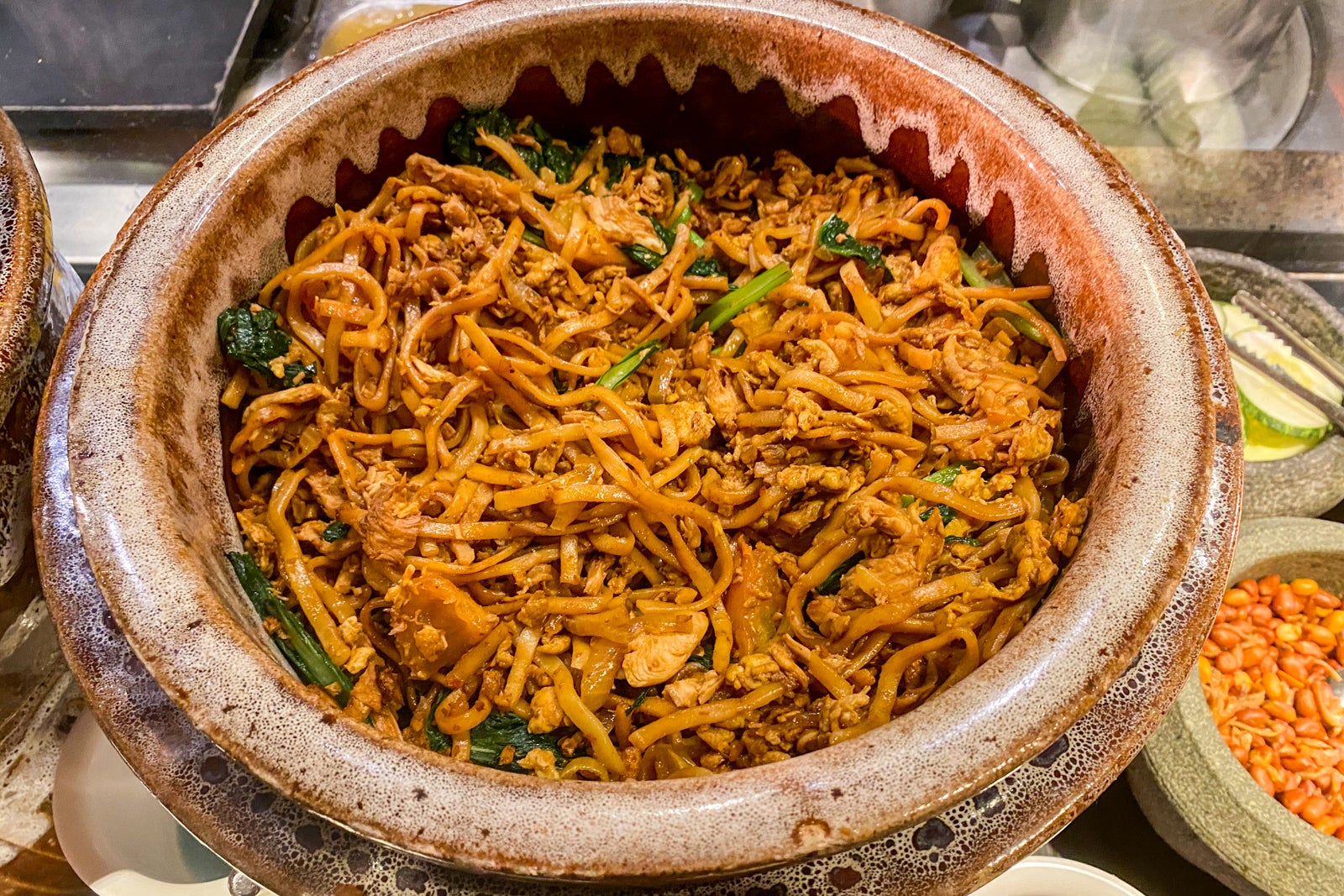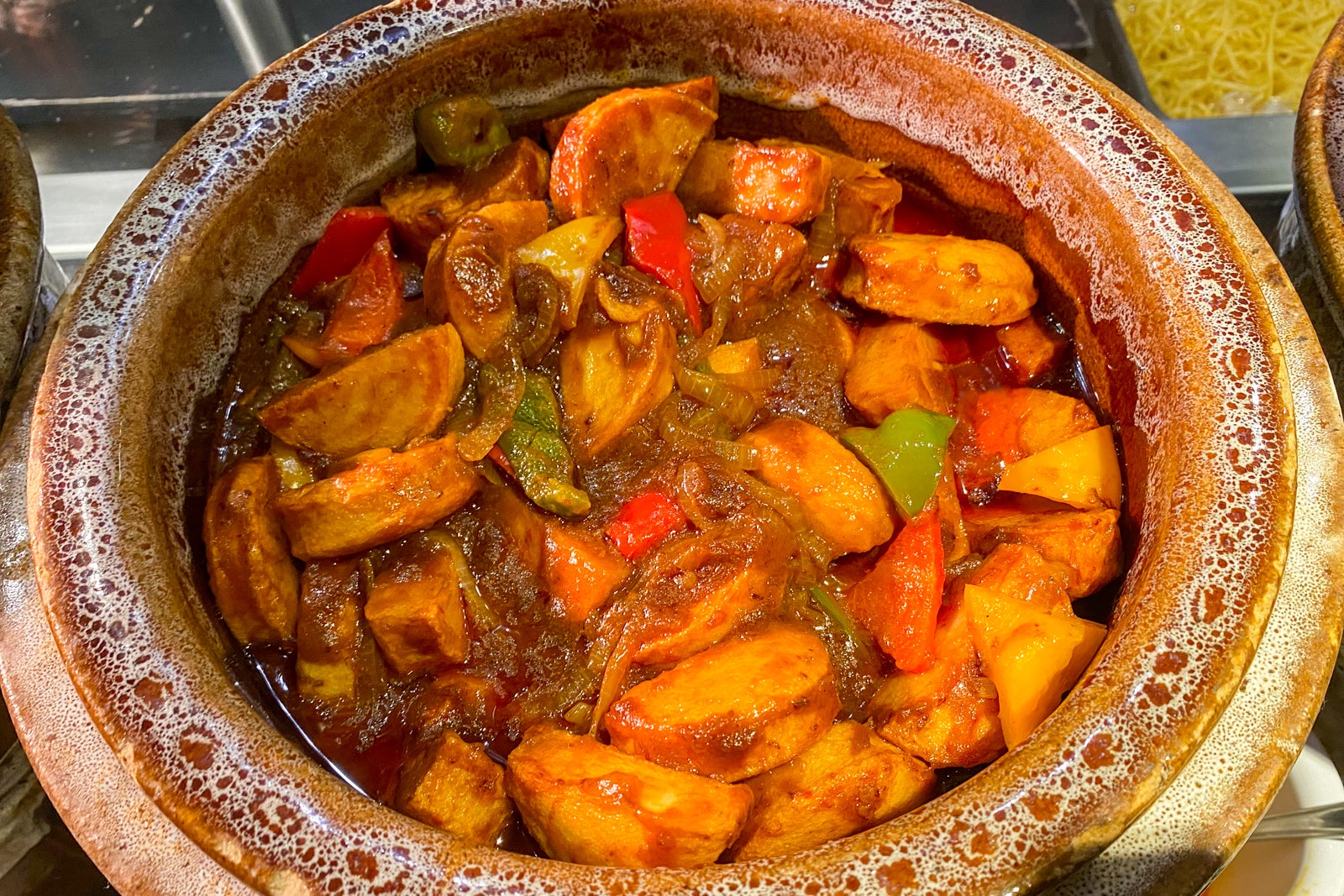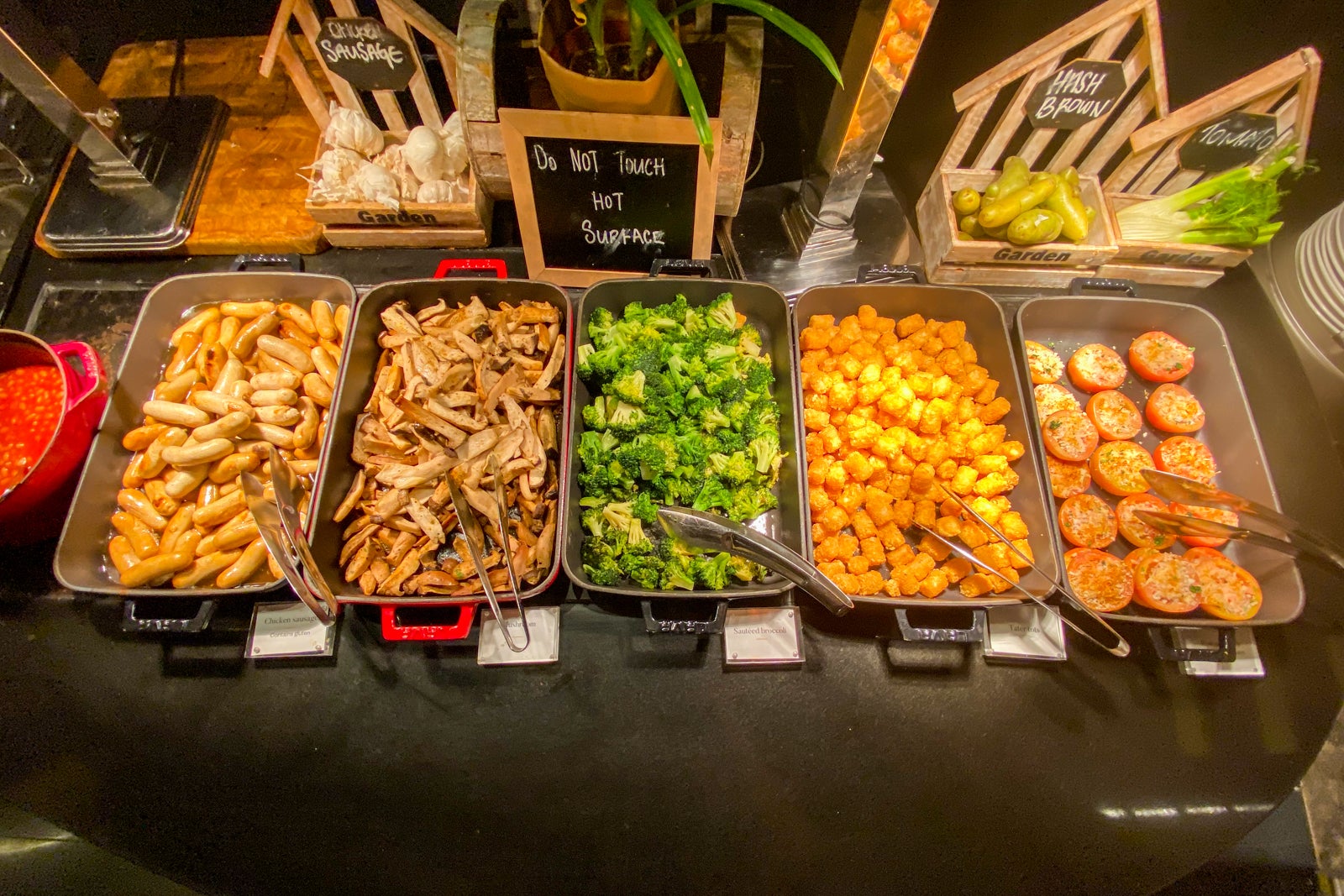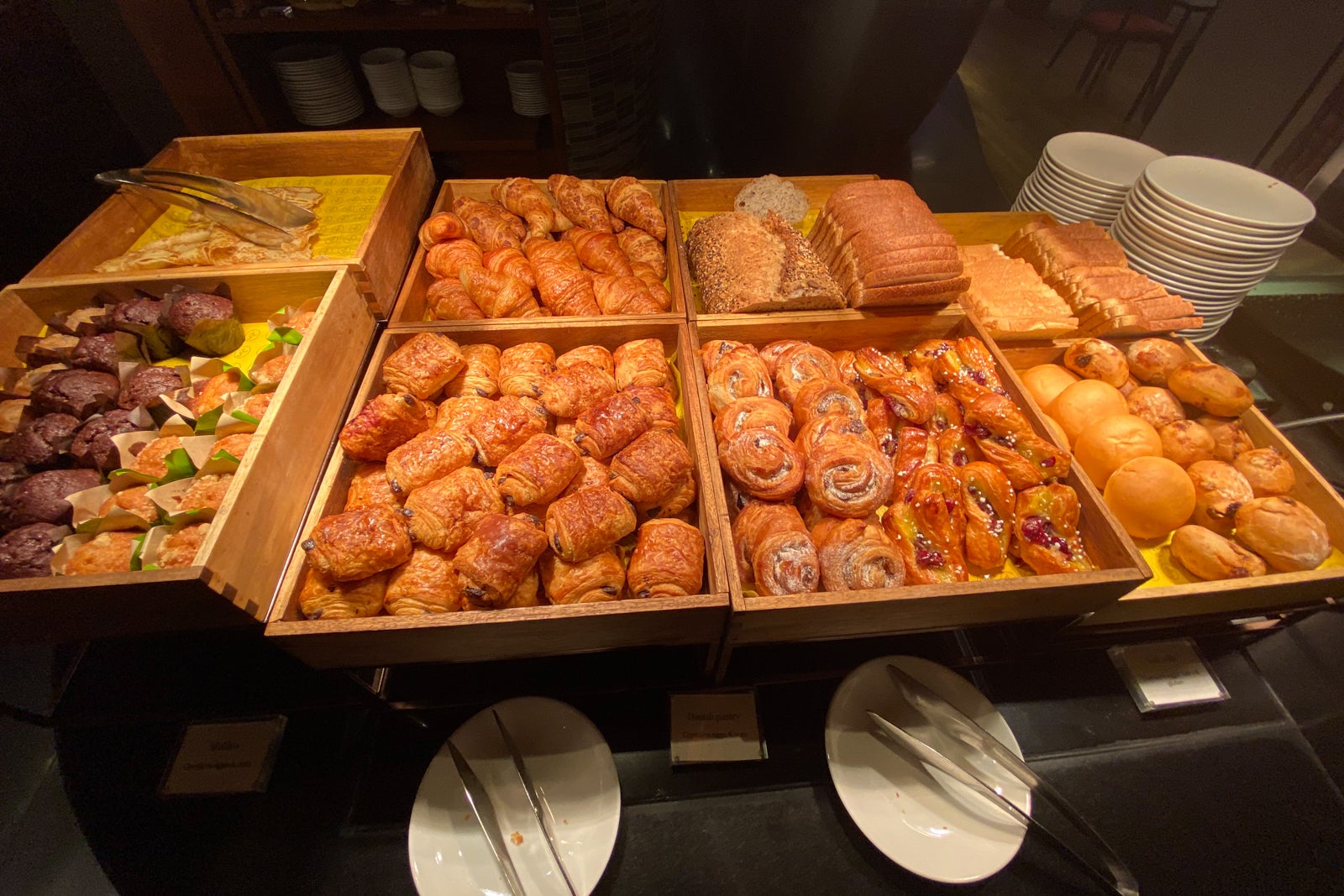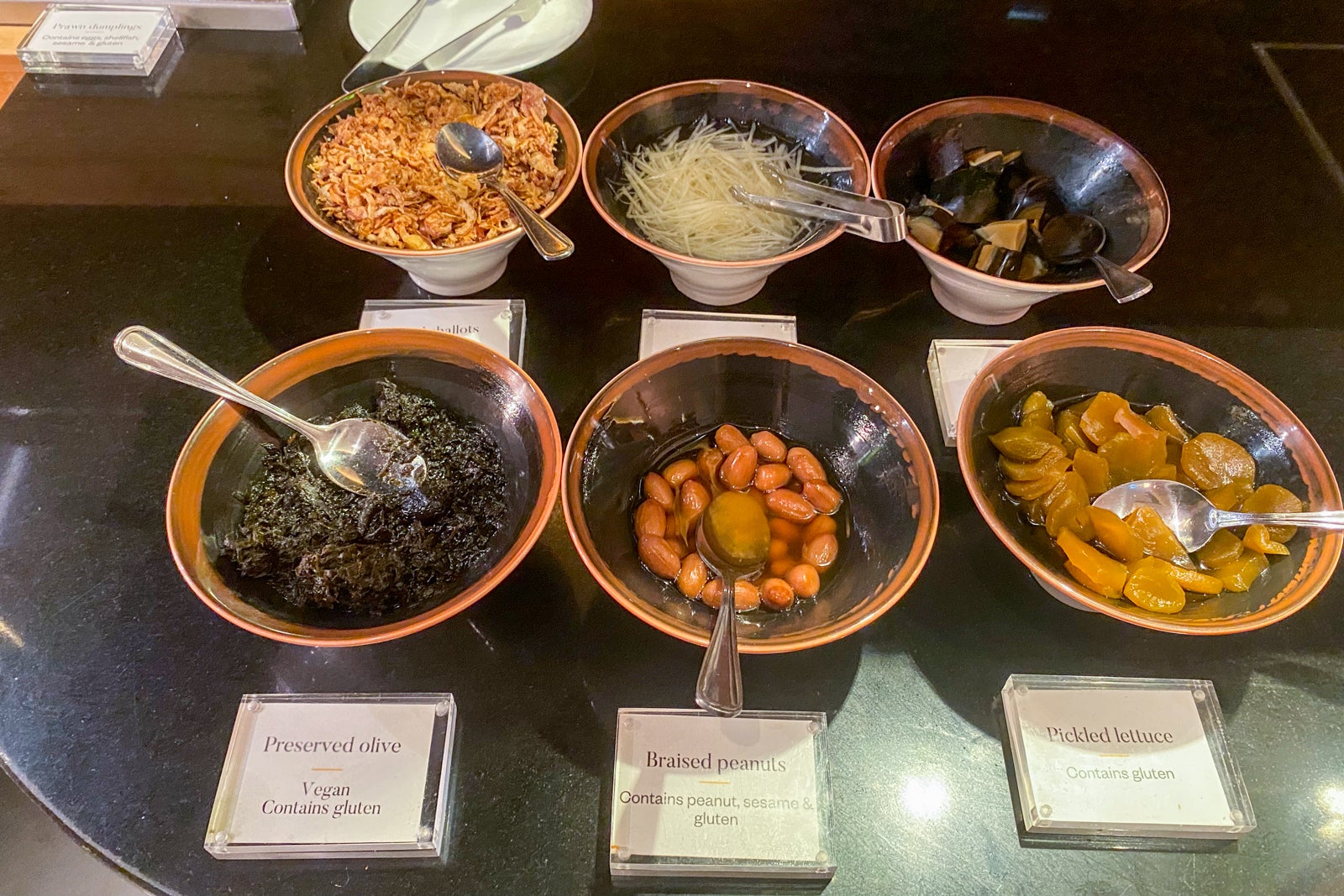 While the entire buffet was impressive, the highlight for me was the section with gluten- and dairy-free items. Options in this section ranged from full-size white bread or sliced classic country bread to miniature banana nut and chocolate muffins.
The buffet may vary slightly from day to day depending on when you visit, though. For example, because I was jet-lagged, I ate shortly after the restaurant opened on my first day. During that visit, there were plenty of gluten- and dairy-free items to try. However, when I returned at 8 a.m. on my second day, the gluten-free white bread and oat milk were out of stock, so I poured myself a bowl of cornflakes with soy milk instead.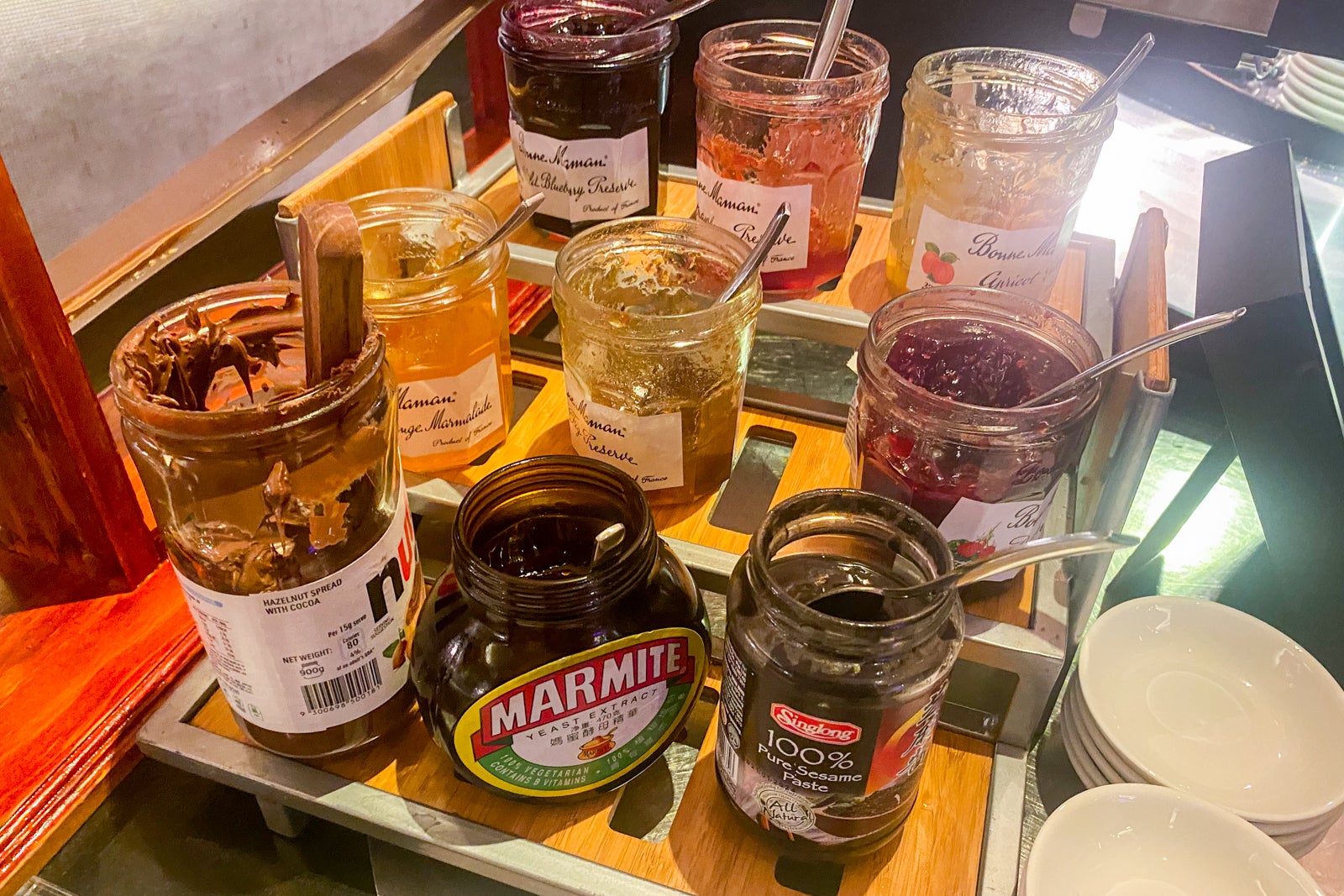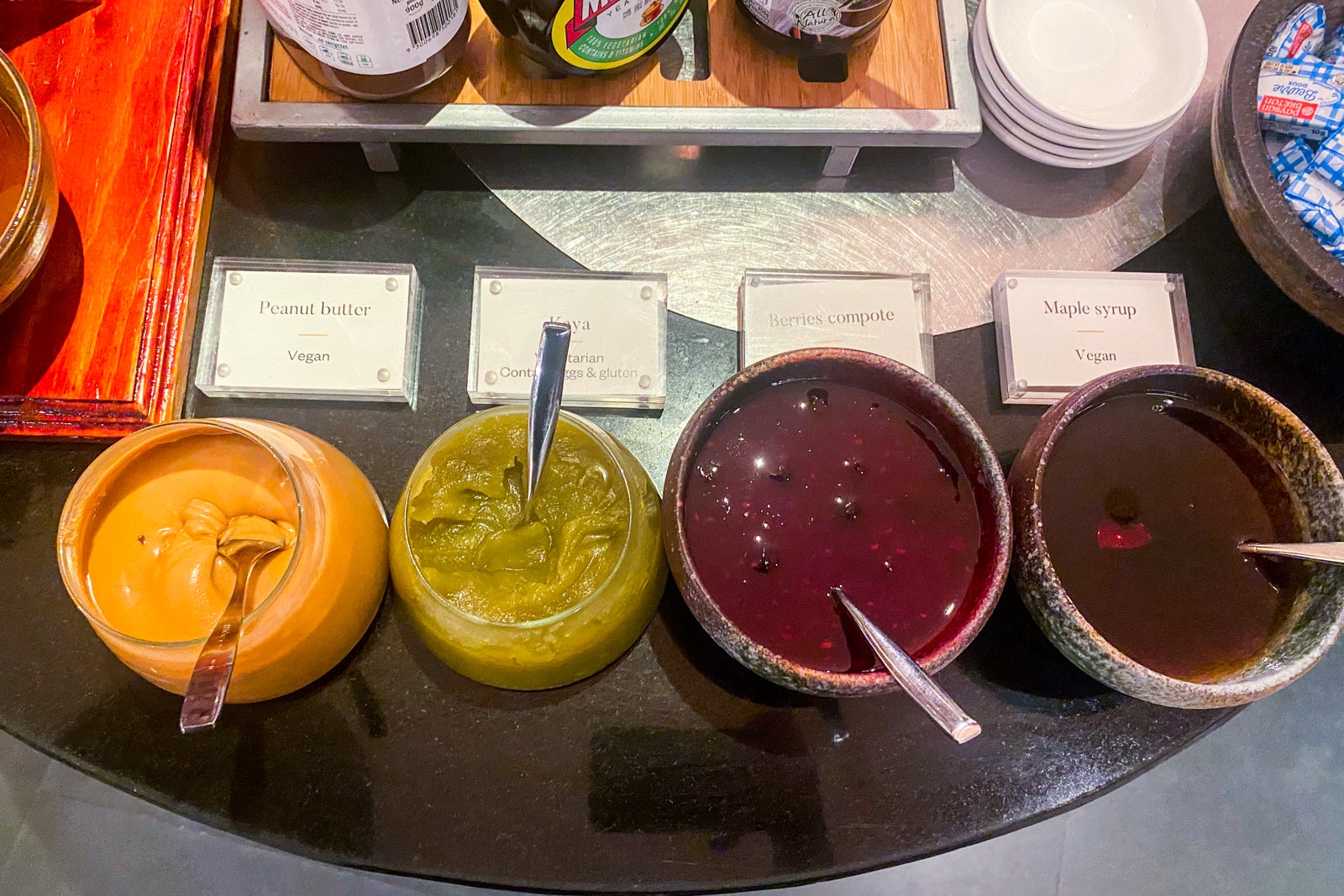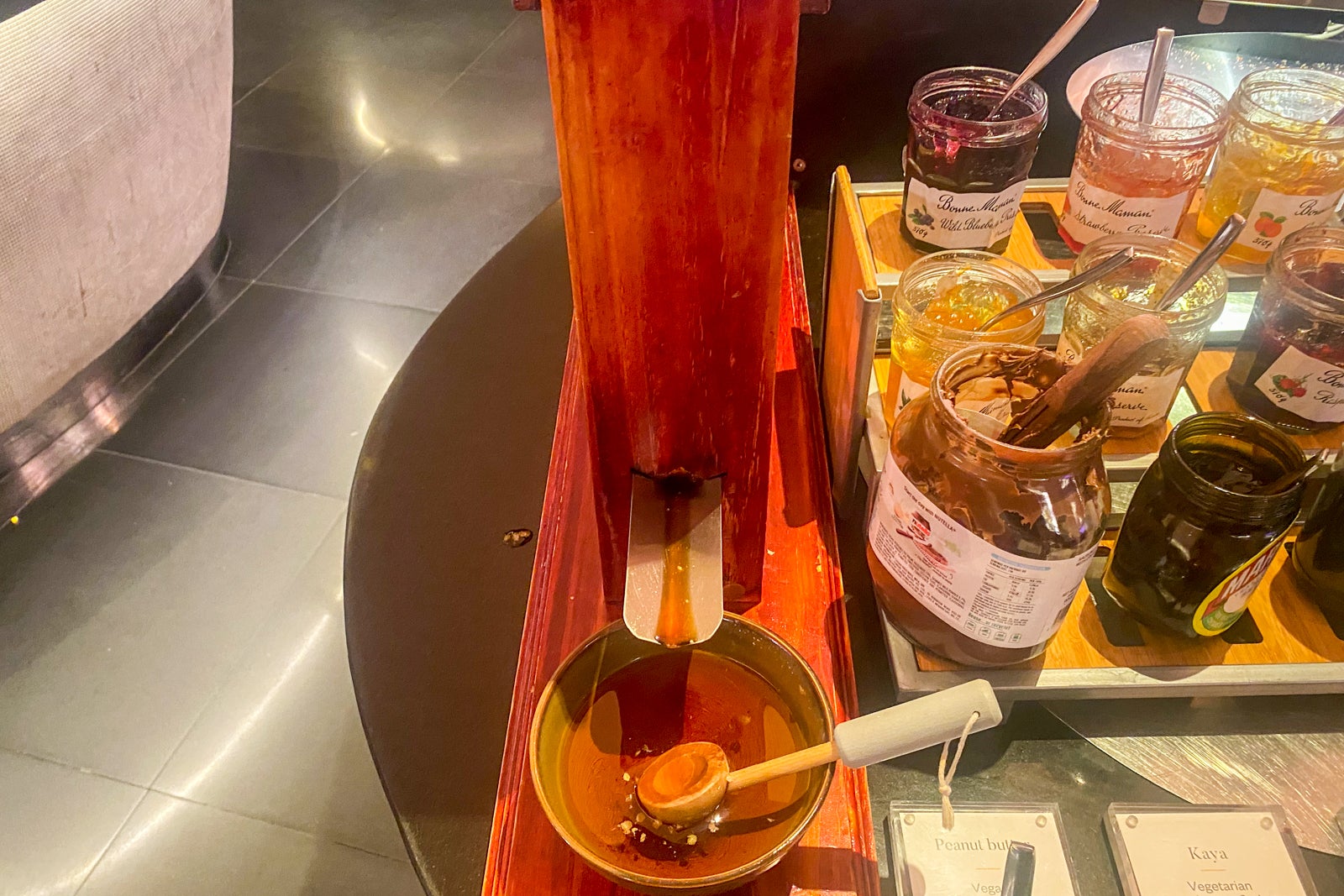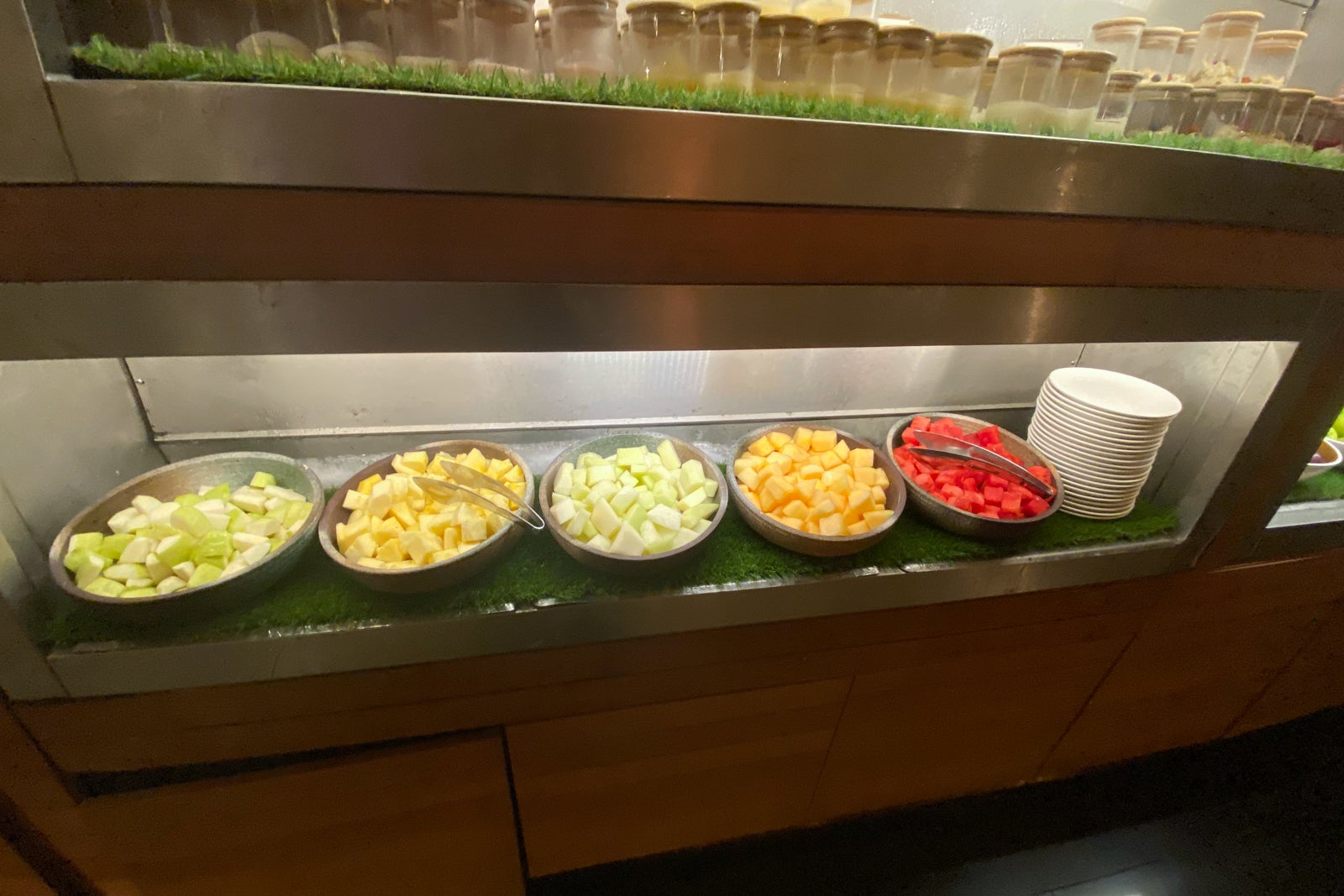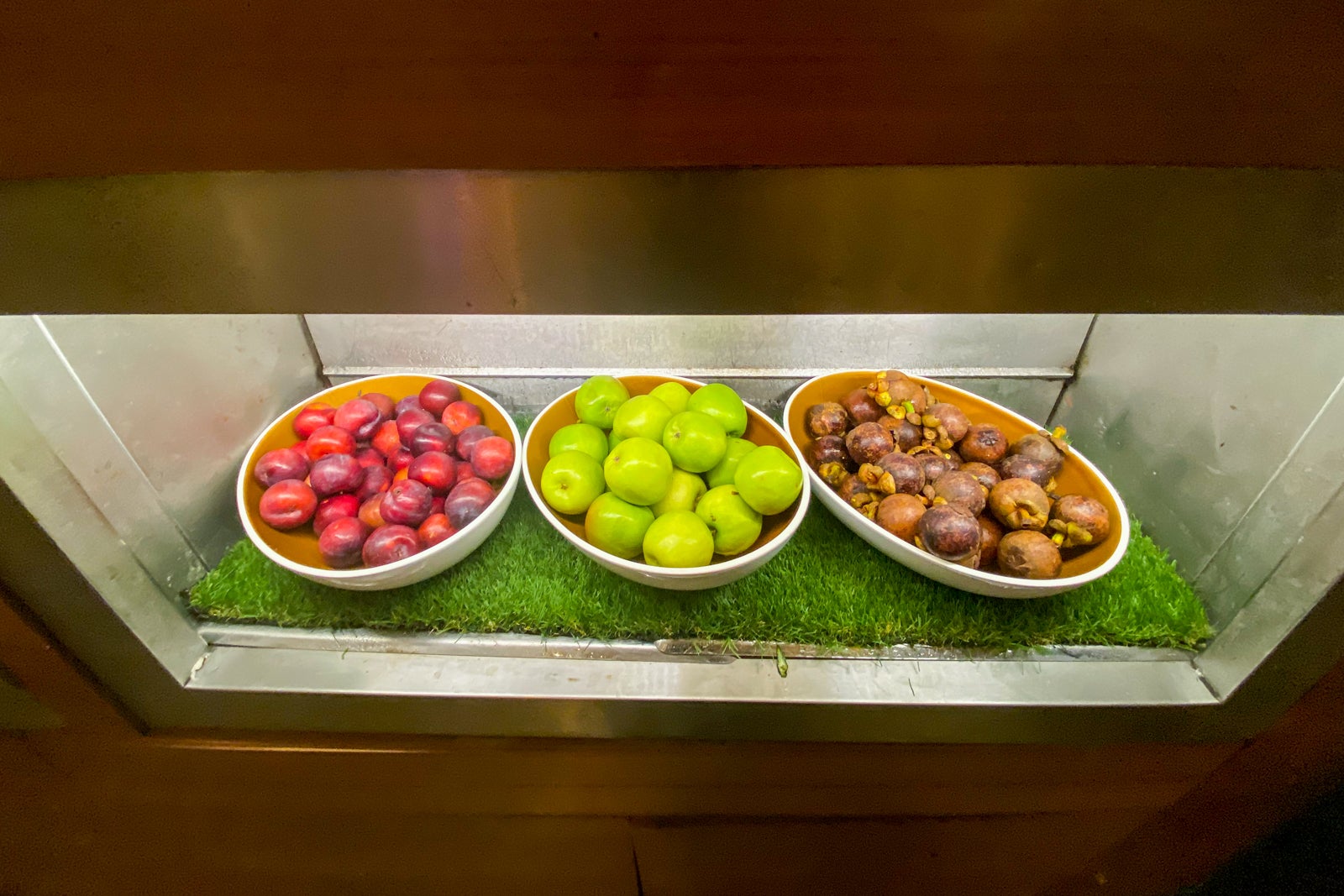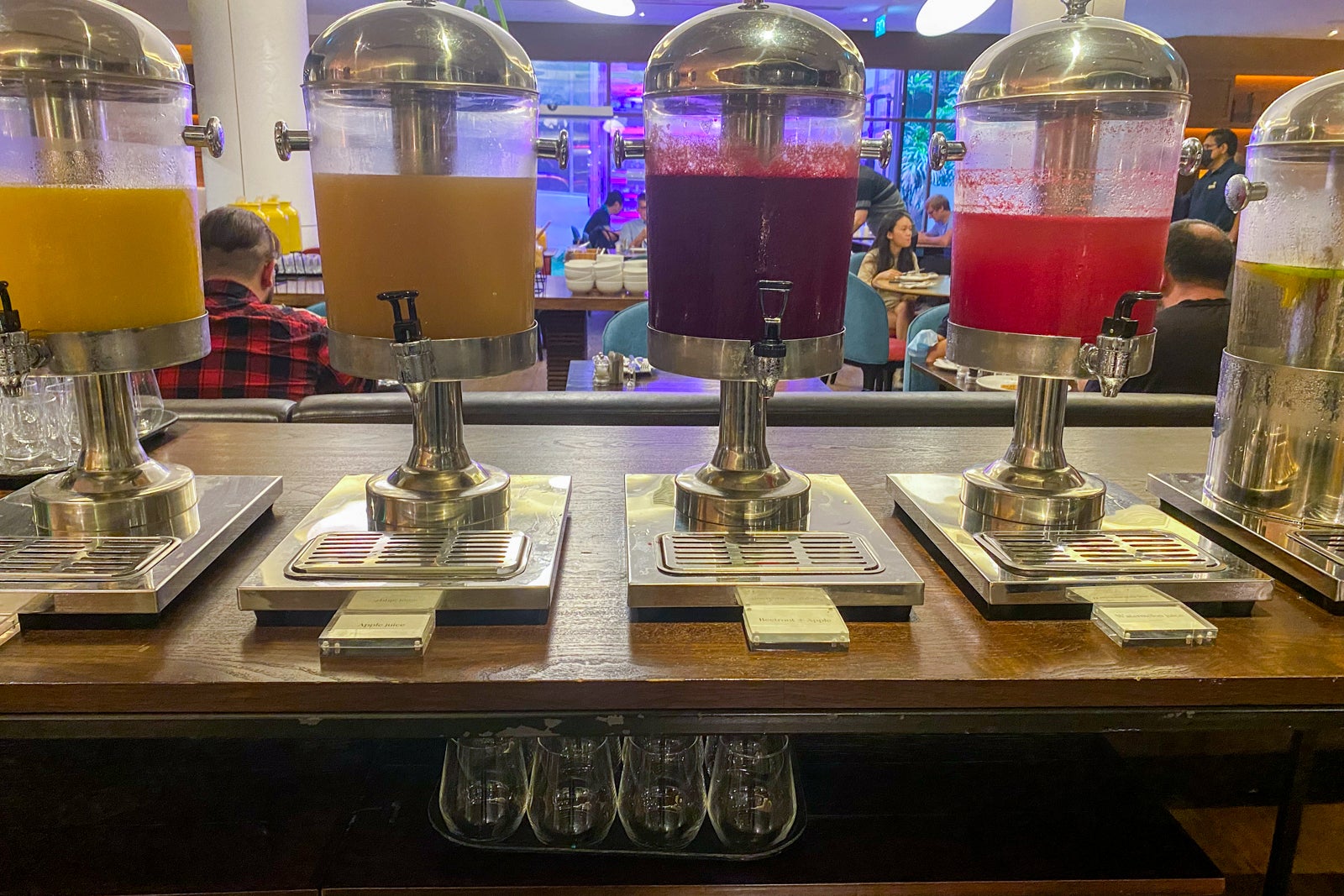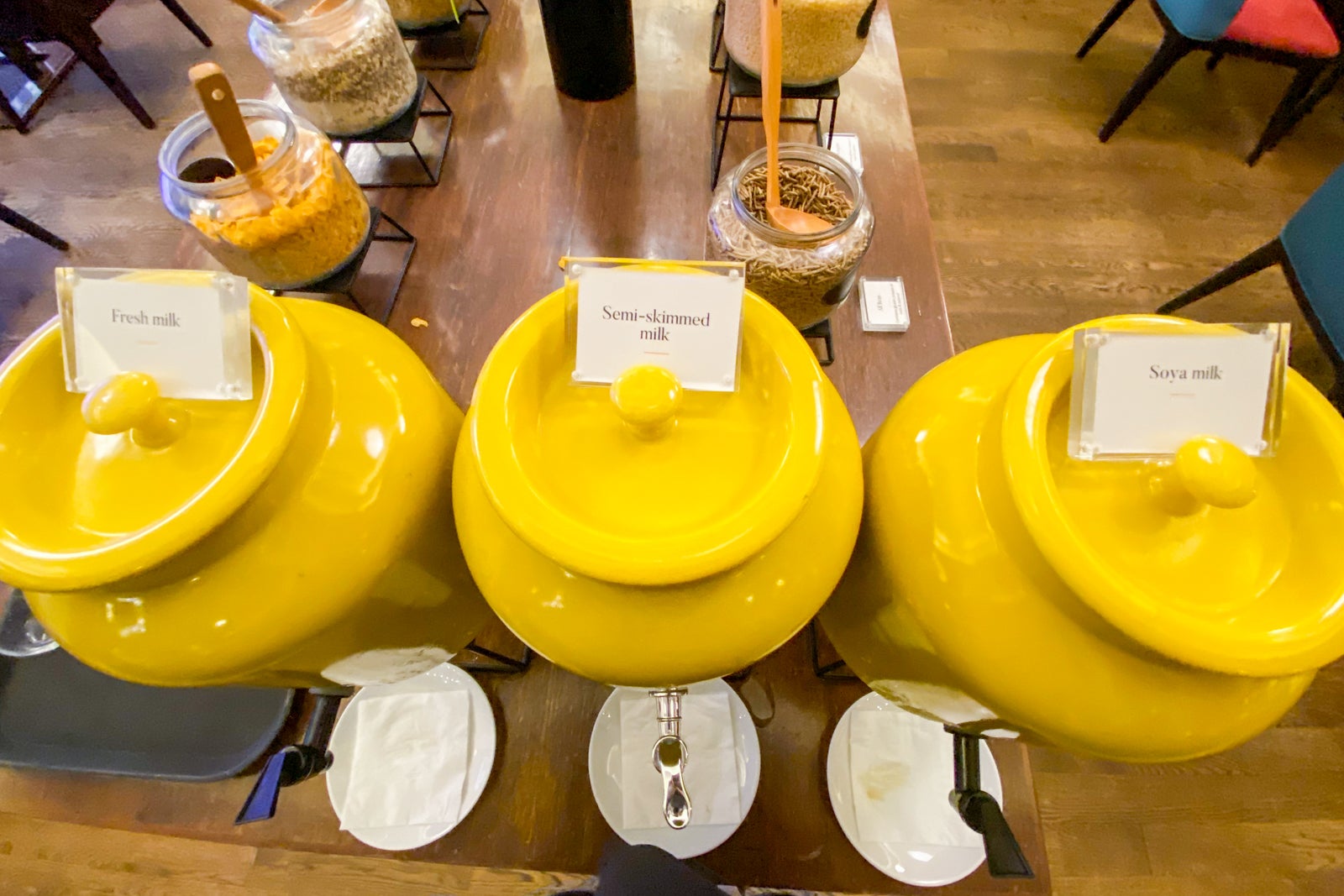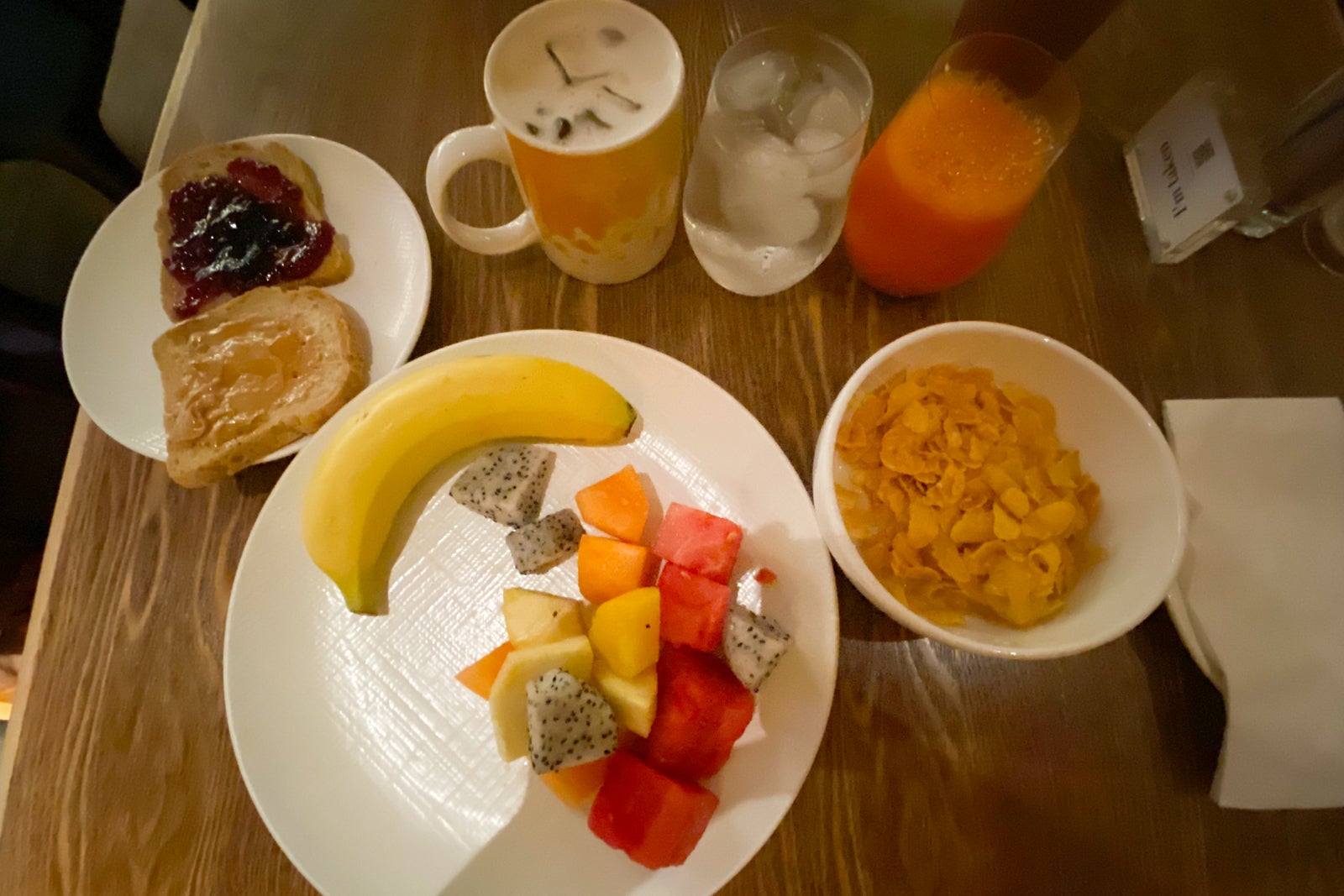 Other than this slight drawback, the buffet was exceptional. With so many dishes available, it was easy to fill up for a full day out and about in Singapore.
Related: How to master the perfect hotel breakfast strategy
Other (fancy) dining venues
In addition to its breakfast buffet, Opus serves lunch on select days and dinner every evening. The afternoon and evening menus feature sustainable steakhouse fare, such as appetizers like oysters and crabcakes for around SG$28 ($20) each, and mains like sous vide spice lamb loin and an Impossible pork burger topped with kimchi for between SG$28 ($20) and SG$44 ($32). Seafood and meat entrees were even more expensive, costing as much as SG$182 ($130) for meats like a 2 to 2.4-pound Sanchoku Tomahawk steak.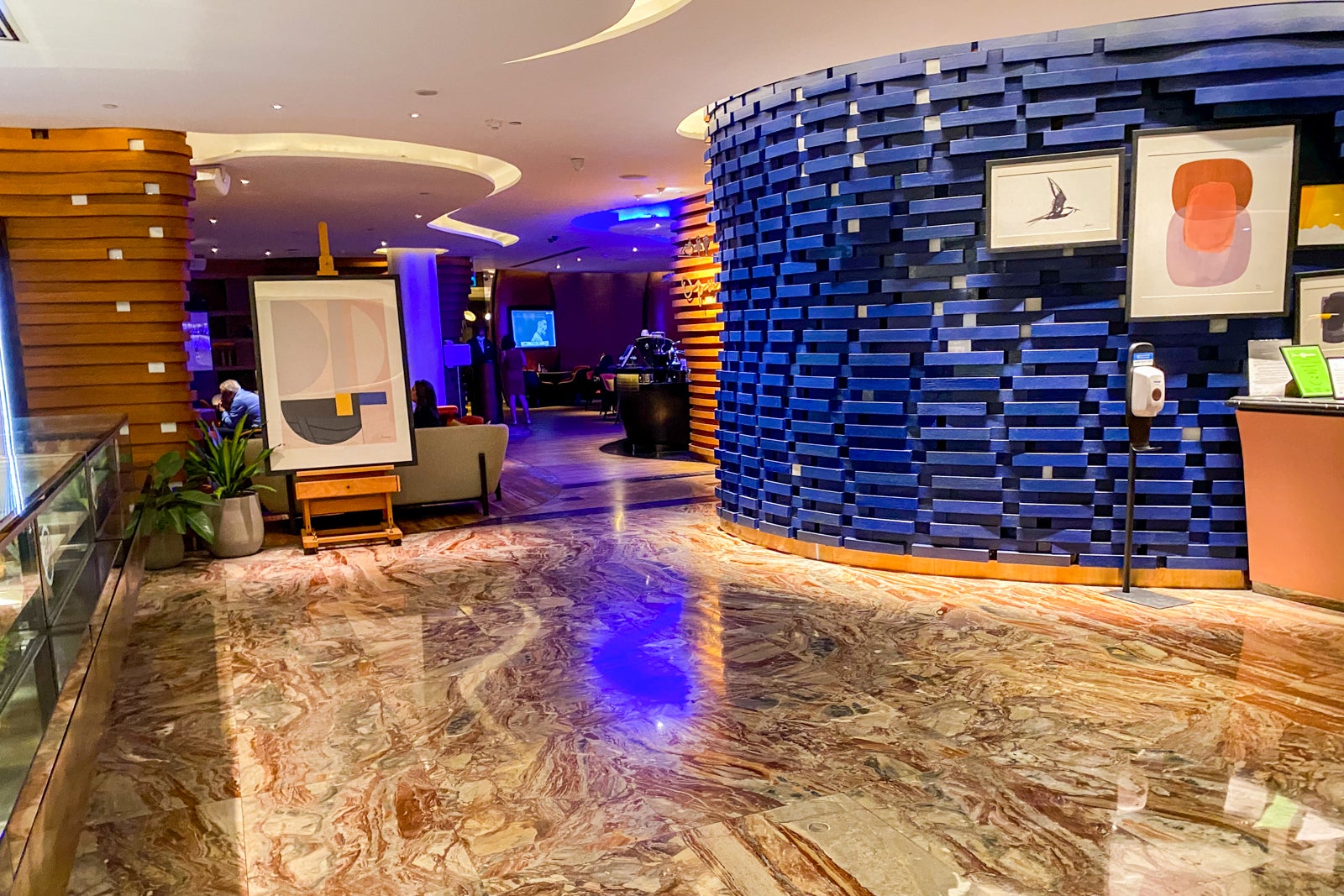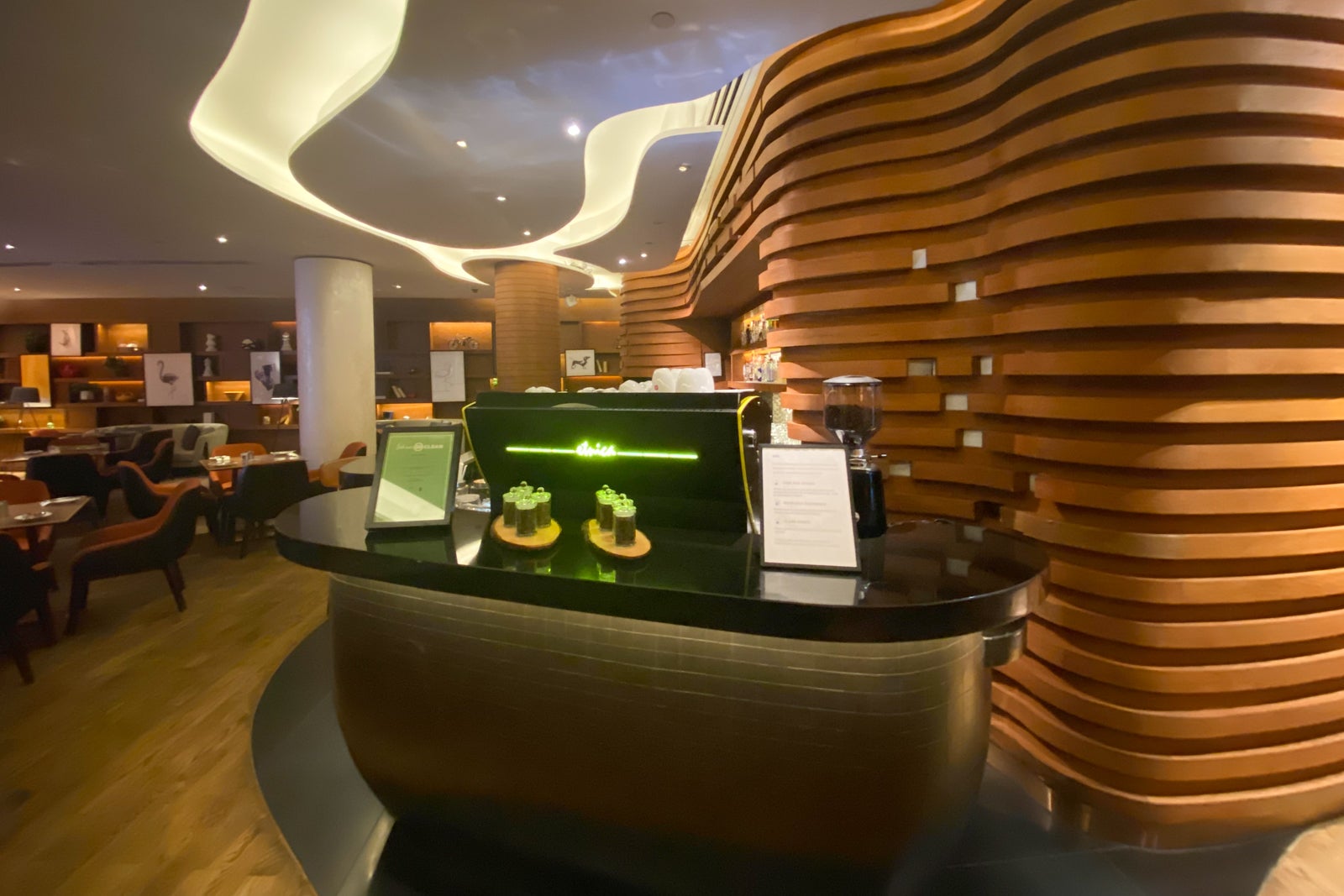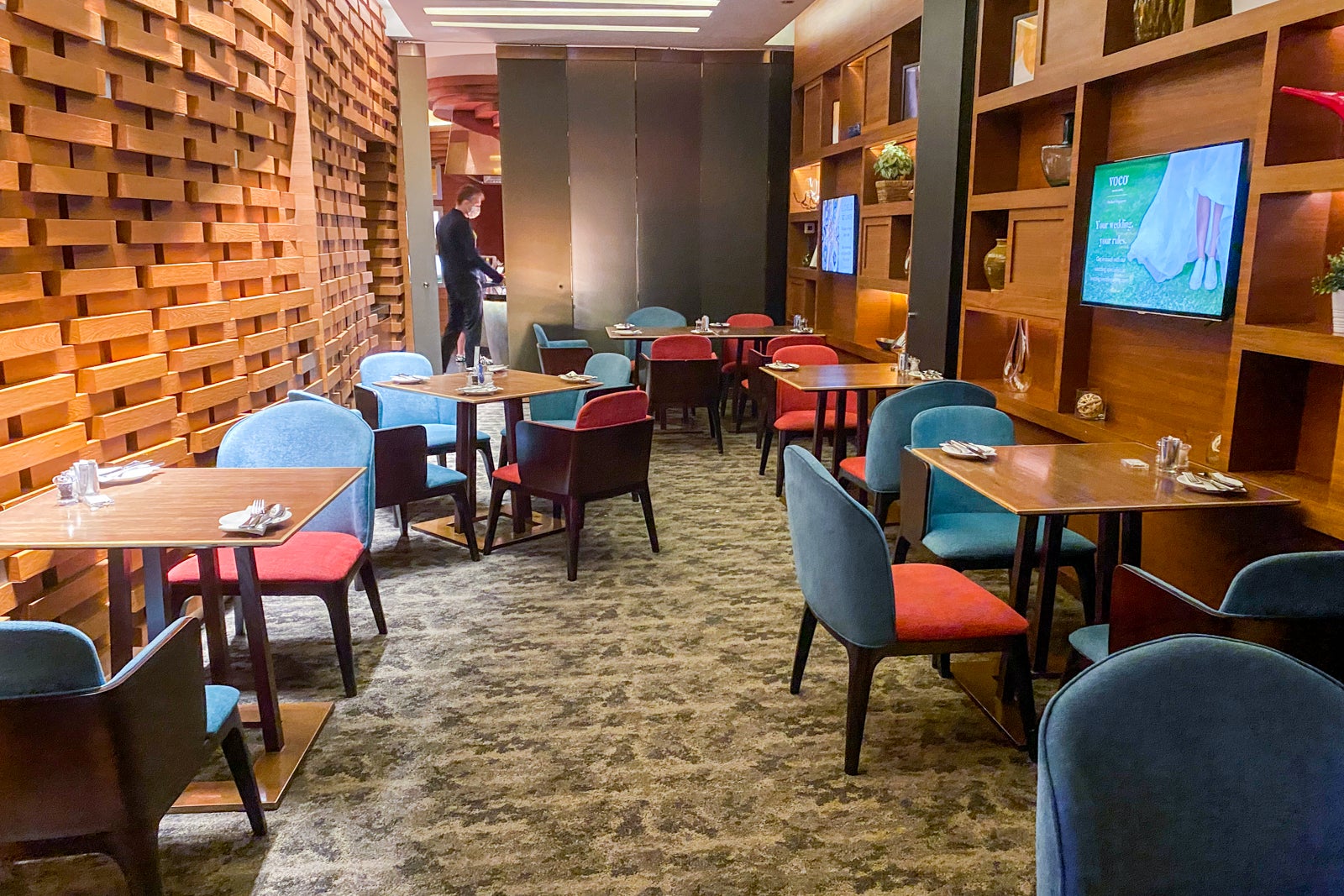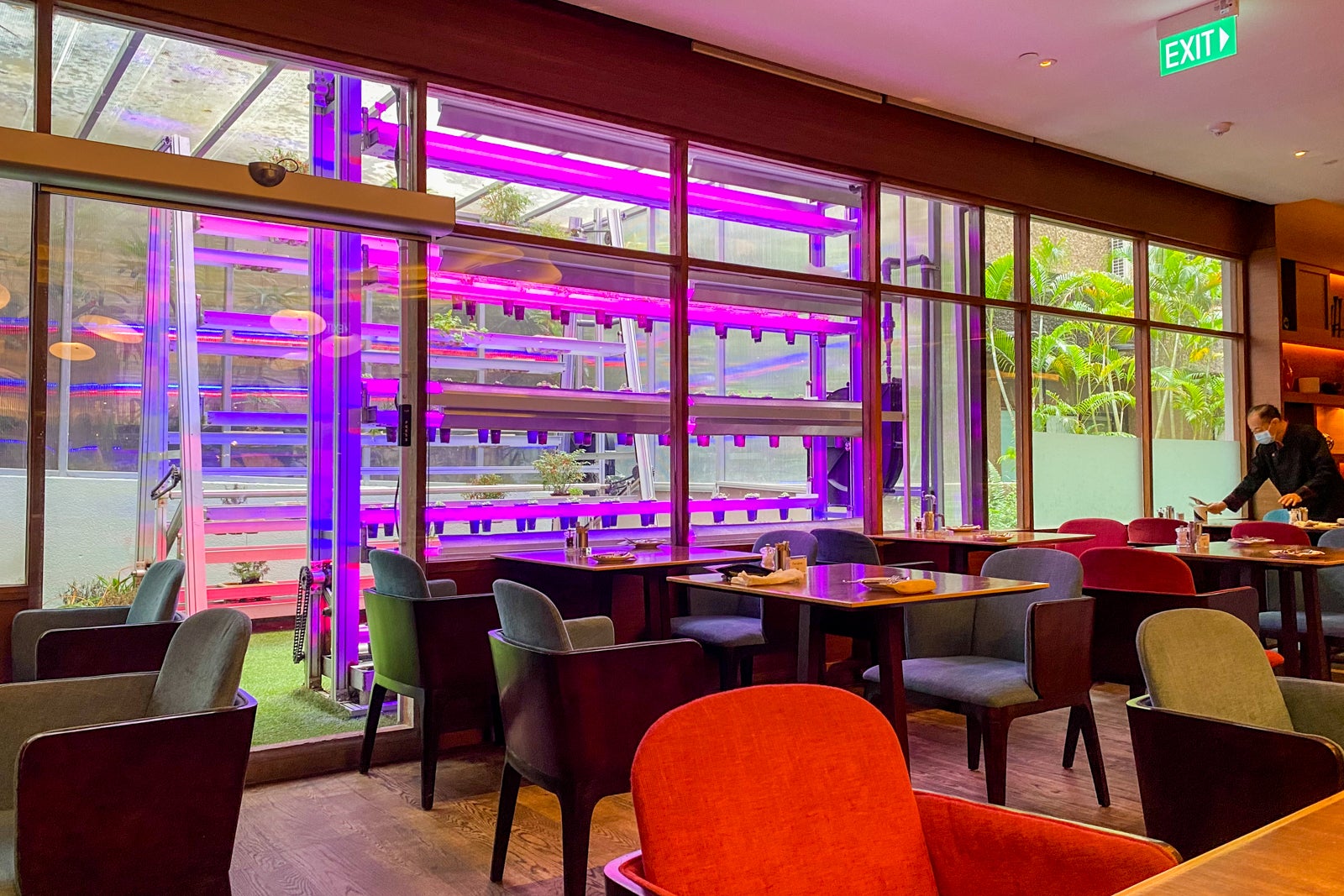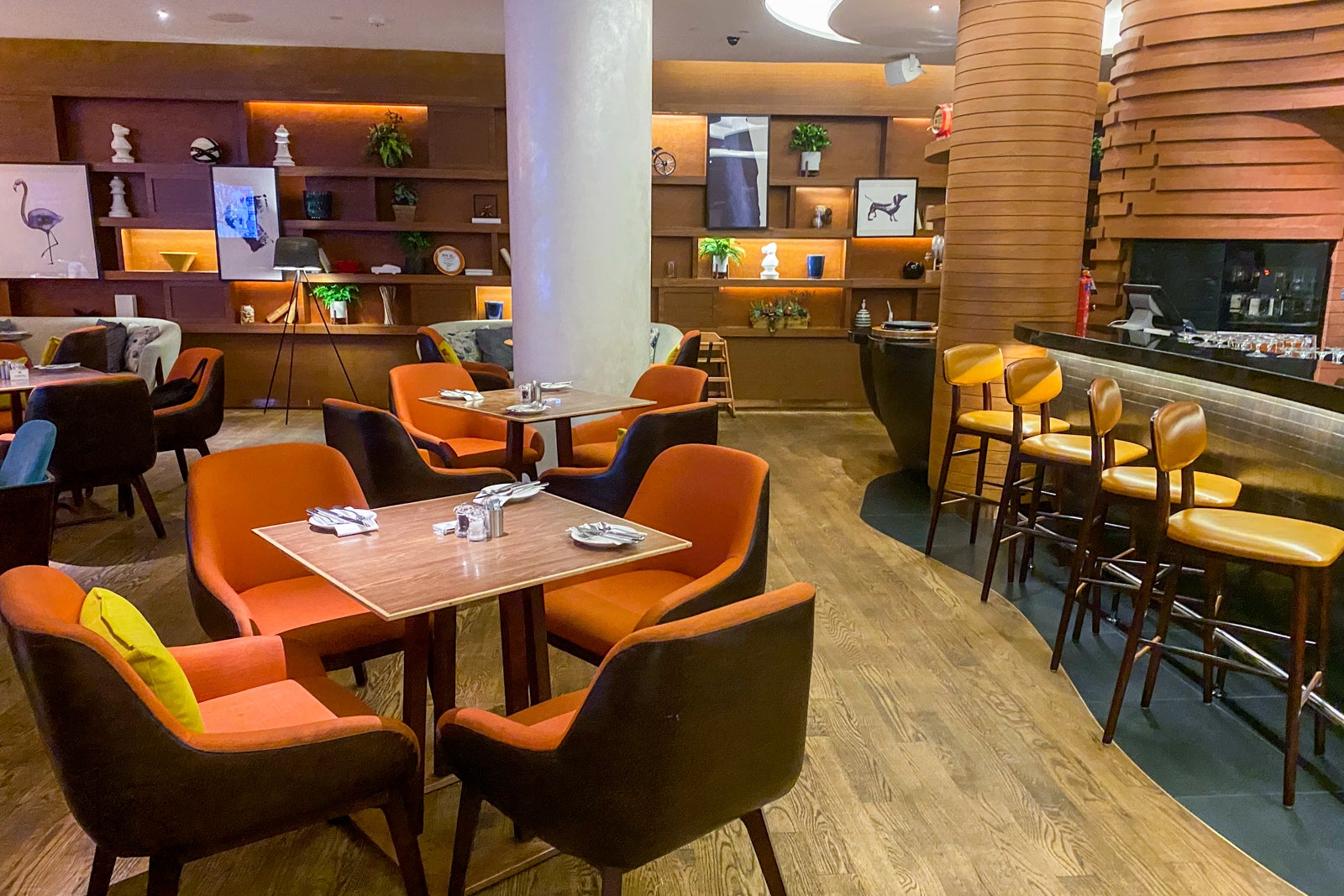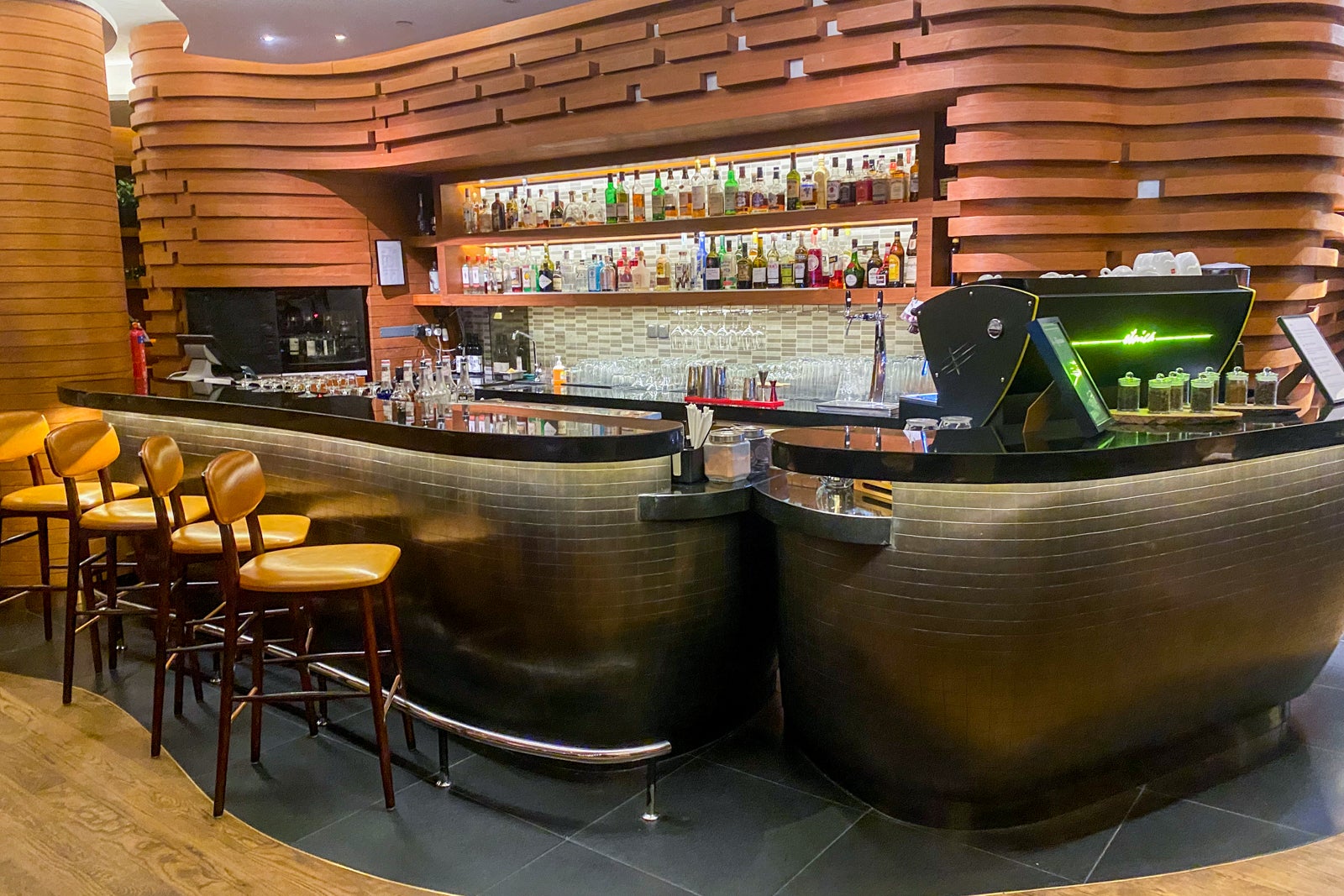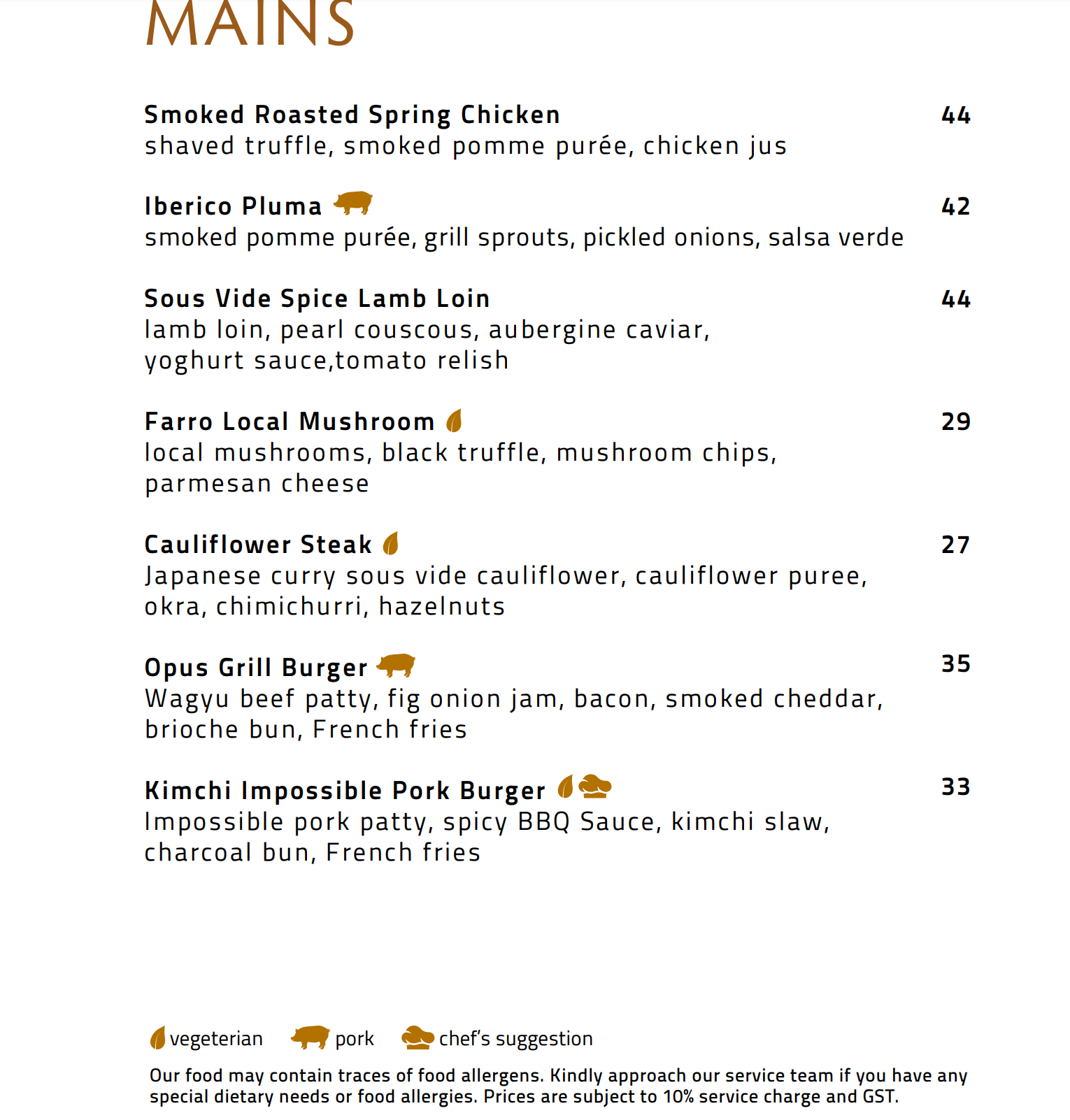 Beyond Opus, there are two other sit-down dining establishments available inside the hotel, including Italian-focused il Cielo.
A rooftop restaurant with views of the pool and surrounding city, il Cielo is a popular casual (but pricey) venue open Tuesday through Saturday for lunch and dinner. Because I could not get a reservation for any night of my stay — look into advance reservations if you're keen on dining at the eatery — I decided to grab takeout on my second night. The summer peach salad and gluten-and dairy-free versions of the arrabbiata pasta — which cost SG$26 ($18) and SG$32 ($23) respectively — were good but not extraordinary, and given what a foodie paradise Singapore is, you're better off spending your money elsewhere.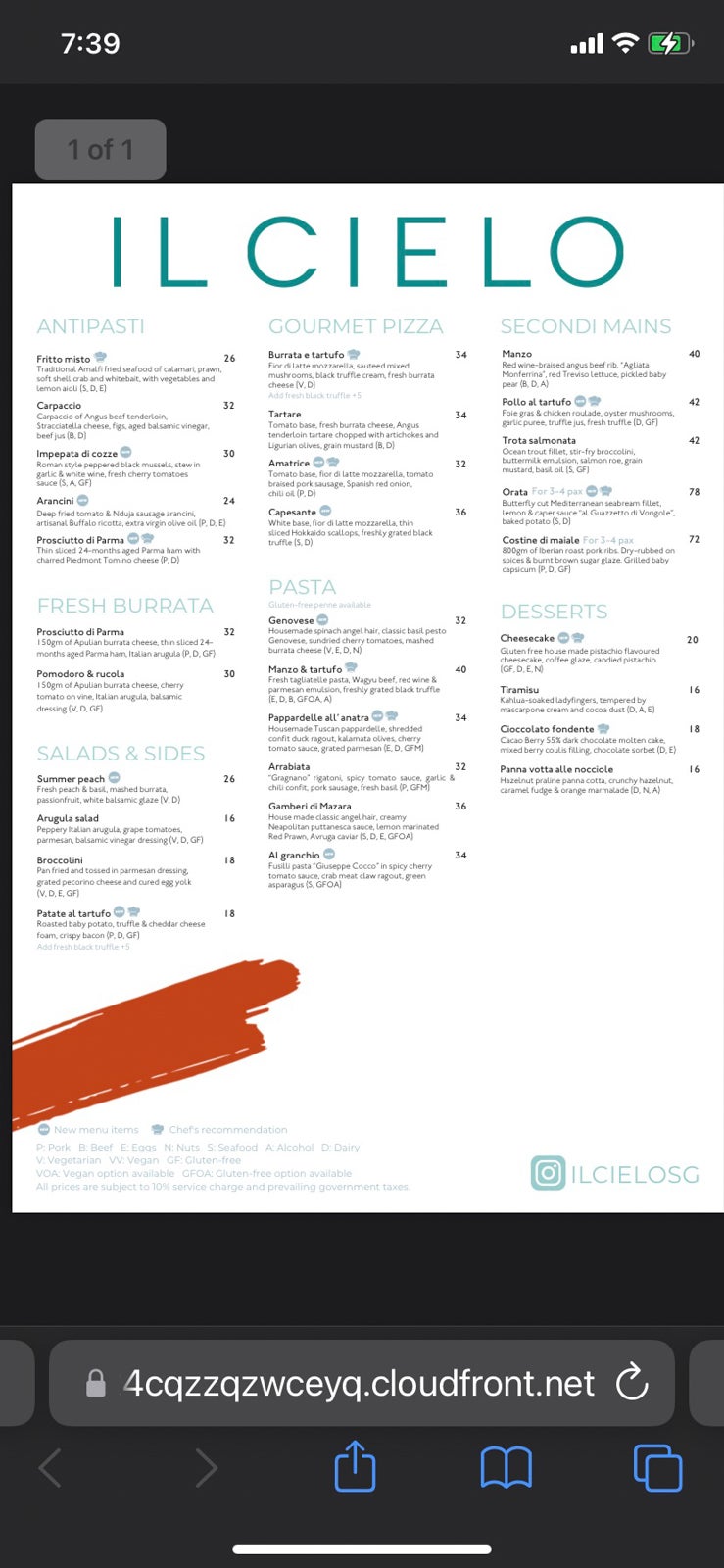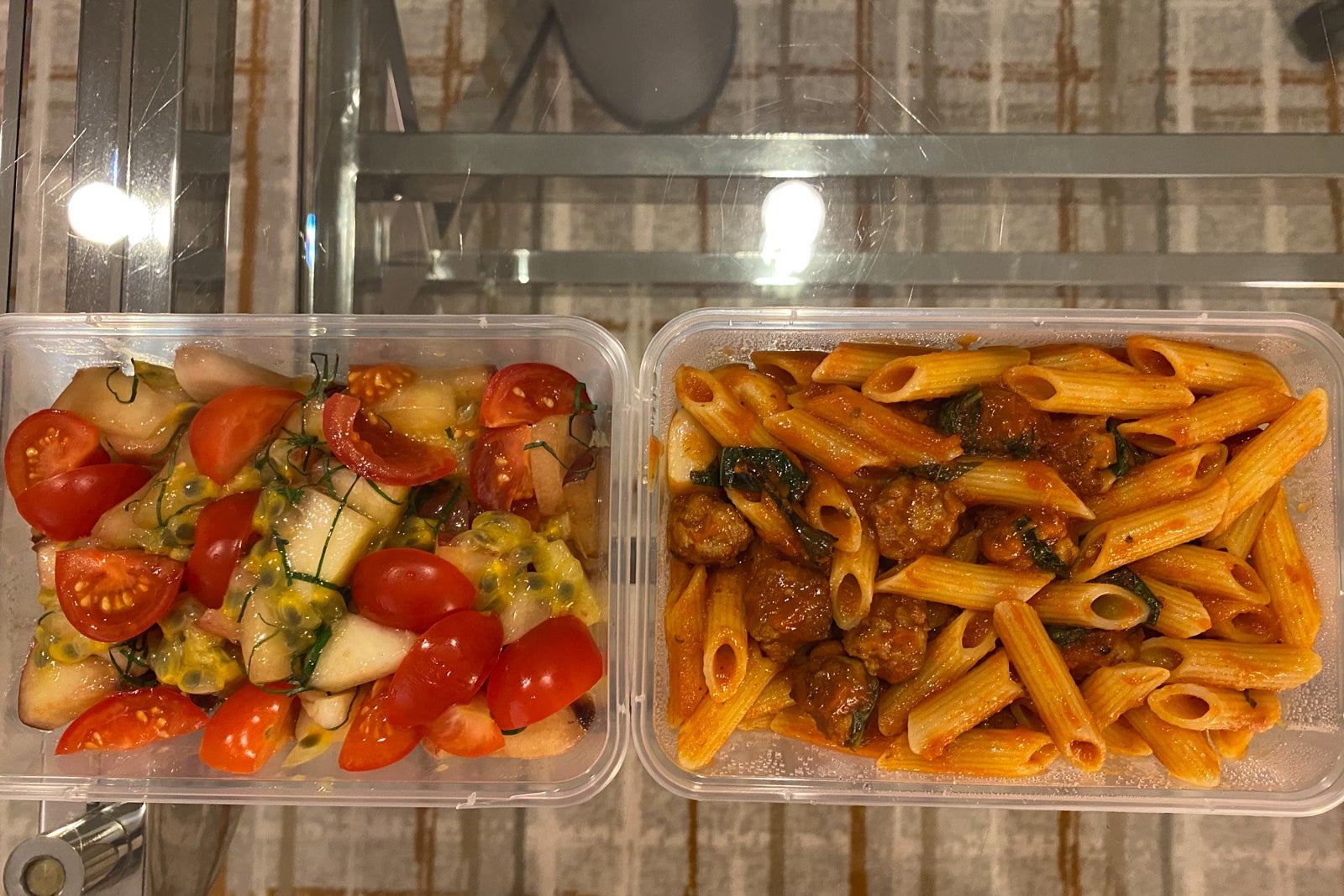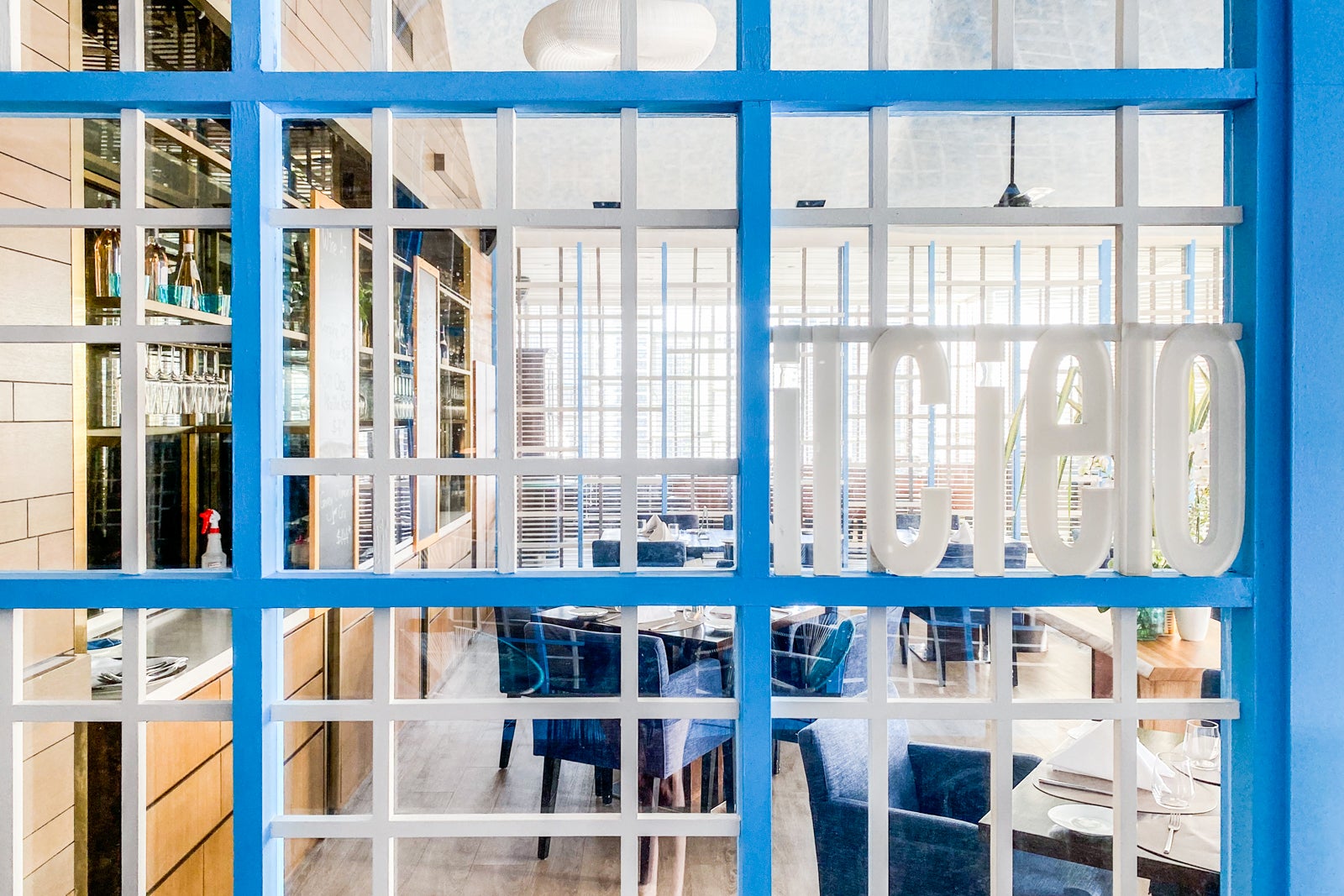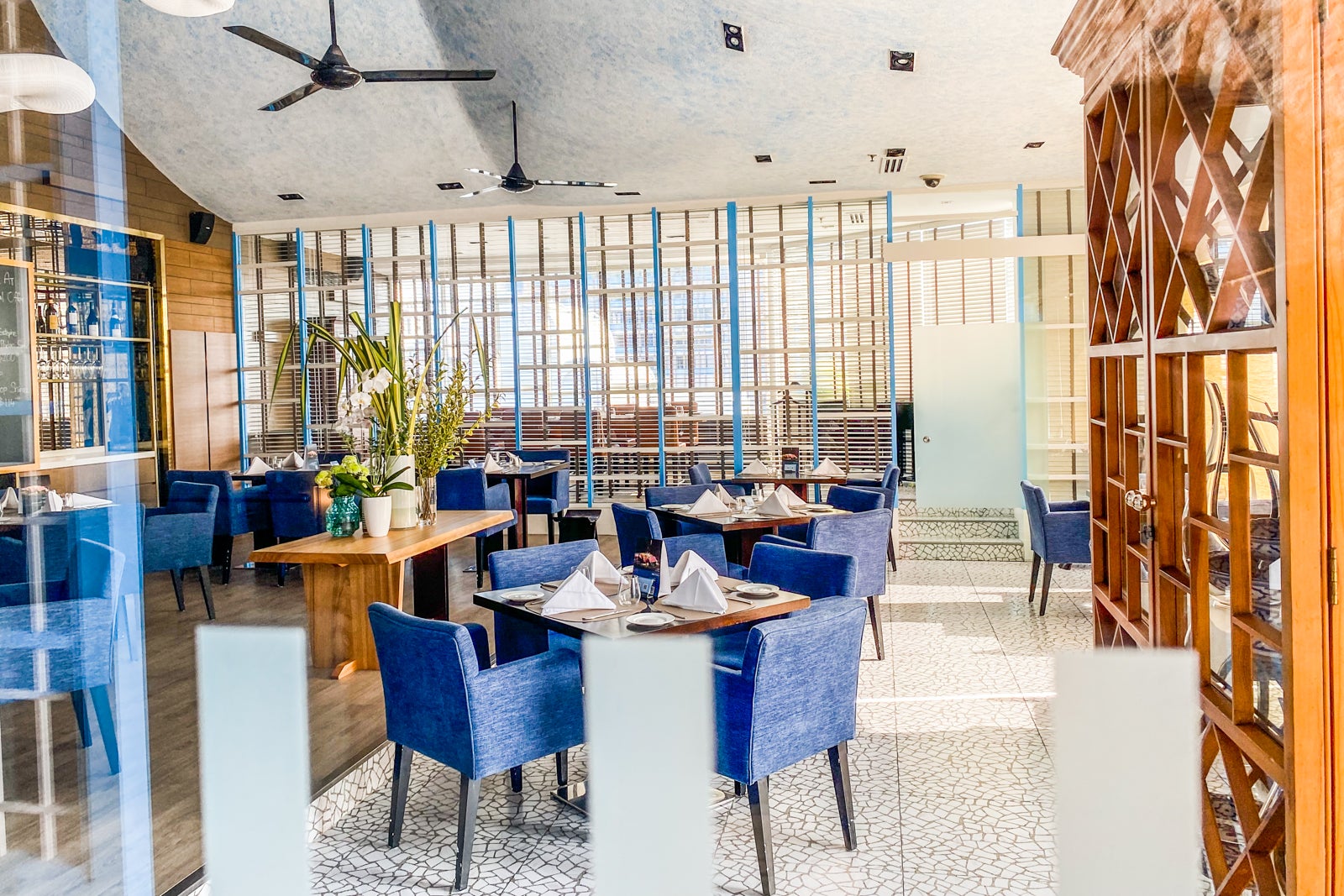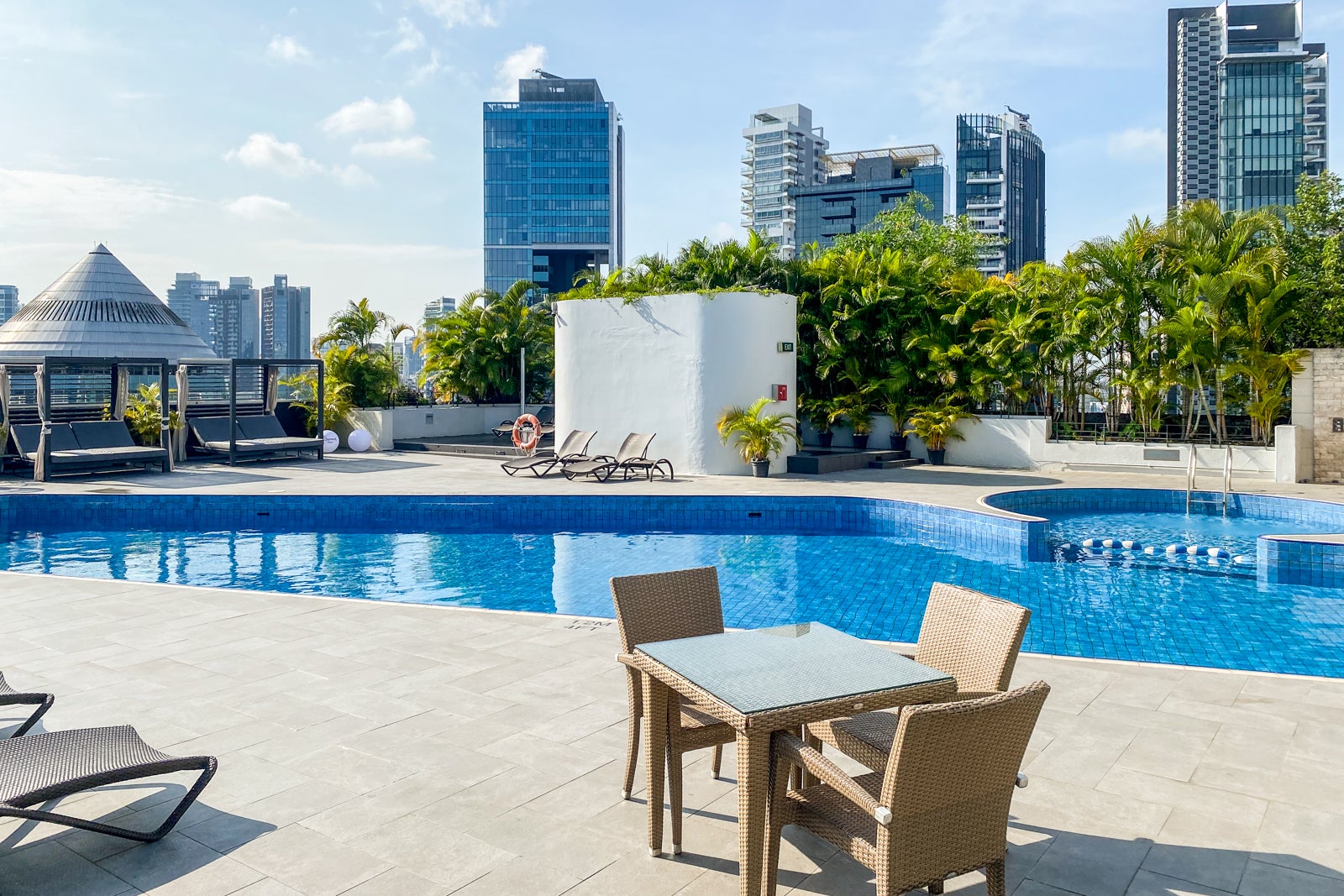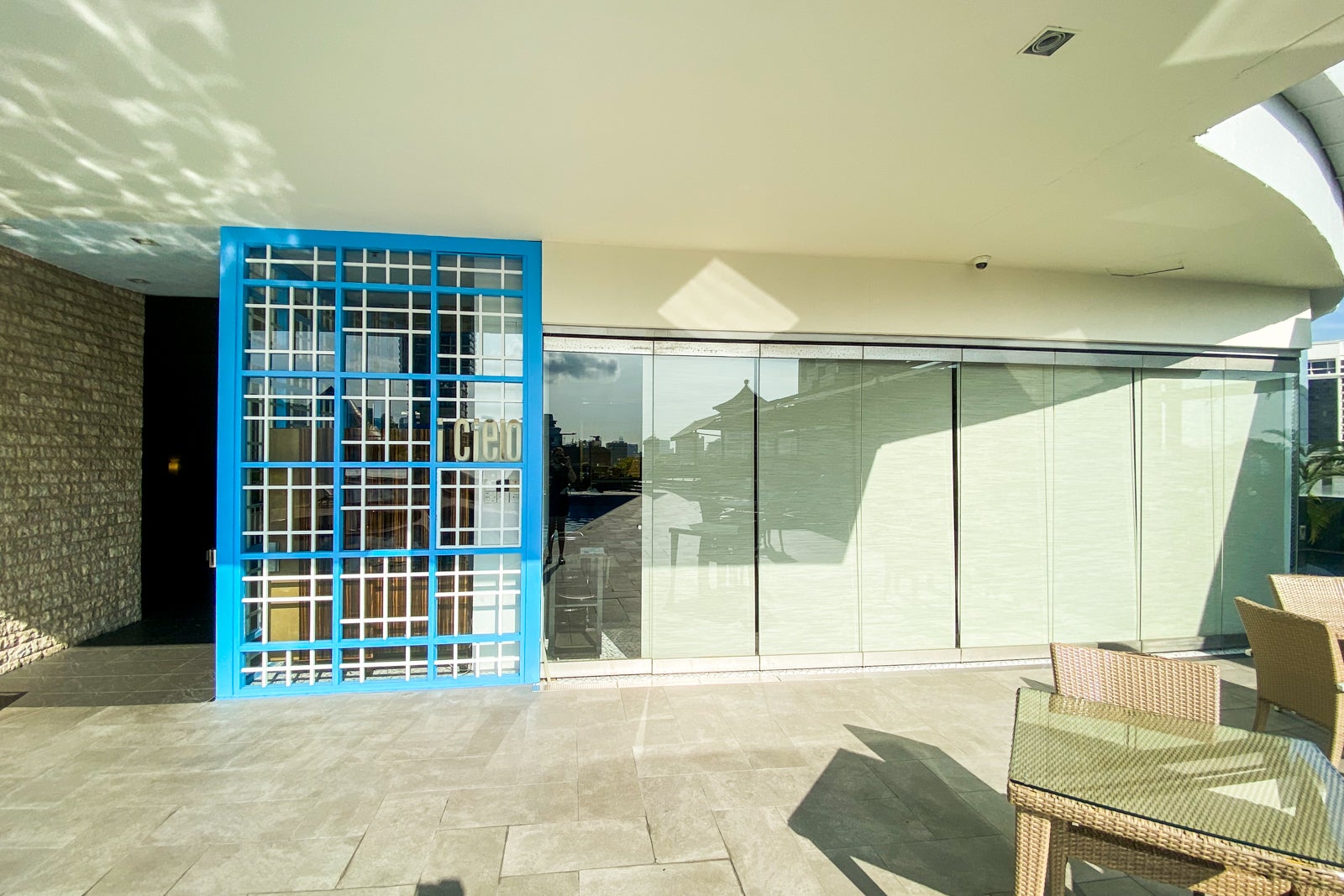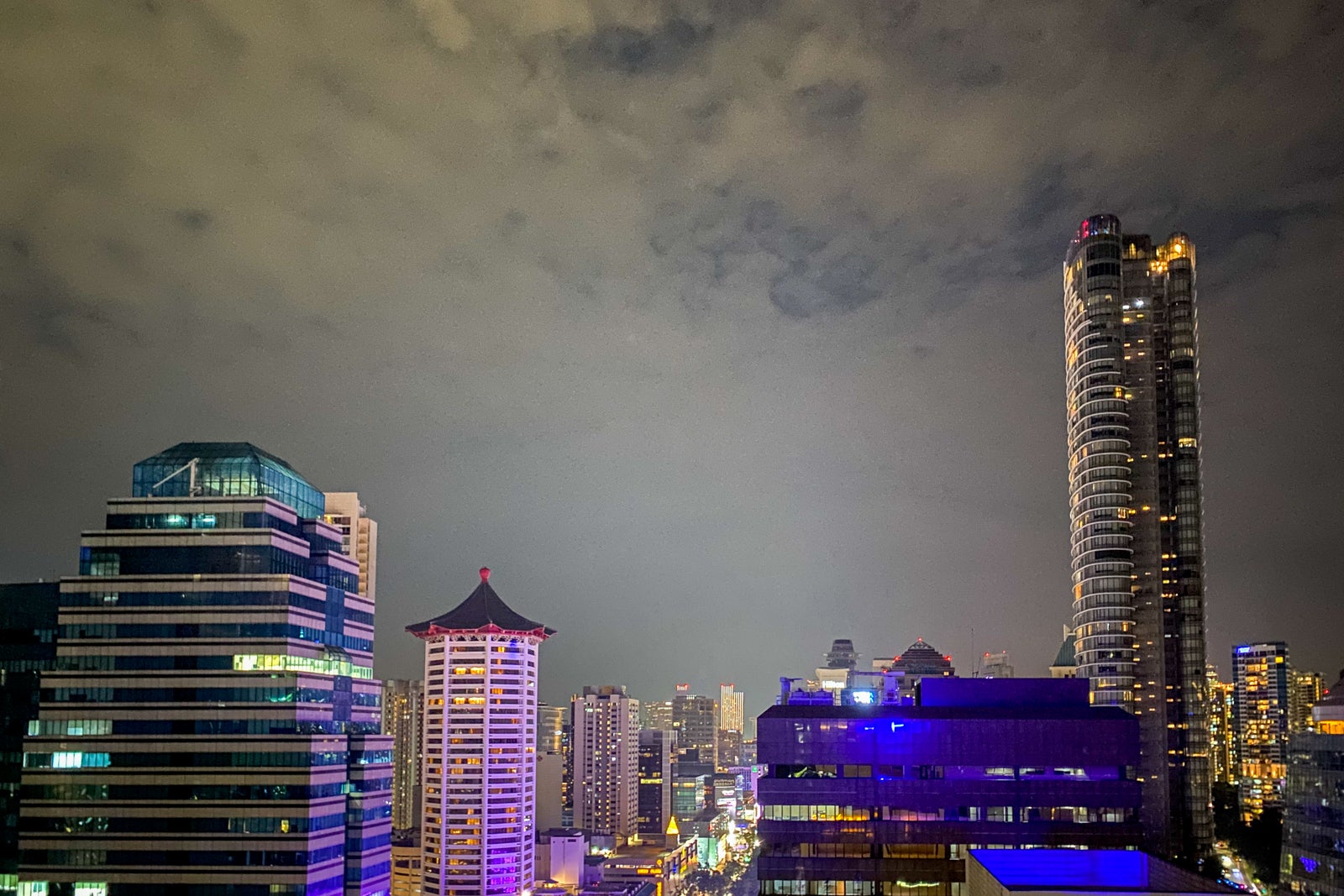 Interestingly enough, the hotel is also home to a Michelin-starred fine-dining restaurant: Iggy's. The first Singaporean restaurant to appear on The World's 50 Best Restaurants list, Iggy's serves "modern European dishes with an Asian twist," according to the restaurant's website. Lunch tastings range between SG$150 ($107) and SG$235 ($168). Meanwhile, dinner starts at SG$295 ($211), with an additional SG$180 ($128) charge for paired wine. Menu highlights include Maine lobster, chutoro (tuna) and bamboo shoots with caviar.
As you might expect, reservations are required since space is limited and the bookings tend to fill up fast, so I was not able to dine there. If you would like to, though, plan on requesting a table as far in advance as possible.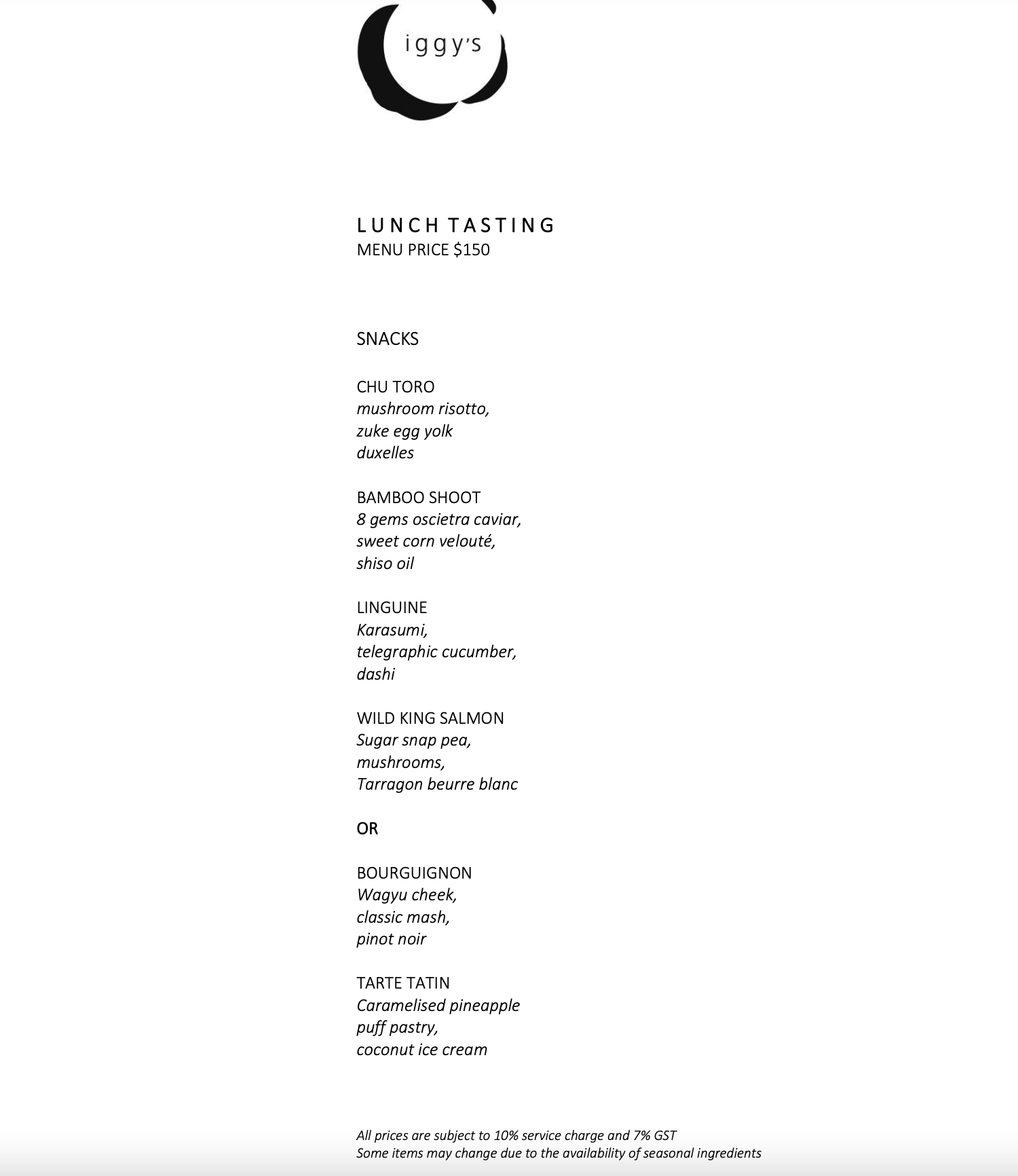 Should you crave a quick bite to eat, you can grab a pastry, a caffeinated beverage and more from the small bakery off the lobby. I didn't indulge my sweet tooth here during my stay, but everything I saw at D9 Cakery looked delicious.
For those who prefer to dine in the comfort of their room, there's also room service from 8 a.m. to 10:30 p.m. I tried it on my first day since I didn't arrive at the hotel until 7:30 p.m.
Because there are few things more comforting than a room service burger, I ordered one with a fried egg, tomato and lettuce, along with fries, ginger ale and a side of fresh fruit for good measure. Since I was recovering from my 35-hour flight to get to Singapore, I also ordered a cup of chamomile tea. The total came to SG$78 ($56).
Despite receiving a pop-up message quoting a 30-minute wait time for my order, it arrived within 10 minutes.
Overall, the meal was overpriced for what I received. The burger and fruit lacked flavor, though the fries were delicious. Given Singapore's abundance of phenomenal dining options, this meal fell flat. Still, it served its purpose of helping me refuel on short notice.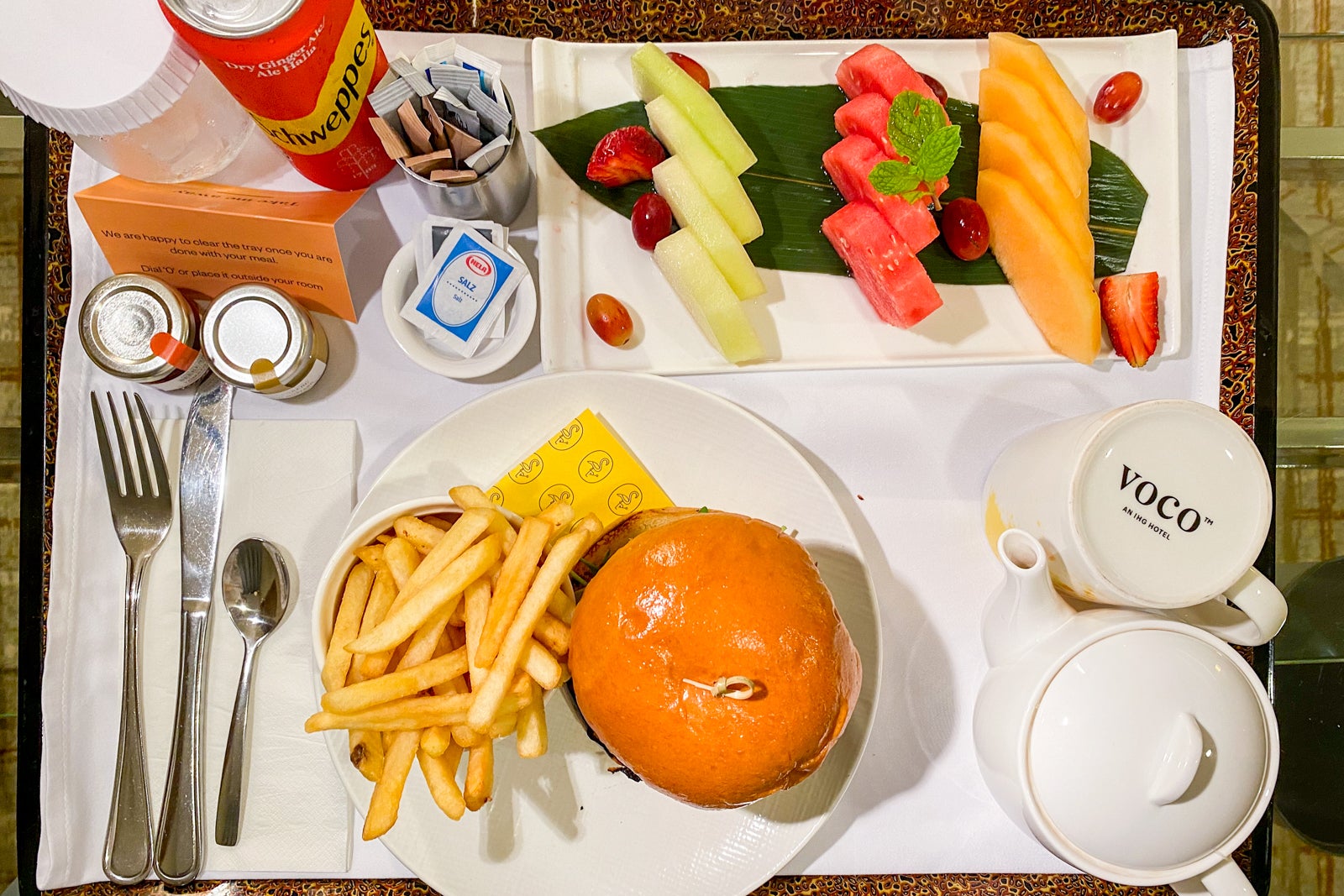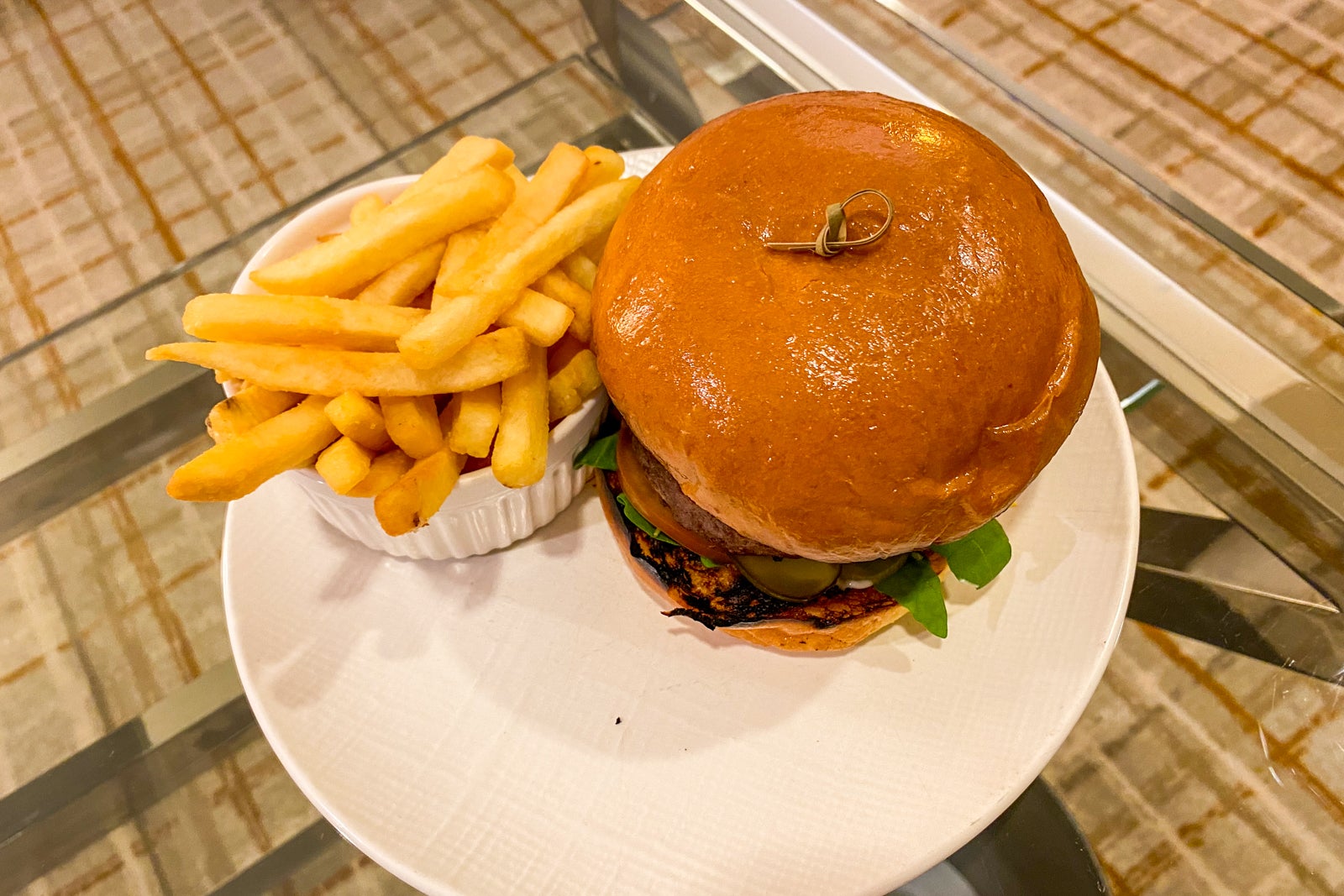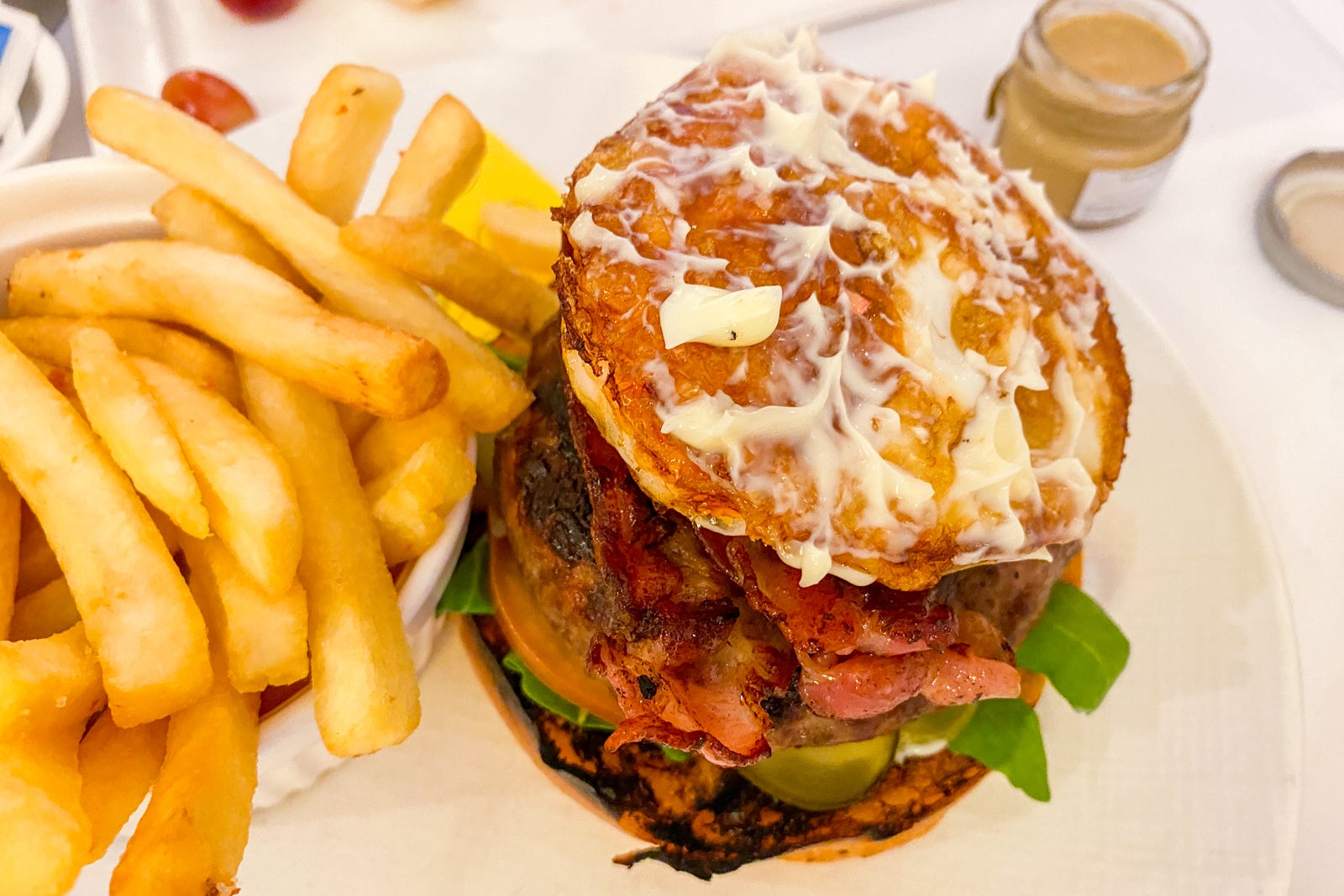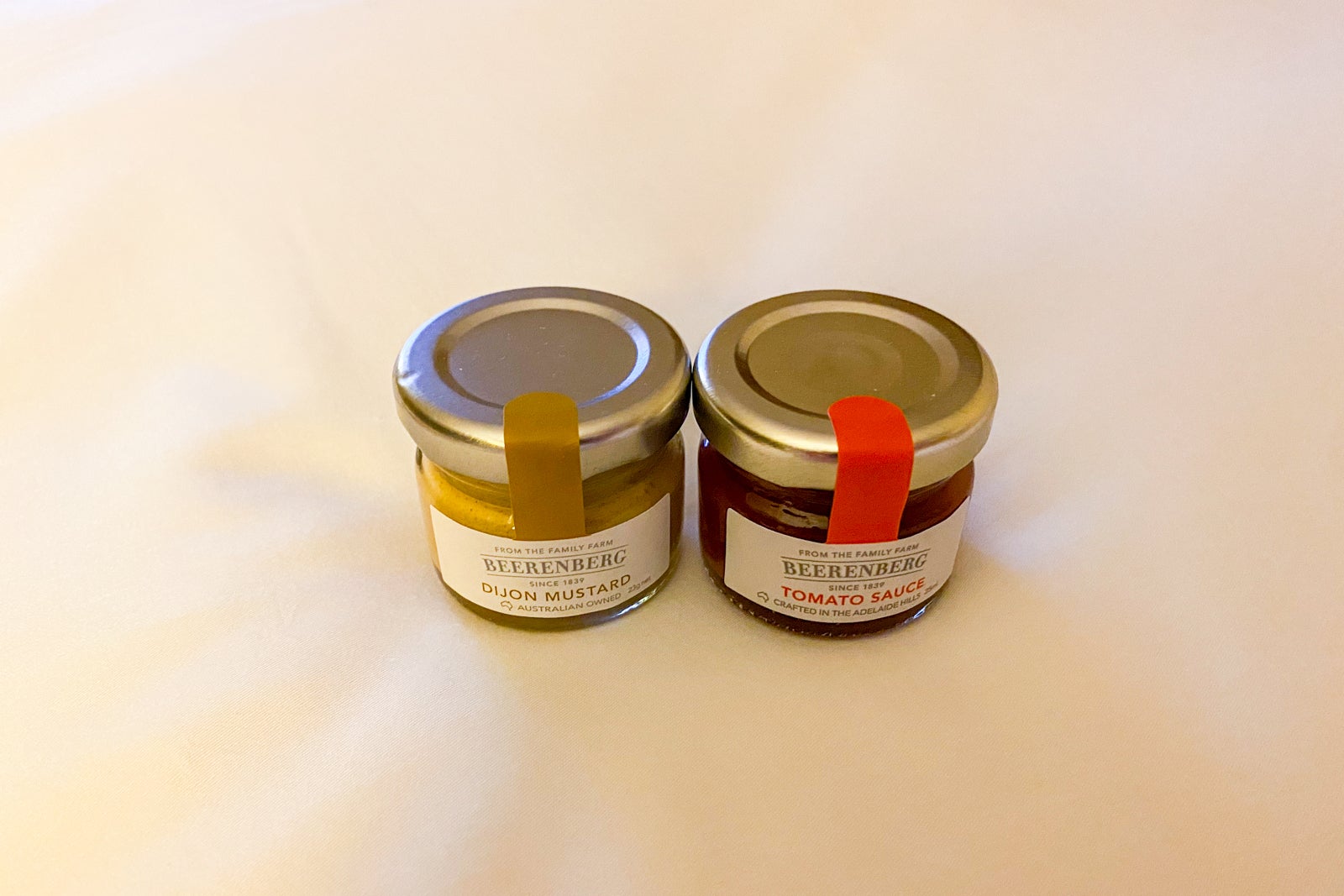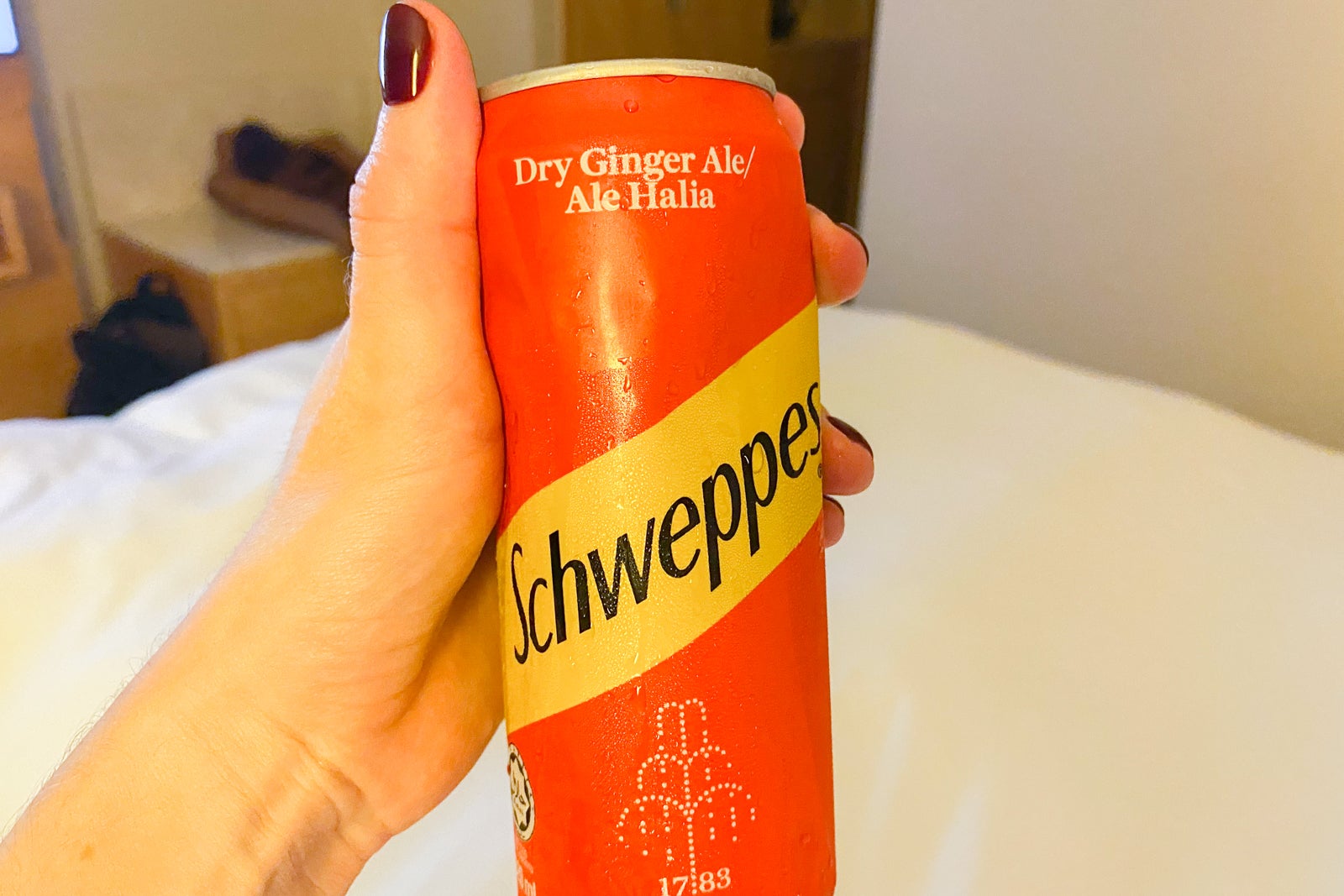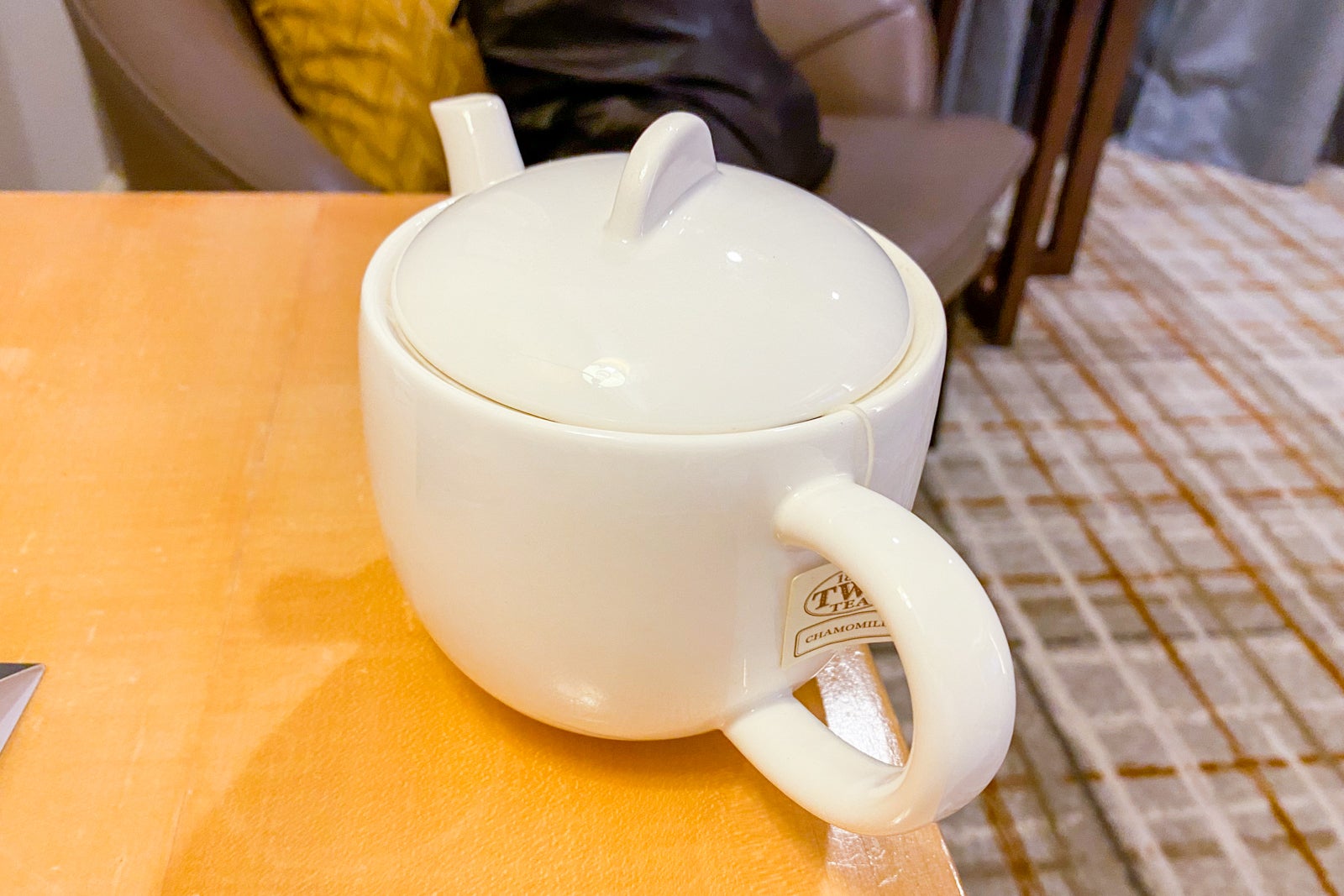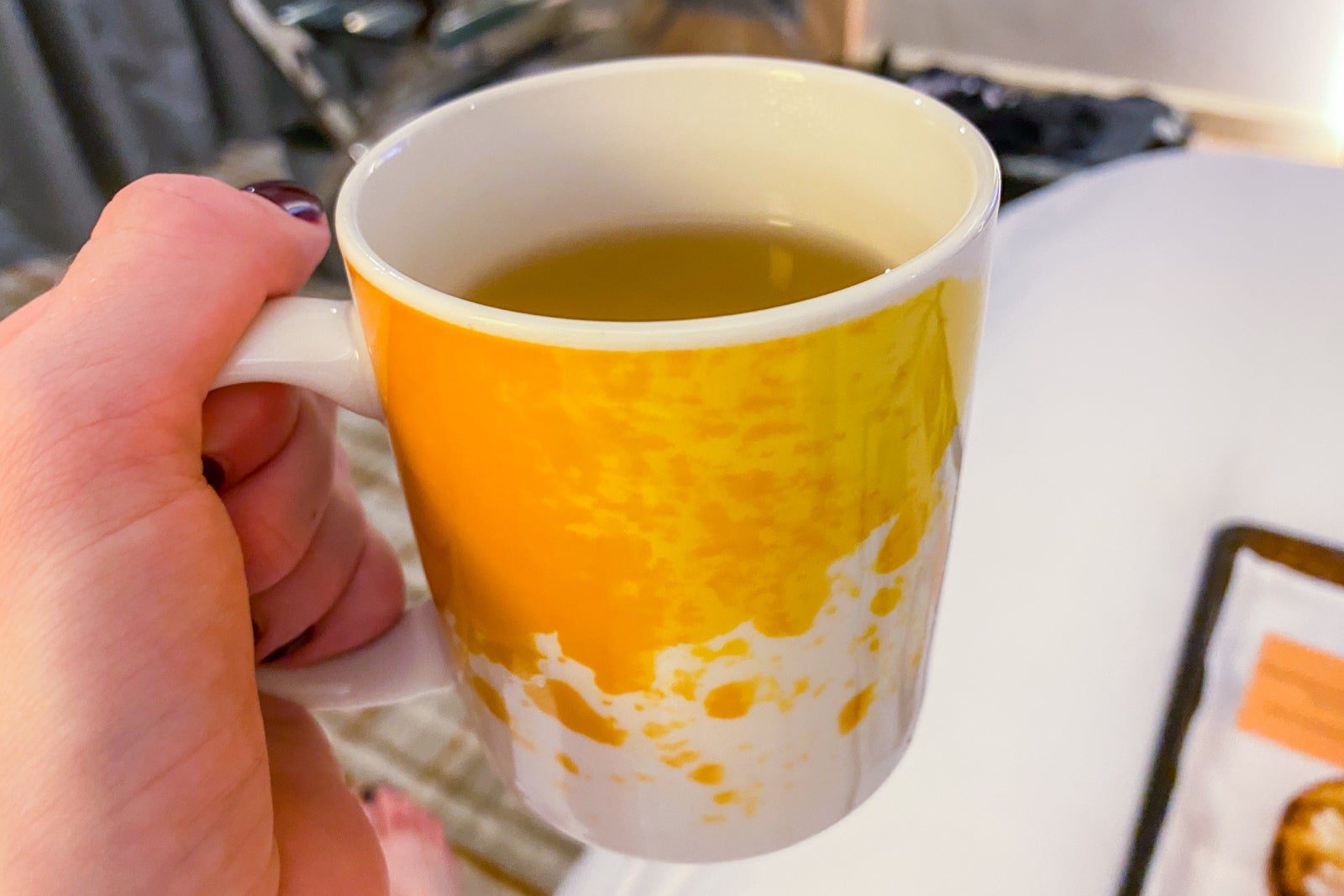 Its full-service hotel amenities
Since it's hot year-round in Singapore, odds are you'll want to take a dip in voco Orchard Singapore's rooftop pool, which is open every day between 7 a.m. and 9 p.m. Located on level 24 next to il Cielo, the 40-foot pool is surrounded by lounge chairs and features panoramic city views. I highly recommend checking it out, even if you don't use the pool (as was the case for me when I visited).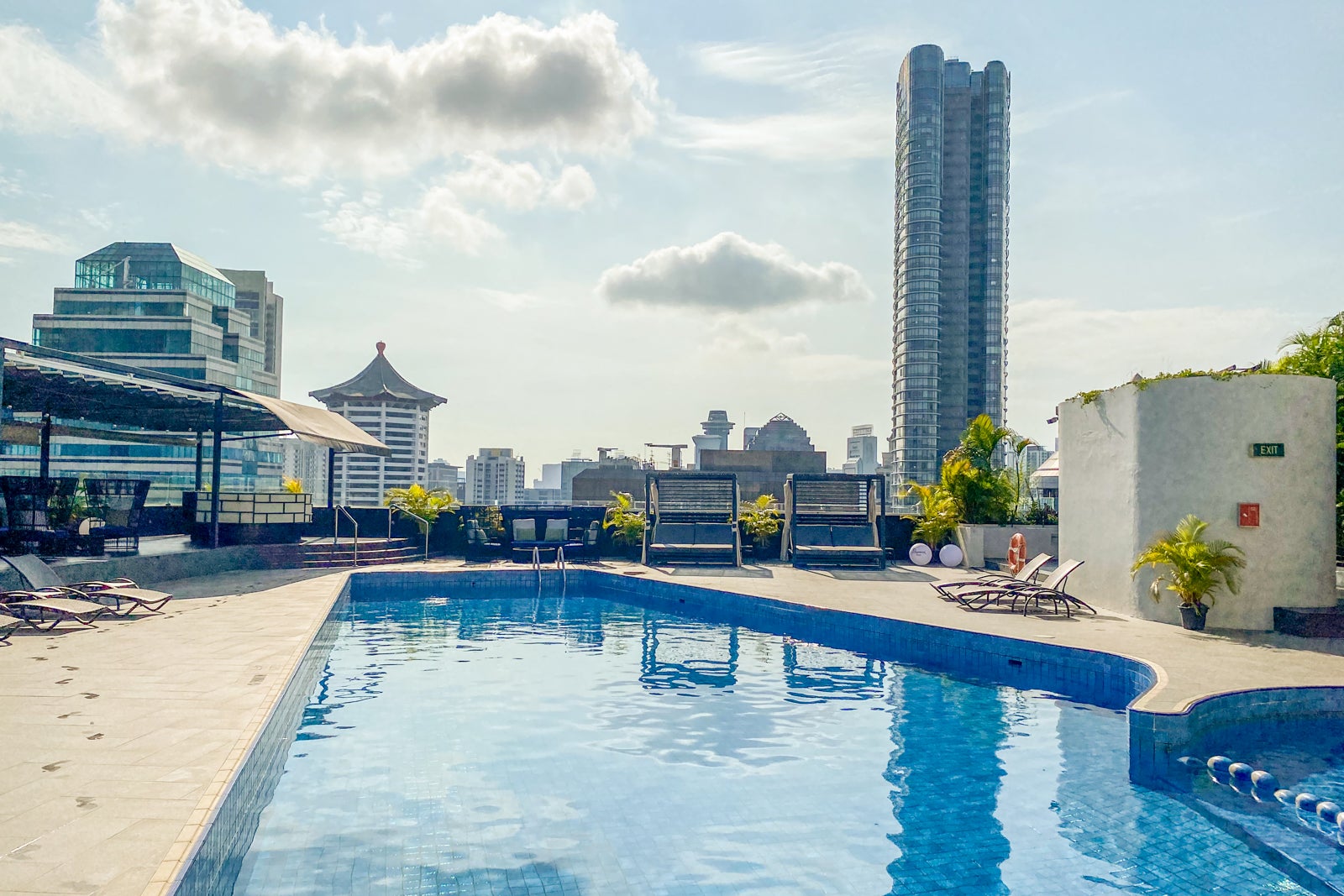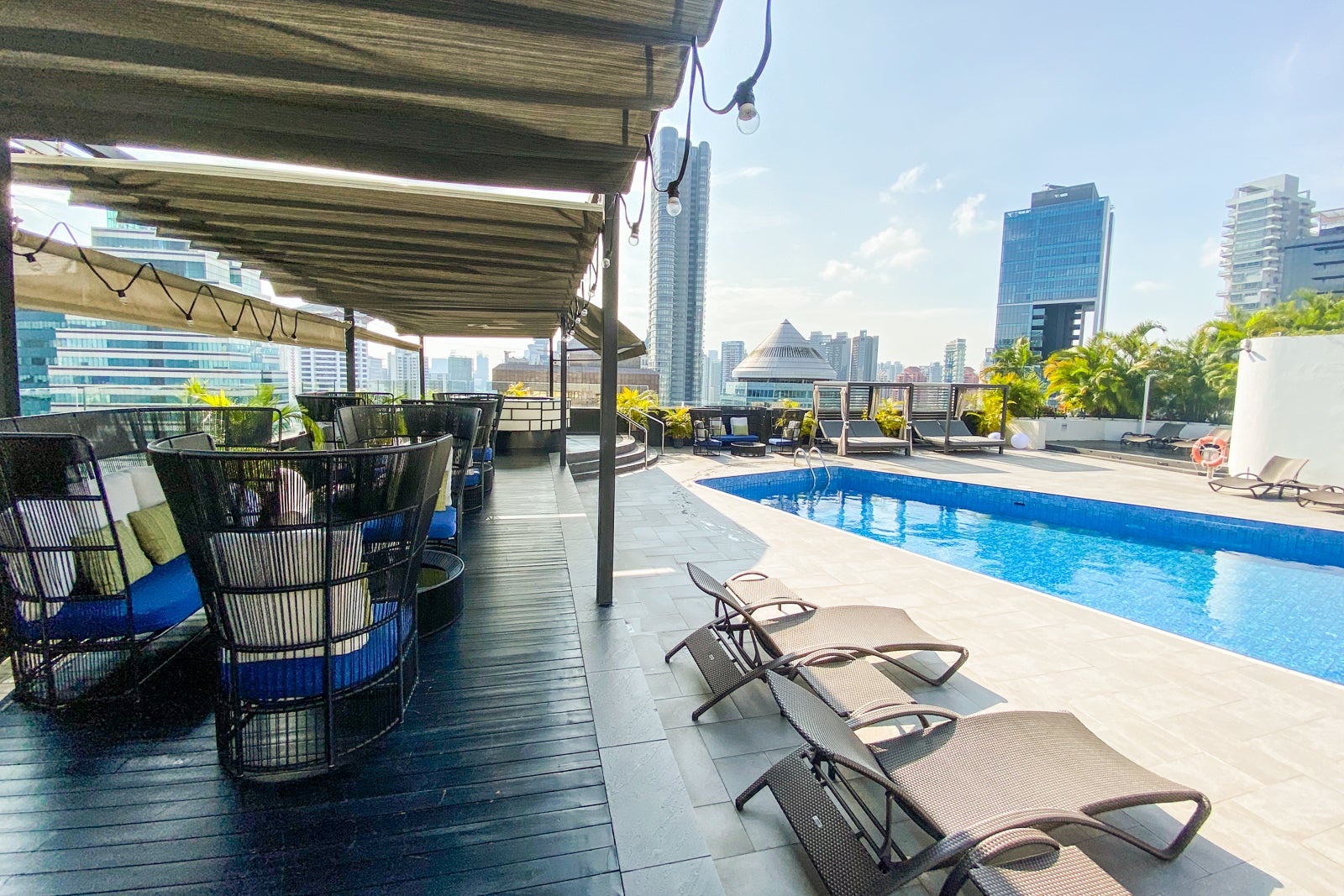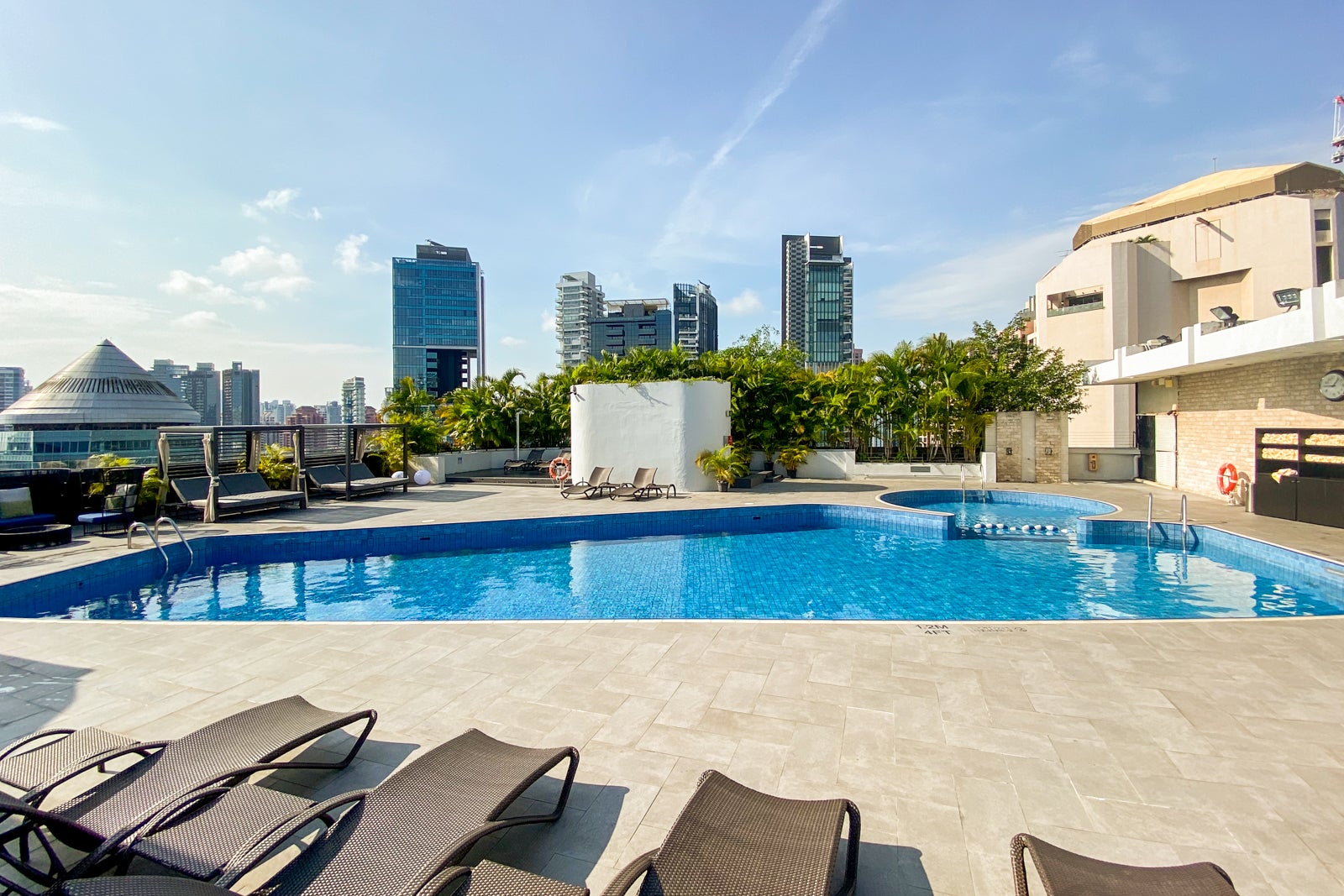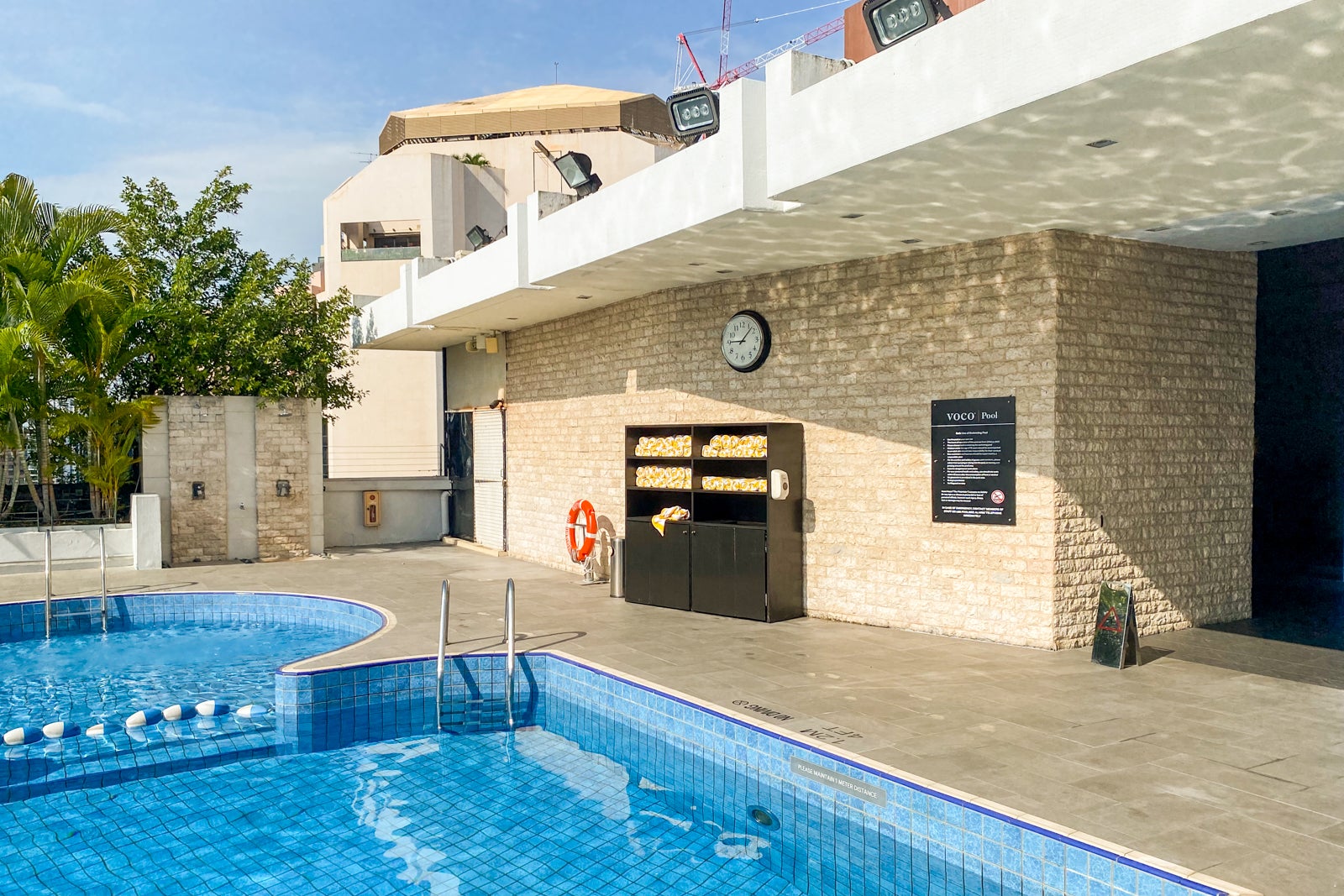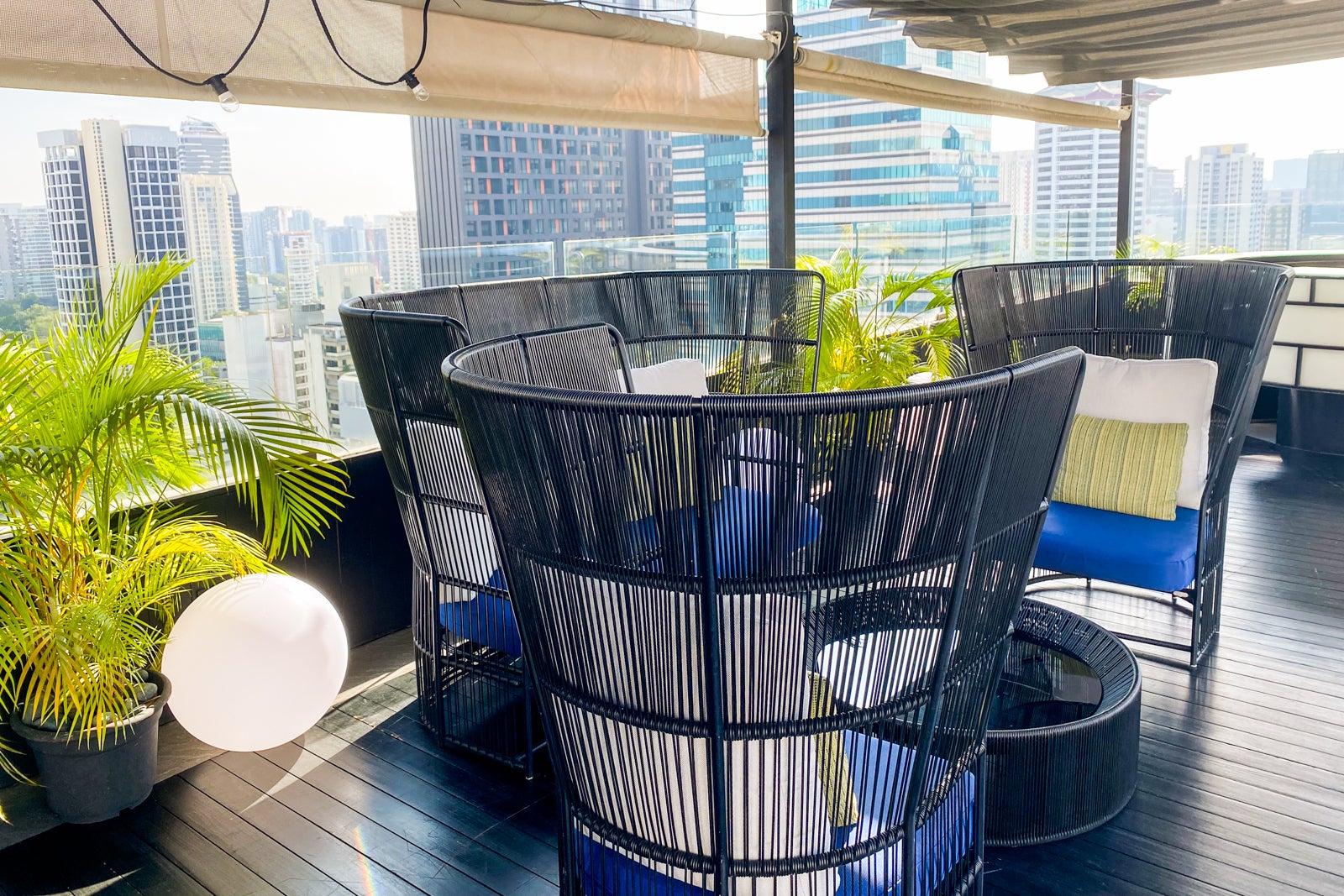 Additionally, there's a 24-hour fitness center on the 23rd floor. Besides offering treadmills, rowing machines, spin bikes and ellipticals, the gym has a free weights and stack weights section, as well as an open area for mat work. I found the facility to be spacious, with ample room for multiple people to exercise while visiting to walk on a treadmill and work out in the open area.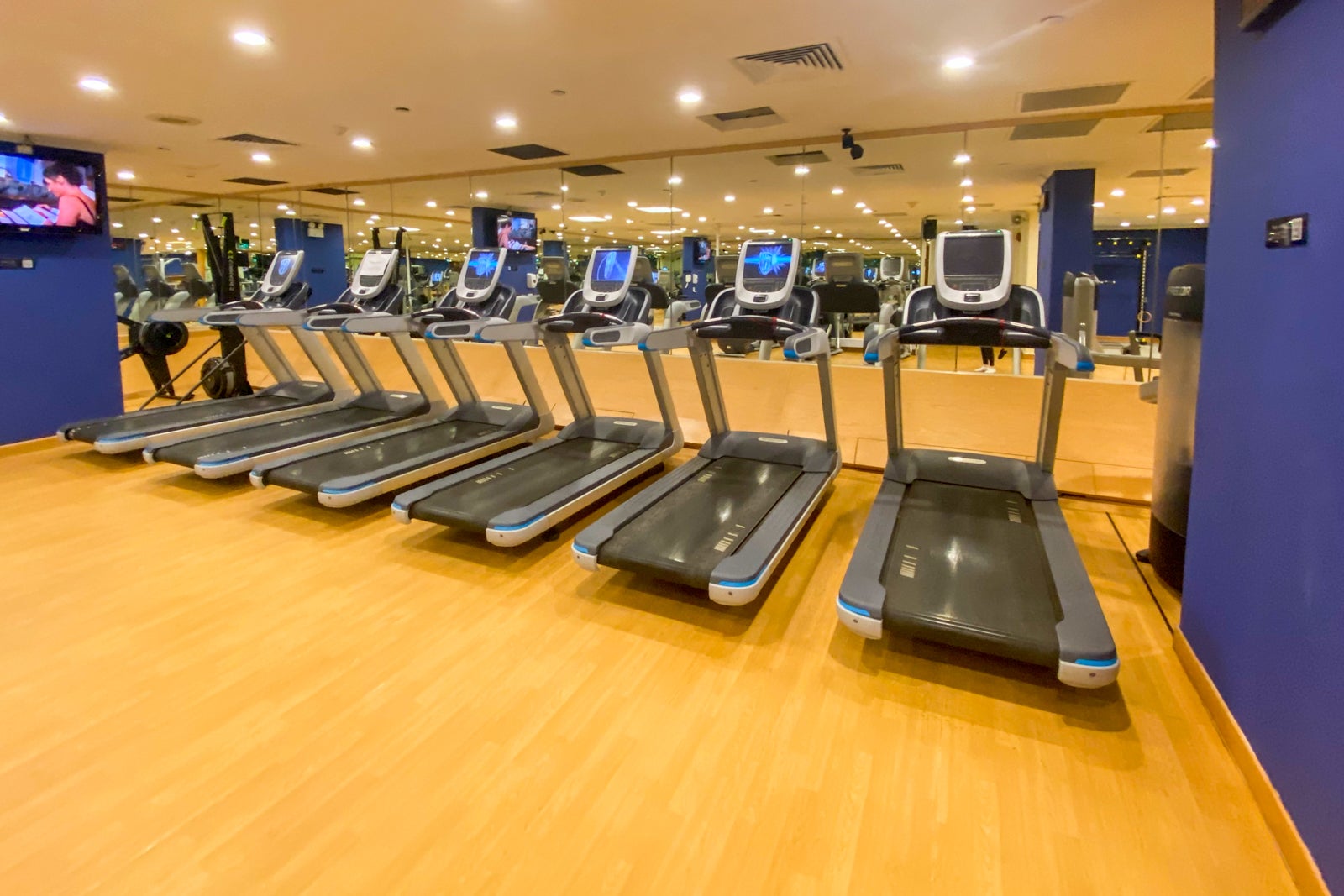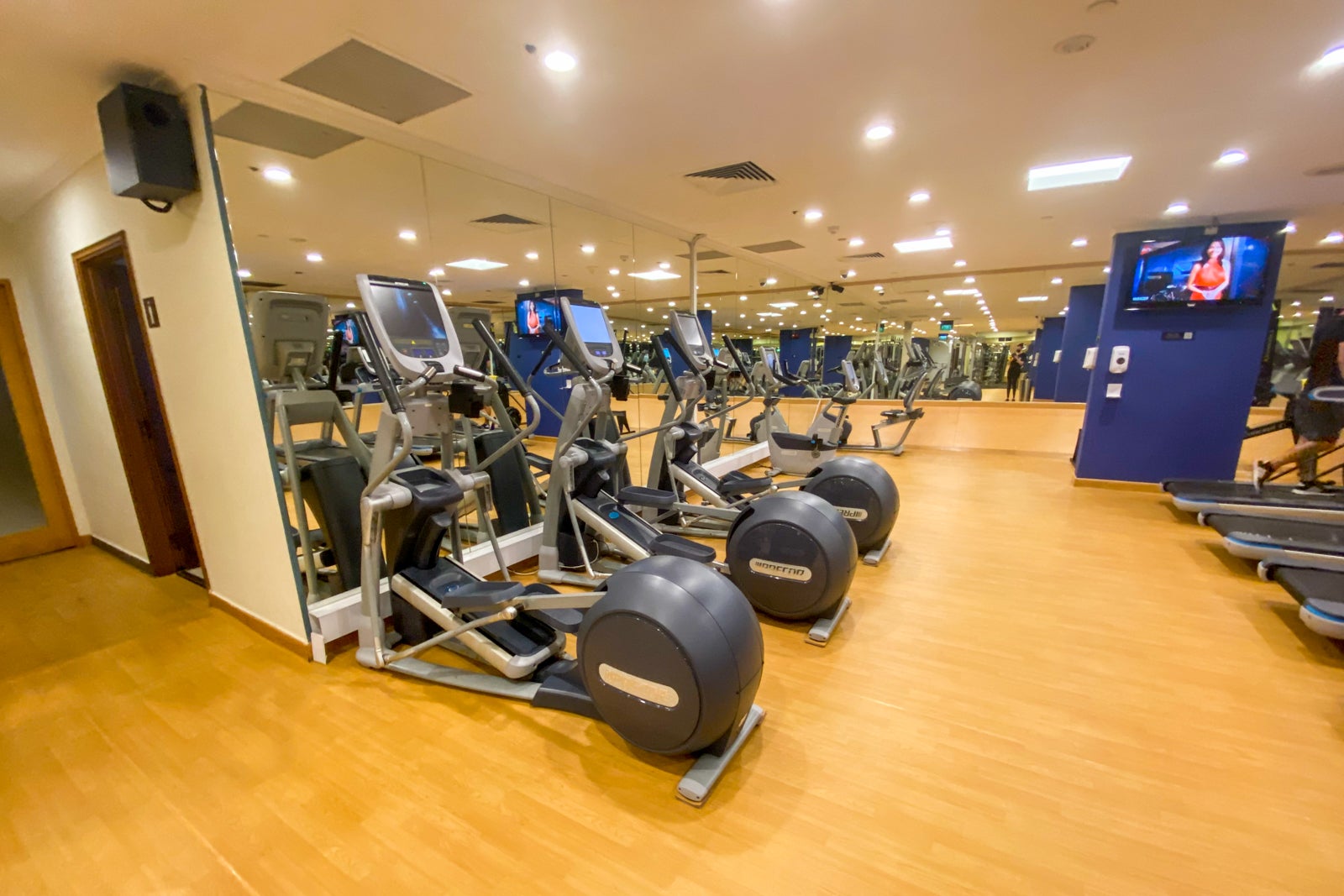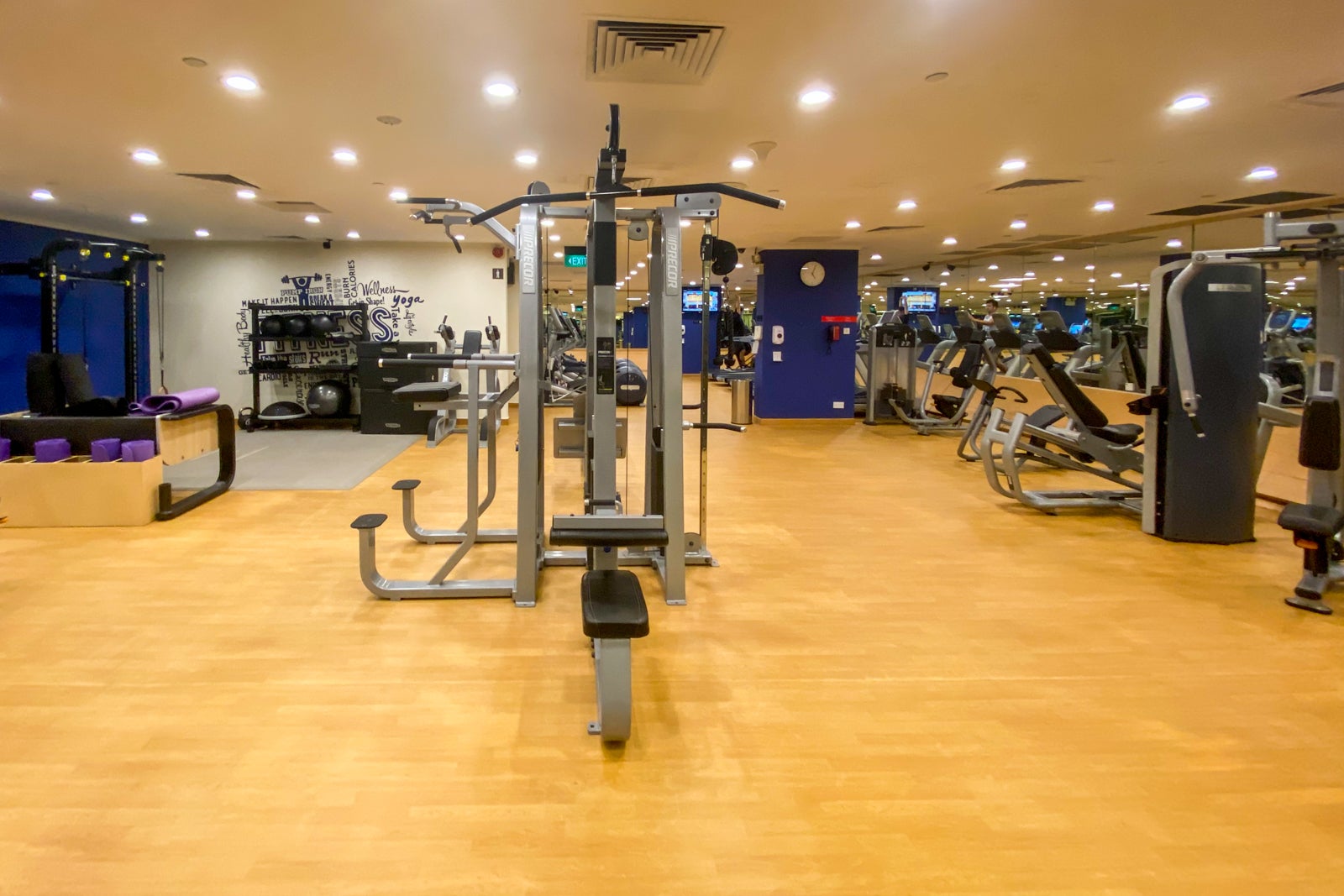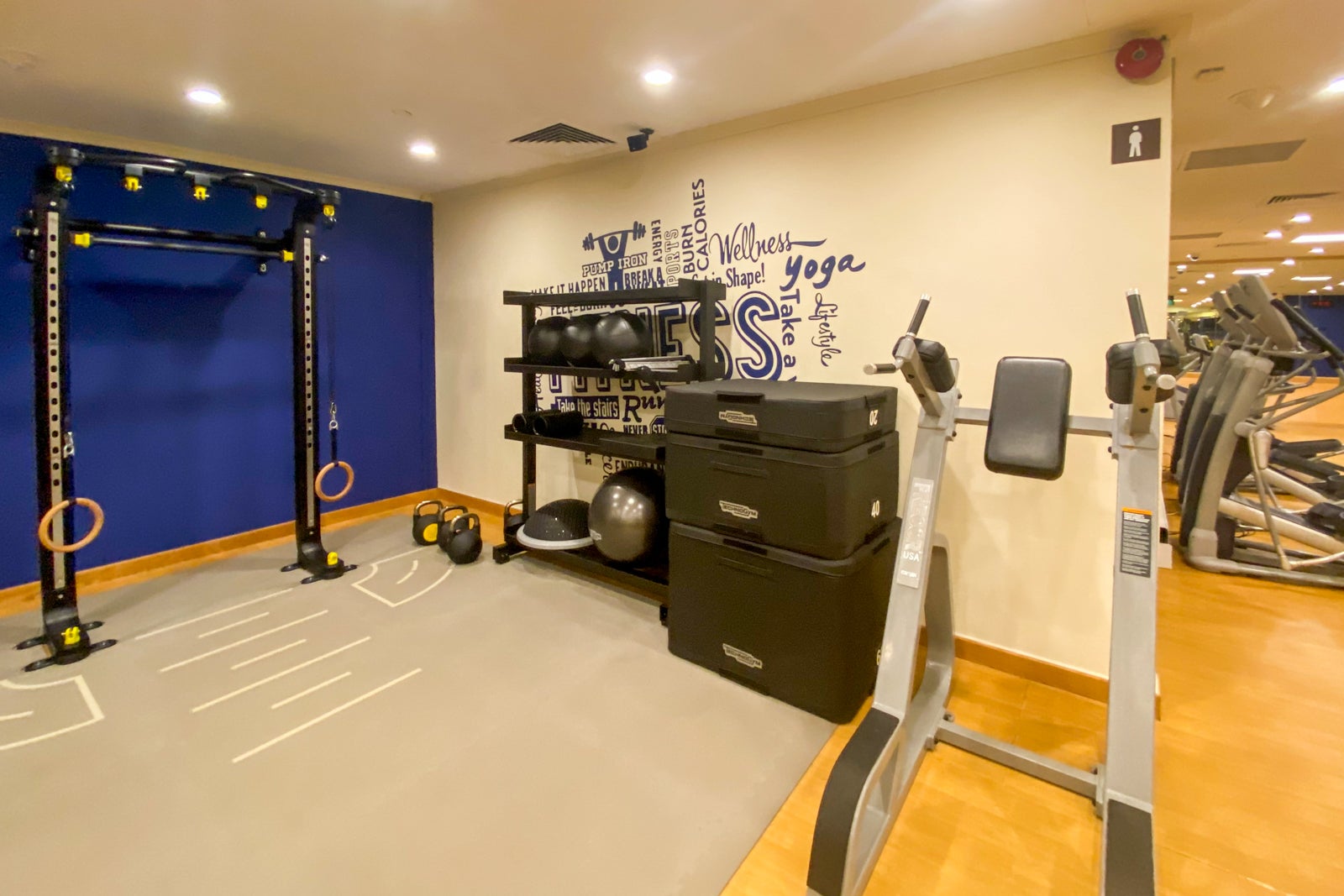 A spa with various treatments (massages, body scrubs, facials and more) is also located on the premises. Plus, guests can borrow loaner bikes from the front desk on a first-come, first-served basis to explore the city.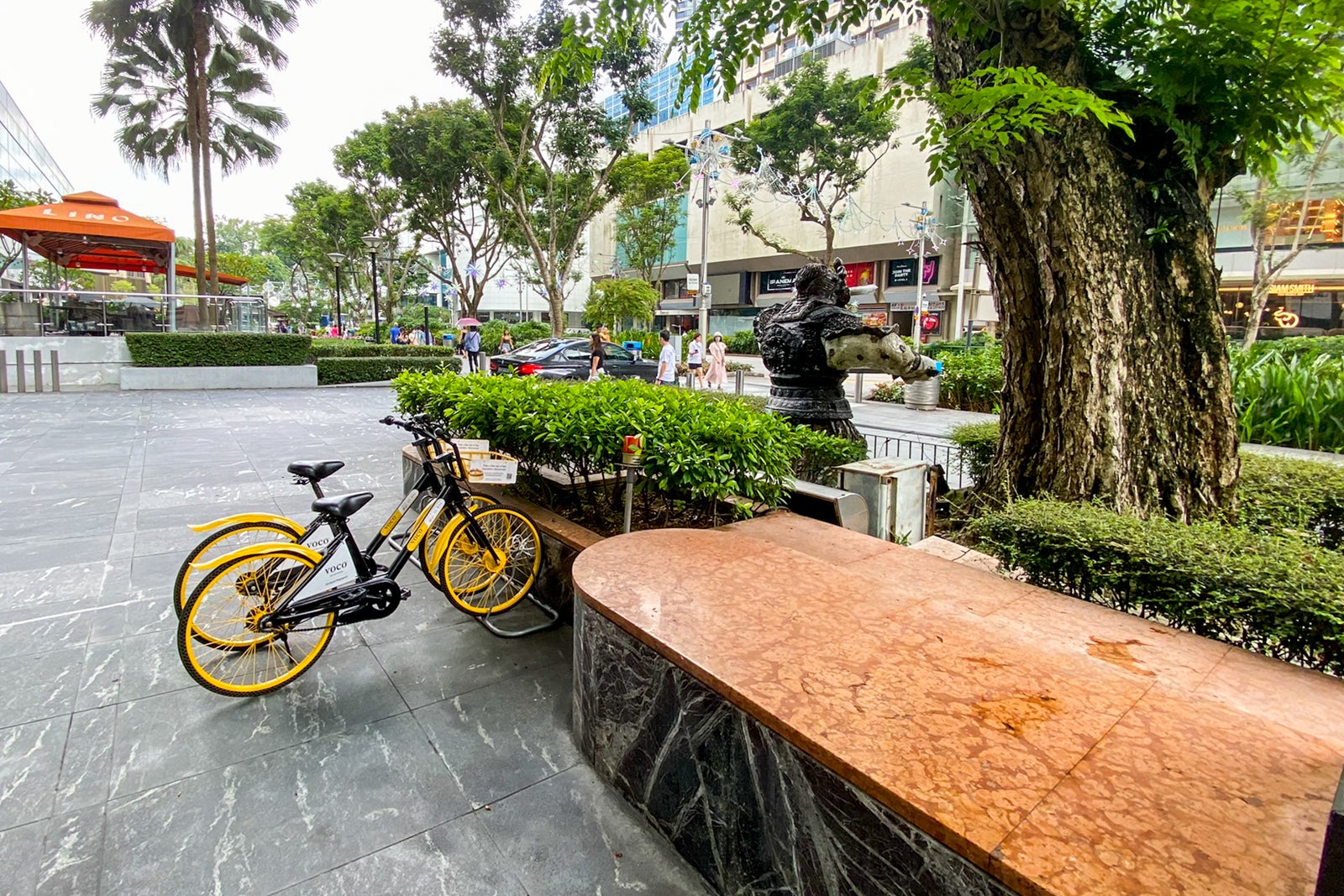 The staff is efficient and polite
As a whole, my interactions with the hotel staff were incredibly efficient. Everyone from the hostess at Opus to the housekeepers was extremely polite and accommodating.
For example, the front desk always assisted me with a smile, whether they were checking me in — during which they offered a late checkout of 2 p.m., unprompted, thanks to my Diamond Elite status — or retrieving a food delivery order I'd made. Likewise, the concierge was quick to offer to carry my bag both when I arrived and after checking out.
One of my favorite details from my stay was my experience with housekeeping. When I returned to my room after it was cleaned on the second day, I found a pleasant surprise inside. Sitting atop my pillow was a little rubber owl to use in the bath, a nod to the property's mascot and a symbol of tranquility and serenity, according to the accompanying note. It was such a small detail, yet it was the first time I'd ever received a bath toy and note during a hotel stay, so I won't soon forget that.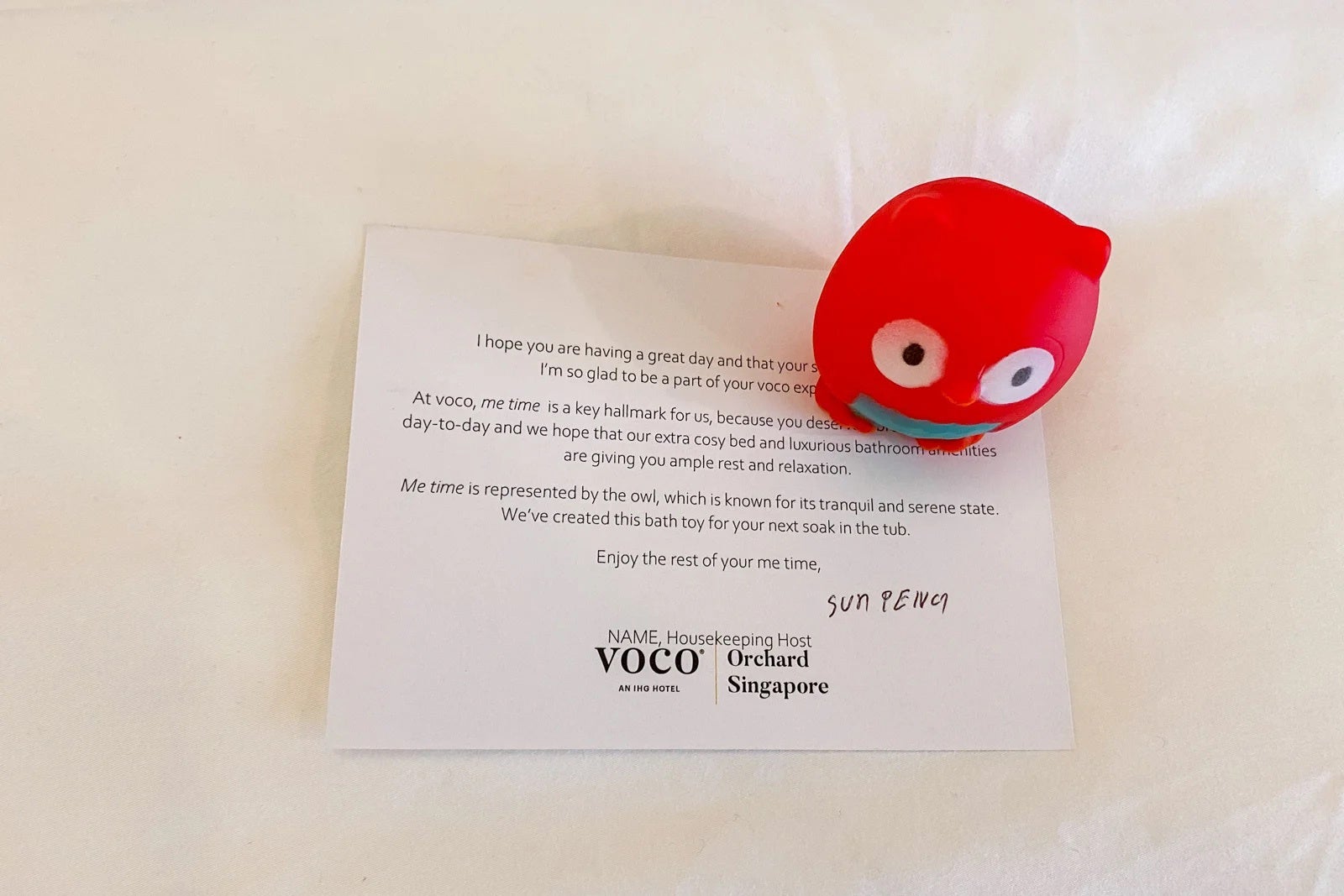 Bottom line
Whether you're a sophisticated shopper, traveling for work or in town for an epic solo vacation, odds are you'll enjoy staying at voco Orchard Singapore. While it lacks family-friendly amenities like a kids club and a waterslide at the pool, it has just enough leisure amenities to keep relaxation-seeking guests content after a day out on the town or working remotely.
When I think about my stay at voco Orchard Singapore, the outstanding breakfast buffet and friendly staff are clear highlights. Every time friends, family and colleagues ask me about my trip, the hotel is one of the first things I mention thanks to these unexpected details I enjoyed during my stay. I can't wait to stay here again the next time I find myself in Singapore — and to try out another voco property in the future.