Hollywood's Top Celebrity Stylists Reflect on the Christian Dior Show in Paris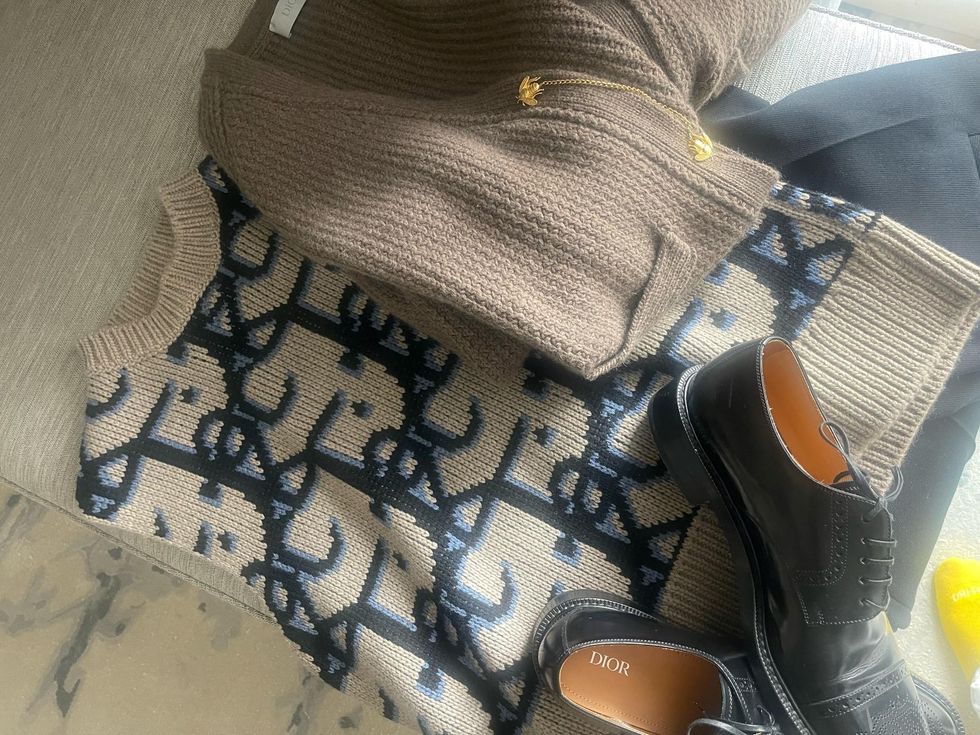 Yesterday, Christian Dior showed their Spring '23 collection in Paris. Creative director of Dior women's lines Maria Grazia Chiuri put forth a collection wrought with delicate lace, intricate embroidery, intentional volume, and creative layering. The clothes encapsulated her signature dialogue between femininity and power. Aside from design consistencies, showgoers can also count on a certain grandeur from the presentation aspect, season after season. French artist Eva Jospin created a cave-like backdrop for the fashion, while a French troupe performed choreography by Imre and Marne van Opstal.
This comprehensive level of production value guarantees entertainment, but for many show-goers, they need to do more than have a good time. The audience holds influencers, friends of the brand, and celebrities. It also contains buyers, editors, writers, and stylists there to evaluate the collection for their, and their clients', future use. Celebrity stylist and attendee Rob Zangardi summed it up, saying, "I try to take it all in as a fashion lover and as a stylist. Part entertainment, part work, but mostly inspiration." Zangardi sat with friends, colleagues in the stylist realm, and industry veterans Petra Flannery, Karla Welch, Jason Bolden, Leslie Fremar, and Julia von Boehm while processing similar thoughts and emotions. Below, they catalog their experience at this season's Dior runway show.
How many Christian Dior fashion shows have you been to before?
Petra Flannery: "This is probably my 5th show."
Leslie Fremar: "Over the years I have been to many Dior shows, but it has been a while. I am very excited to be here in Paris to support Dior."
Karla Welch: "I think this is my 4th."
Rob Zangardi: "A few!! My most memorable (until today) was Fall '19 Haute Couture—the collection was almost exclusively black. I loved that show!"
Julia Von Boehm: "Wow, I think I must have been to approximately 50 Dior shows. I consider myself extremely lucky. Having been in the industry since I started with French Vogue (22 years ago!!), while living in Paris for 10 years, the Dior Show was and is always one of the most important highlights of PFW."
What goes through your head when you watch a fashion show? As a stylist, what questions are you trying to answer?
PF: "Excitement takes over your head. It's always an anticipation to see what the theme of the collection will be, what colors will be presented. Emotionally, the show takes over with music and visuals. From the set to the clothes, it's pure art."
LF: "When I watch any show, I look to enjoy the experience as well as pick my favorite looks from the collection."
KW: "I just try to absorb the moment and respect the artistry and craft that has gone into what I'm witnessing."
RZ: "I try to take it all in as a fashion lover and as a stylist. Part entertainment, part work but mostly inspiration. [I'm thinking about] which of my favorite looks from the collection will be worn by who and when. And how quickly can I get these looks to our office!"
JVB: "At first, I try to watch and listen before I start analyzing. Really looking intensely at the clothes, the cut, the fabric, the movement, the transparency etc. Plus, I'm trying to think about which body type each look could fit."
Jason Bolden: While watching shows, I'm always so interested in what designers' references are and what brought them to this collection! This also helps me put together a lookbook for upcoming fittings."
What excites you about Maria Grazia Chiuri's take on the esteemed fashion house?
PF: "I love that Maria Grazia Chiuri brings a modern approach to dressing women. There is a simple yet intellectual appeal. I love her mix of denim and toiles. She reimagines a modern [woman's] story for this brand that was built on femininity."
LF: "I love what Maria Grazia is Doing at Dior. Her vision is very clear. She has this incredible way of reinventing herself every season yet you know it is her collection. The clothes are beautiful and wearable."
KW: "Beyond anything, I like that she is very much her own Dior and that she's not afraid to take risks."
RZ: "I am just such a huge fan of Maria Grazia. She always seems to find a new way to reinvent and renew the brand each season."
JVB: "Everything actually! I think it is wonderful to have a woman interpret the Dior woman. I love Maria Grazia's refined aesthetic, which seems natural but defined. Her vision of a woman is very approachable, yet proud and firm—no fuss but style! [Today, we] have such alienating visions of women, it feels like the house has a real vision without ever neglecting the vast archives and traditions."
JB: "I love to see how she mixes romance with strength! It always feels so grounded and fresh."
What was your favorite look(s)?
PF: "I especially loved all the opening black clothes. And the Mary Janes. The layering is always crafted perfectly."
LF: "My favorite look was look number one. I fell in love with the beautiful lace, the shape of the skirt, the fresh [silhouette] of the top, and the shoes. I knew I was going to love the show from the start."
KW: "So many! The opening black lace, all the boots with fishnets—so many requests to be made!"
RZ: "I loved ALL of the shoes. I loved the trench coats and all of the florals. So many amazing and wearable looks!"
What was the atmosphere like? How did the set design help create a backdrop for this collection?
LF: "I love how Maria Grazia always incorporates an element of the arts in her shows. Today she had beautiful dancers that really mesmerized the audience. She is a master at creating the perfect backdrop for her collection."
RZ: "The venue was beautiful and the perfect landscape for the new show. The music was amazing."
What did you wear to the show? Did any well-dressed guests catch your eye?
PF: "A cashmere Dior sweater (a favorite, always) paired with a tie-dye skirt. And a trench."
LF: "Today I wore a beautiful Dior black jacket and pants with a sheer black and nude polka dot blouse. I accessorized with Dior black suede Birkenstocks and a Dior handbag."
RZ: "I wore a black leather jacket, black wide leg pants, a pair of zipper boots, and a cross body saddle bag. I've never felt cooler. So many well dressed people in that room—how could you pick just one?"
JB: "I wore a Dior sleeveless vest, a tan cardigan, and classic black Dior brogues! I walked past a super chic woman who was wearing a turban with a feather in it! It reminds me of seeing my grandmother getting ready for church."
Who were you seated with? Did you see anything exciting or interesting while at the venue?
LF: "I was seated between two of my favorite stylists, Karla Welch and Rob Zangardi. It was fun to see which looks excited them! And to catch up on life."
KW: "I loved being here with my fellow stylists. What a treat to get to see each other outside of being with clients and all of that chaos."
RZ: "I was seated with my partner in crime Mariel Haenn—the perfect person to point out favorite looks with."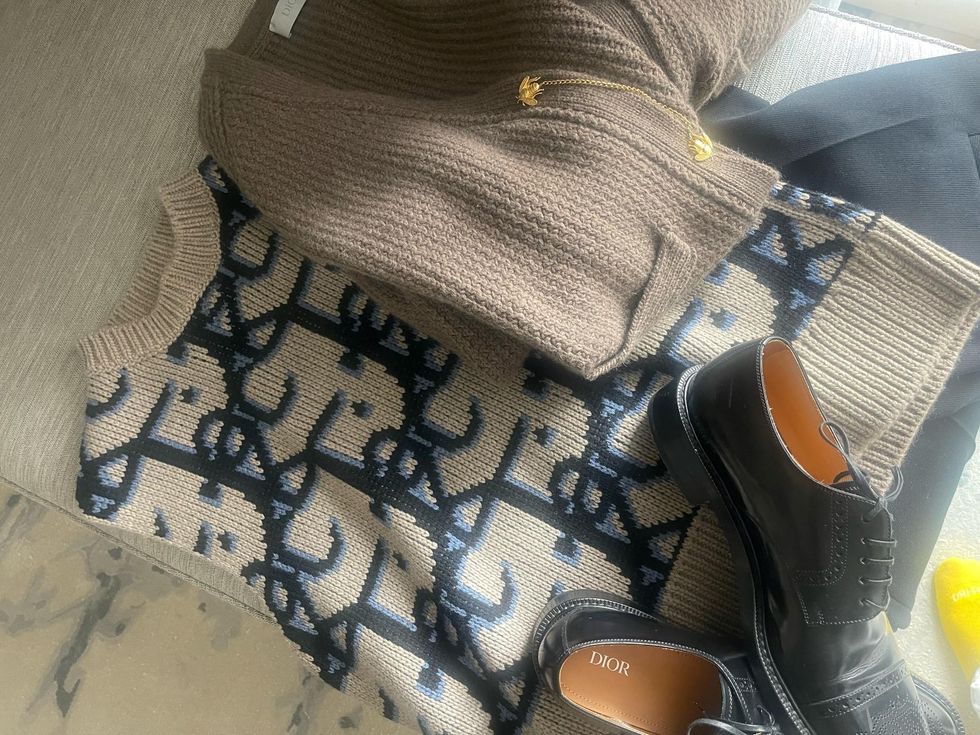 Want more stories like this?
Meet the SoulCycle Instructor Who DJ's Fashion Shows On The Side
How NYFW's Most Outlandish Shows Came Together
Everything Our Editors Wore to NYFW