From the Colorado Rockies to Utah's red rocks: All aboard one of the only luxury trains in the US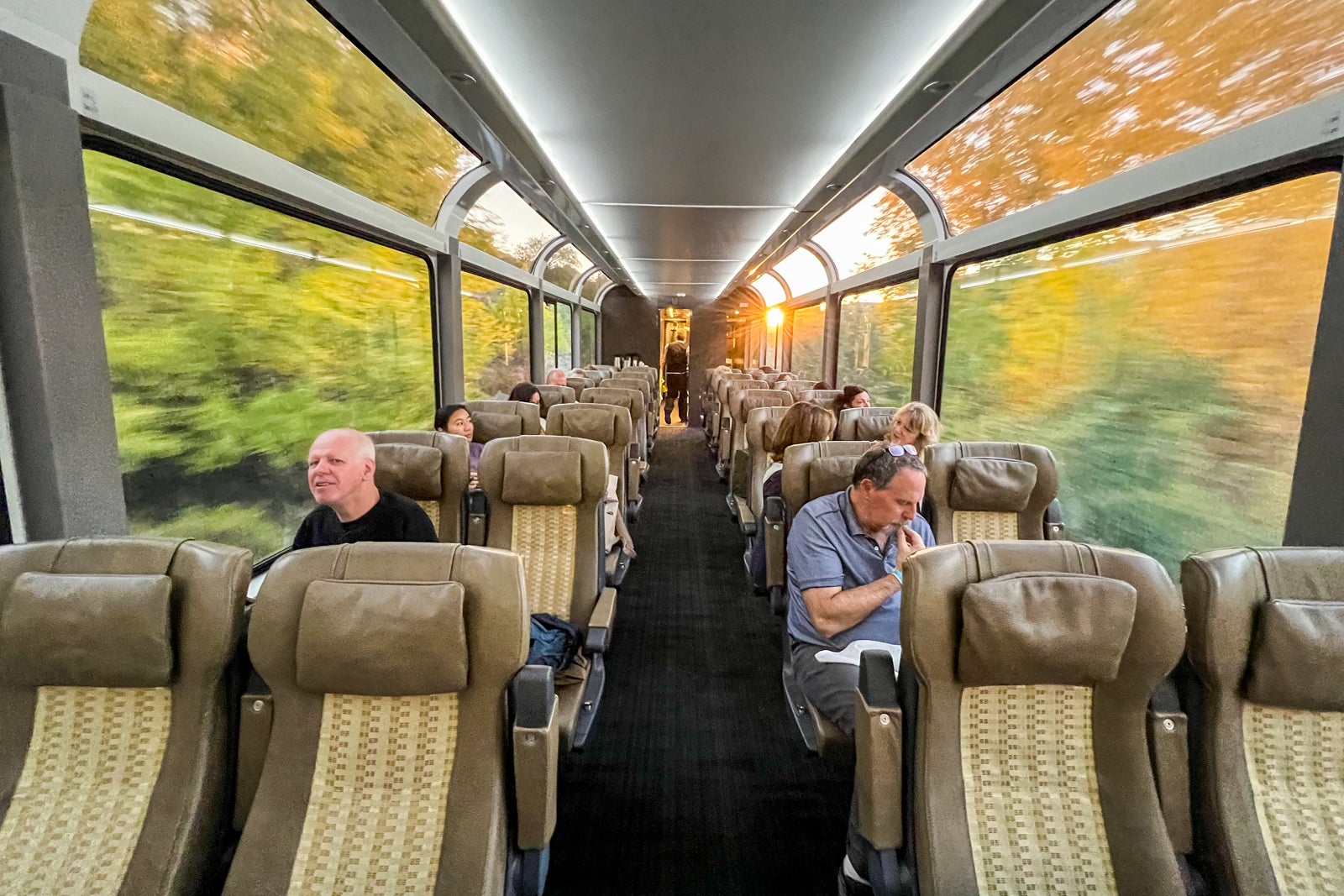 For more than 200 years, travelers have been exploring the world by rail. I've always been drawn to that legacy given the leisurely pace, forced relaxation and scenic views along the way. Train travel can be peaceful, timeless and romantic in a way flying might never be.
Of course, many train lines in the U.S., including those within Amtrak's network and the New York City subway system, rarely belong in the same sentence as the word romantic. Others, however, such as Rocky Mountaineer's Rockies to the Red Rocks route, which launched in 2021, are designed to embrace that distinct magic of rail travel as you weave through towering mountainscapes and striking sandstone rock formations.
Ever since that route connecting Colorado and Utah was first announced, I've been dreaming of combining my love of train travel and the American West with the high-end service and oversized windows that have made Rocky Mountaineer — a luxury train company known for its scenic train journeys in Canada — such an iconic travel brand.
But because the route is seasonal, expensive and not really geared toward families, the journey seemed unlikely to occur anytime soon.
That is, until fate intervened.
When my colleague Melanie Lieberman (who is just as enamored with trains as I am) and I were invited by Rocky Mountaineer to try the route on one of the train's last trips of the 2022 season, we jumped at the chance to tick this experience off our bucket lists. We counted down the days until our departure date, and before long, we found ourselves climbing aboard Rocky Mountaineer's Rockies to the Red Rocks train on a crisp mid-October morning to begin the two-day journey from Denver to Moab, Utah.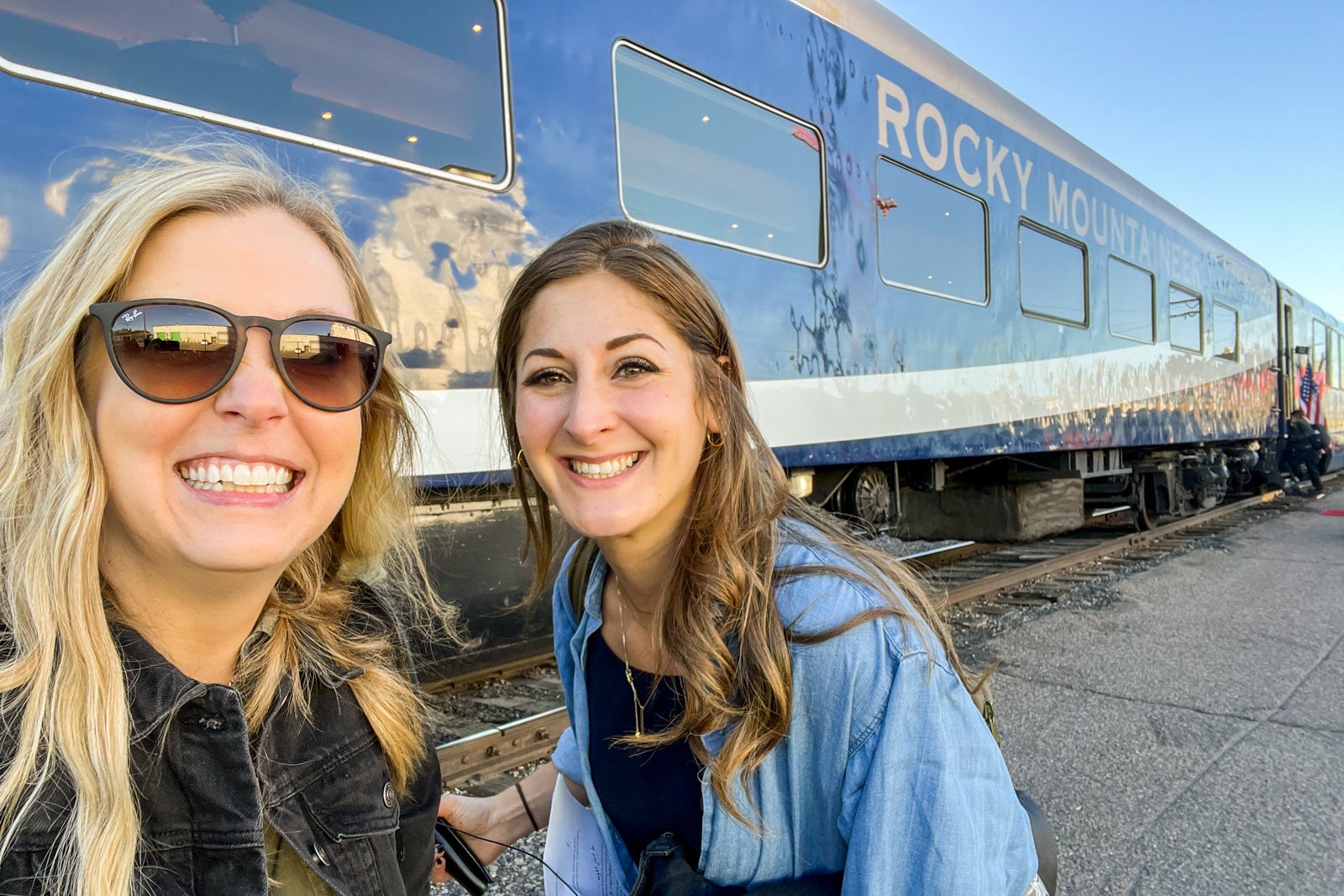 From the traditional all-aboard call to the exceptional onboard service, it's safe to say the experience exceeded our expectations. Here's what Rocky Mountaineer's Rockies to the Red Rocks journey was like so you can decide if it's the right fit for your next adventure in the American West.
Related: How to plan your 1st luxury train trip
The cost
Before we get to the sweeping vistas, let's talk cold, hard cash. After all, this is a luxury train trip.
Unlike the traditional train rides you may be used to, the Rockies to the Red Rocks journey costs a sizeable amount. As such, you'll want to make it a focal point of your trip instead of merely using it as a way to get from point A to point B.
Currently, prices for next season start around $1,336 per person (based on double occupancy) when factoring in a promotion that applies a small discount. Your train ticket includes the journey itself plus onboard food and beverages (two breakfasts, one lunch, snacks and drinks) and an overnight stay at a hotel in Glenwood Springs, Colorado. If you're traveling solo, or don't want to share your hotel room with your travel companion(s), know that your starting price will be higher.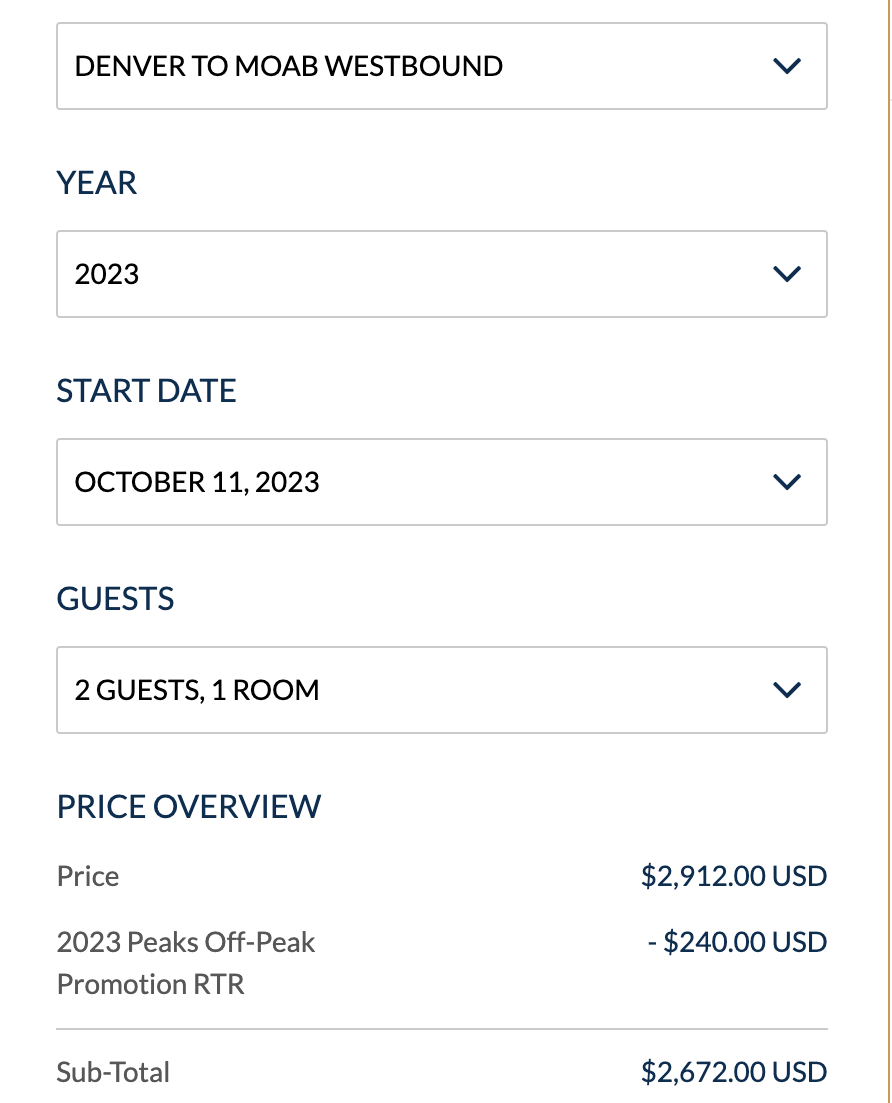 For this Rocky Mountaineer route, you'll have your pick of two classes of service: SilverLeaf and SilverLeaf Plus. With the elevated SilverLeaf Plus option, which costs about $500 more per person, you'll enjoy everything available to passengers who book the standard SilverLeaf class, plus upgraded local alcohol selections and access to lounge cars with bars, so you can spread out and wander around the train a bit more during your time on the tracks.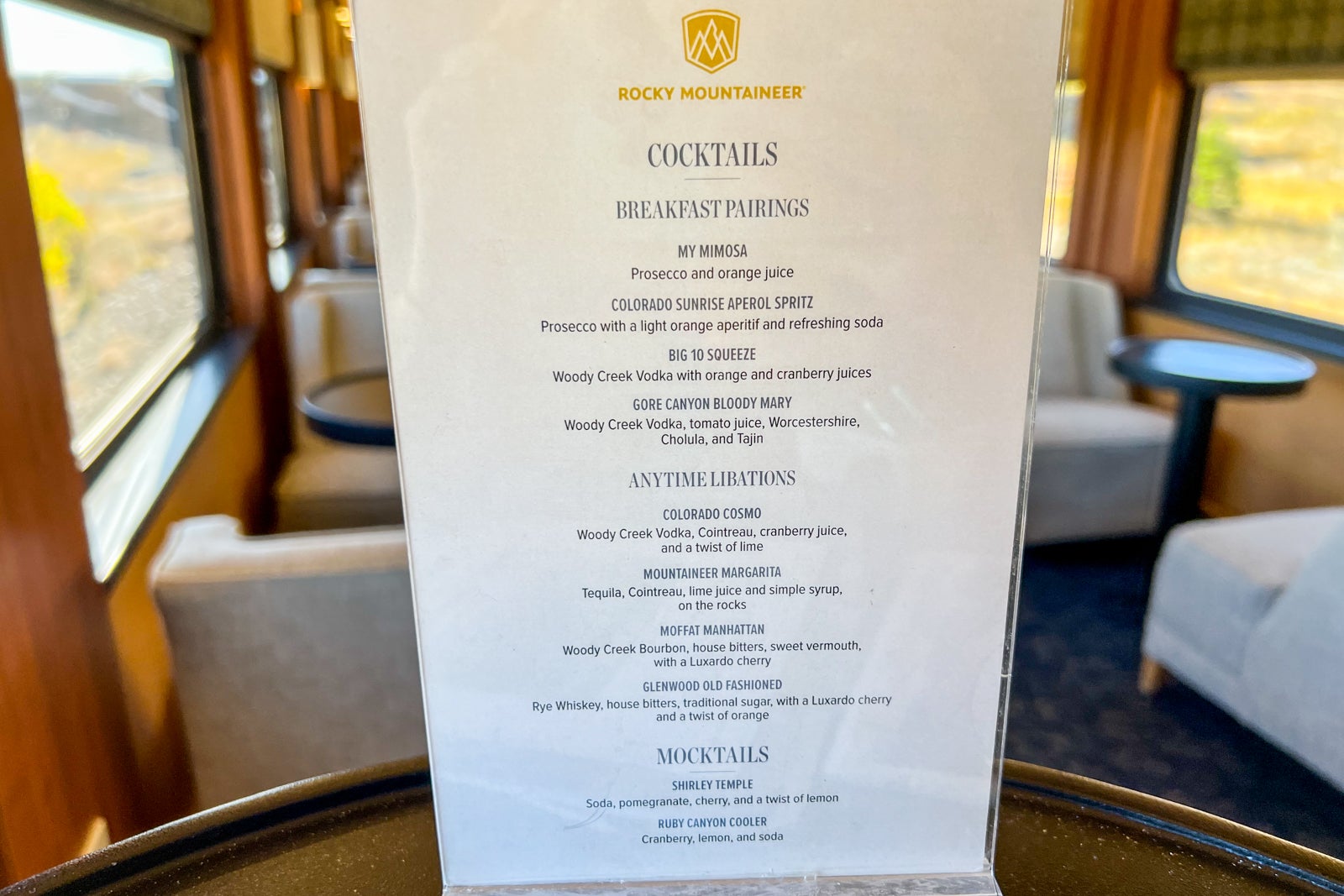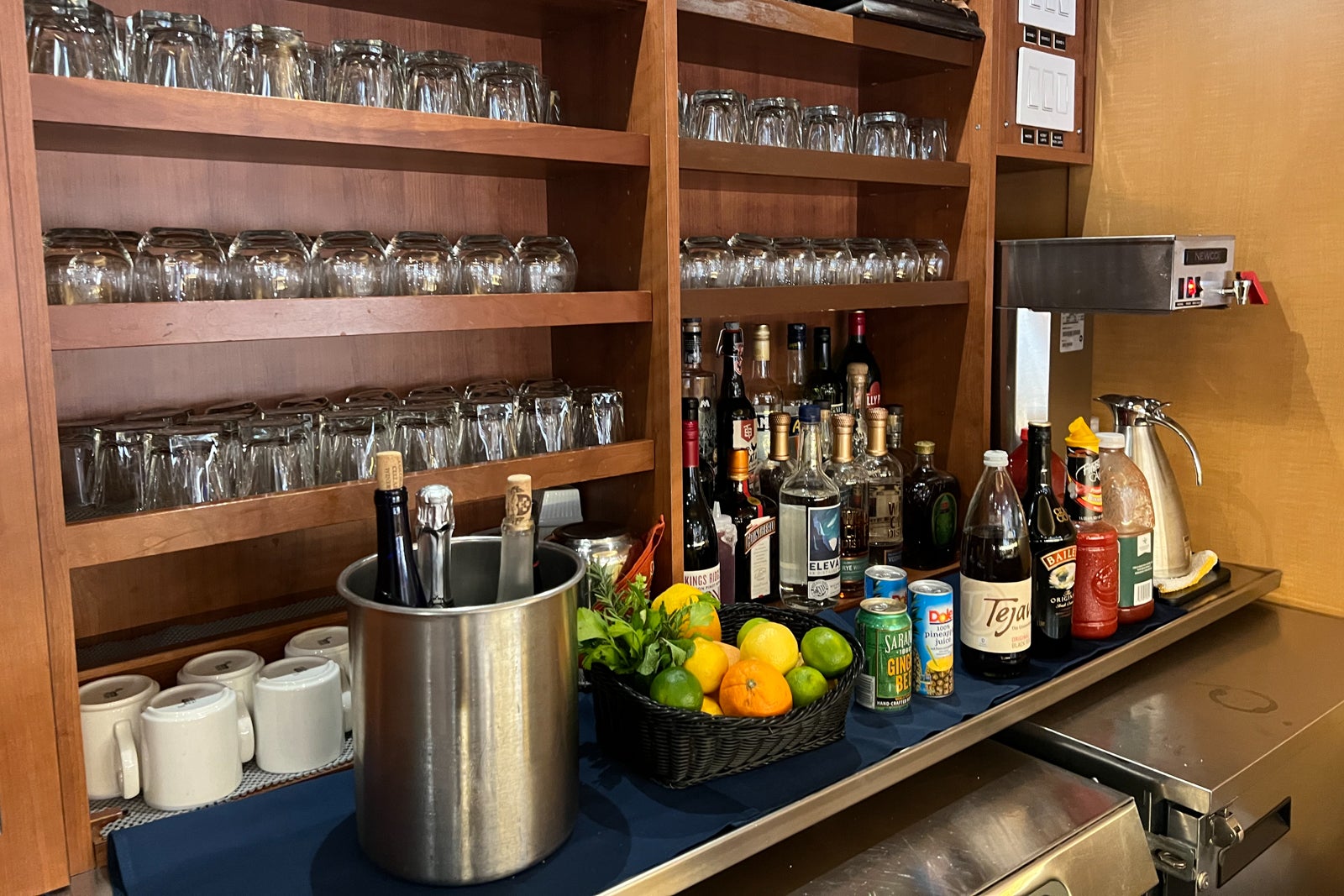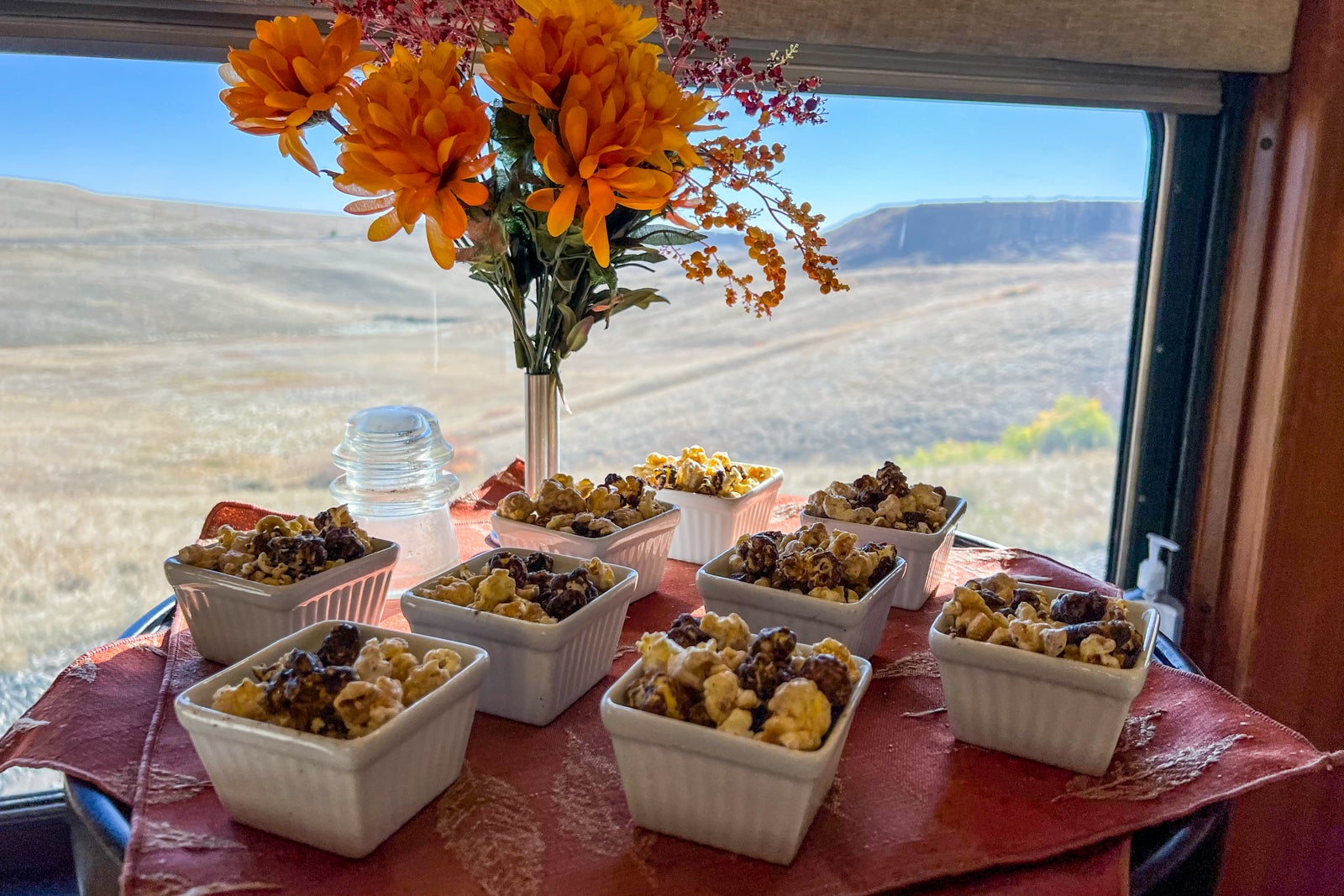 Should you decide to splurge (even more) on this experience, you can opt for one of Rocky Mountaineer's more extensive (and pricier) packages that include hotels and even tours in and around Denver, Moab and even Las Vegas and Salt Lake City.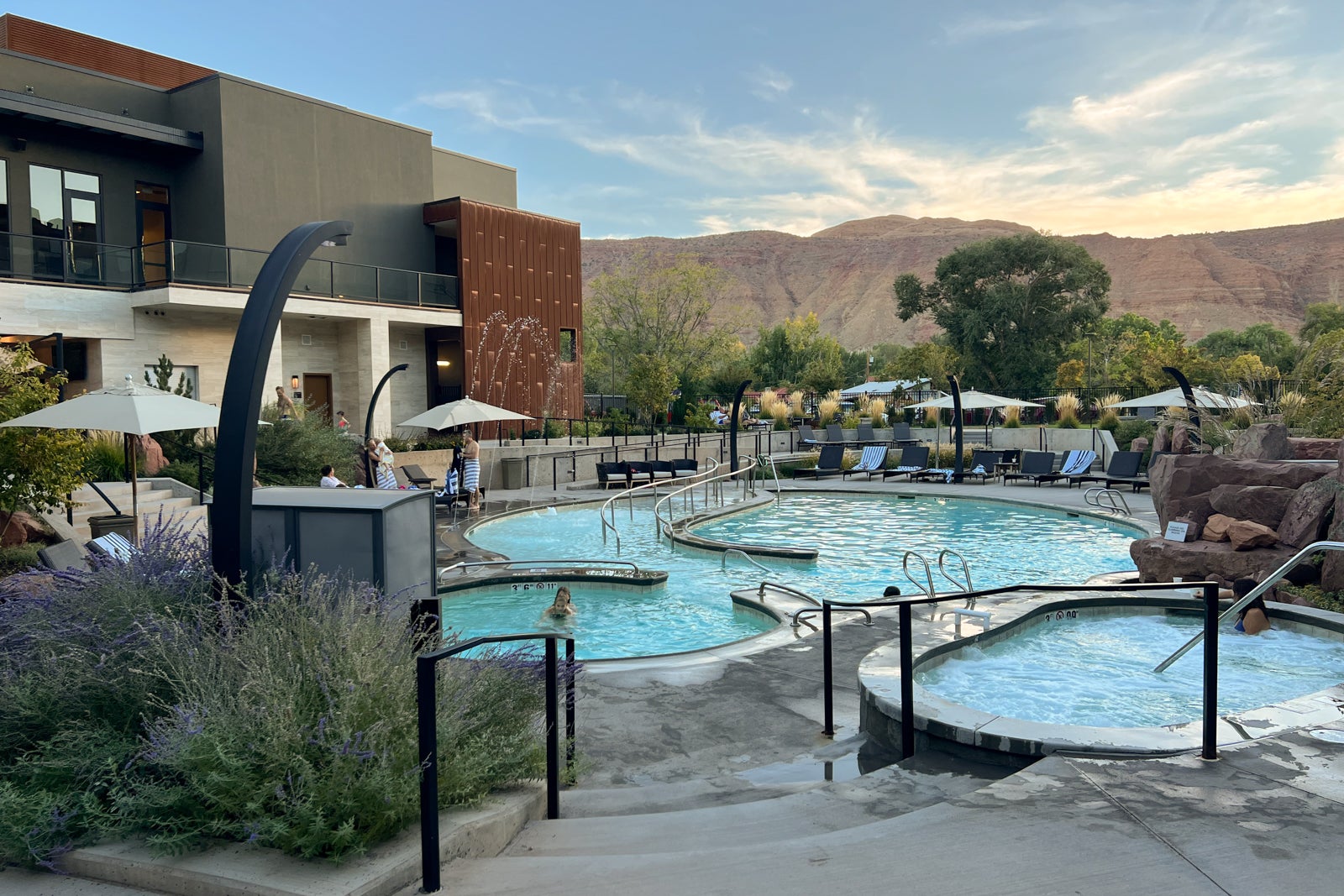 But if you're on the opposite end of the spectrum and would rather find a way to trim costs, know that there is a way you can pay for your trip with rewards. You can use fixed-value credit card points and miles, such as those from the Capital One Venture Rewards Credit Card, to pay yourself back after charging your journey to your chosen card.
Related: The best credit cards to use for train travel
The train
Boarding the train is a legitimately exciting experience.
After arriving at an empty train depot near Denver's Union Station, we scampered around to take pictures and videos from every angle we could find as we waited for the boarding process to begin.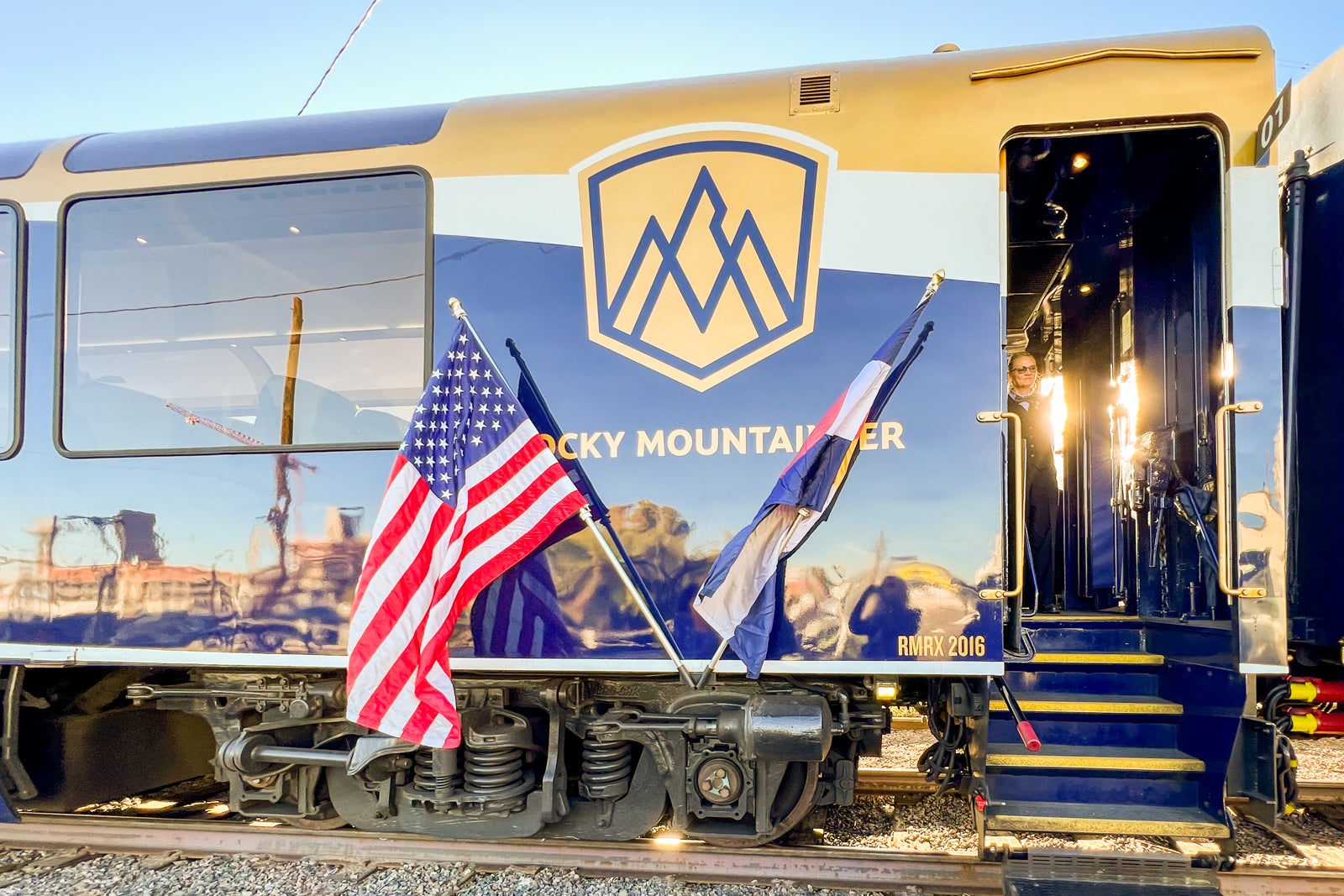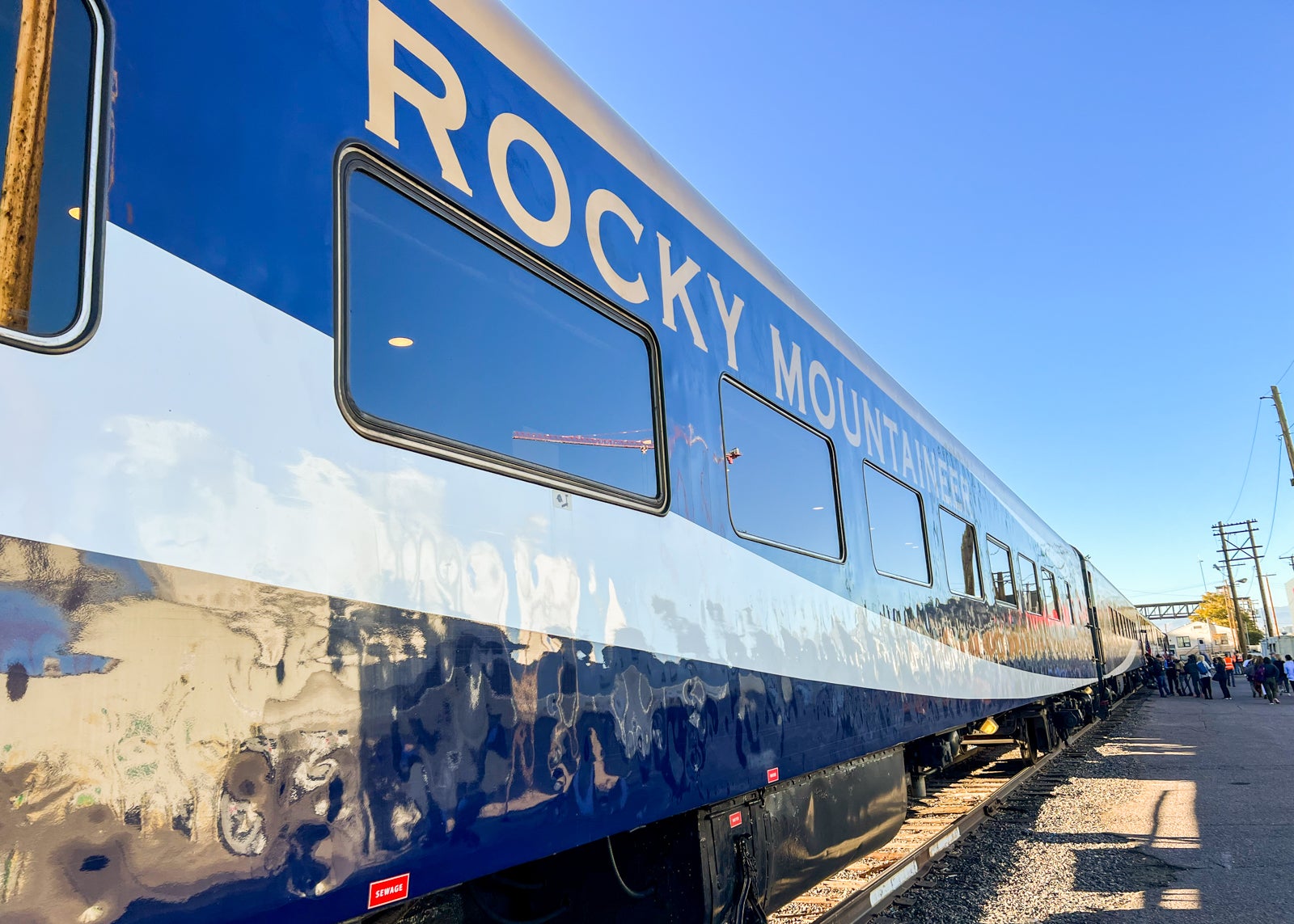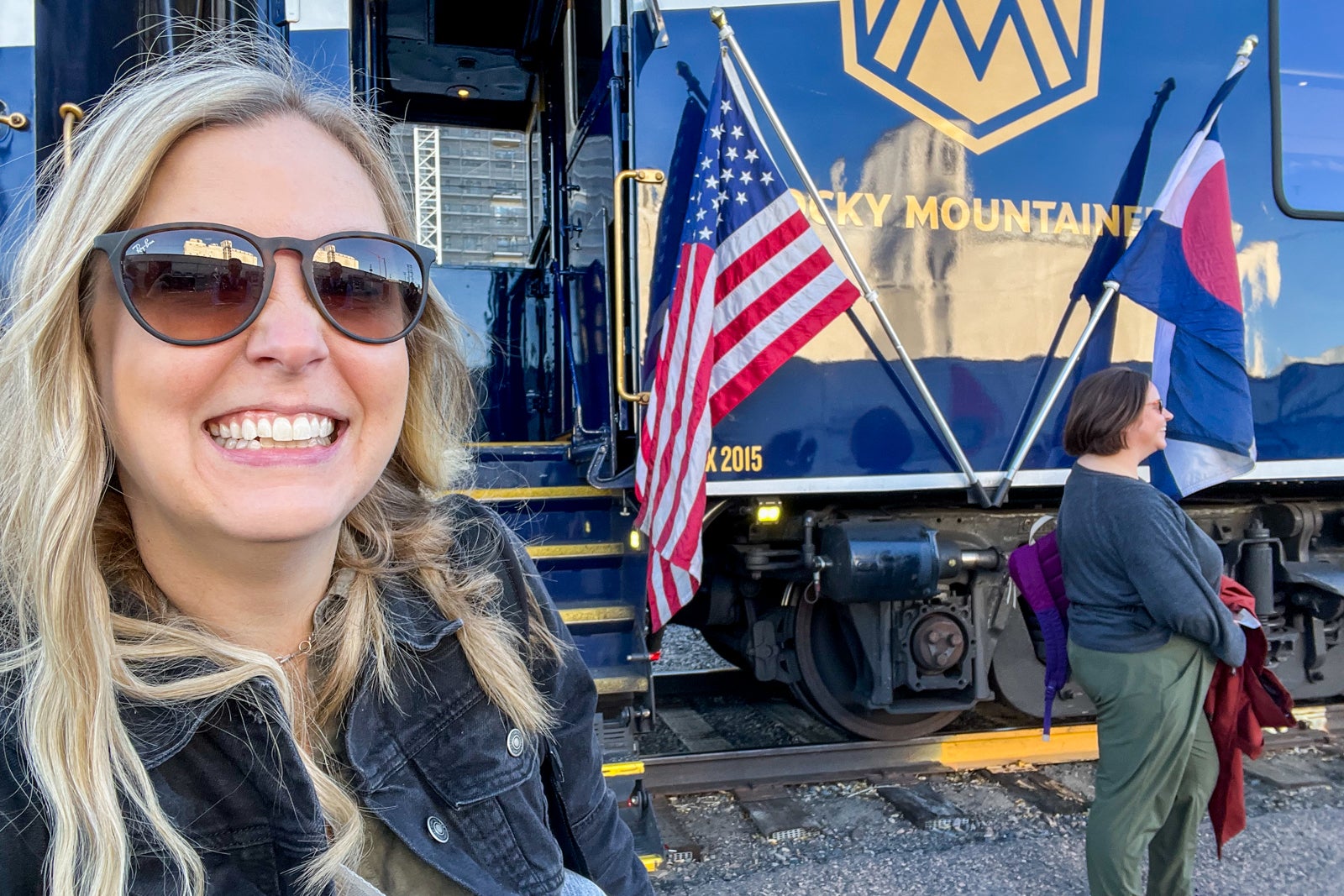 Just as it happens in all my dreams about riding trains, one of the hosts shouted "All aboard!" and we made our way to the train. We crossed the red carpet set out for passengers, passed the American and Colorado flags on display by the entrance and practically ran up the stairs to see what lay inside.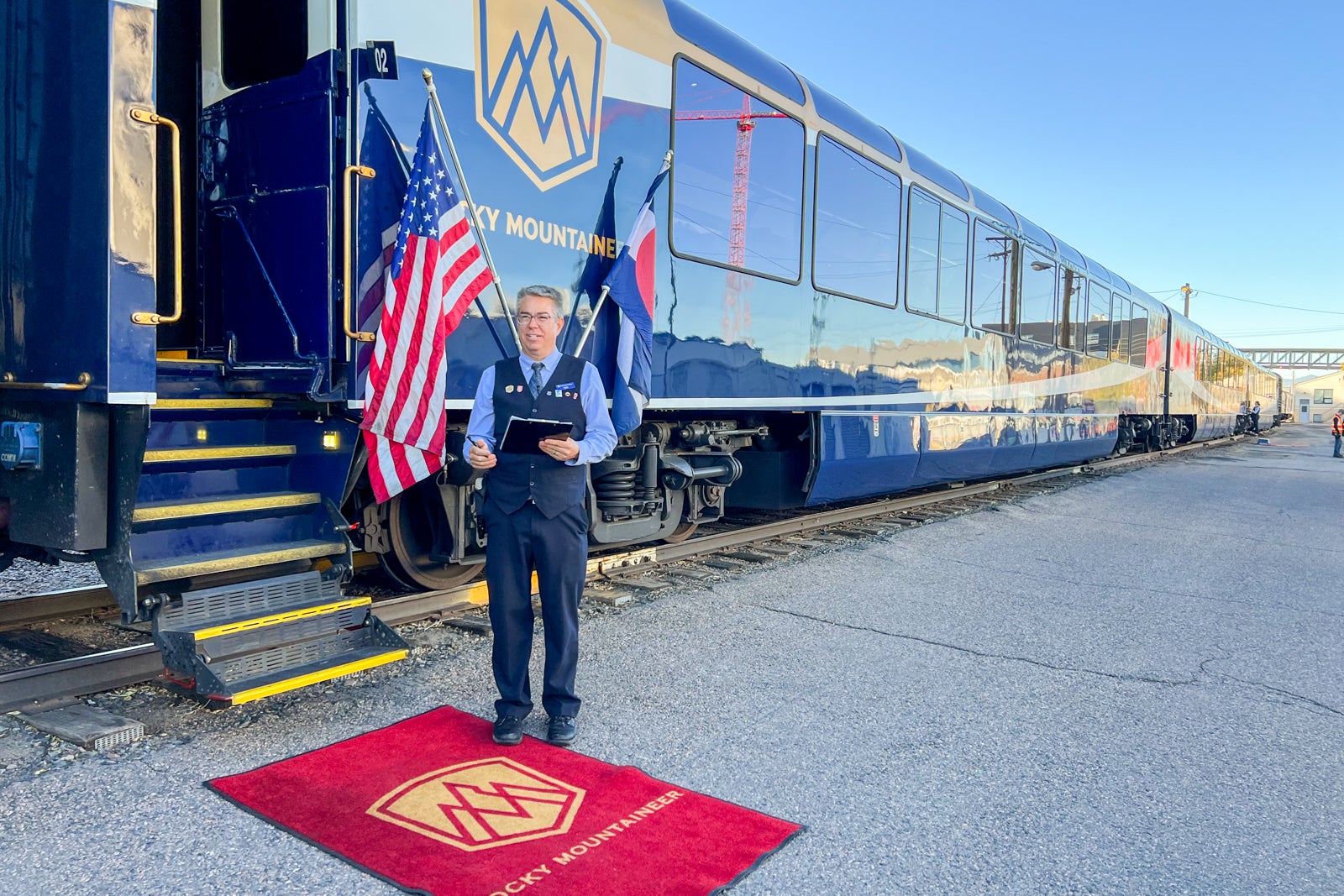 Main car
The media car we were assigned seats in had walls of windows that immediately caught our eye. Surrounding the 56 seats — which were arranged in pairs, with four seats per row — were windows that curved right up to the ceiling, giving you a nearly floor-to-ceiling view of the stunning scenery outside.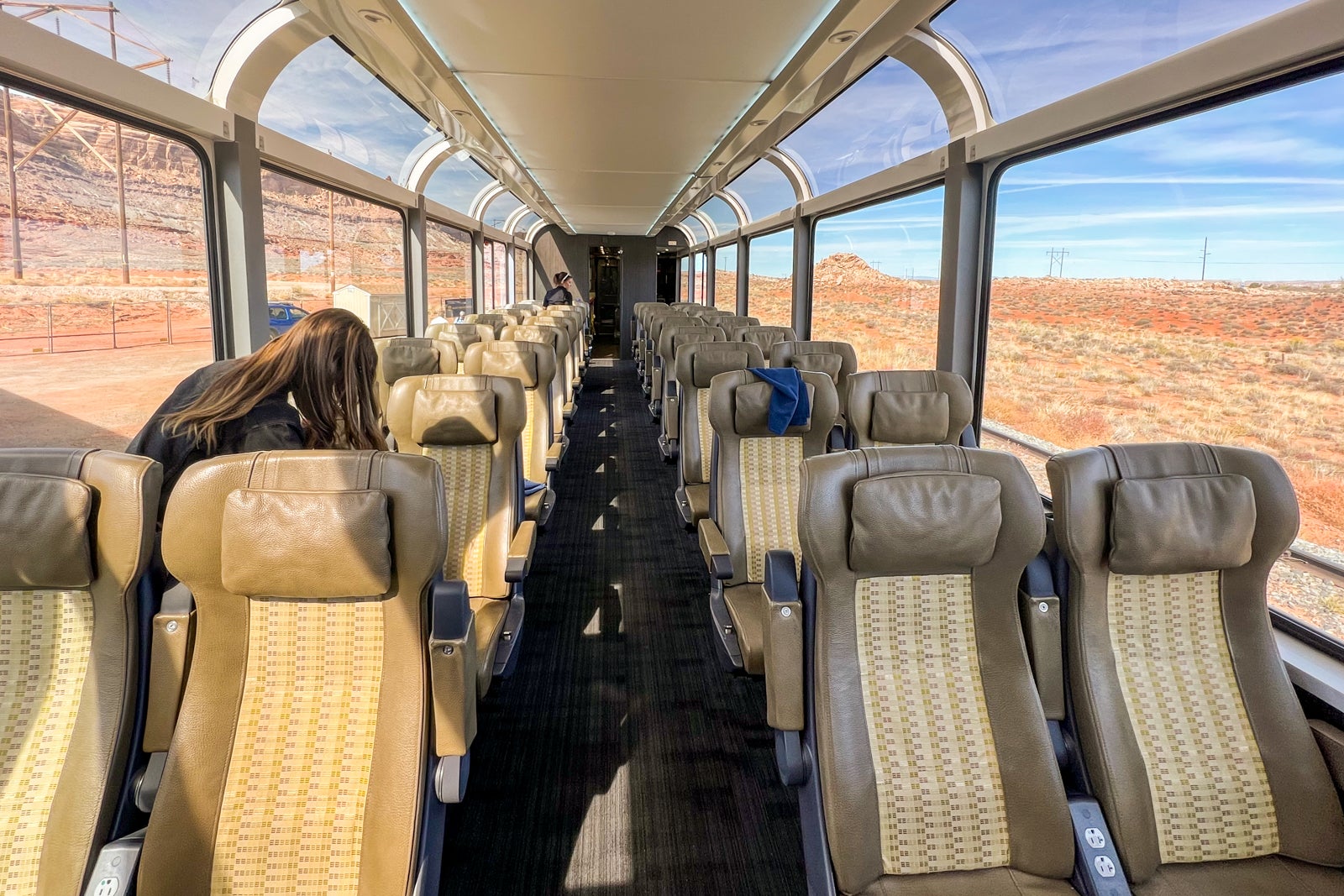 As for the seats themselves, Melanie and I quickly discovered that they recline by sliding forward within their shell, so you don't have to worry about disturbing travelers sitting in the row behind you when you lean back.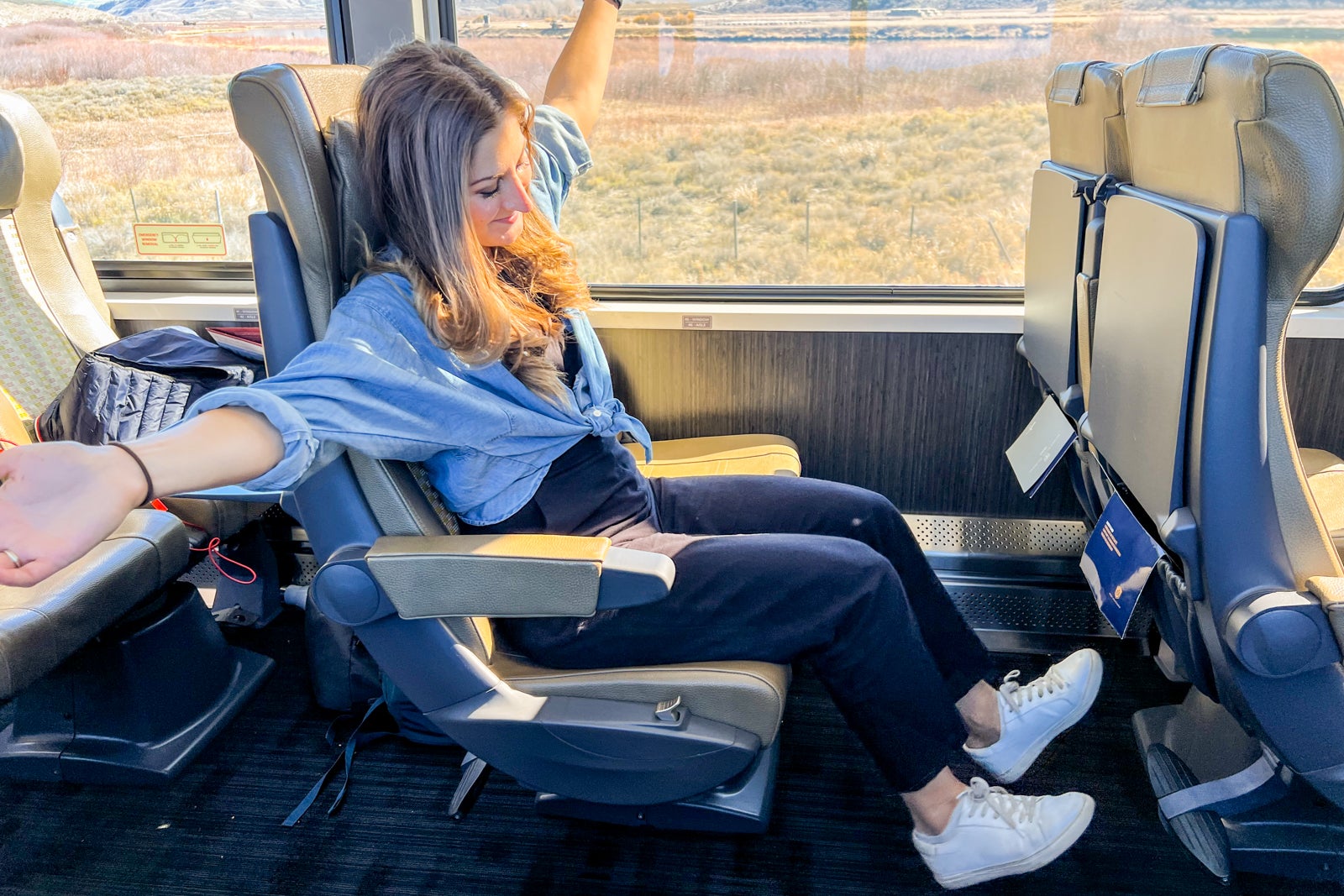 The seats were plenty comfortable for a full day of riding the rails, with padded headrests and ample legroom. Each pair of seats had two outlets, and there were large tray tables capable of holding food, refreshments and even a laptop.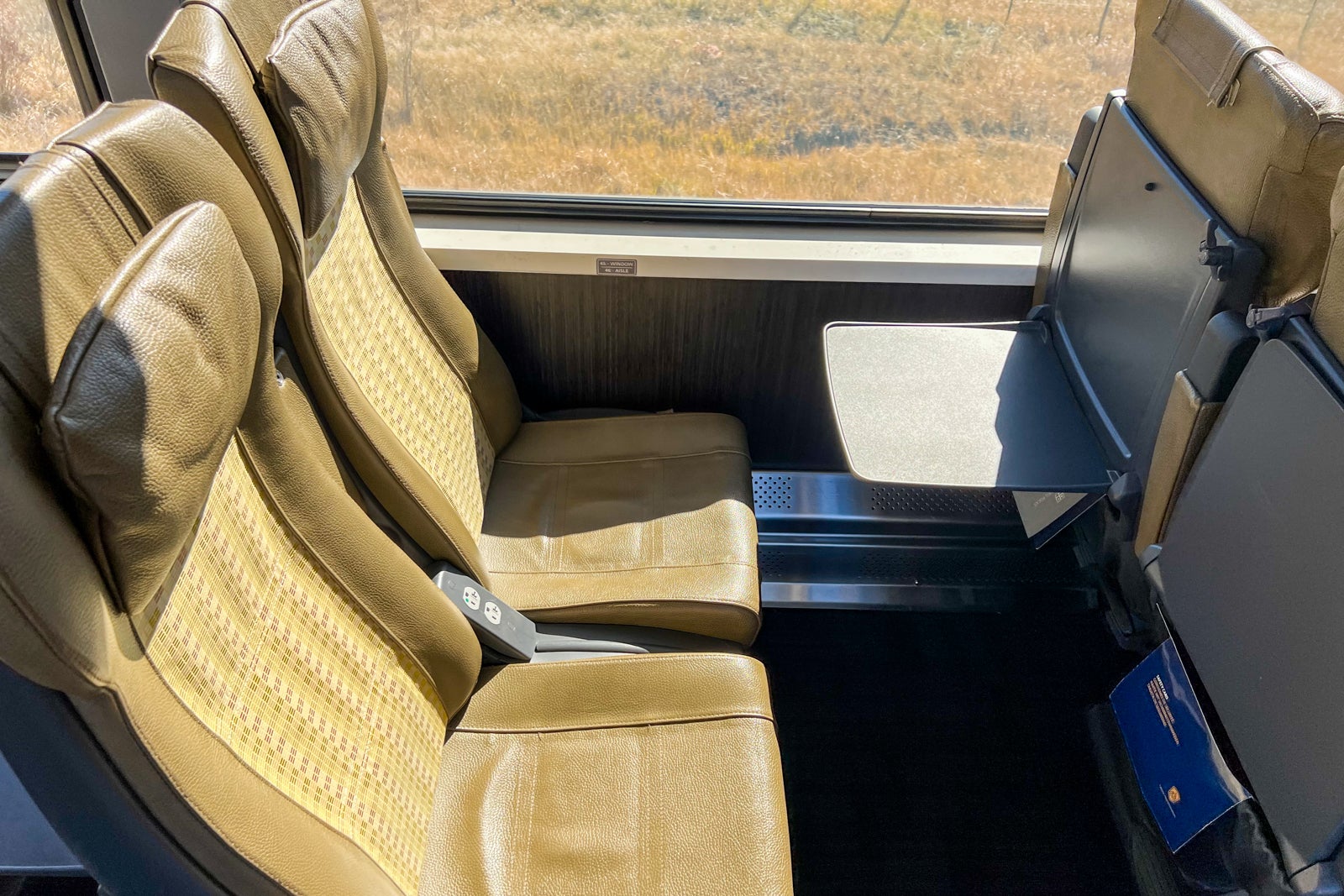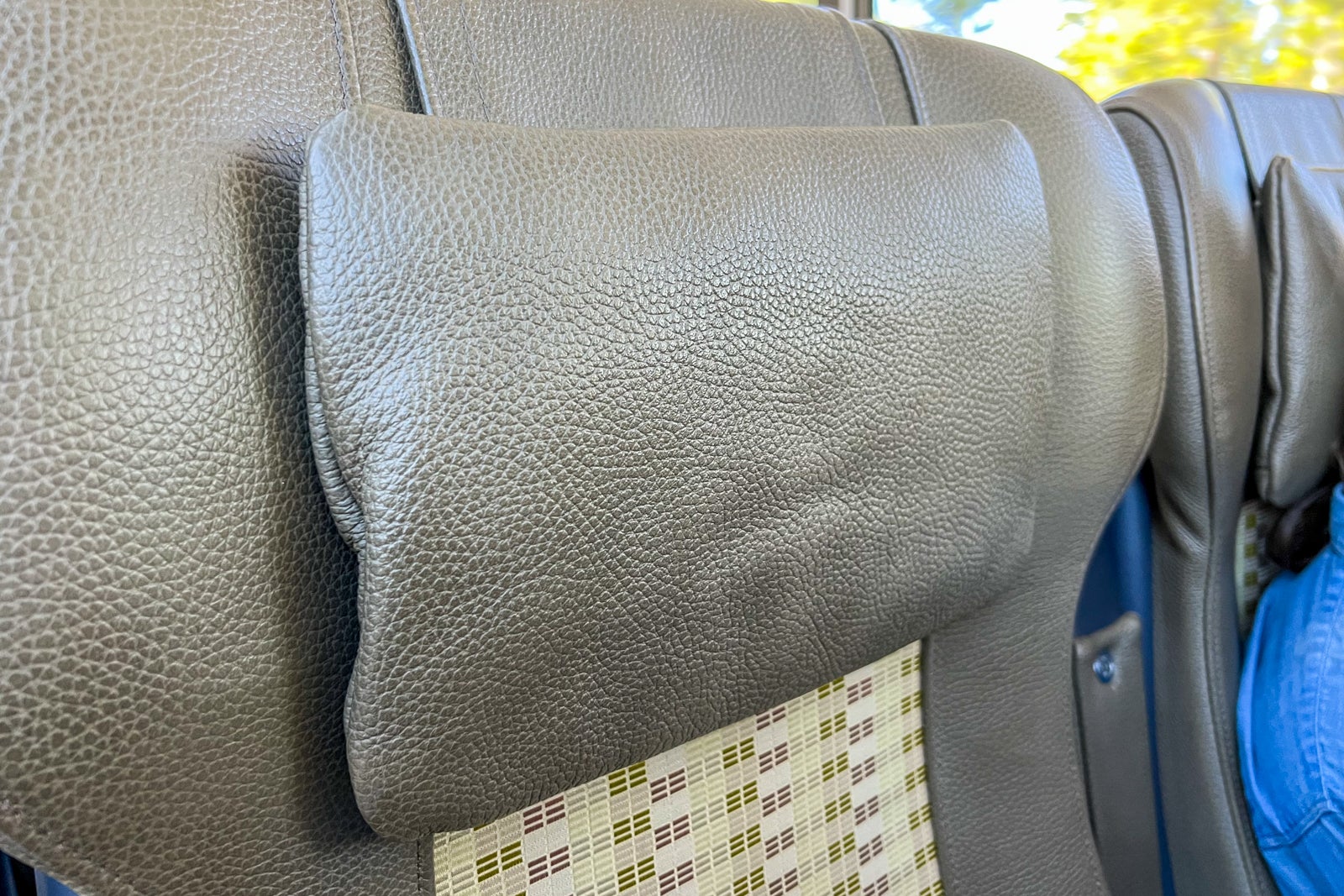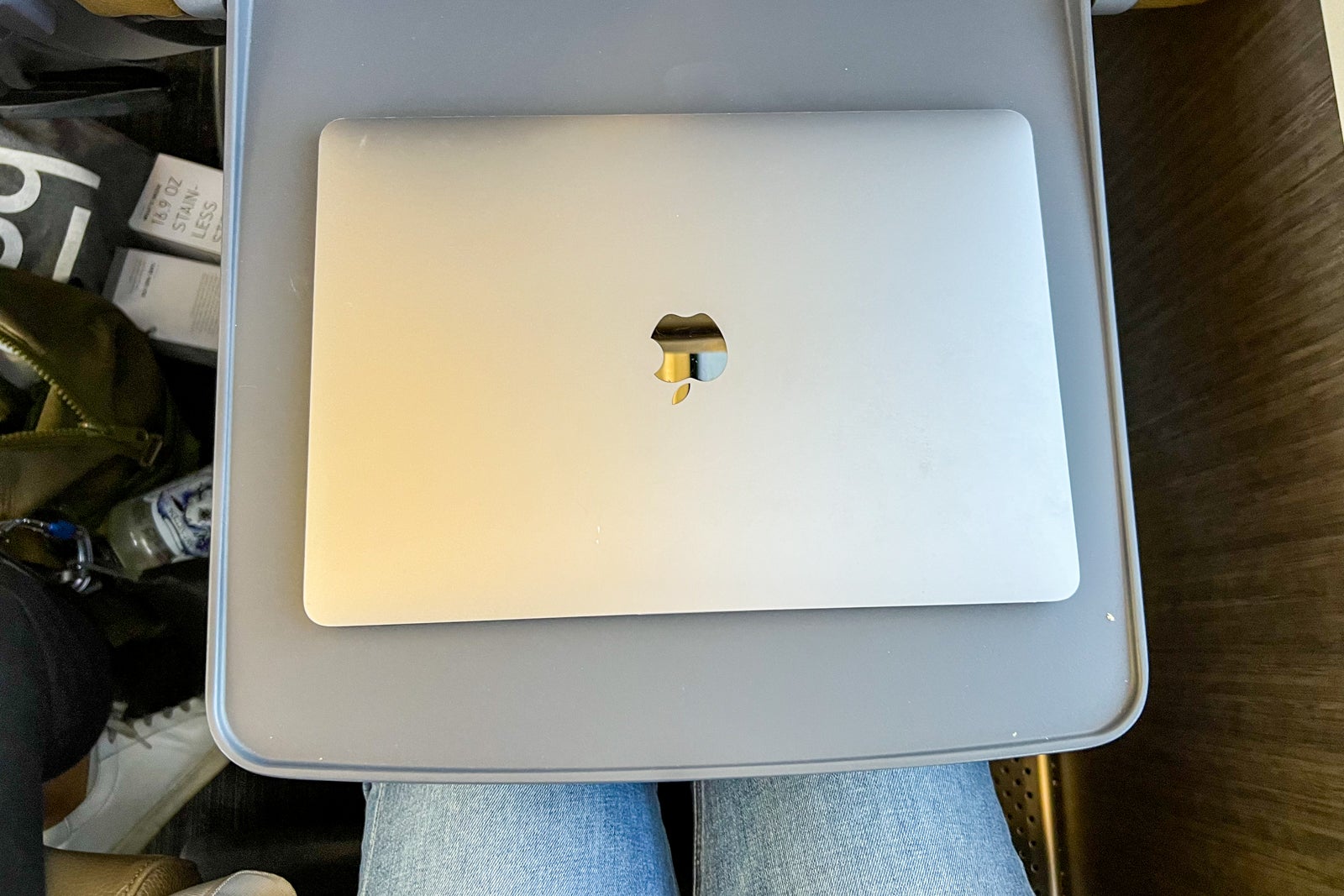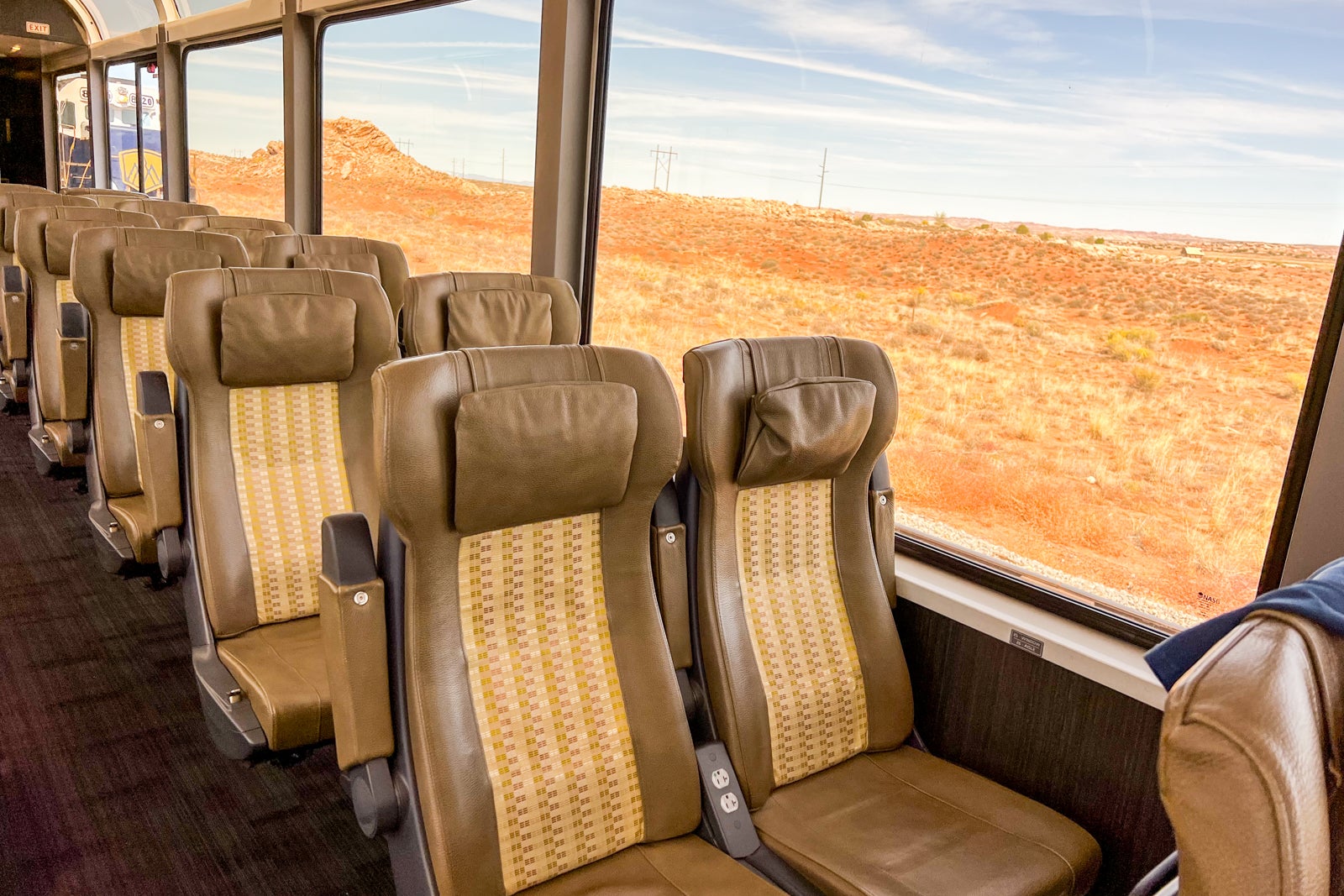 Lounge cars
Once we got a lay of the land in our media car, we wandered from car to car to check out the scene. Most of the passengers appeared to be couples and groups of friends in their 60s and 70s celebrating life's big moments like anniversaries and retirements. Although we were told that there are occasionally younger families on board, we didn't see any kids on our train.
On our trip, there were two lounge cars available to travelers with SilverLeaf Plus reservations on this journey. Each had its own look and feel.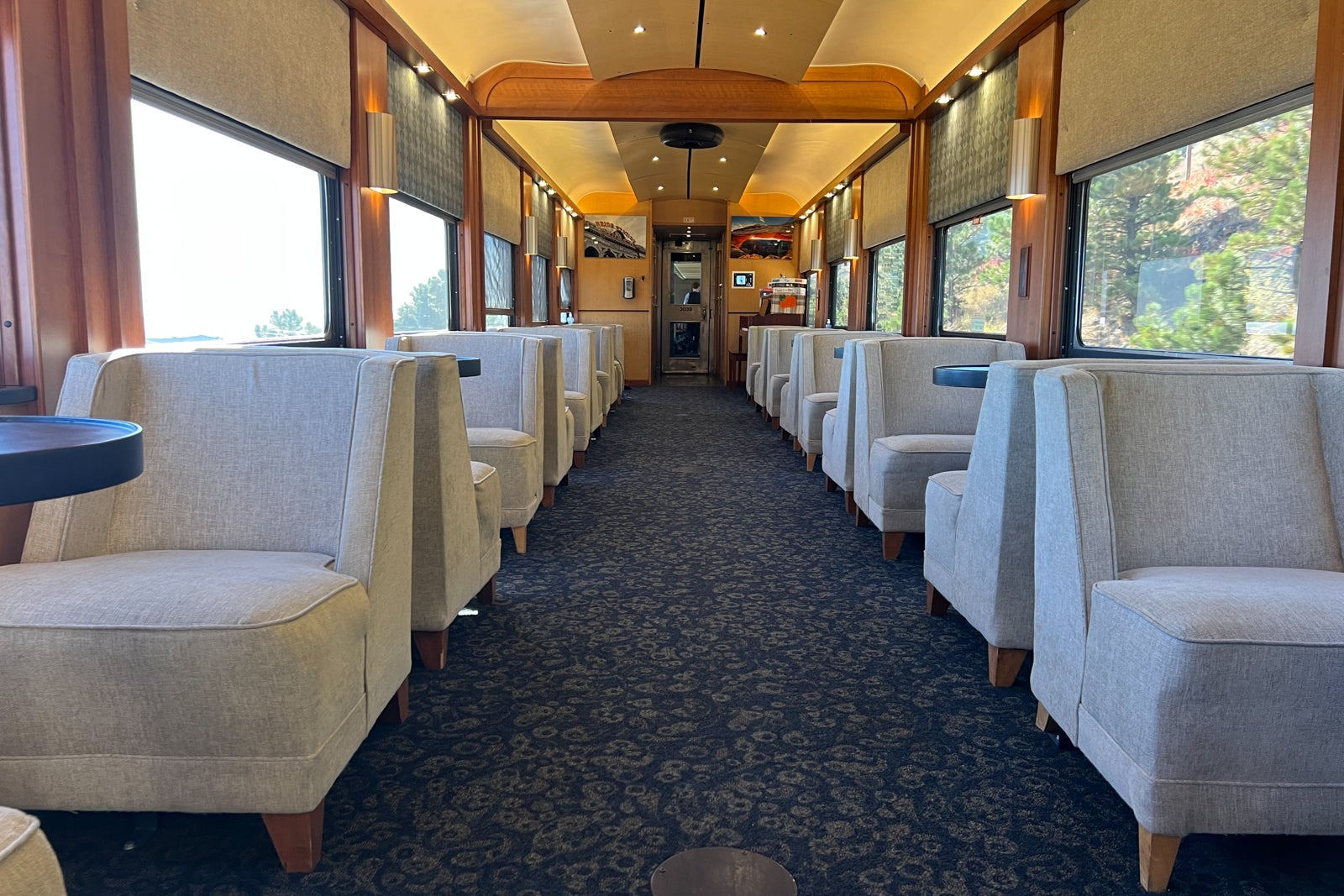 The first lounge offered Old West vibes thanks to wood accents and a self-playing piano. There were a few classic board games, too, that you could play while seated on either side of the car. The decor created a warm, homey feel that felt like the perfect complement to our surroundings, making it my favorite of the two.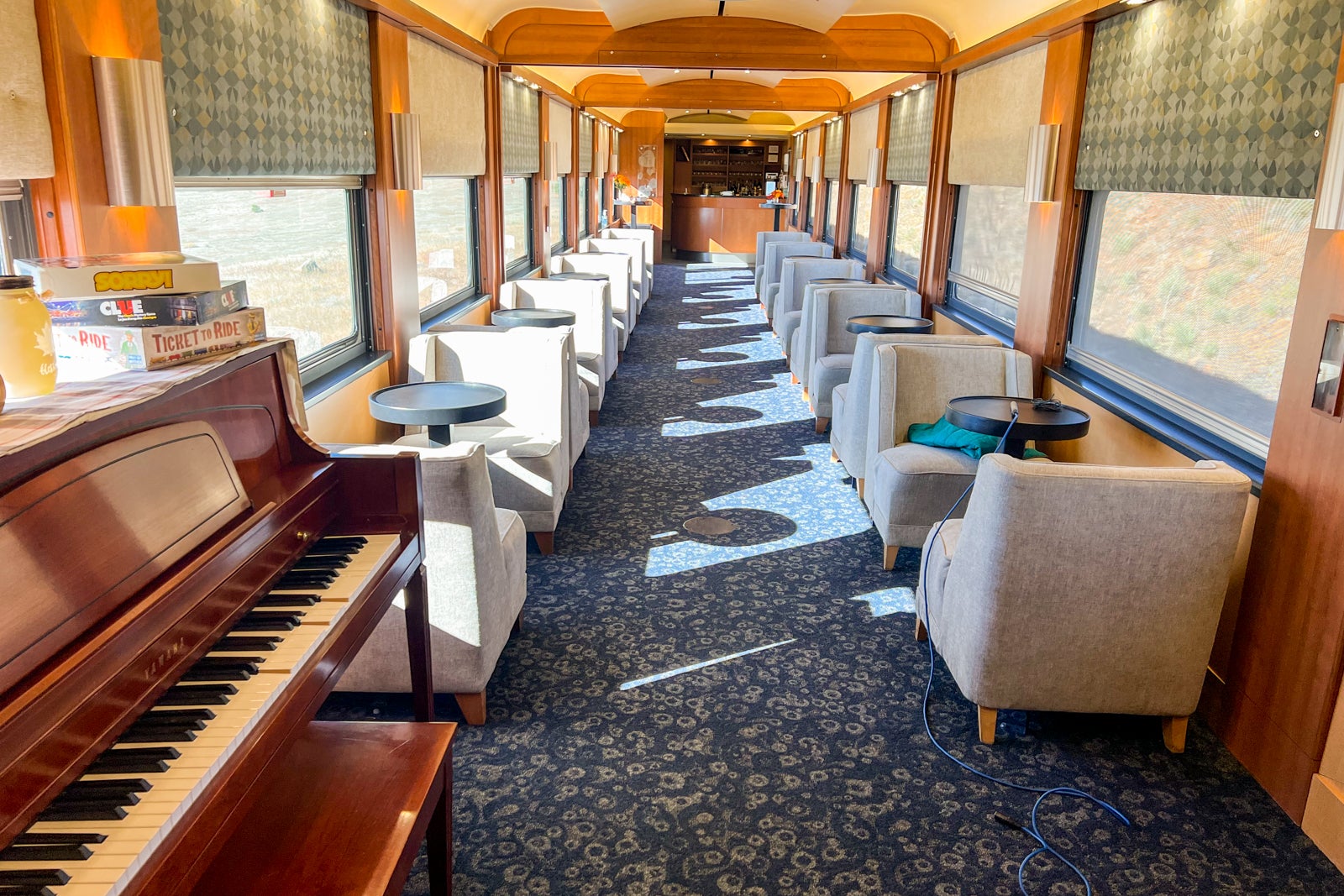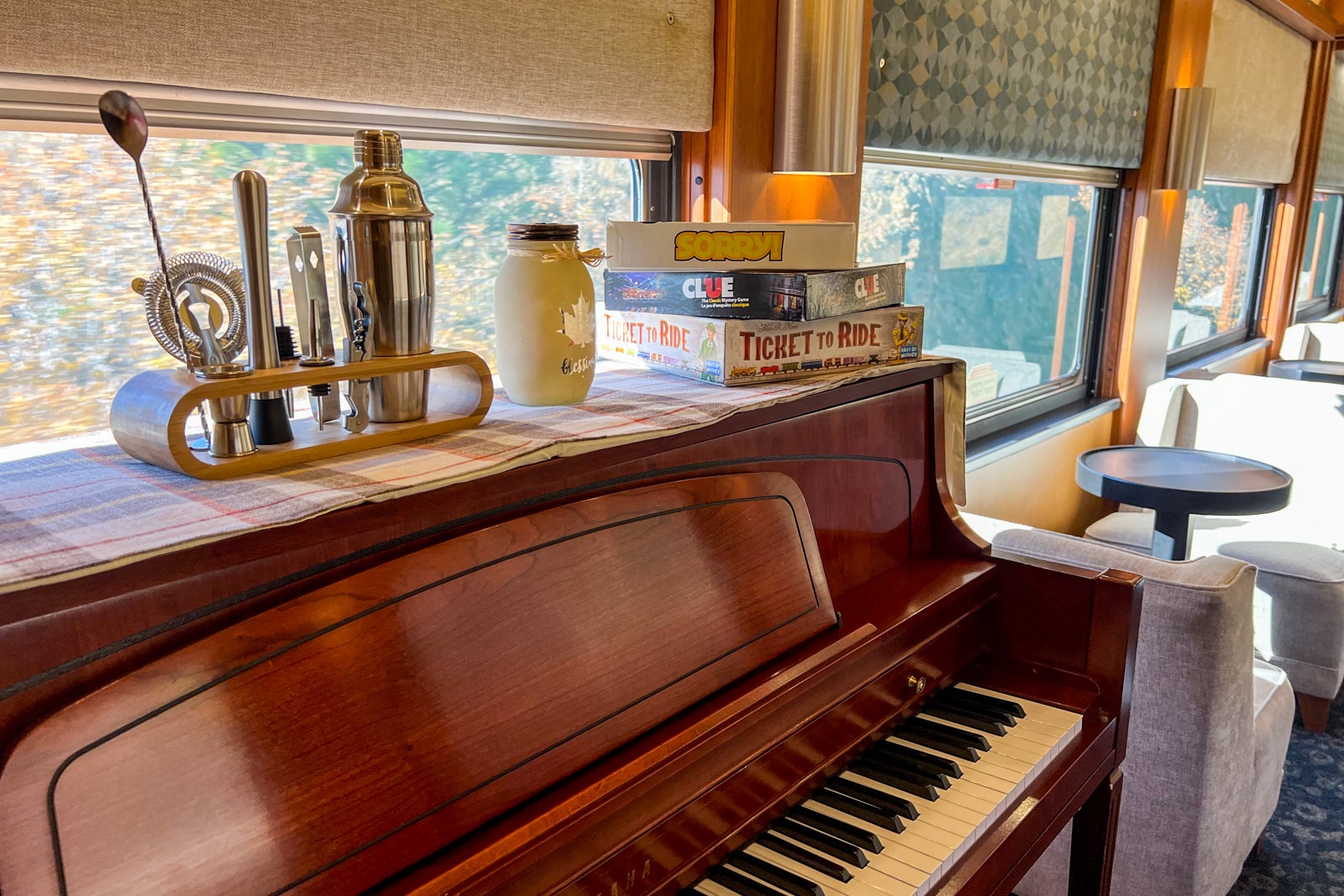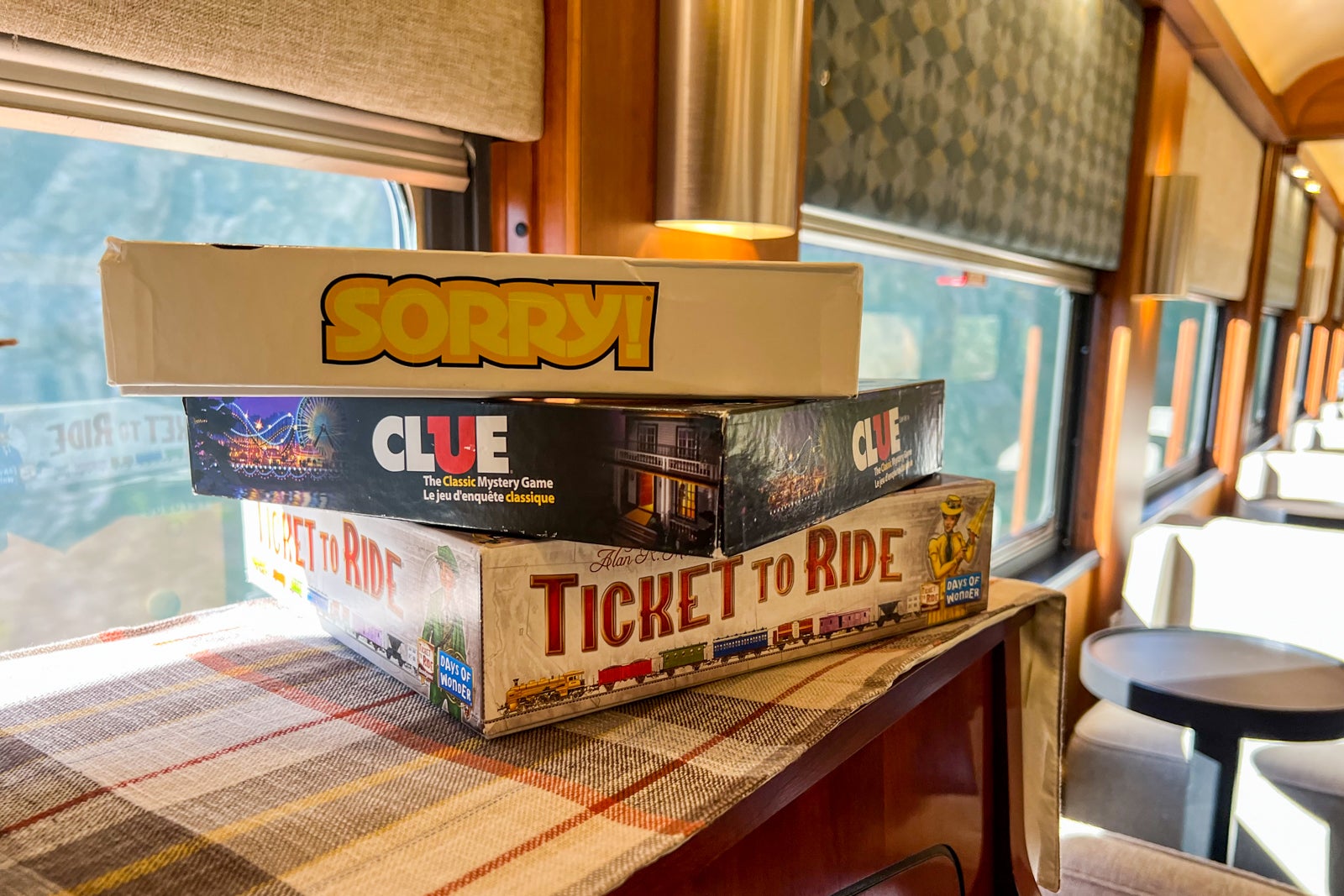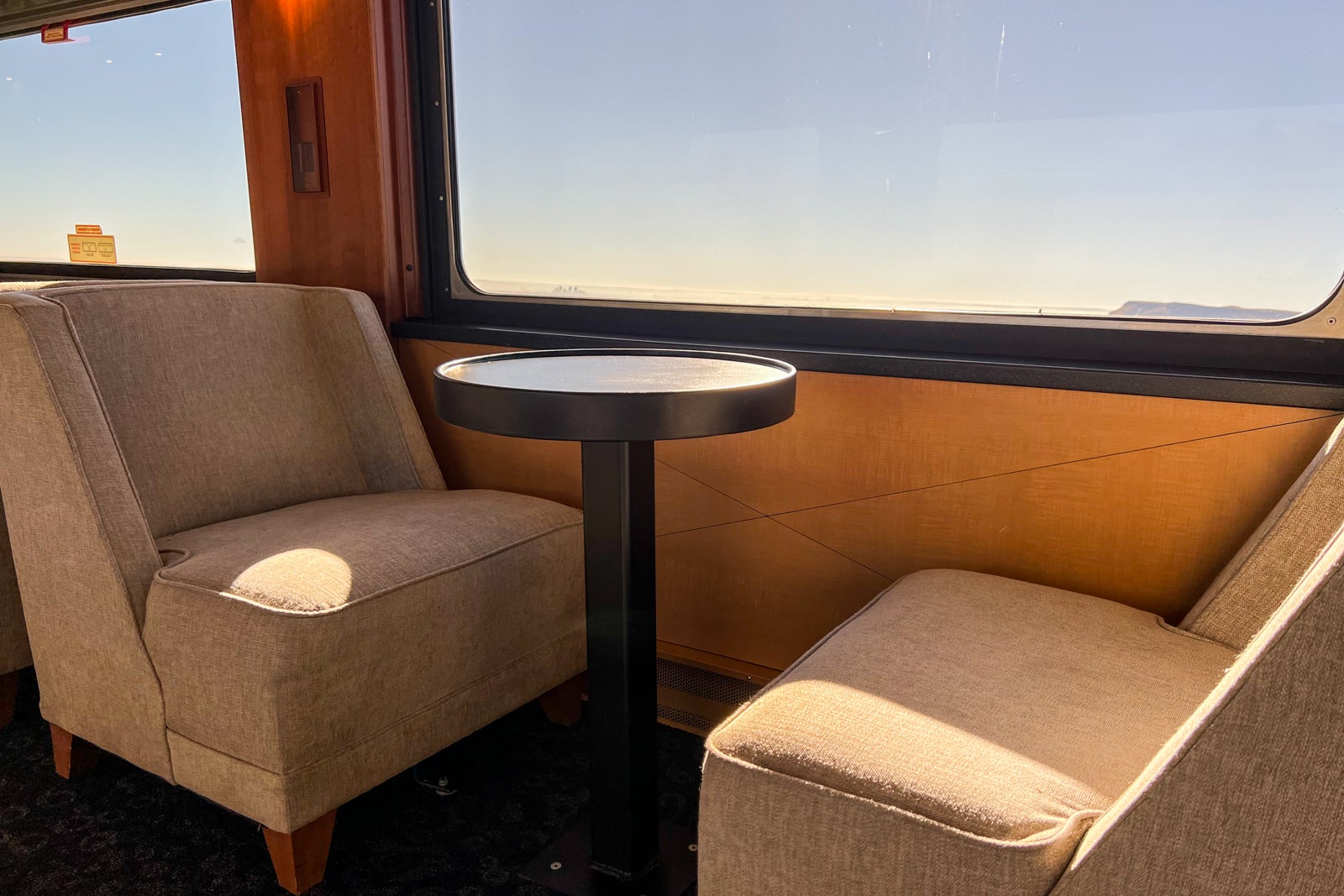 The other lounge looked entirely different. It felt more like a traditional airline lounge, as it featured a contemporary gray-and-blue color scheme, sleek leather chairs and a couple of couches. At the back was a stone bar that we visited on several occasions for drinks.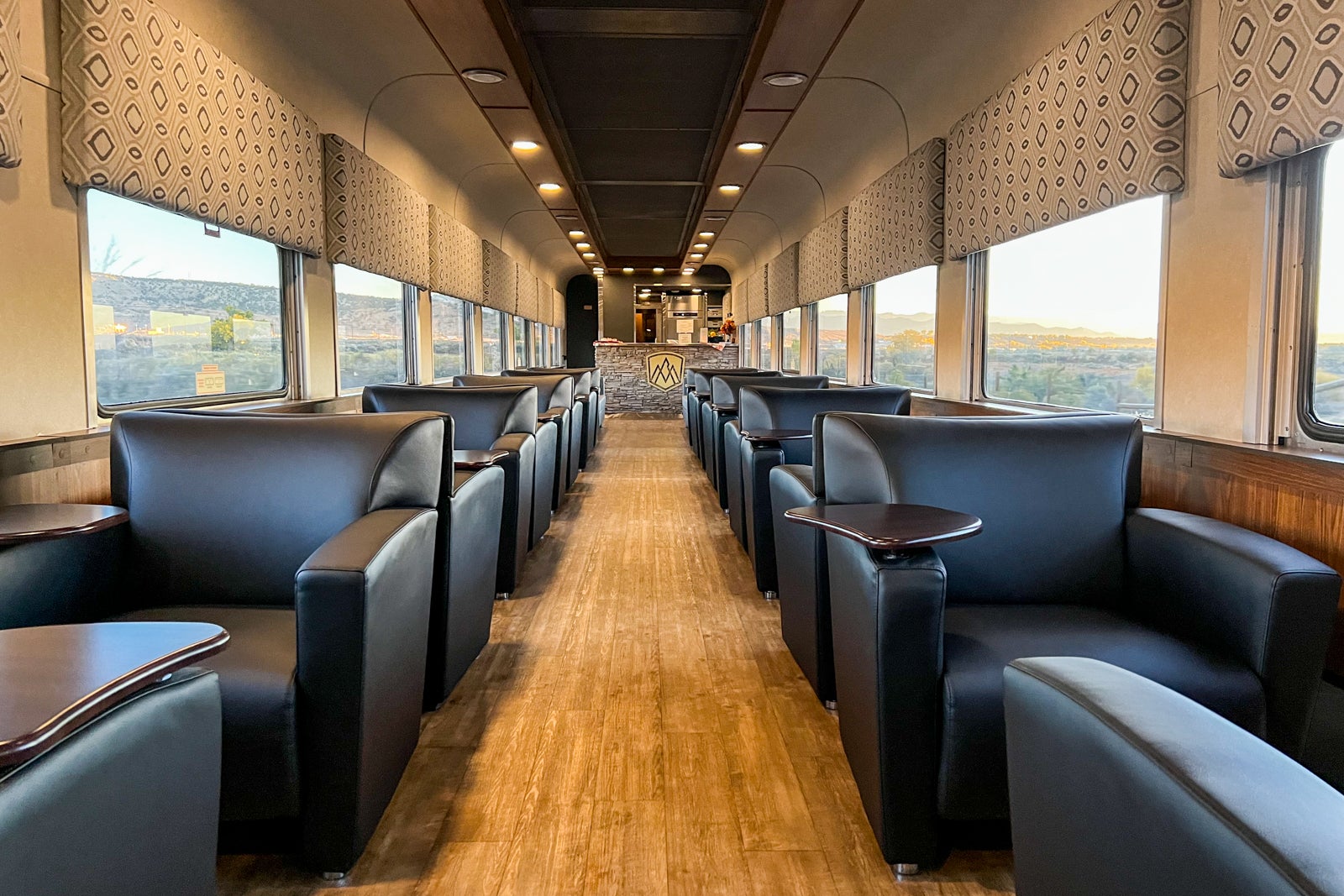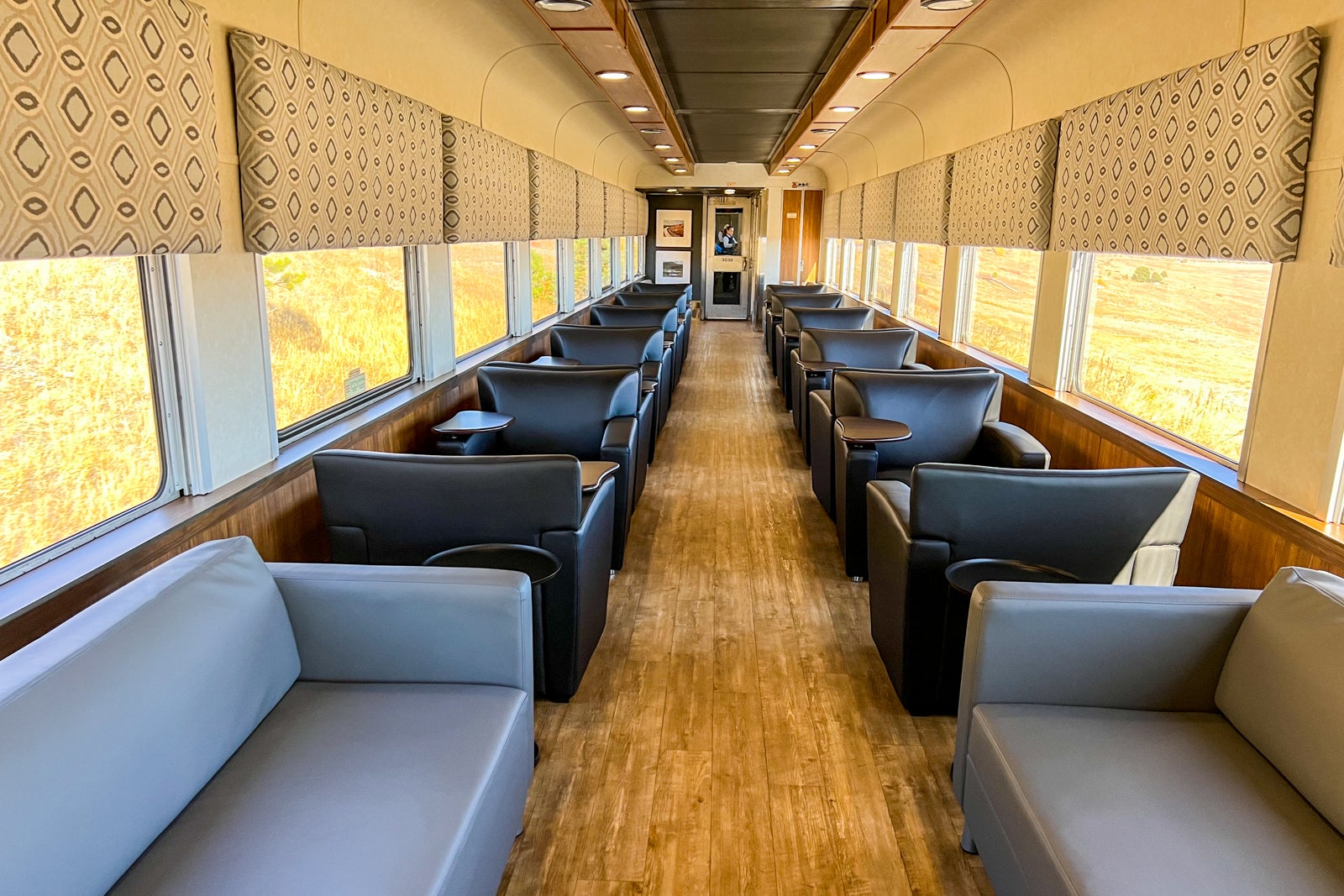 Bathrooms
After checking out the lounges, we peeked inside the bathrooms. Unsurprisingly, the accessible bathrooms were significantly larger than the regular restrooms, but all of them were more spacious than what you'll find on most flights.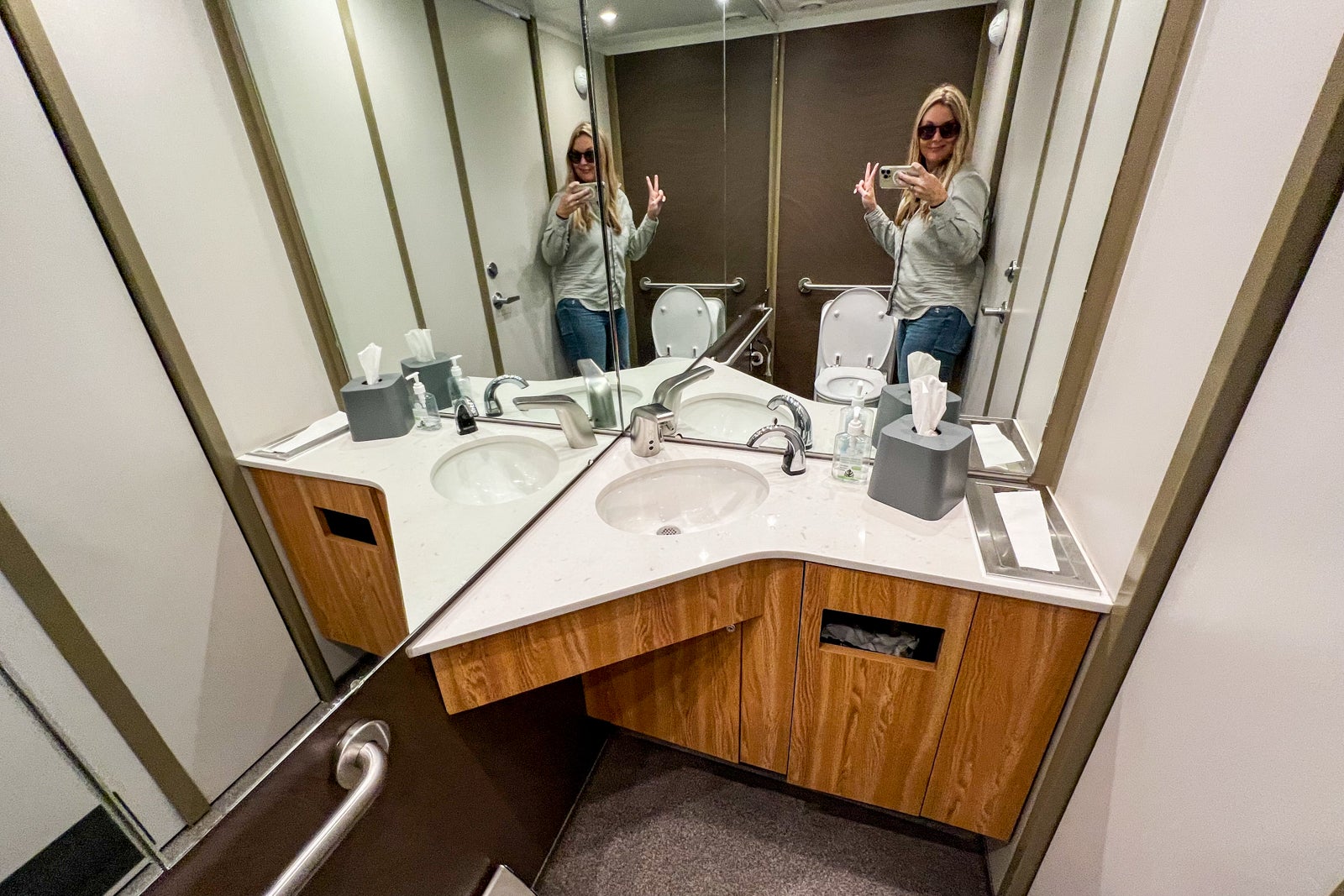 There was a vanity opposite the toilet that was stocked with the basics, including tissues, soap, hand sanitizer and paper towels. Additionally, two walls had mirrors, so you could easily freshen up while on the go.
The food and service
Once the service gets rolling, it's safe to say you won't go hungry while on this train. However, on that first morning, you might want to pack a light snack since the scheduled departure isn't until 9 a.m., with the hosts starting to take orders around 9:30 a.m.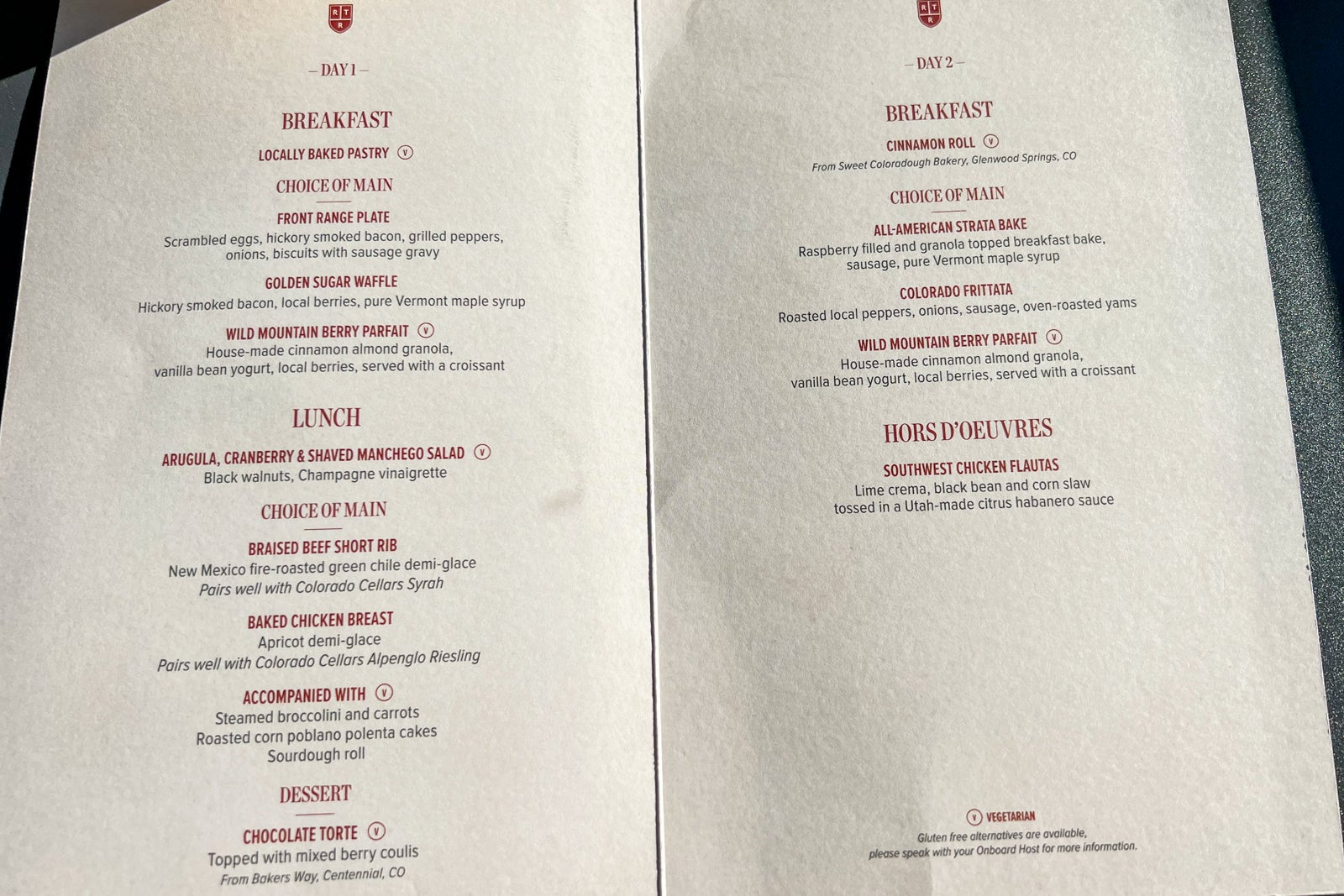 Breakfast
After a mimosa toast to start, we were offered a locally baked blueberry score to kick off our morning. It was so perfectly soft, warm and sugary that we asked for seconds, which our host gladly delivered.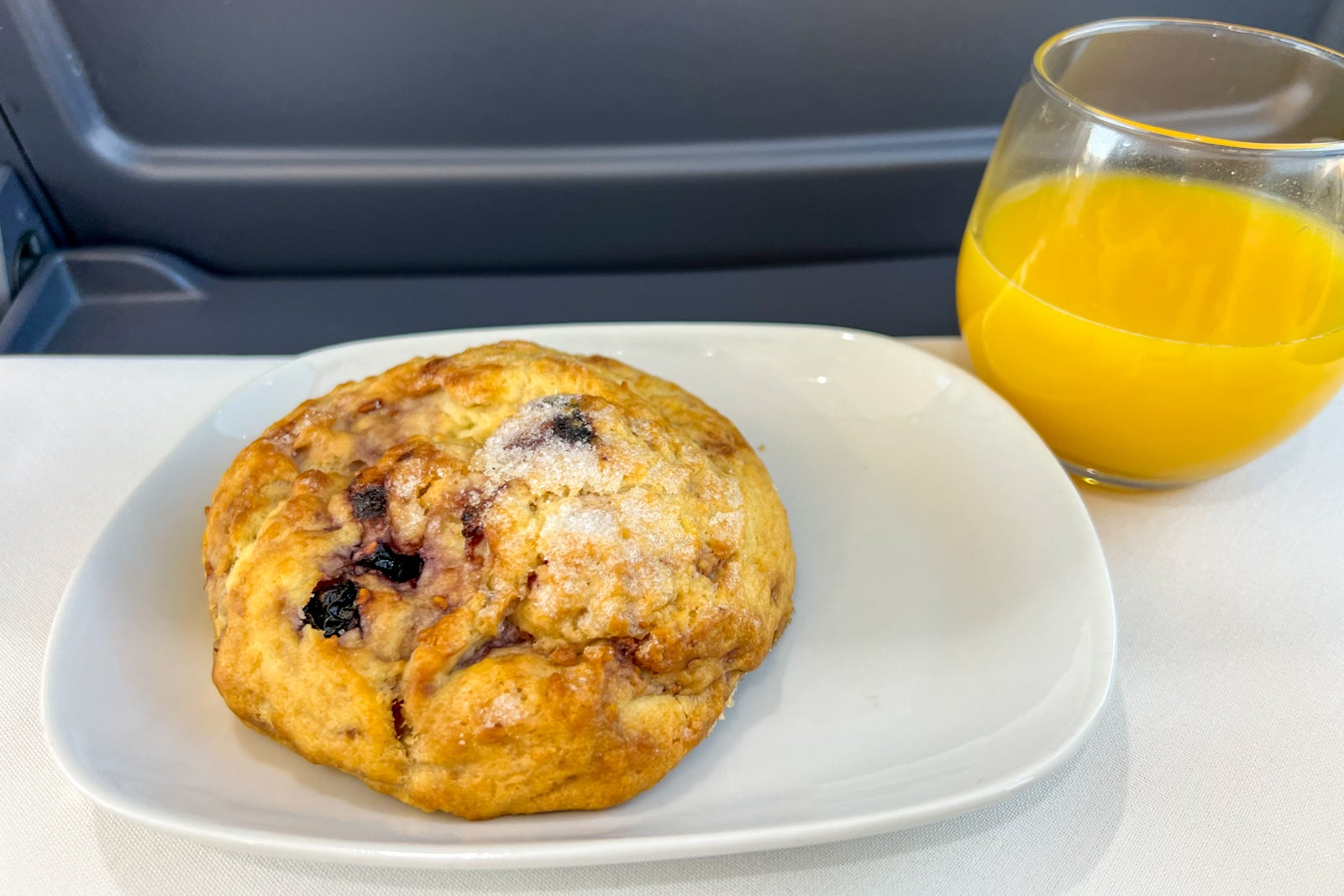 For the breakfast entree, you can choose from three dishes. I went with the vegetarian wild mountain berry parfait with homemade cinnamon almond granola, which also came with a croissant.
Overall, I enjoyed the meal, but it was the thought that went into the menu that really stood out. Rocky Mountaineer's commitment to using locally sourced items as much as possible was impressive, and the onboard team's willingness to make adjustments to accommodate dietary restrictions as much as possible was commendable. For example, even the items that sounded like they would not be vegetarian-friendly could be modified upon request to include veggie alternatives.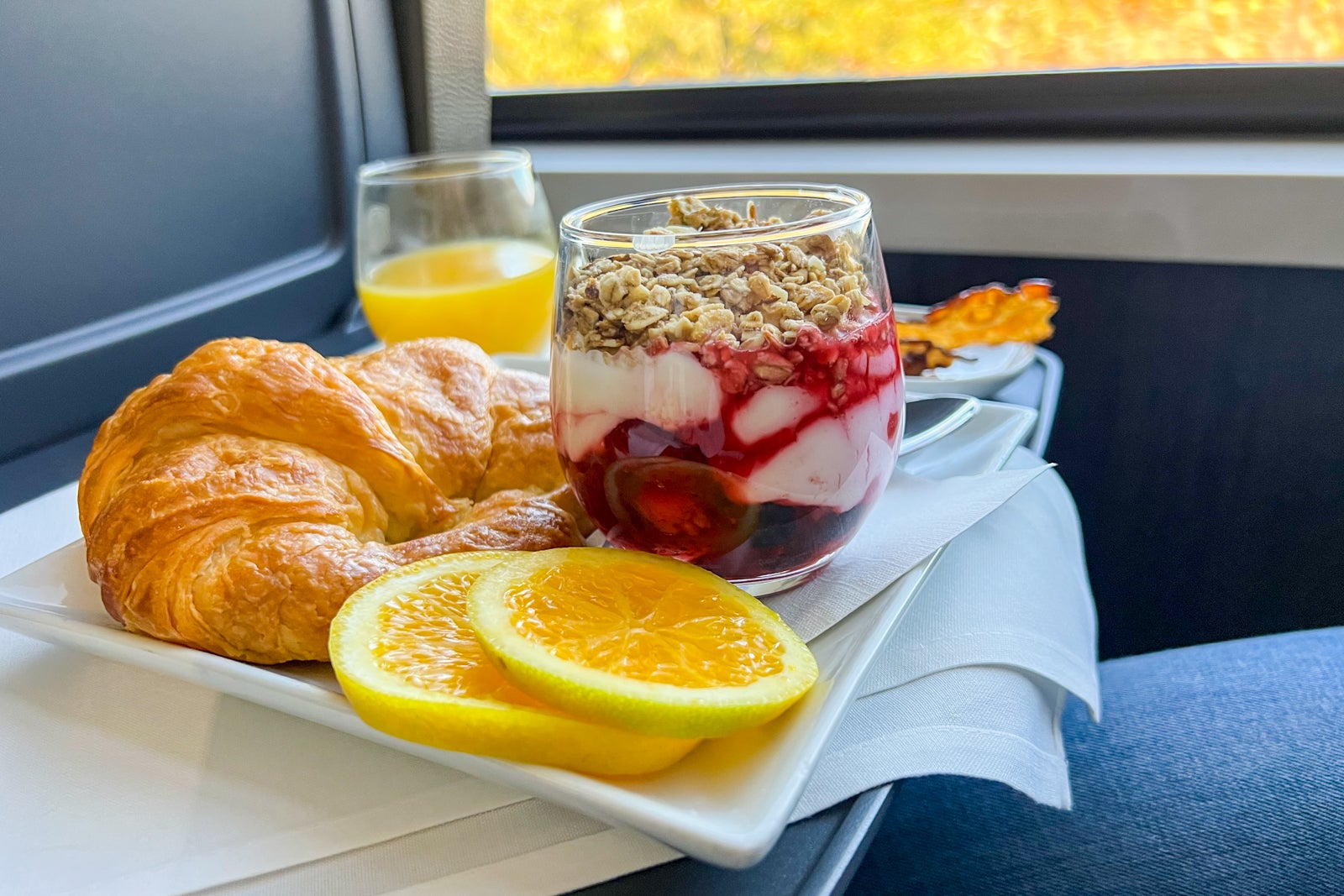 Our breakfast the next day was equally memorable. It kicked off with coffee and another local pastry — this time, a cinnamon twist treat from Sweet Coloradough in Glenwood Springs — that kept us content while the main courses made their way around.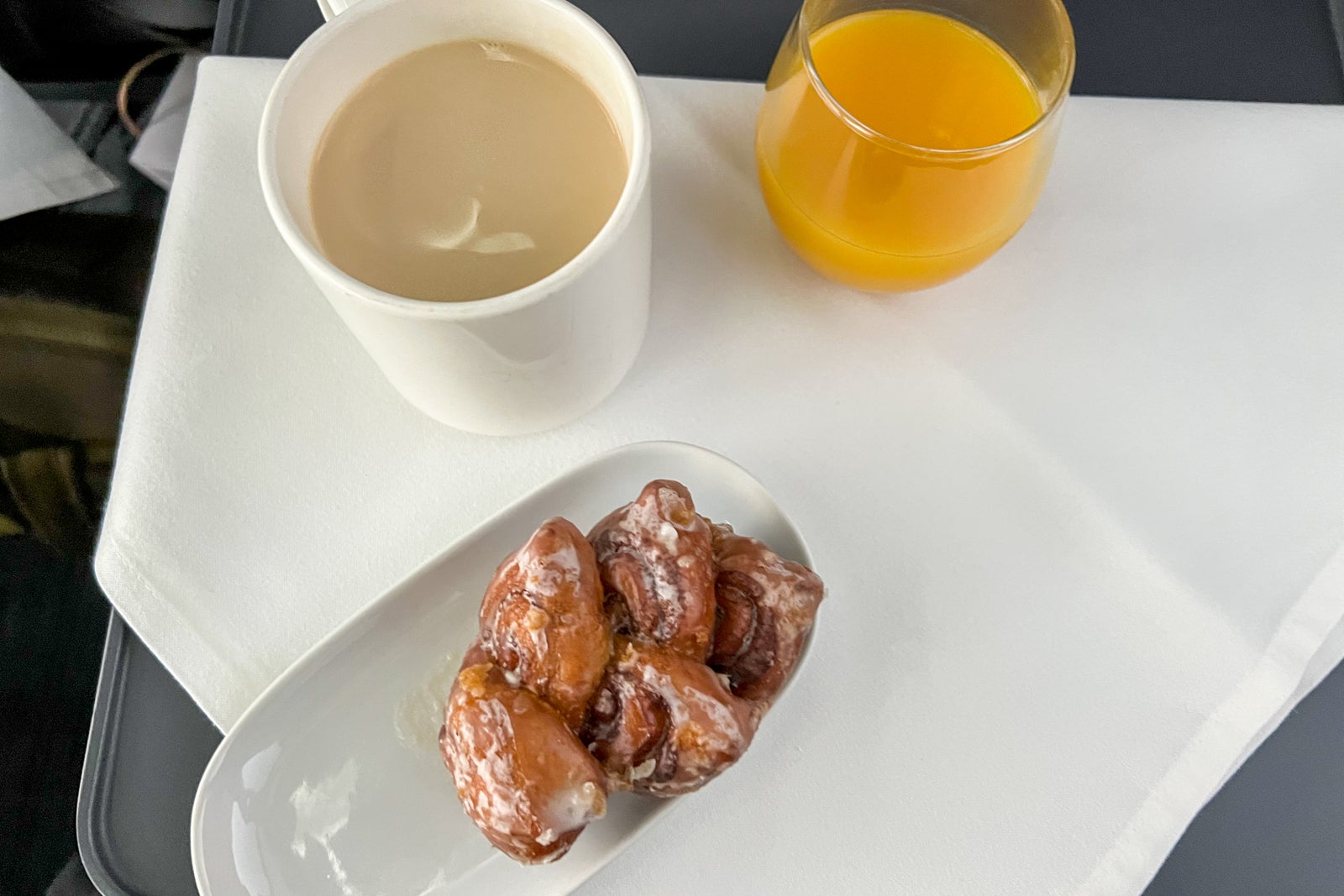 Keen to try something a little more over-the-top this time around, I opted for the most indulgent menu item I have ever seen before noon: a strata bake featuring what was essentially French toast made from croissant dough that was topped with raspberry, sugar and granola. It came with a couple of sausage links, an orange slice and maple syrup on the side, should you need even more sweetness.
Despite the sugary nature of the dish, everything was in balance. It was an amazing plate of food that I'd order again.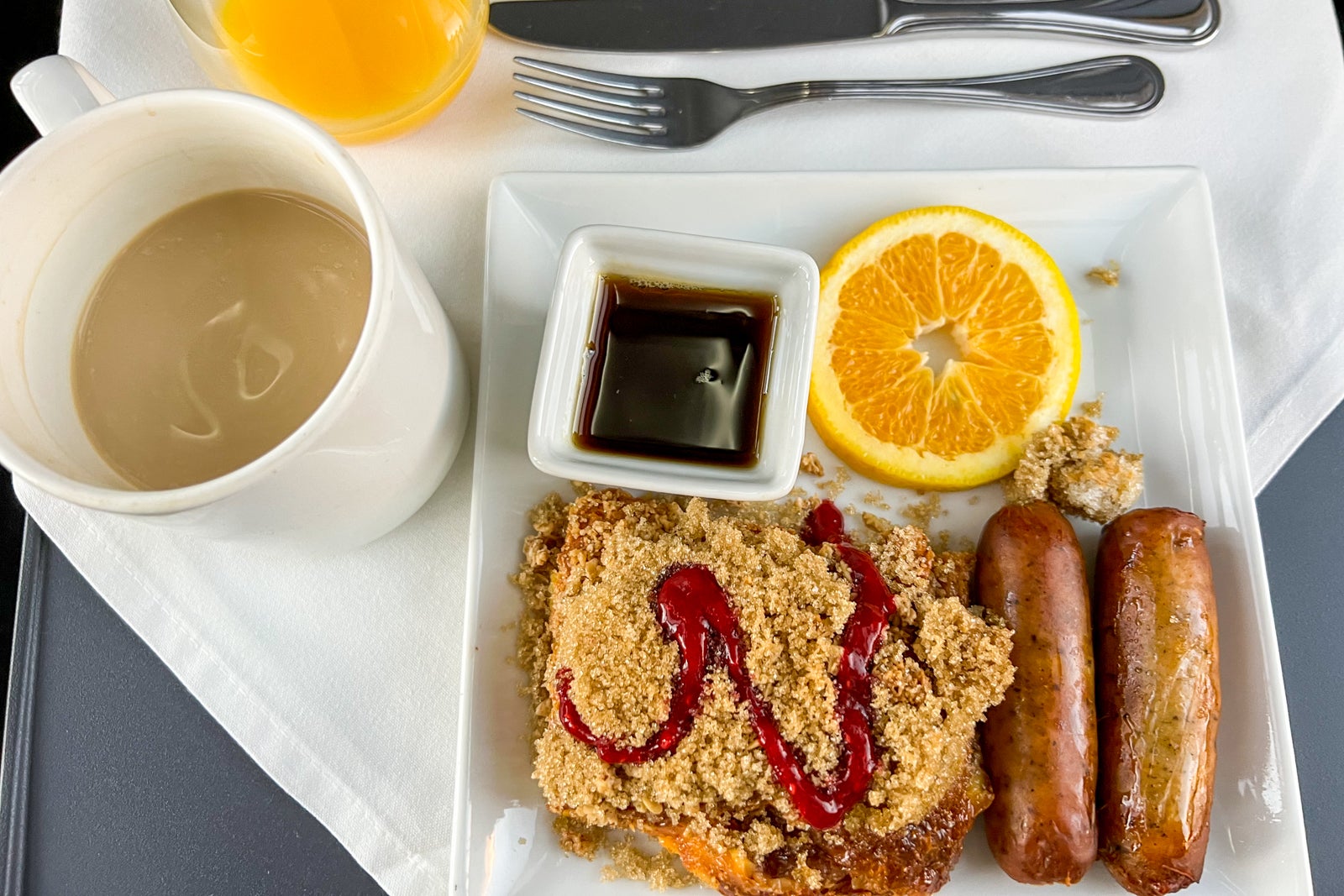 Melanie's breakfast, the Colorado frittata, was less sugar-laden but equally tasty. The frittata sat on a bed of roasted yams, with a trio of roasted peppers and onions on top. On the side were a couple of veggie sausage patties she requested as a substitute for regular sausage links.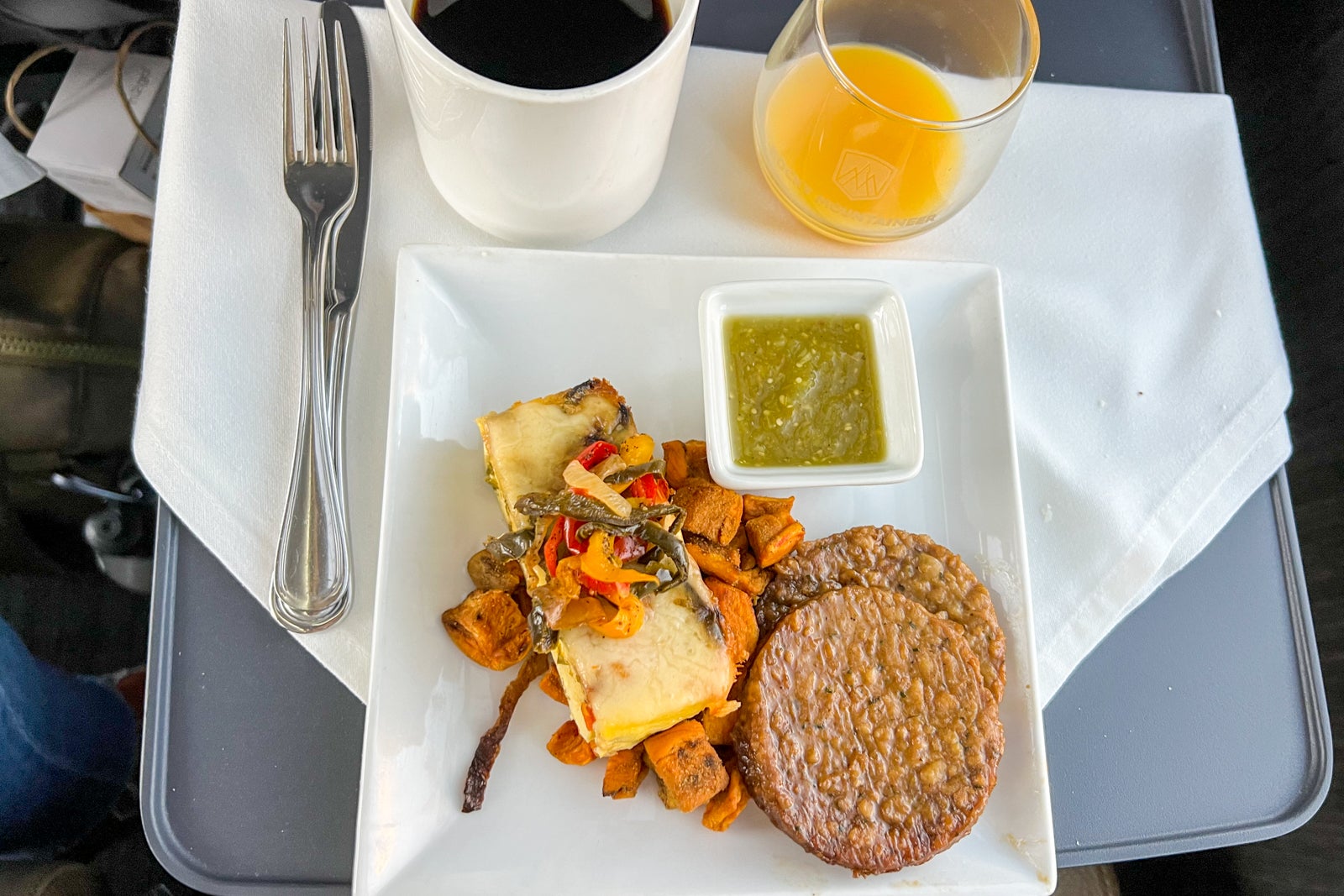 Suffice it to say, Rocky Mountaineer's breakfast was a true delight. I thoroughly enjoyed my breakfasts, so much so that I had to resort to stretchy pants for a bit when I got home.
Lunch and hors d'oeuvres
For lunch, which is only served on the first day, I ordered the lighter of the two options since I was still a little full from breakfast. The baked chicken came with an apricot glaze and was served with polenta, broccolini and a roll.
Unlike breakfast, lunch was less exciting. While it was far from bad, it certainly wasn't my favorite meal. Reheated chicken is simply reheated chicken, no matter how you, er, glaze it.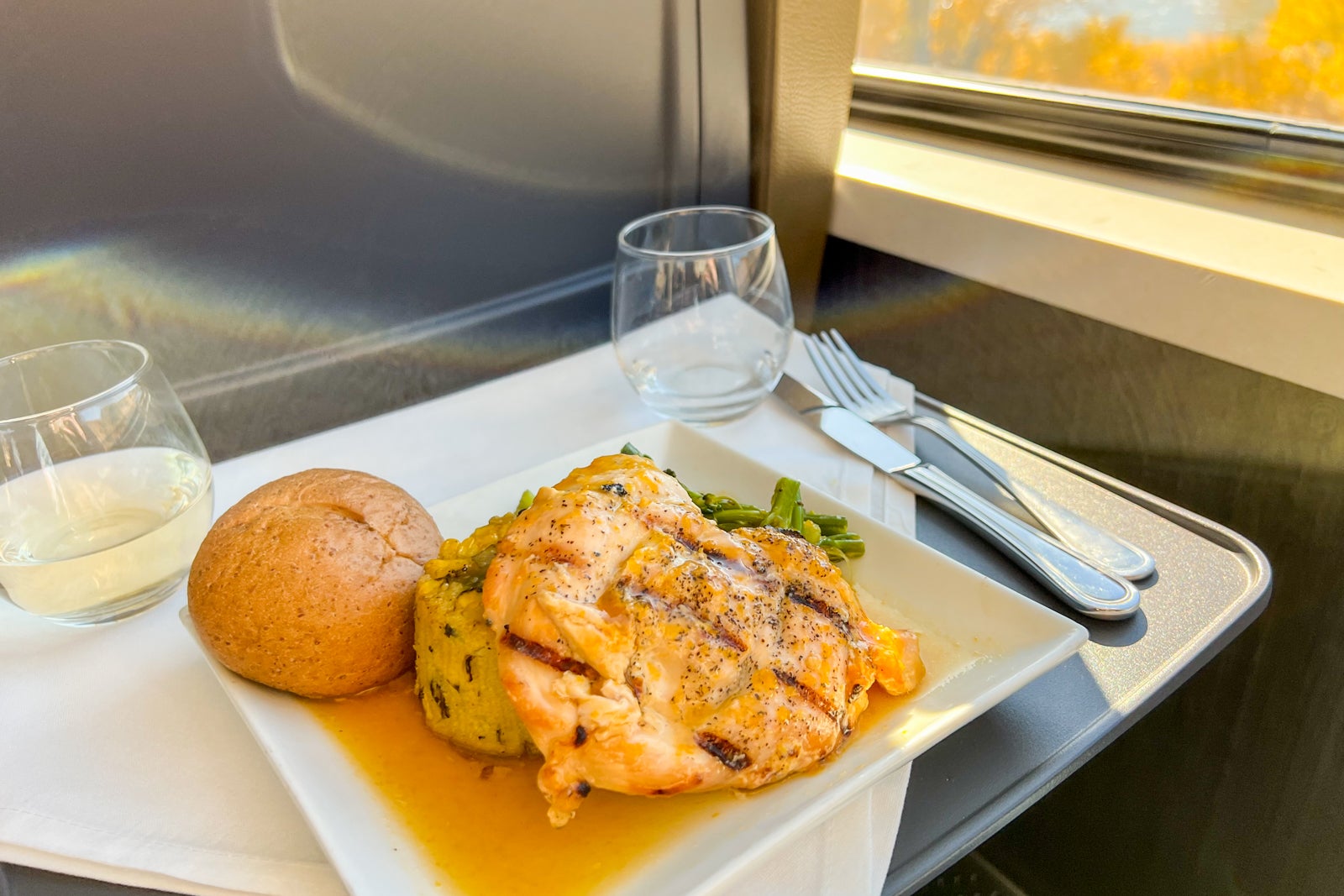 However, the chocolate torte dessert made in a bakery in Centennial, Colorado, was delectable. It was the perfect decadent treat to enjoy midday.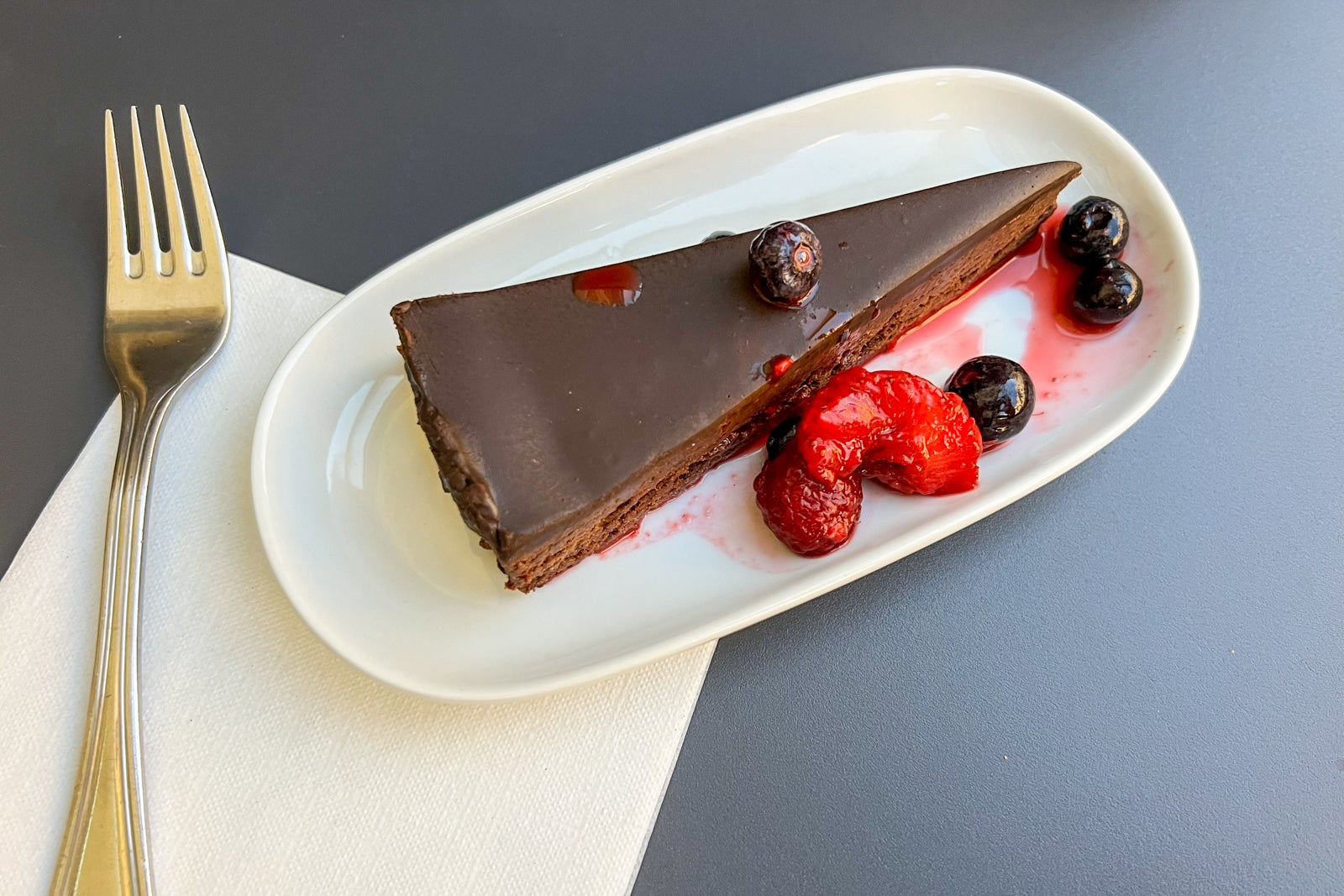 Since our final day was the shortest of the two spent on the train, Rocky Mountaineer offered hors d'oeuvres in place of lunch. For our trip, that meant Southwest chicken flautas in a citrus habanero sauce.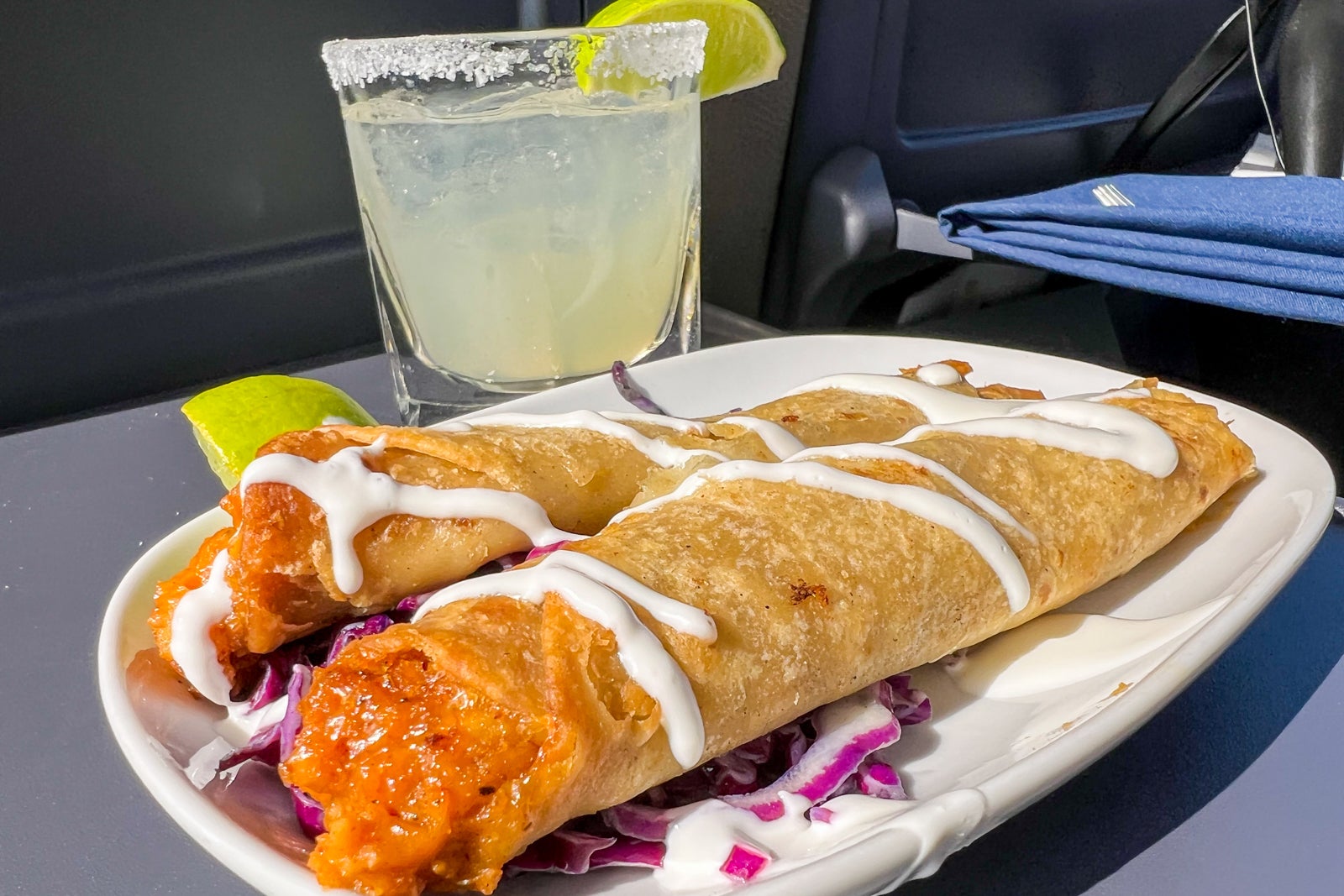 Much to my surprise, the hors d'oeuvres were exceptional compared to the lackluster chicken. The flautas were hearty and full of flavor, and they paired perfectly with the house-made margarita I picked up from the adjacent lounge car. There was also a veggie option similar to tamales that received rave reviews from Melanie.
Snacks
Though Rocky Mountaineer doesn't skimp on the portions for main meals, there are snacks readily available between meals if you find yourself wanting something to nibble.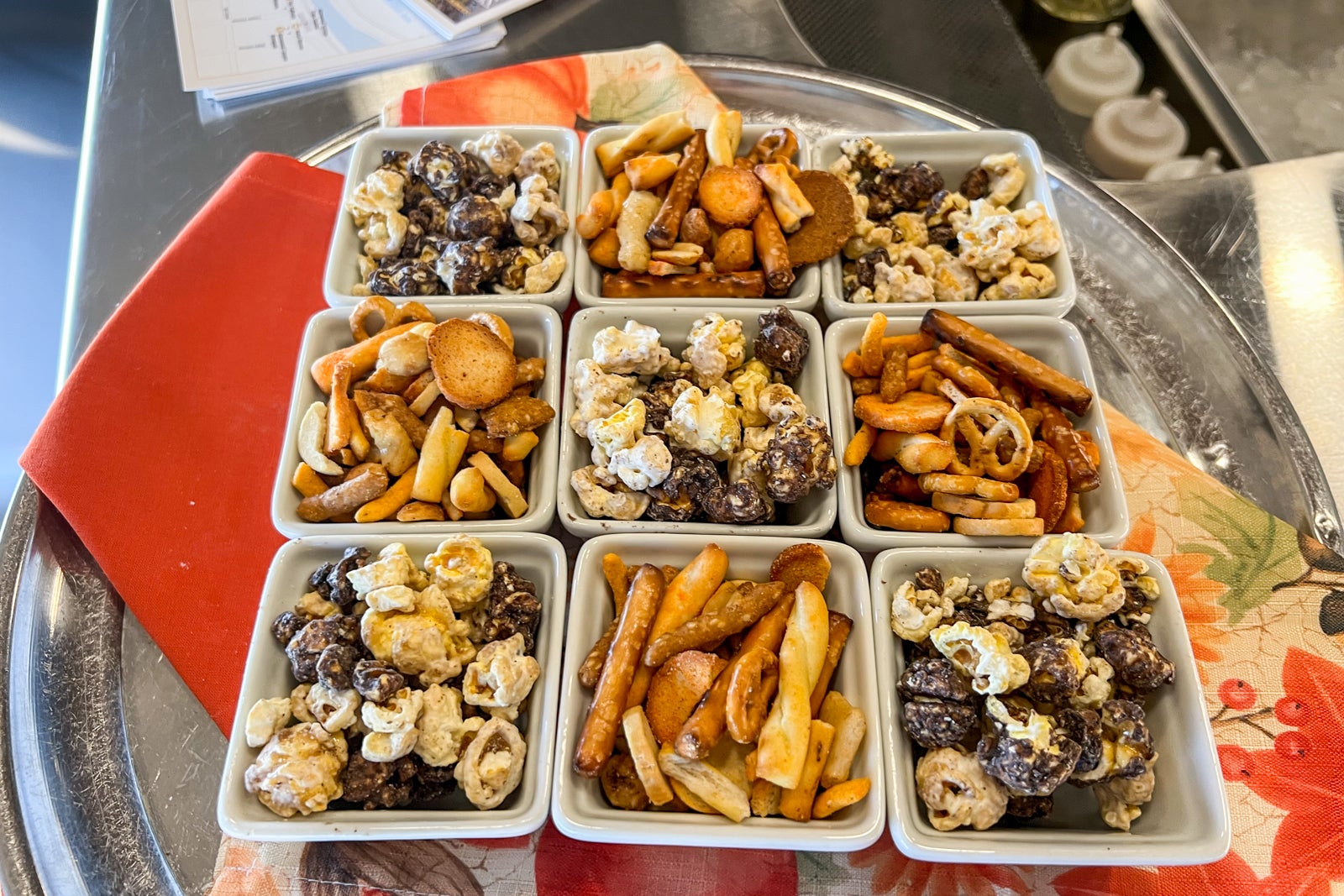 In the lounges was a selection of snack mix and chocolate-drizzled popcorn to grab as you pleased, and wraps and skewers were put out in the afternoon. Everything we sampled was tasty, though we kept our grazing to a minimum since we were full from the onboard meals.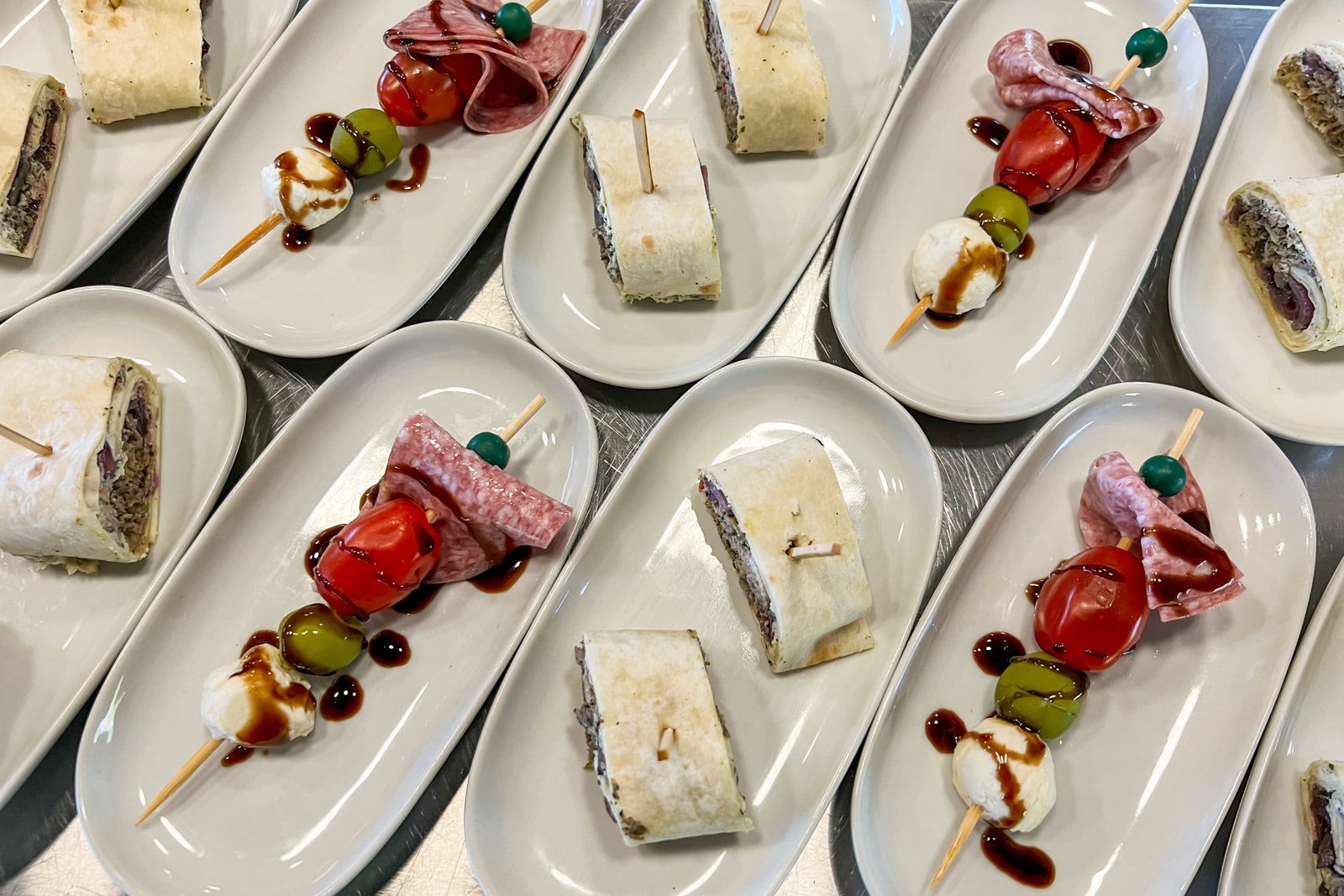 Drinks
To wash down food served on the train, Rocky Mountaineer offers an array of alcoholic and nonalcoholic beverages. Train fares cover wine, beer and mixed drinks (plus nonalcoholic options), though there are some restrictions for those who didn't select the upgraded SilverLeaf Plus service class.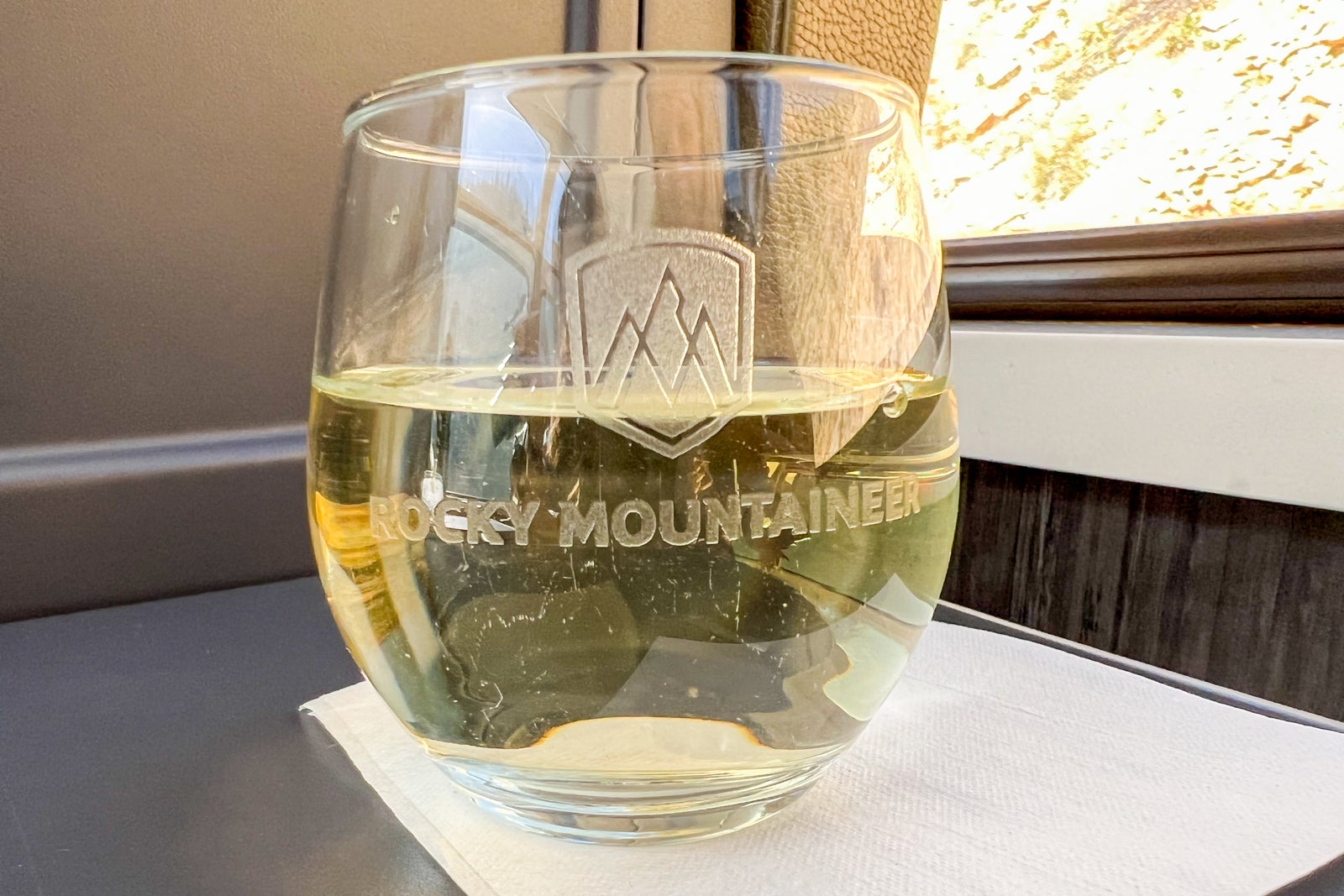 Your car's host will come through with a beverage cart stocked with various options, including some from the Colorado Cellars winery that you will pass as you near the border between Colorado and Utah.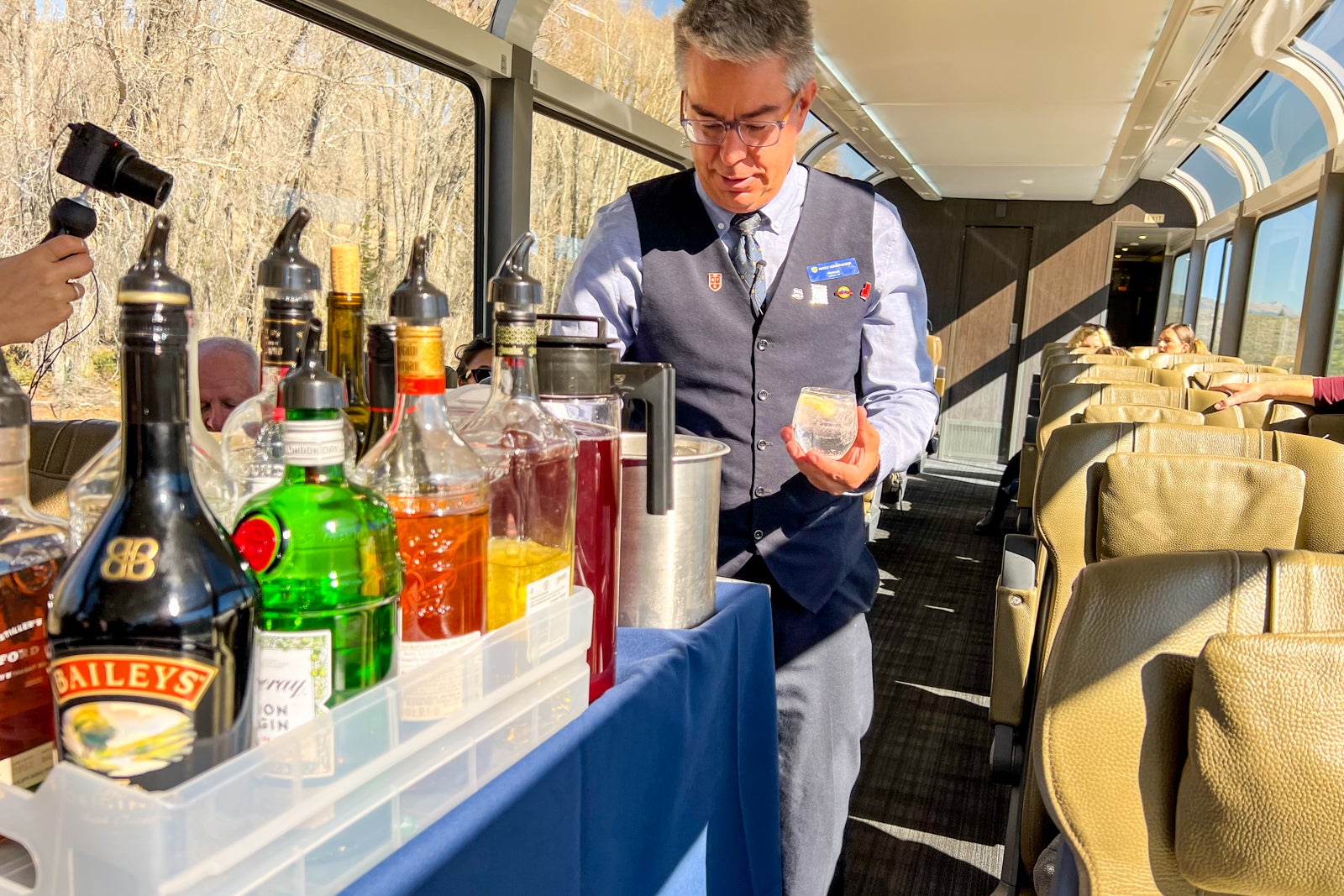 I heard nothing but praise for the Bloody Mary, which was a popular order during the morning hours of our journey, especially among those who made their way to the lounge cars.
I certainly didn't log any complaints about my margarita, either, which I sipped on as we approached Moab during the final stretch of our trip.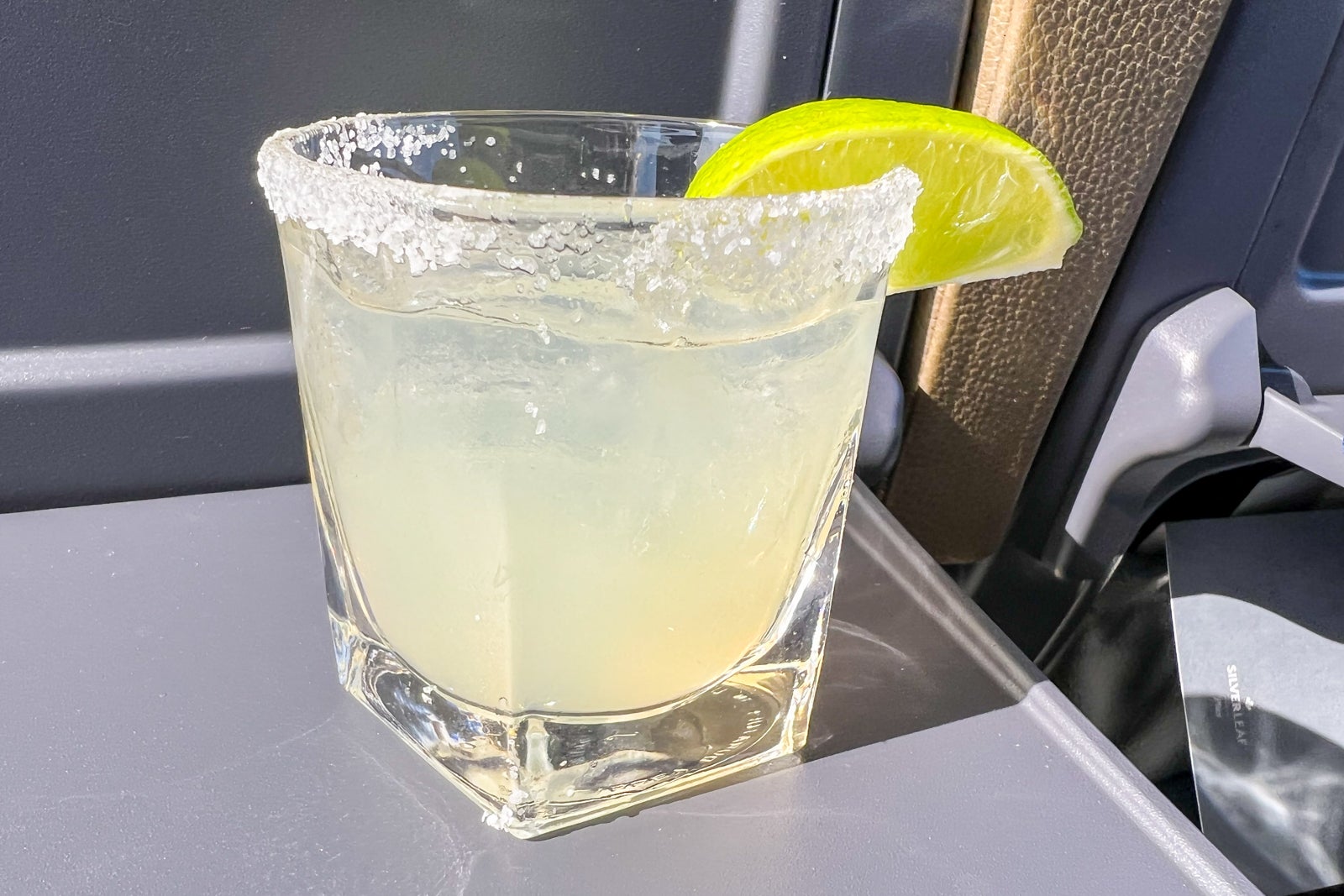 The scenery
A big reason why we wanted to ride the rails with Rocky Mountaineer was the views — and, as I confirmed on this trip, it's impossible for Colorado and Utah not to take your breath away.
We were gifted with fabulous scenery, including gorgeous gold foliage. The train car would fill with collective oohs and aahs as we shared in the splendor of the passing landscapes. We couldn't believe it kept getting better — but it did.
In the first few hours of the journey, you'll catch a glimpse of the Big 10 turn, where you can see the train cars behind you coming around the bend as you wind through the wooded mountains. This earlier phase of the route is also when you cross the Continental Divide.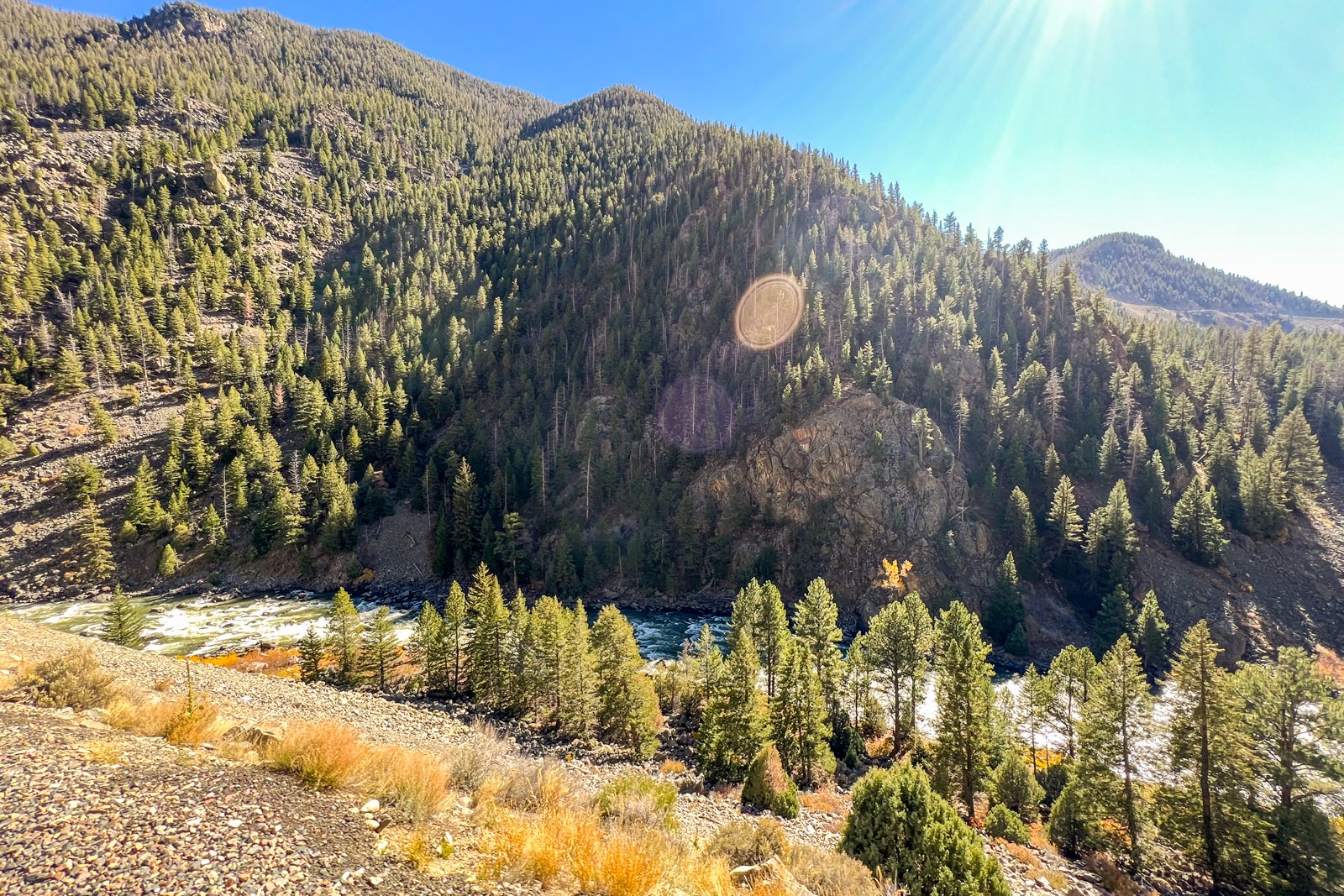 In Colorado, we came across hikers as well as rafters mooning passing trains; an unexpected sight we were told is a time-honored tradition. It may not have been on the brochure, but it served as a comical break from spotting eagles, elk, chipmunks, deer and other creatures as we made our way to Moab.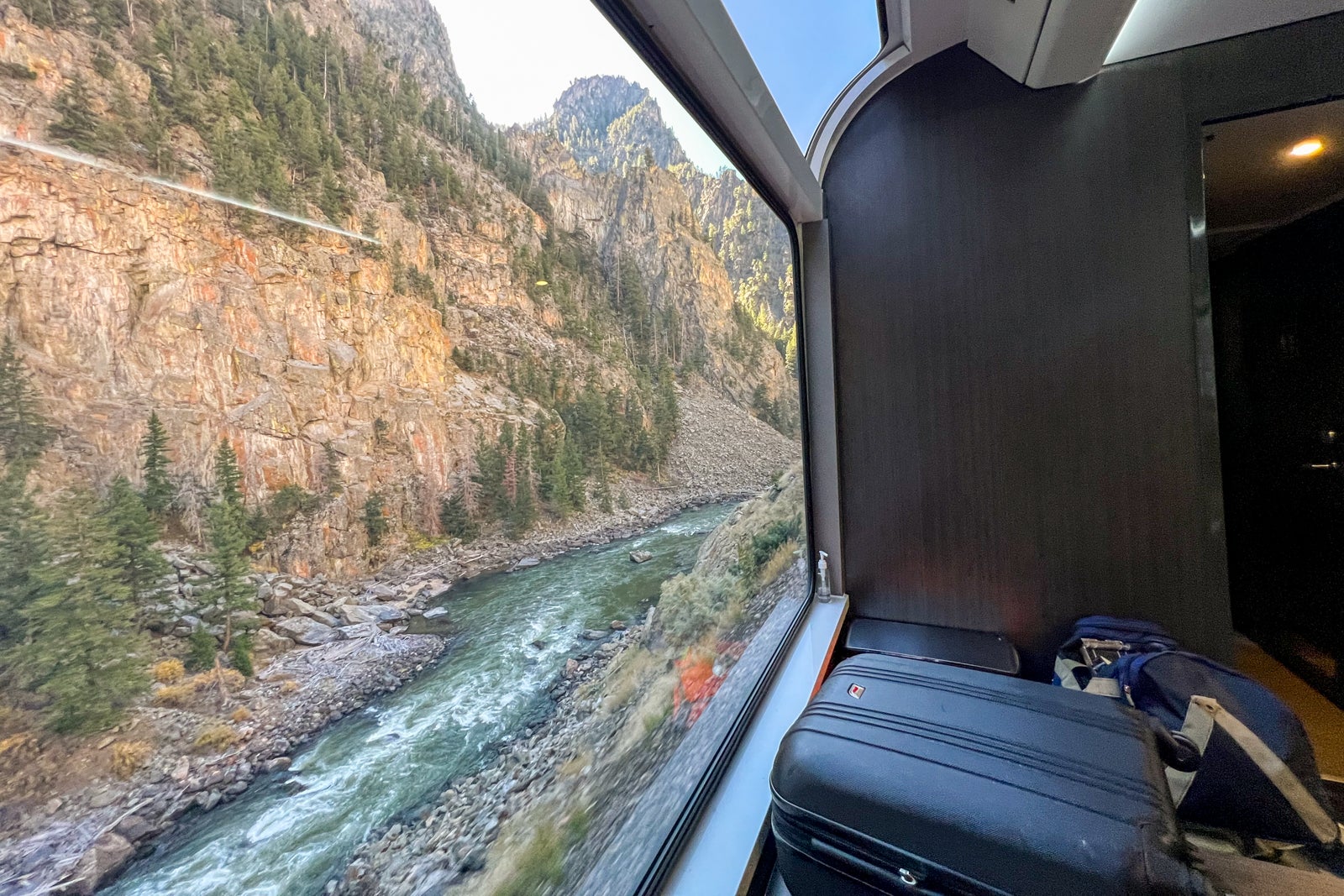 The scenery changed pretty dramatically every hour or two, so you certainly won't tire of what you see outside. I loved that the onboard hosts periodically told stories about the sights or the area's history as well.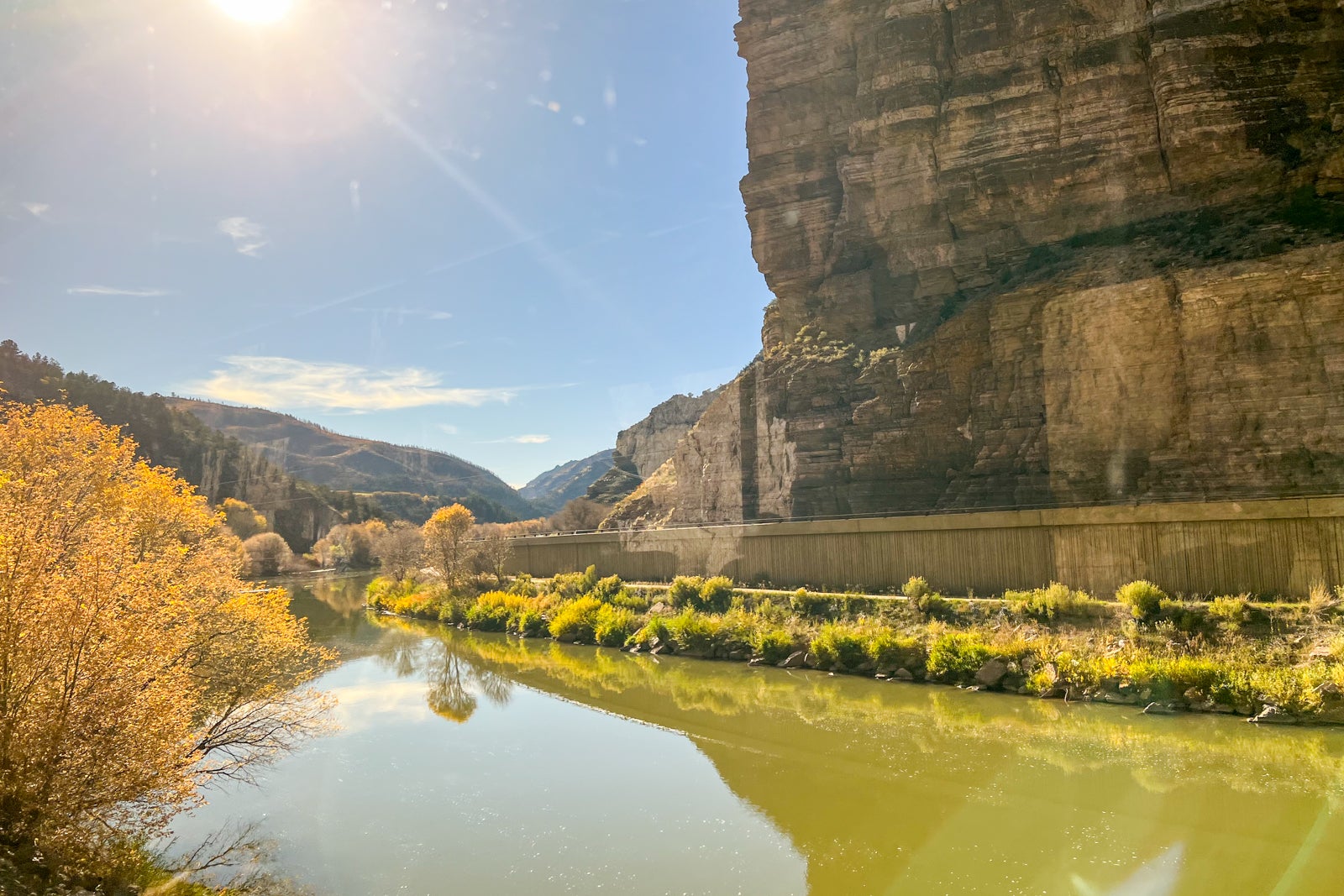 For example, one of my favorite stories was about a family that lives near the Moffitt Tunnel. They sometimes come outside to wave at the train when it passes, and Rocky Mountaineer staff took notice. So, after numerous journeys, the train stopped to give the family Rocky Mountaineer merchandise — and then arranged for them to ride the train from there to Moab and back, free of charge.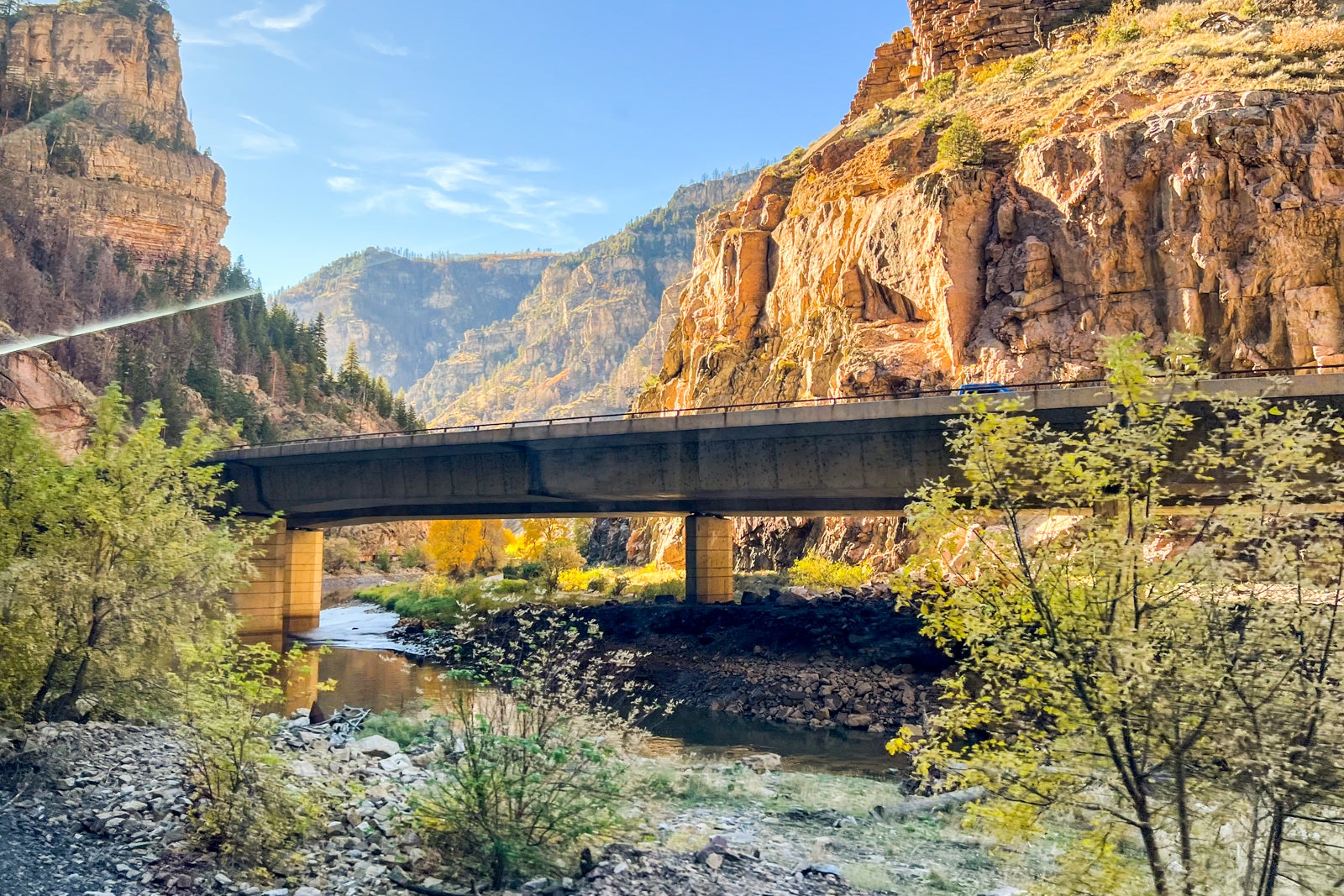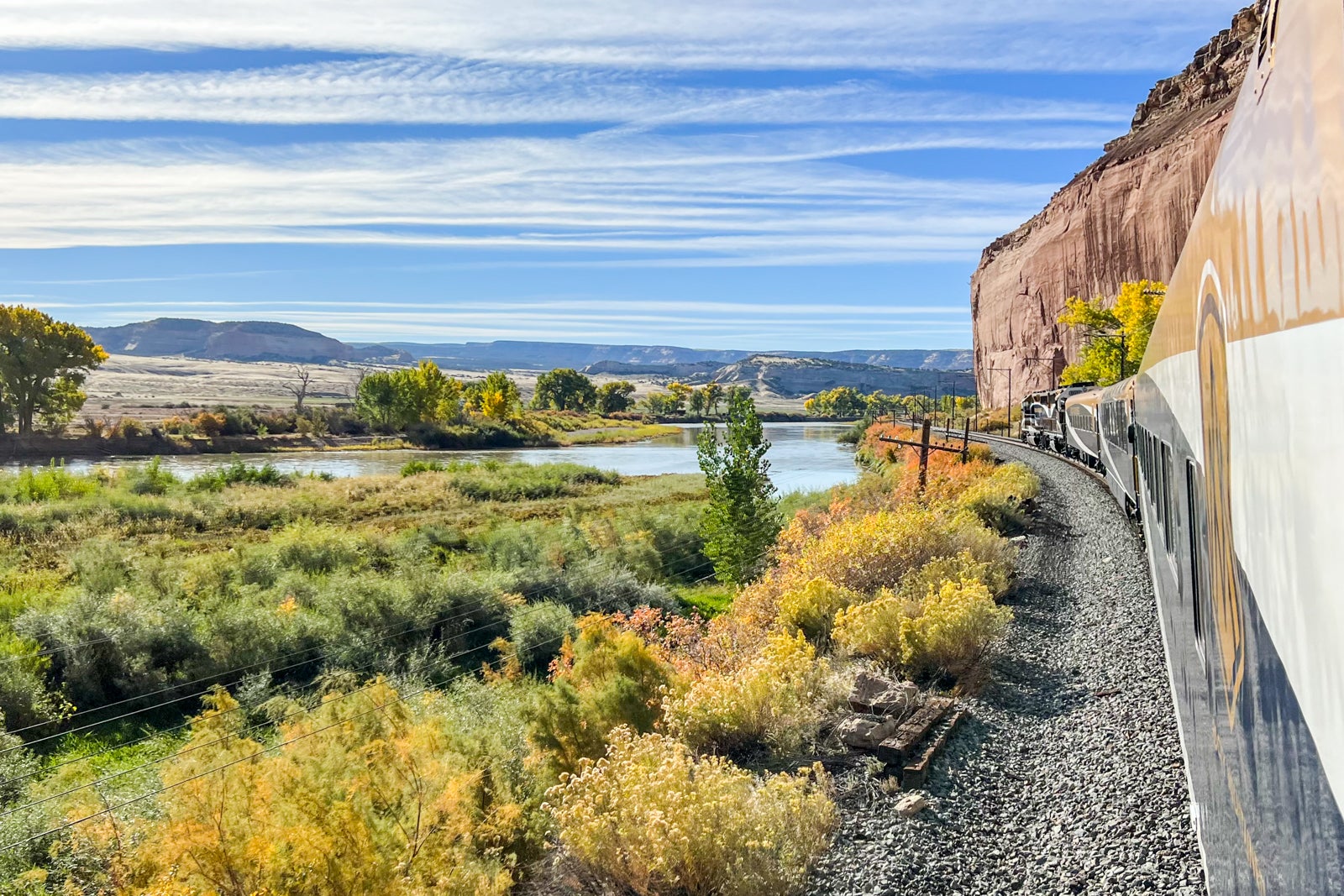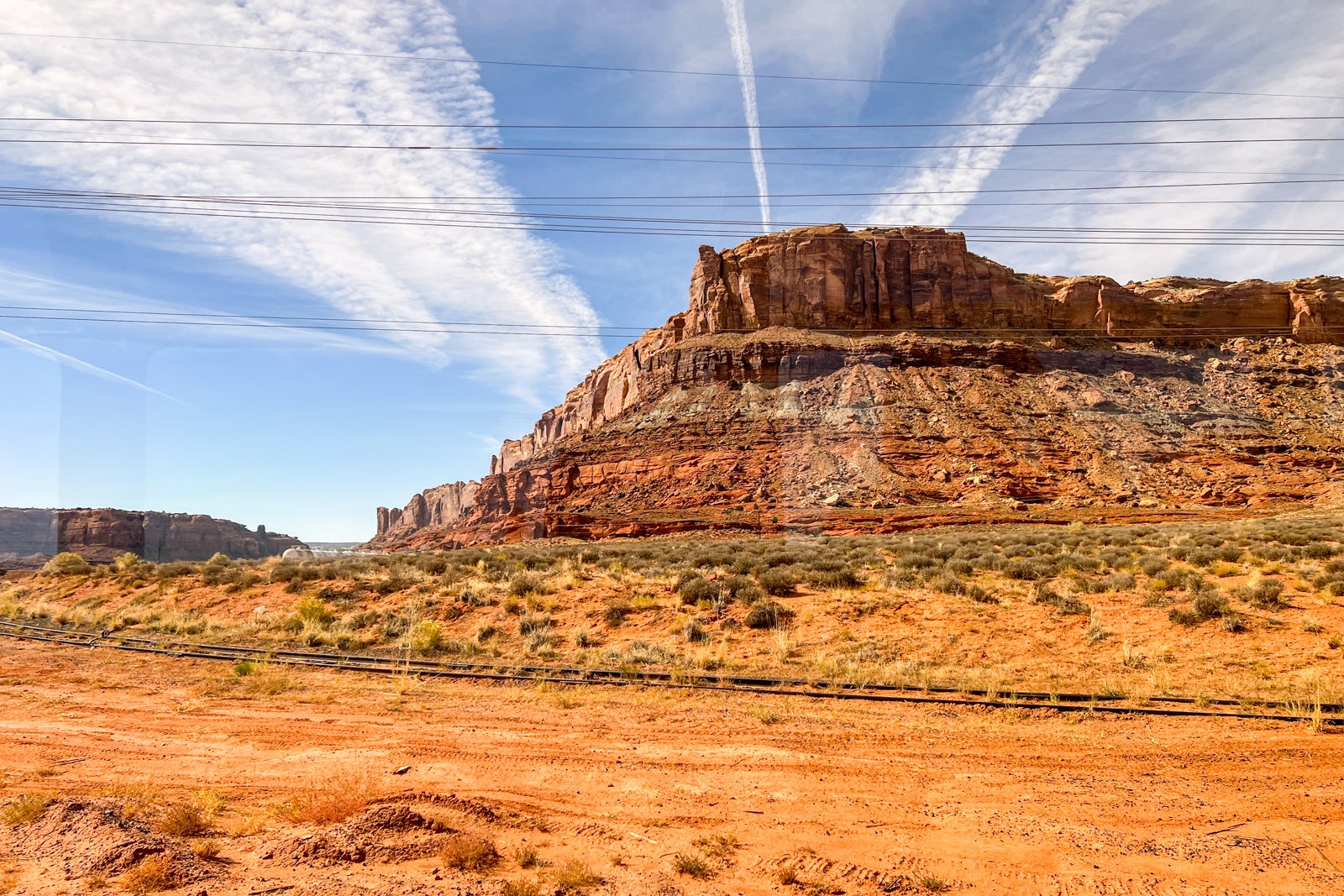 It was stories like these, coupled with the pointing out of easy-to-miss details, such as the Colorado-Utah state line that's indicated on a rock wall the train passes, that made the train ride that much more memorable.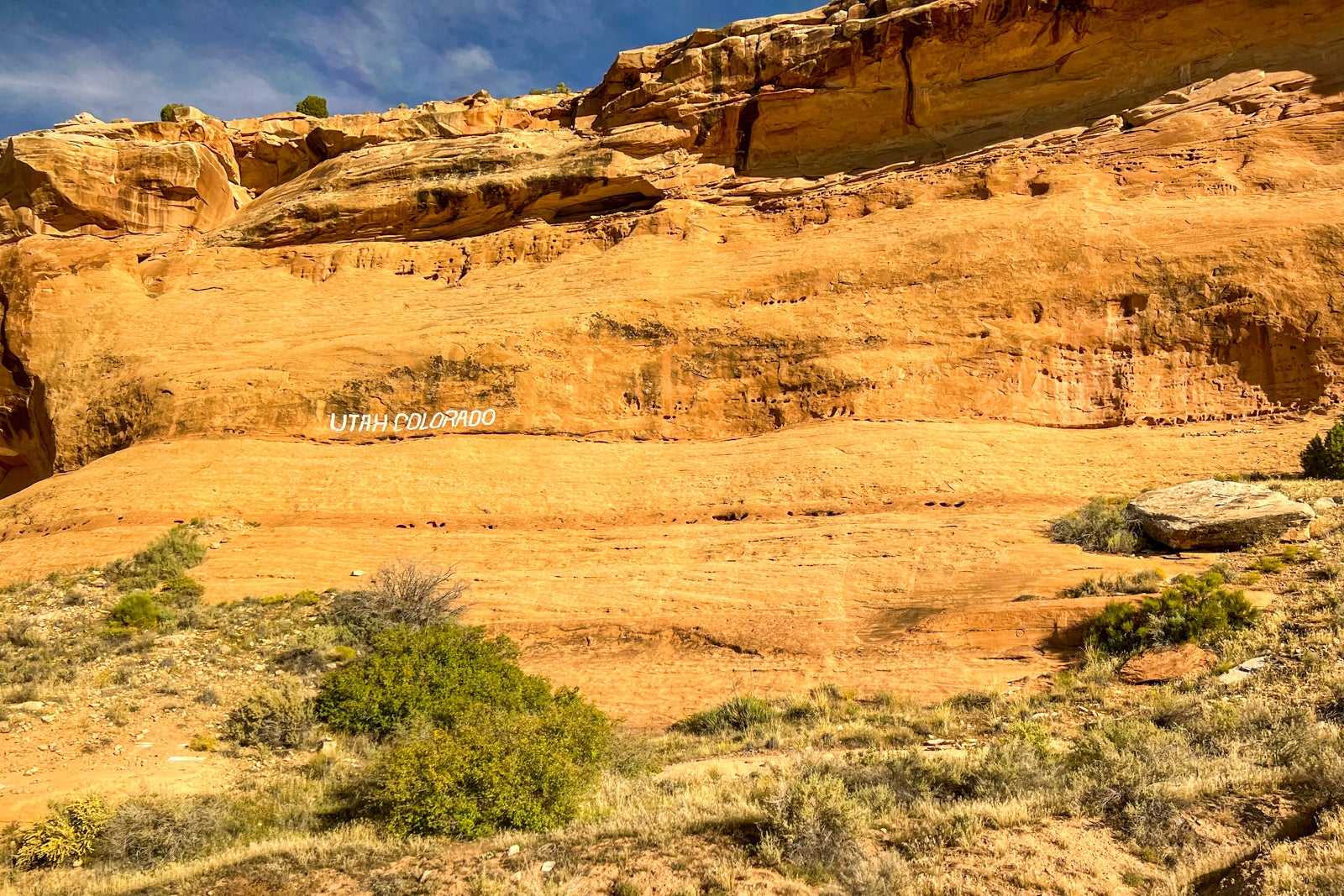 The whistle stops
The experience on board may be the main draw of this experience, but you'd be remiss if you didn't maximize your time at the stops along the way.
Denver
You may not technically depart from Denver's Union Station, but it is a grand place to begin your trip, as it's beautiful to look at and easy to reach from Denver International Airport (DEN).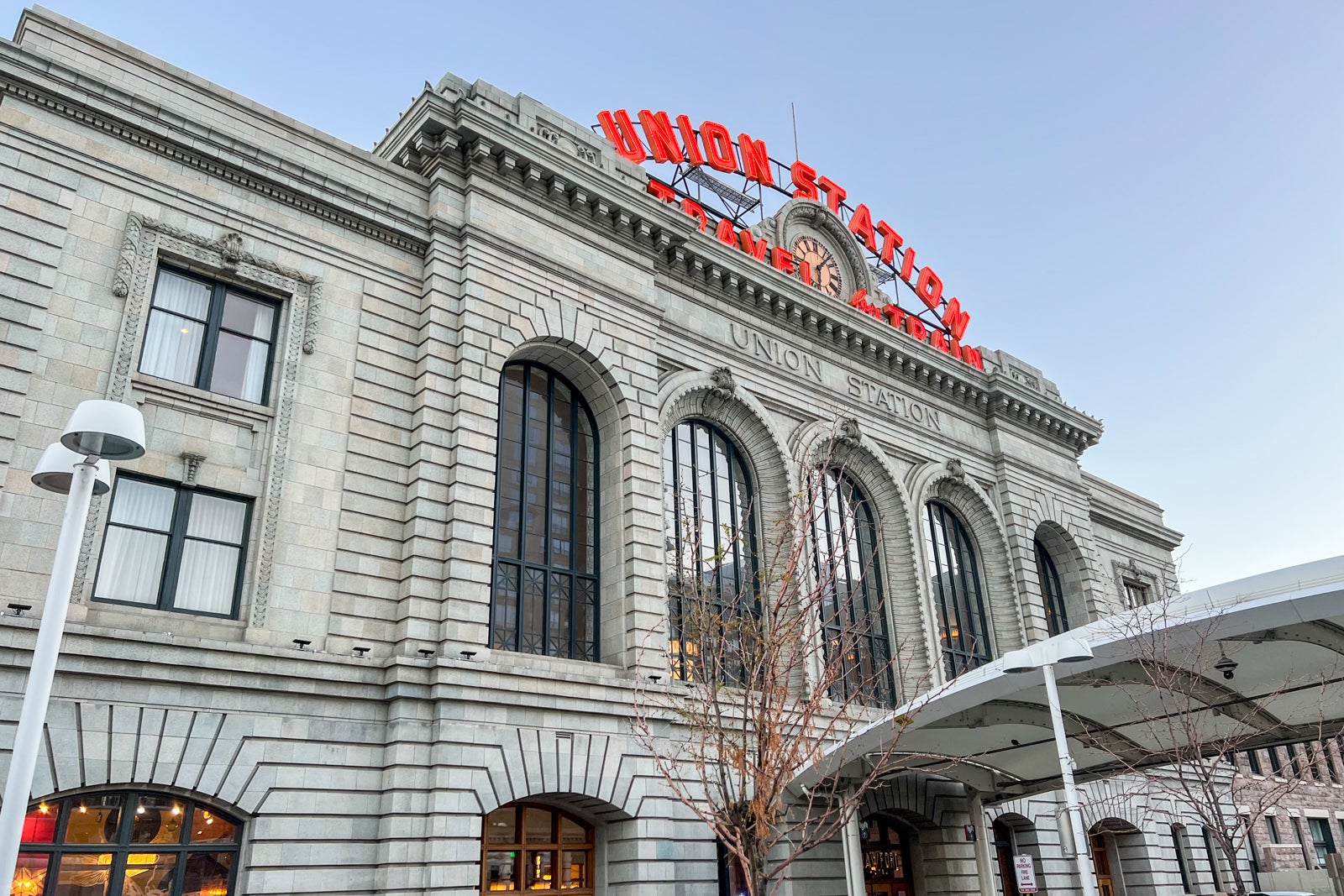 You'll find a number of hotels in this part of town. We stayed at The Rally Hotel, which has a baseball theme inspired by nearby Coors Field, a top Denver landmark you can see from the rooftop.
The Rally Hotel was a terrific place to bed down, as it was walkable to Union Station and many downtown Denver bars and restaurants. We loved the theming, too.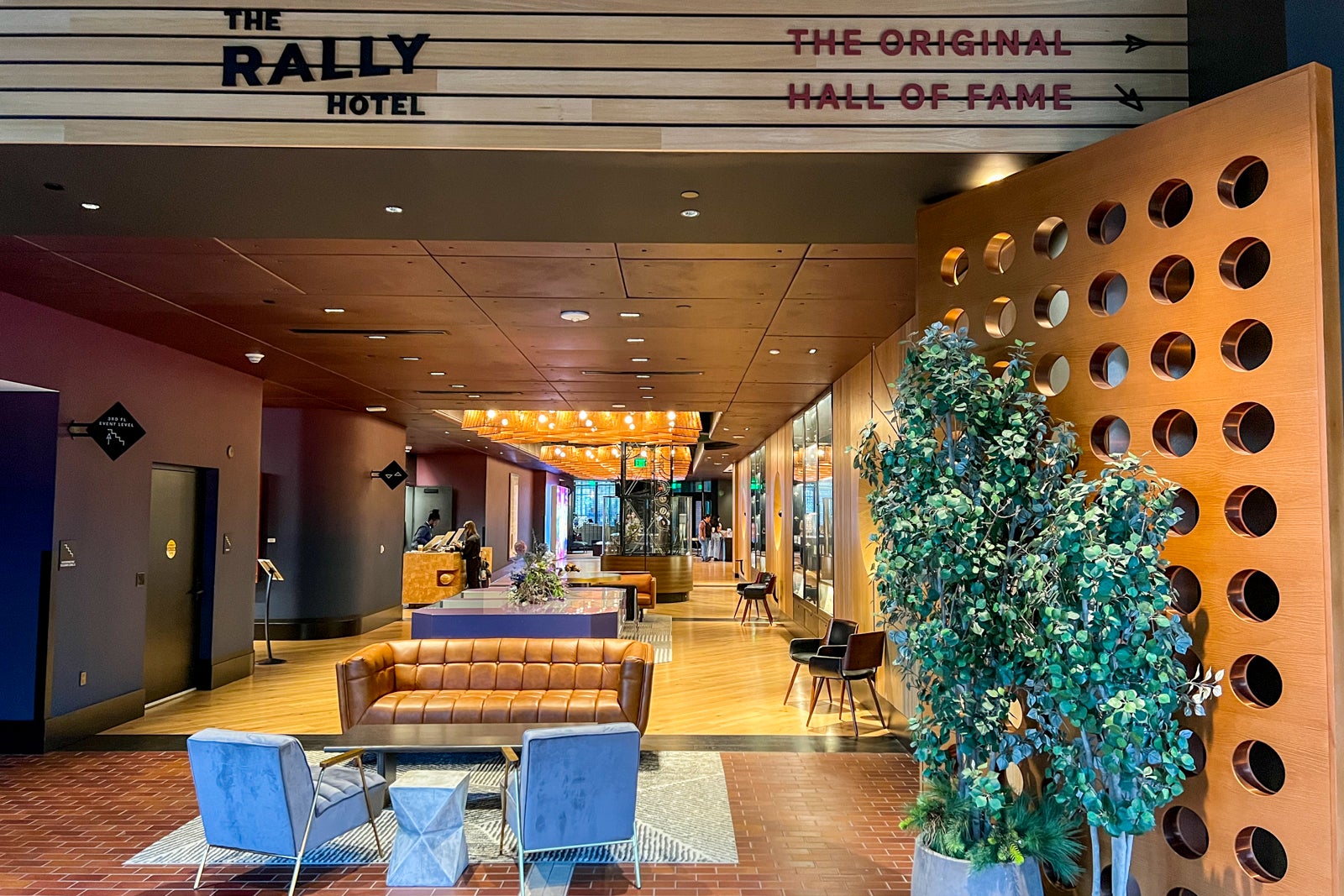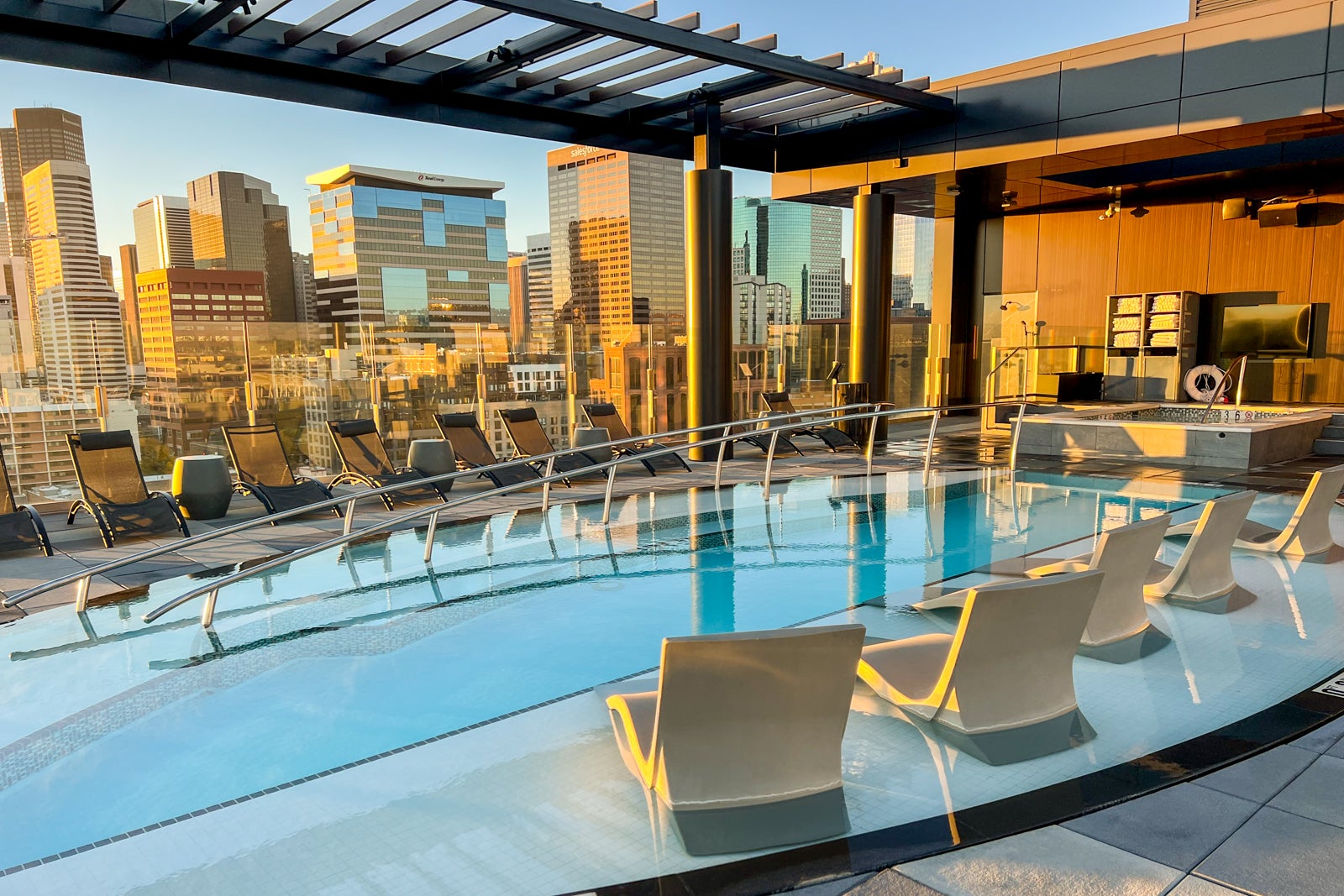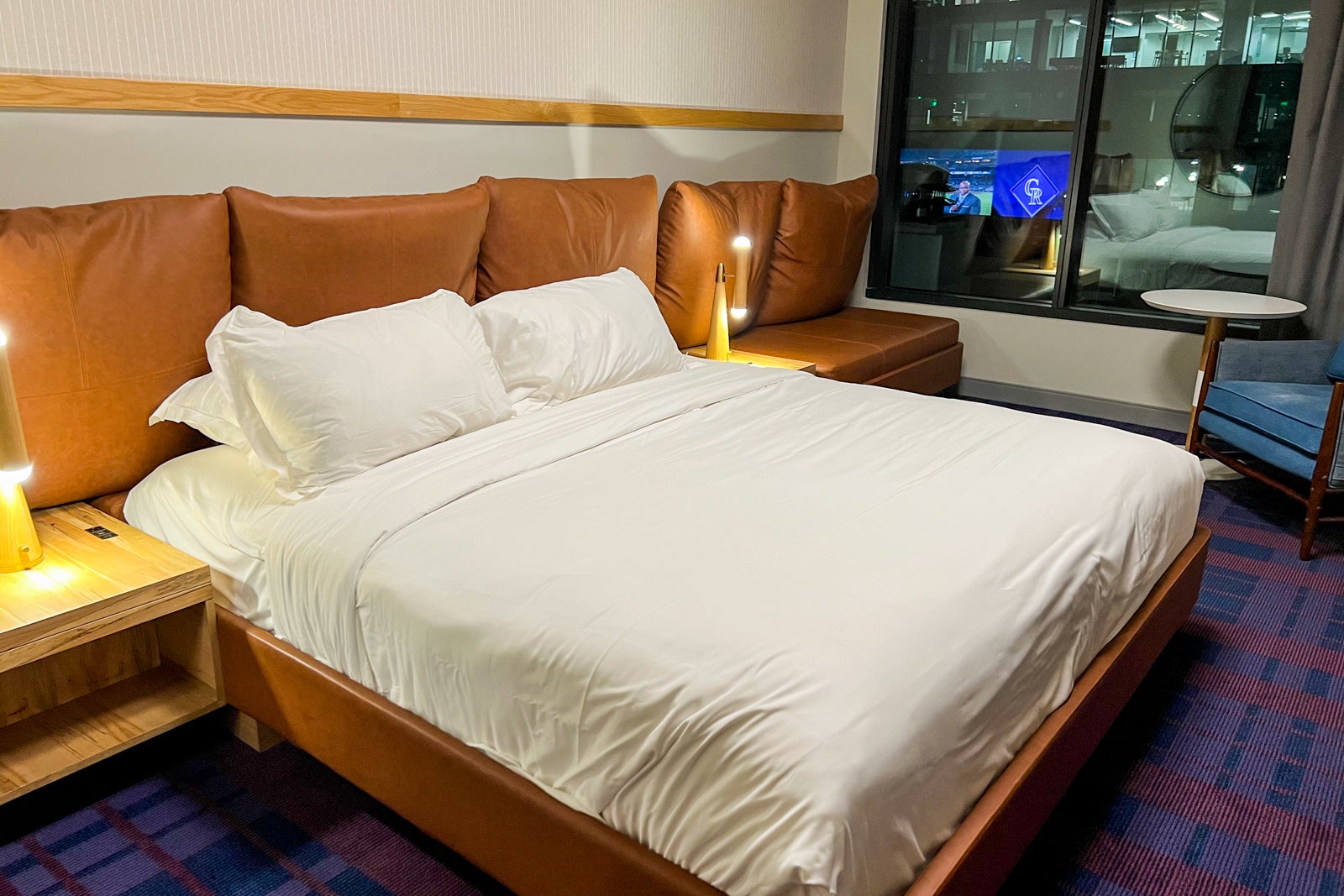 However, you don't have to book your own accommodations. Rocky Mountaineer's upgraded packages include a stay at a downtown hotel such as The Crawford Hotel, an option conveniently located inside Union Station.
Glenwood Springs
Even if you only book the train trip, you will still spend a night in a hotel in Glenwood Springs, as the train does not travel at night and lacks sleeper cars. The same is true for other Rocky Mountaineer routes in Canada.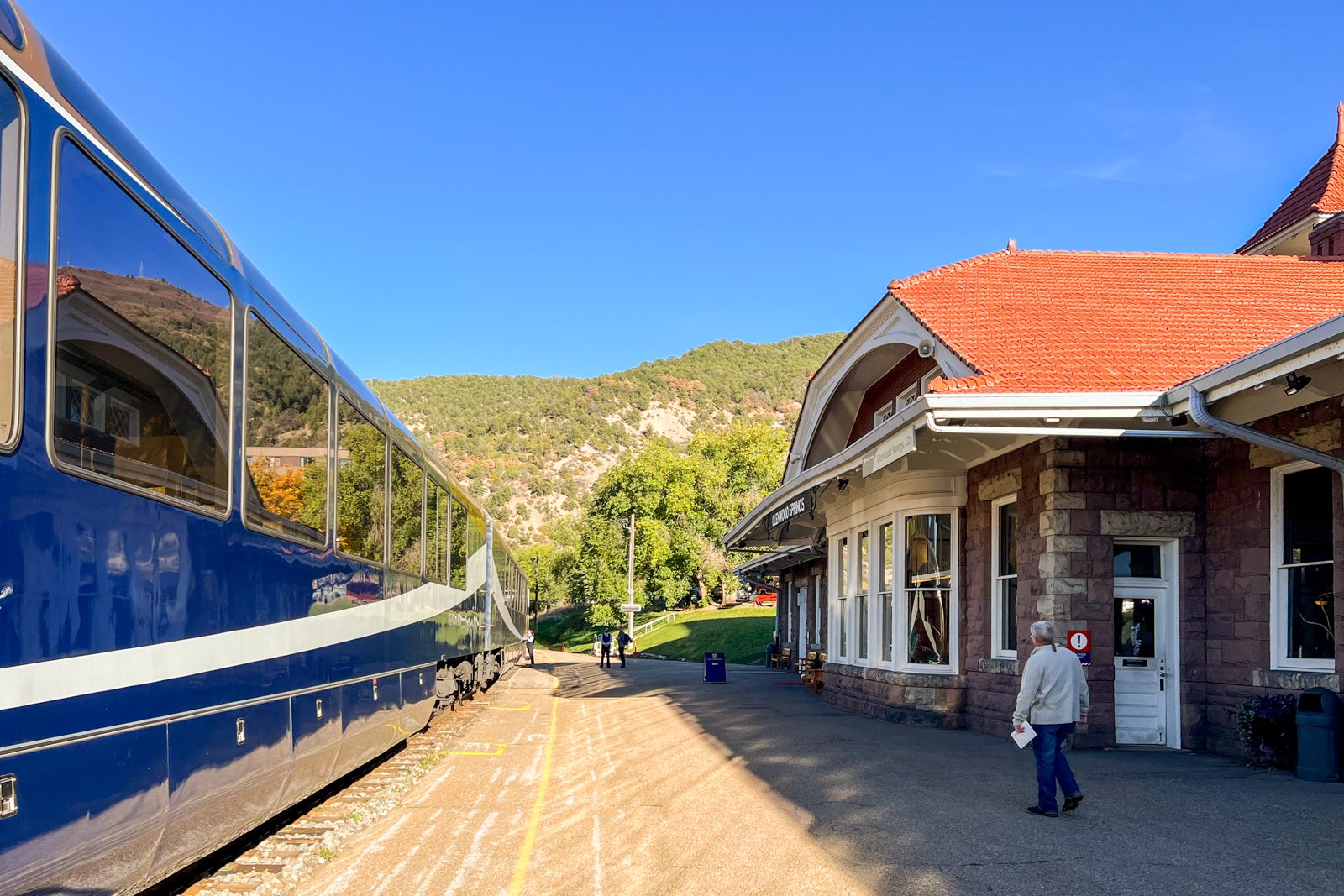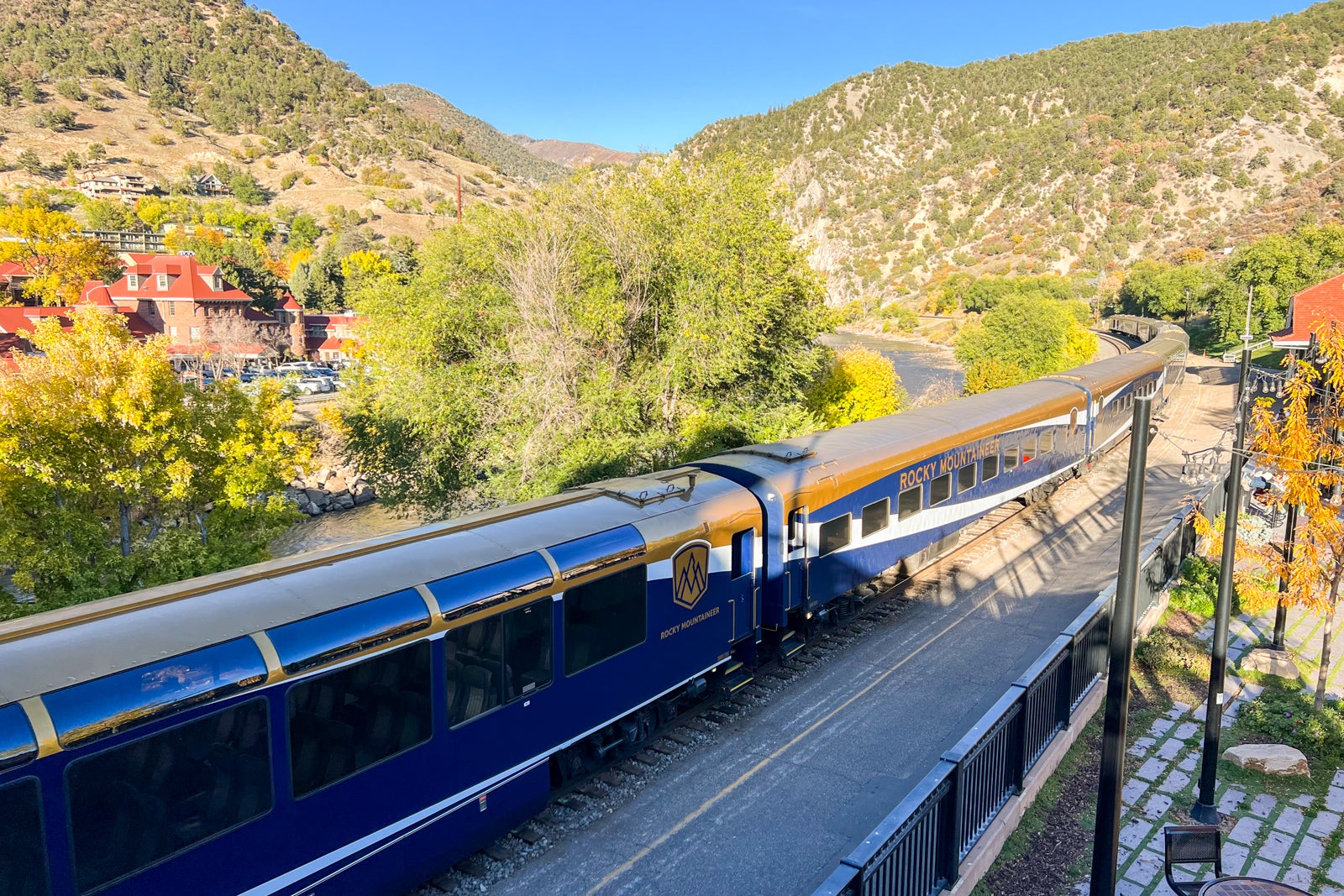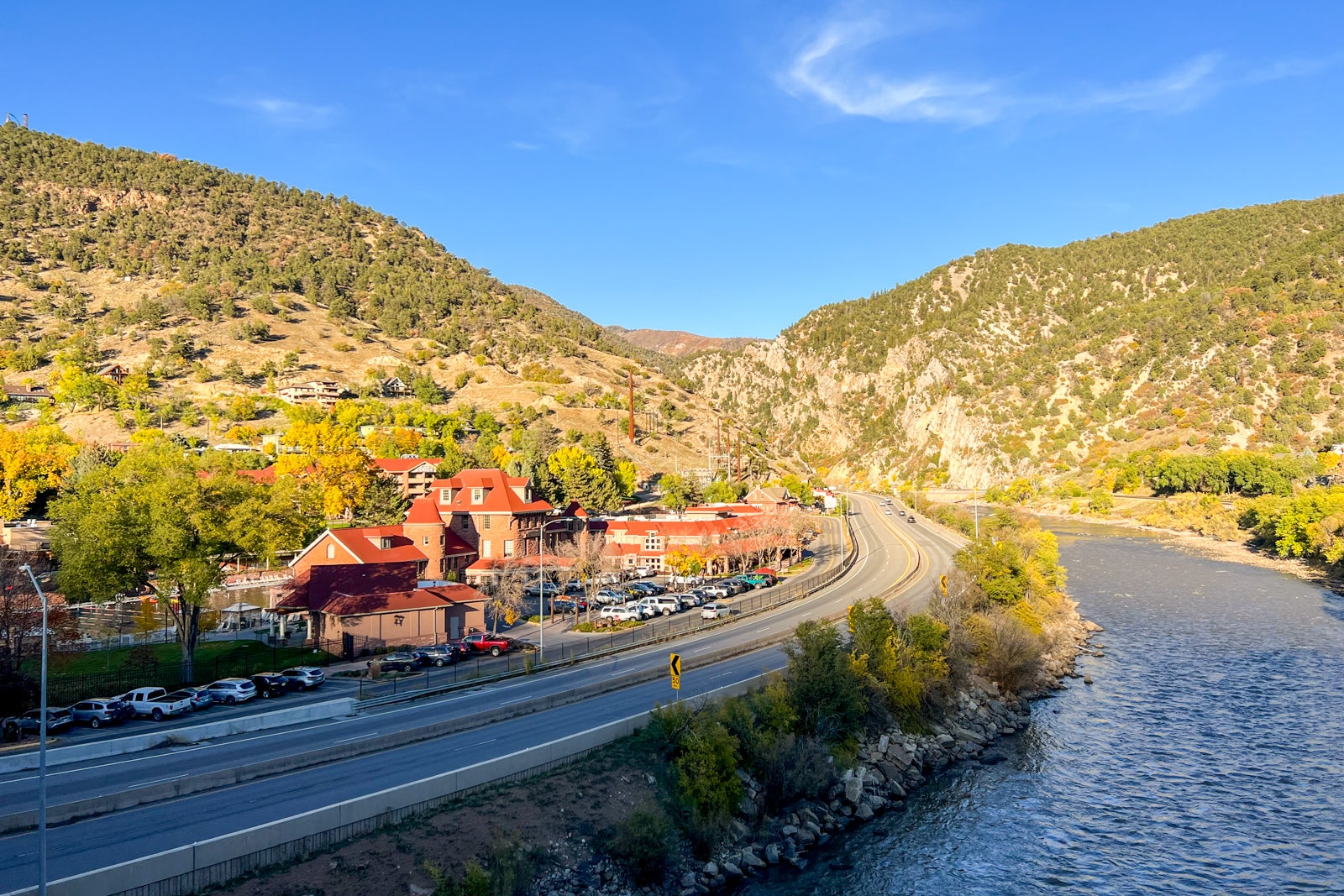 We arrived at the Glenwood Springs station around 4:40 p.m., leaving us several hours to get out and explore the town. Complimentary coaches were available to transfer passengers to the hotels Rocky Mountaineer had booked for the overnight visit, though the properties were only a 10- to 12-minute walk away. Whether you walk or take the bus, your luggage will be waiting for you when you get to your room.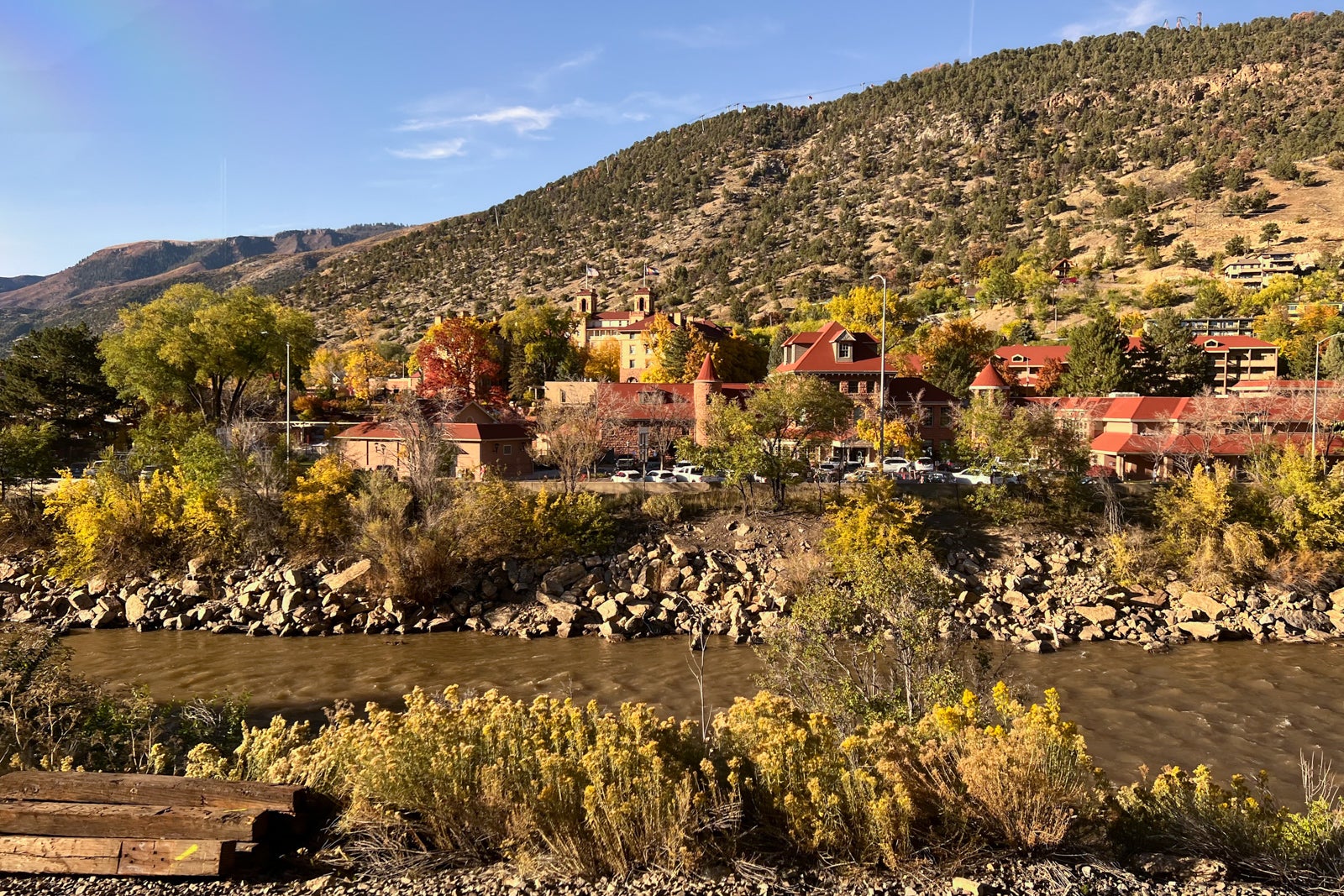 The next morning you leave your luggage in your room and it appears at your final destination. This terrified me a bit, so I put an AirTag in to keep an eye on it, but it all worked out fine, and my suitcase followed me along for the remainder of the journey.
If you find yourself itching to stretch your legs and see the area, you can easily get a solid overview of Glenwood Springs thanks to its compact (and walkable) downtown. One must-do you won't want to miss is checking out the town's namesake hot springs, which are said to be the world's largest mineral hot springs pools.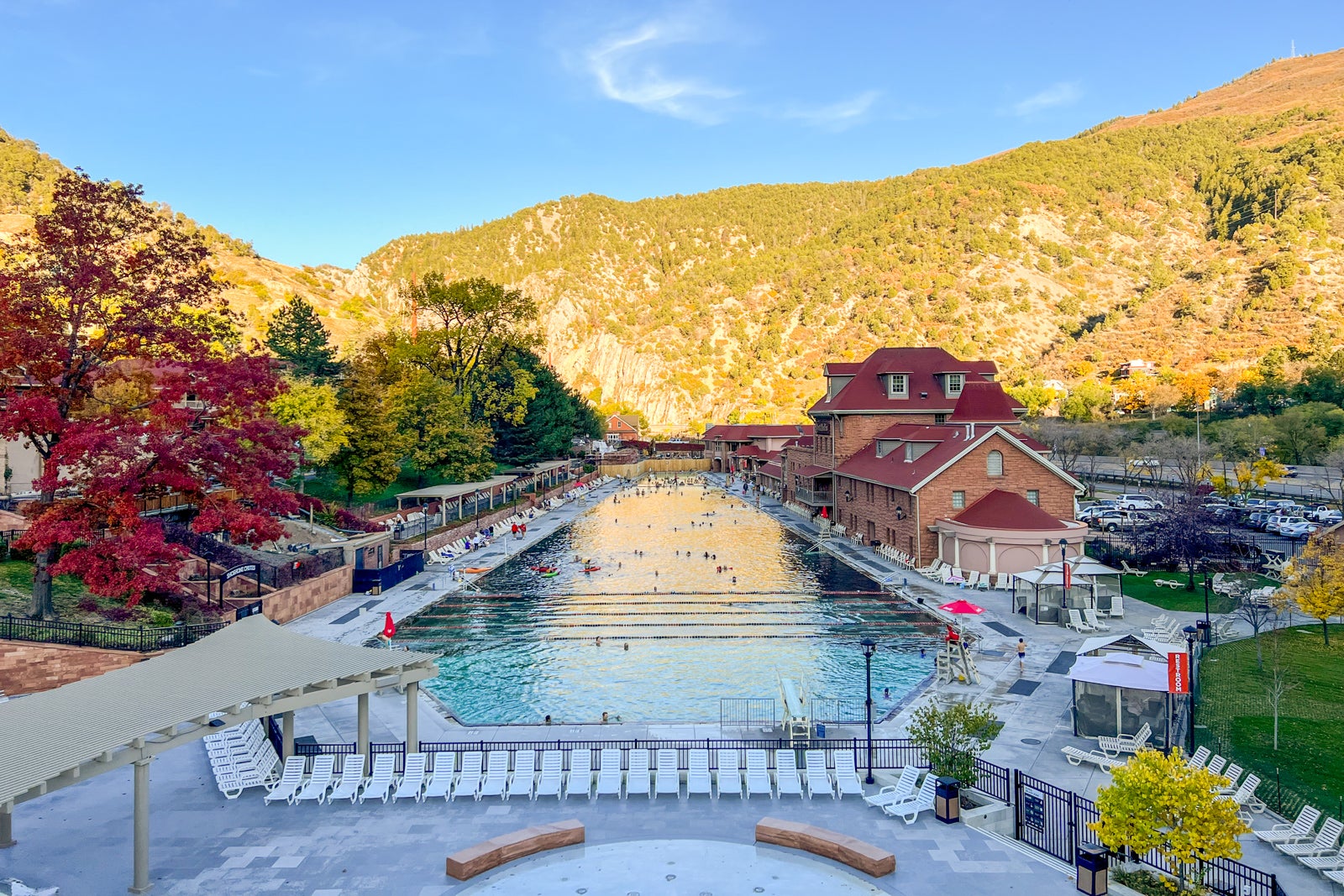 Open until 9 p.m., the hot springs were shockingly busy on the random Wednesday night we visited, so don't expect to have the pools to yourself, even if you go late. An added bonus is that you'll receive a wristband at your assigned hotel to get complimentary access, so you don't need to worry about shelling out more to visit.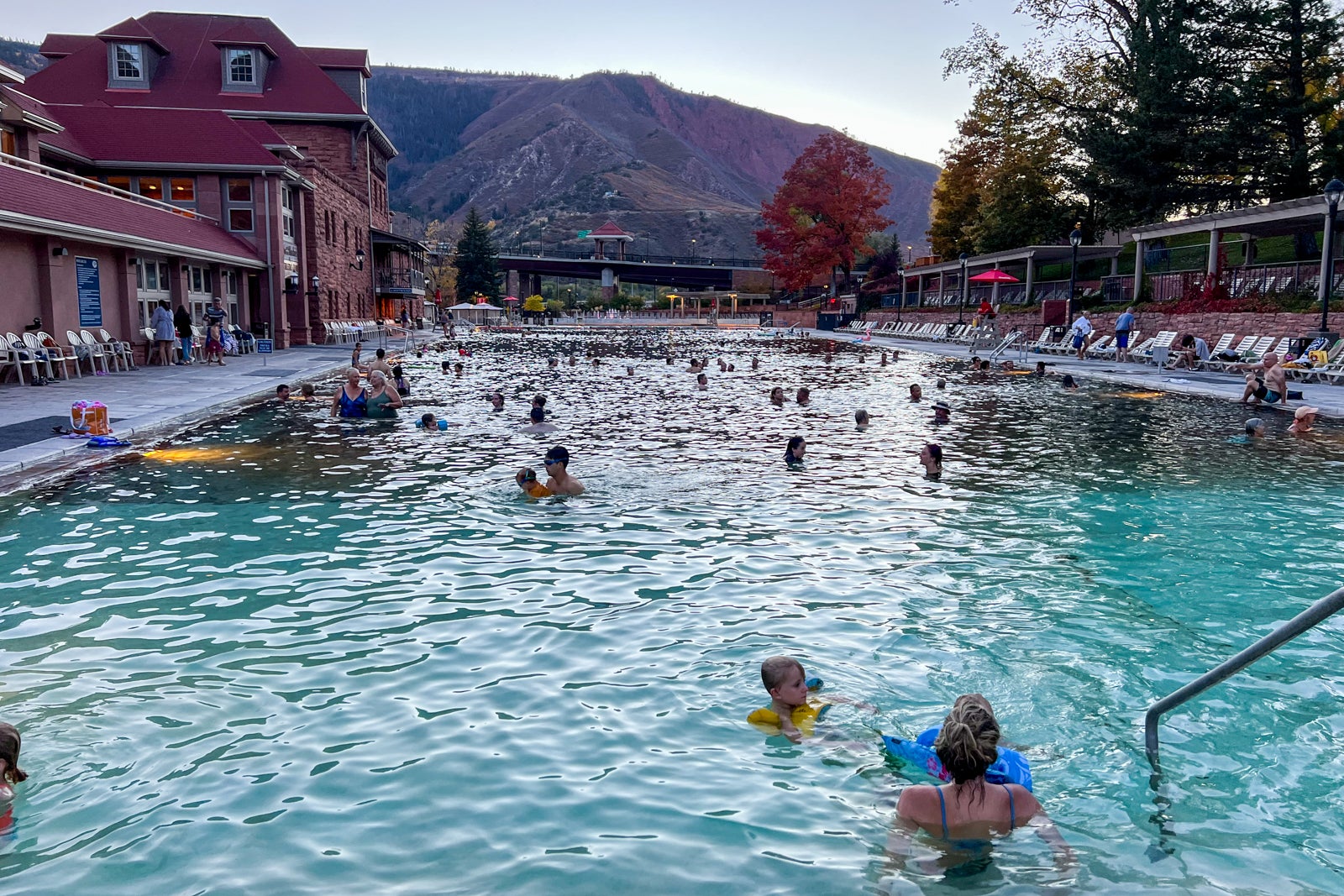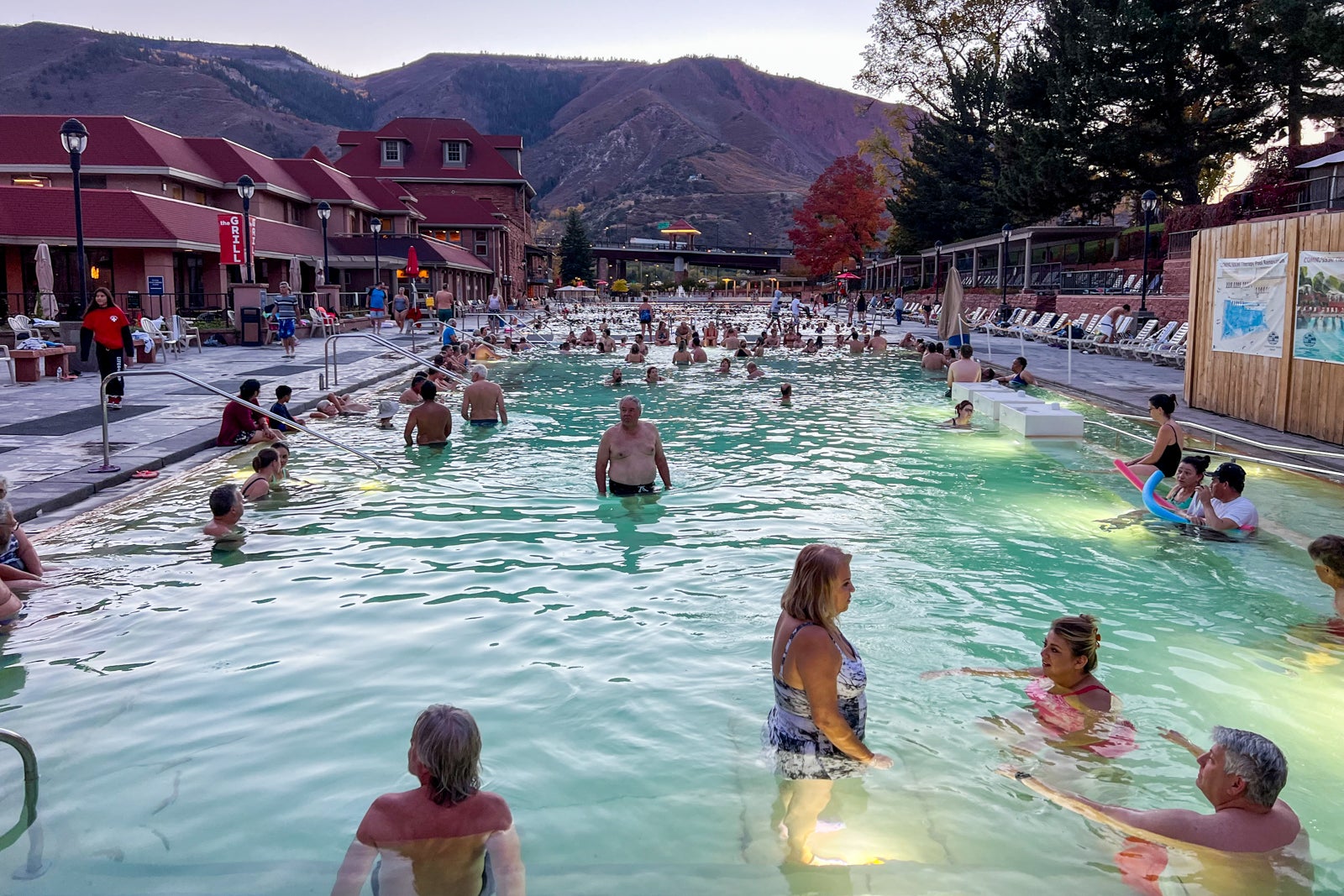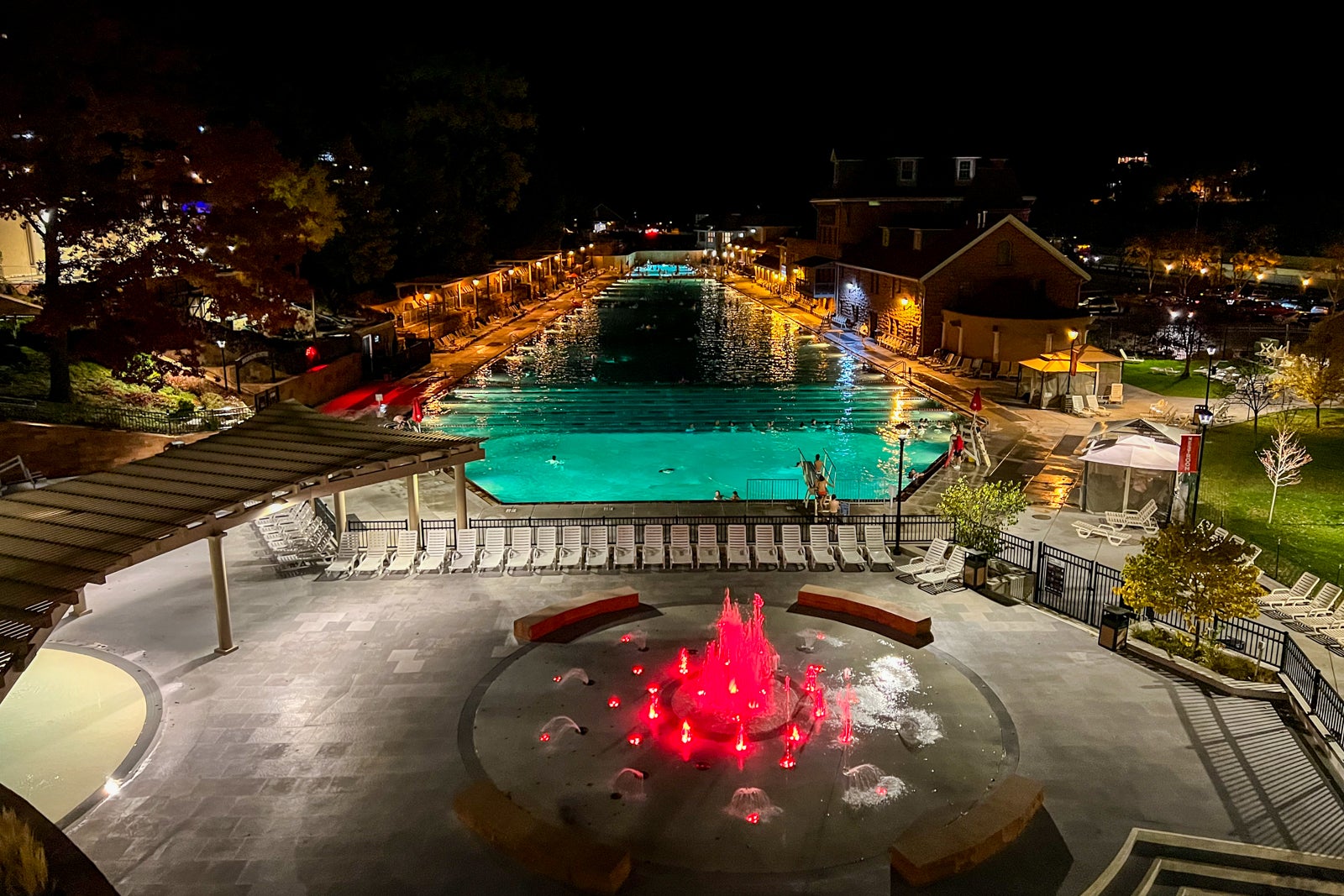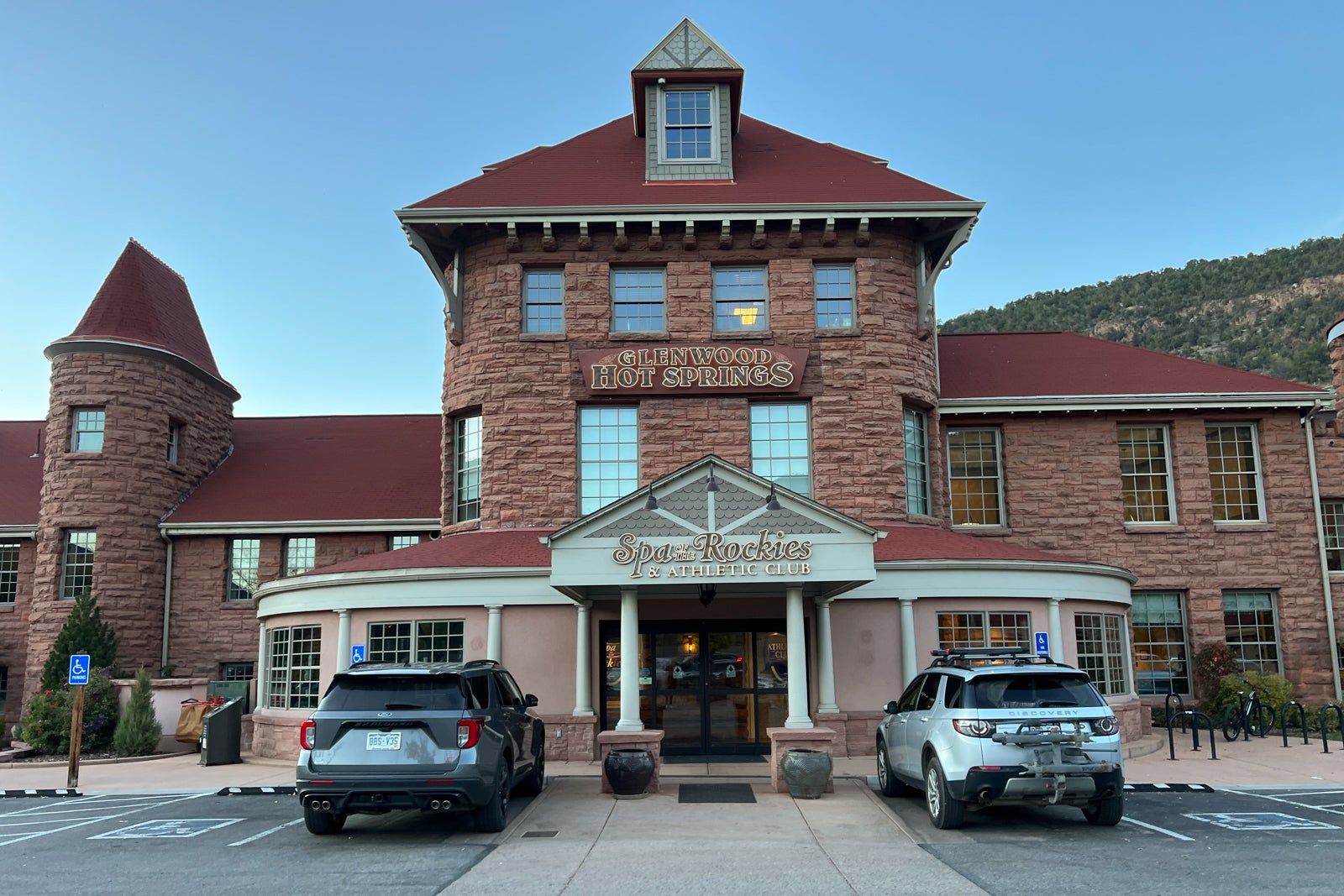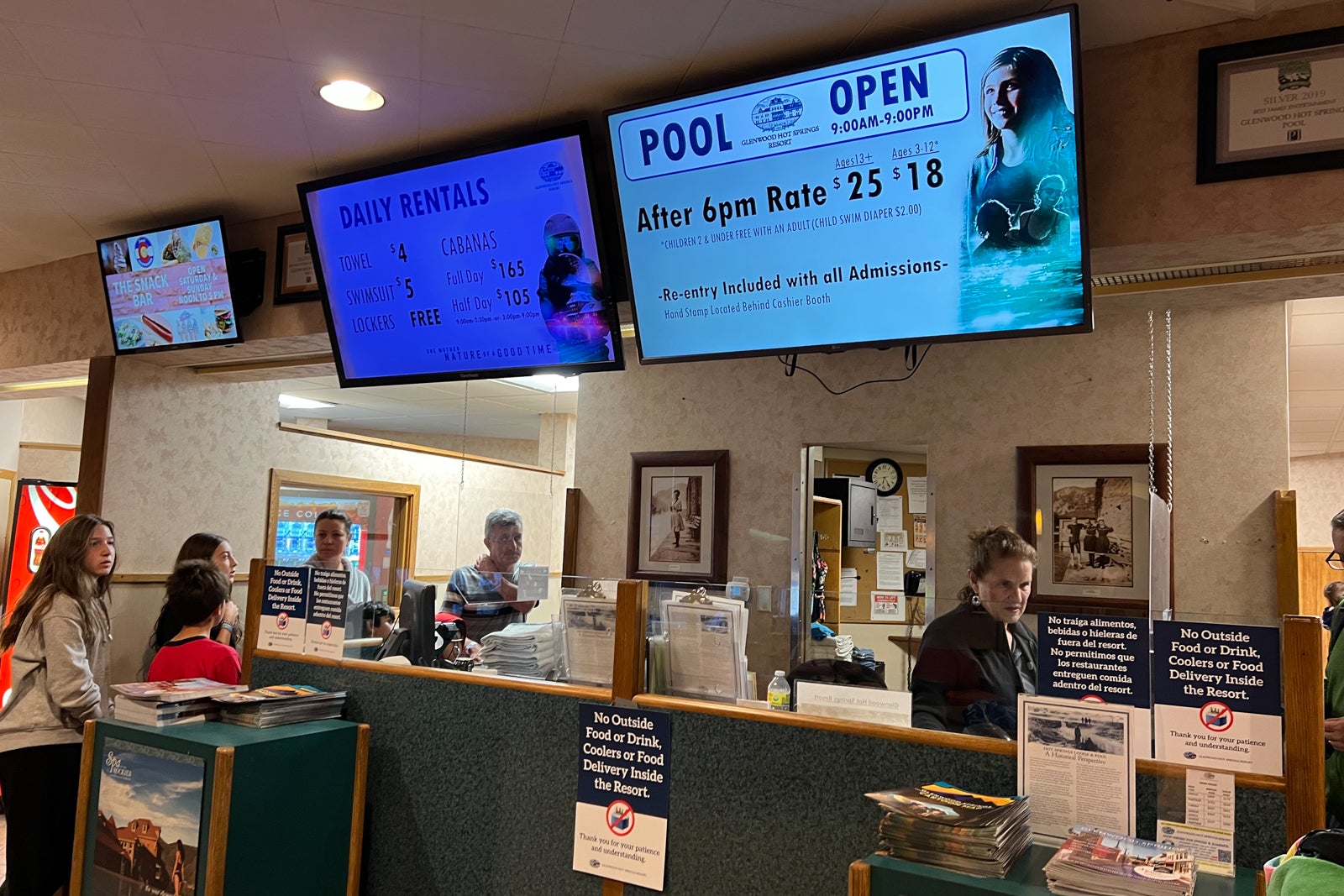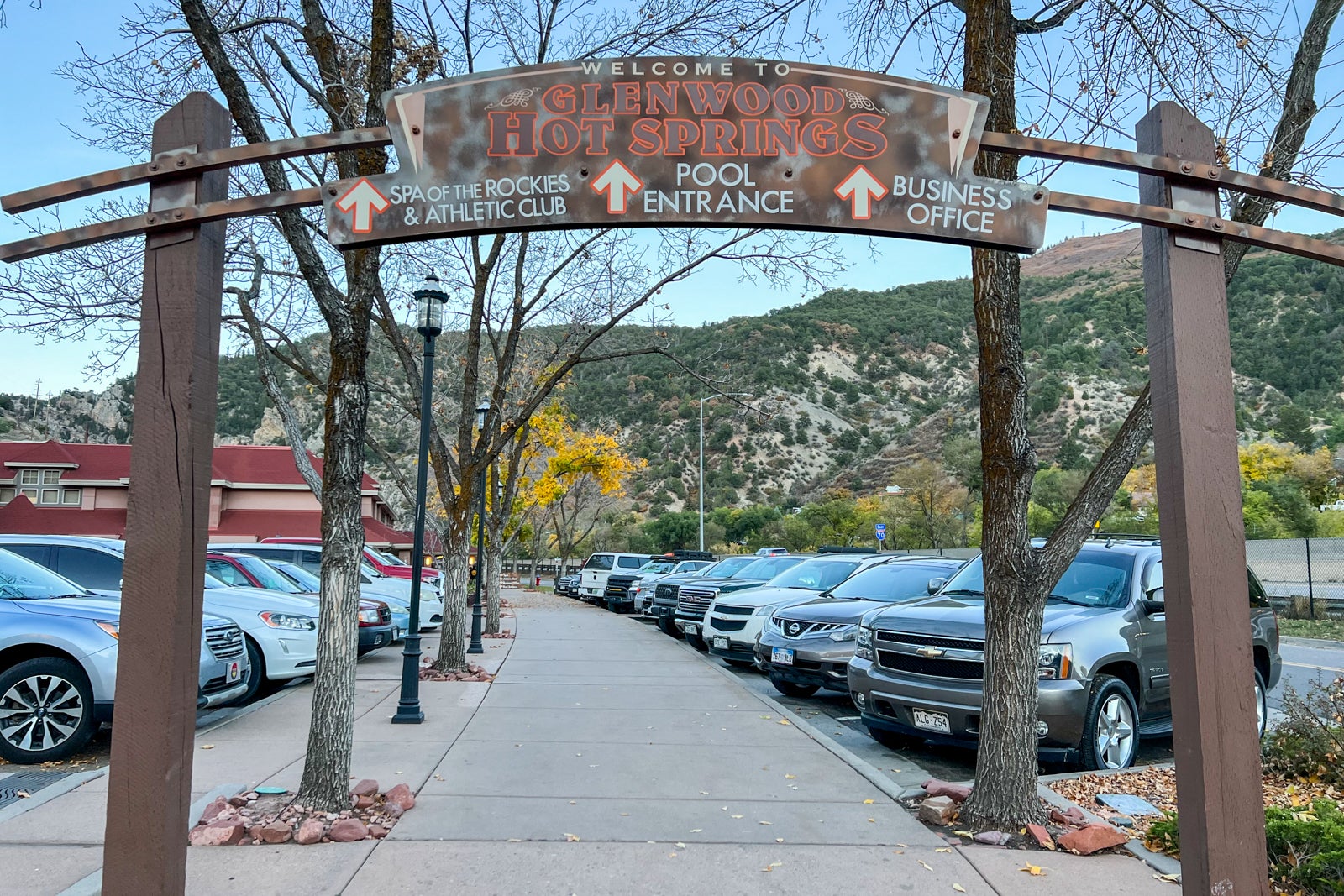 After our soak in the hot springs, we grabbed dinner nearby. Much to our surprise, most places we considered had a wait, so try to snag a reservation before you arrive to avoid any delays. We eventually settled on an Italian restaurant, Brava Modern Trattoria, before retreating to our hotel for the night.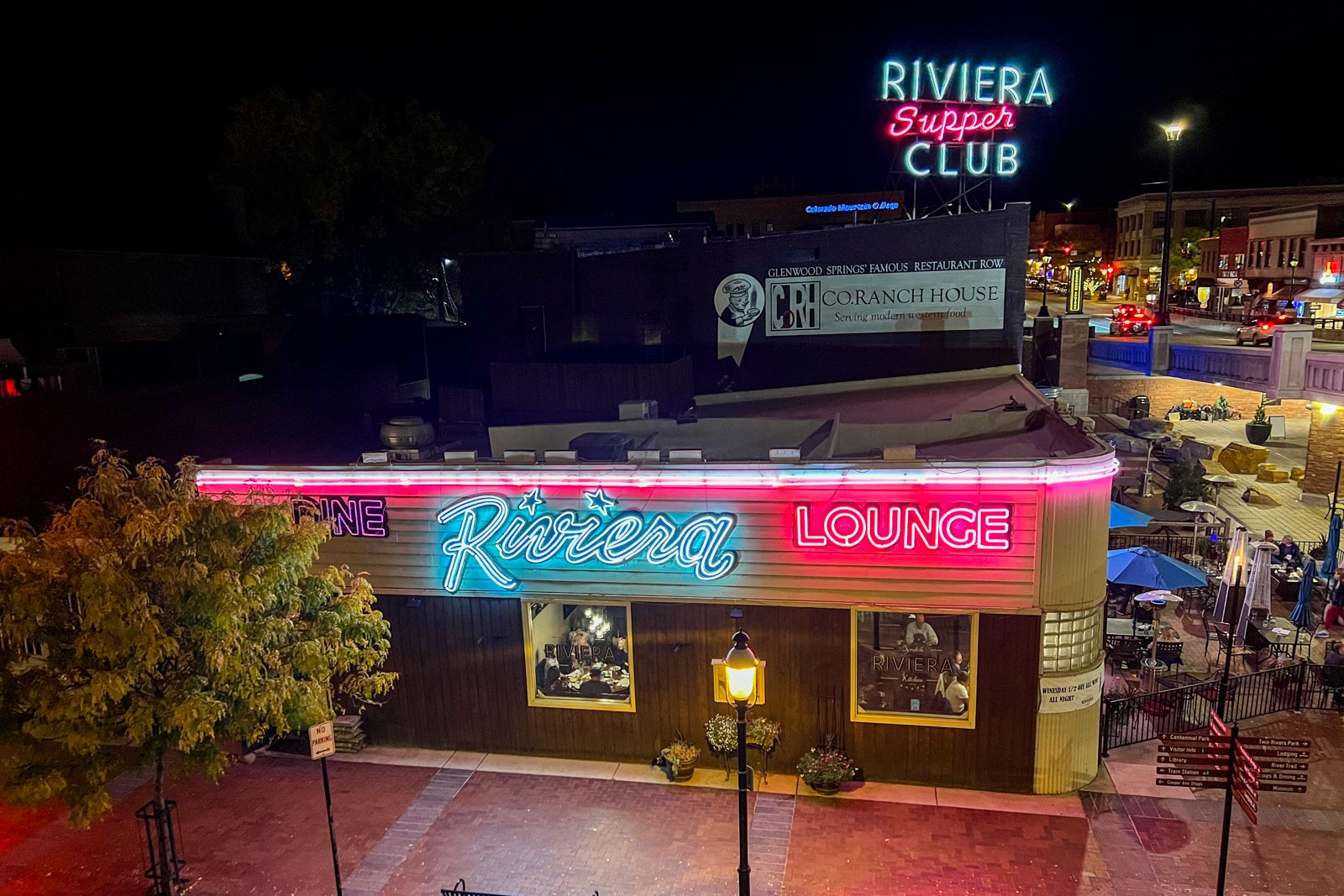 Of the three hotels in Glenwood Springs that Rocky Mountaineer books for guests — Hotel Colorado, The Hotel Denver and Glenwood Hot Springs Lodge — we were assigned the lodge, which sounded exciting but was dated. The lodge's rooms were dark and tired, with decor that would have been lovely for my grandparents about three decades ago.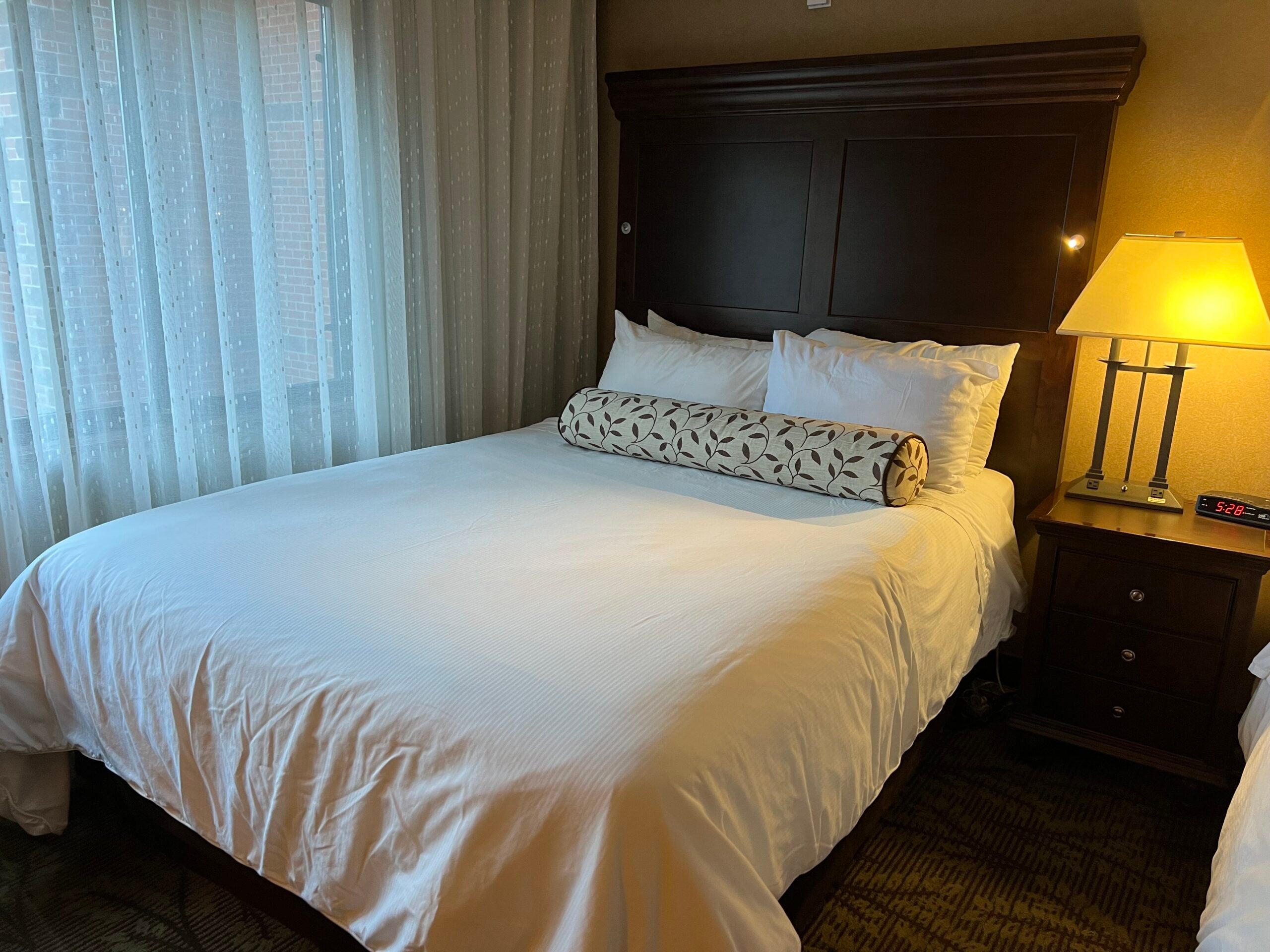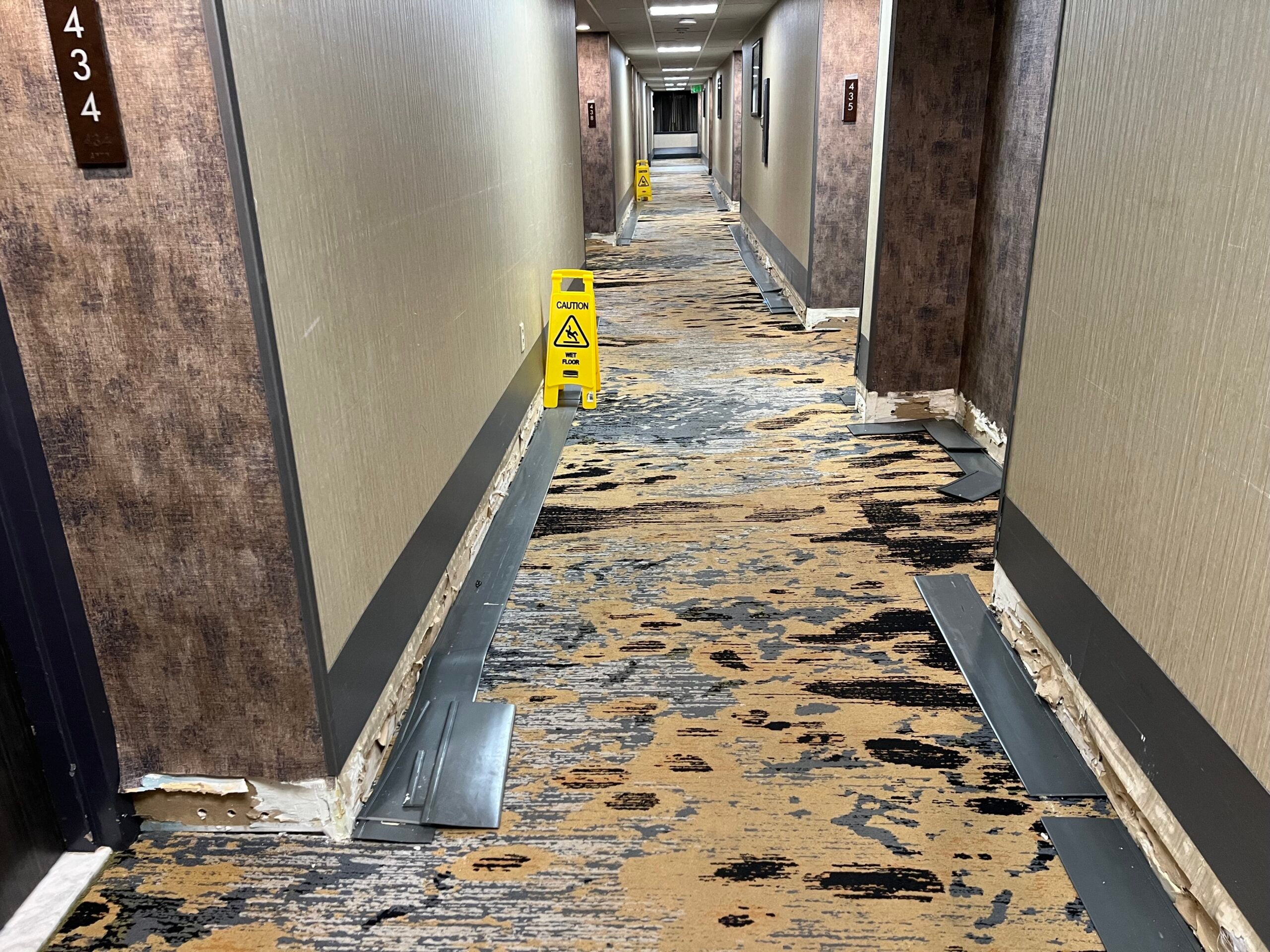 Nevertheless, it was an OK place to spend a night. Had we had a later departure time (we needed to be on the train by 6:45 a.m.) and more time to linger at the hotel, I might have been more disappointed by the choice of lodging.
Moab
Unlike Denver and Glenwood Springs, when you arrive in Moab around 12:30 or 1 p.m., you are not at a centrally located train station. Because of this, Rocky Mountaineer will shuttle you into town.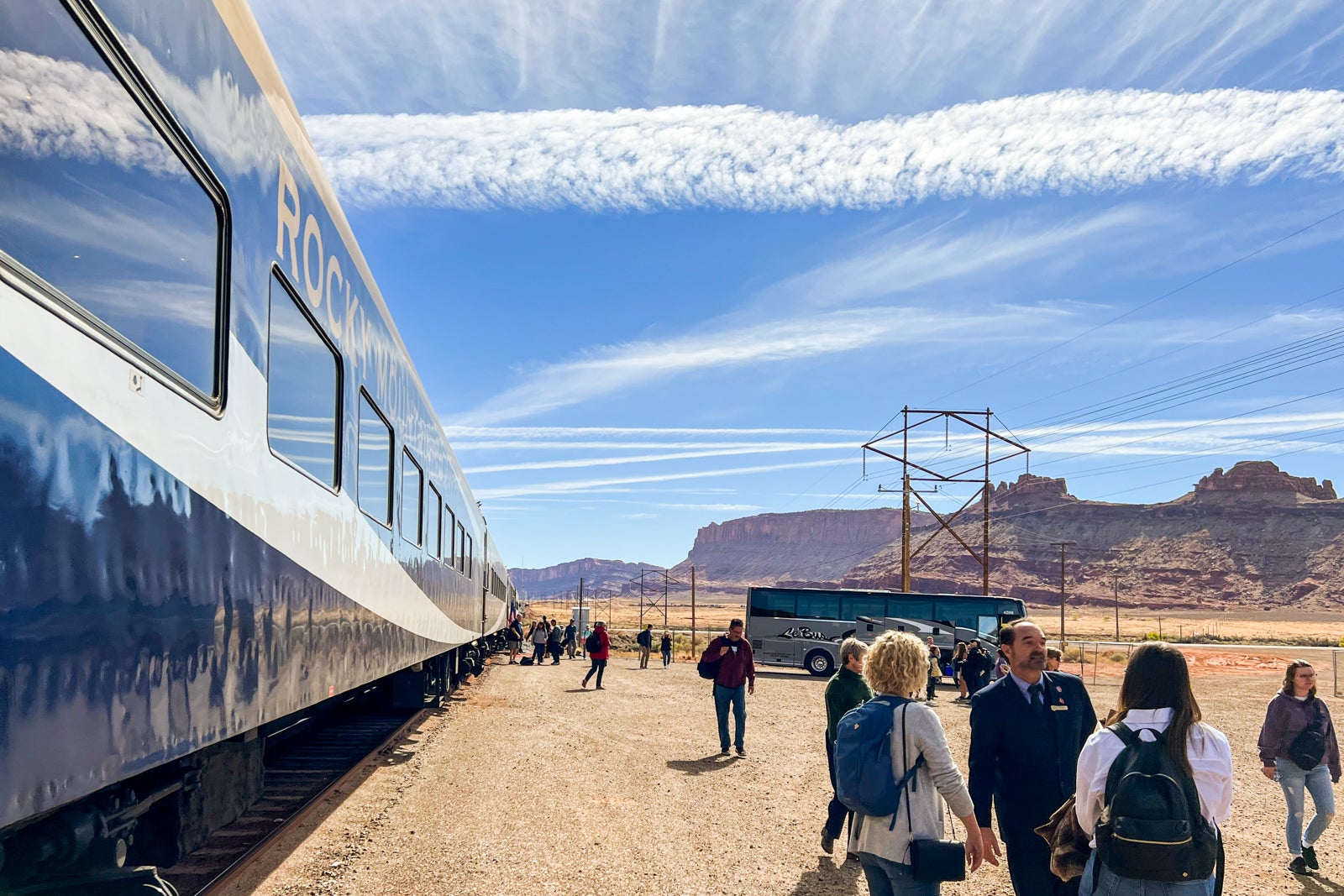 Moab is known for its outdoor activities, so whether you decide to explore on your own or sign up for an official tour, you'll want to carve out time for exploring the area's natural attractions. Dead Horse Point State Park, Canyonlands National Park and Arches National Park are all a short drive from town.
You can easily see these parks during scenic drives, but odds are you're visiting Moab to get your hands (and clothes) dirty. The area is a renowned destination for everything from hiking and mountain biking to rock climbing and off-roading.
Should you want help planning your adventures in Moab, consider a tour outfitter like Utah Luxury Tours. This company provided bus tours of the area for our group and can also craft custom itineraries if you don't want to worry about the logistics once you arrive.
Related: Explore Utah's national parks with TPG's guide to the 'Mighty Five'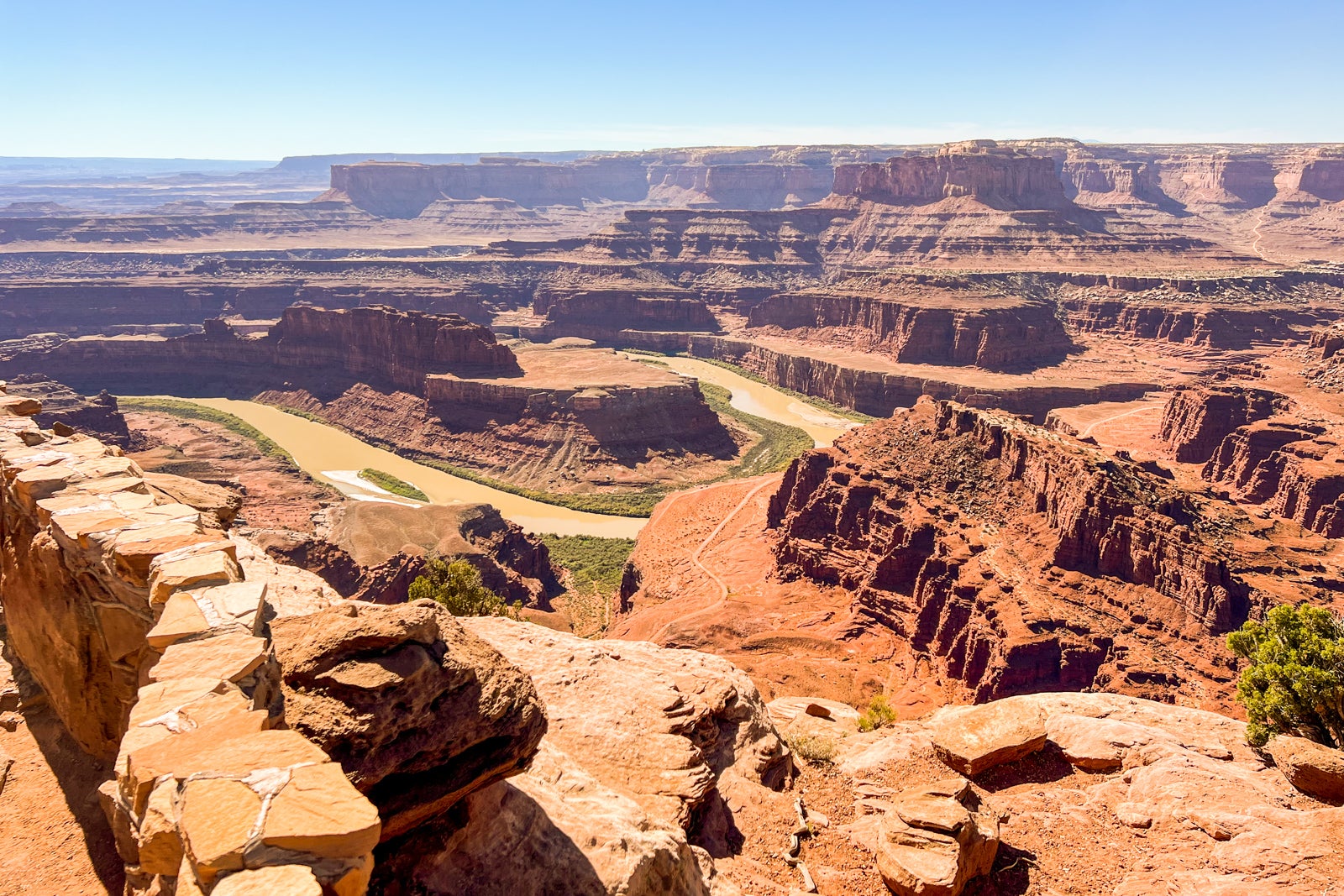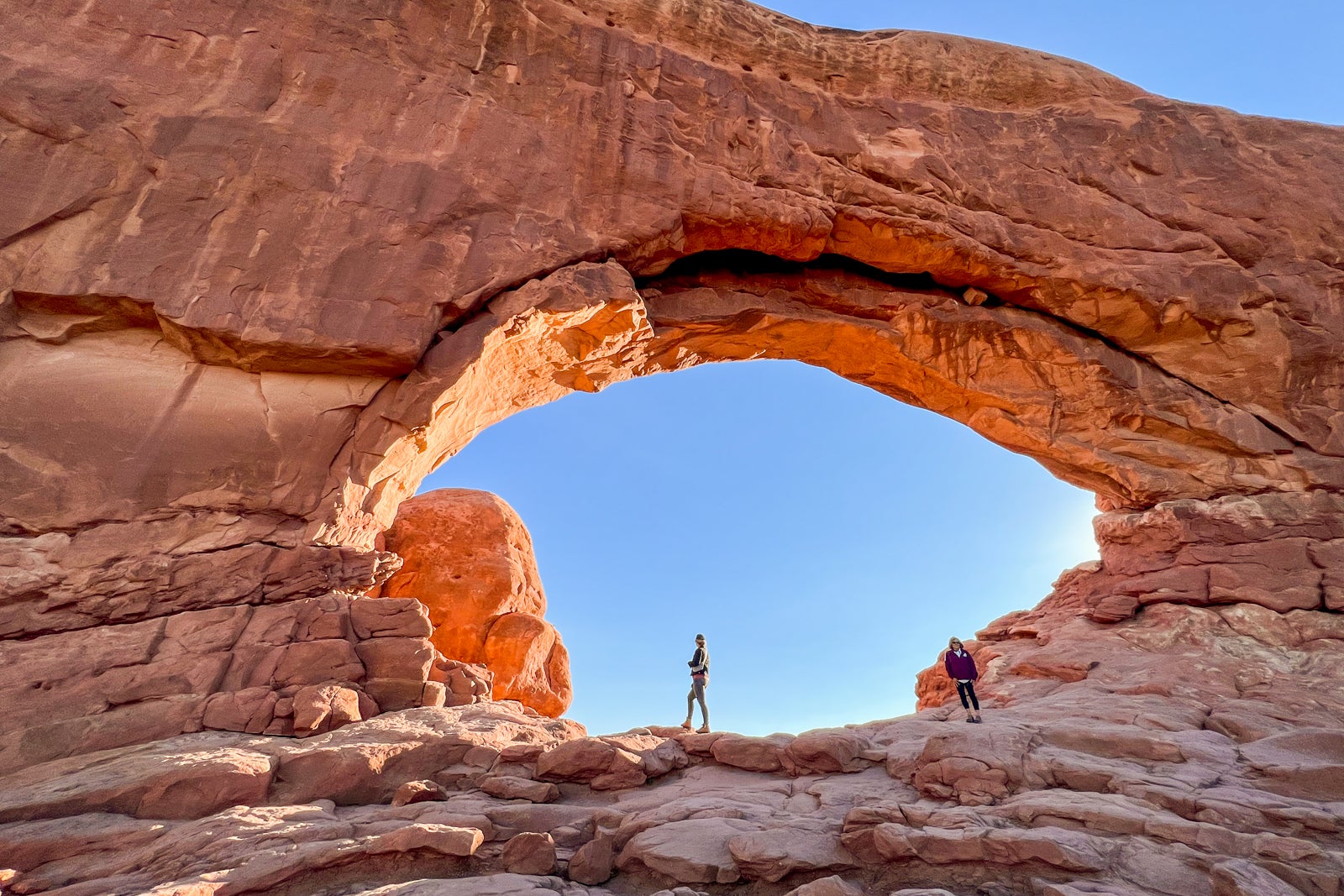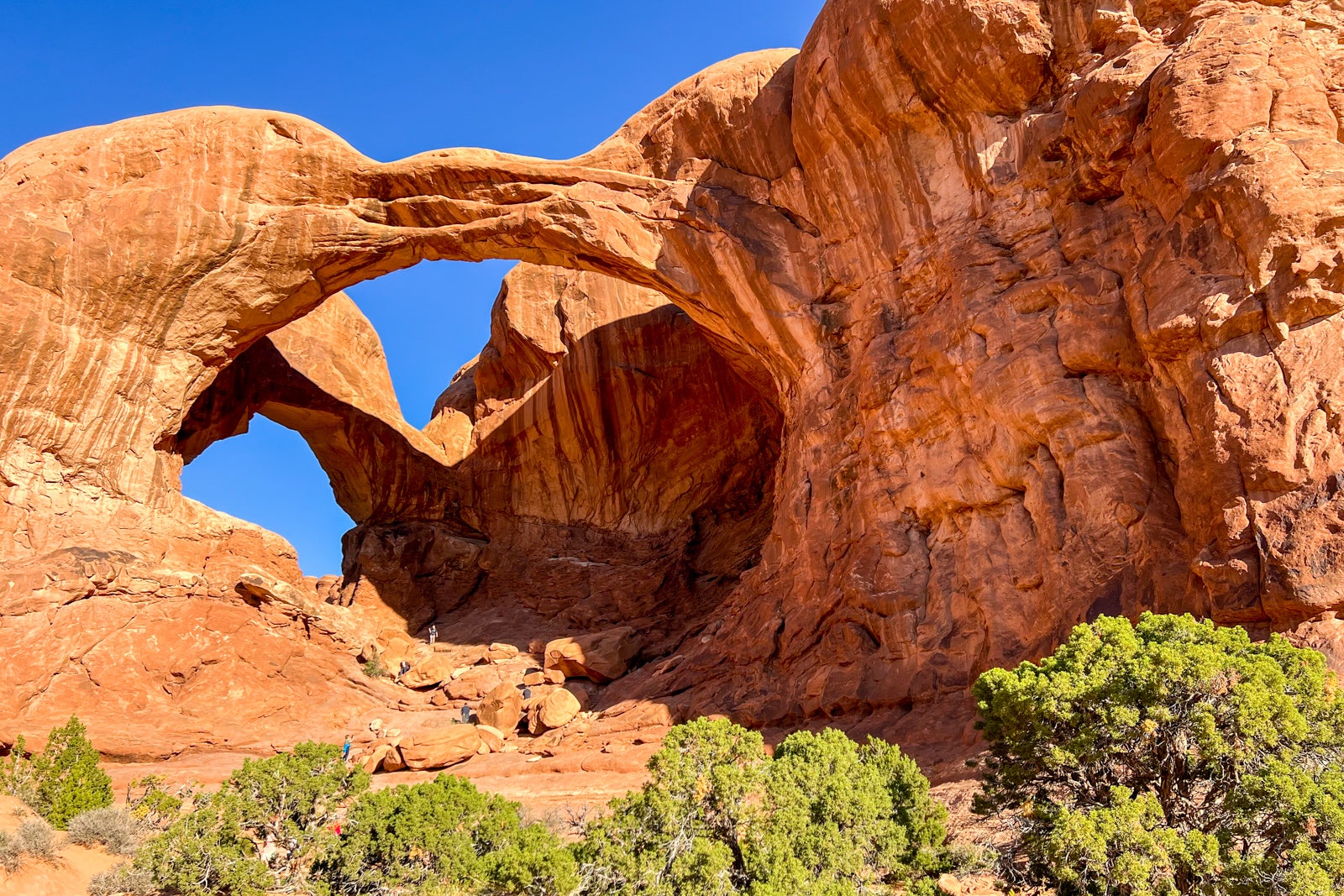 After spending several hours hiking to jaw-dropping rock formations, we were beyond ready to crash at our hotel. Luckily, the property Rocky Mountaineer booked for us in Moab (the same one used in many of its packages, the Hoodoo Moab, Curio Collection by Hilton) was exceptional.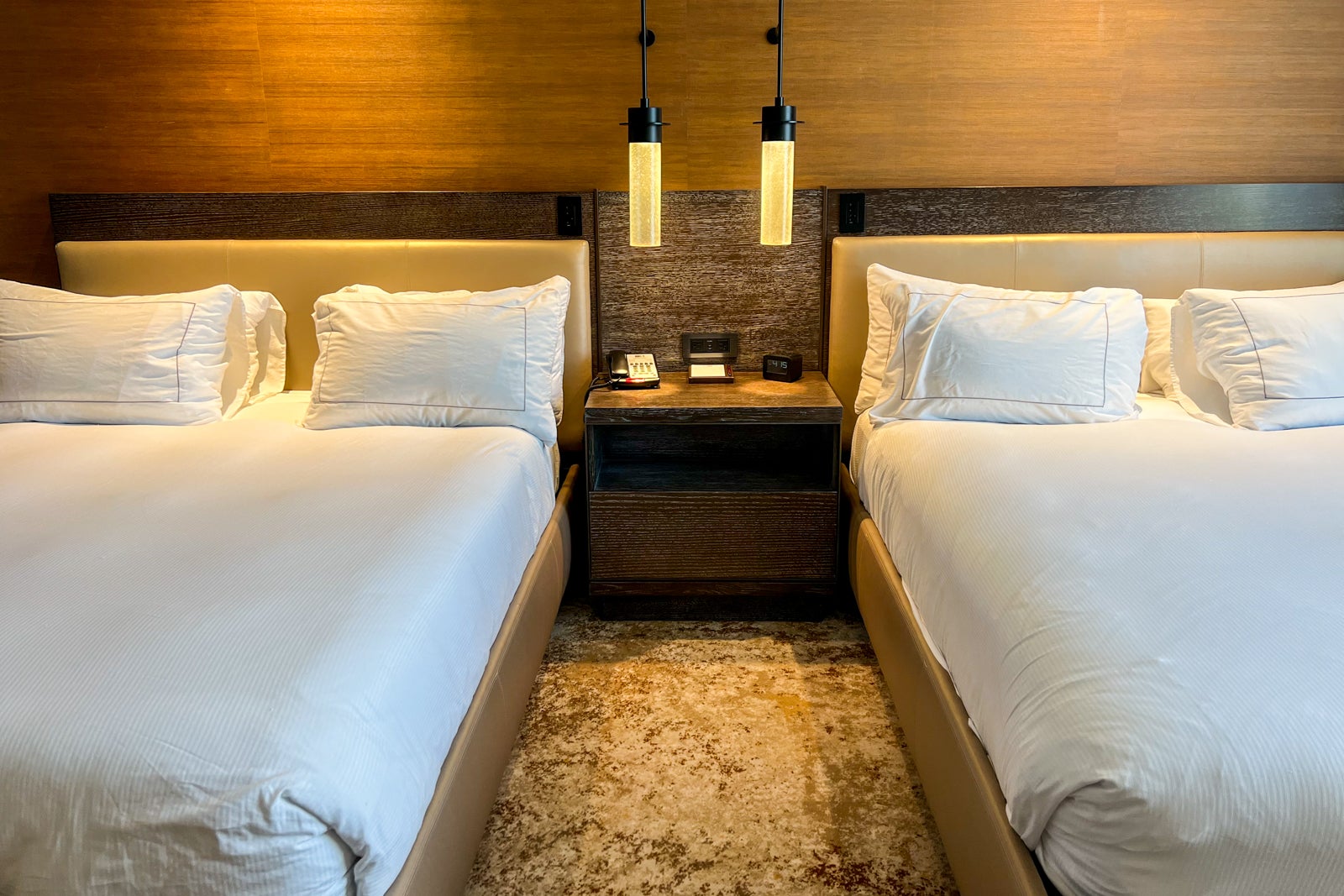 From the rooms to the pool, this Hilton outpost — which you can stay at via a Rocky Mountaineer package or on your own with cash or Hilton Honors points — punched above its weight. It was very clean and modern, offering several stylish places to unwind after an active day outside.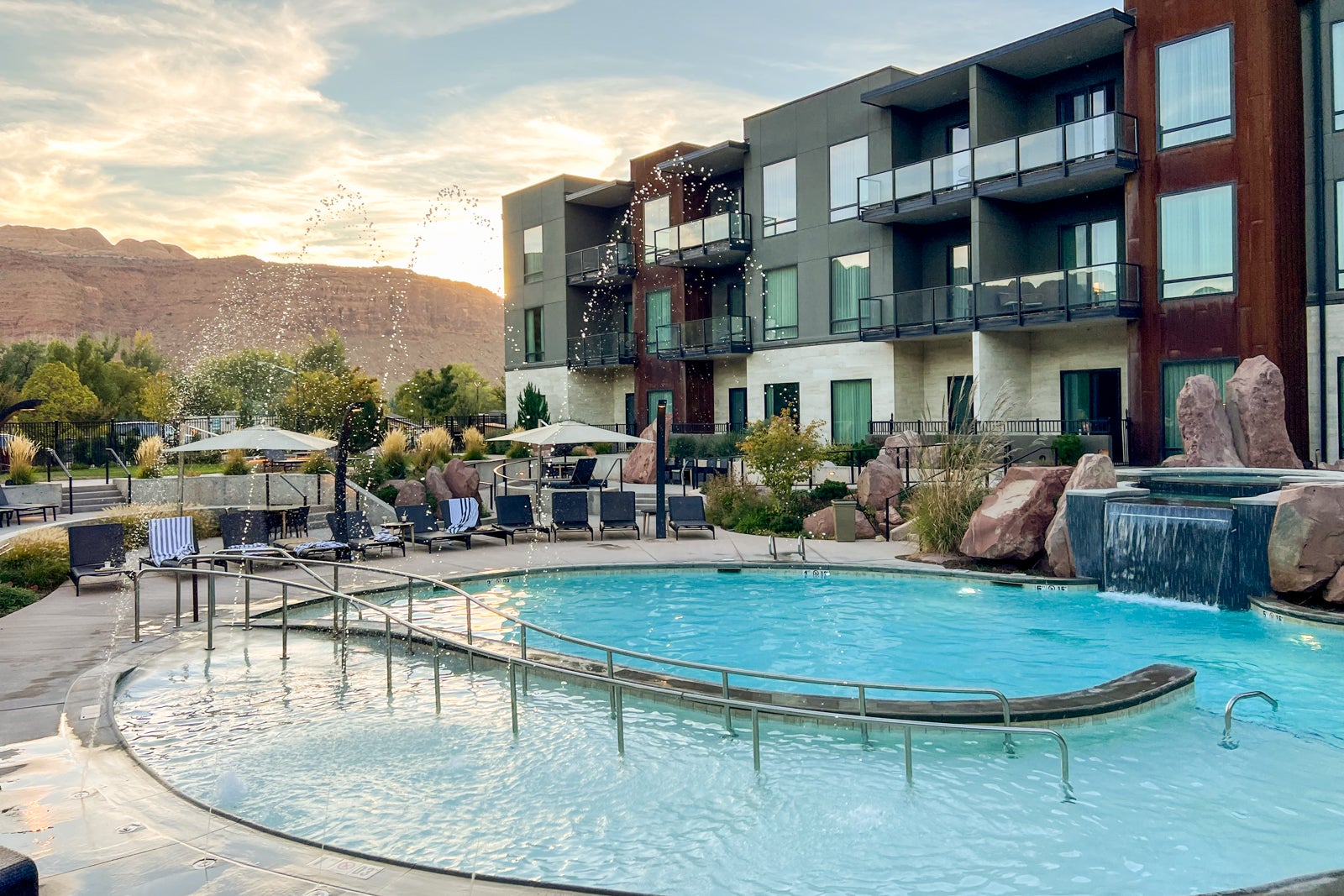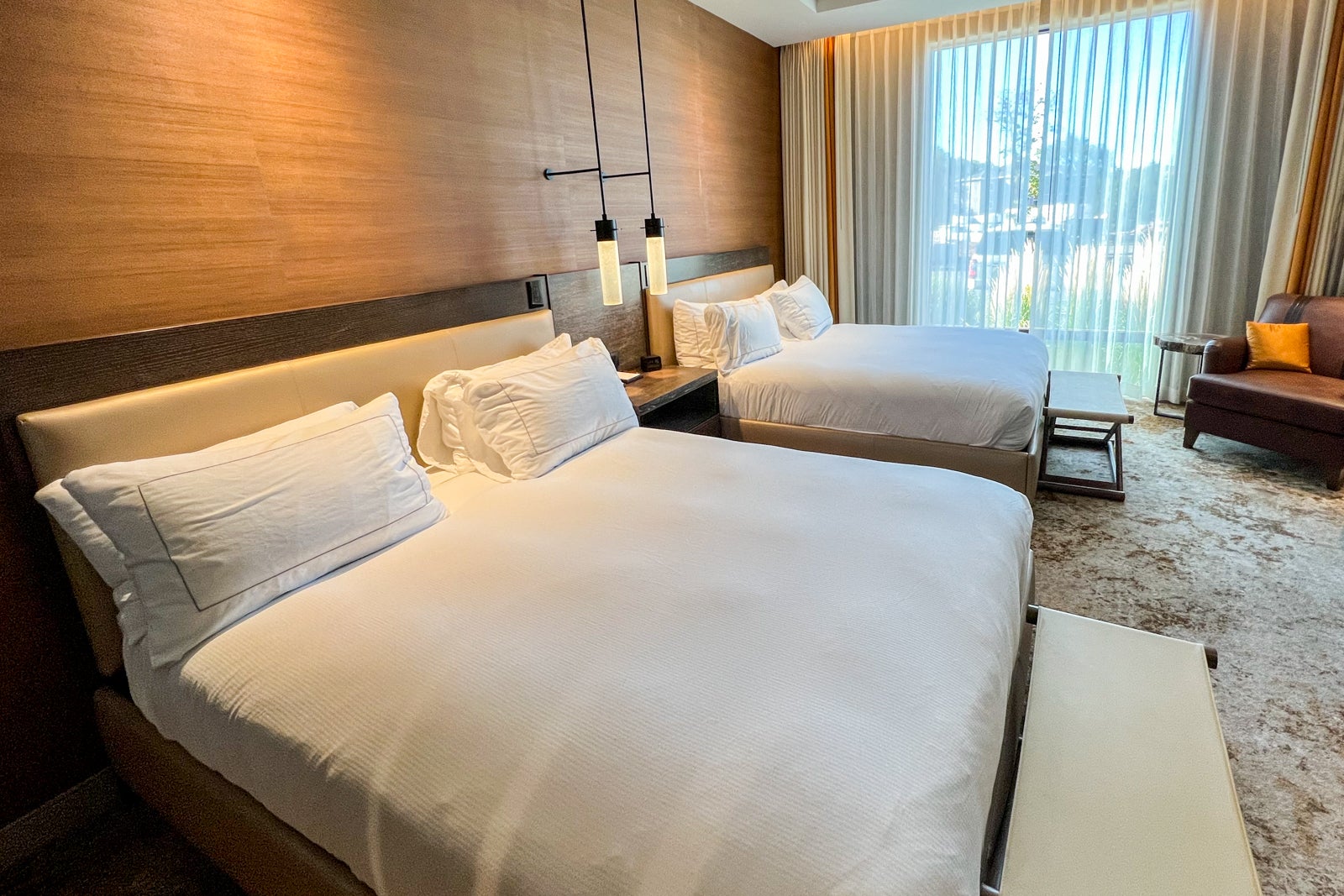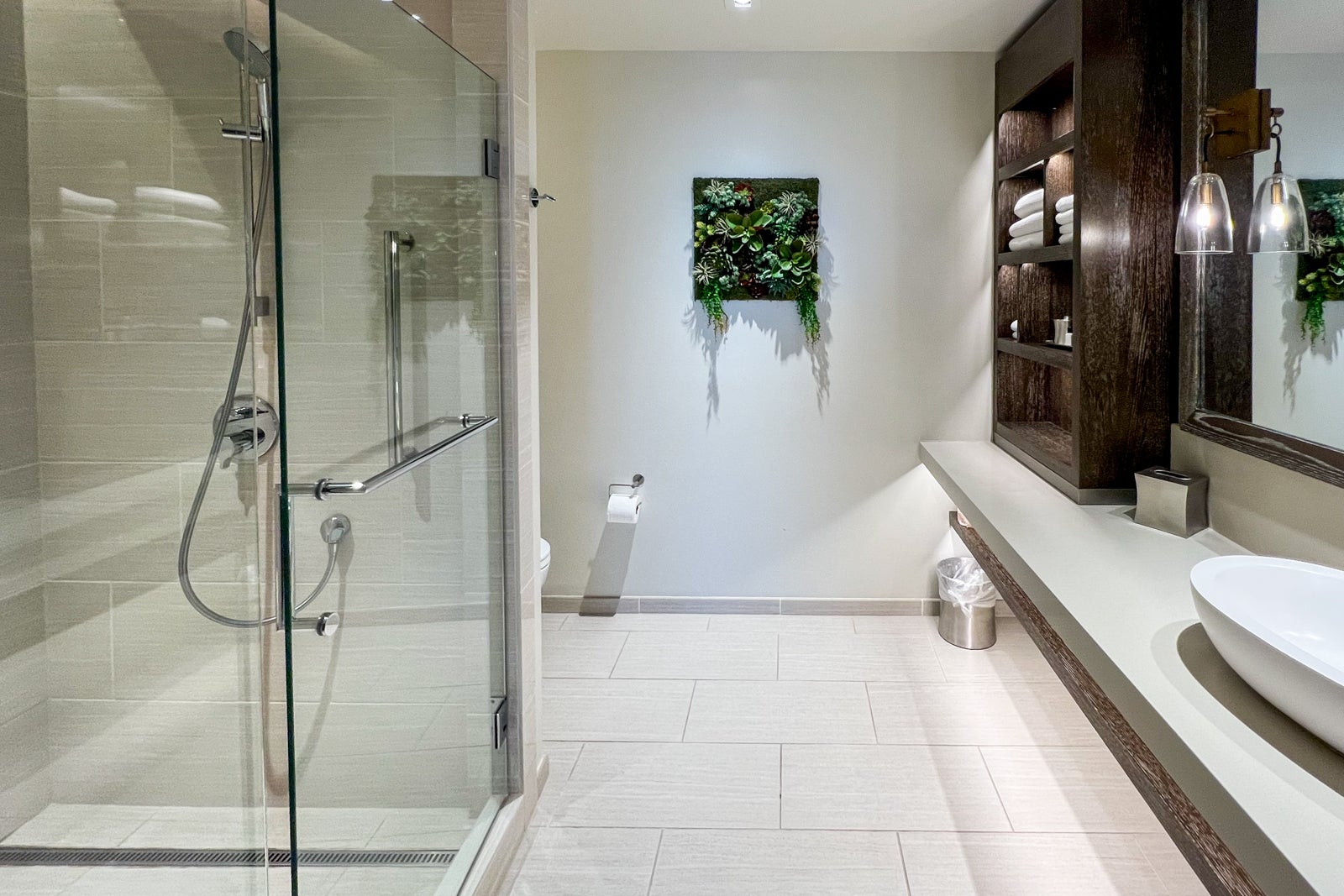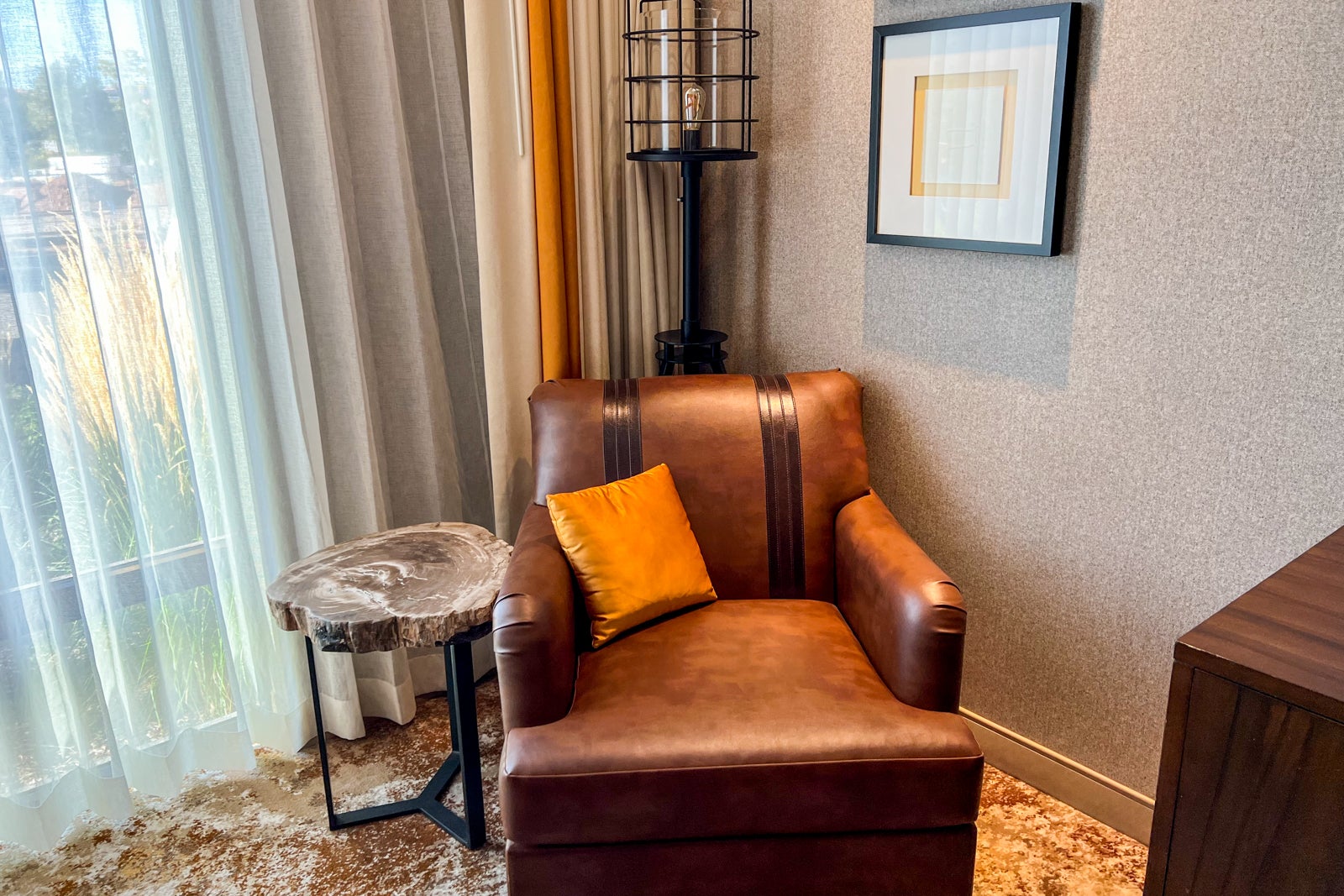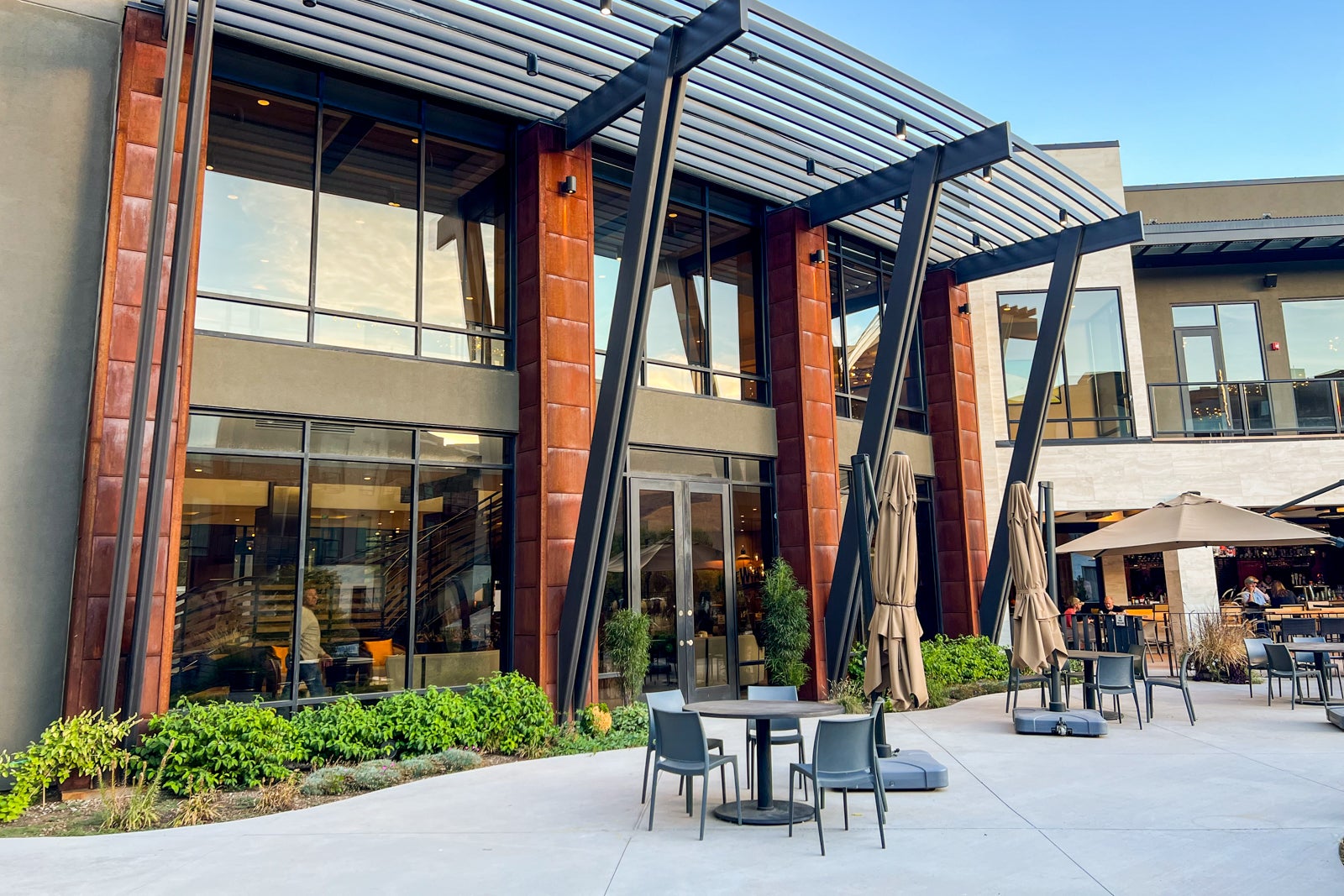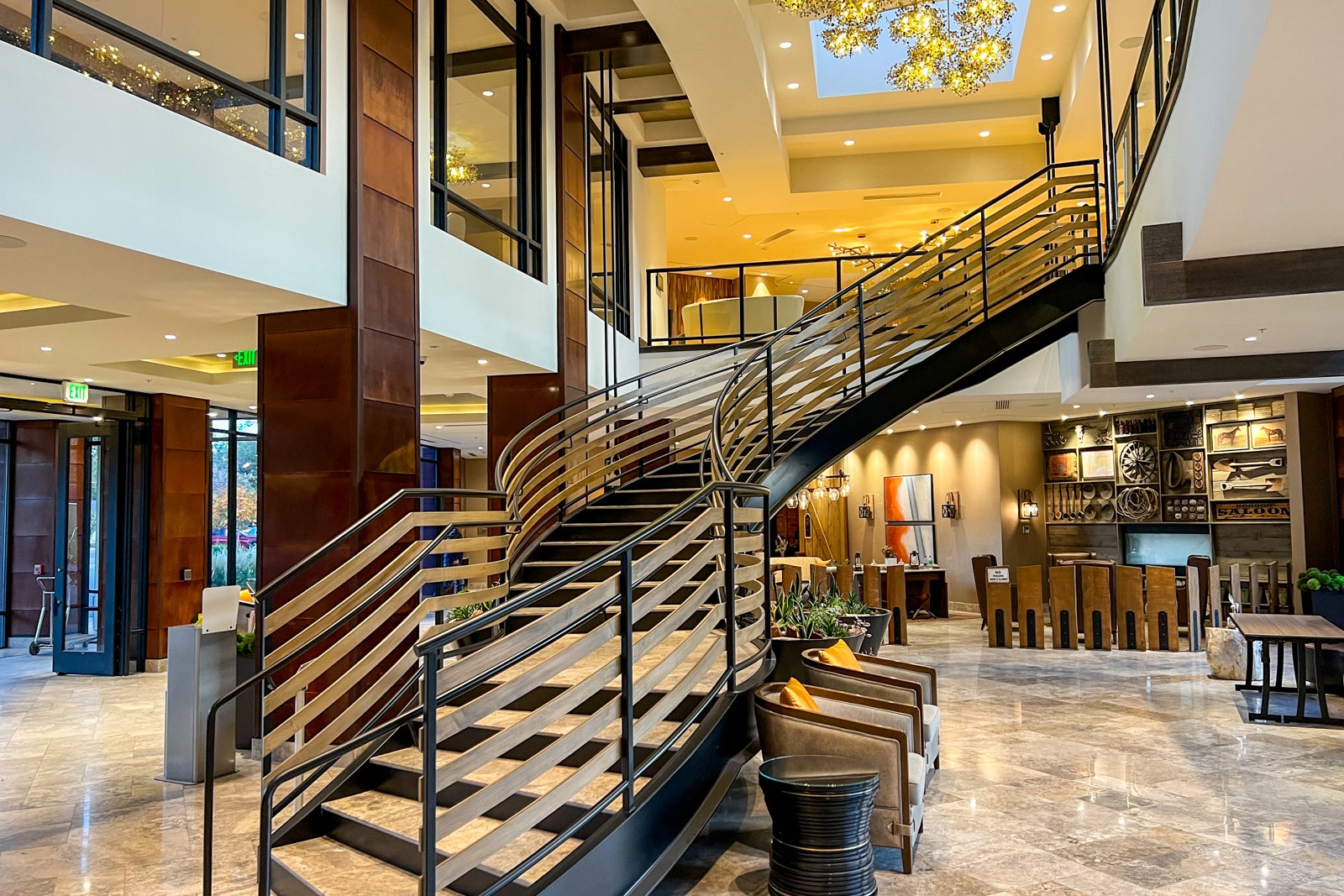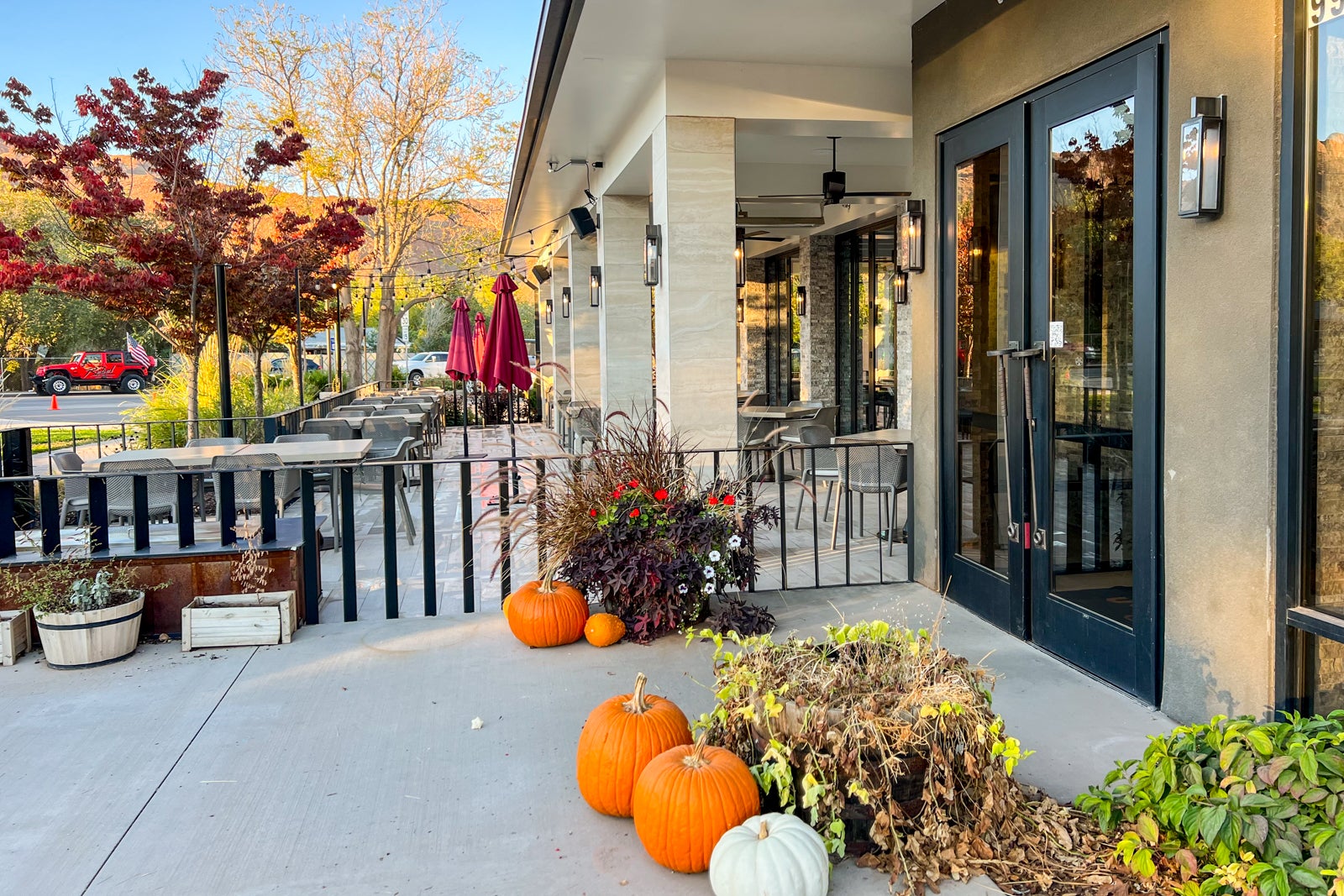 Bottom line
There are many cheaper and faster ways to get from Denver to Moab, but you don't book the Rocky Mountaineer to simply move from one destination to the next. Instead, you reserve a seat on the Rockies to the Red Rocks route to embark on a memorable journey much like the ones enjoyed before cellphones and the internet.
If your primary goal is to get to your next location as soon as possible, then this Rocky Mountaineer adventure may not be worth the splurge.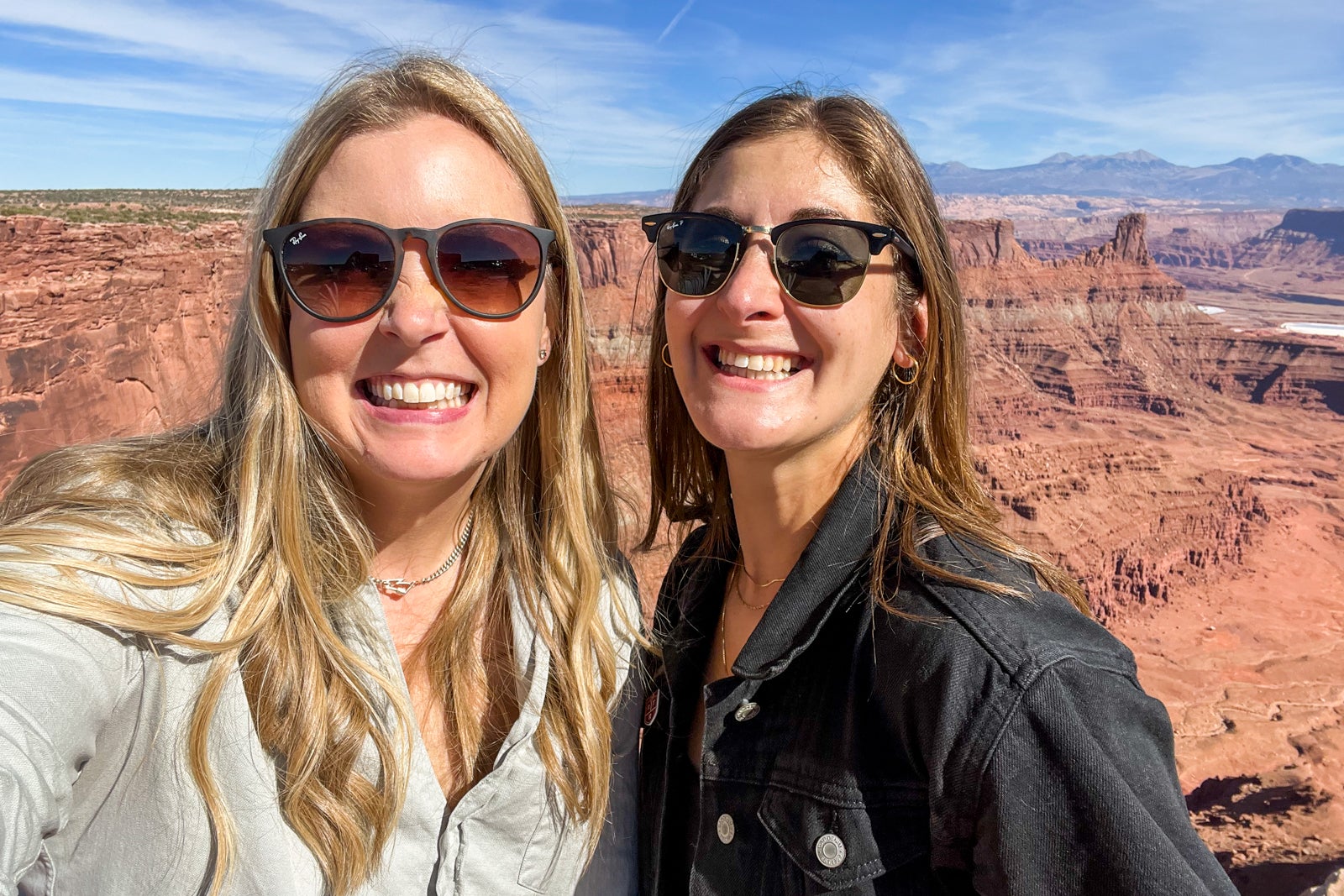 But if you value experiences that force you to slow down, enjoy your surroundings and share stories with friends old and new, odds are you'll love this luxurious take on a train ride through the mountains. Melanie and I most certainly did.