Flex Fitness Howick picks up national award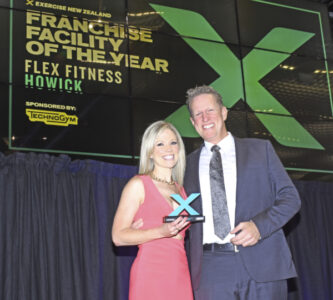 Flex Fitness Howick has taken out a major award at this year's Exercise NZ Awards.
These awards are nationwide awards in the fitness industry and are awarded annually. The awards evening was on Saturday, November 26.
Flex Fitness Howick won for best Franchised Facility of the Year prize. It was also nominated for Outstanding Support Person of the year with owner Stephanie Mansfield as well as Personal Trainer of the Year with Daniel Nicholson.
Three award nominations unusual, and to take out one of the major awards after only operating for seven months is considered a massive achievement.
"It proves that Stephanie's dream of bringing one of the best gyms to her hometown of Howick has paid off," a spokesperson said.
"The people of Howick should realise that Flex Fitness Howick really is world class."
Judging notes for the Franchise Facility of the Year award and Flex Fitness Howick's win reads: "You measure success with business numbers or KPI's which remove subjectivity and allow comparisons.
"Your comprehensive business evaluation from a numbers perspective made you stand out. As did your genuine member care. Most importantly, reading your application you were able to demonstrate your core values through your actions and behaviours. This category was close and your community involvement gave you the edge, congratulations."
The post Flex Fitness Howick picks up national award appeared first on Times.