Fit for a king: A review of the Conrad Punta de Mita
Offering the same unbeatable beach location as the nearby Four Seasons and St. Regis, the new and upscale Conrad Punta de Mita wows with its stunning setting and phenomenal value when using points. Accommodations here overlook the Pacific Ocean and come with access to top-notch amenities like three sprawling pools and a spa that celebrates the region's roots in its treatments, making the property a prime spot for couples seeking a relaxing, romantic getaway.
But even if you're not traveling with your partner (as was the case for me), there's a lot to love. Rooms are consistently bookable at a Hilton Honors points rate worth more than TPG's valuations, so you can stretch your points further when redeeming them for award nights at the Conrad.
Given the property's ties to one of Hilton's high-end brands, being able to enjoy a dose of luxury in a popular vacation destination like Mexico while getting the most value out of my points seemed like an opportunity that was too good to pass up. So, when deciding where to go for a short family trip, my aunt and I jumped at the chance to book an award stay and experience this stunning top-tier resort firsthand.
Quick take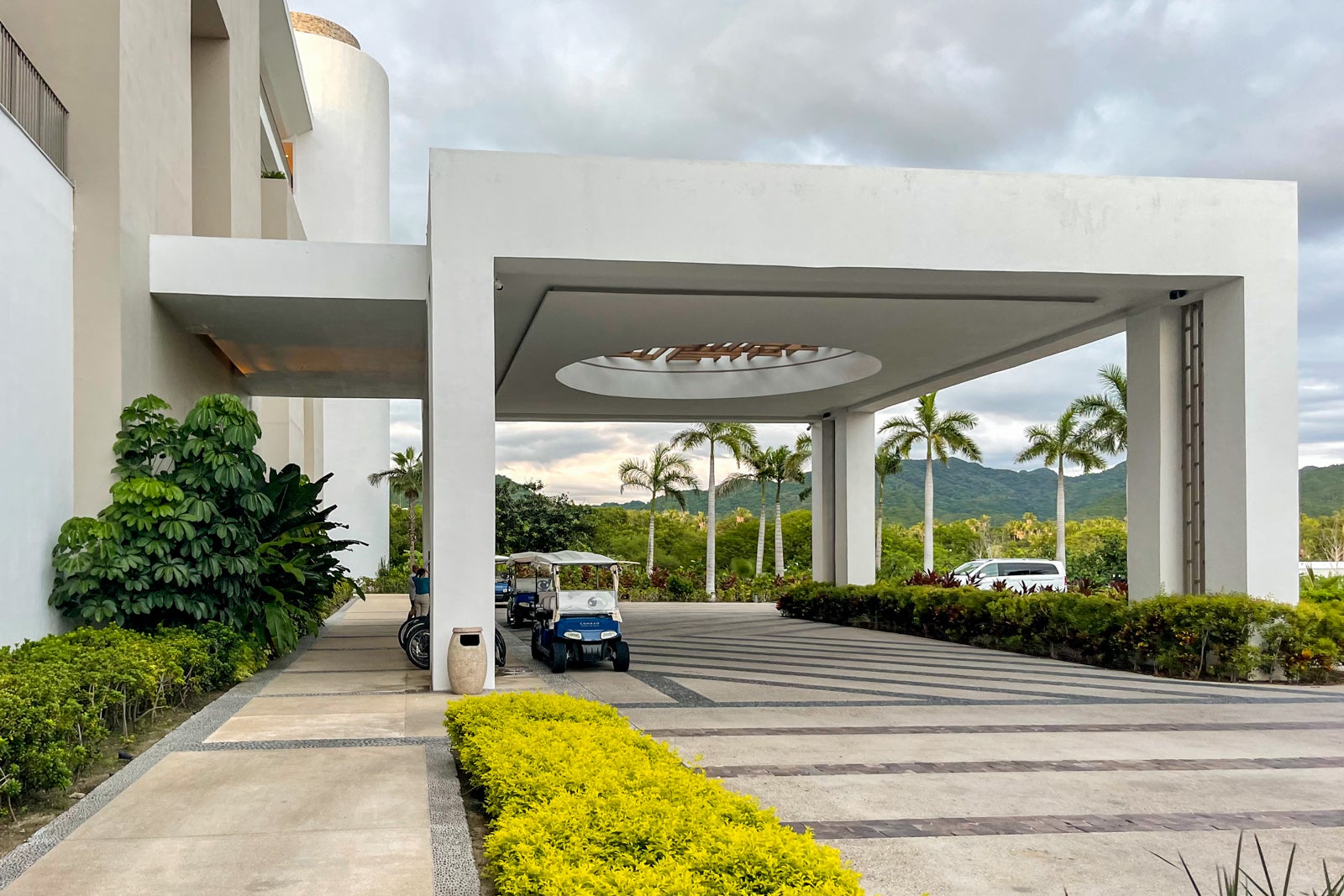 Driving onto the Conrad Punta de Mita's grounds, I feared we had made a terrible mistake. Looming ahead were 324 rooms spread across 10 white concrete towers that seemed cold and foreboding at first impression. We feared we had entered a sterile, cookie-cutter resort with everything we were trying to avoid, such as bland decor, lackluster food and overcrowded pools.
However, I was pleasantly surprised to find that that was not the case. Our experience turned out to be anything but bland, lackluster and overcrowded.
From the moment we stepped foot inside the property, it became clear that this resort shines when it comes to service. We were offered a choice of welcome beverages — tequila or tropical fruit juice — to sip while checking in, and when it was time to drop our belongings in our room, a friendly employee appeared to whisk us away in a golf cart to our tastefully appointed accommodation. Exceptional hospitality was front and center here, with no detail missed.
Related: 14 of TPG's favorite points hotels on the beach in Mexico
Getting there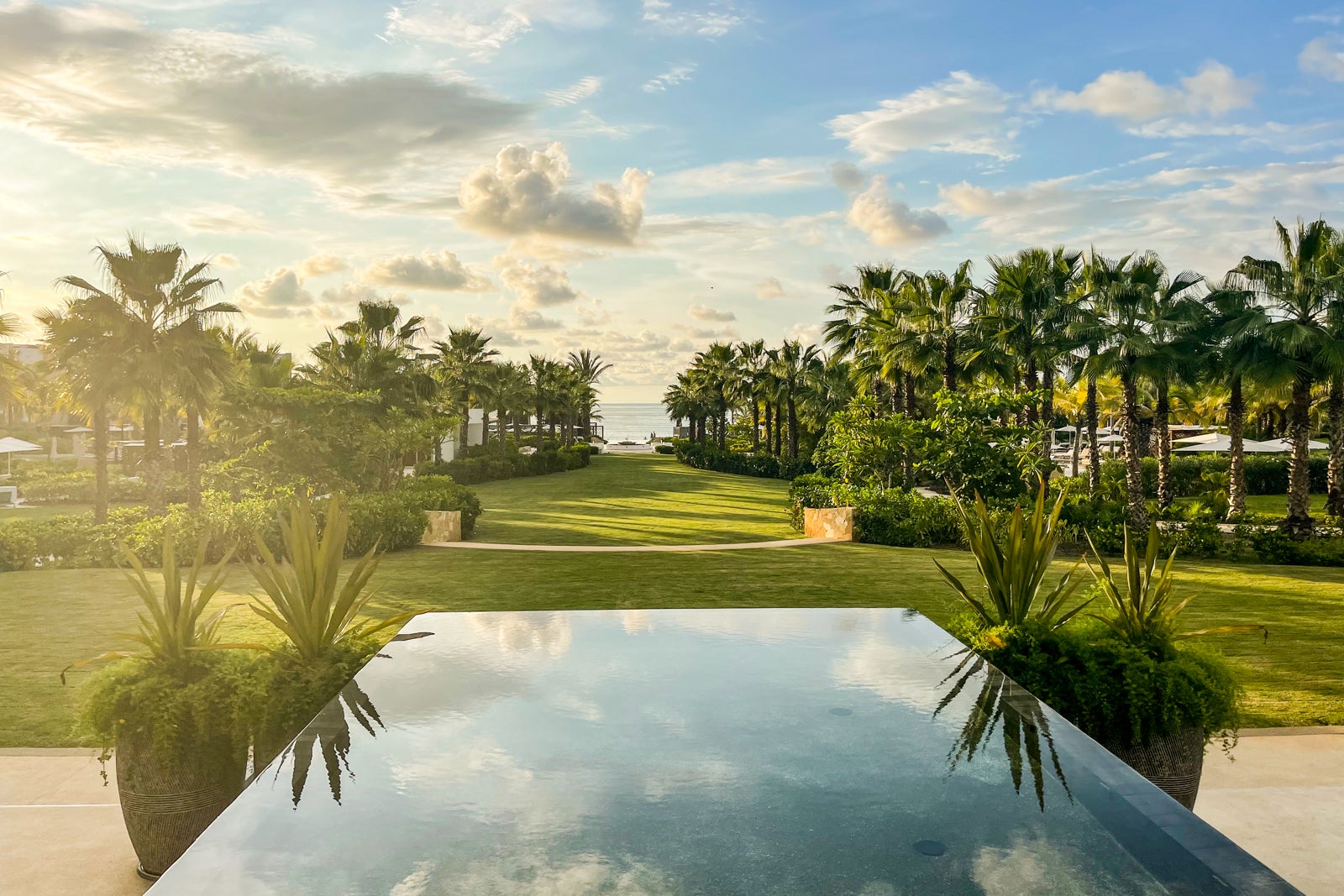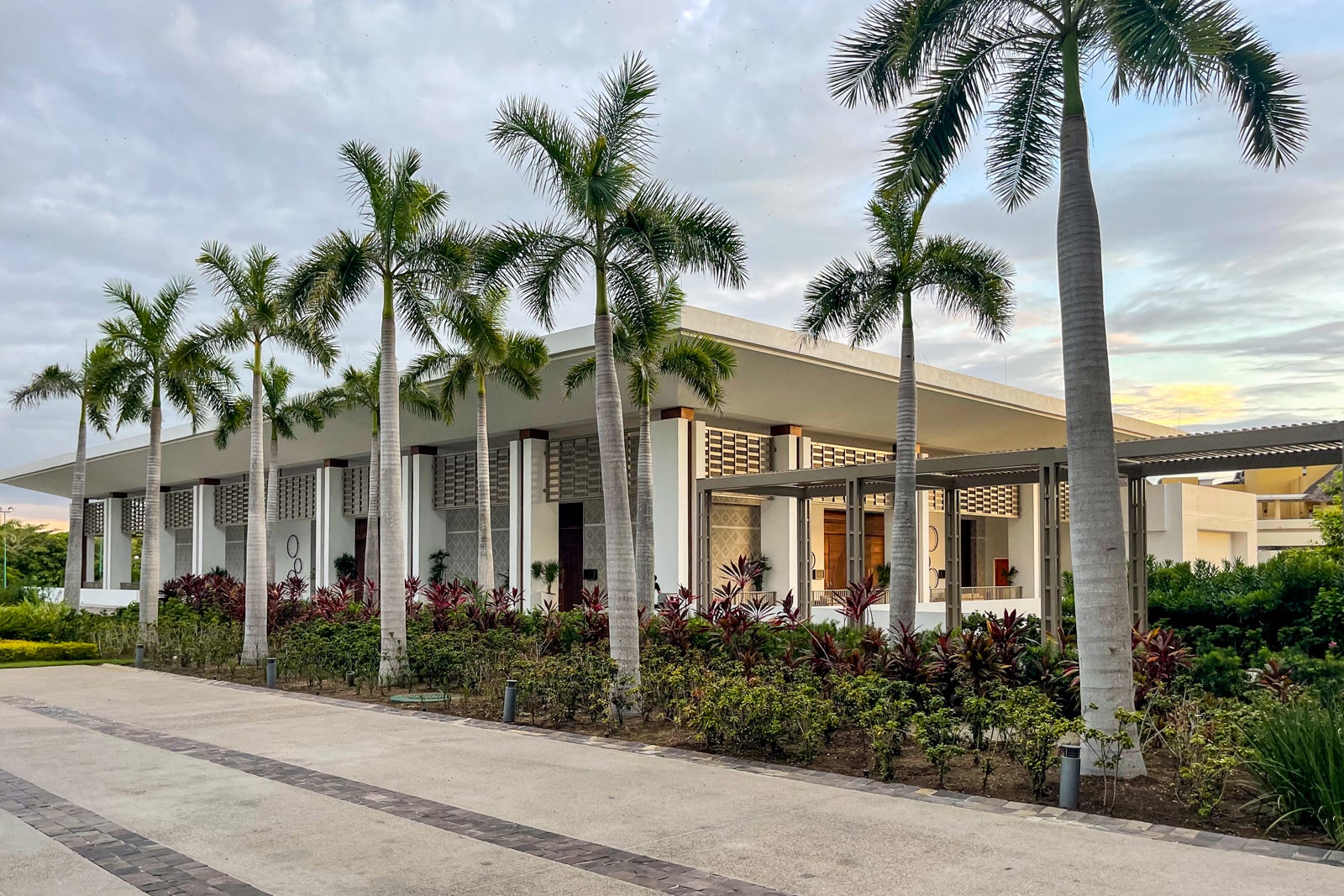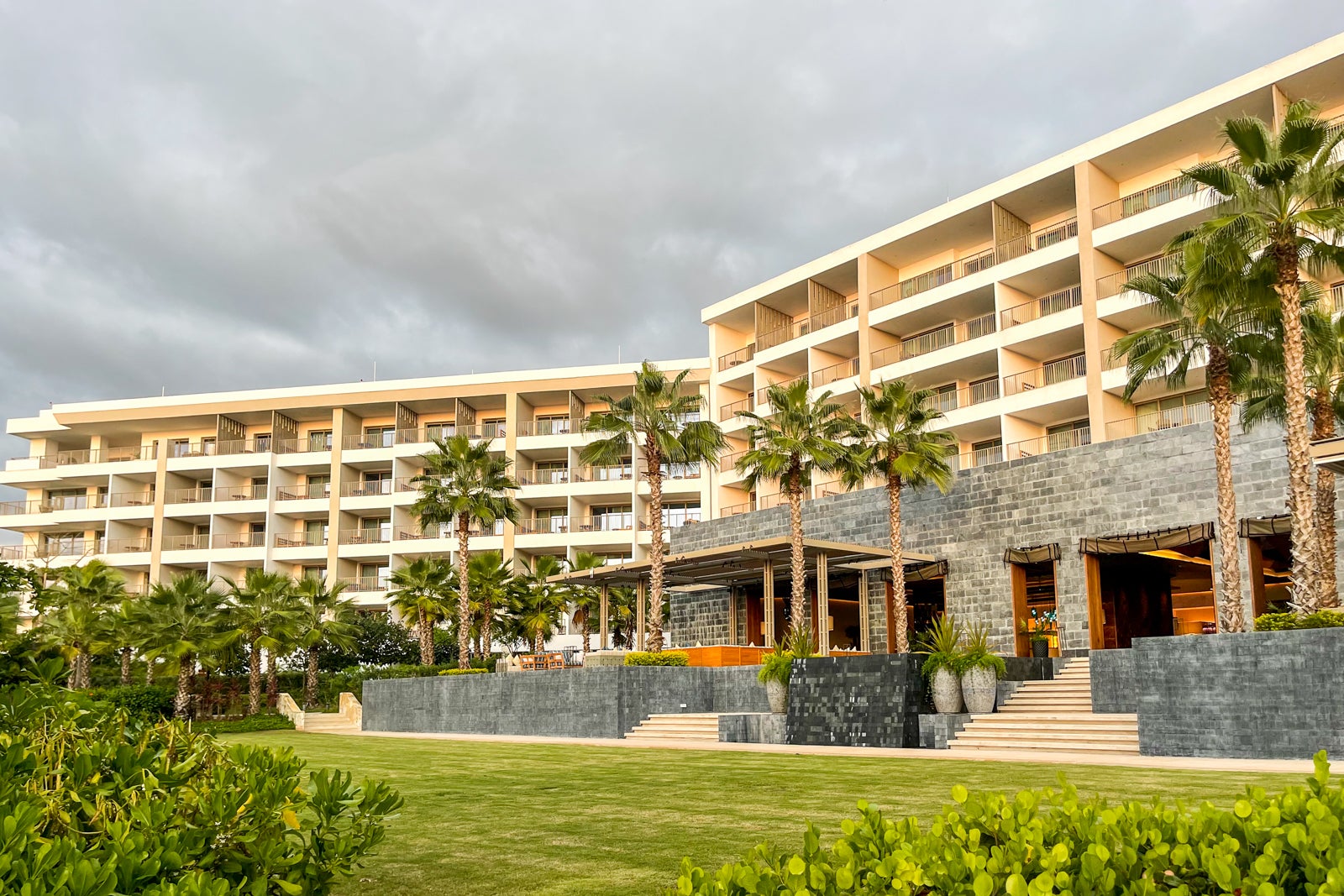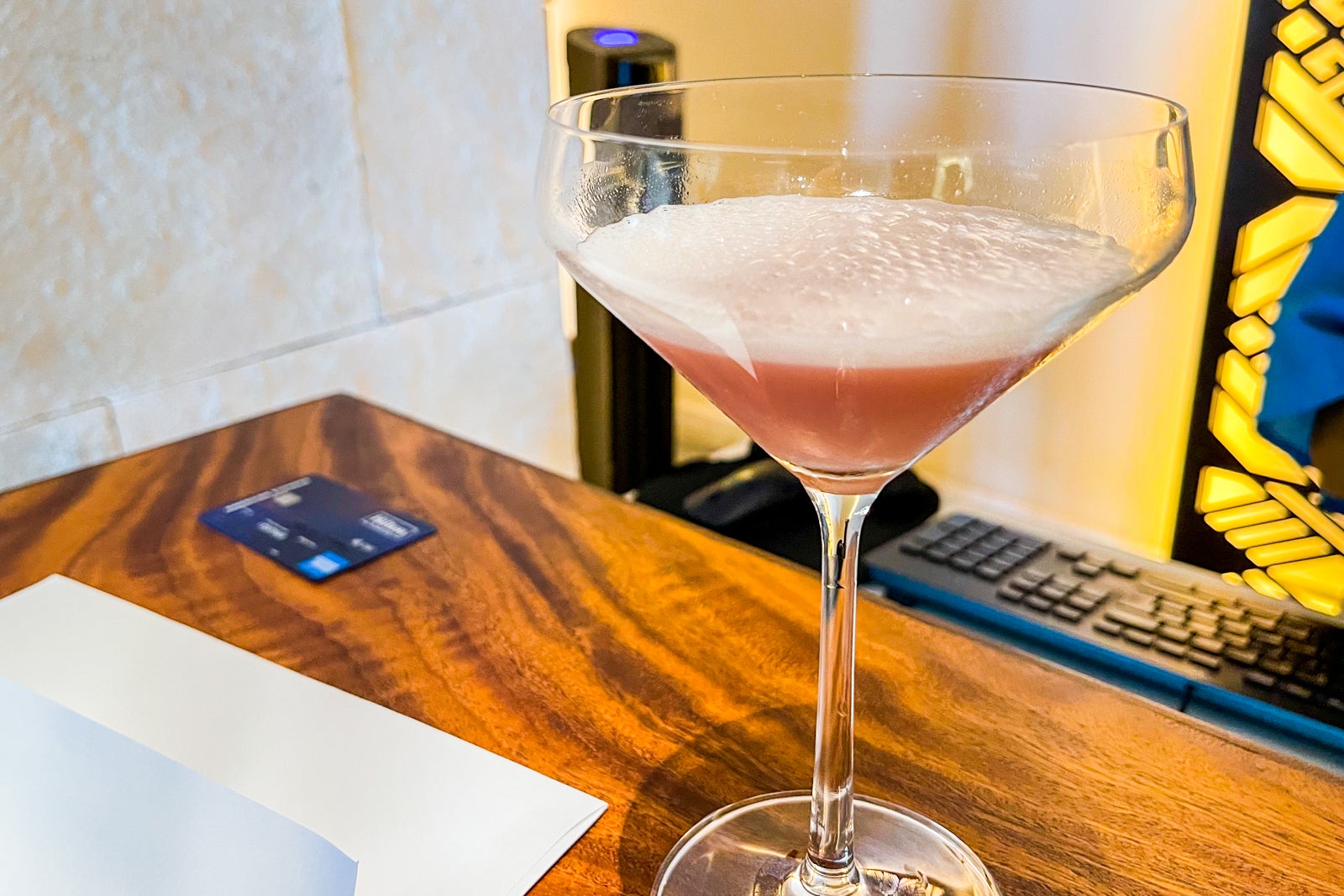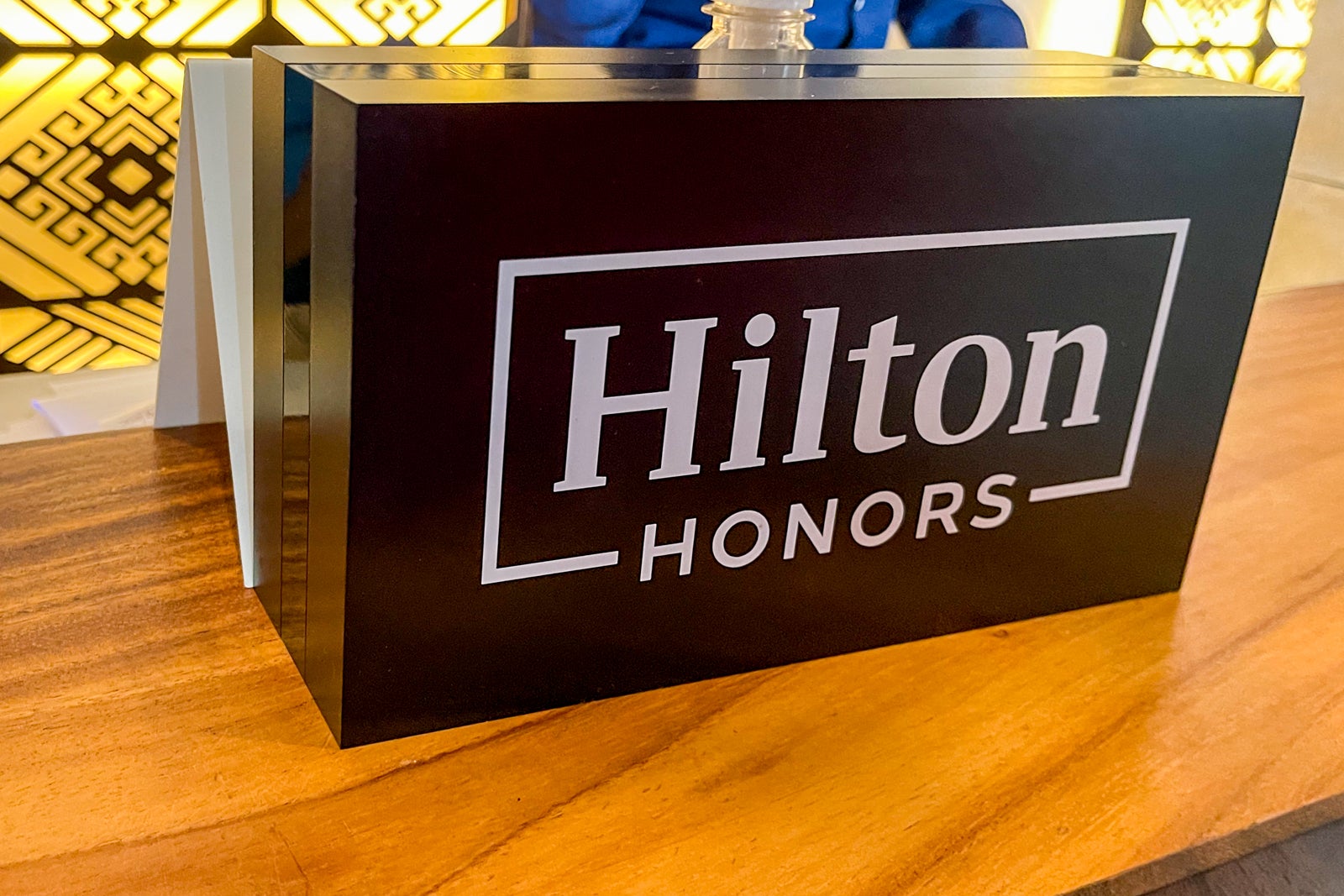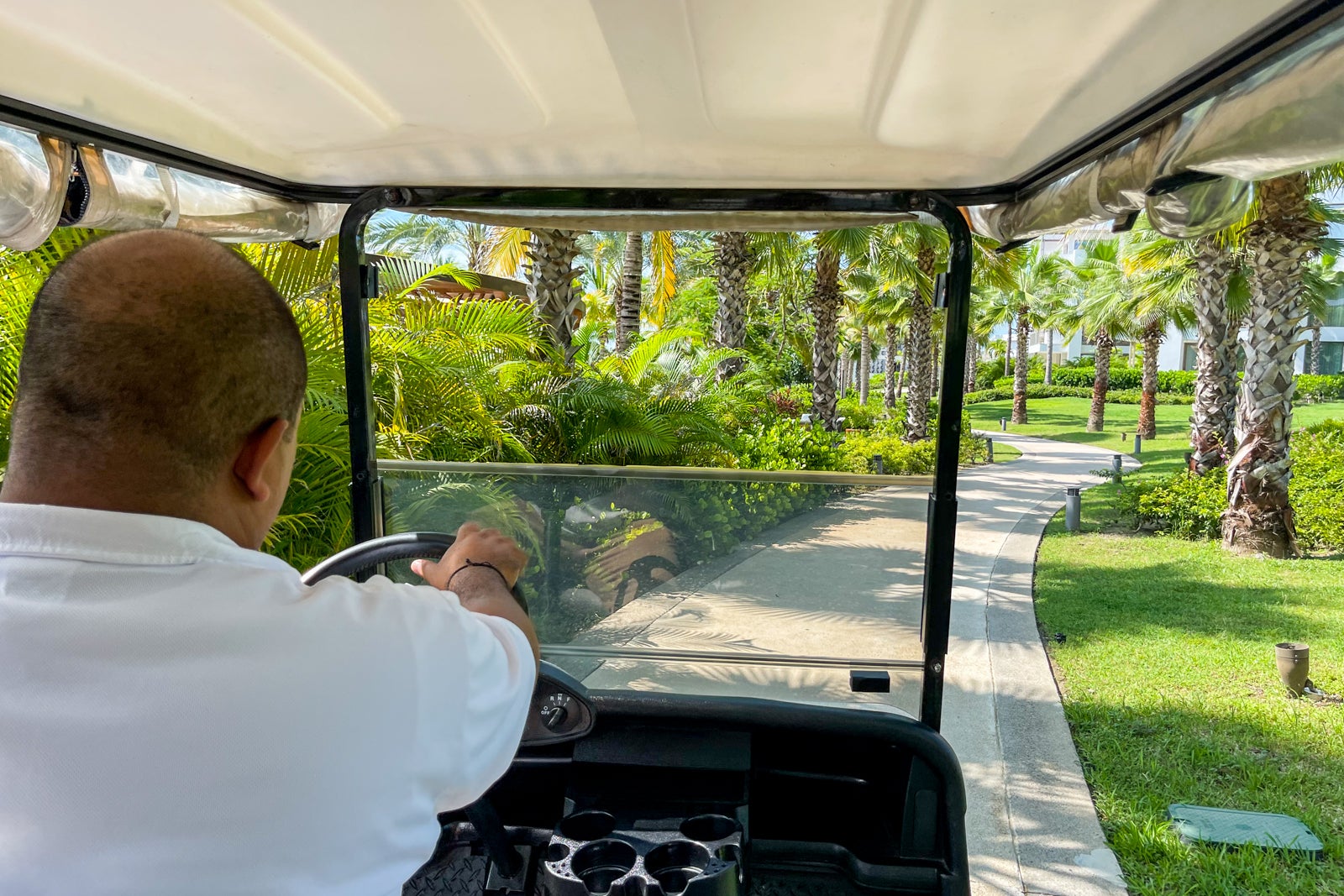 Located in the coastal community of Punta de Mita, Mexico, about 22 miles northwest of Puerto Vallarta, the Conrad Punta de Mita is just removed enough from the action of Puerto Vallarta to provide a bit of relaxation without straying too far off the beaten path. The easiest way to reach the resort is to drive after flying into Puerto Vallarta's Licenciado Gustavo Díaz Ordaz International Airport (PVR).
While you can rent a car and drive yourself — valet parking is complimentary — there are more convenient ways to make the roughly one-hour journey to the property. Uber rides cost around 500 Mexican pesos ($25) one-way. Additionally, the resort provides round-trip transportation from a third-party company for 5,000 Mexican pesos ($253).
Related: 11 things you should know before visiting Mexico
Booking details
As a reporter who covers points and miles, I always look for the best ways to get the most value out of loyalty programs. As a result, this luxury hotel has been on my radar since it opened in September 2020.
Regardless of which dates you choose, you'll consistently find that the Conrad Punta de Mita's rooms offer significantly higher redemption values than the 0.6 cents per Hilton Honors point noted in our most recent valuations.
Had we used cash to book an entry-level partial ocean view room with two queen-size beds at the Hilton Honors rate, our two-night stay at the end of the summer would have cost $1,866.87 ($718 per night, plus taxes and the 10% service charge that's added to all reservations).

However, booking with points is a little easier to stomach, as most nights (other than a handful during peak travel periods like the winter holidays and spring break) only require 95,000 Hilton Honors points per night for a standard room. This means you'll net about 0.98 cents in value per Hilton Honors point spent on award nights — or roughly 45% more than what you'll typically get based on our valuations.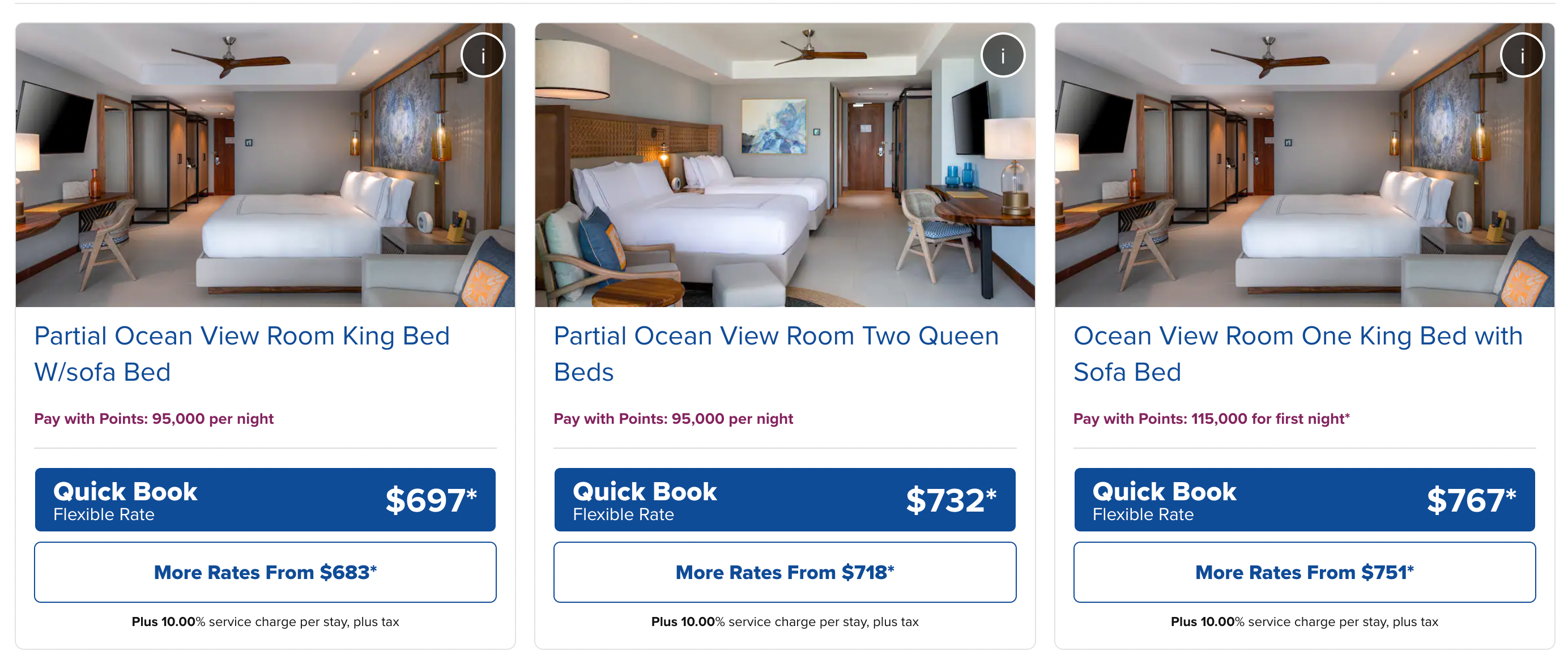 Still, with a nightly award price approaching six figures (in points), you may find yourself less inclined to redeem points for a stay. If that's the case, know that there's yet another option to consider.
By having one of several Hilton credit cards in your wallet, you'll be eligible to receive one or more free night certificates to apply toward a stay. Since I have the Hilton Honors American Express Aspire Card, I decided to use two free night certificates (one I received after renewing my card and paying the annual fee and another through a promotion earlier this year) to cover the cost of our room. You can also earn a free night certificate on the Hilton Honors American Express Surpass Card after spending $15,000 on the card on qualifying purchases in a calendar year.
The information for the Hilton Aspire card has been collected independently by The Points Guy. The card details on this page have not been reviewed or provided by the card issuer.
With my Hilton Honors Diamond status, my aunt and I were upgraded from the standard two-queen partial ocean view room we had booked to a two-queen beachfront room, which would have cost us $1,181 per night to stay in during our visit had we booked it with cash.
Related: Major improvement: Hilton free night certificates can now be used any day of the week
Standout features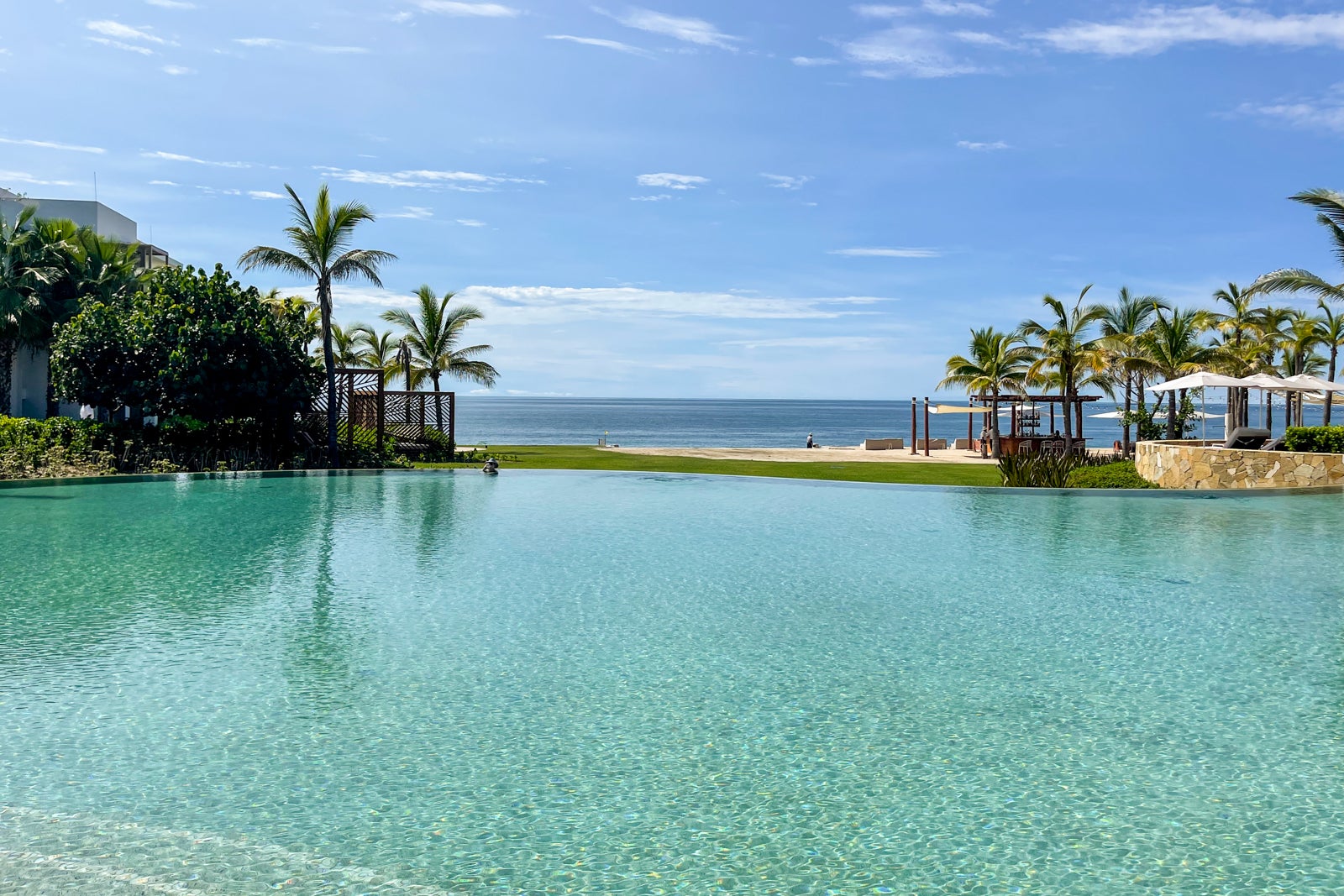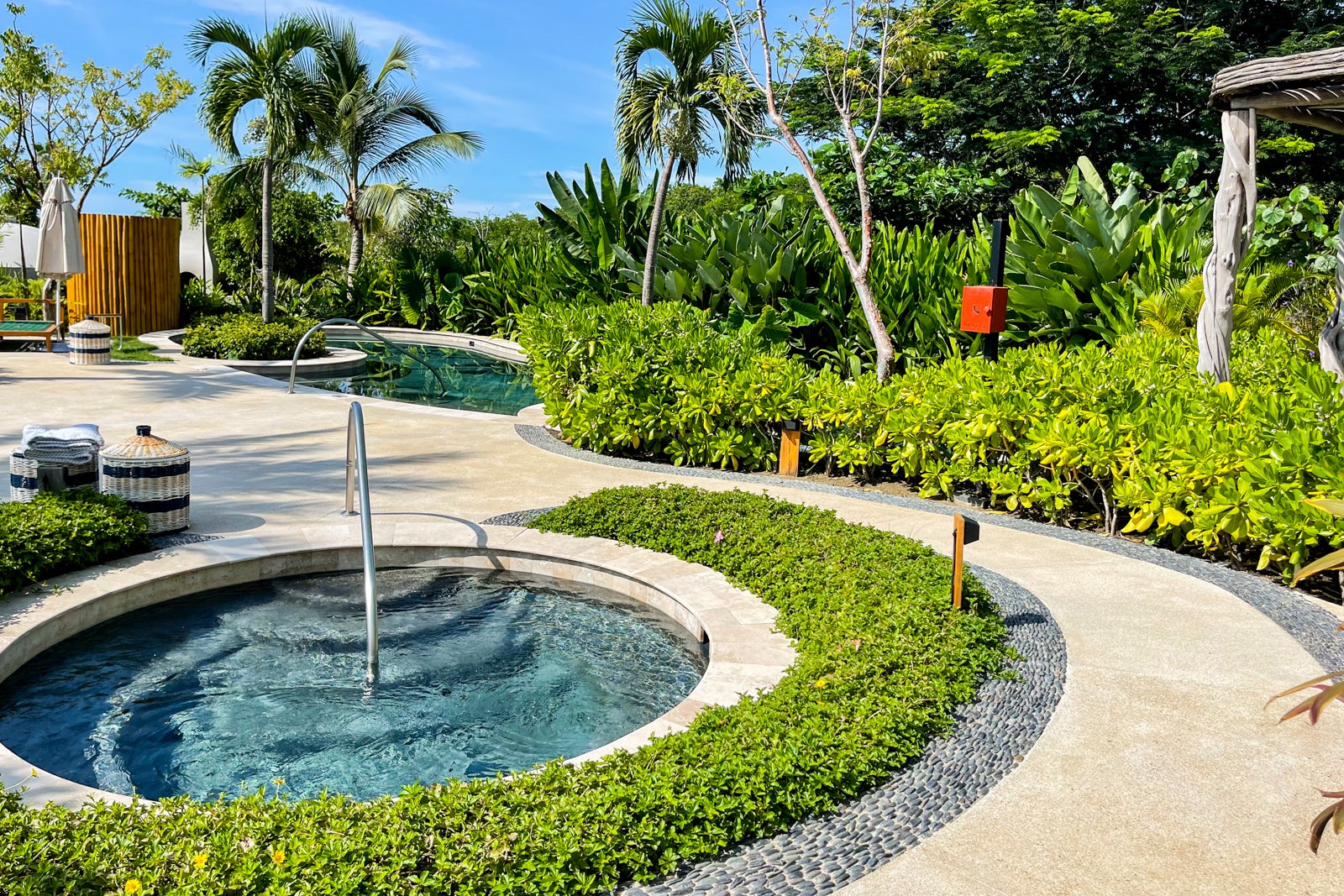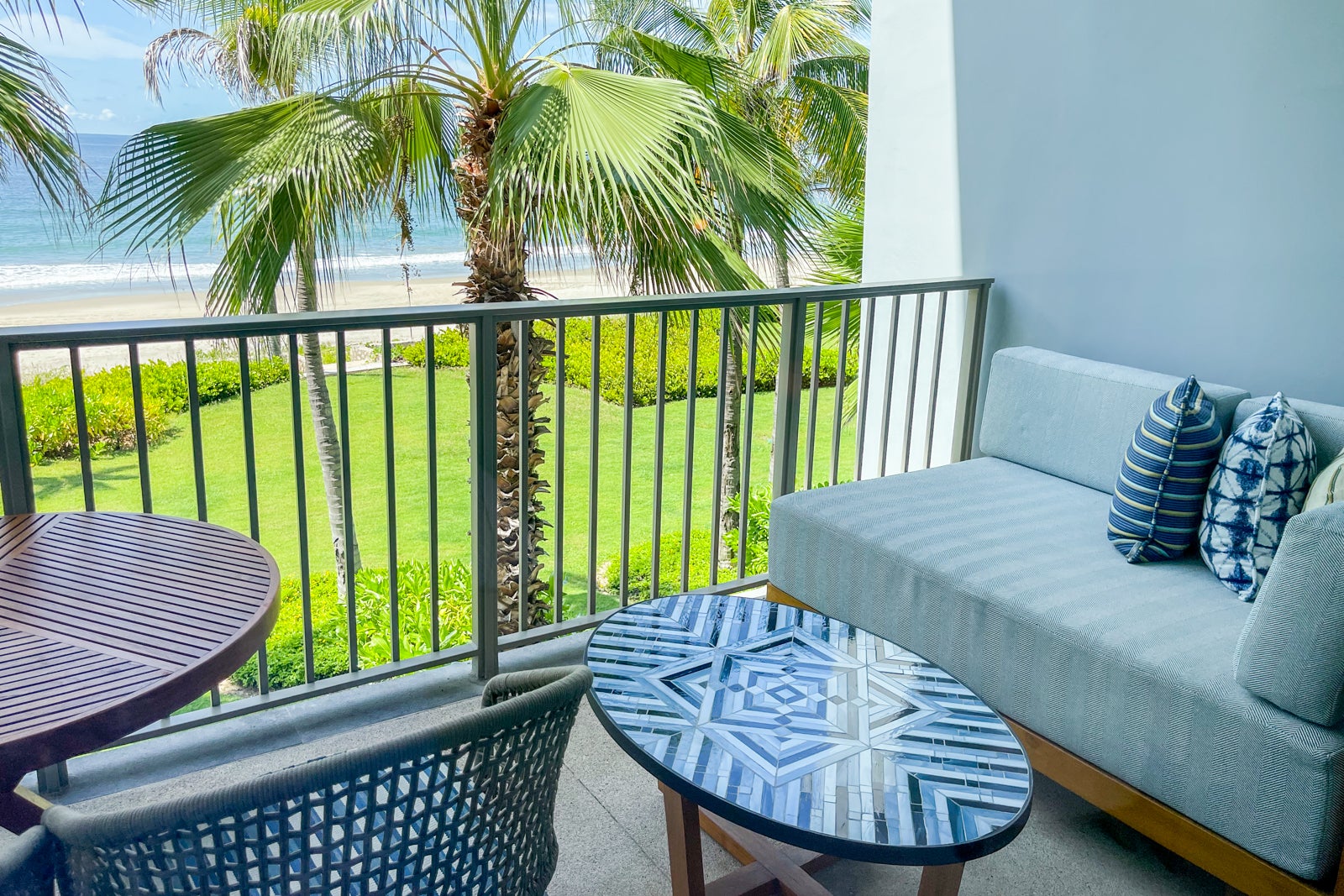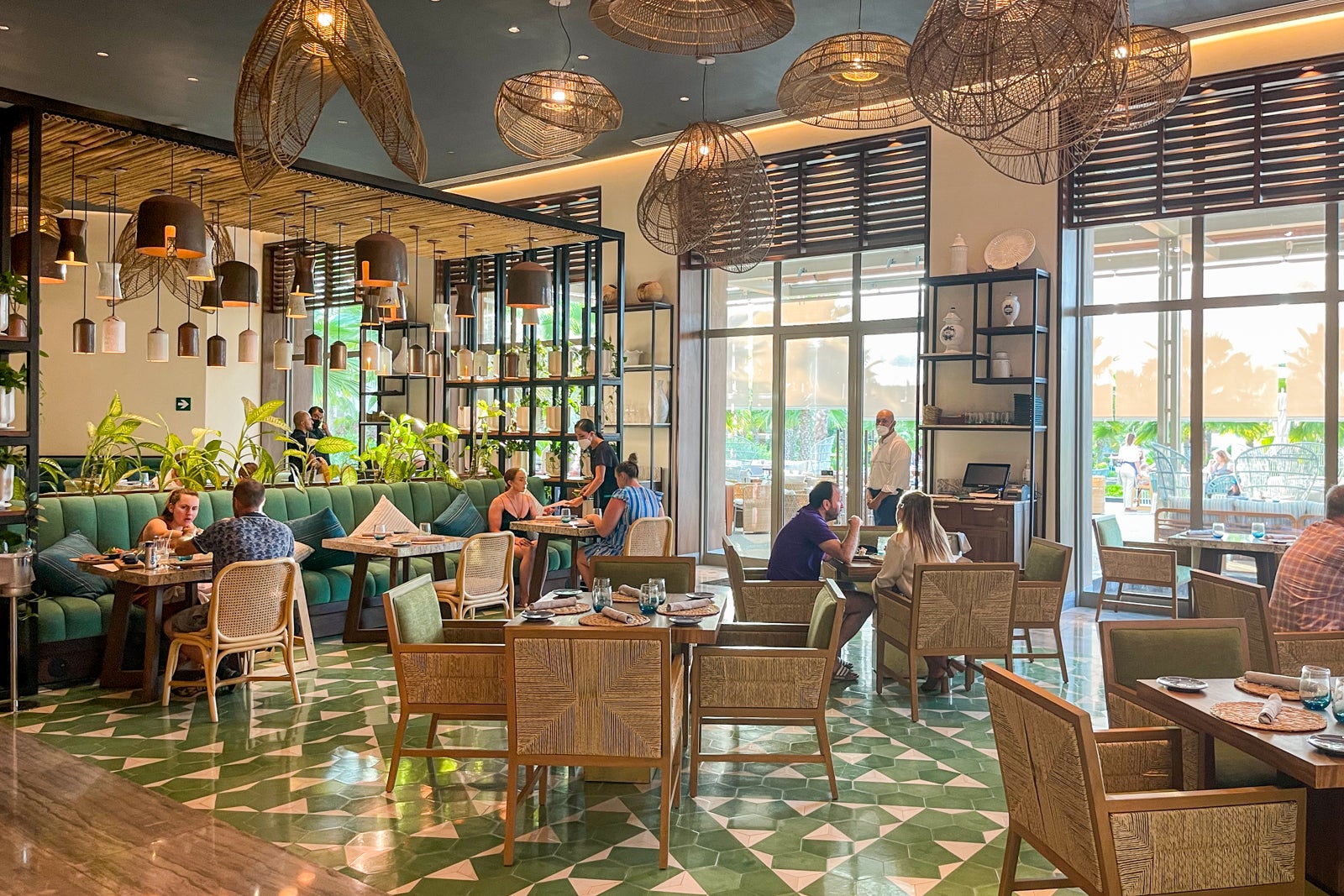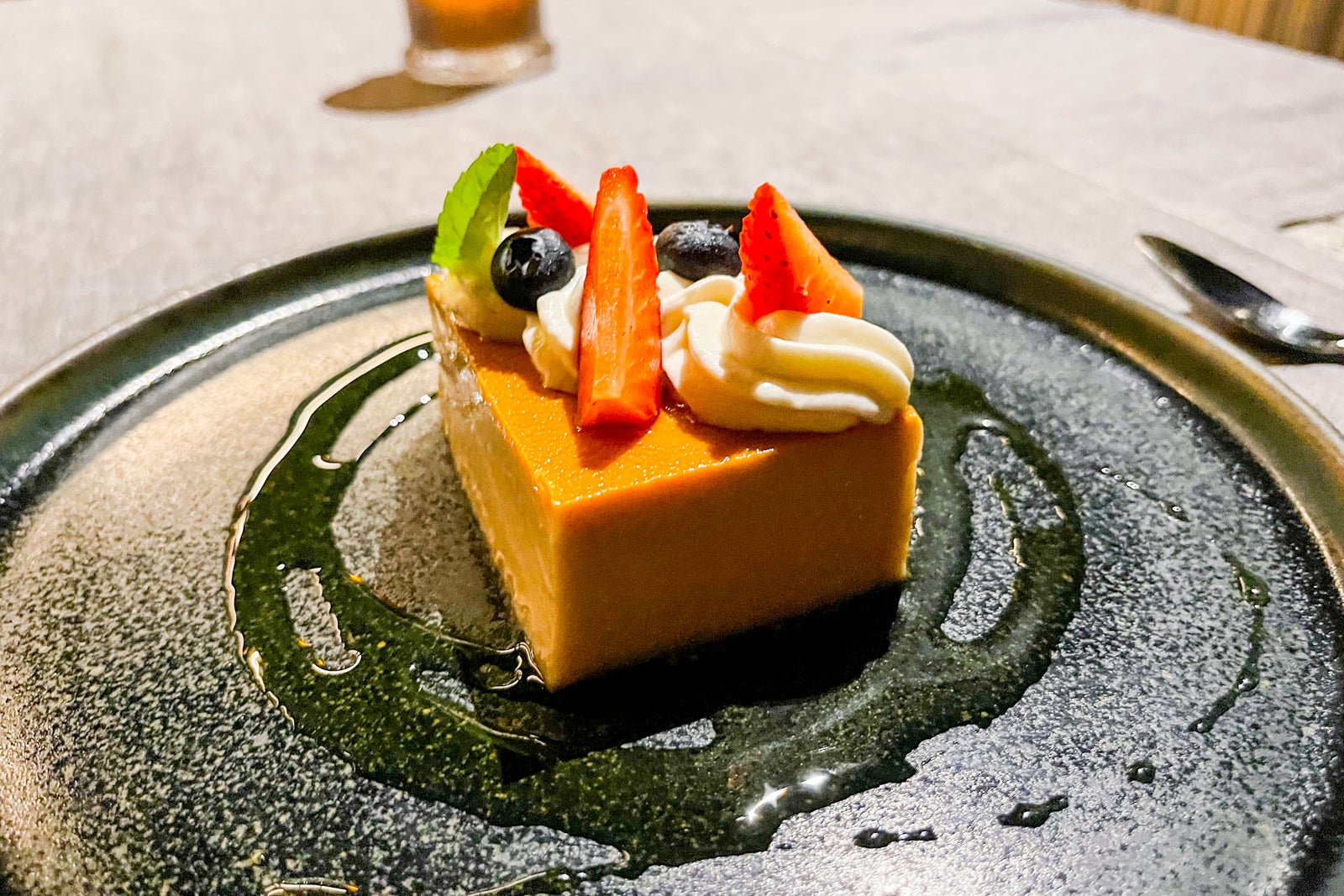 Mouthwatering tortilla soup followed by the best octopus tacos of my life made for a delightful evening on the patio of the property's Arbol restaurant.
The room was situated very close to the beach. With the gentle sound of the ocean waves rocking me to sleep from my two-queen beachfront room, it was easy to get a restful night's sleep.
Friendly and attentive staff members were always available to greet guests by name. Every employee I came across was keen on making genuine connections with guests during casual conversations, many of which took place in Spanish so we could practice speaking the language. Throughout my short stay, it was clear that the hotel's team members took pride in their jobs, going above and beyond what I've experienced at other properties.
The spa had a stunning design incorporating the branches and vines from native trees and offered modern services featuring local traditions, such as the Temazcal treatment (a sort of cleansing ritual) led by a curandero (Indigenous healer).
Drawbacks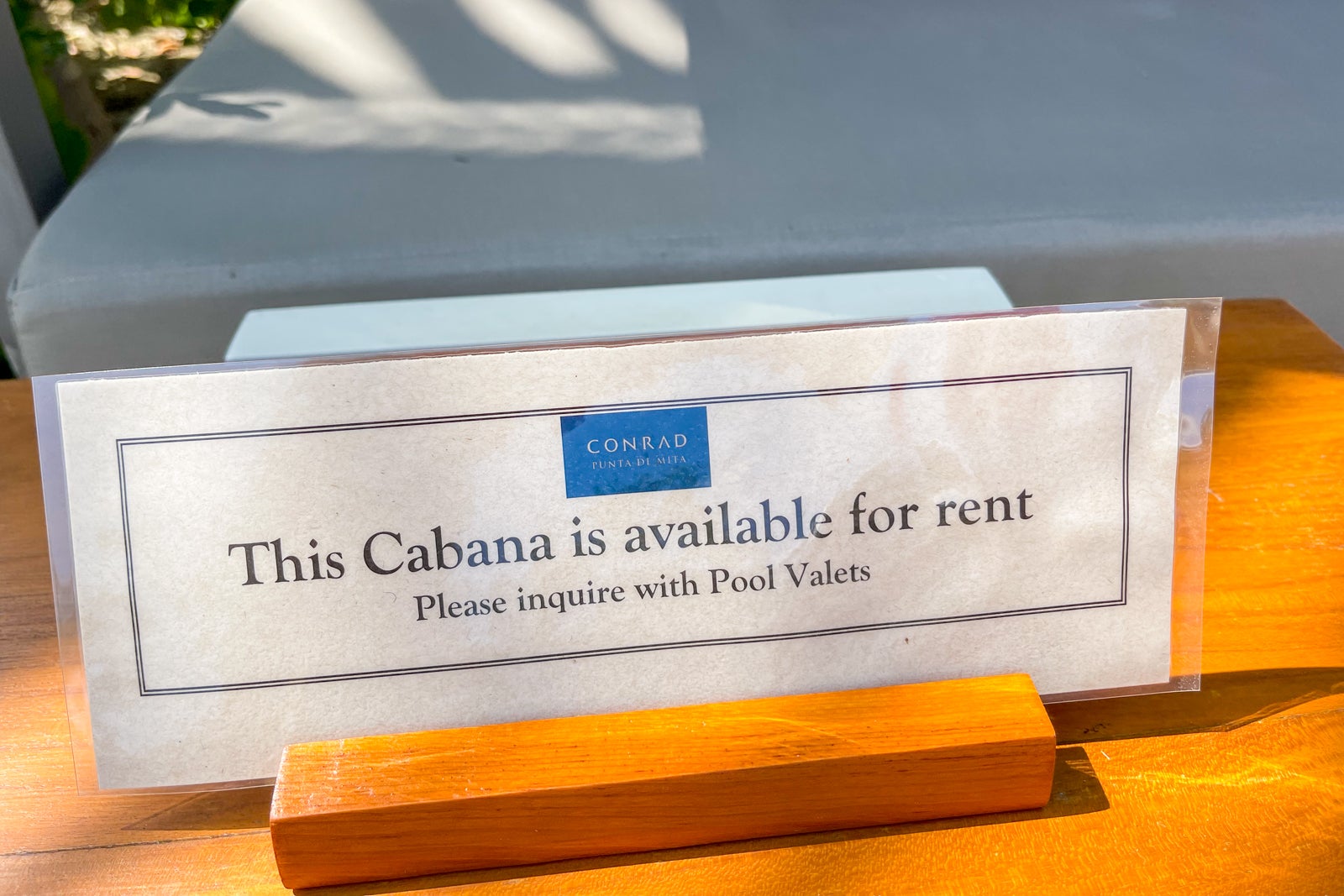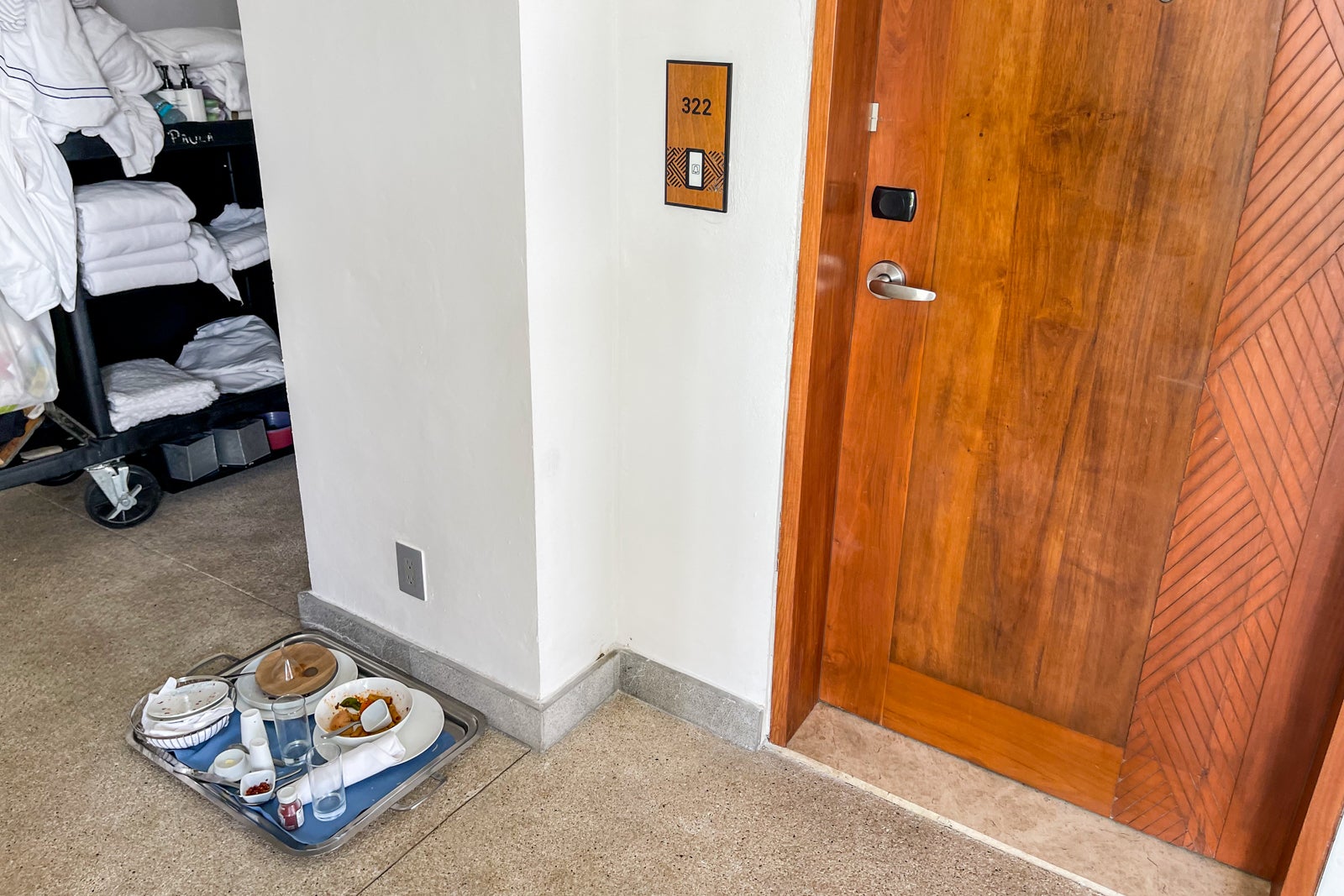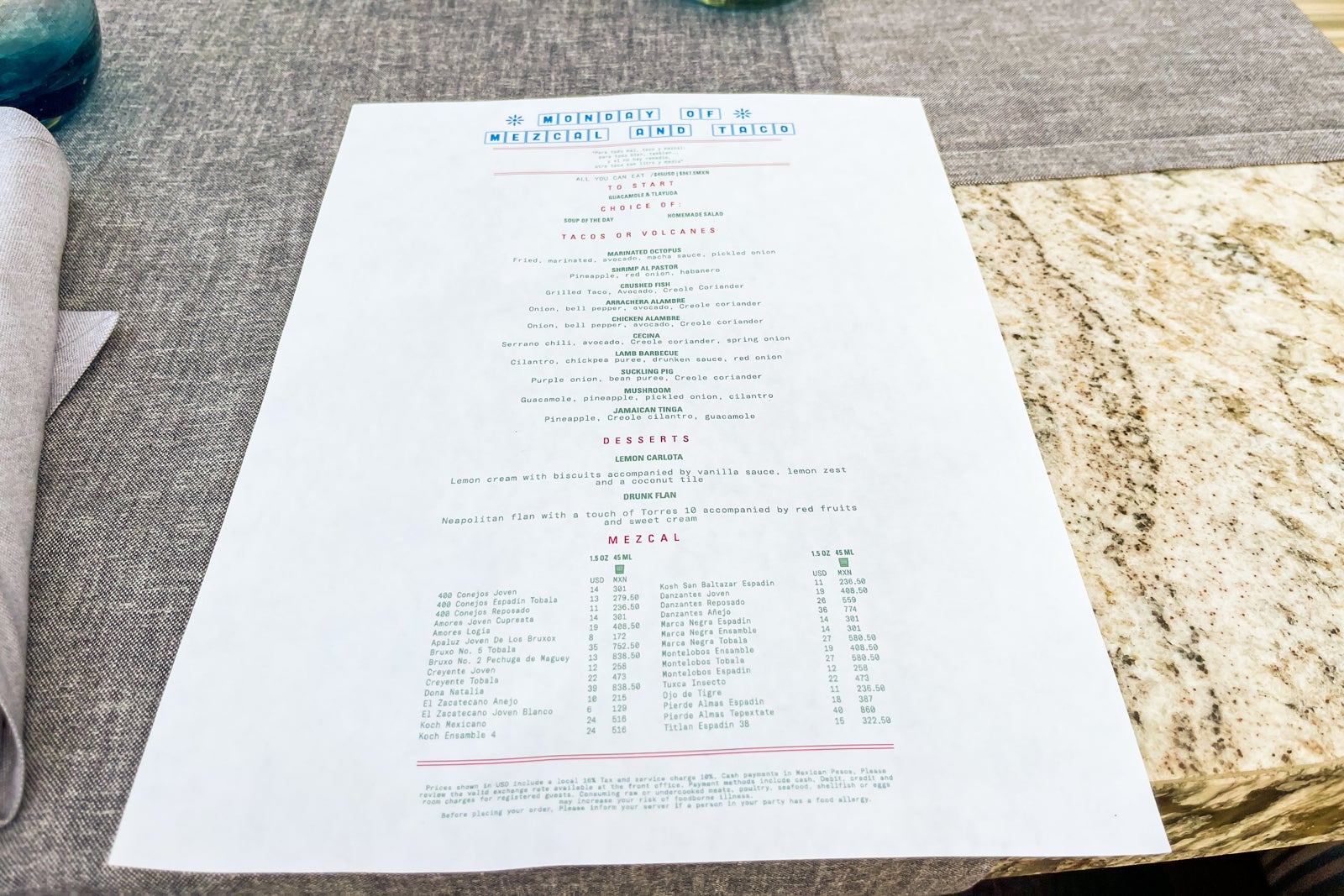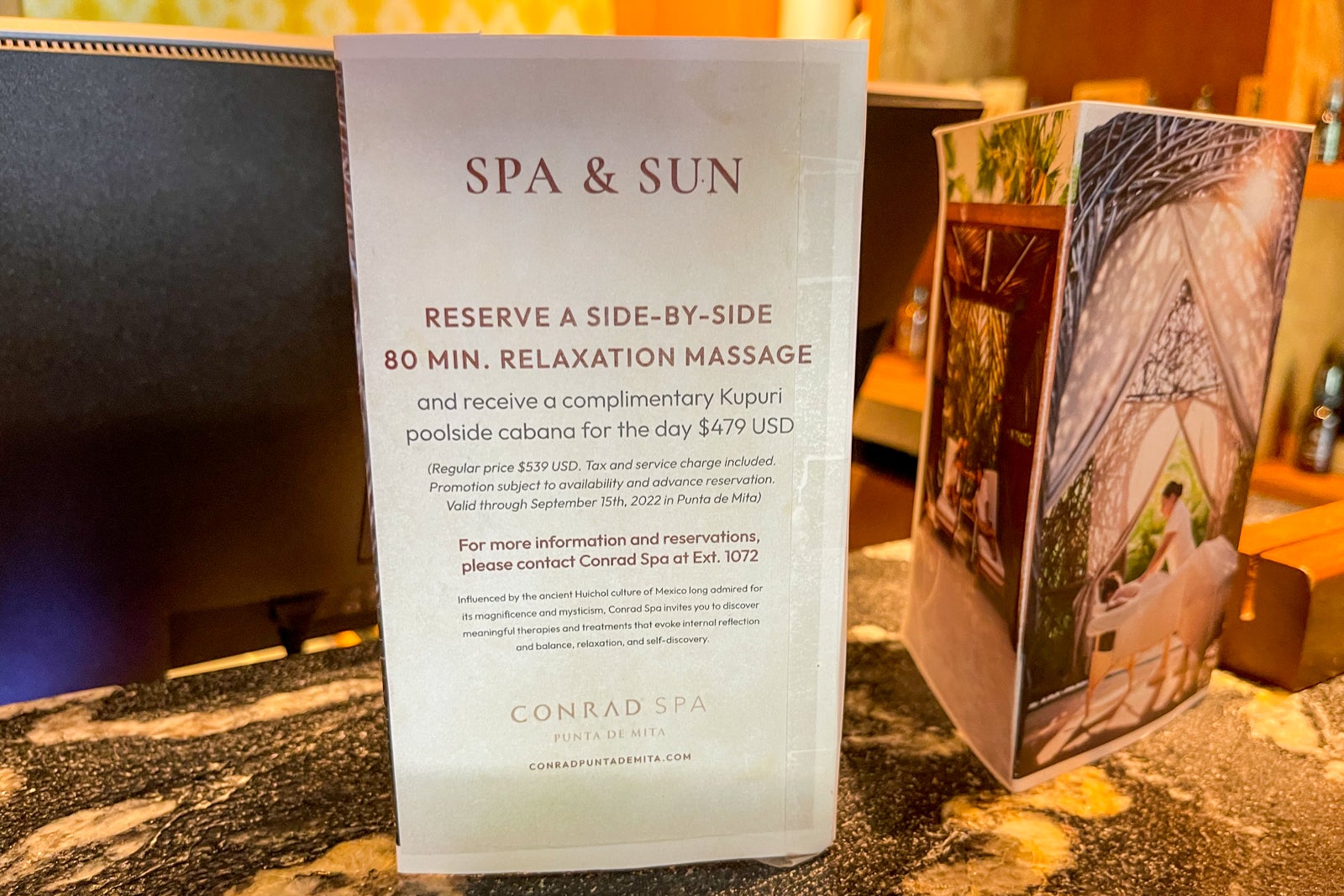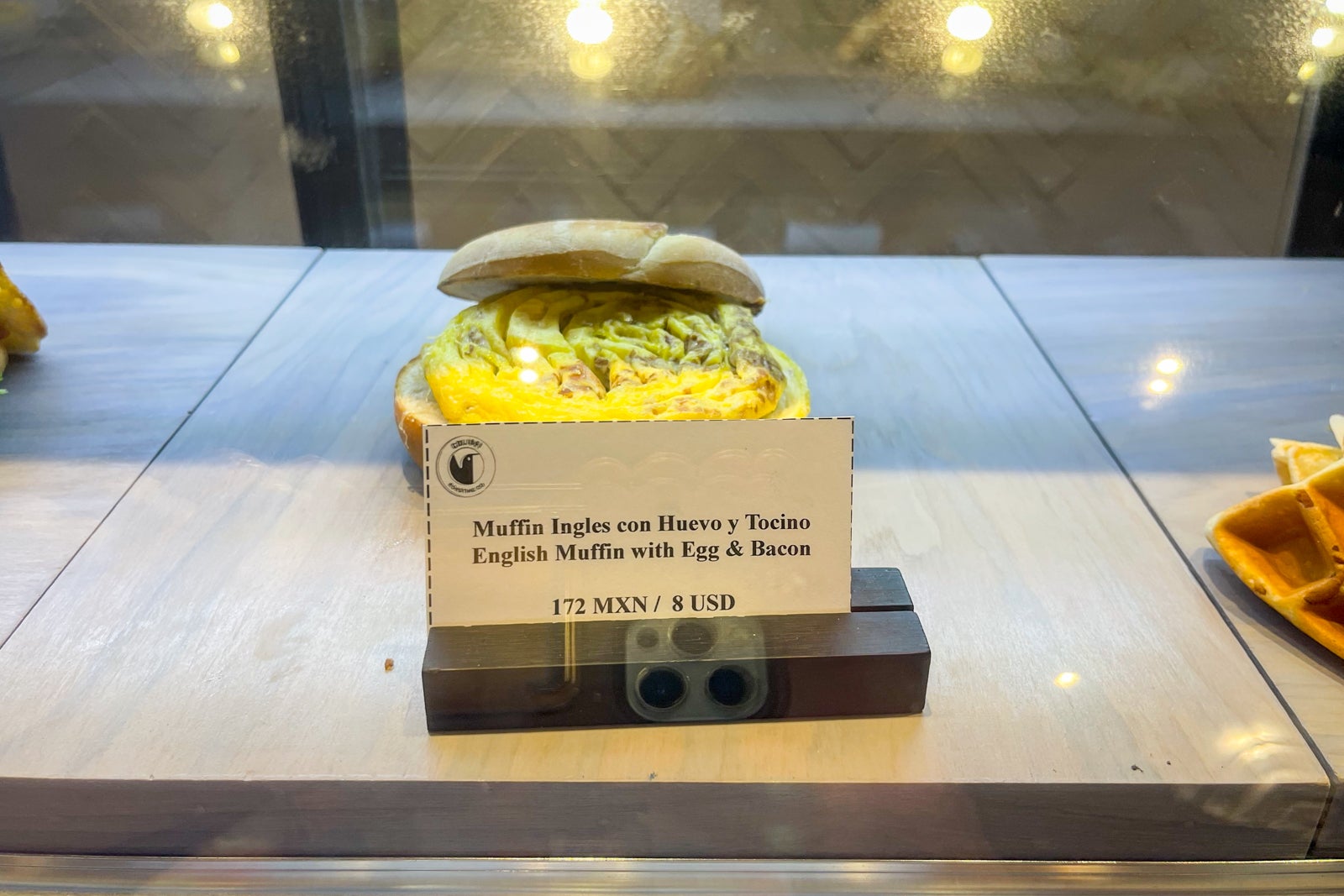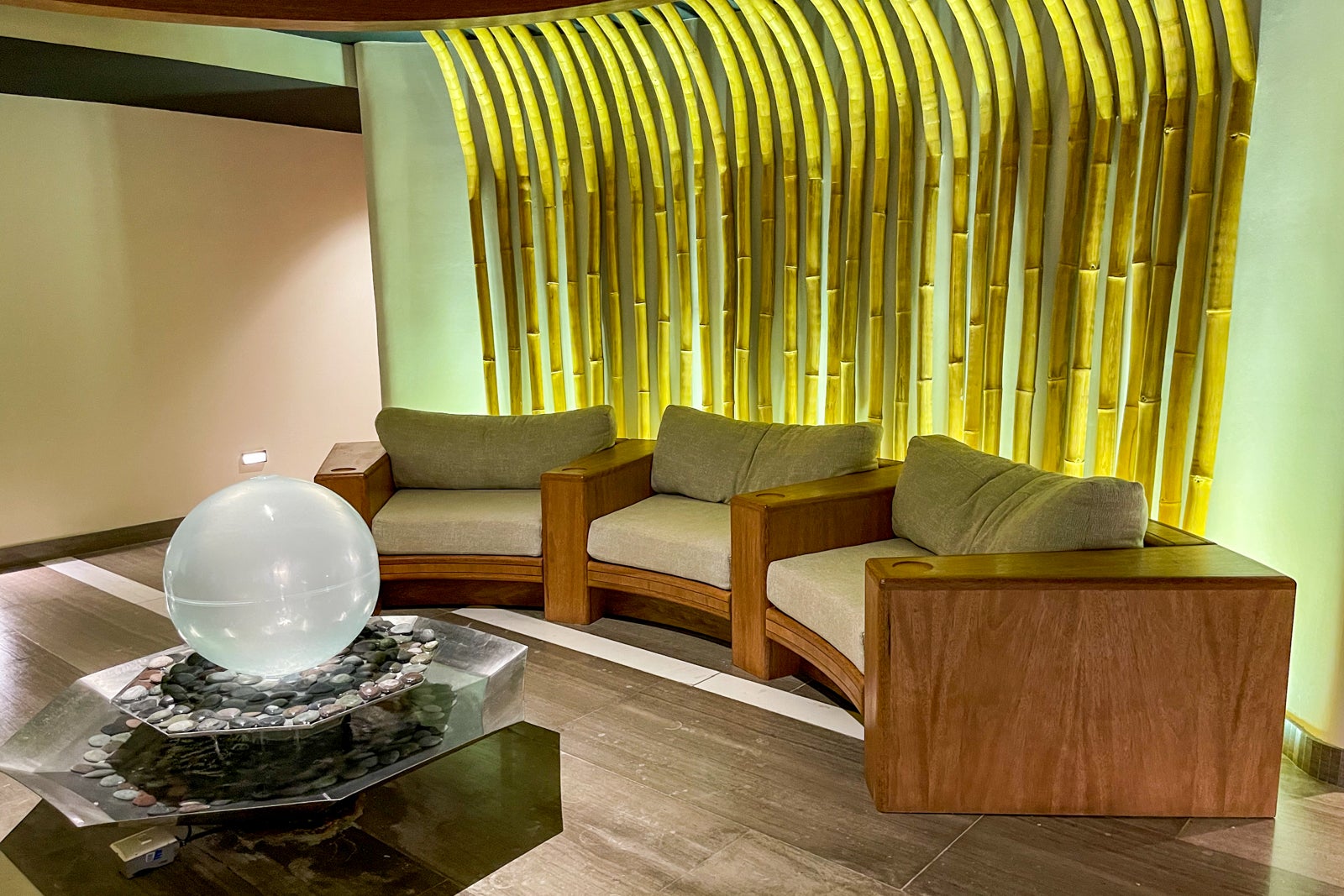 The benefits you'll get here as a Diamond member are limited. All I received was a non-suite upgrade, $25 off a pricey massage and a breakfast credit worth $17 per person for up to two guests, which only covered a fraction of the cost of breakfast.
Prices were high, especially when taxes and service charges were piled on. For example, a taco dinner at Arbol cost $45 per person, and a 60-minute massage was $185 before taxes and tip.
If you're a big coffee drinker, you'll likely find the caffeinated beverages served at the breakfast restaurant disappointing. Both the coffee and cappuccinos we ordered were watery and weak, lacking any noticeable caffeine kick.
The hotel should have incorporated more accessibility into its design

.

While I loved the sleek look of the property overall, the absence of handrails by the many stairs was a major miss for me. If I wasn't paying careful attention as I went up and down them, especially at night and when near the pools (where the cement stairs were often wet), I could've easily stumbled.
The vibe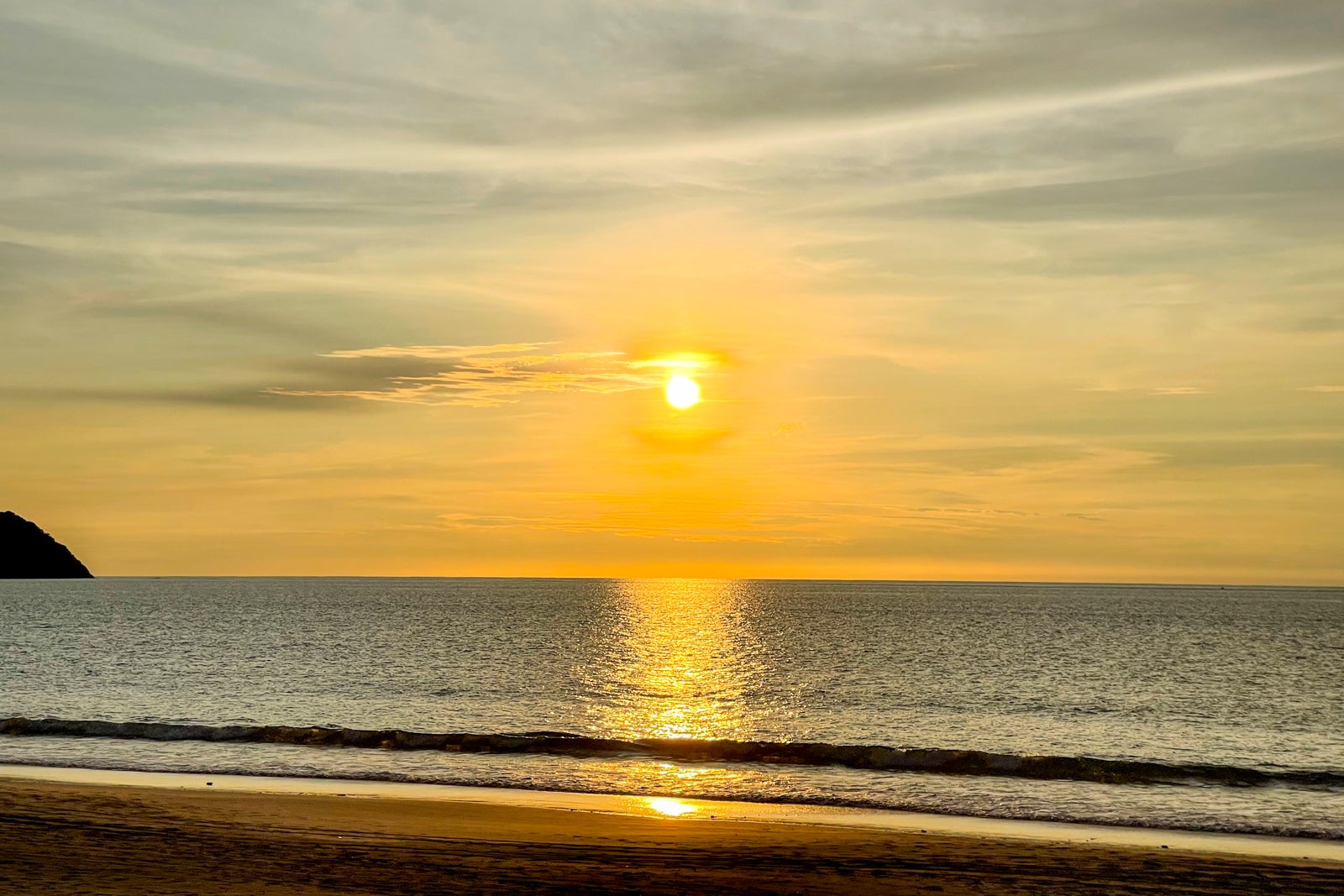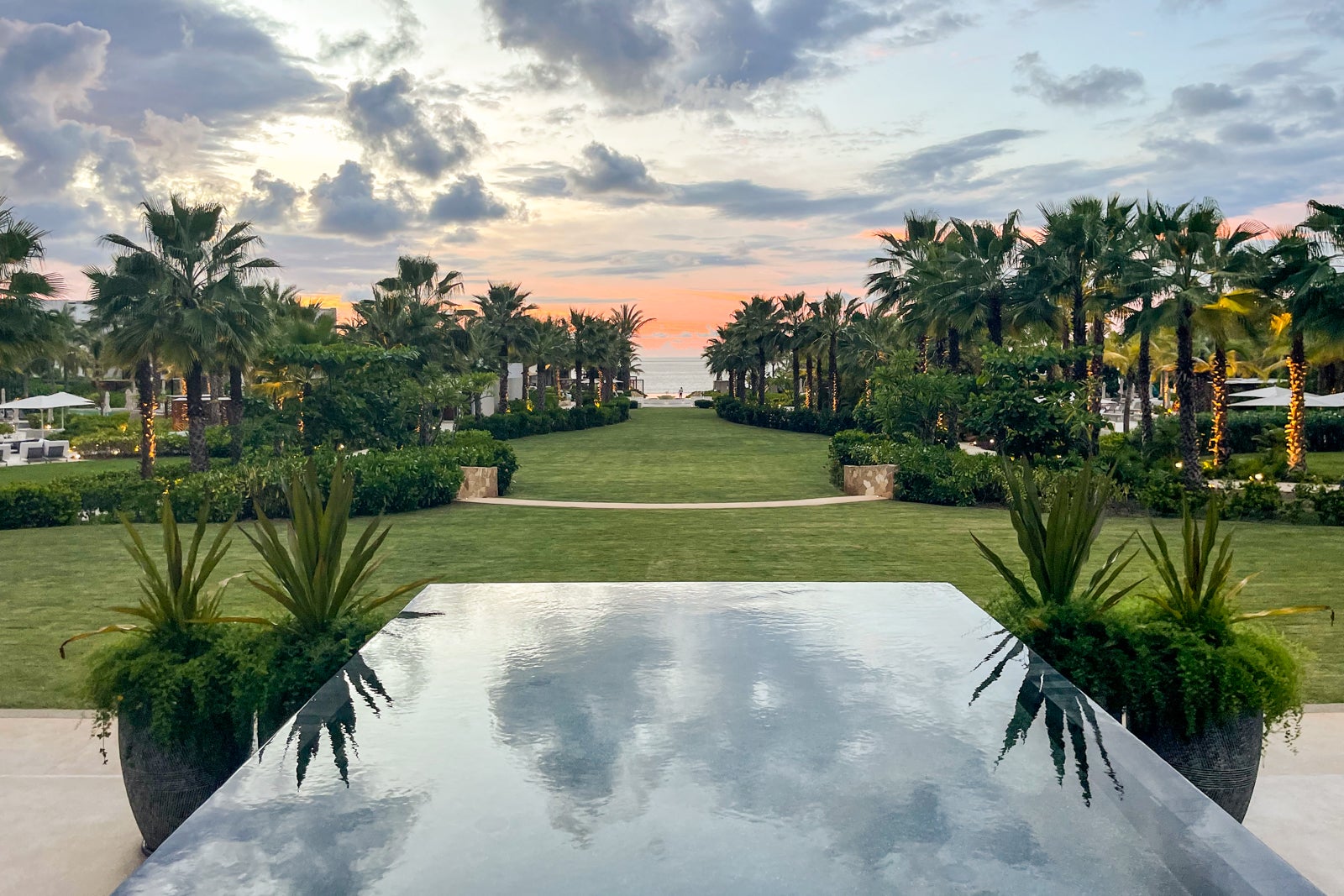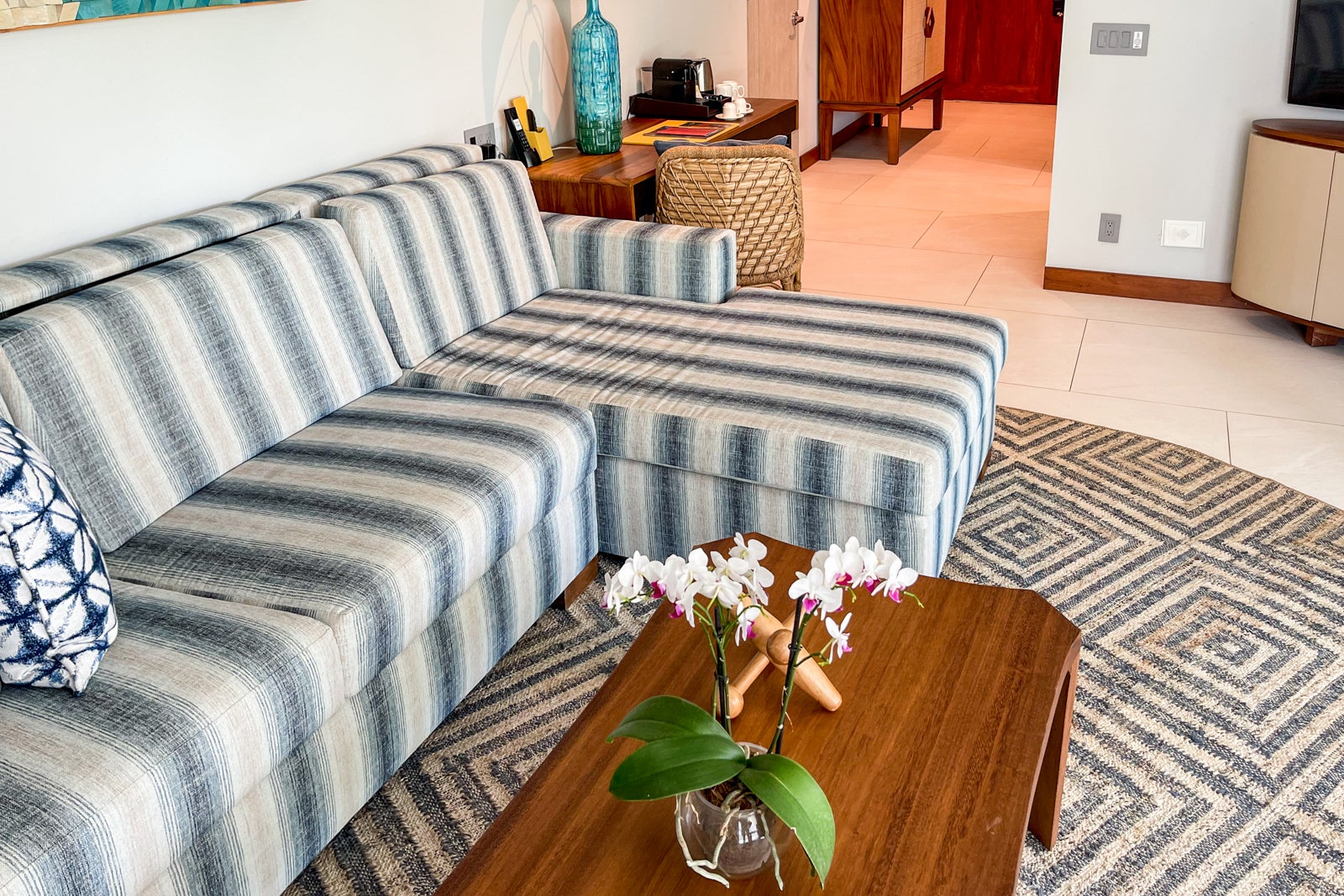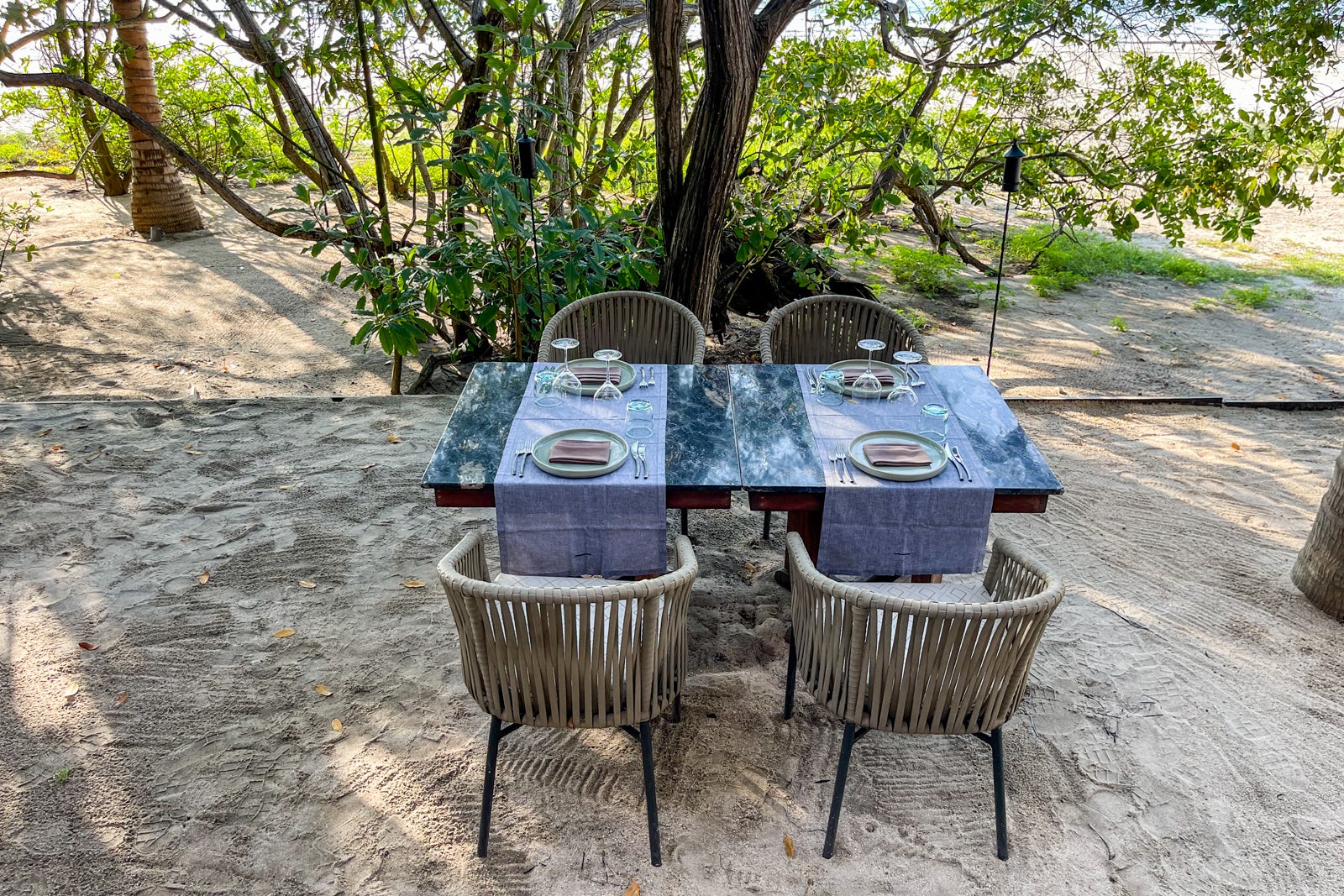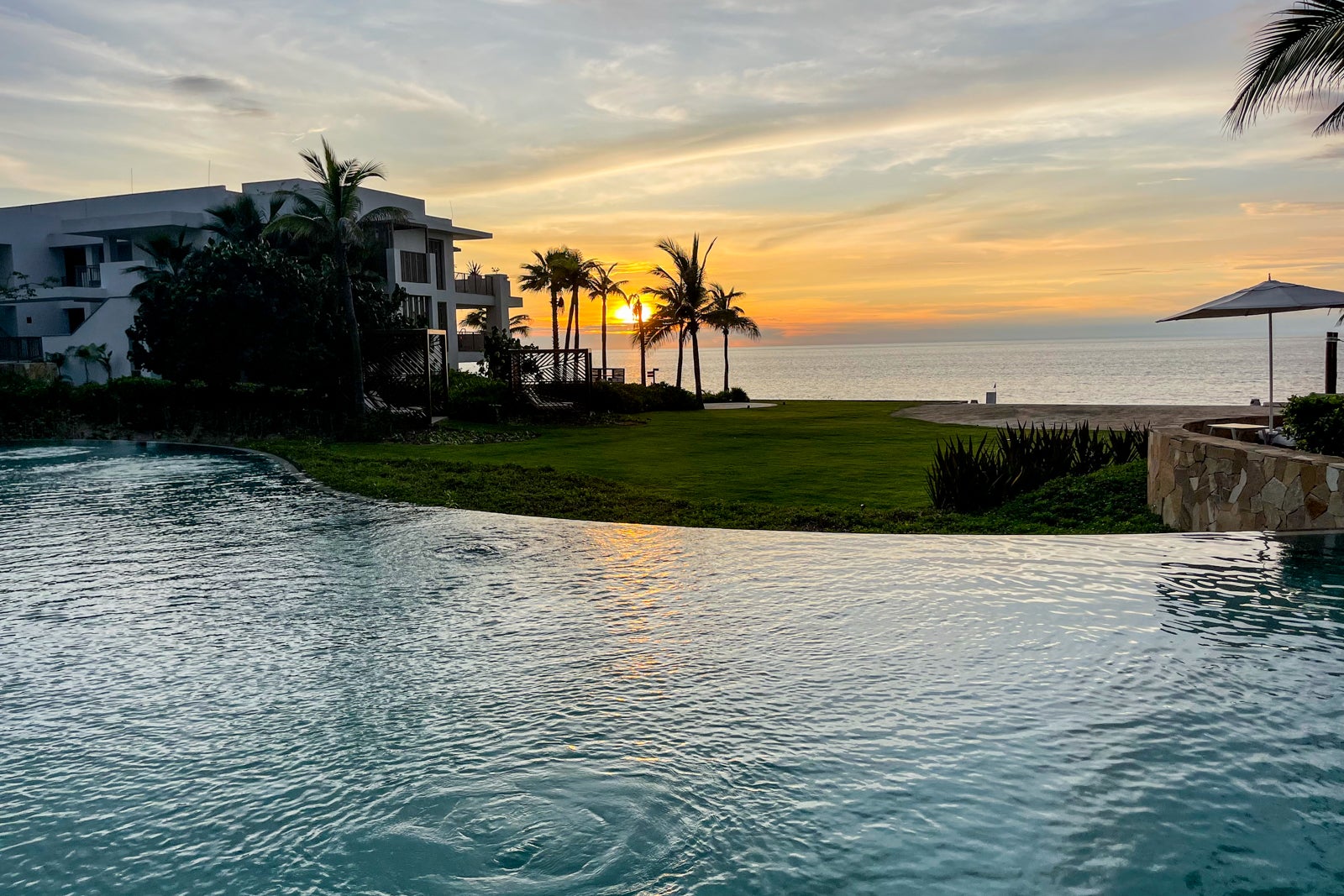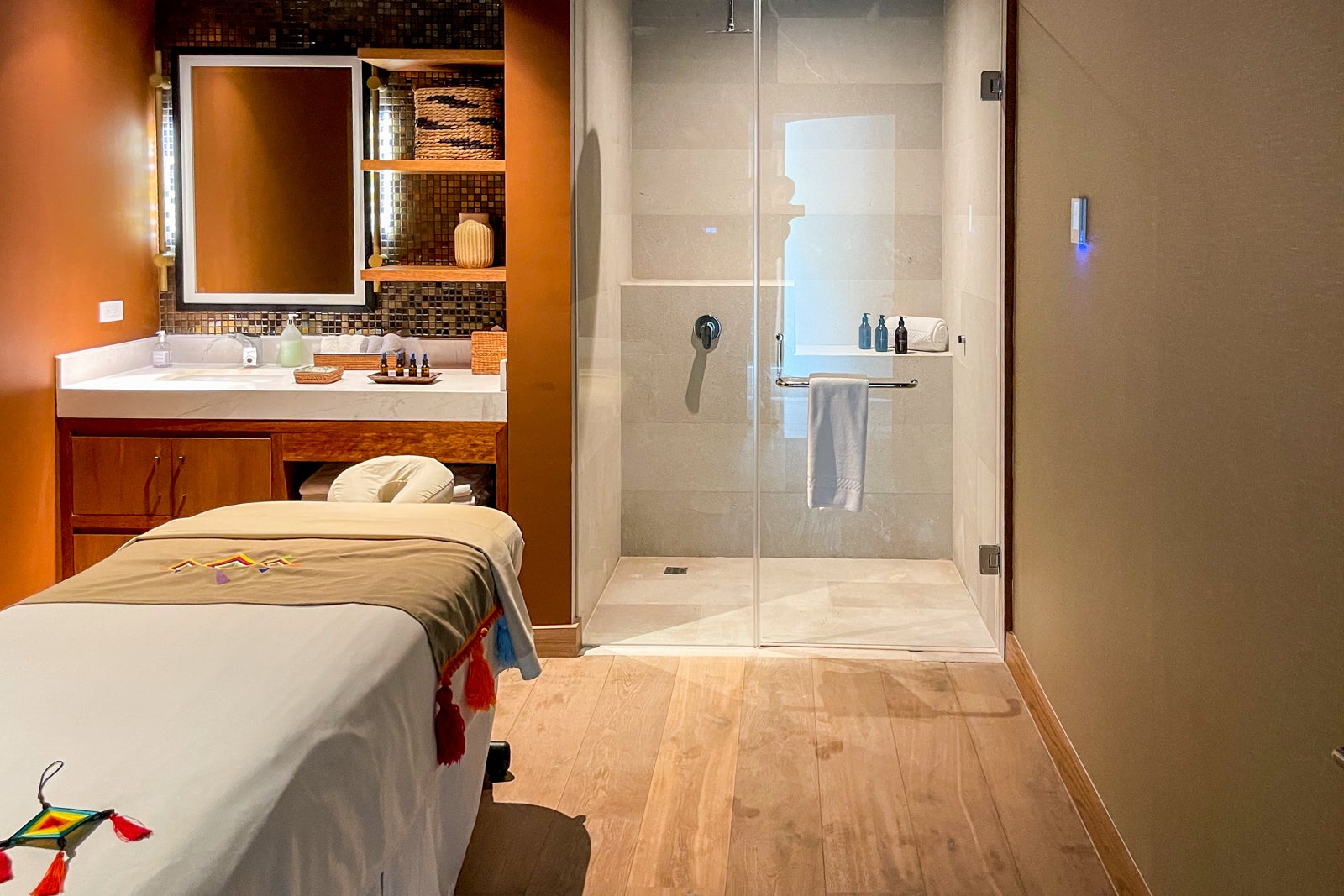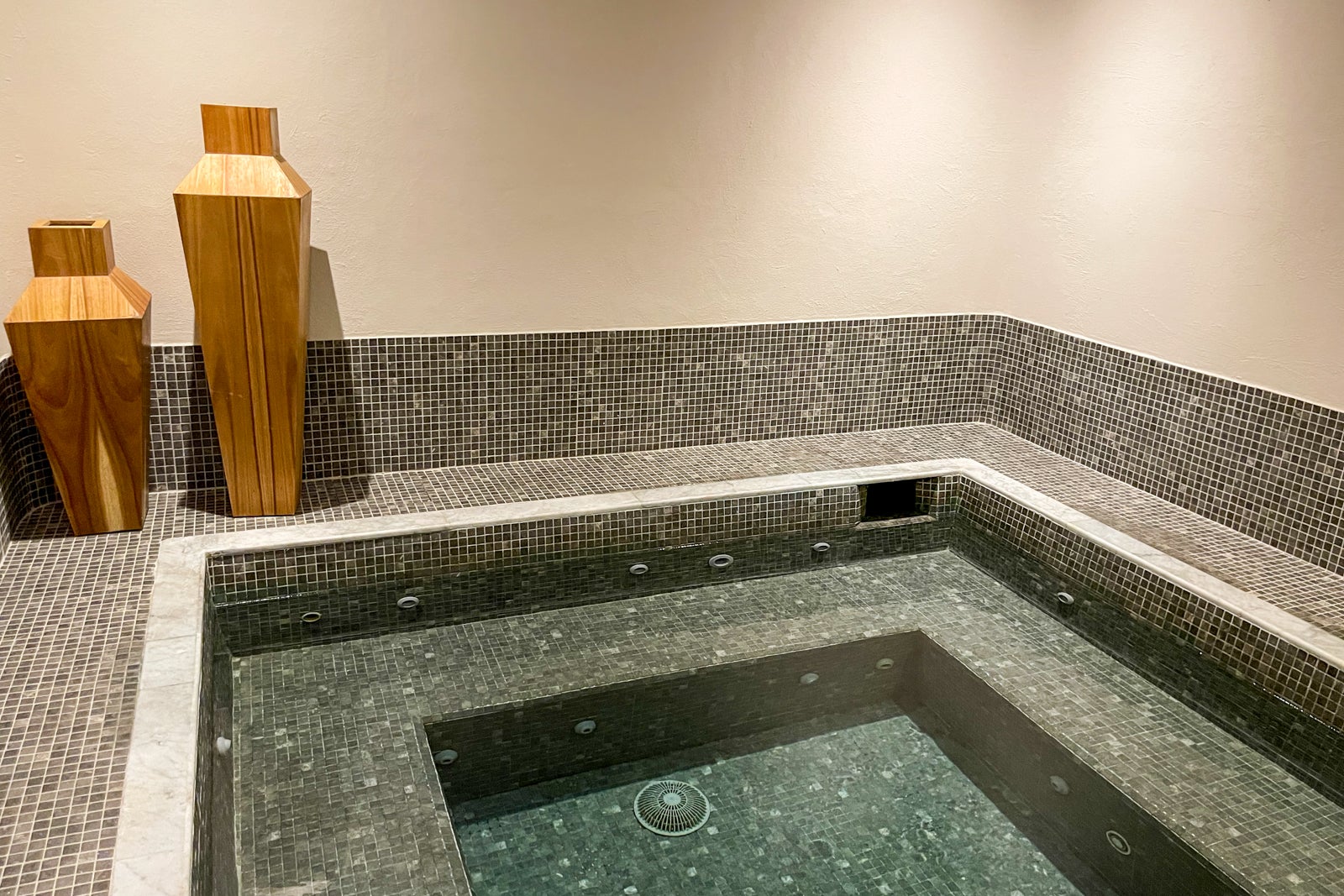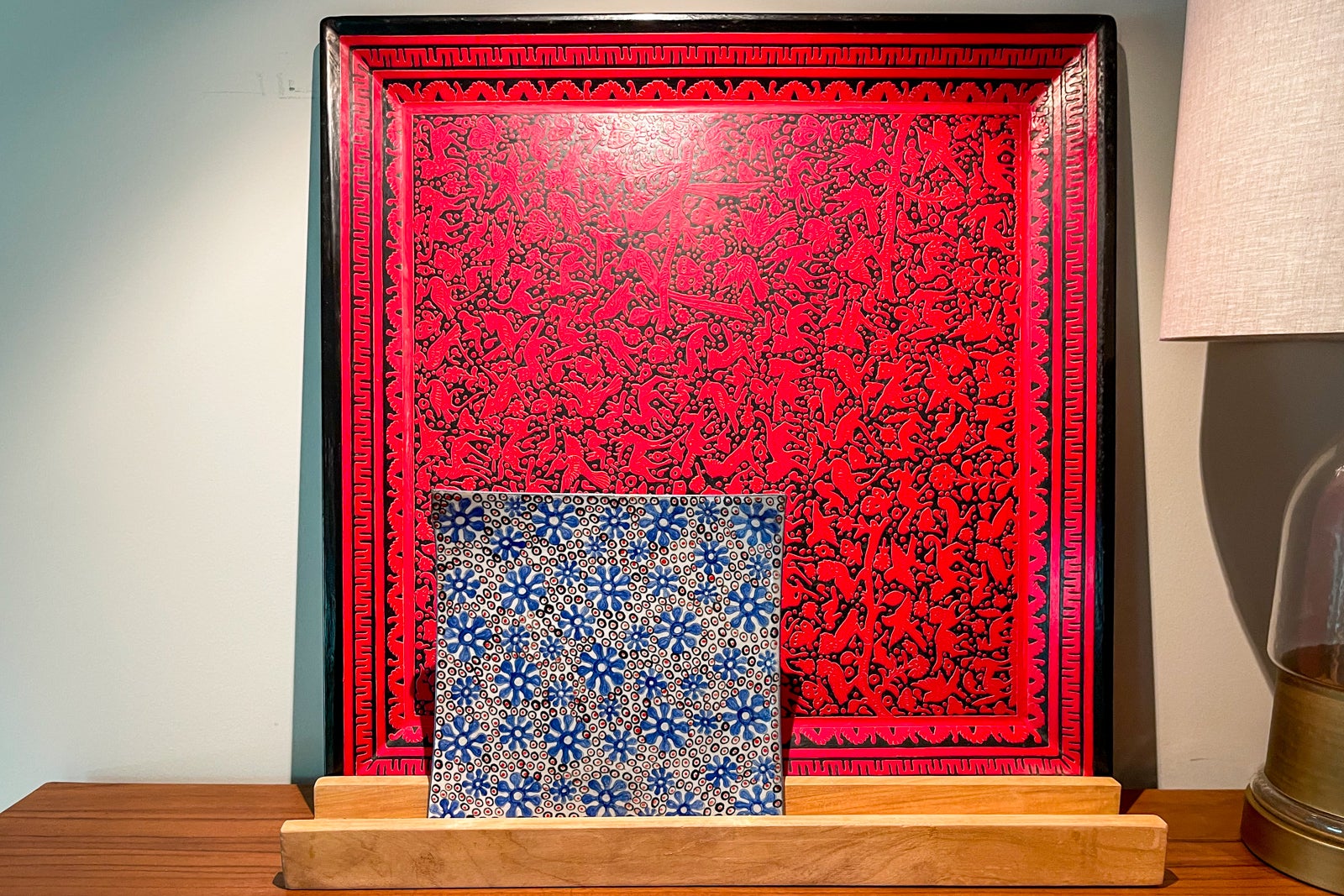 With a white, angular facade and an open-concept interior with pops of color throughout, the Conrad Punta de Mita draws inspiration from its surroundings in a way that feels stylish yet comfortable. Outside, the sparkling white towers and water-spouting features set amid palm trees evoked the feeling of exclusivity — as if we were at a palace with lush gardens.
The same upscale vibe continued inside, with patterned textiles in various shades of blue and green providing a chic nod to the nature-focused setting while complementing the stark whiteness of the walls and ceilings. Stunning artwork inspired by Mexico's natural beauty hung from walls, and sculptural, handicraft-inspired furniture evocative of a pre-Spanish era was strategically placed to grab your attention as you lingered in the lobby.
The locally-inspired design continued in the guest rooms, where wooden headboards were accented with woven rattan influenced by the basket-making art forms of the Huichol people. Even the spa used Mexico as its inspiration; laid out in a crab shape, the design is an homage to the crustacean commonly found in the region.
The resort is suitable for multigenerational groups thanks to its kid-friendly amenities like a kids club and a pool with a waterslide. Still, know that the romantic setting by the sea makes this Conrad popular with twosomes, so you won't find that many kids running around.
The room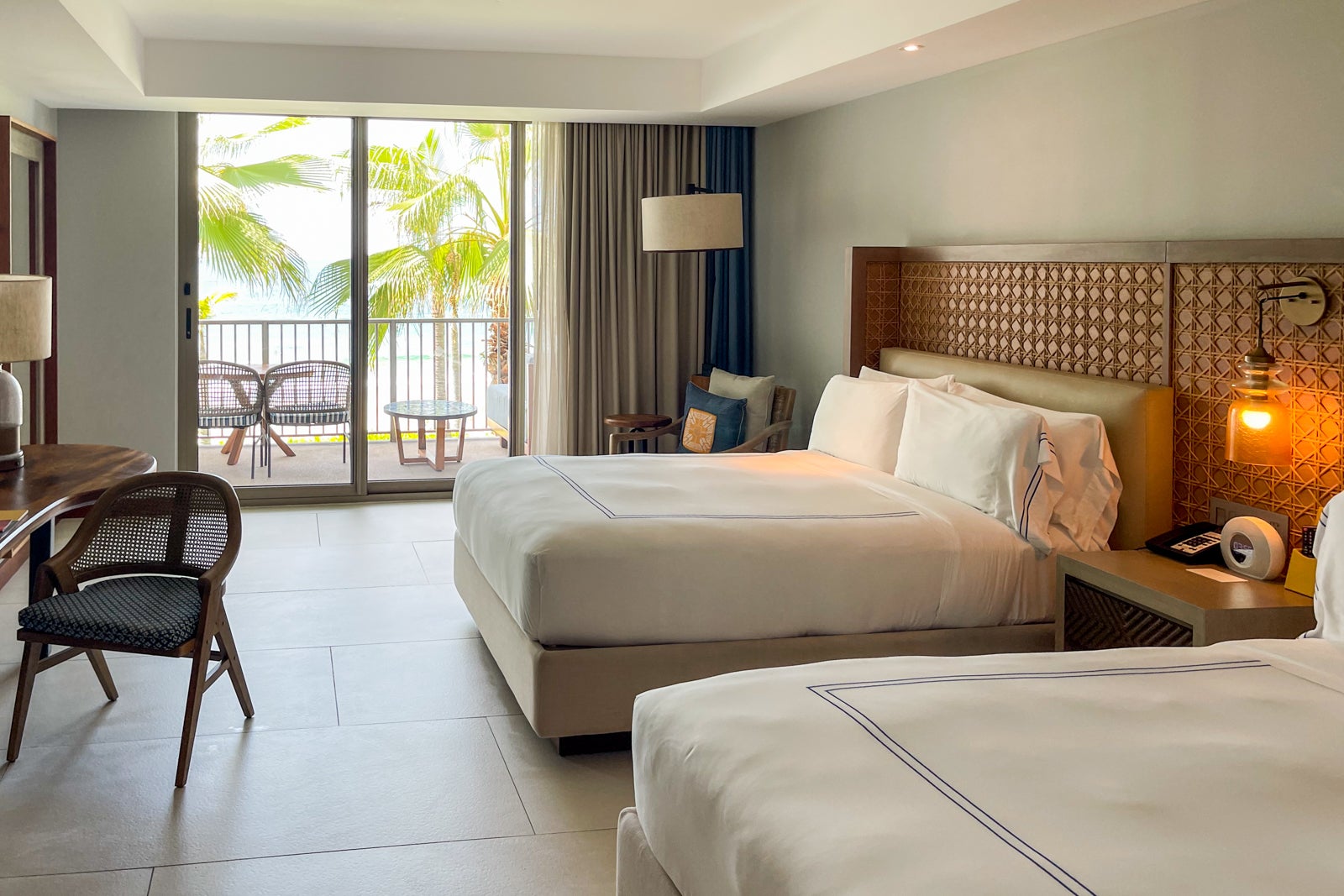 Even though we had booked a standard room with two queen-size beds, my aunt and I were pleasantly surprised to find that the Hilton Honors app showed us in an upgraded beachfront room a few days before checking in.
As we walked into the 705-square-foot space, we were wowed by the beautiful ocean view. The spacious patio, which featured a love seat with a low table, a higher bistro table and two chairs, beckoned us for morning coffee and afternoon happy hour.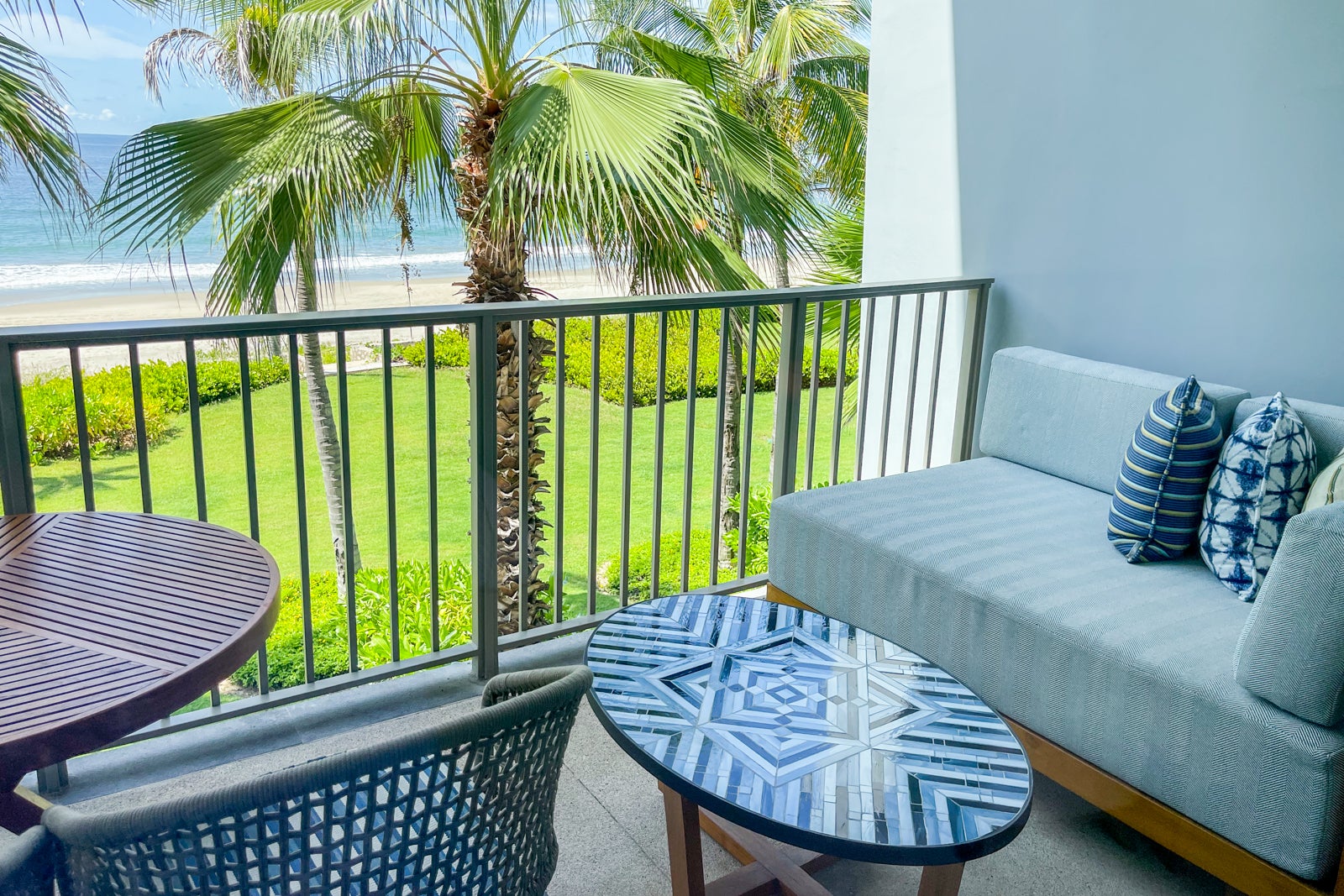 The room's interior was equally impressive, featuring a number of eye-catching decorative touches, such as furnishings with rattan and wood details. The sage-green walls created a soothing ambiance while graphic paintings with pops of blue evoked the Pacific Ocean just outside our window.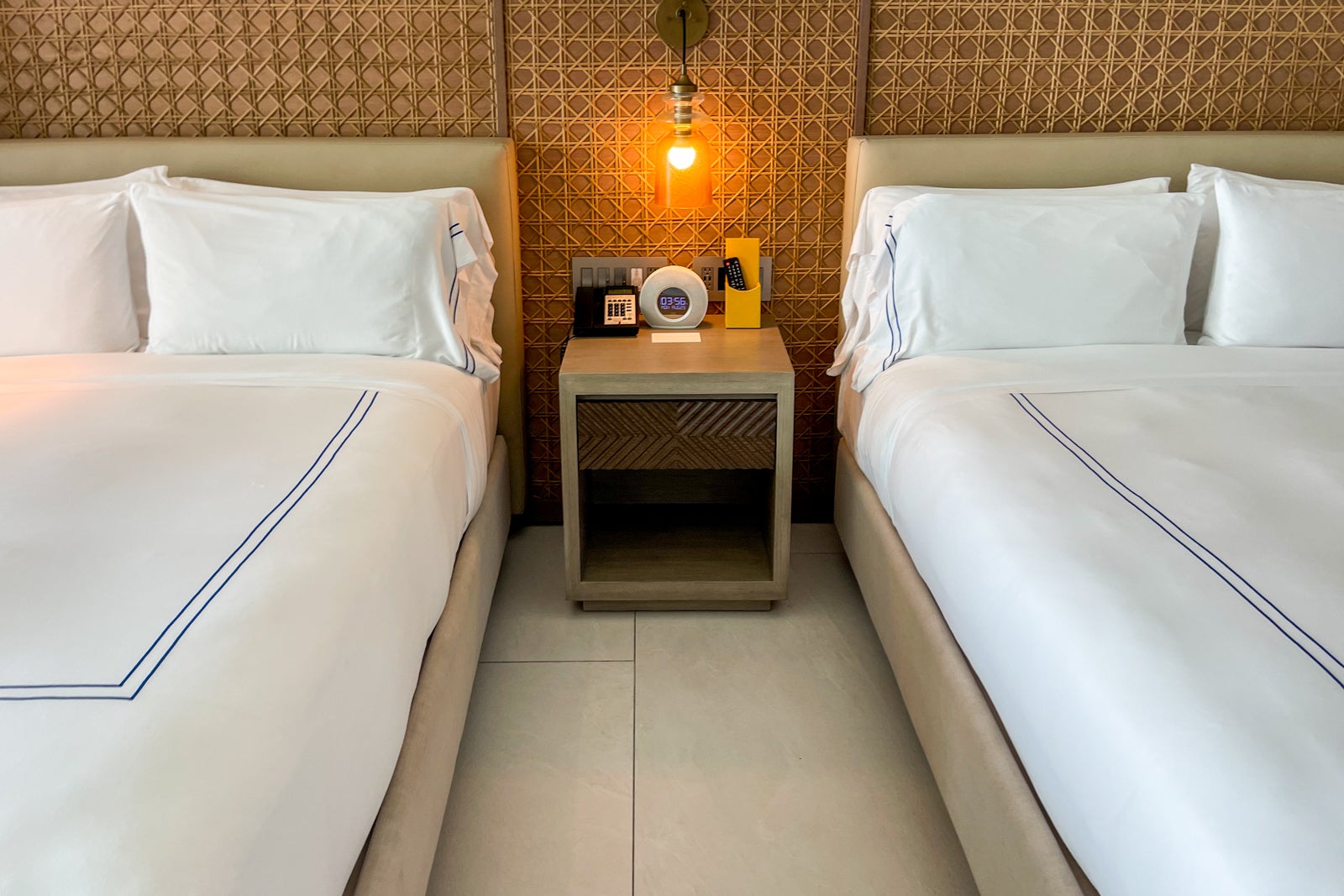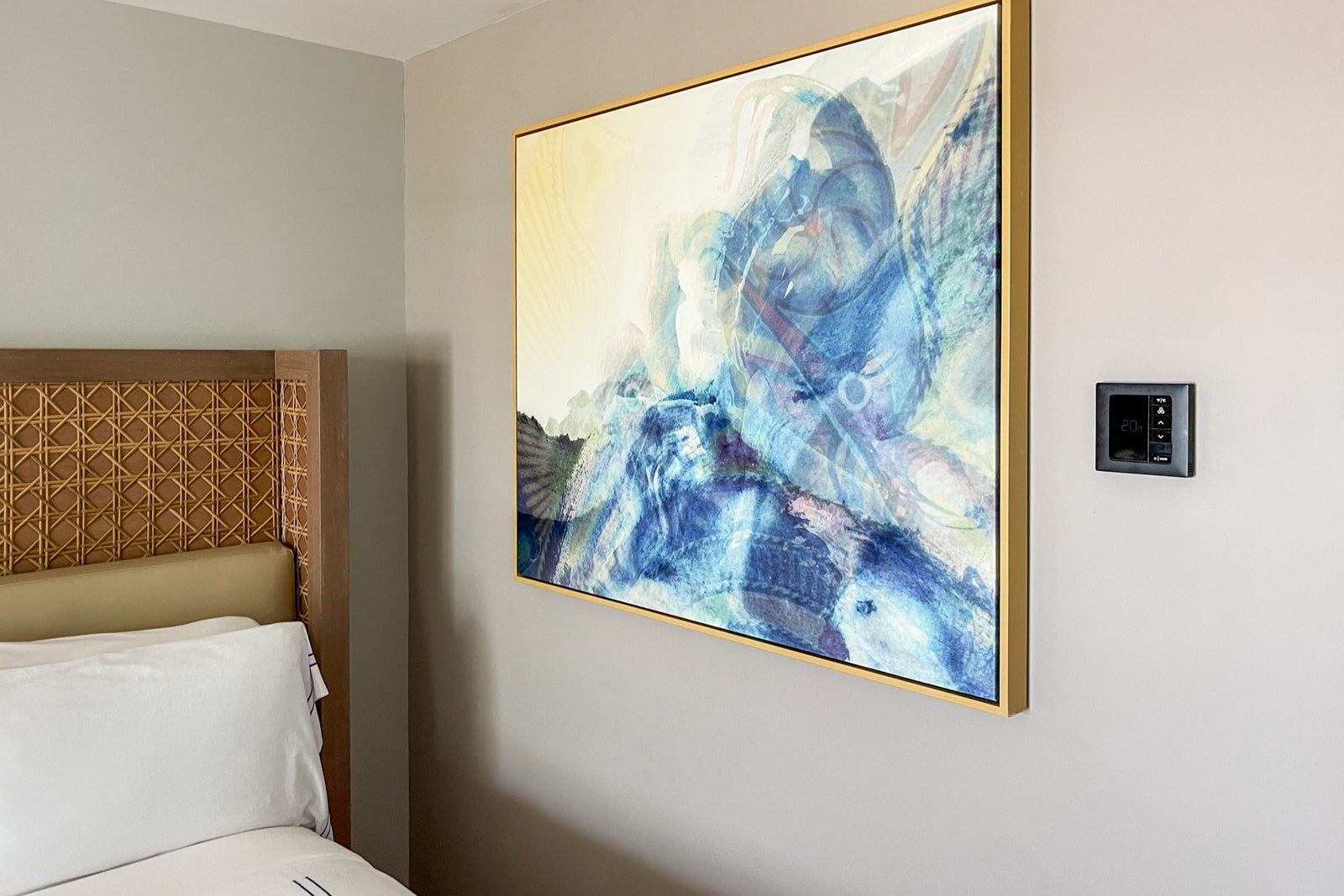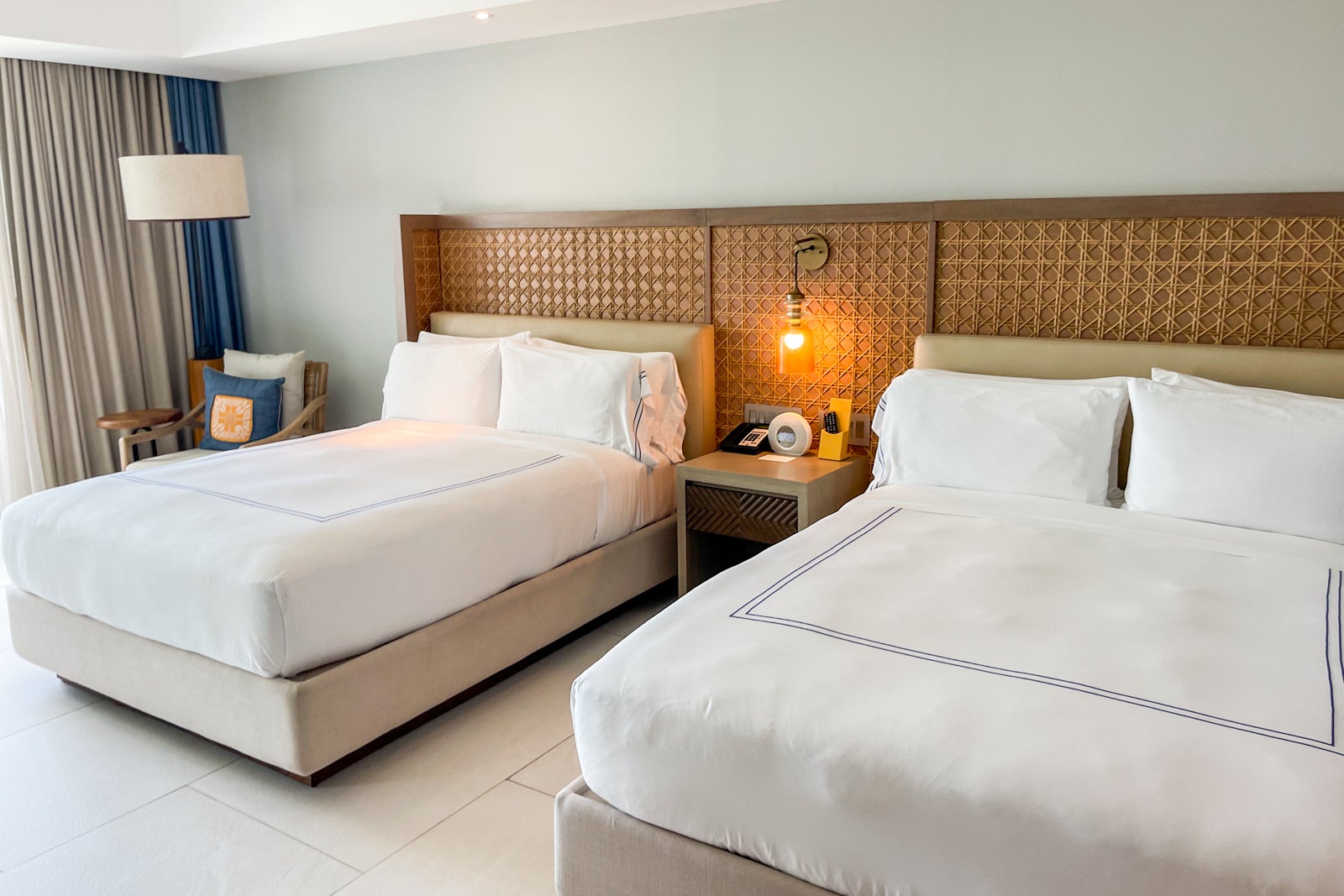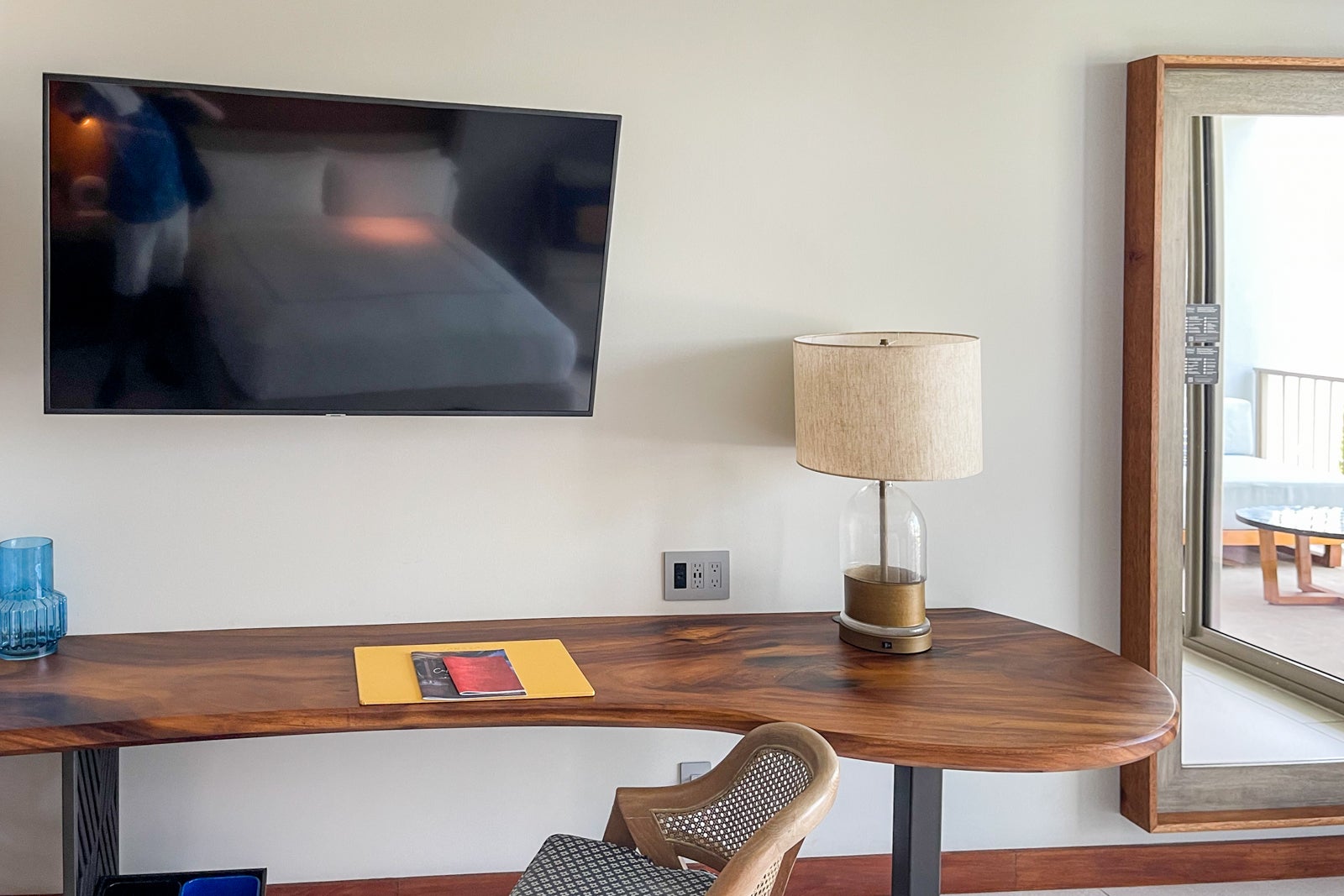 There was a Nespresso machine and an electric kettle situated next to an assortment of coffee and teas. To the right of the Nespresso machine, there was a closet outfitted with deep drawers, a safe, a luggage rack, two bathrobes, slippers and an iron with an ironing board. There were plenty of electrical outlets throughout the room, too. Just below the TV, a desk and chair were positioned against the wall.
The blackout curtains did an excellent job of blocking sunlight from entering the room so we could sleep in. The beds dressed in soft, white linens were a highlight as well; they were some of the most comfortable that I have ever slept in while staying at a hotel.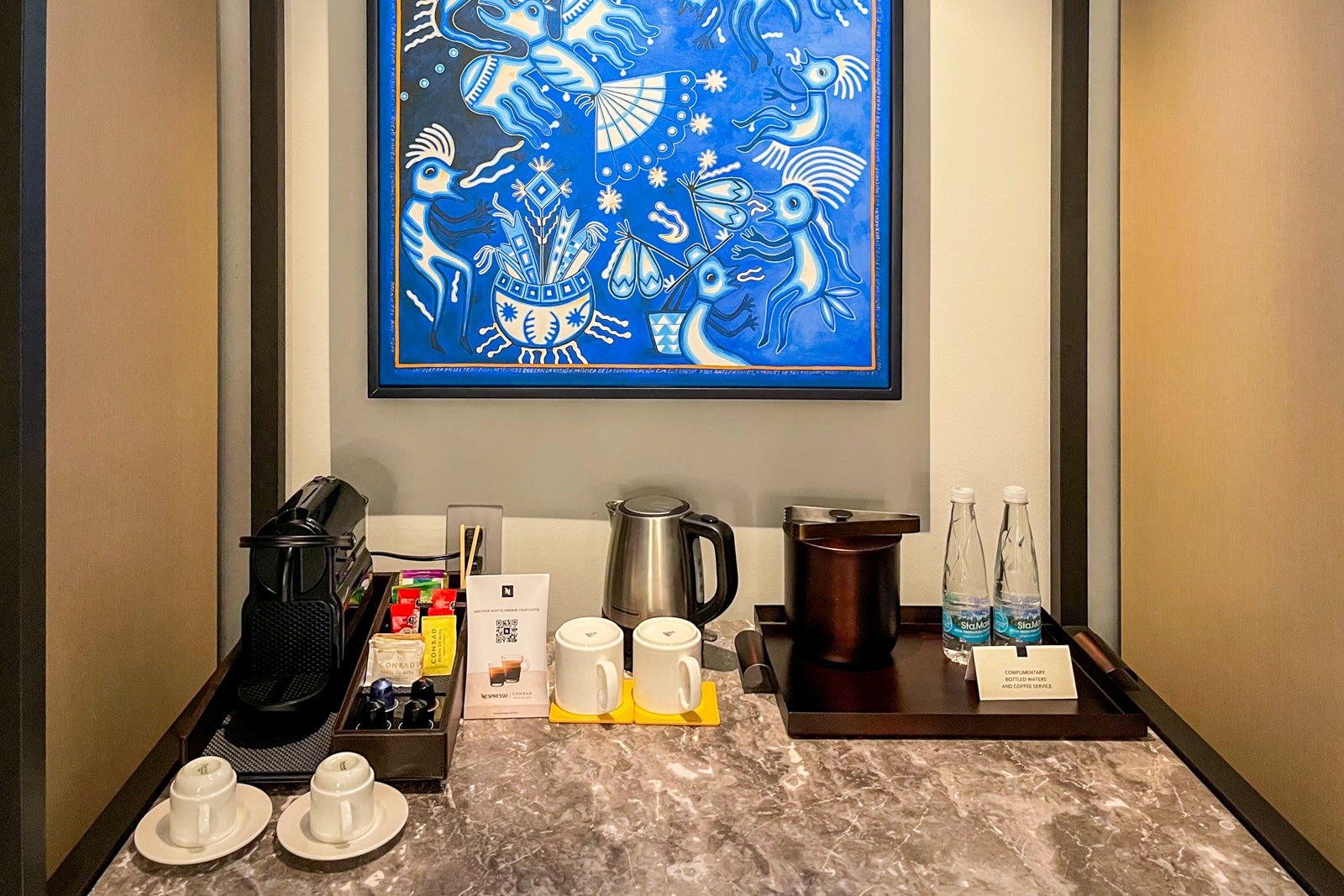 Beyond the living and sleeping space, there was a bathroom with large mirrors above the two sinks, a walk-in shower with strong water pressure from the rain showerhead and a separate water closet housing the toilet. Cucumber-scented Mojave Ghost bath products were on hand in the shower and by the sinks.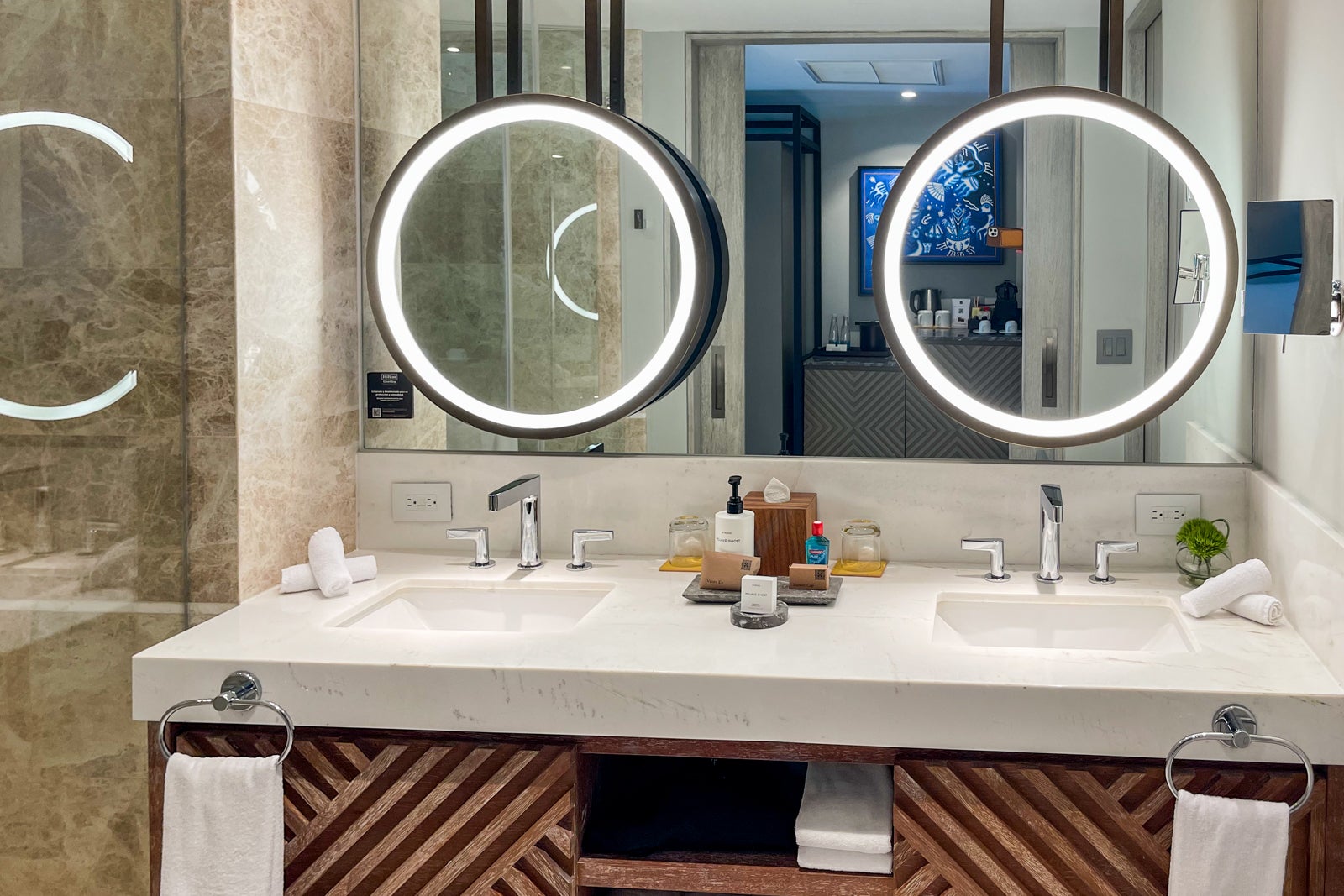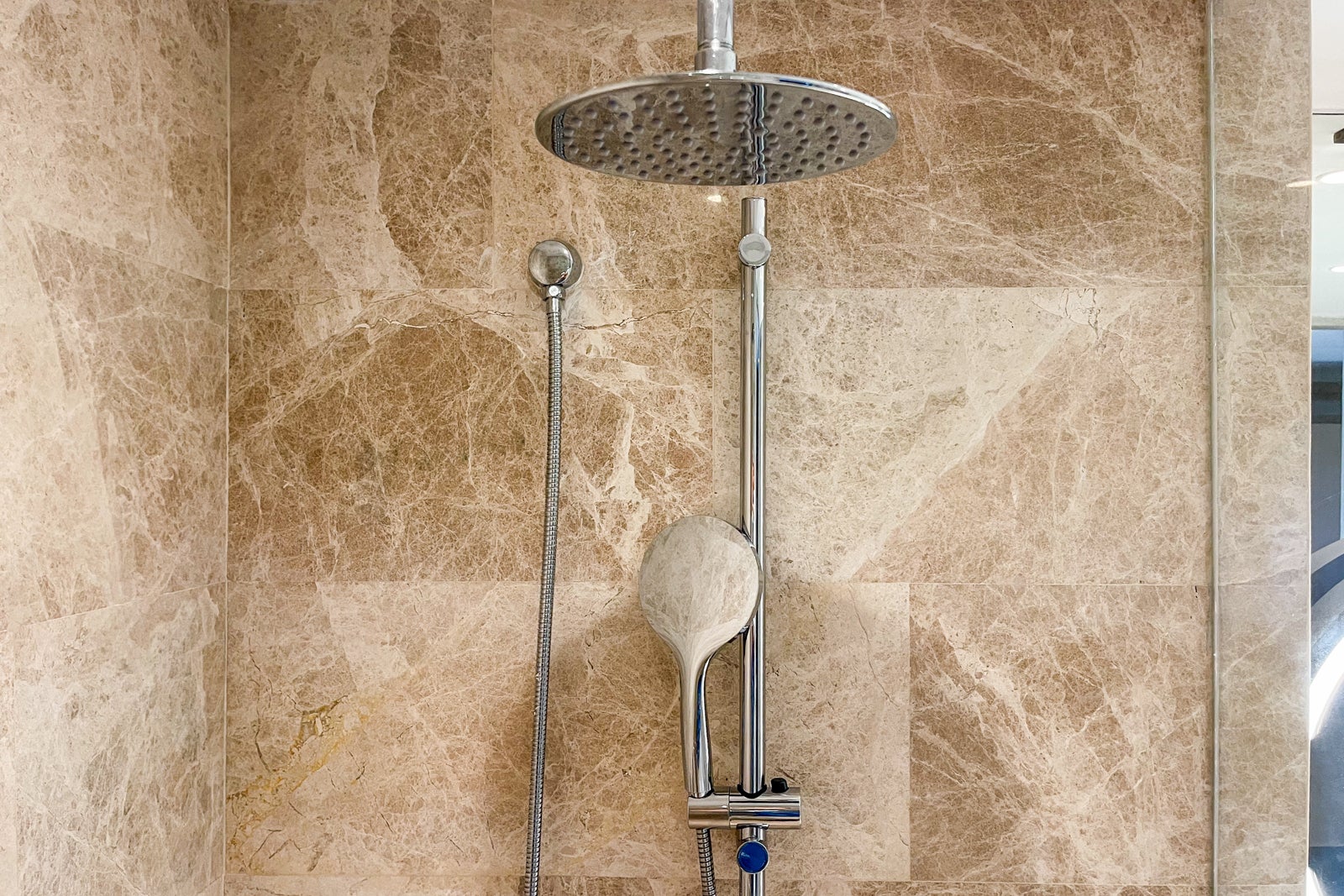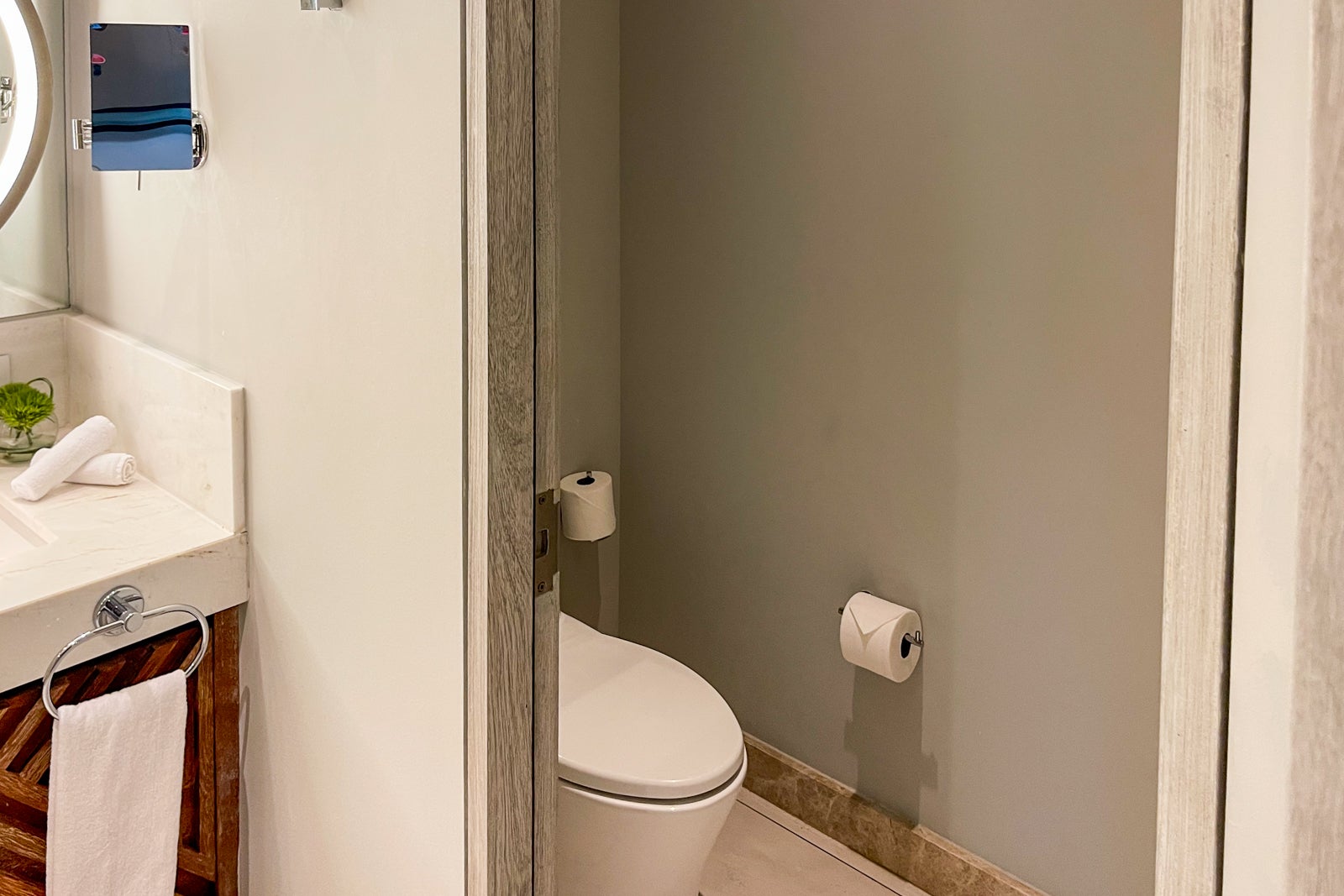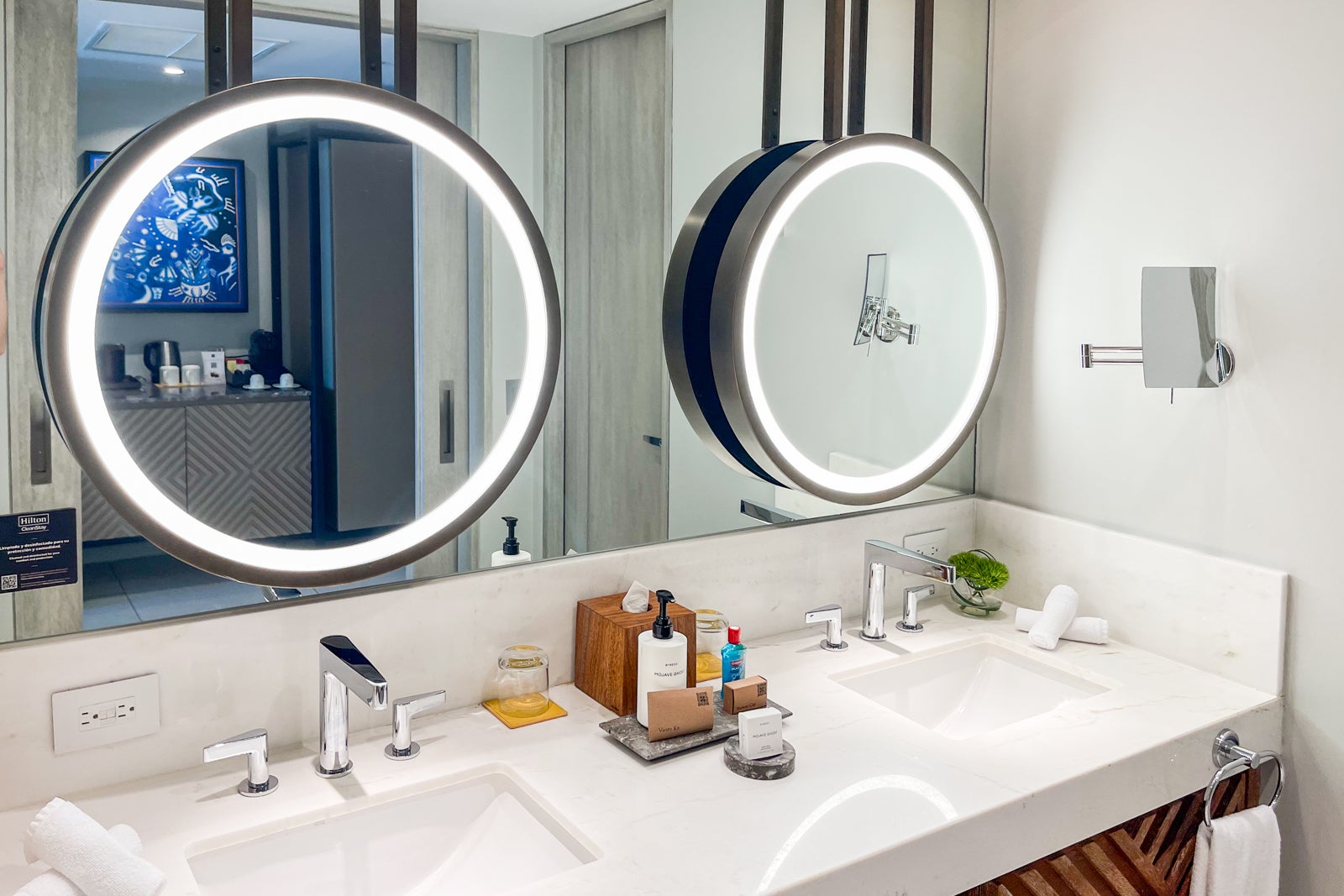 During our stay, we were advised by the resort to refrain from drinking tap water. While this could have been a major inconvenience, our visit was hardly affected as the hotel provided unlimited bottled water for free, which was regularly replenished when our supply was running low.
A more noticeable issue was the air conditioning. While it consistently kept the space cool, the room was uncomfortably humid — to the point that the sheets, our clothes and our shoes felt damp. The moisture issue even caused a bag of cough drops I brought to completely melt.
Related: 25 hotel views you'll want to see for yourself
Food and drink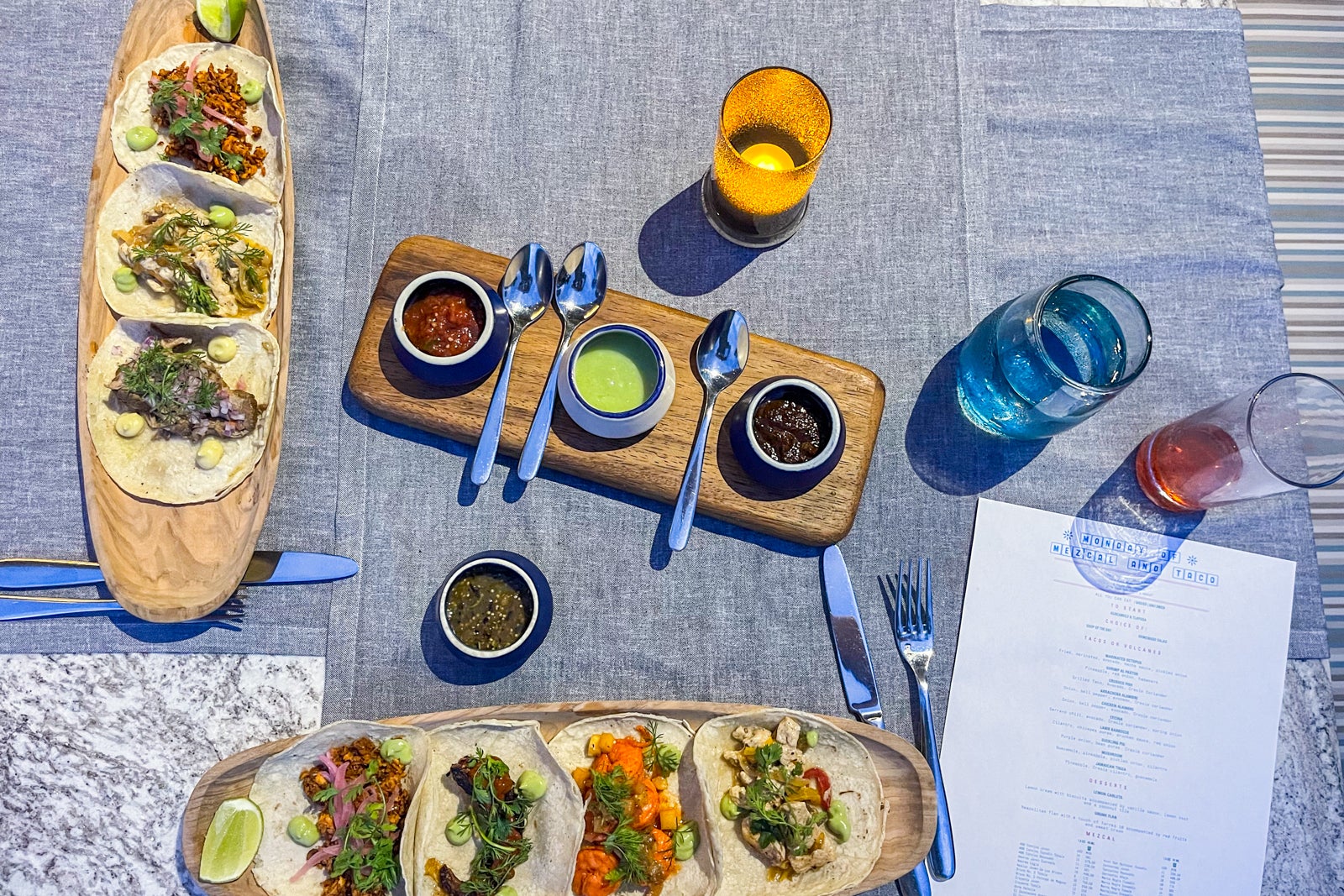 If you're an avid foodie like me, you'll be happy to know that the Conrad Punta de Mita has you covered. Nearly every dish we tried was tasty.
On our first night, my aunt and I visited Arbol to experience the eatery's Monday taco night, a weekly themed dining experience popular with guests. For $45 per person, we received chips and guacamole, a choice between the soup of the day and a salad, all-you-can-eat tacos from an a la carte menu with various proteins (try the octopus) and a selection of two desserts. Of everything we ordered, the flavorful tortilla soup with fresh avocado cubes was the highlight, though all the dishes were excellent. A clear sky full of stars overhead as we dined, with the strum of an acoustic guitar playing in the background, made for the perfect ambiance.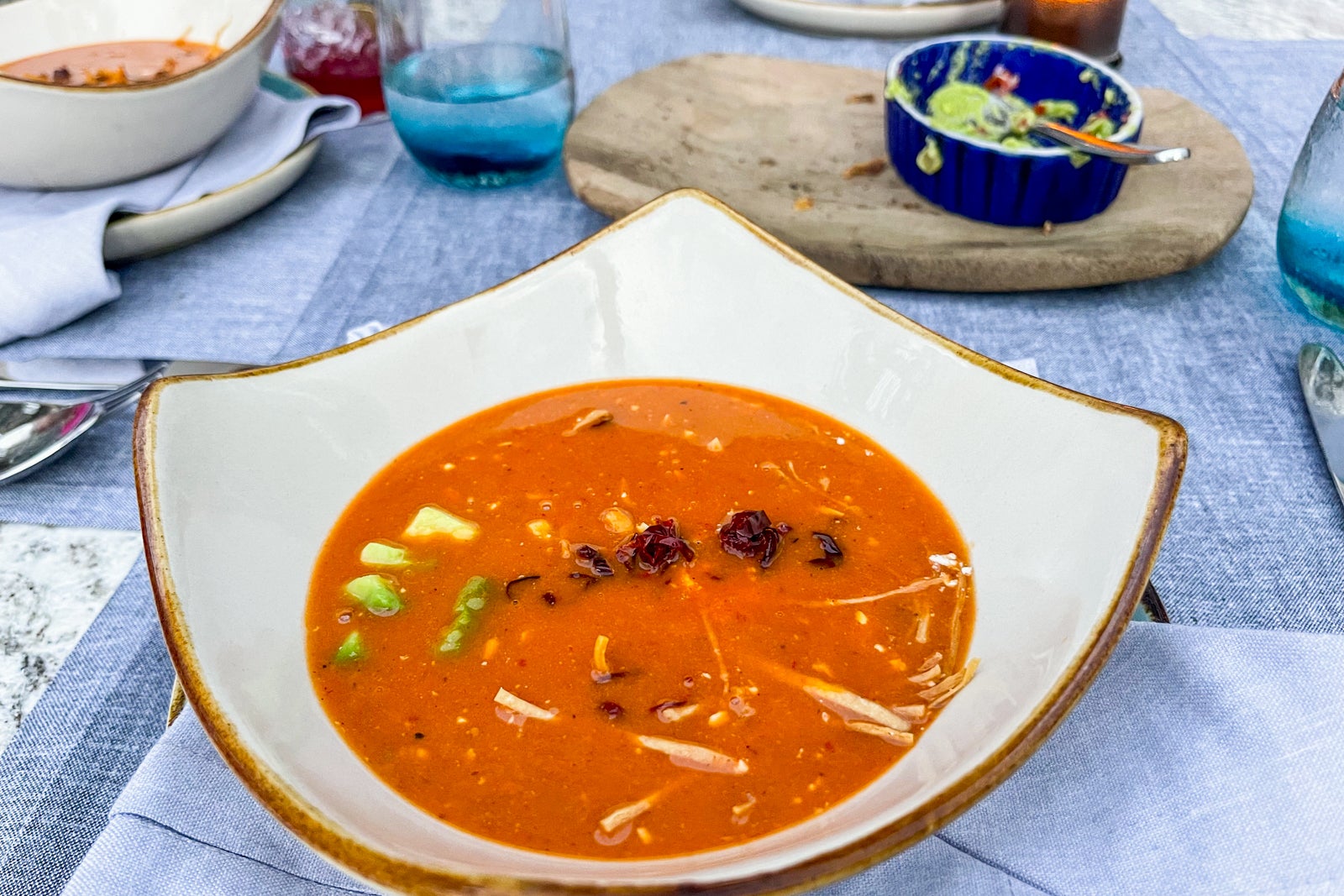 As a Hilton Honors Diamond member, I received a daily breakfast credit of $17 per person for up to two guests. Unlike Hilton properties in the U.S., where the credit can cover any food or beverage purchase made, the credit at the Conrad Punta de Mita can only be used toward breakfast purchases. Considering the high prices and the fact that 26% in surcharges was tacked onto every food and beverage purchase, the credit didn't go far, but we still put it to use at Arbol, where breakfast is served daily.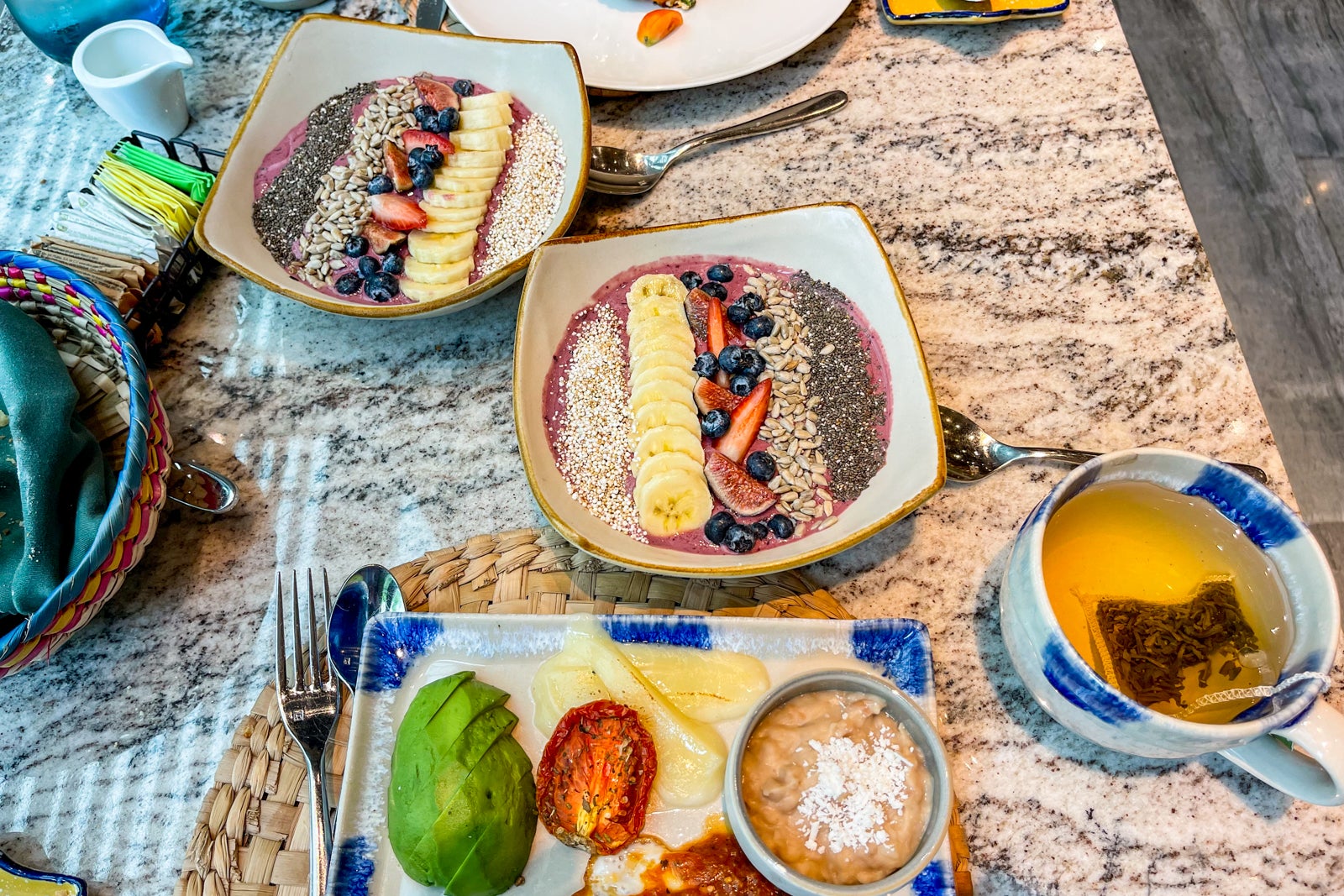 Fortunately, the morning meal proved just as delicious as the dinner service. Since the buffet, which included an omelet station, was a pricey $34 per person, we ordered off the a la carte menu. 
The acai bowl with generous portions of beautifully cut fruit over a bed of cold acai topped with three types of seeds ($13) was the best acai bowl I've had south of the border, and the huevos rancheros with a fresh corn tortilla, sliced avocado and creamy refried beans ($14) were also tasty. The coffee and cappuccinos were rather weak, though. Had we discovered the on-site Colibri Roasting Co. coffee shop, which offered much stronger (and more flavorful) options, sooner, we likely would've visited regularly to get our caffeine fix.
For our final night, we dined at Codex, the signature beachfront restaurant. Ultimately, the food — which included a mild, flaky white fish native to the Gulf of California known as totoaba ($44) and the Veracruz soft-shell crab dressed in a trio of mole sauces ($38) — didn't live up to the high bar set from our previous meals, as the portions were small and the fish was overcooked. That said, the service was stellar and the breathtaking setting on the sand made for a wonderful experience.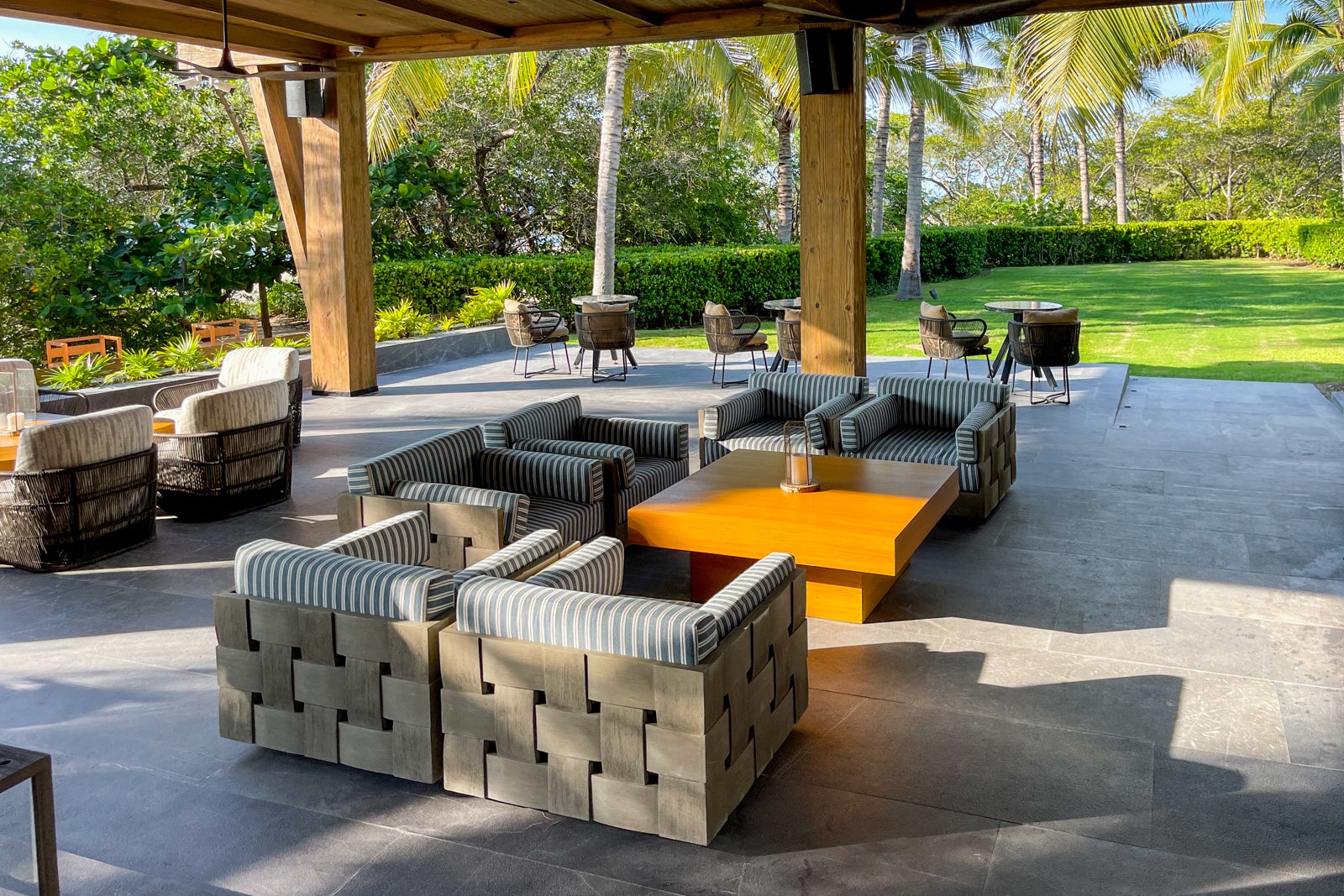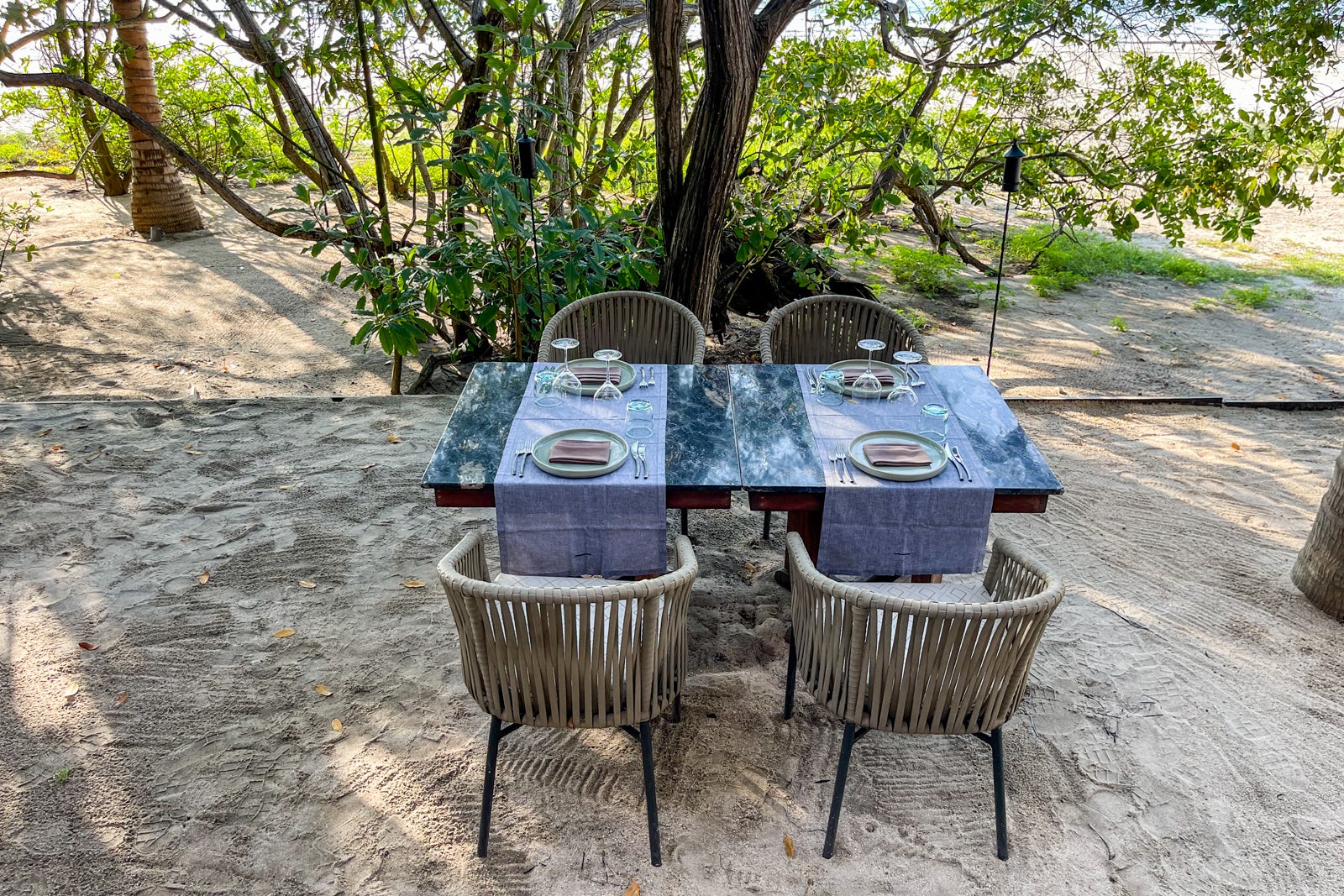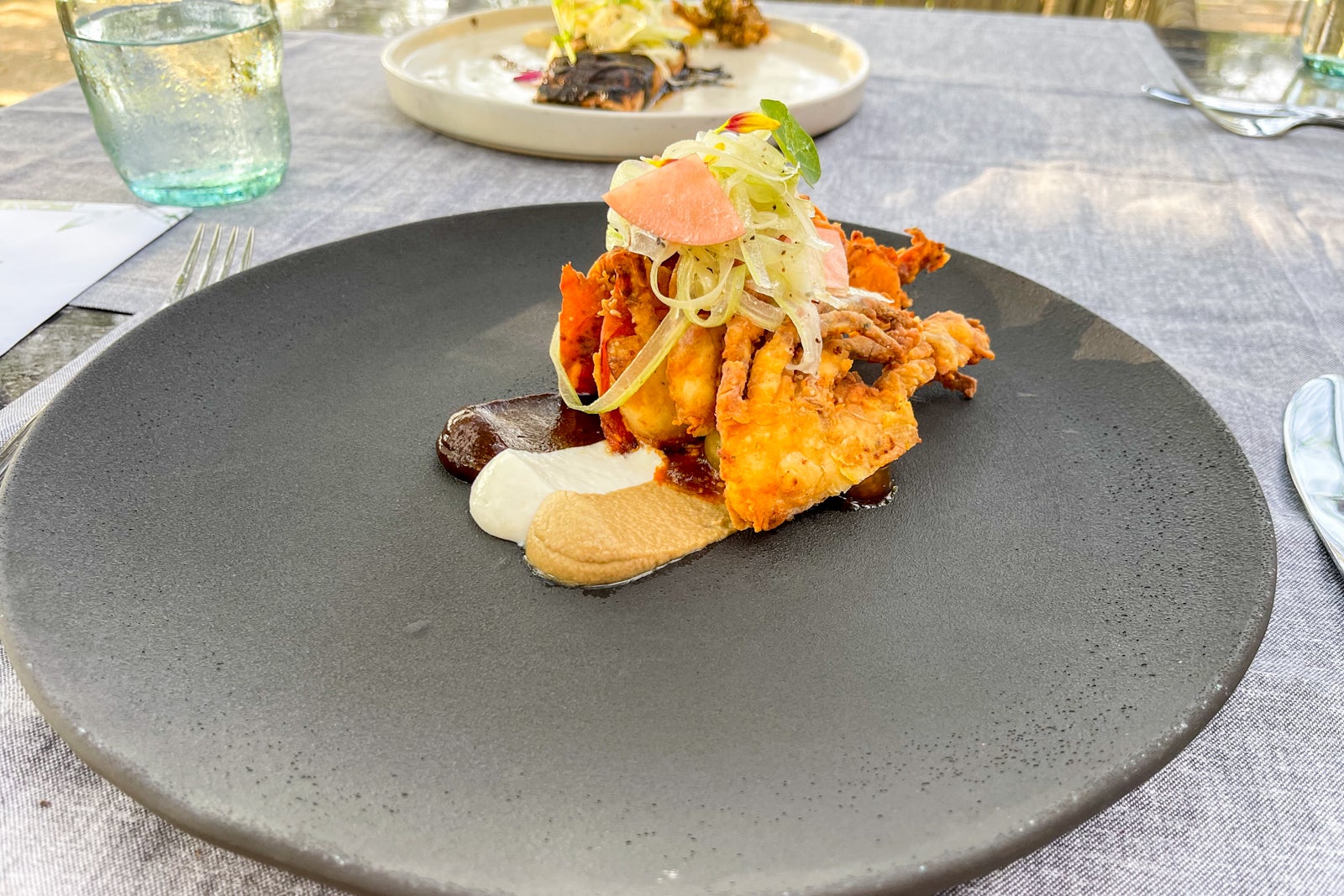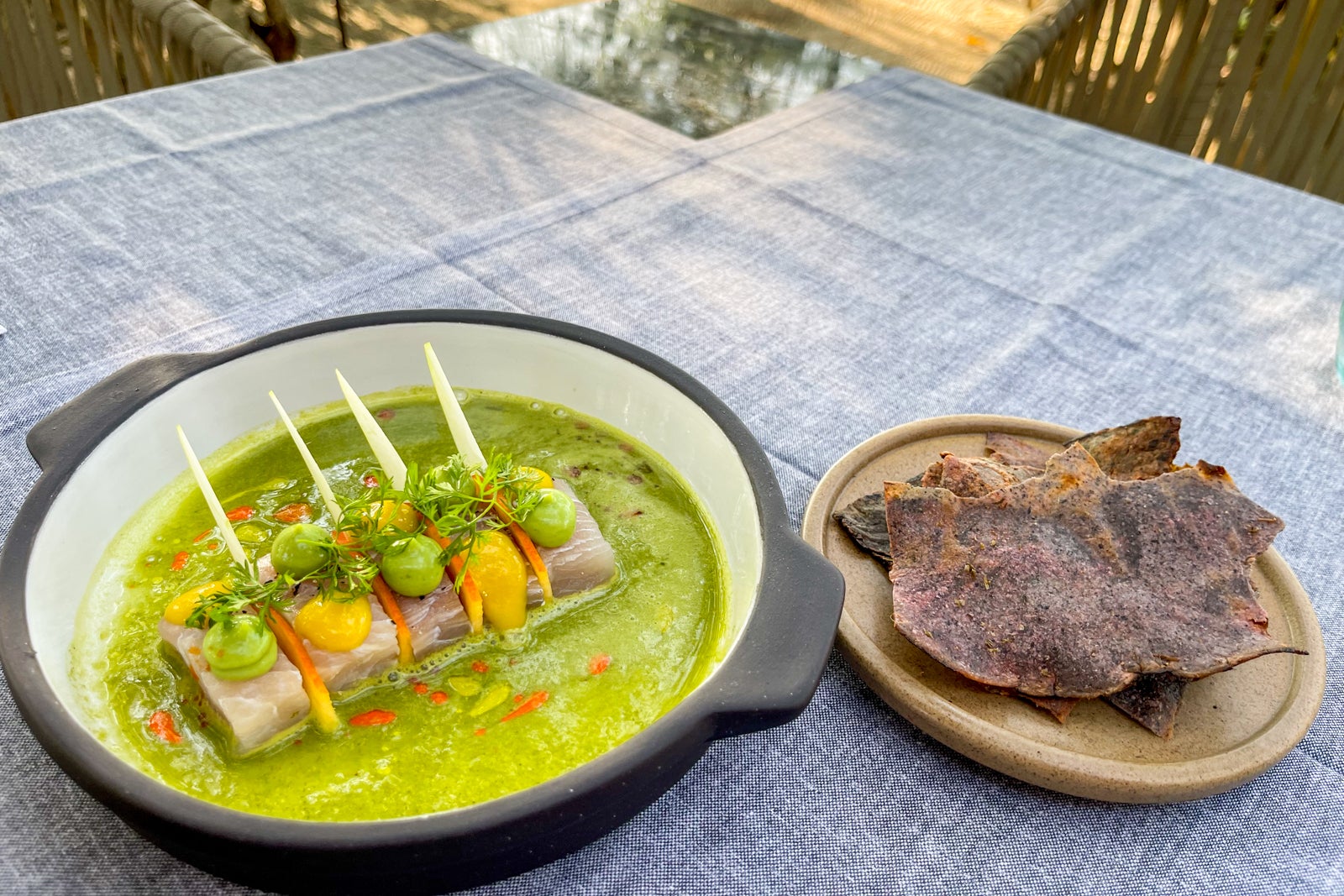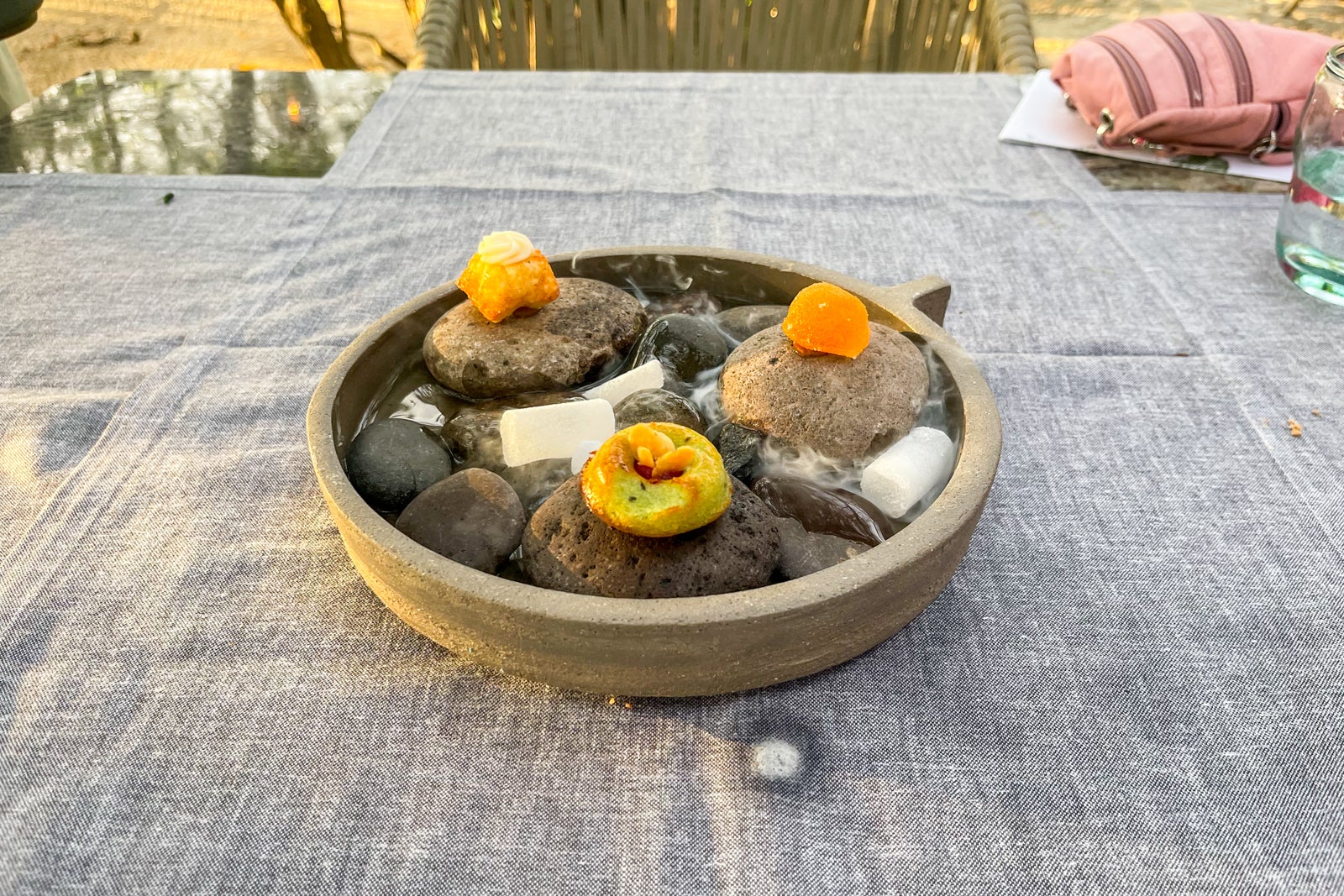 Outside of the swim-up pool bar, most guests frequented Tuki (the lobby bar) for drinks. There, you can sit around the community table with fellow guests or slip into the pod-like chairs near the floor-to-ceiling windows. For sunset (and a glass of wine), plan on migrating to Mezquite, the property's beachfront bar.
Related: Why I love hotel bars, especially when I travel solo
Amenities and service
Among the hotel's other facilities, the fitness center had floor-to-ceiling windows and all the equipment you'd expect to find for a workout, including several treadmills, Technogym StairMasters, stationary bikes and free weights.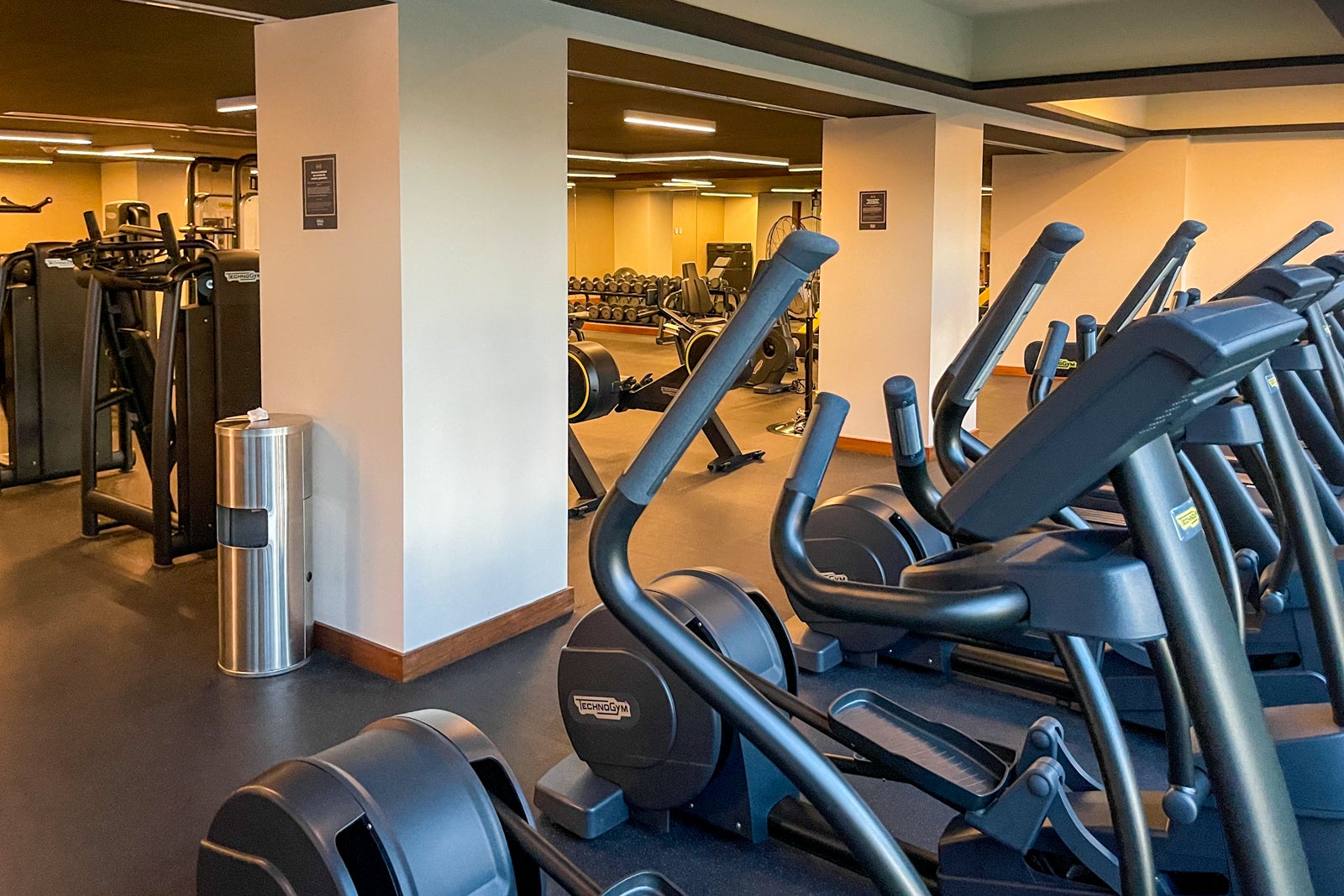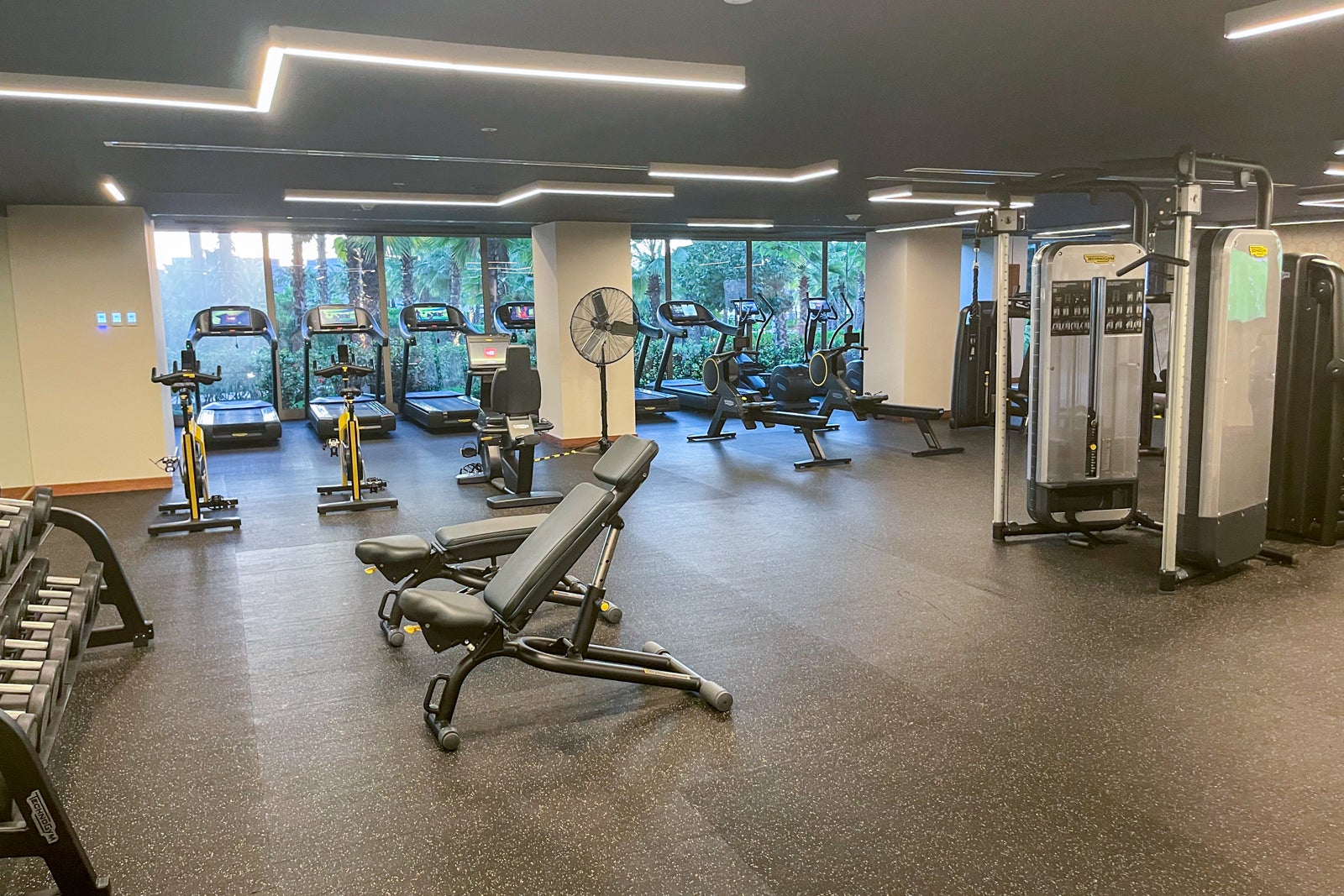 There's also a spa with multiple treatment rooms, plus men's and women's locker rooms, each with an immaculately tiled thermal Jacuzzi tub, a sauna and showers, and a coed relaxation area with a dome fountain. Know, though, that the locally inspired treatments here are not cheap. For example, the two-person, 80-minute relaxation massage recommended by the staff cost an astounding $479.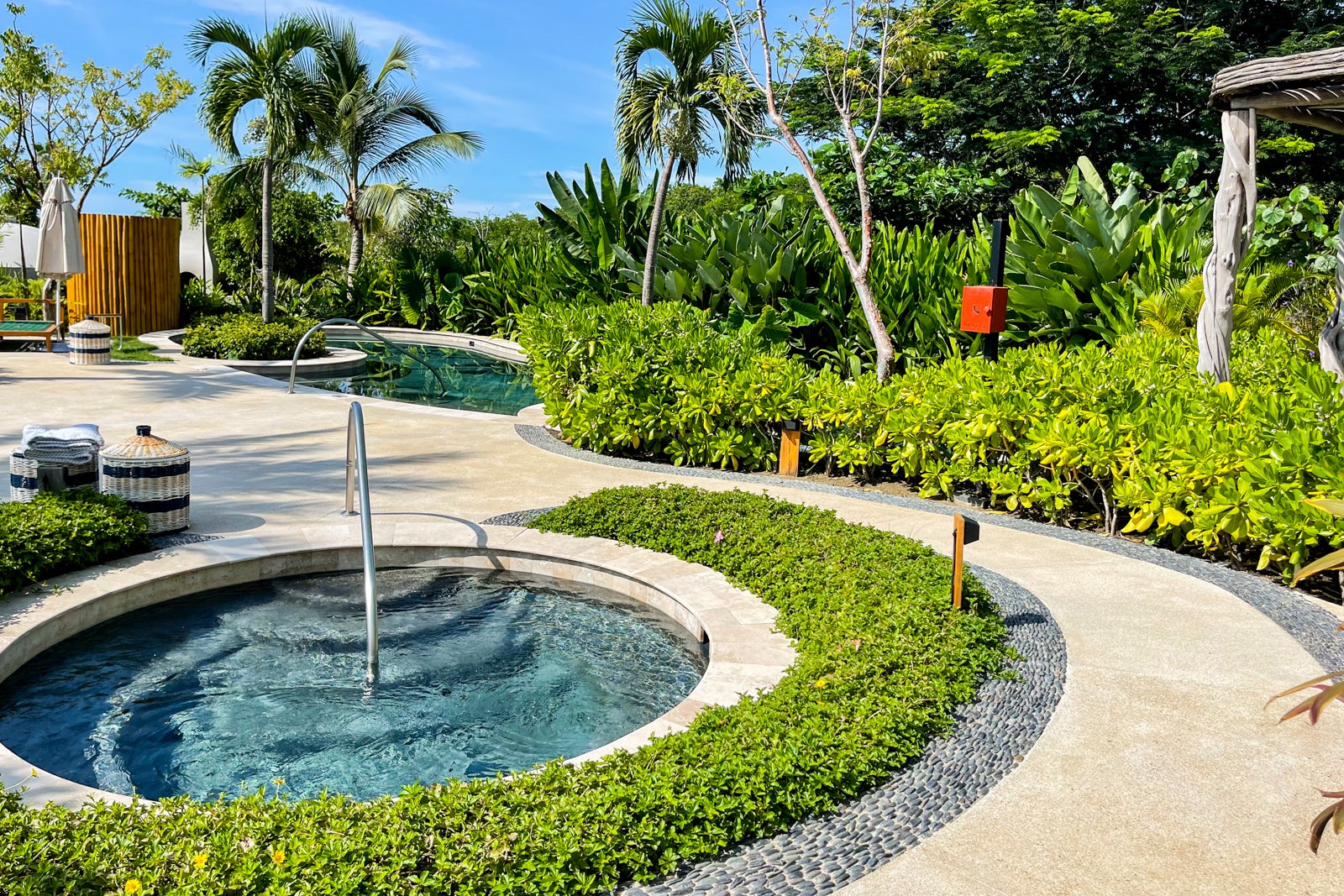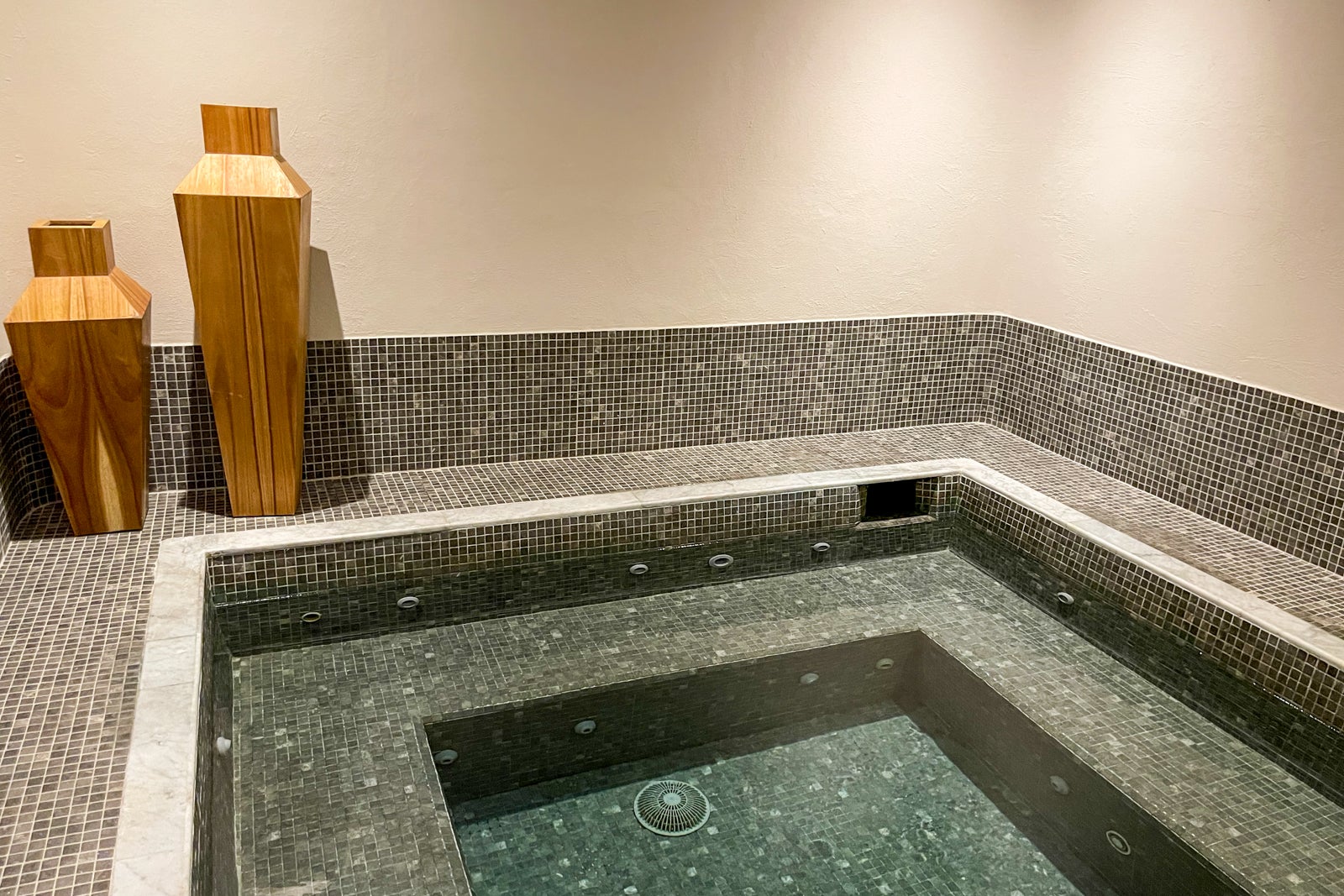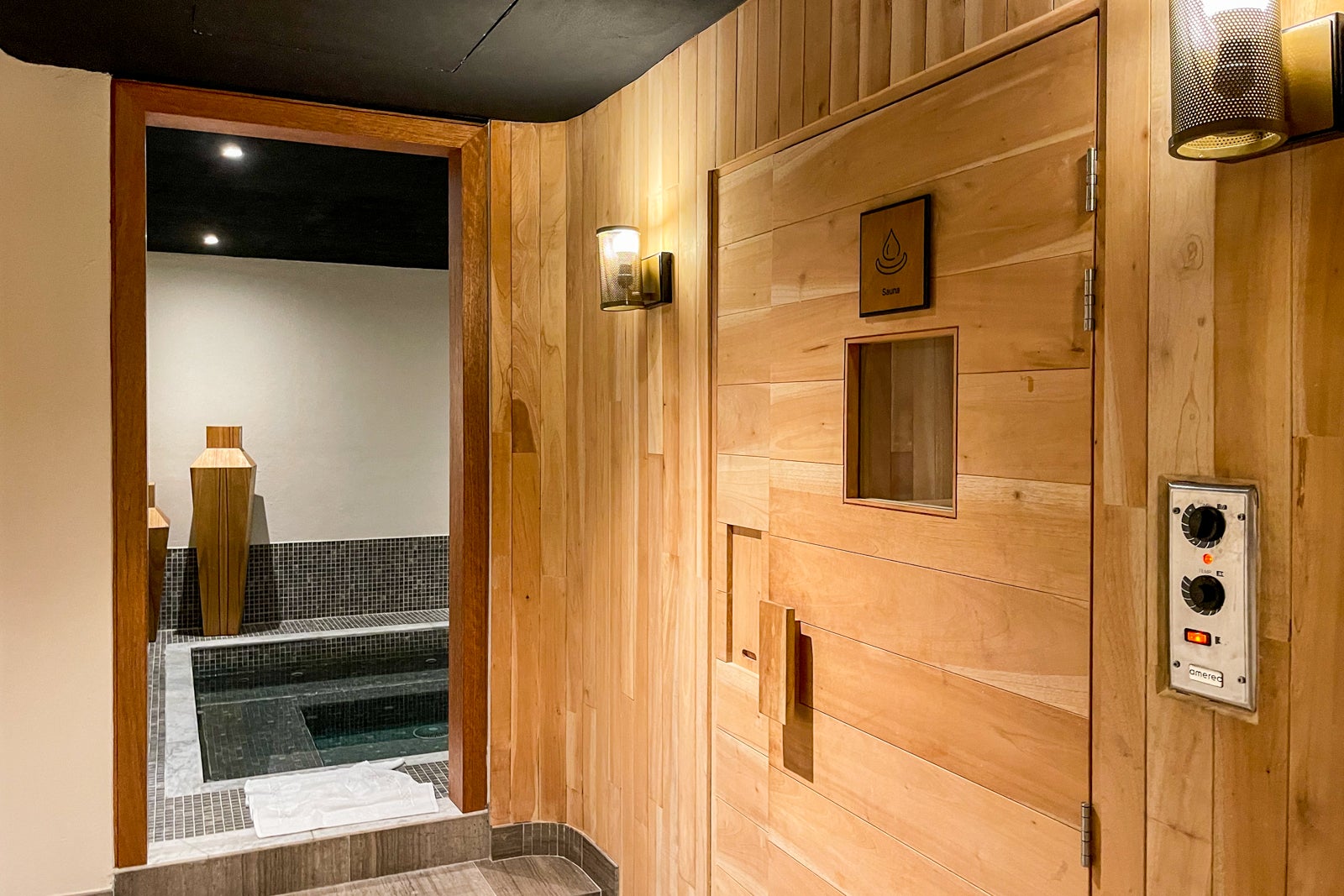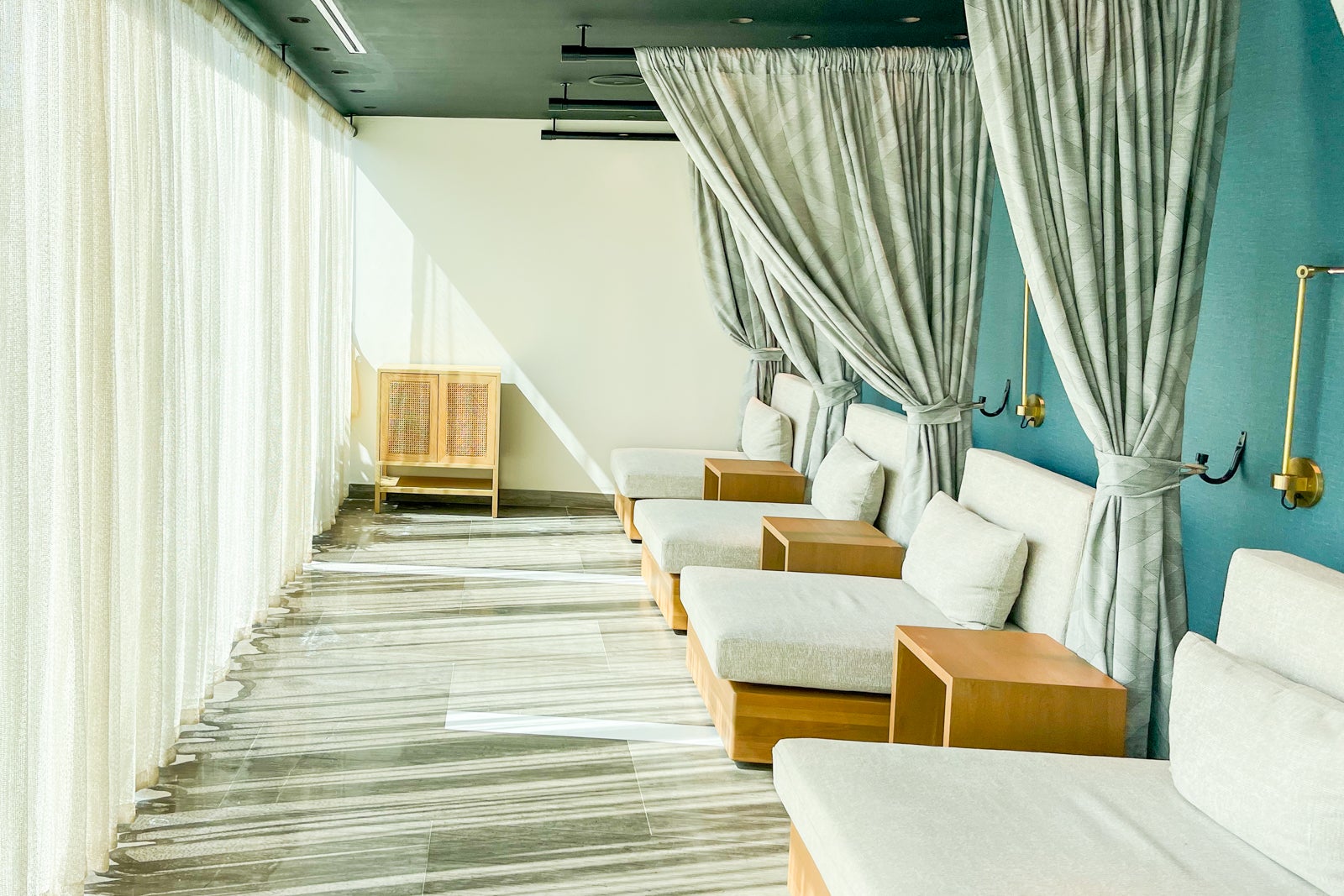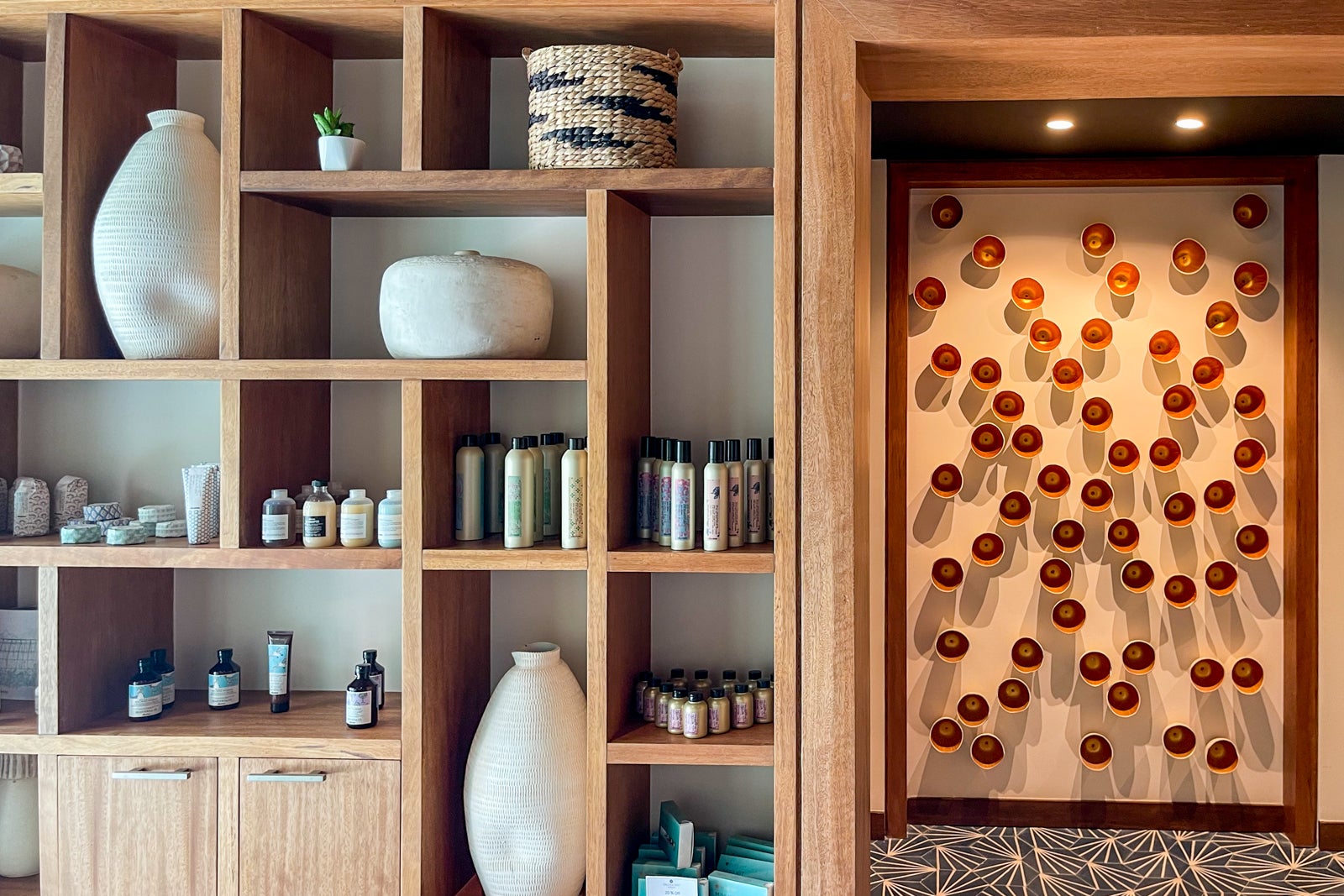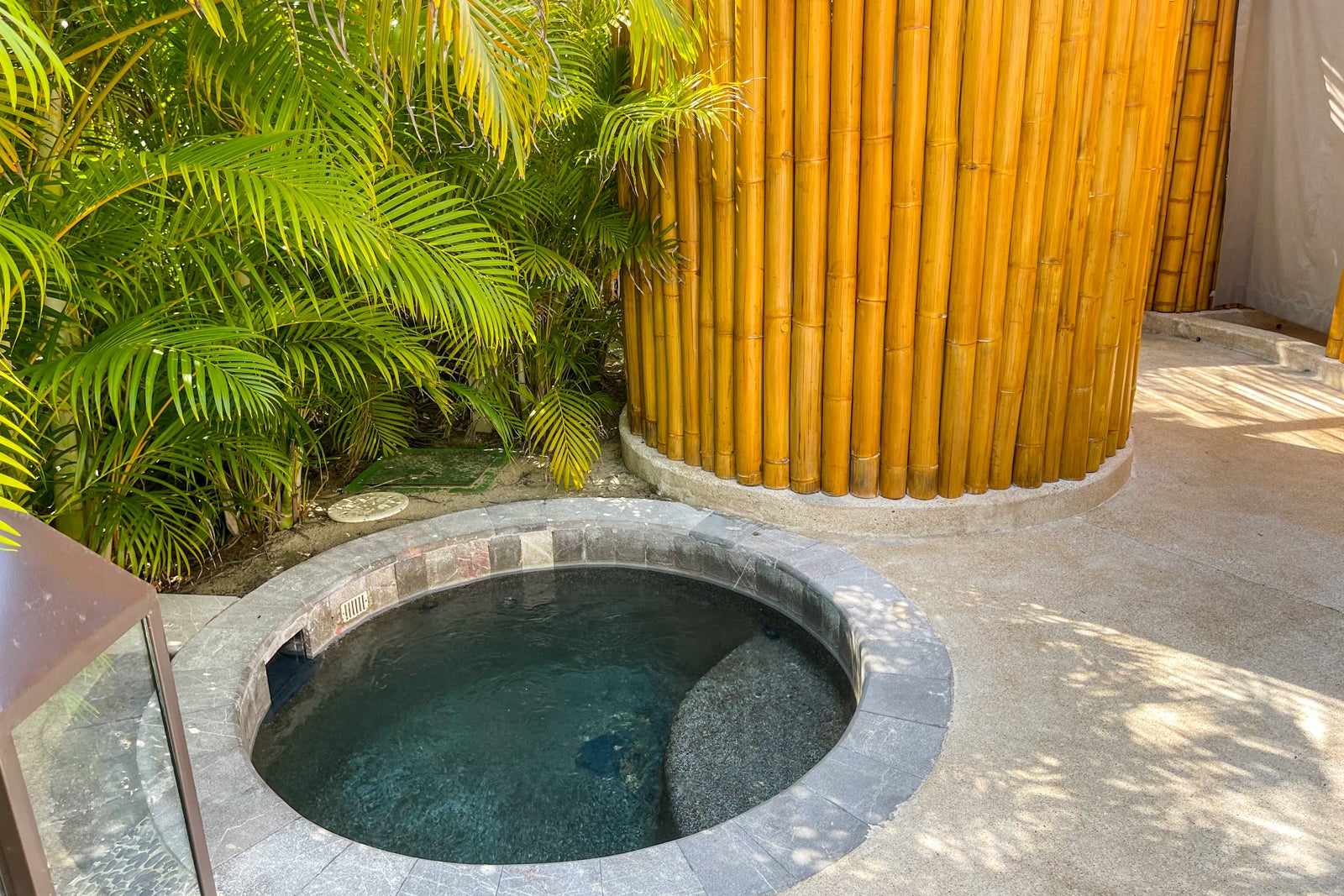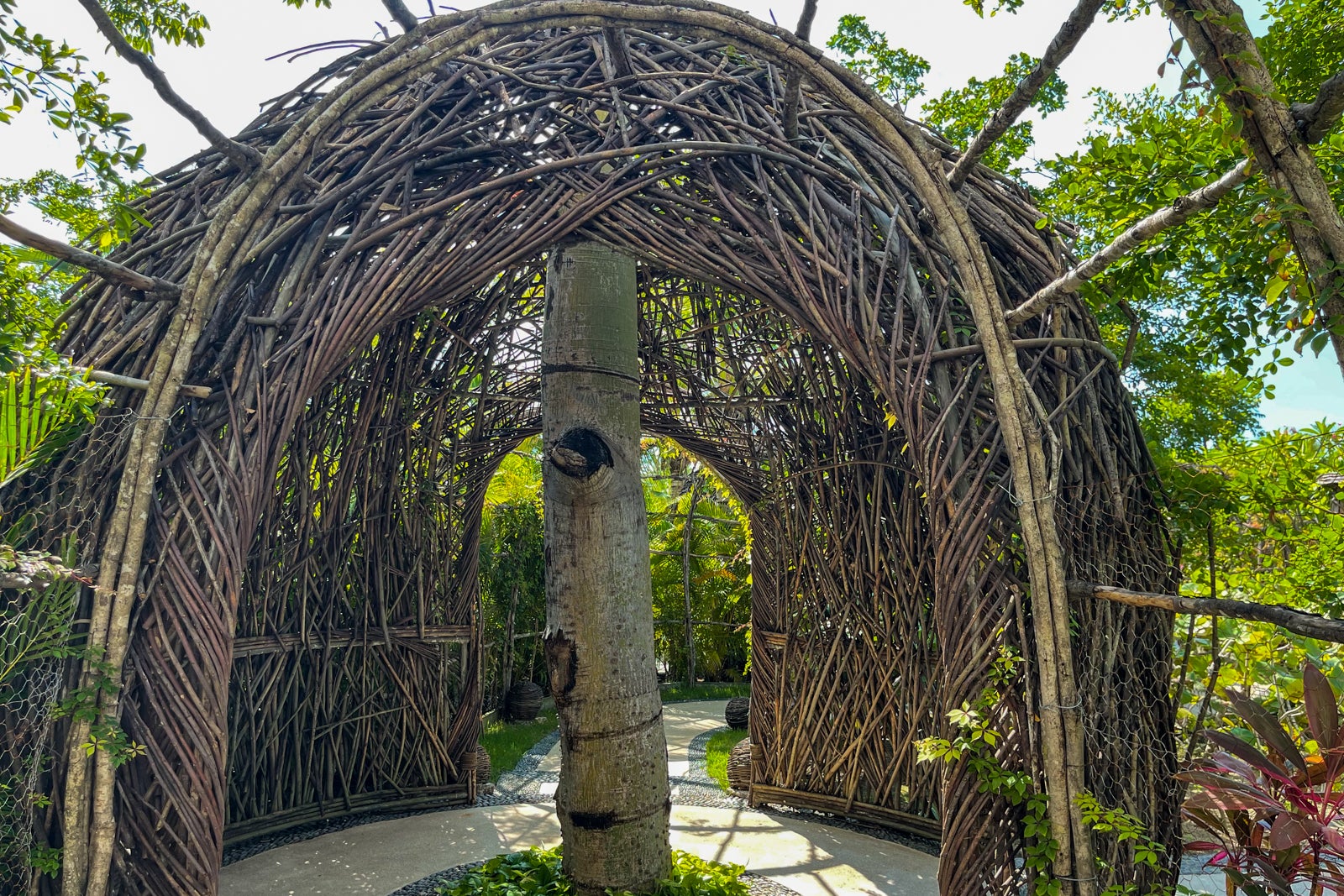 If you're looking to shop, you'll find two boutiques in the lobby. The first one, which is adjacent to the Enterprise Rental Car booth, has Mexican handicrafts like hats, shirts, jewelry and swimwear. The second one, located next to the coffee shop, has Conrad Punta de Mita-branded merchandise. Guests can buy in-room bathrobes, hydro flasks and many other Conrad luxuries from this store.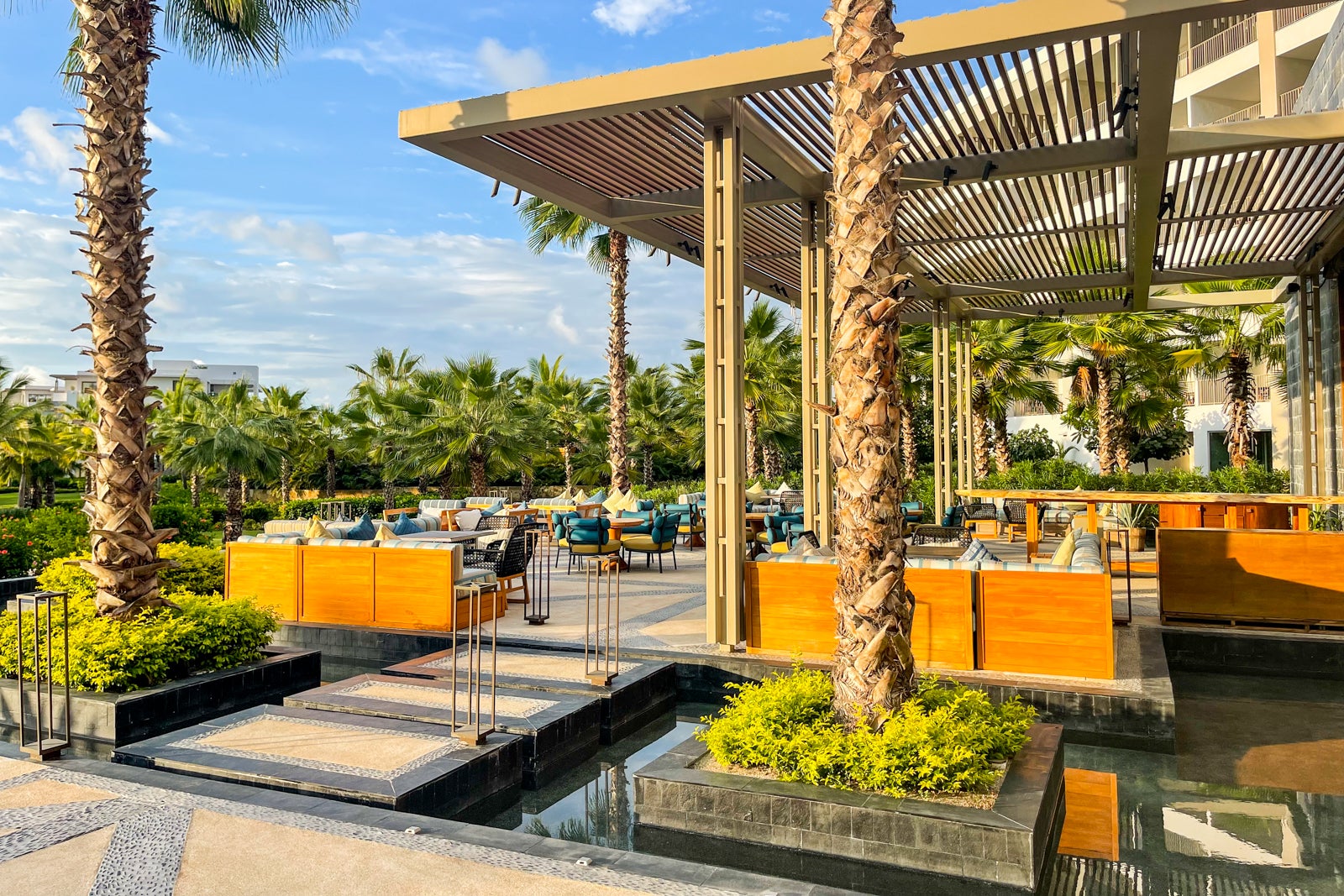 Surprisingly, despite its location right on the beach, an amenity I presumed was the main draw of this Mexican resort, the Conrad lacked a busy beach scene. During our stay, I didn't see anyone on the sand other than a few locals. However, I did see a hotel maintenance worker clearing some seaweed from the sand one morning.
Unlike the beach, the pools were a big plus of the property. There were three side-by-side options to choose from: an infinity pool overlooking the ocean that had partially submerged chaise lounges in the water; a kids pool with a waterslide and a splash zone; and an adults-only pool with a swim-up bar and easy access to the spa.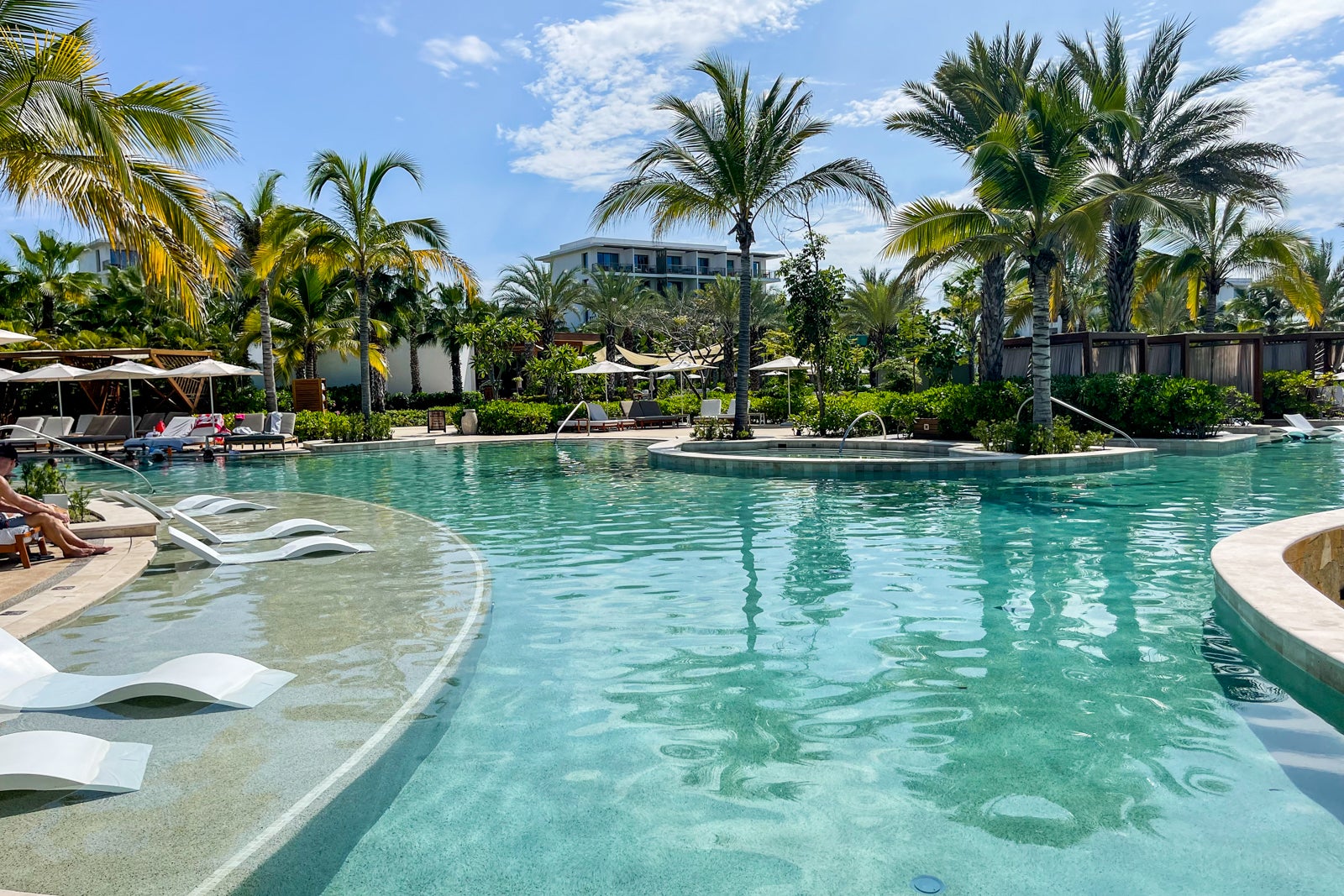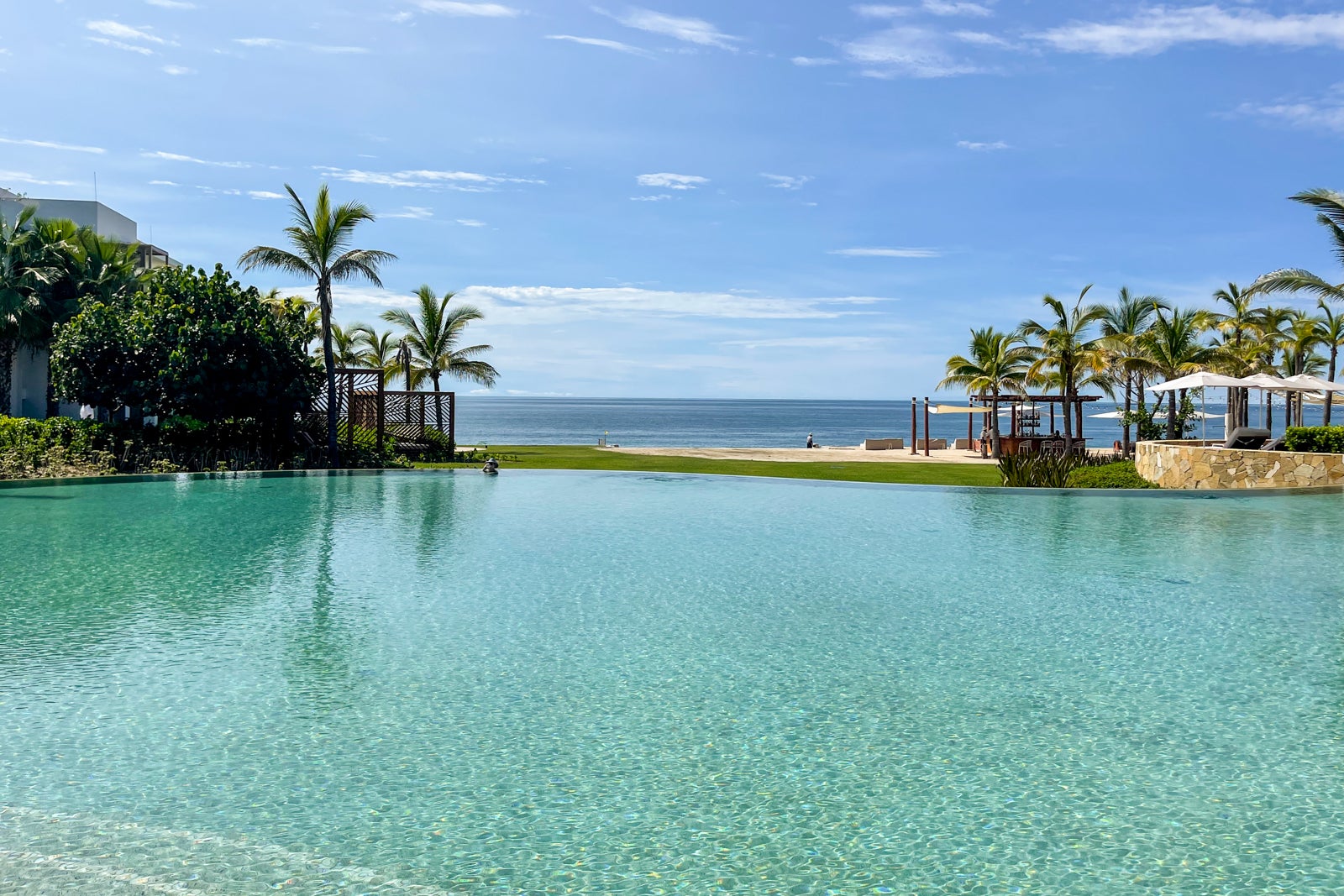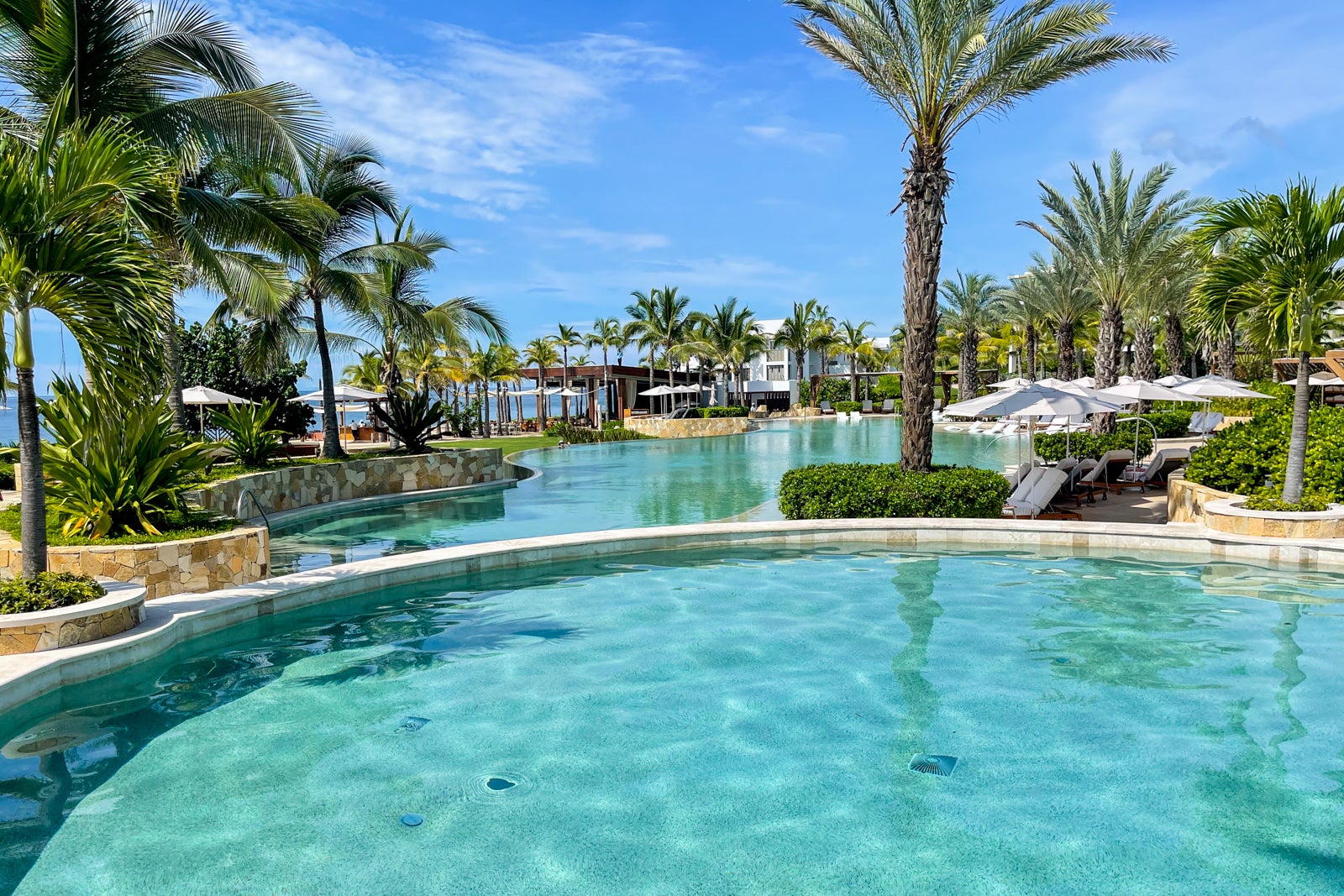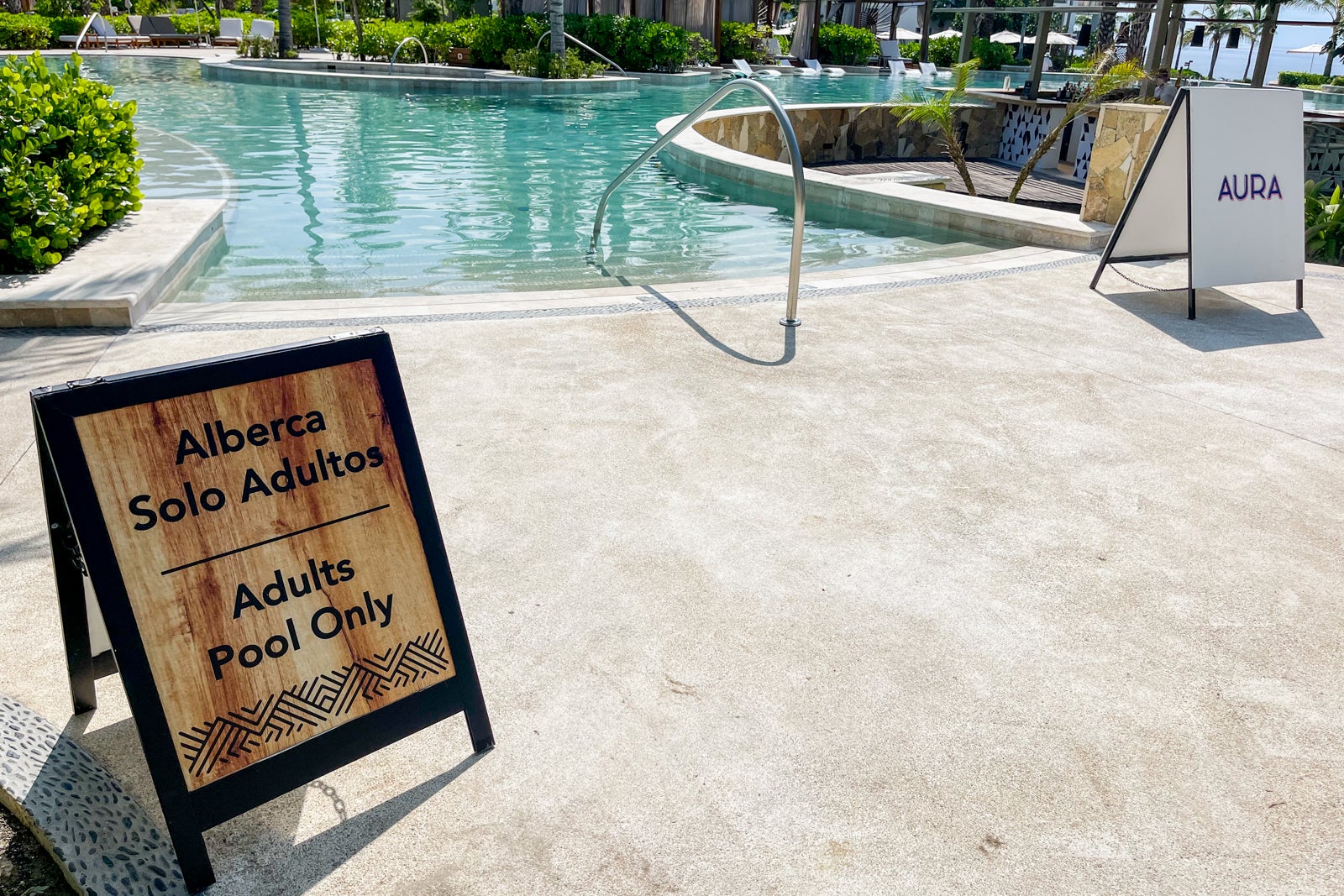 While the amenities were solid overall, it was the service that truly stood out. Every exchange with the staff came with warm hospitality and the utmost professionalism.
One memorable interaction was when it came time to leave the resort. I was covering breaking travel news, so when the bellman came to pick up our luggage, he expressed concern that we would miss breakfast. After asking if we knew what we wanted to eat, he used his walkie-talkie to radio in our breakfast order just before the kitchen closed at 11 a.m. so we wouldn't leave hungry. Little face-to-face moments like these ended up being some of the highlights of our visit and reinforced why the Conrad Punta de Mita excels.
Related: 15 of our favorite hotel pools on the planet
Out and about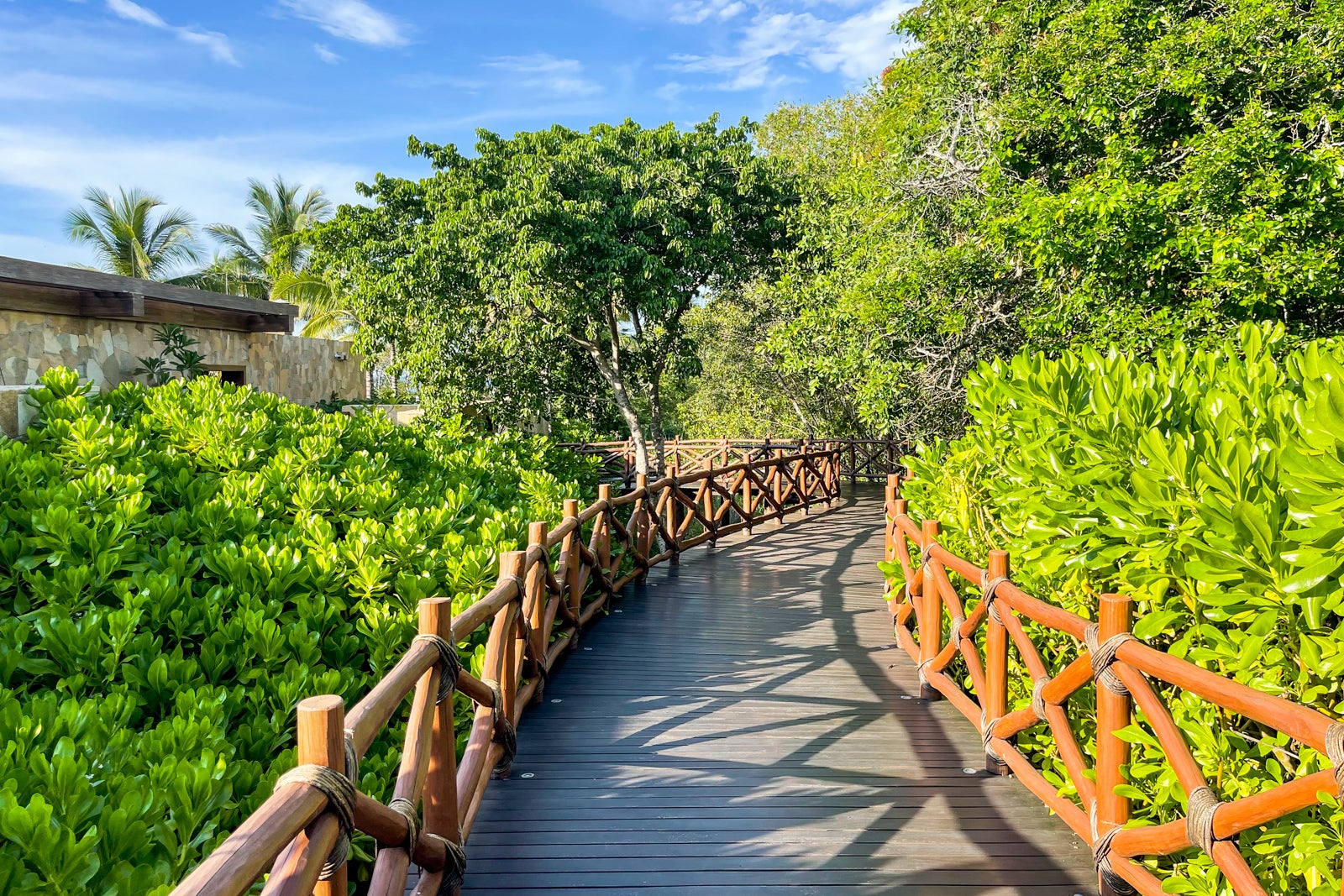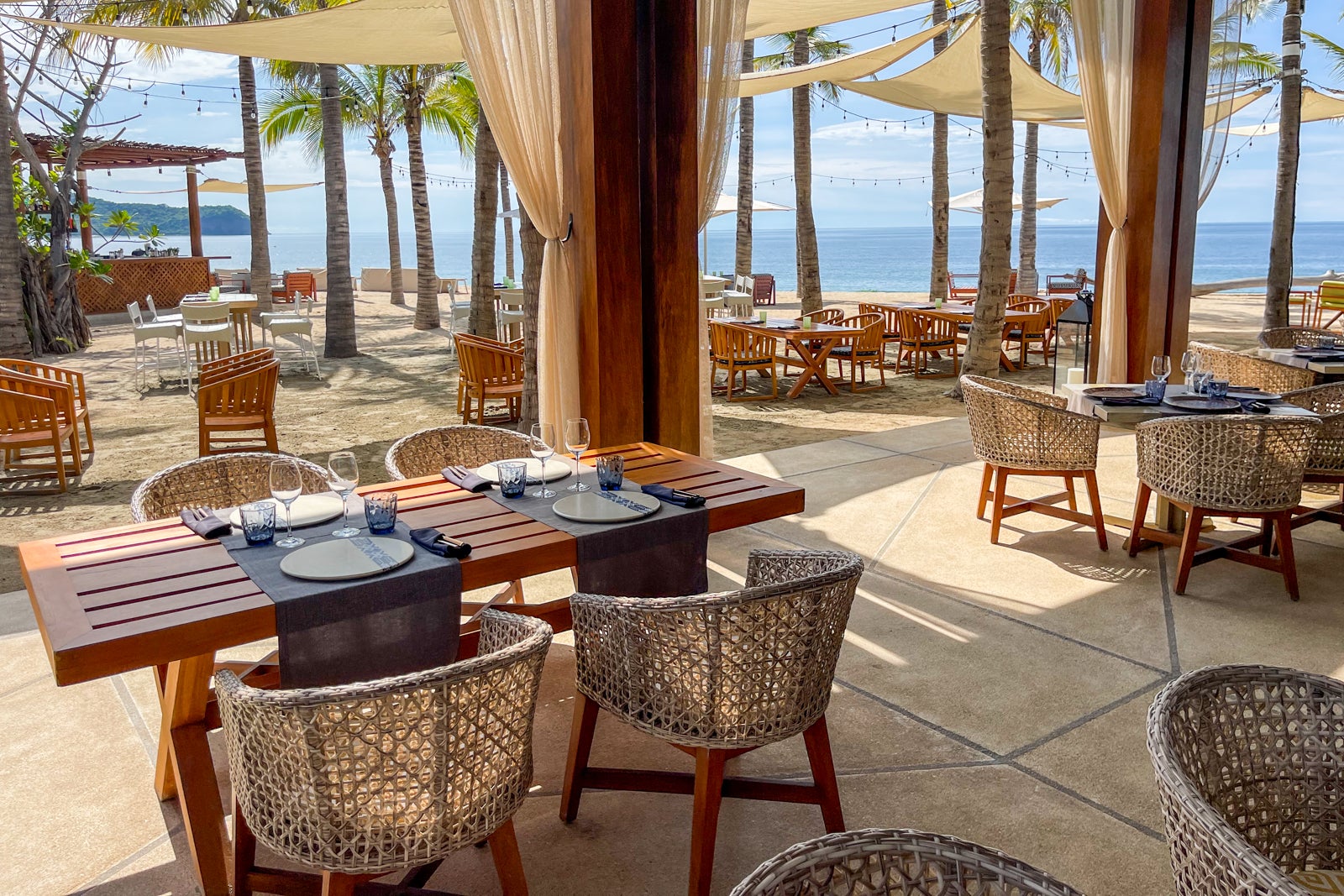 Because the Conrad Punta de Mita sits in a secluded location, we never left the property during our two-night stay. However, guests who crave a change of scenery will find several high-end resorts nearby. The property sits adjacent to the Iberostar Selection Playa Mita, and several other resorts — including Punta Mita's Four Seasons and St. Regis — can be found a few miles west.
For a break from the resort that feels more authentic to the region, you can plan a day trip to Puerto Vallarta's old town. There, you can visit the pre-World War II Parroquia de Nuestra Señora de Guadalupe church, which has an intricate crowned tower or catch the popular dinner show extravaganza: Rhythms of the Night. Guests are brought via sunset cruise to a candlelit island where a Cirque du Soleil-style show takes place, followed by dinner.
If you don't want to drive for an hour to Puerto Vallarta, consider hitting the links in Punta de Mita — there are quite a few golf courses around the resort. A few touristy restaurants are also available in Corral del Risco, a town just a mile away from Punta de Mita.
Accessibility
The Conrad Punta de Mita has mobility-accessible rooms with roll-in showers and one king-size bed or two queen-size beds, though other features like signs with Braille and visual alert systems were not noticeable during our visit.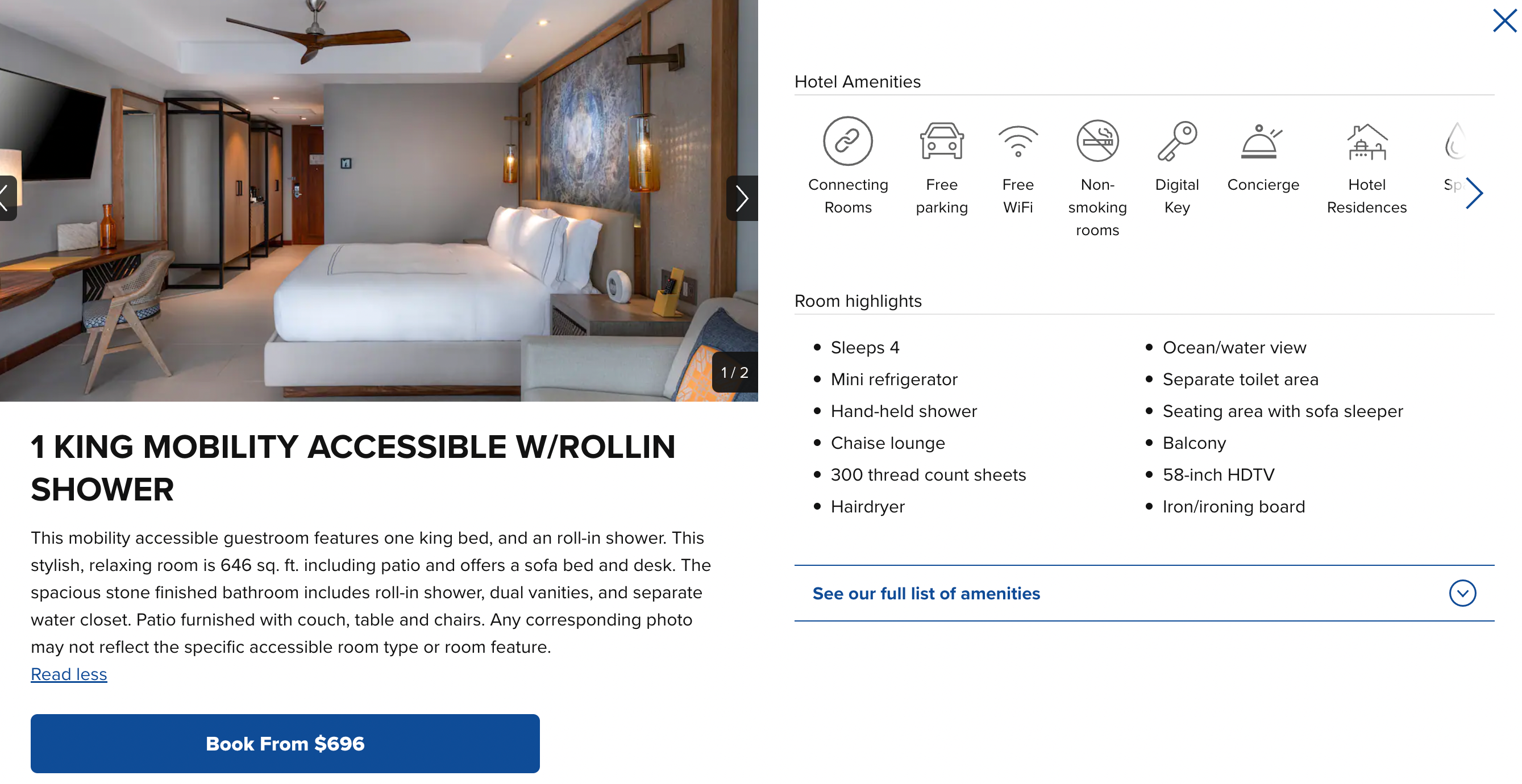 Outside the accommodations, amenities for travelers with disabilities were likewise limited. While golf carts were available to drive guests around the resort, there are areas throughout the property that are only accessible via stairs that lacked handrails. Since these stairs were often either wet or sandy due to their proximity to the pools and beach, some travelers might find them slippery.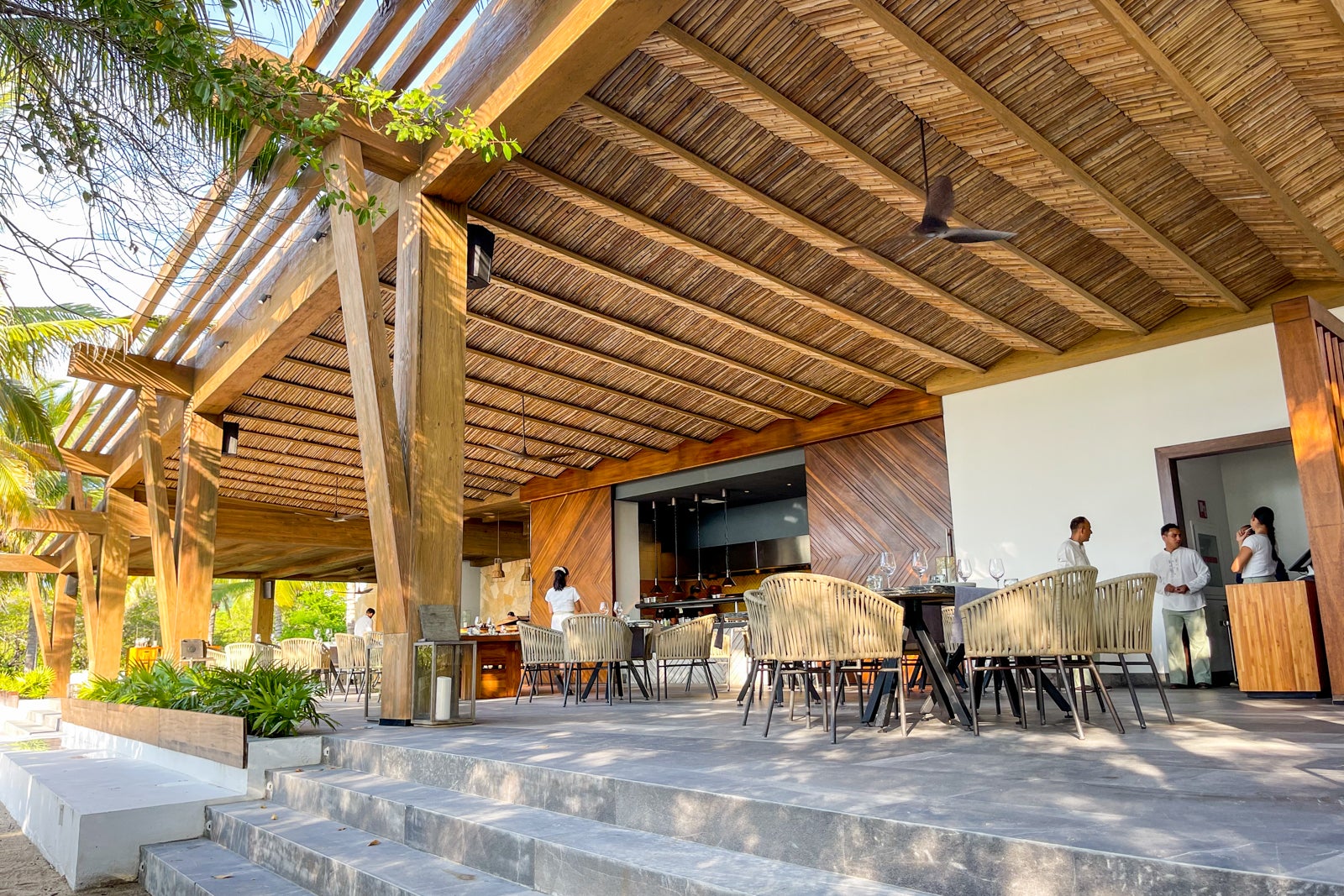 I didn't notice any lifts into the pools either, which is a real shortcoming since they are one of the key reasons for staying here.
Related: Planning an accessible trip? These travel resources can help
Checking out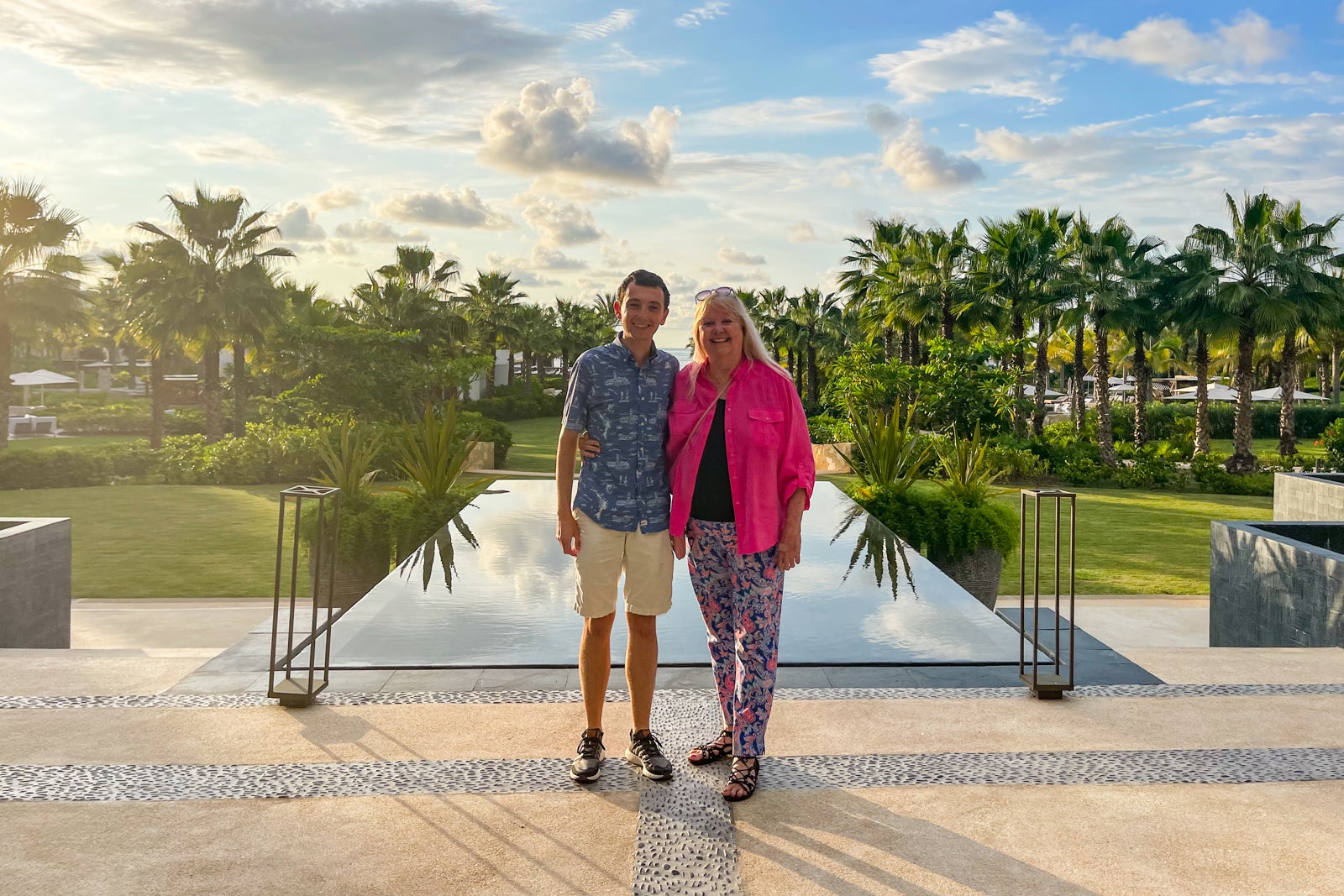 With its beautiful pools, a tranquil beachfront location and excellent (albeit expensive) food, there's a lot to like about the Conrad Punta de Mita. That said, the pricey nightly rates, paucity of elite benefits and high surcharges for everything from drinks to spa services make it difficult to persuade me to return given the fierce competition from other hotels located nearby. Still, this Conrad is worth visiting at least once, especially if you can book it on points.