First look inside Amex's expanded Centurion Lounge in San Francisco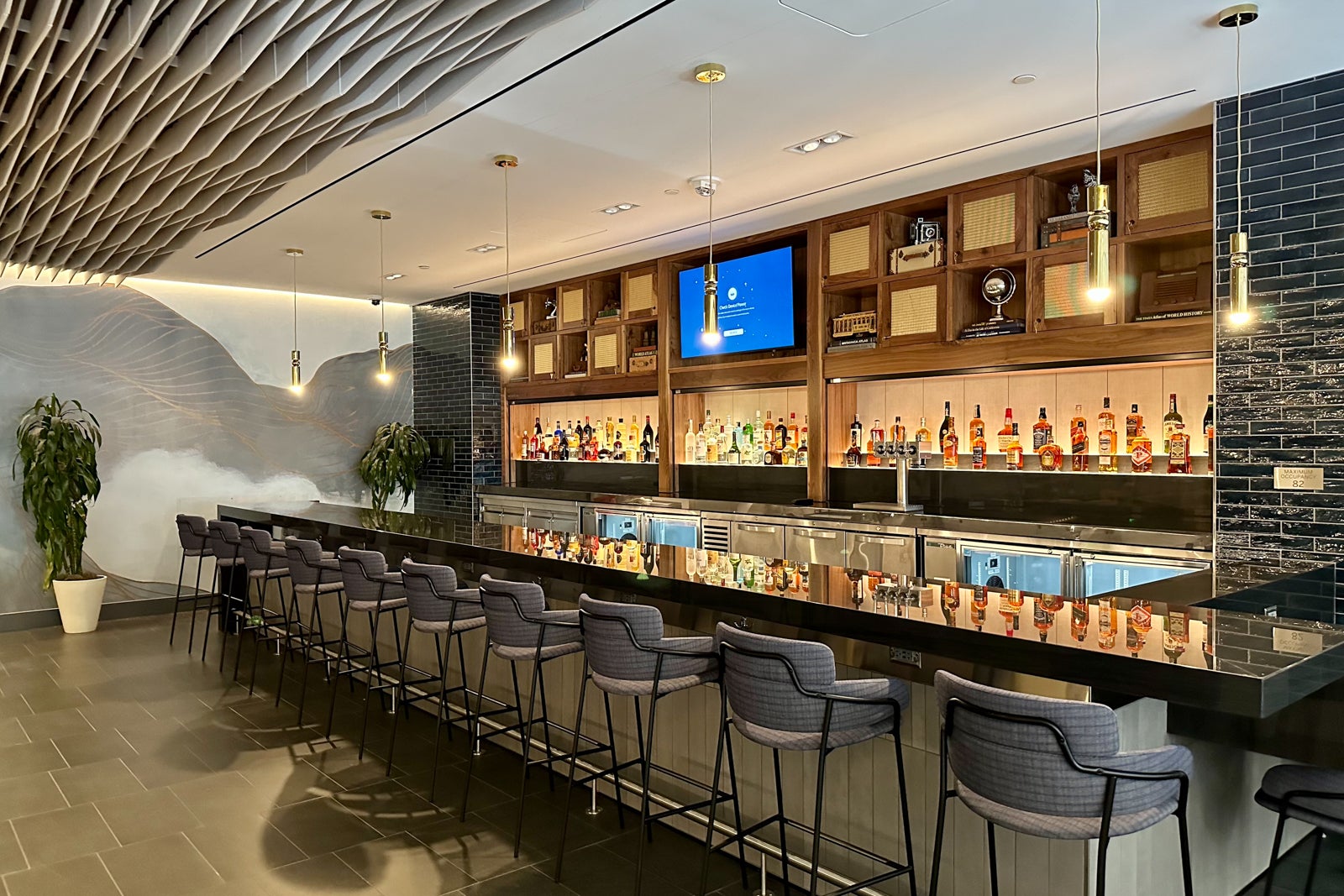 As travel demand rebounds to 2019 levels and beyond, airports are busy once again.
While you may find a line at the check-in counter or at security, there's one part of the airport experience that's particularly prone to overcrowding these days — the lounge.
Whether it's due to an increase in the number of premium-cabin passengers or the proliferation of lucrative bonuses on top credit cards that have spurred new customers to apply and take advantage of premium perks, there are simply more lounge-eligible passengers than there are seats in airport clubs.
To address overcrowding, American Express has been busy expanding its popular Centurion Lounge locations in order to accommodate as many cardmembers as possible.
On Dec. 31, the issuer opened its expanded and renovated space in the San Francisco International Airport (SFO). TPG was invited to a pre-opening tour, and here's what you can expect on your next visit.
Many more seats
When you approach the expanded Centurion Lounge in San Francisco, you might not immediately notice the upgrades.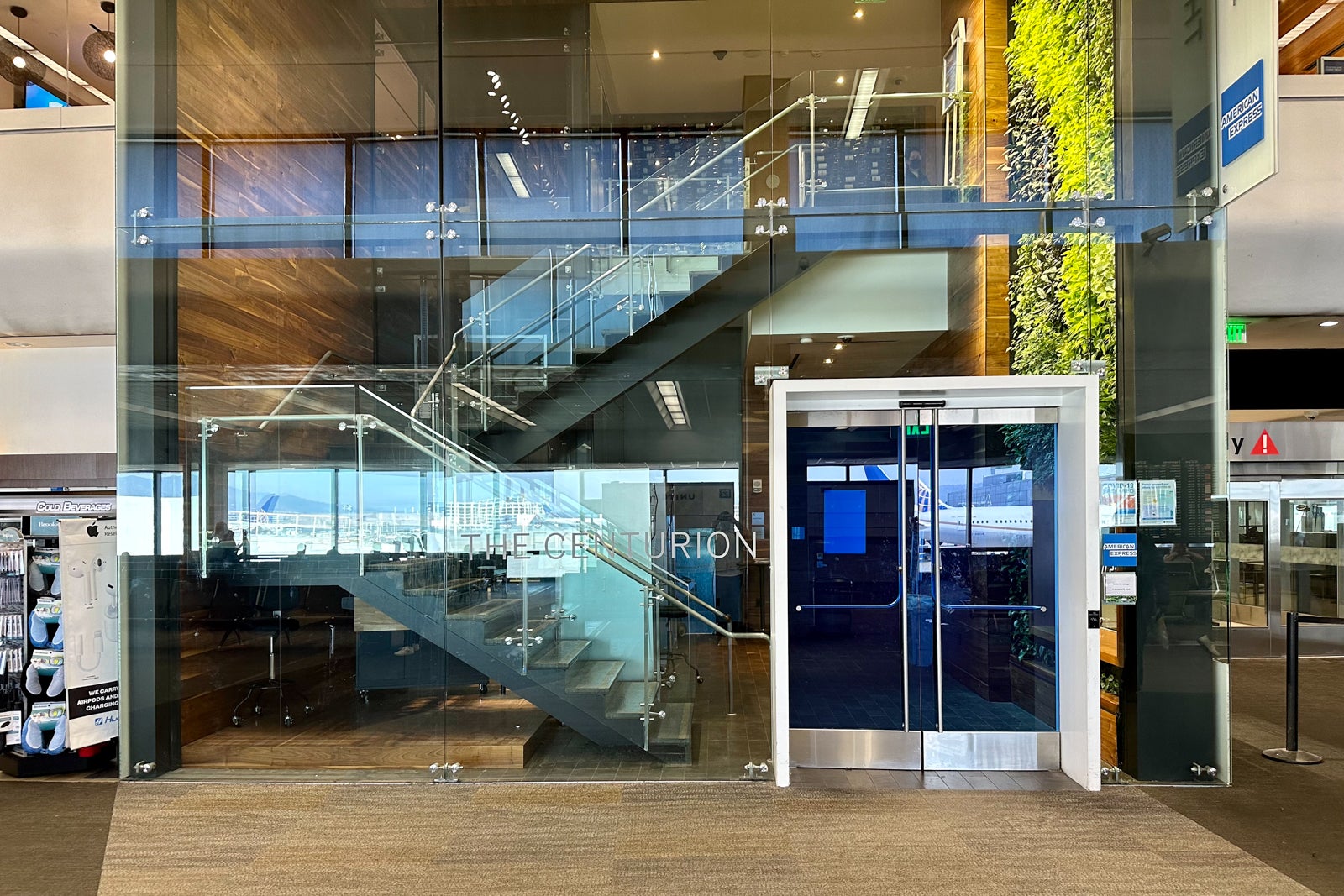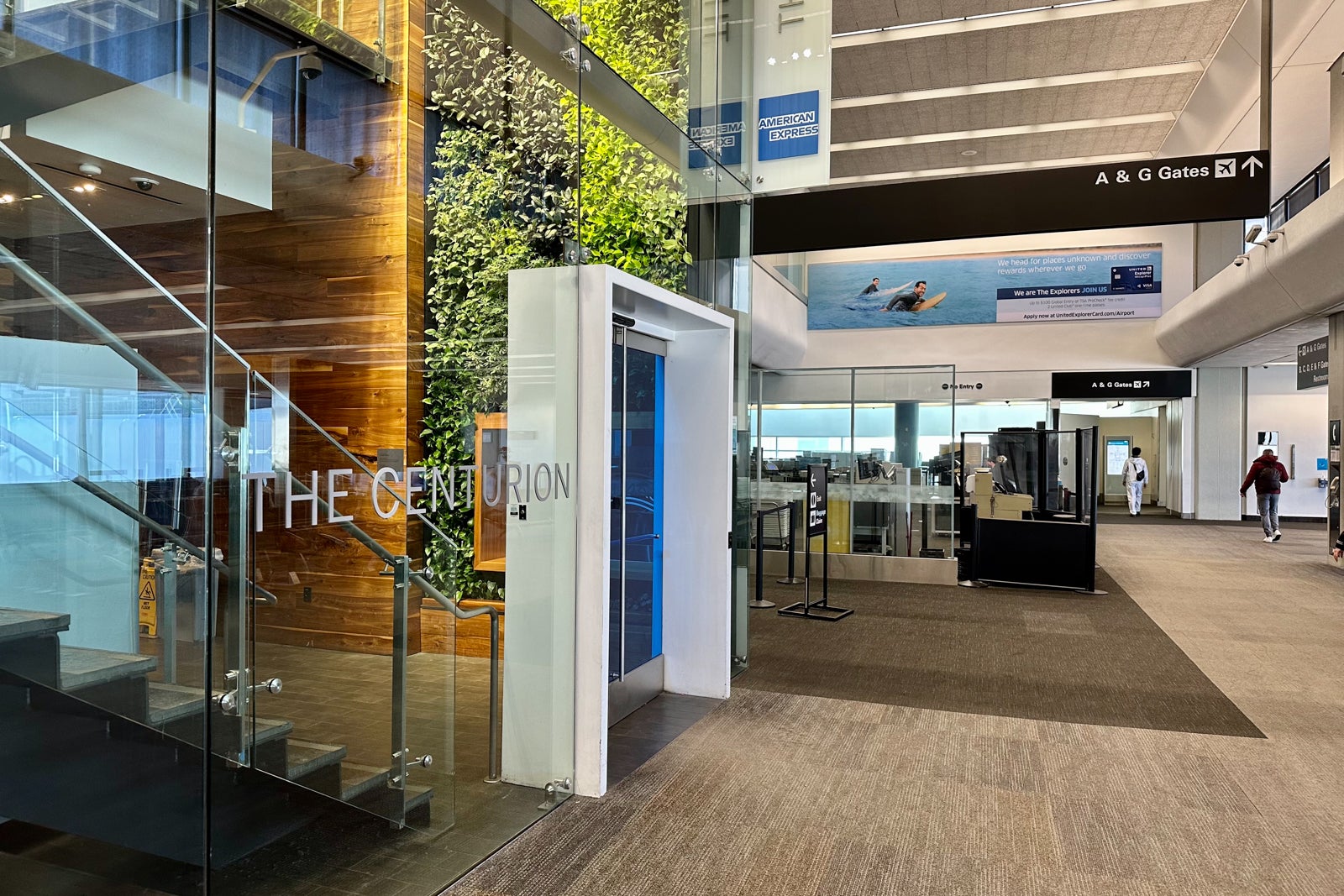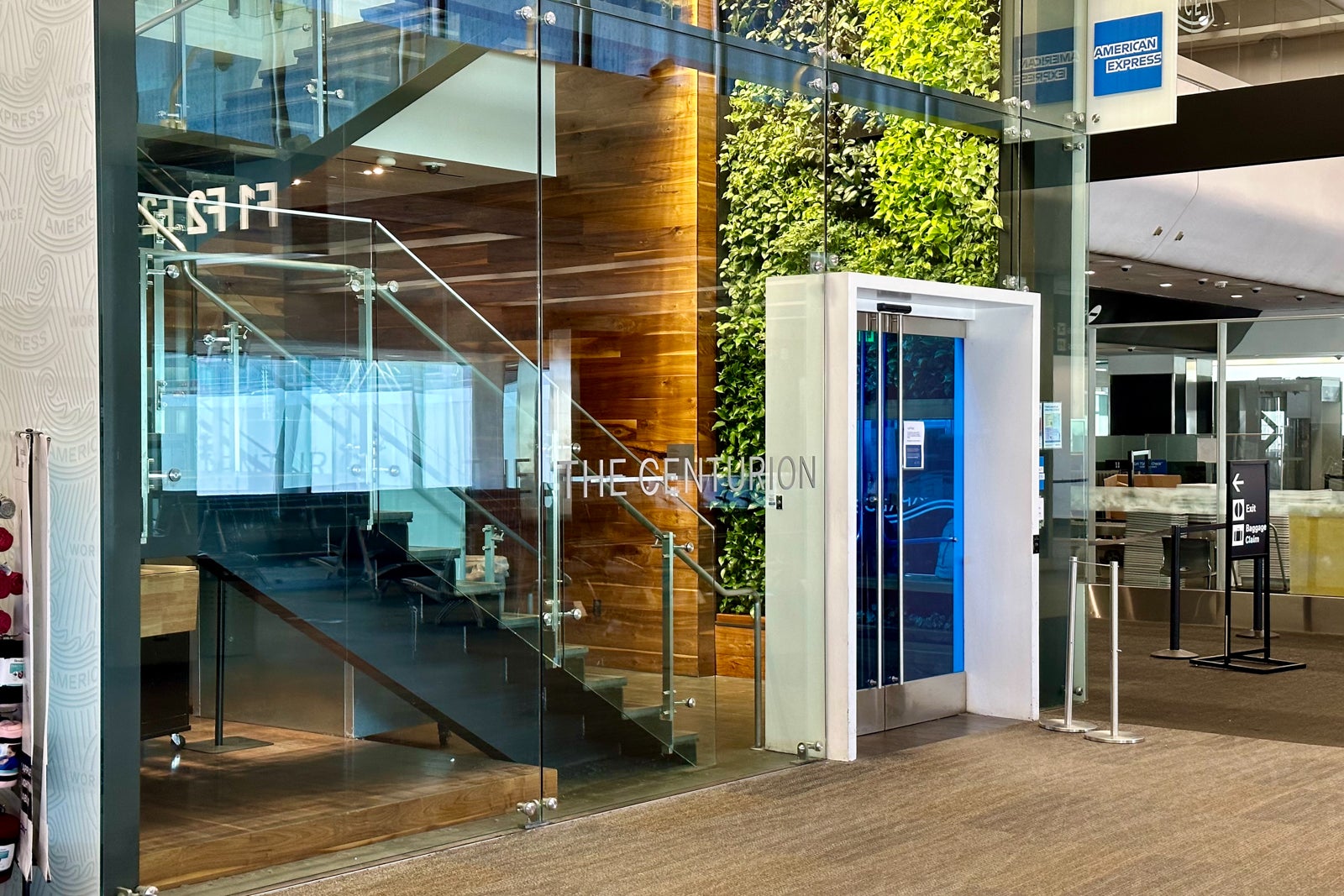 That's because the lounge is still located across from Gate F1 and F2 in Terminal 3, and the entrance area hasn't changed. You still need to climb one flight of stairs or ride the elevator up one level to the reception desk.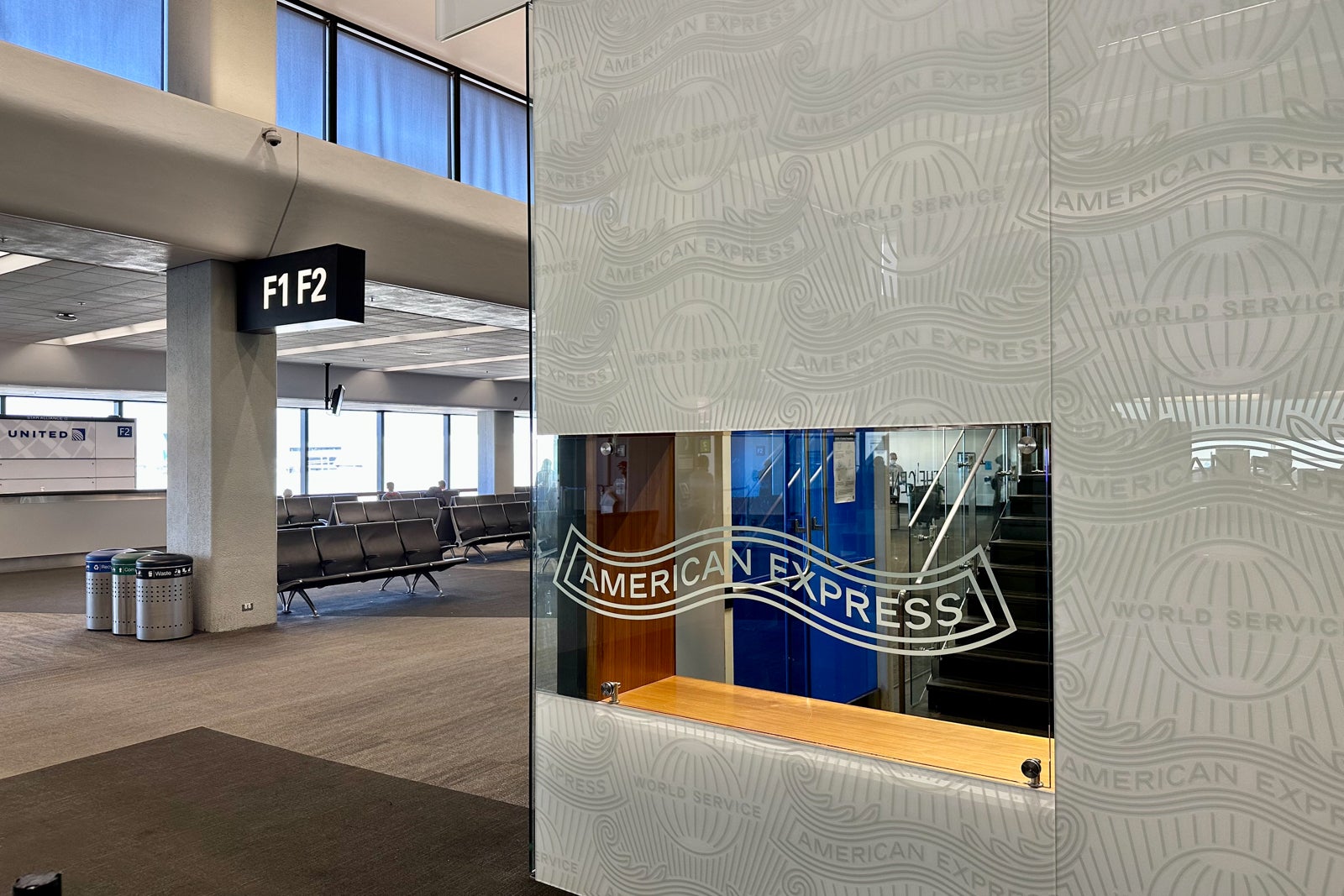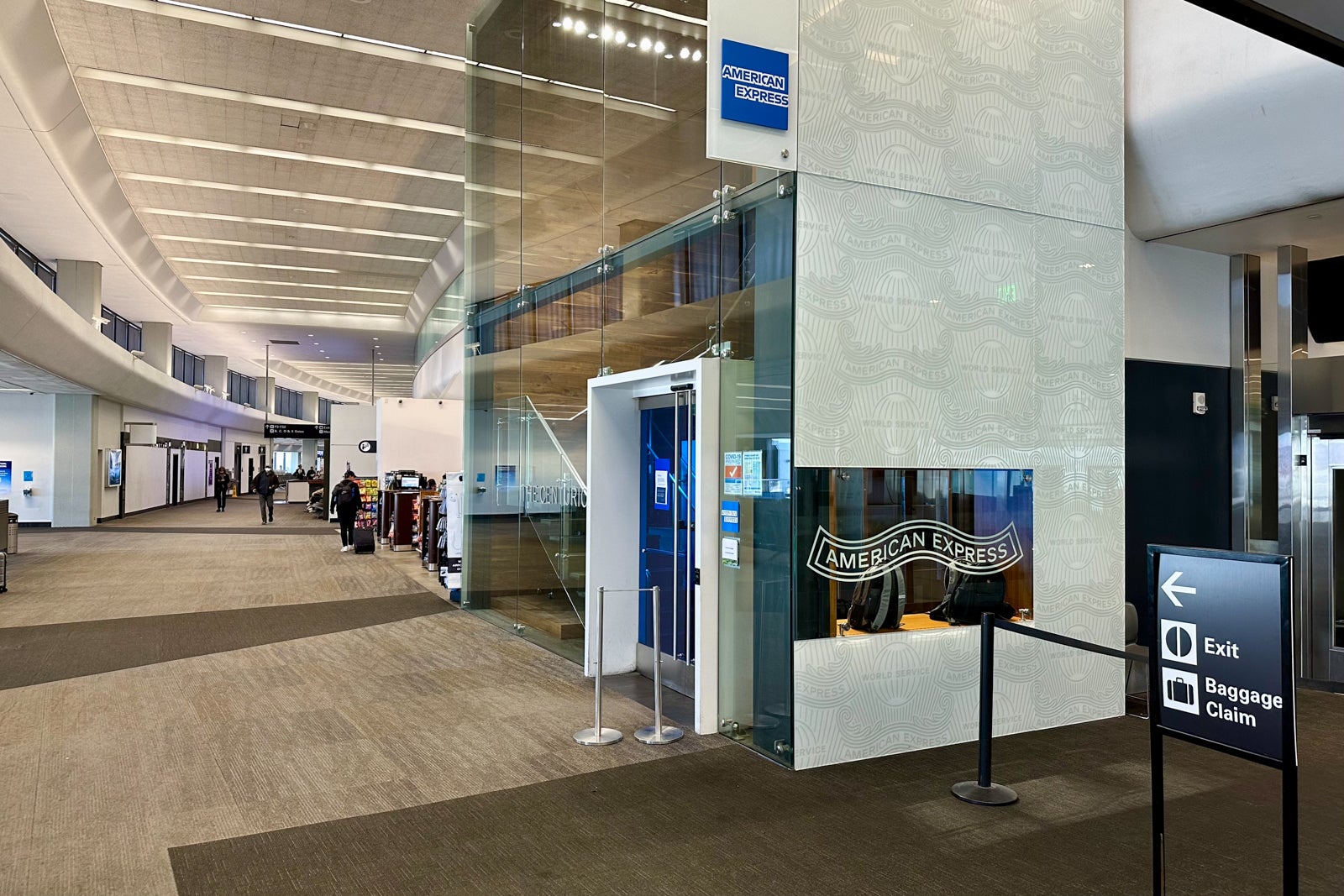 Once inside, however, you'll begin to enjoy an overhauled space. Headlining the expansion is an entirely new section that's located down a long corridor that overlooks the landside section of Terminal 3.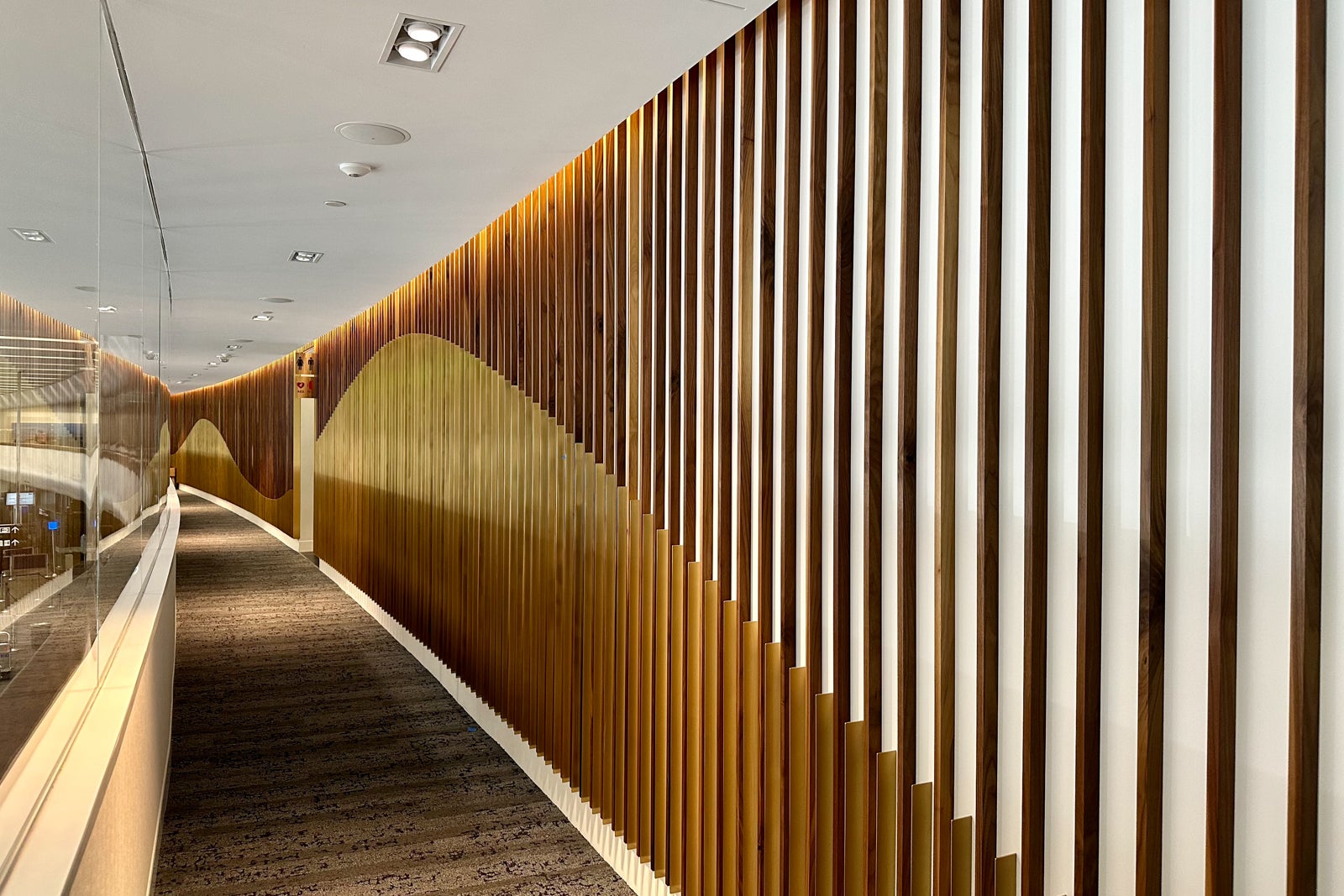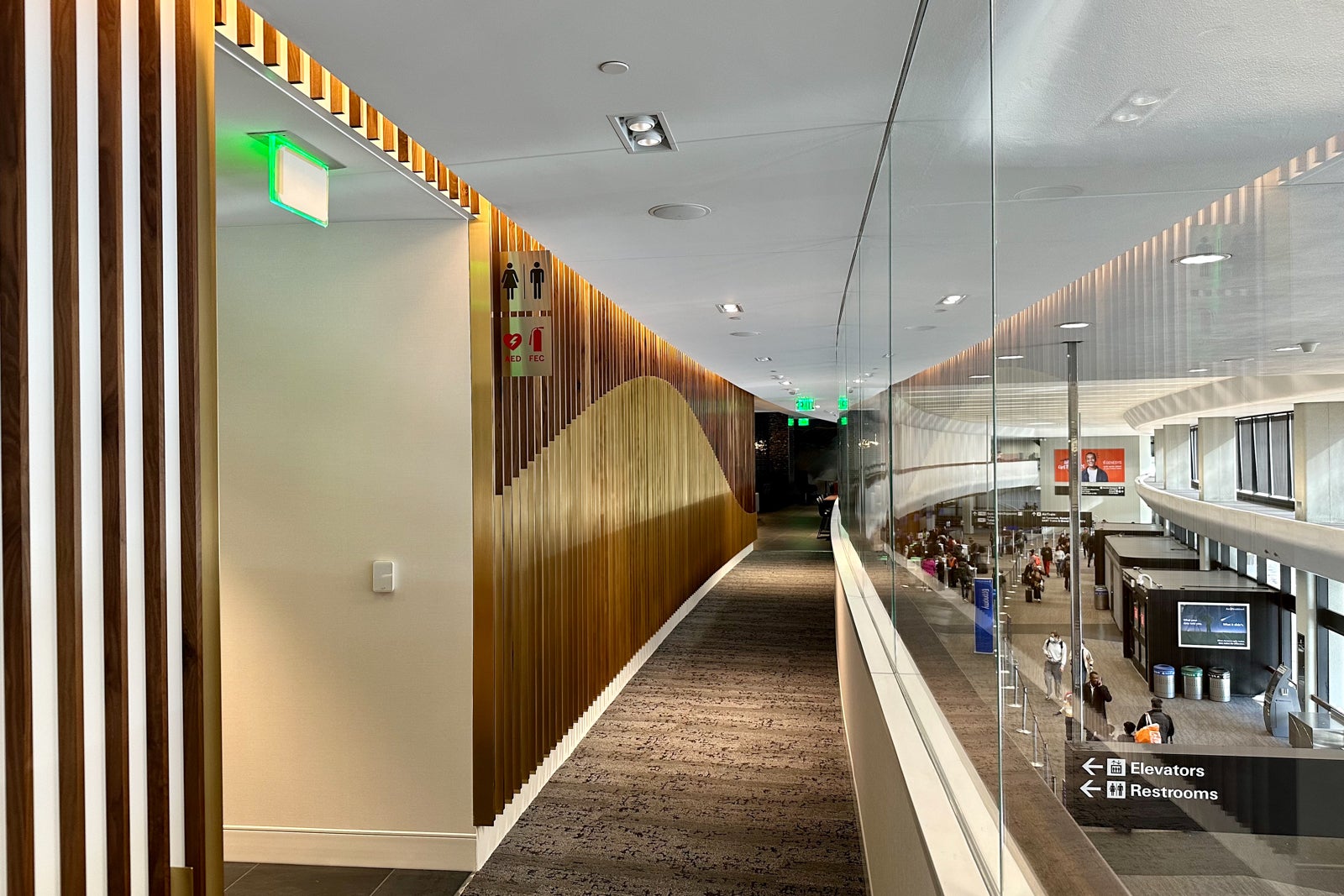 The lounge's footprint previously ended next to a single shower suite. Behind the shower were airport administration offices and other back-of-house spaces.
Earlier in the pandemic, Amex was able to lease this space, and the newly expanded lounge integrates all of the former offices into its current floor plan.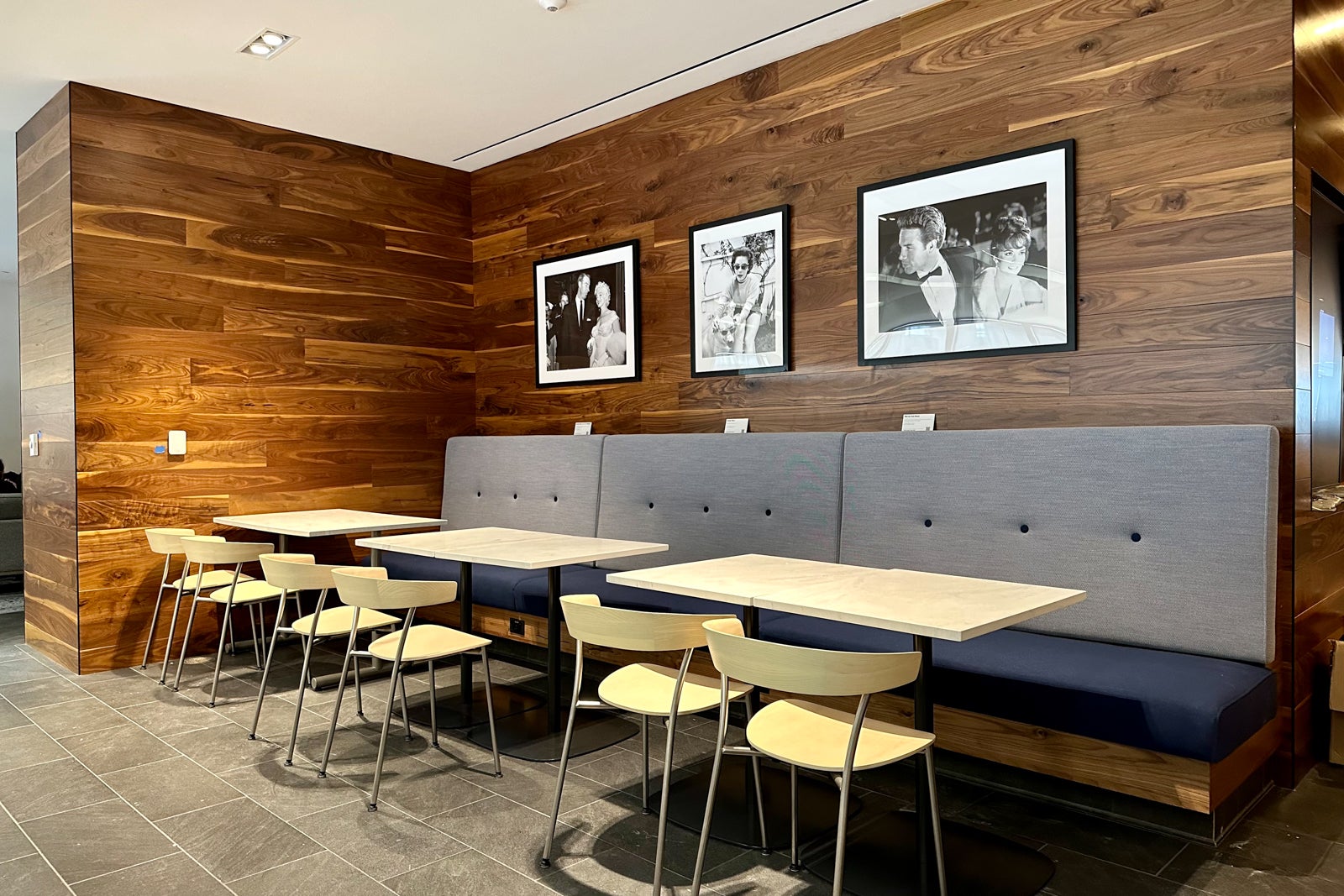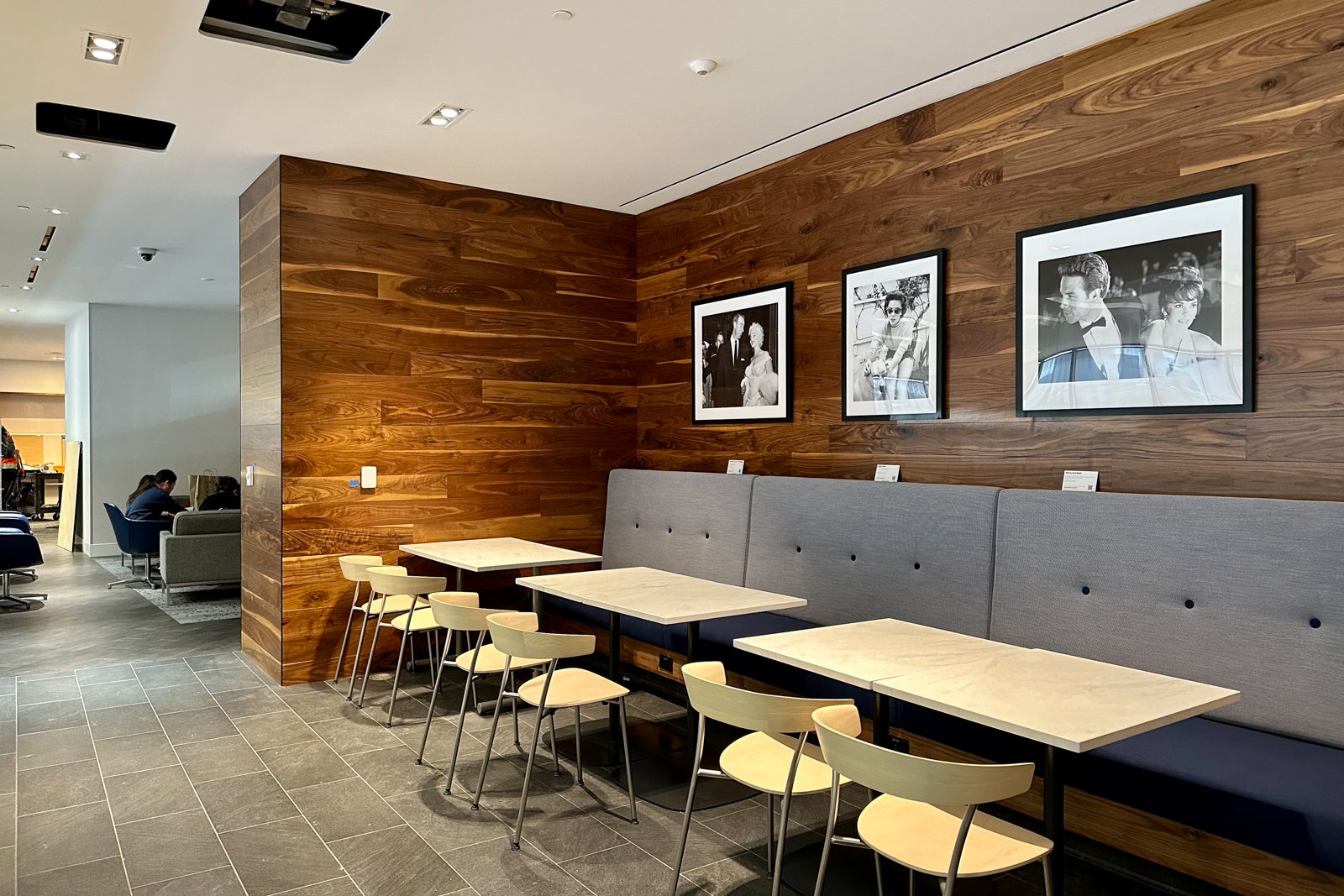 As you walk past where the old shower suite used to be, you'll find some additional booth-style seating, which leads to a new narrow corridor that brings you to the expansion.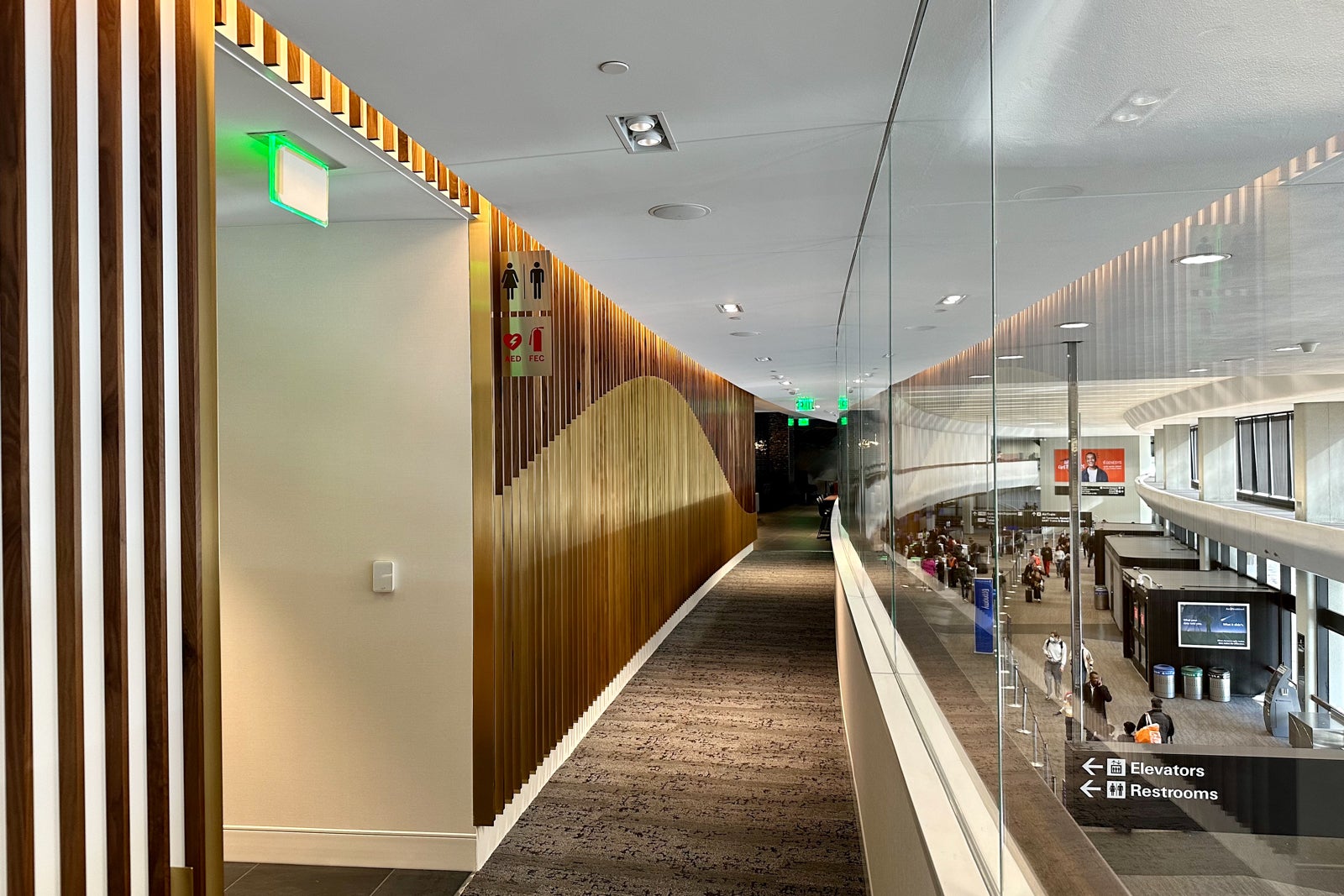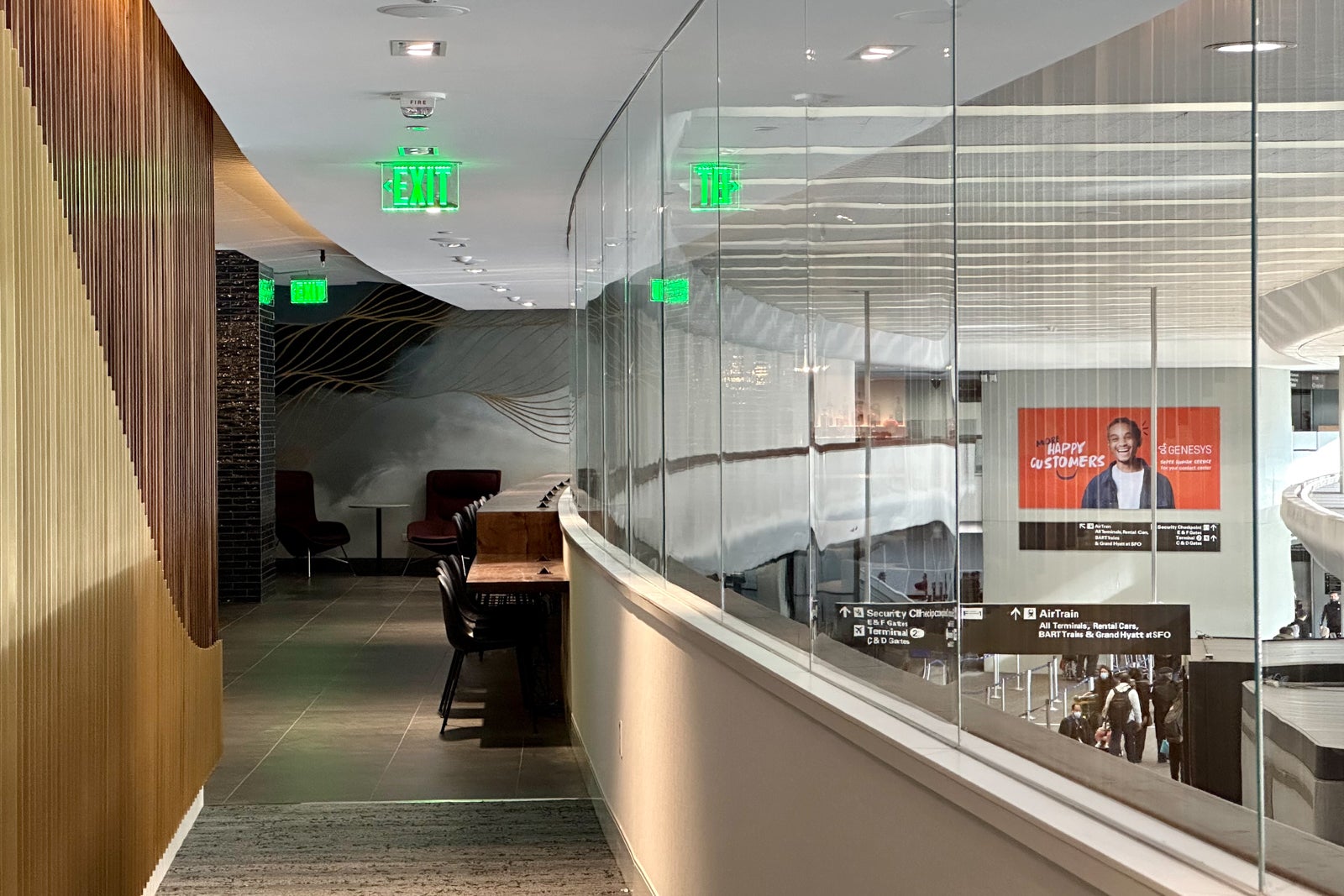 The glass windows lining this hallway help drench the space with plenty of natural light, and the stylish wall art adds a pop of color.
At the end of the corridor, you'll find a brand-new dining room.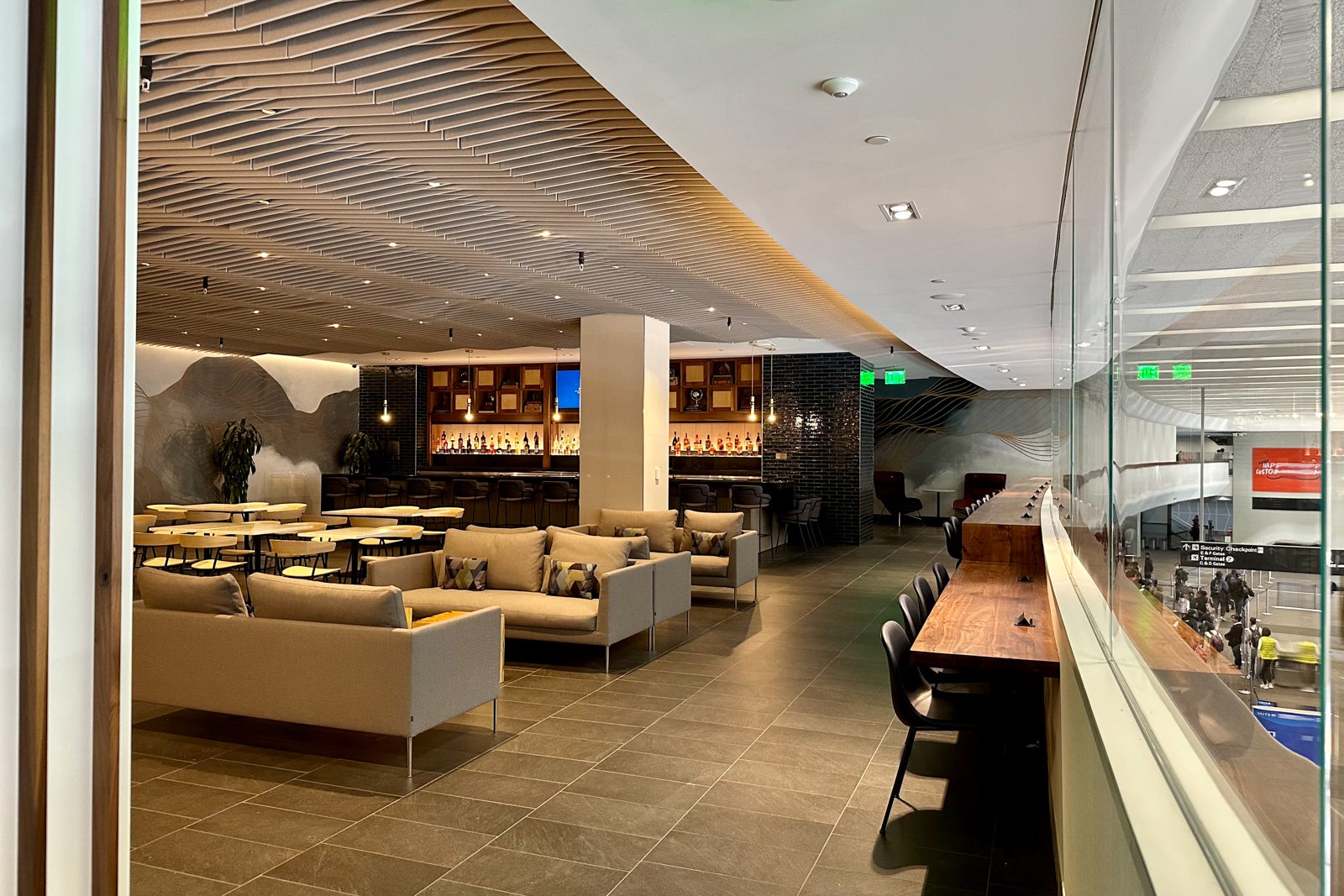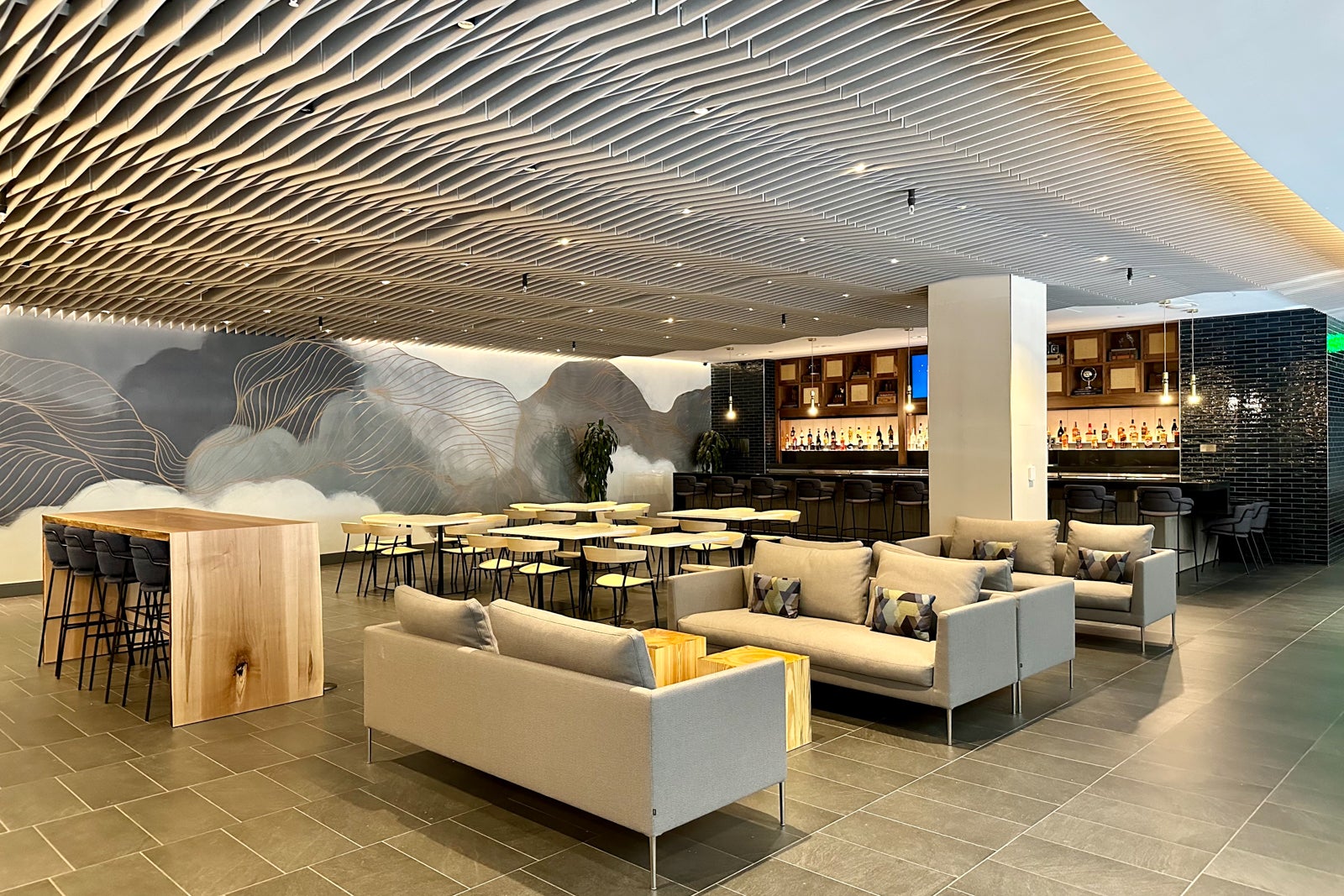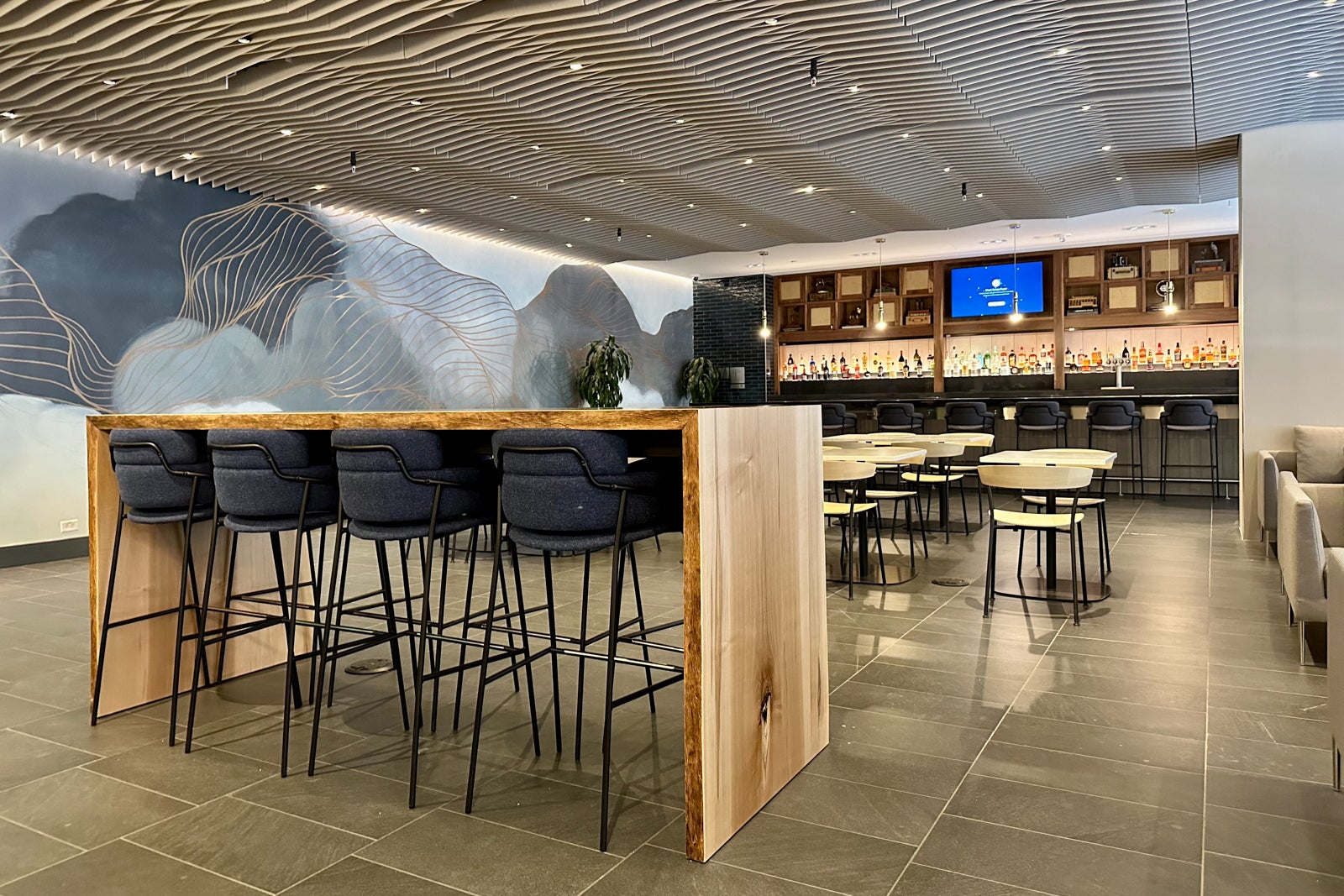 There is a mix of seating ranging from two- and four-top dining tables to couches and high-top coworking tables.
The perimeter of this area is lined with bar-style seats, each within an arm's reach of a power outlet and USB-A port.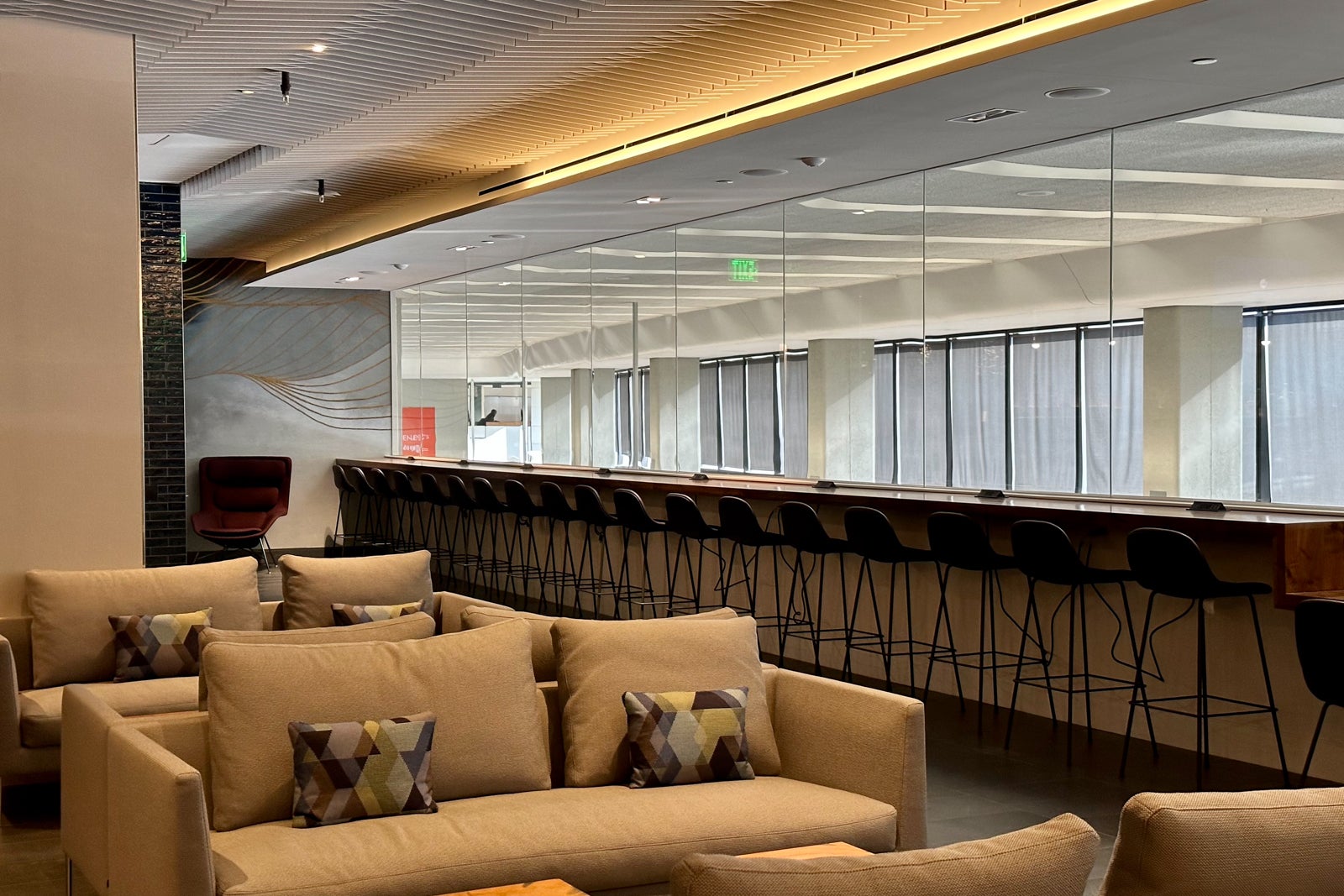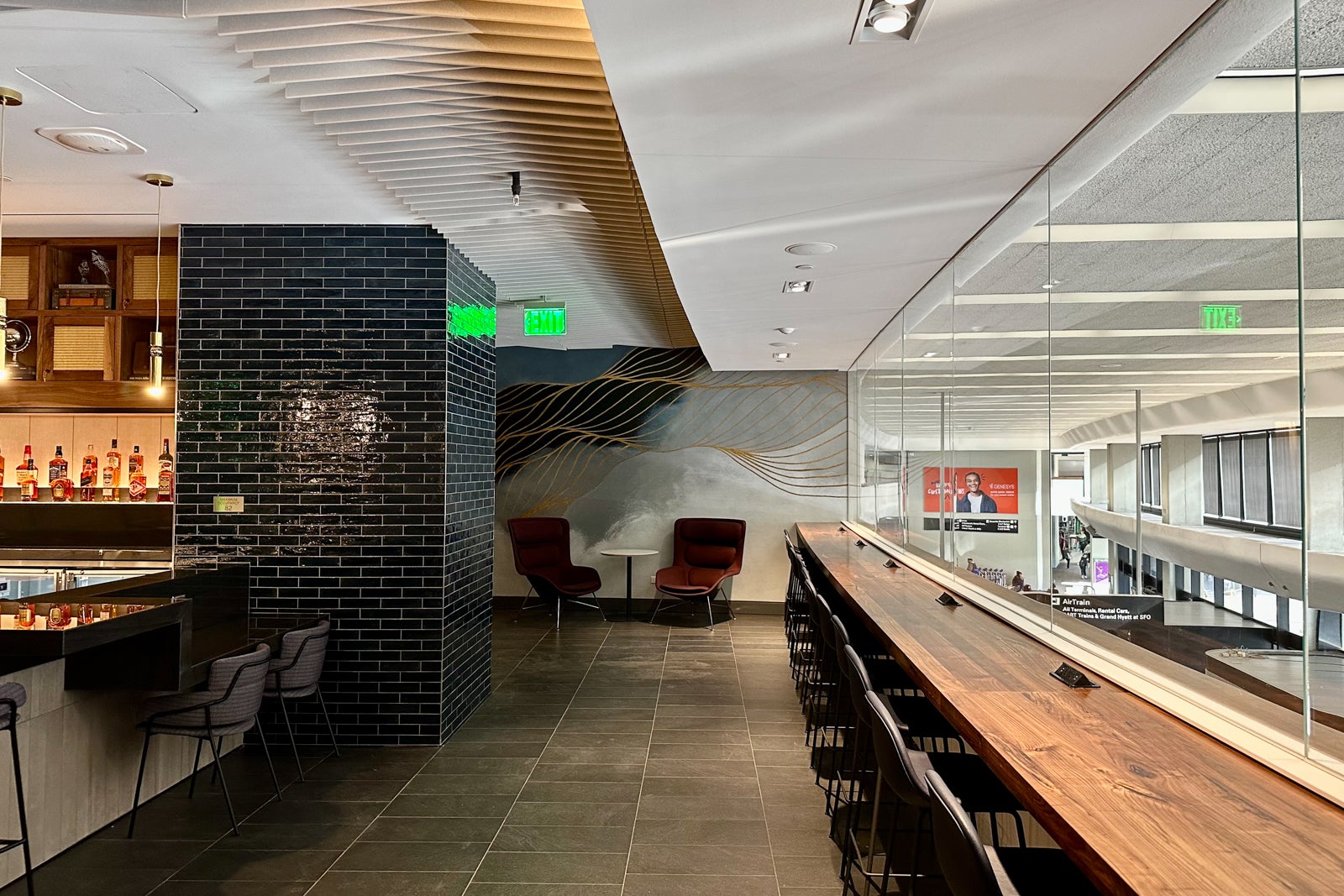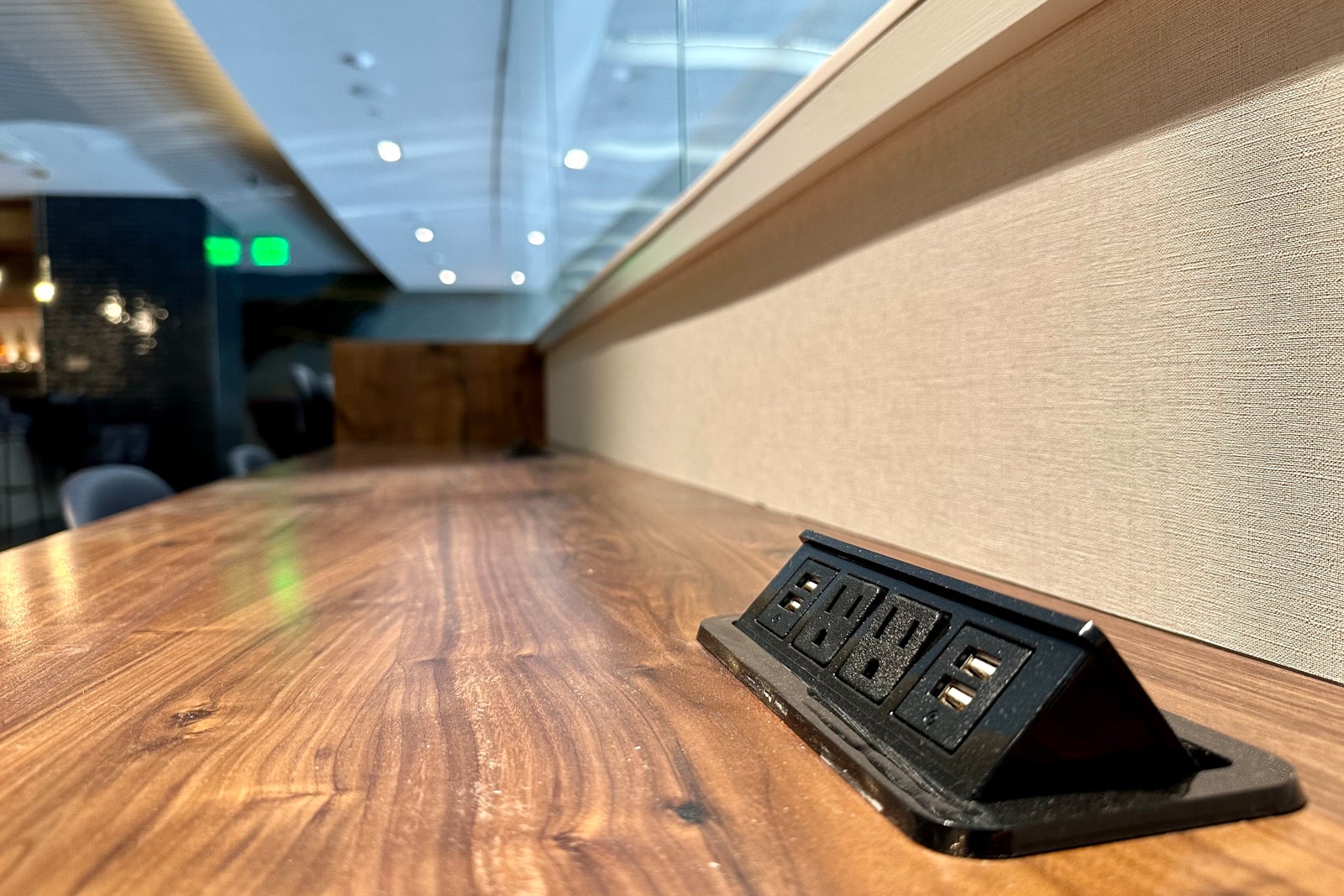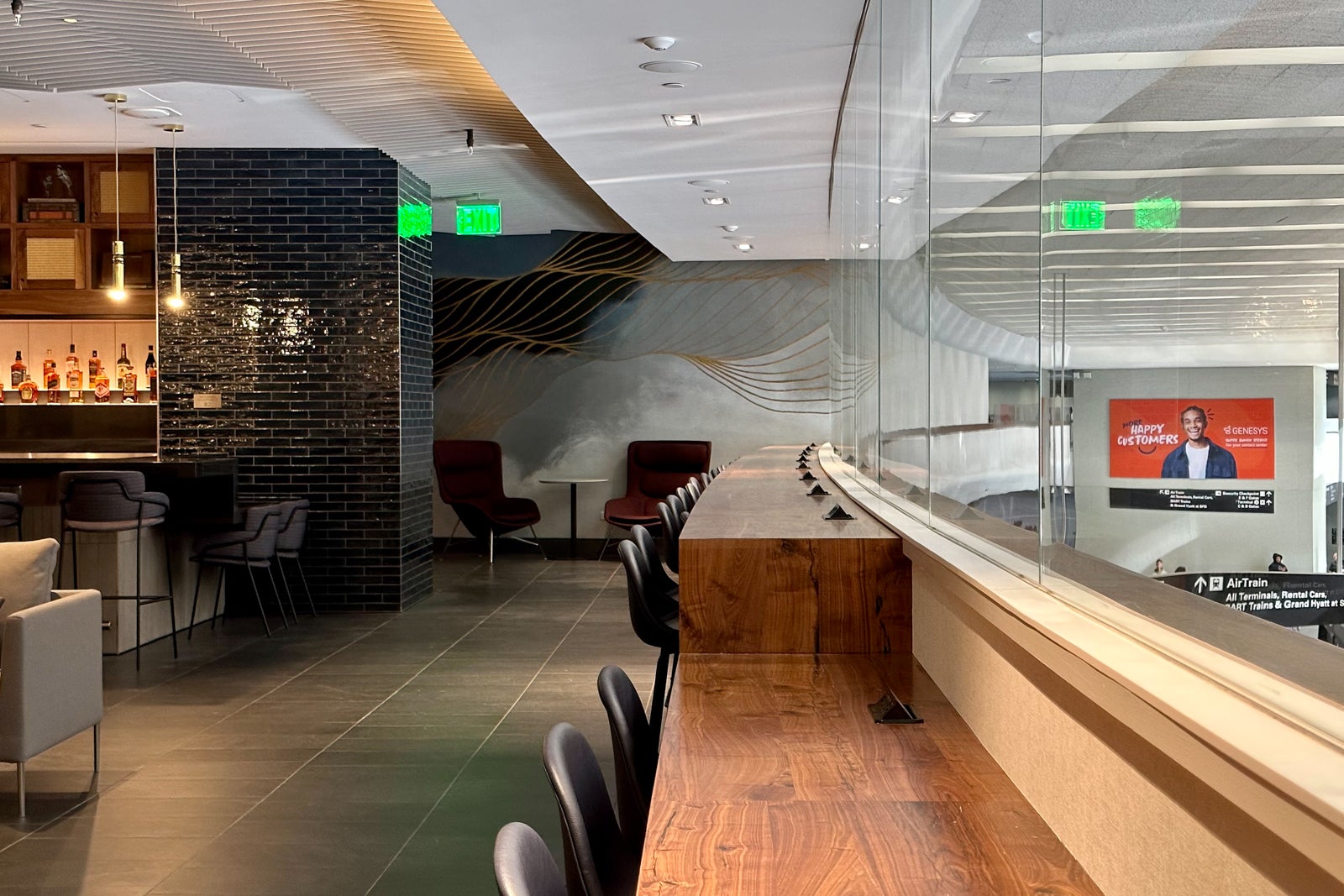 The dining room boasts a full-service buffet and a beverage station, too.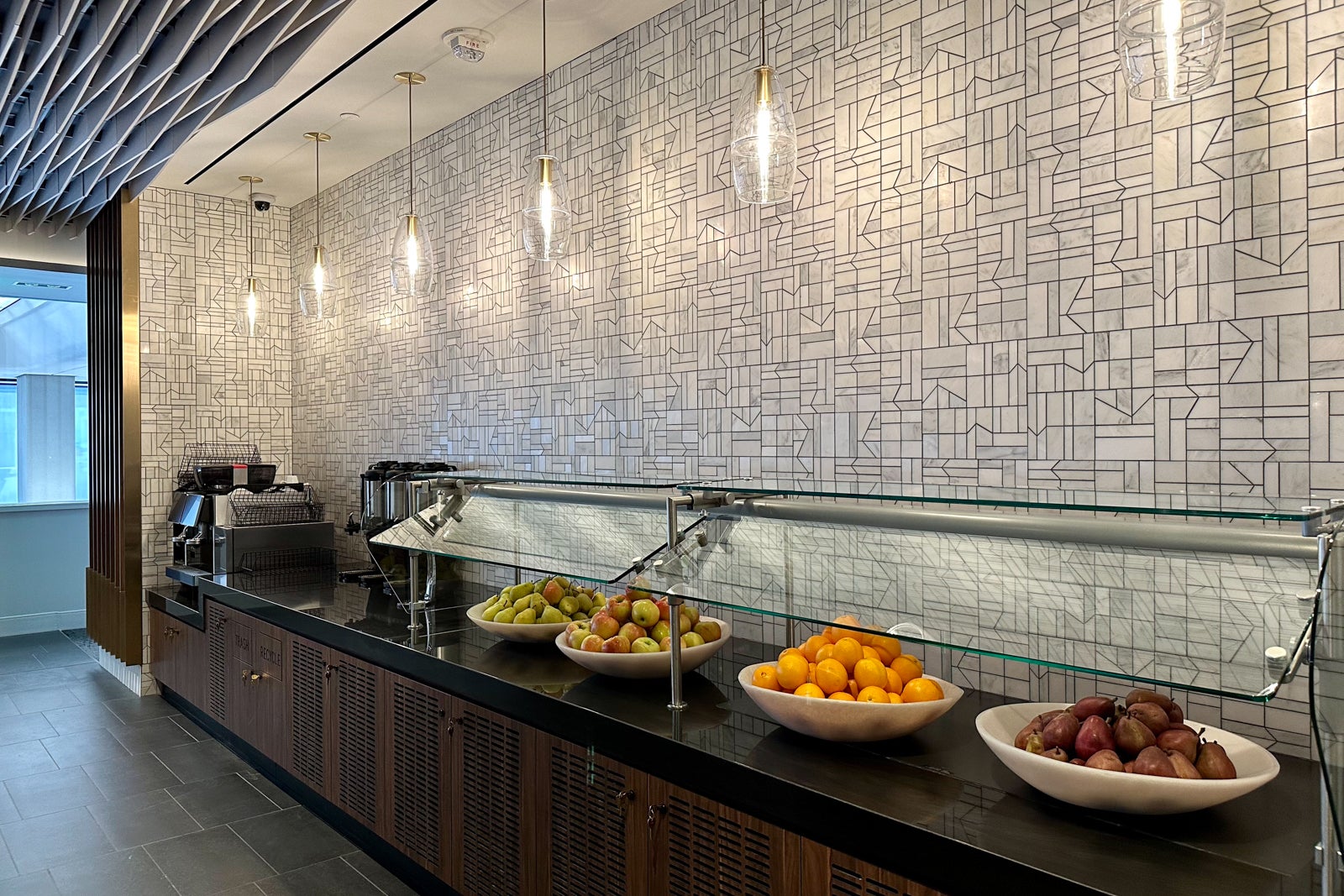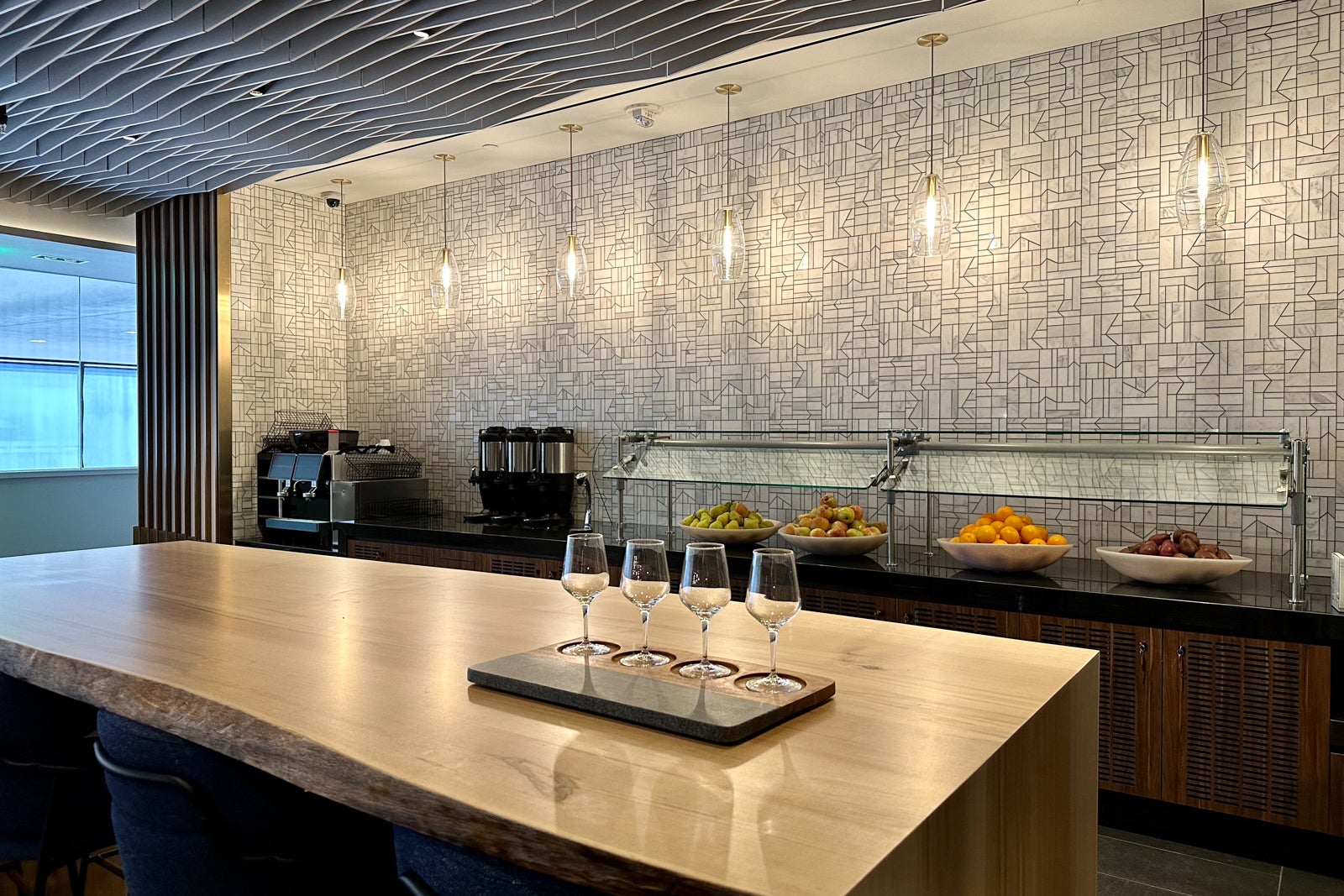 Meanwhile, the new bar is significantly larger than the original one, and it'll serve up your favorite cocktail or, if you're feeling adventurous, a wine flight with four pours from bottles that are local to the region. (More on that below.)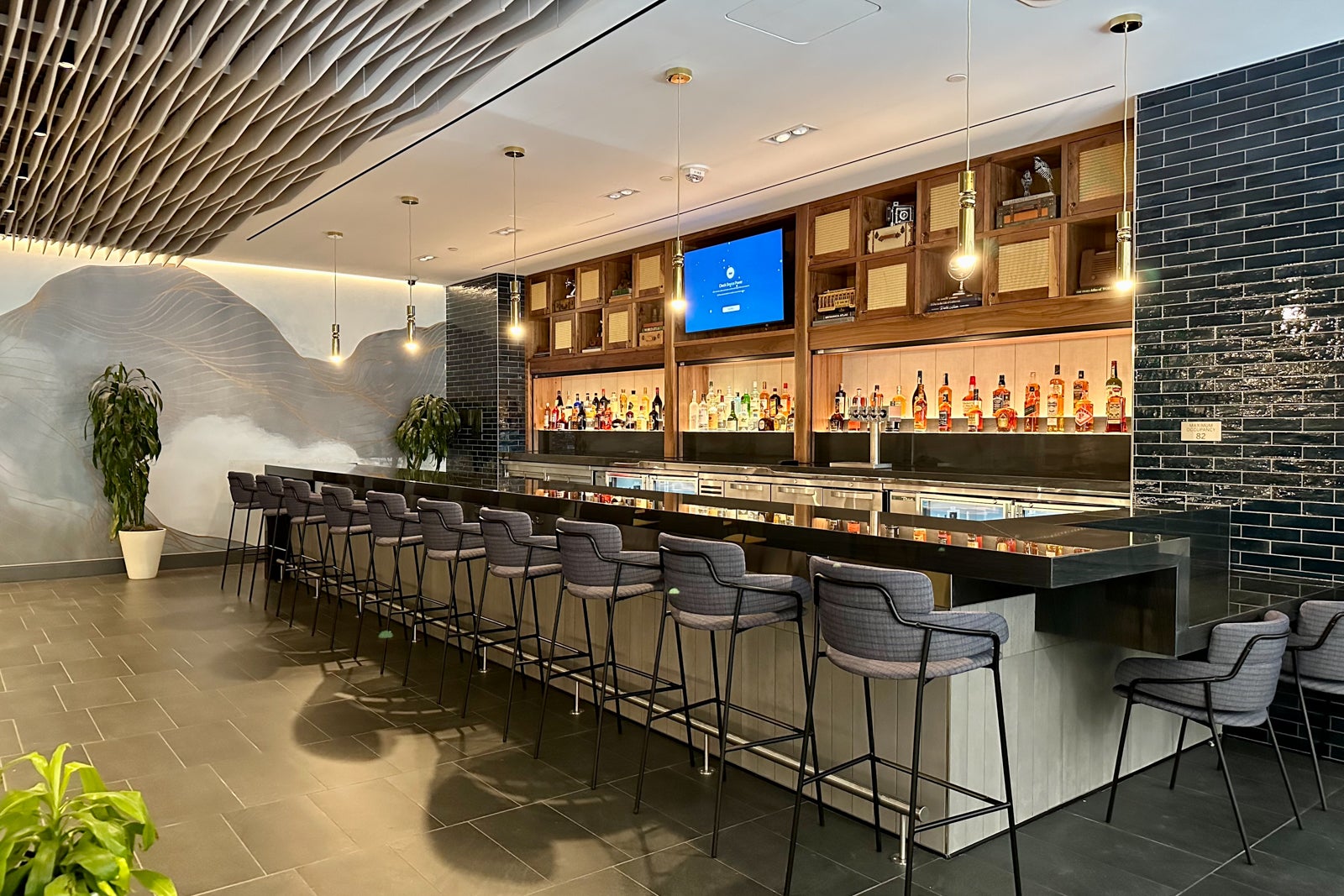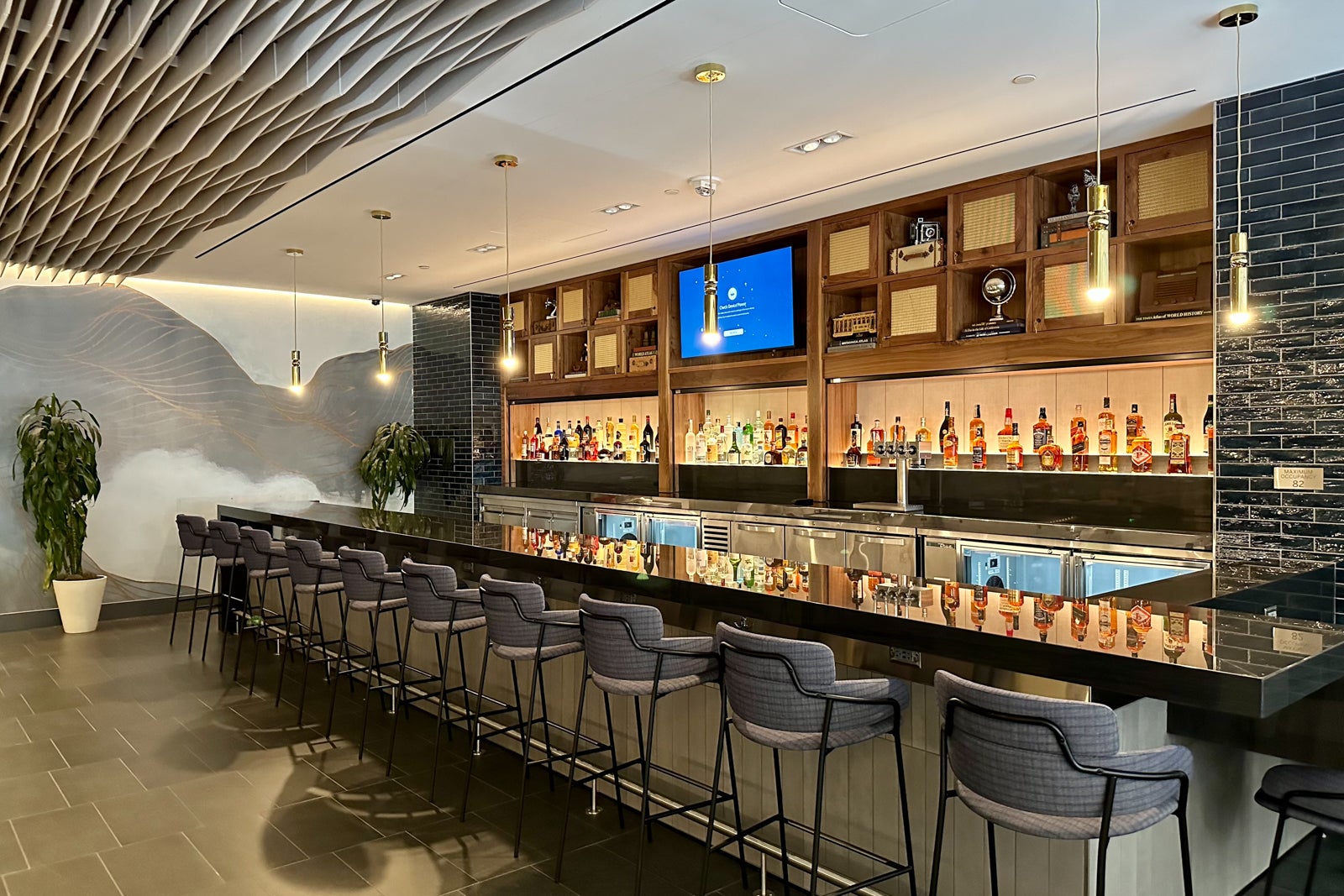 From the accent lights to the deep-blue mural on the wall, this space feels elegant and luxurious, in line with Amex's latest Centurion Lounge decorative motifs.
In fact, Amex specifically commissioned abstract artist Tracie Cheng to design the new floor-to-ceiling wallpaper design, which seems to take cues from the vineyards of Napa and Sonoma, Northern Californian landscapes and San Francisco's famous fog.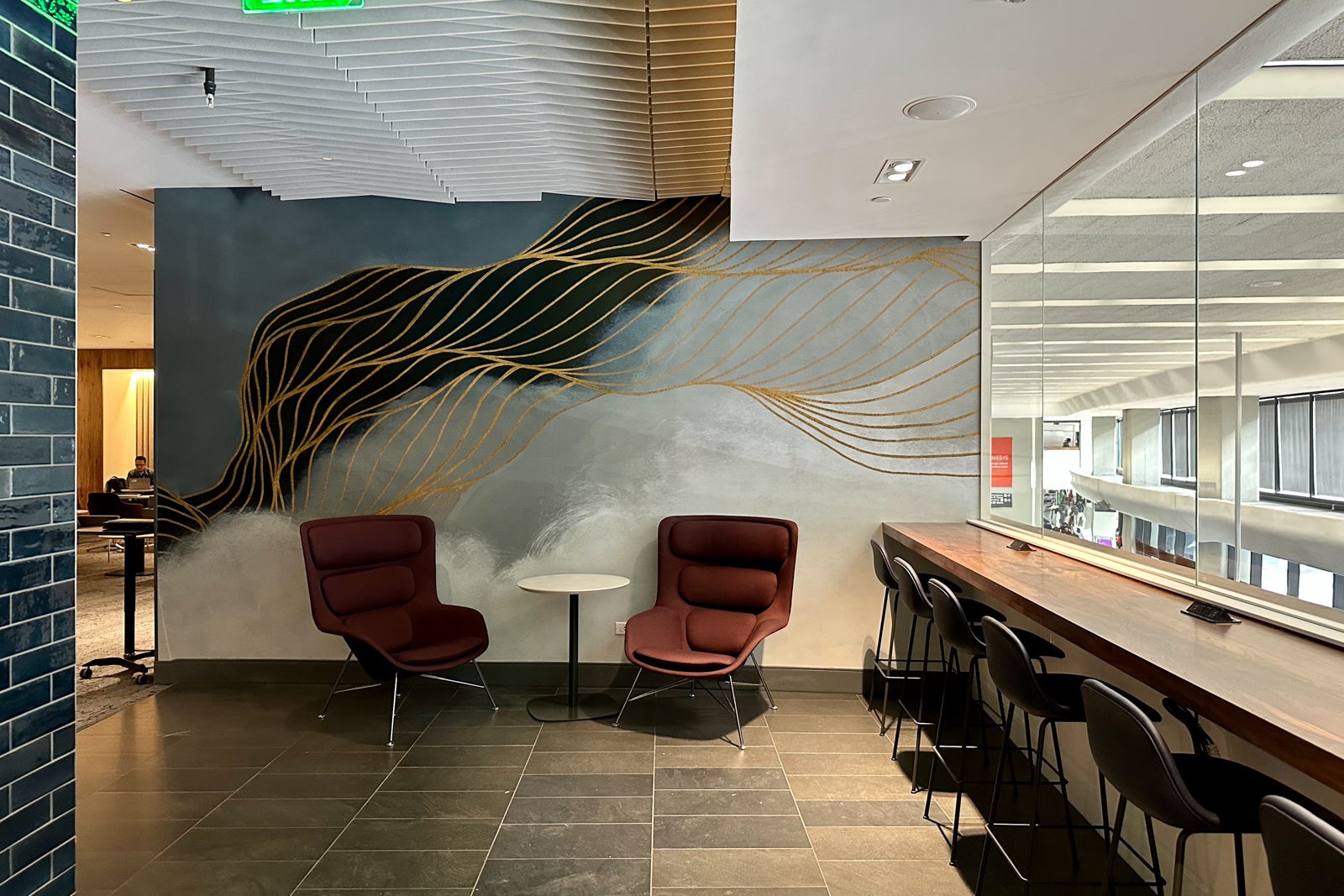 The addition of a second buffet and bar, plus more dining space, should help alleviate some of the overcrowding the lounge has been experiencing.
Aside from the second dining area, there's also a brand-new relaxation space located further down the hall.
Turning left at the end of the hallway brings you into this lounge space, which — like the dining room — is designed with Amex's signature branding.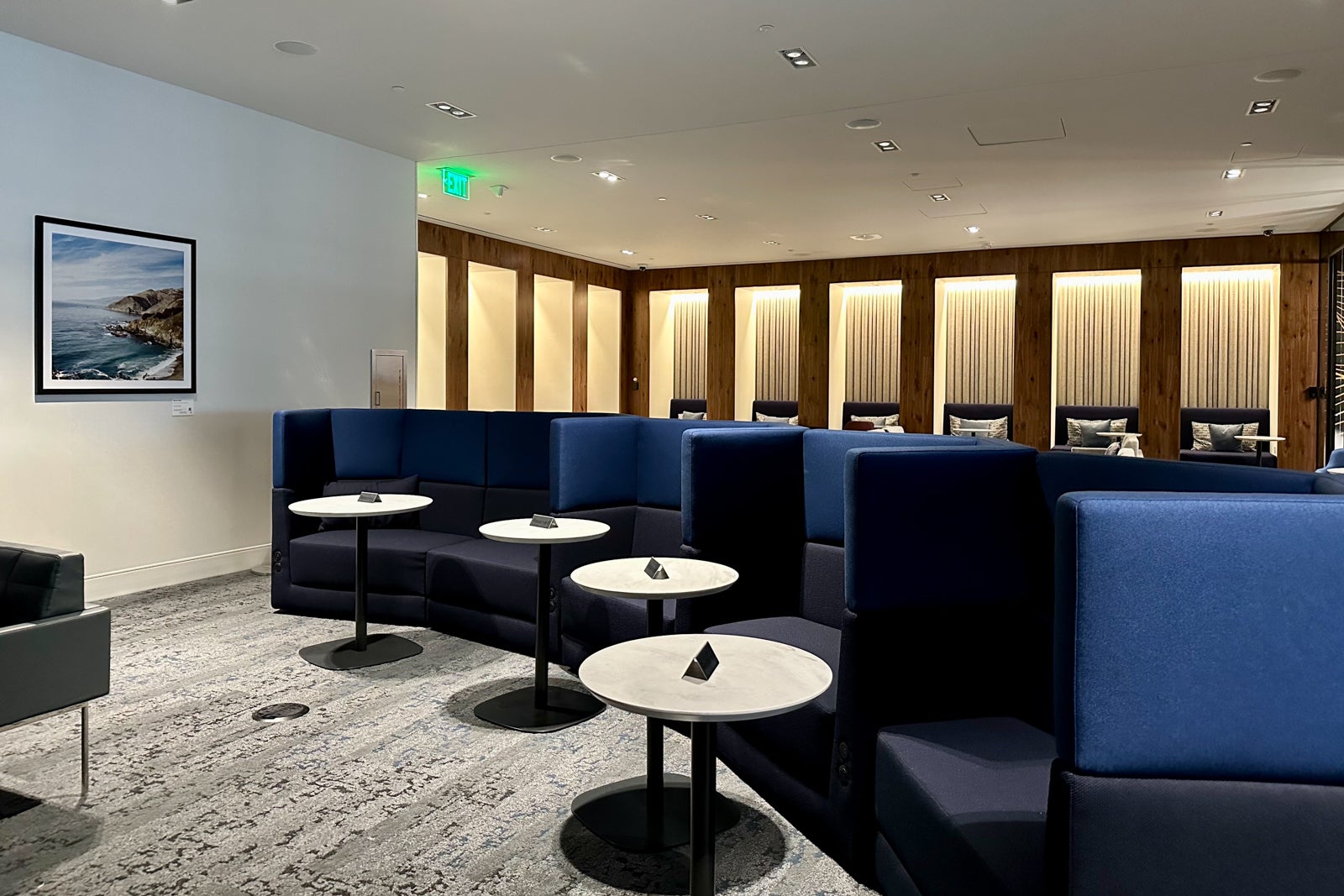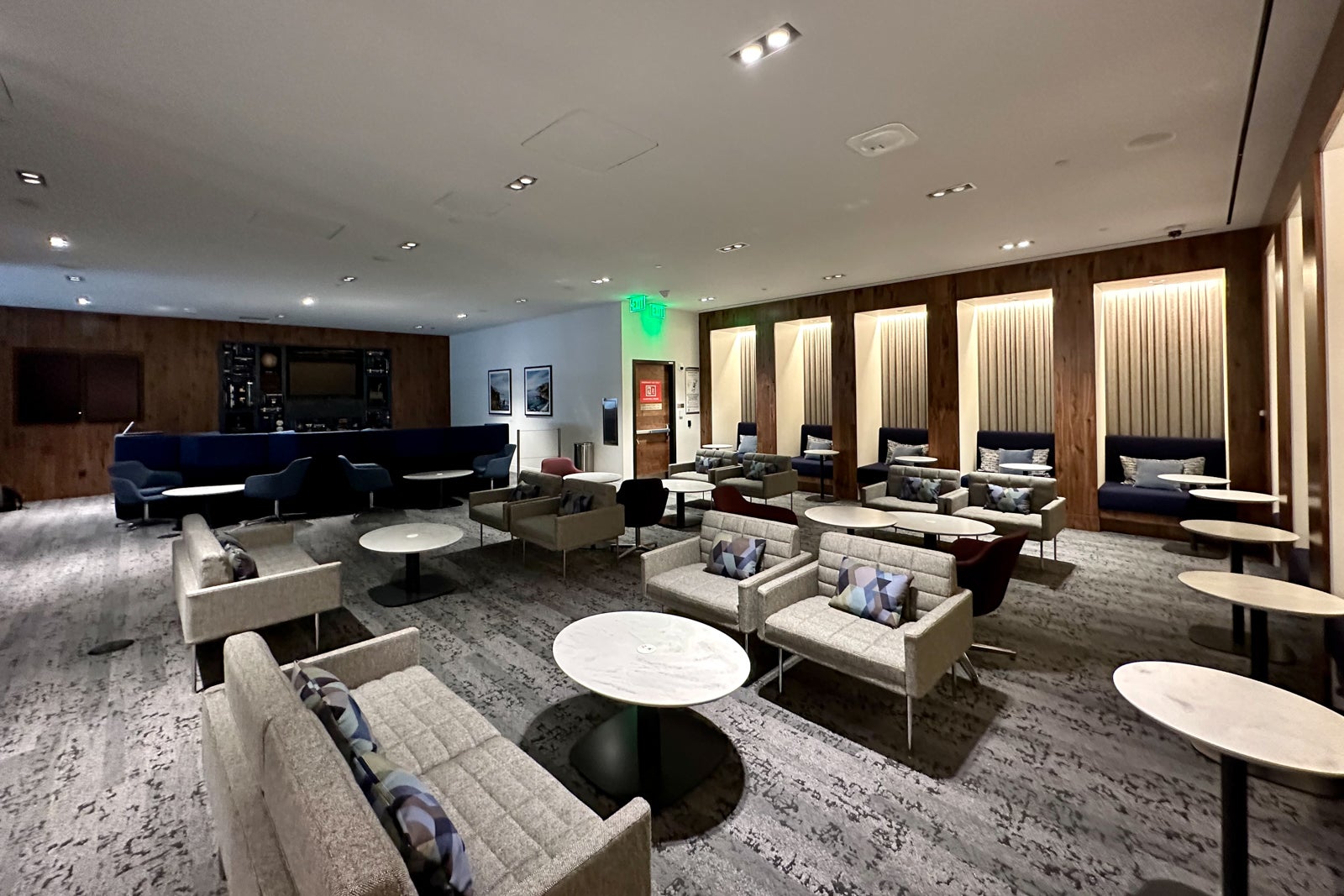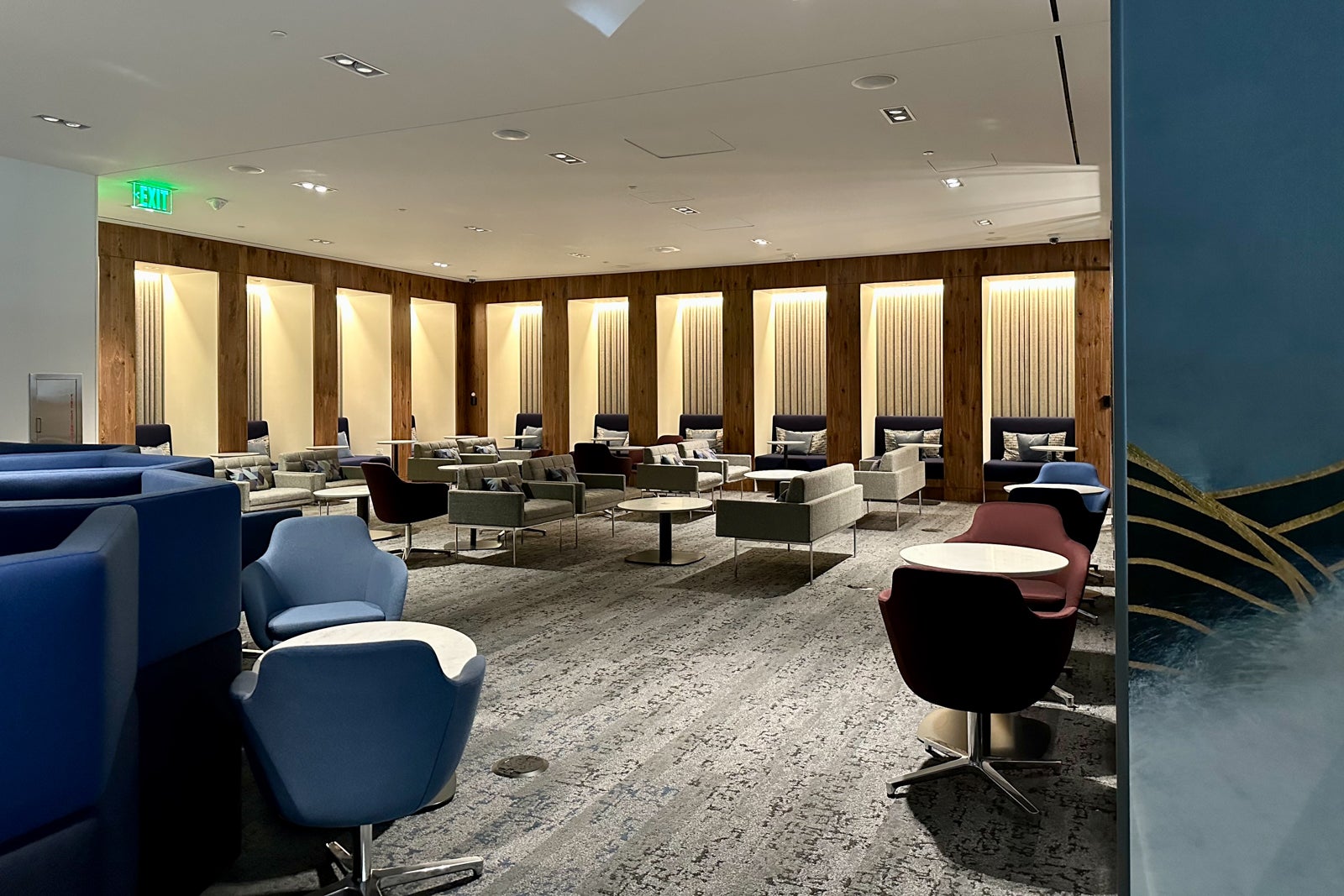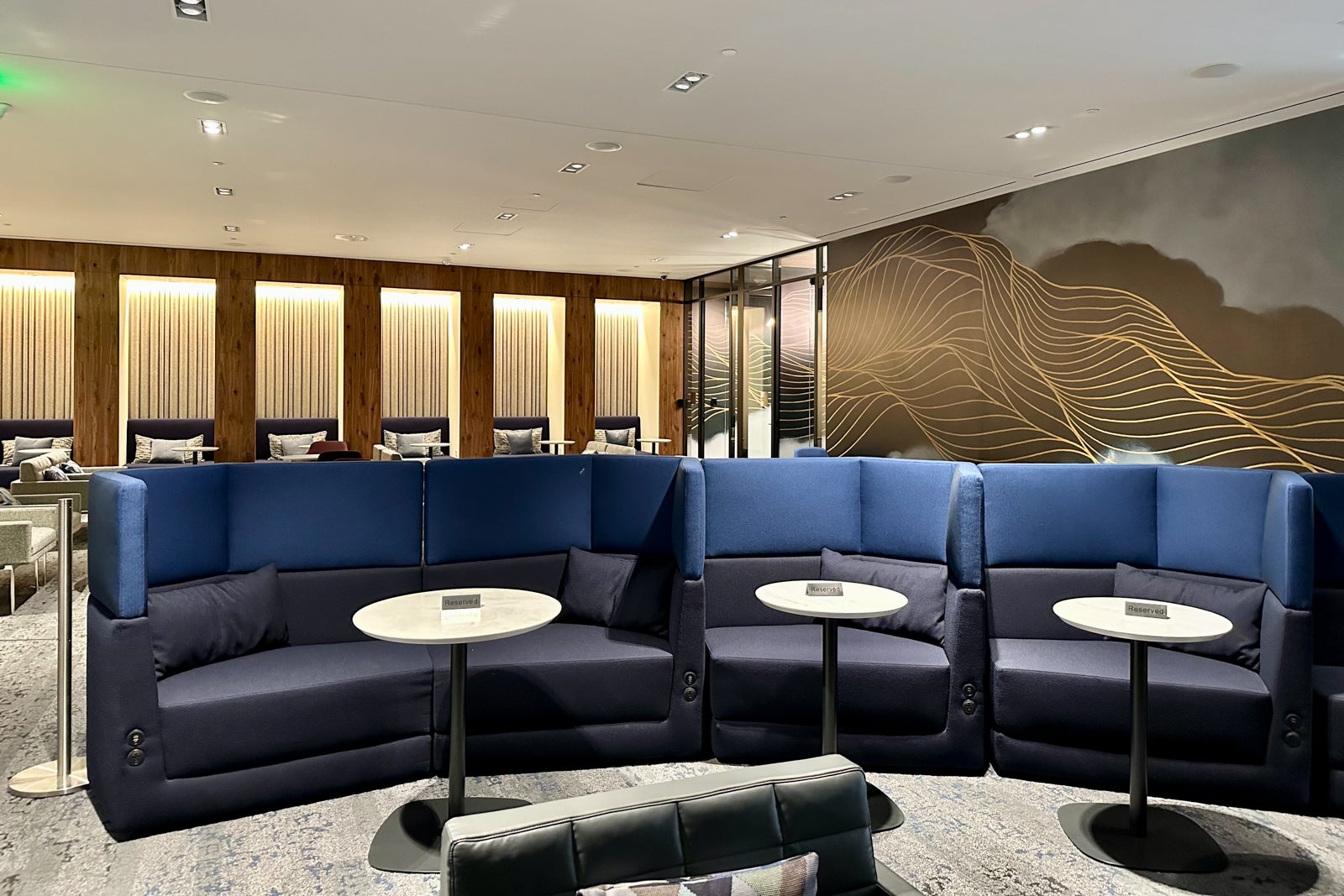 A small portion of this section will be reserved for VIPs and those with The Centurion Card from American Express, but the rest of the space will be open to all. (The information for the Centurion Card has been collected independently by The Points Guy. The card details on this page have not been reviewed or provided by the card issuer.)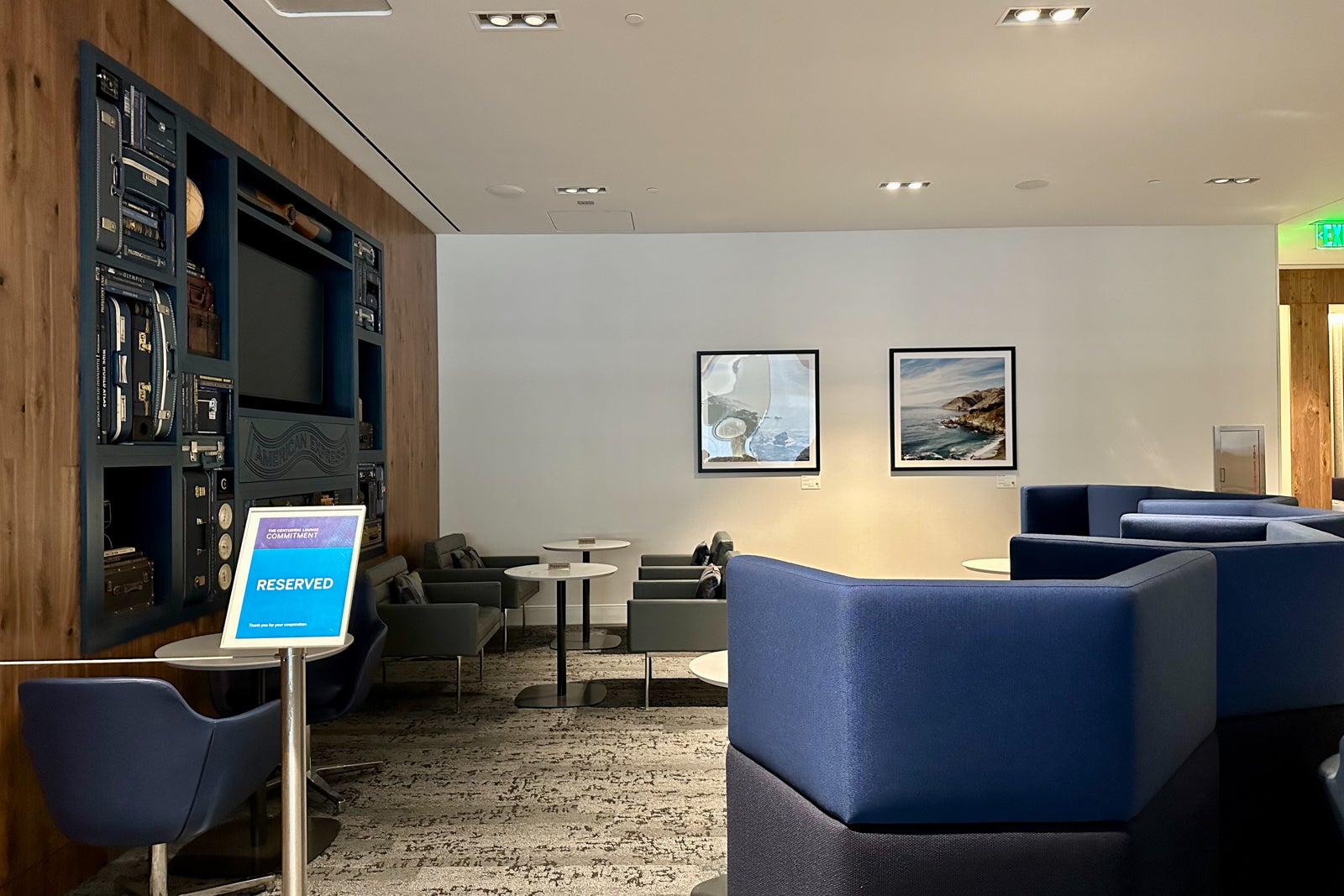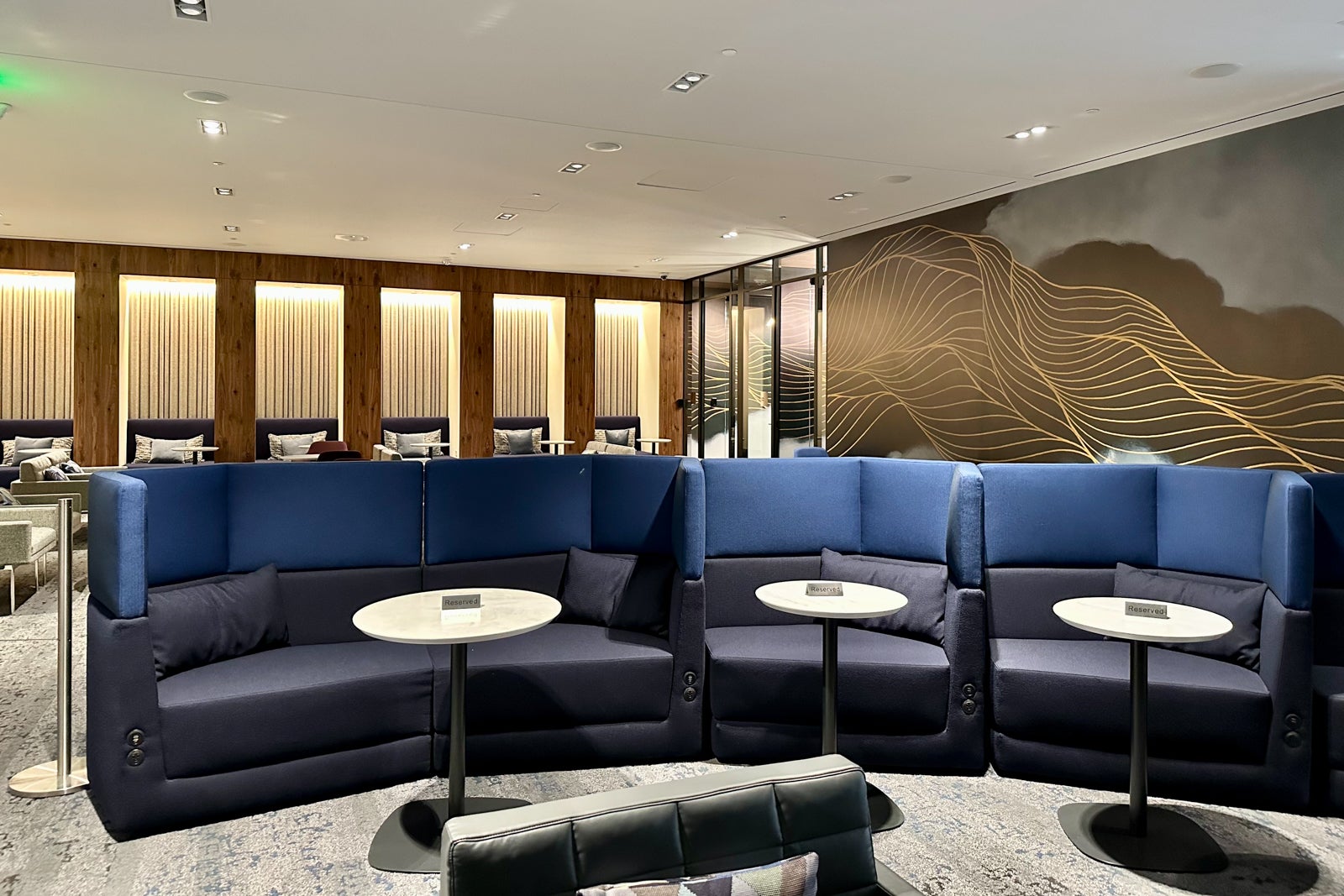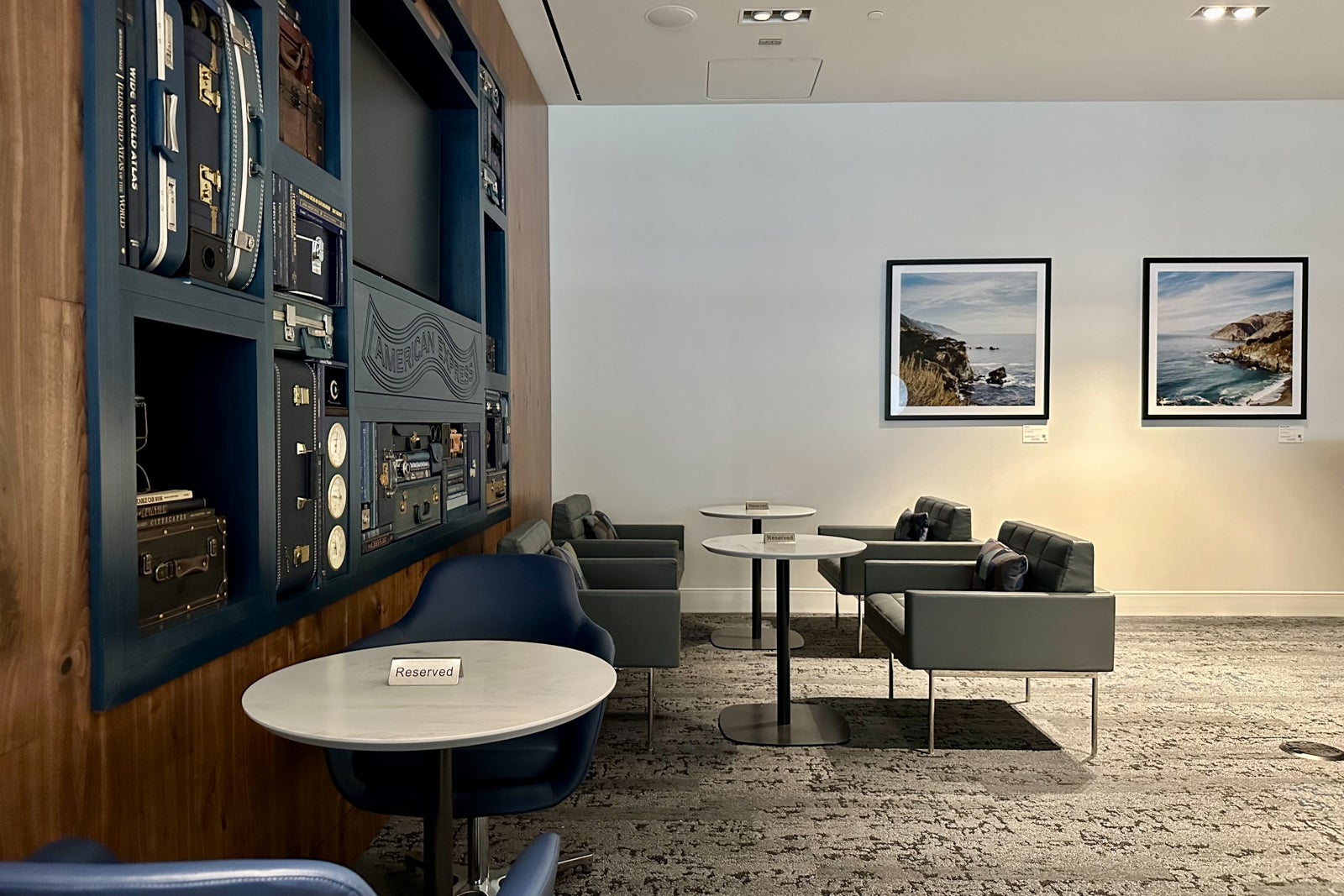 Between the couches and the solo seats installed along the wall, there should be plenty of room to spread out. Every seat, including those in the center of the room, features easy access to power outlets.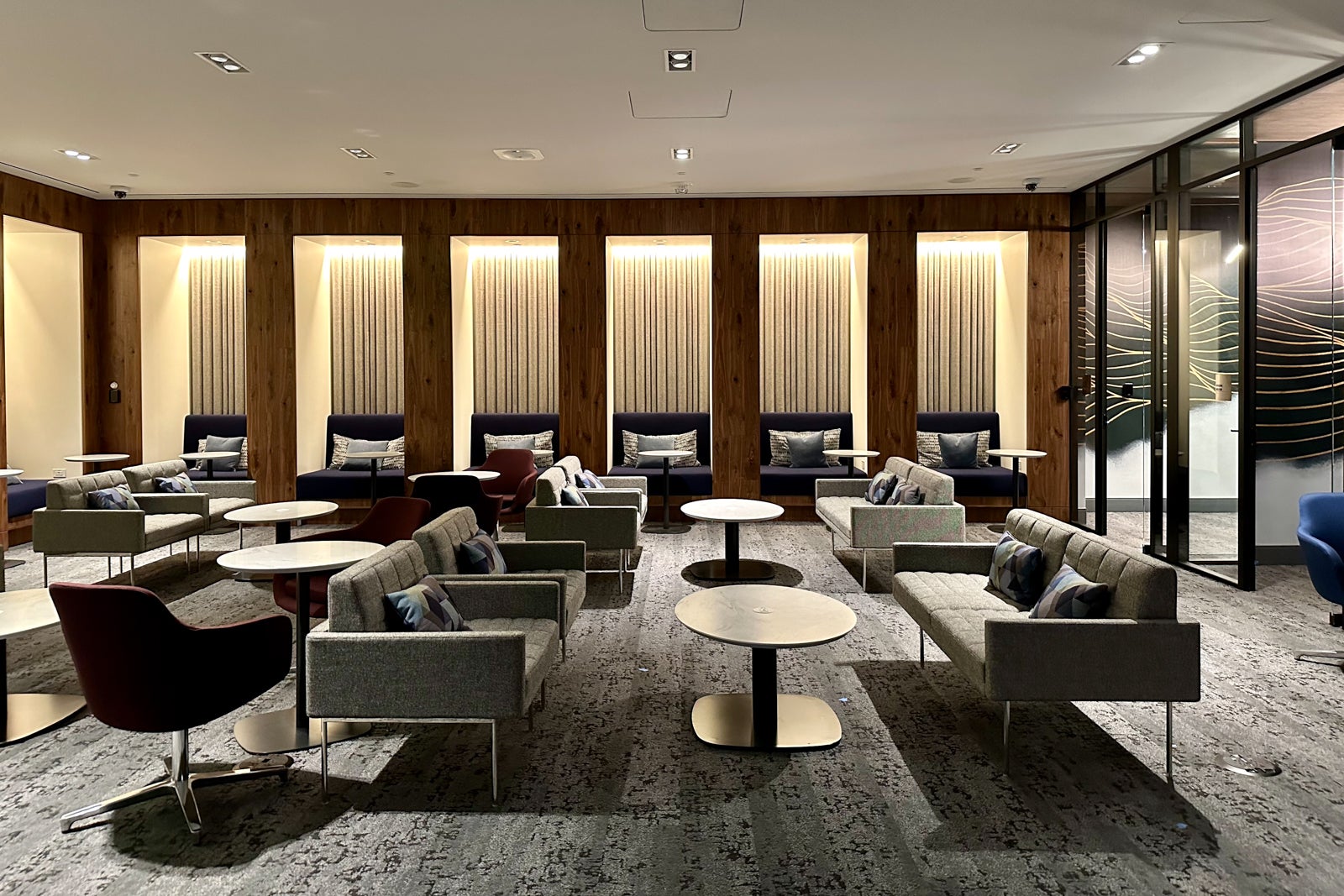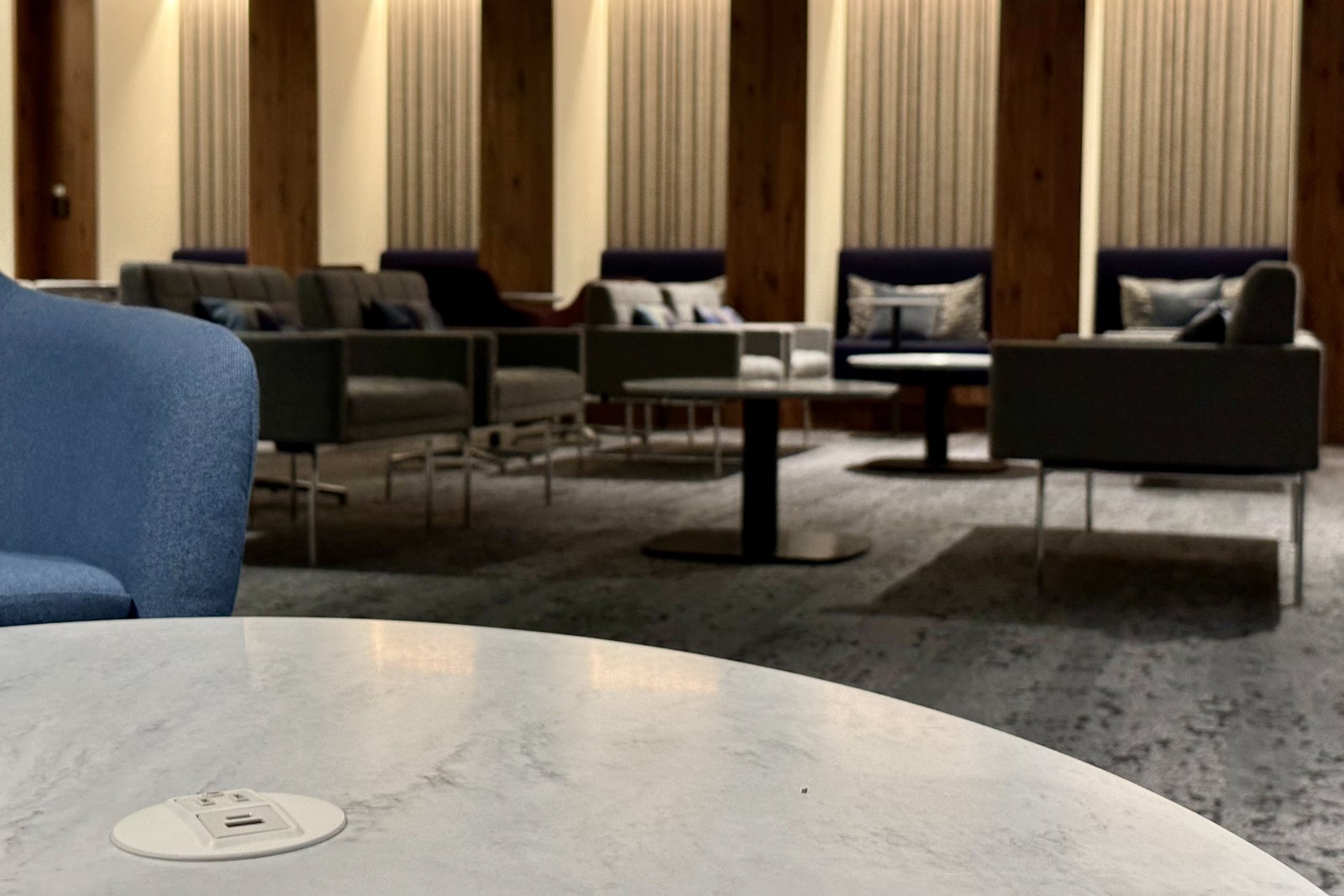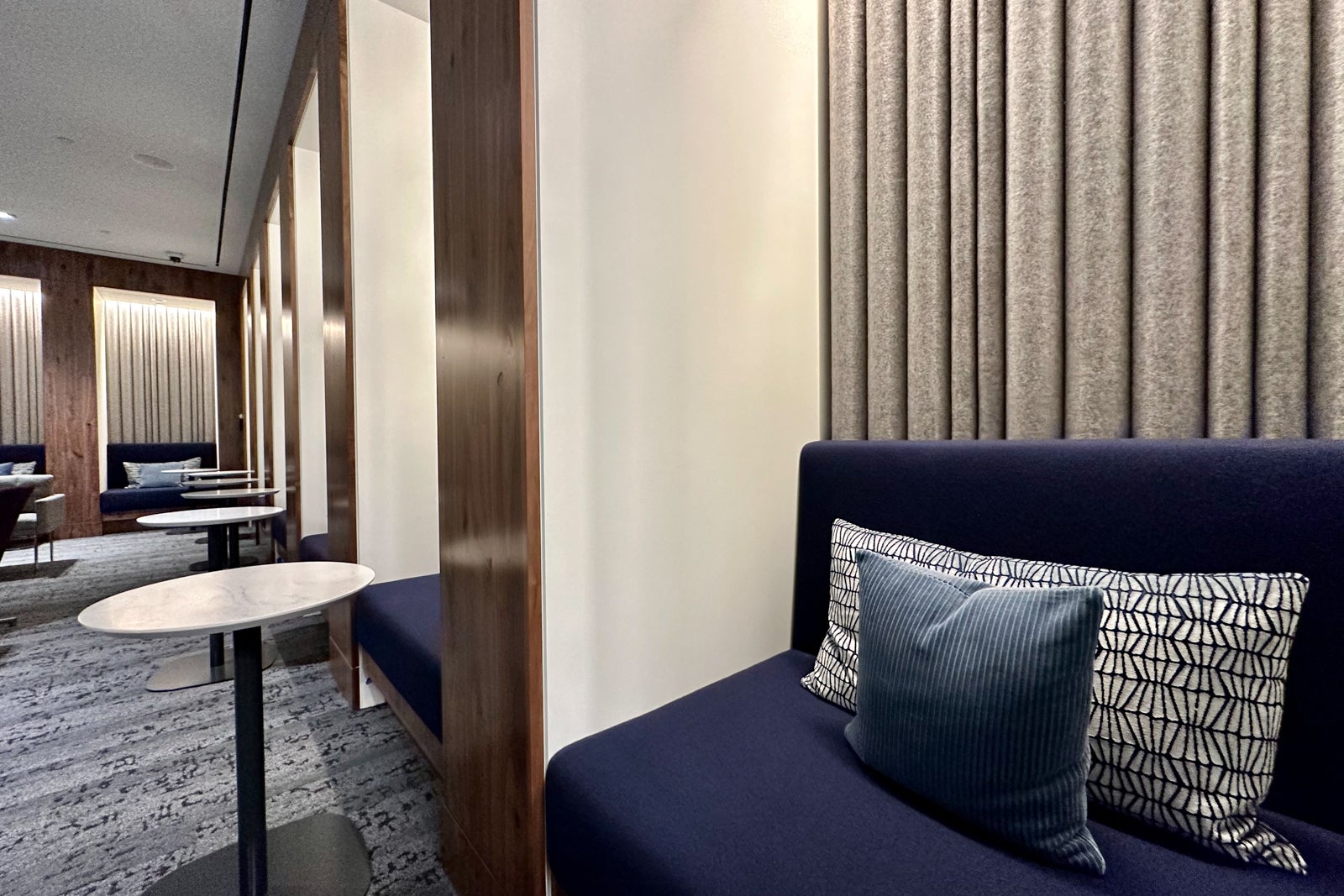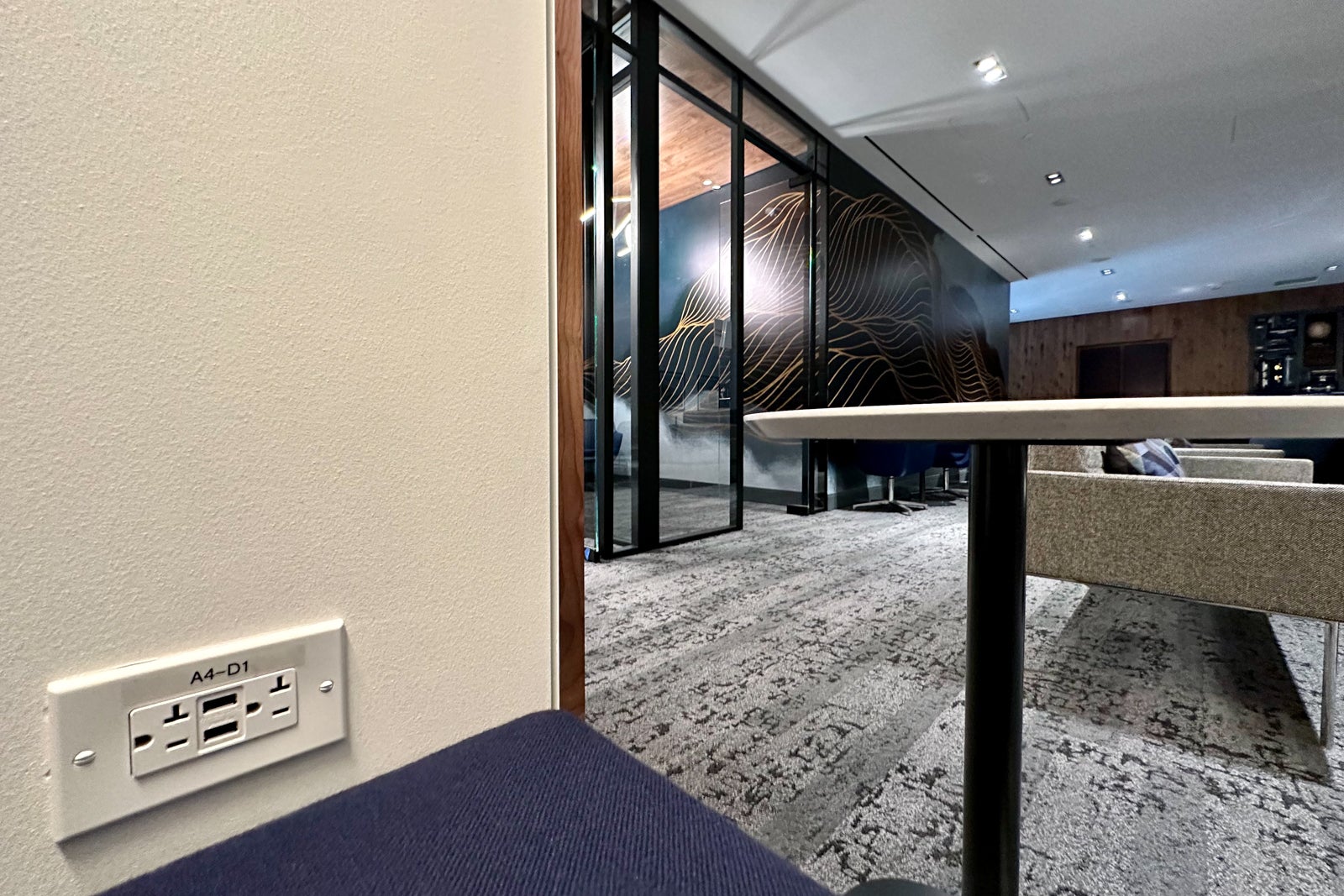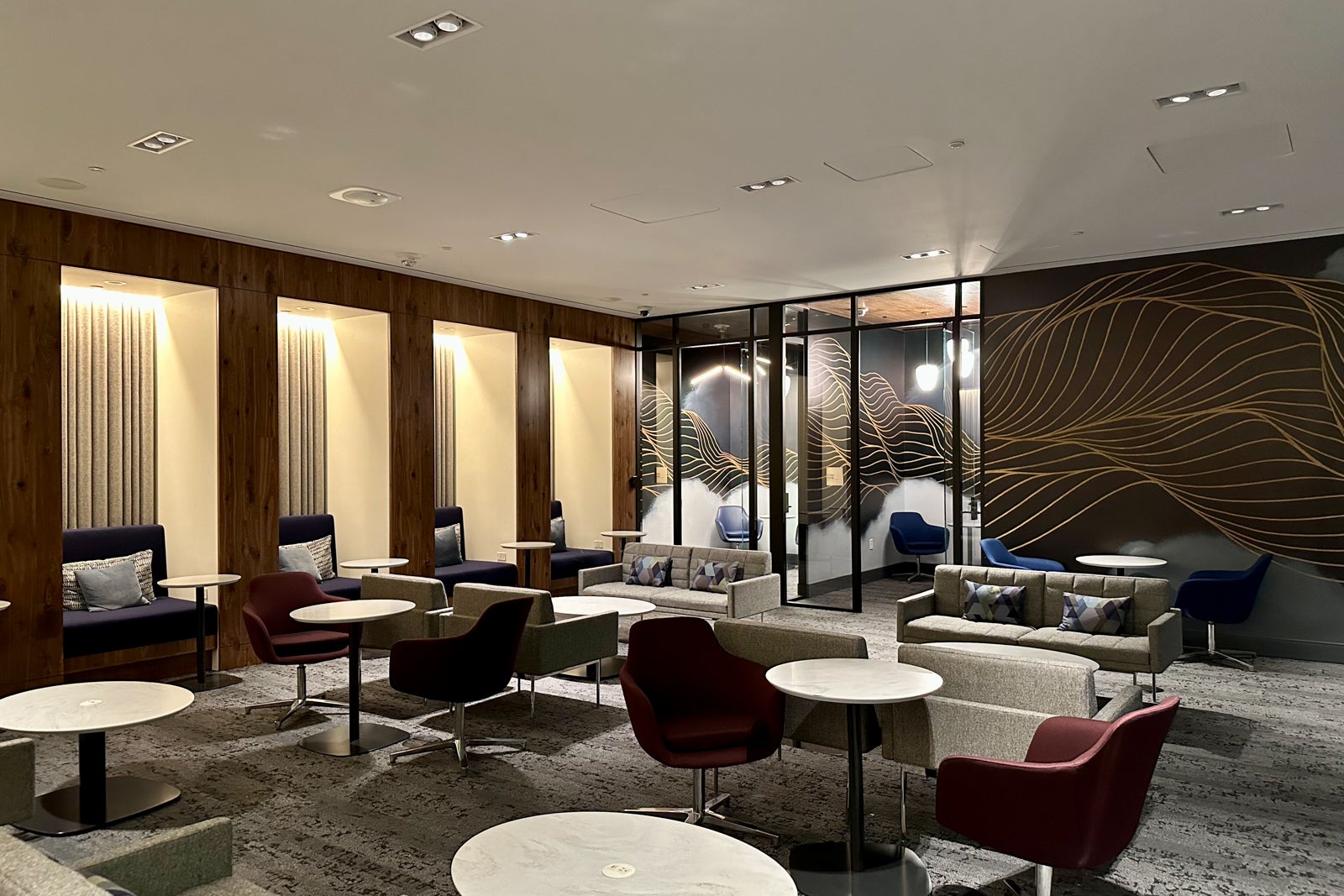 There are even two new phone rooms in this space, which are available on a first-come, first-served basis.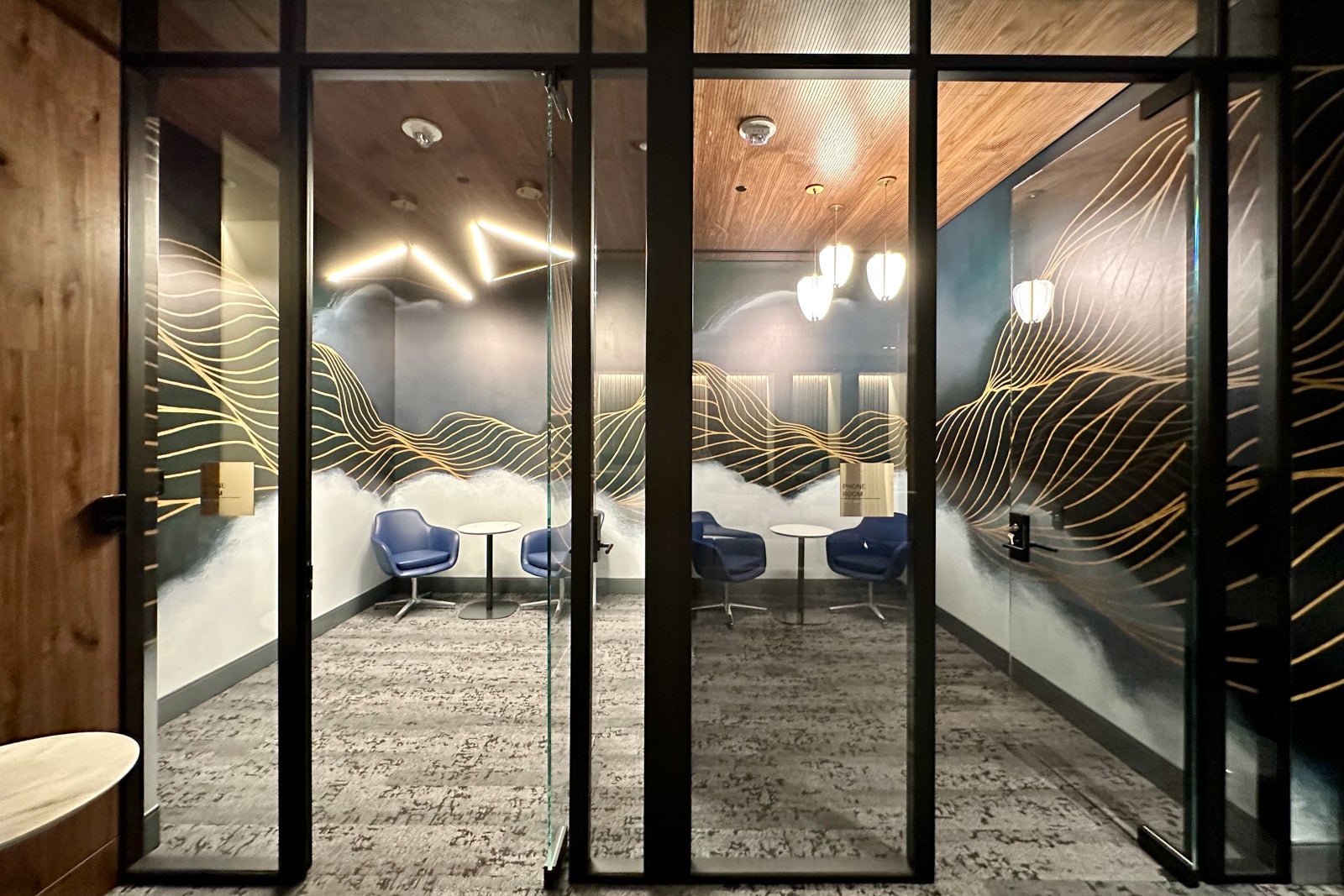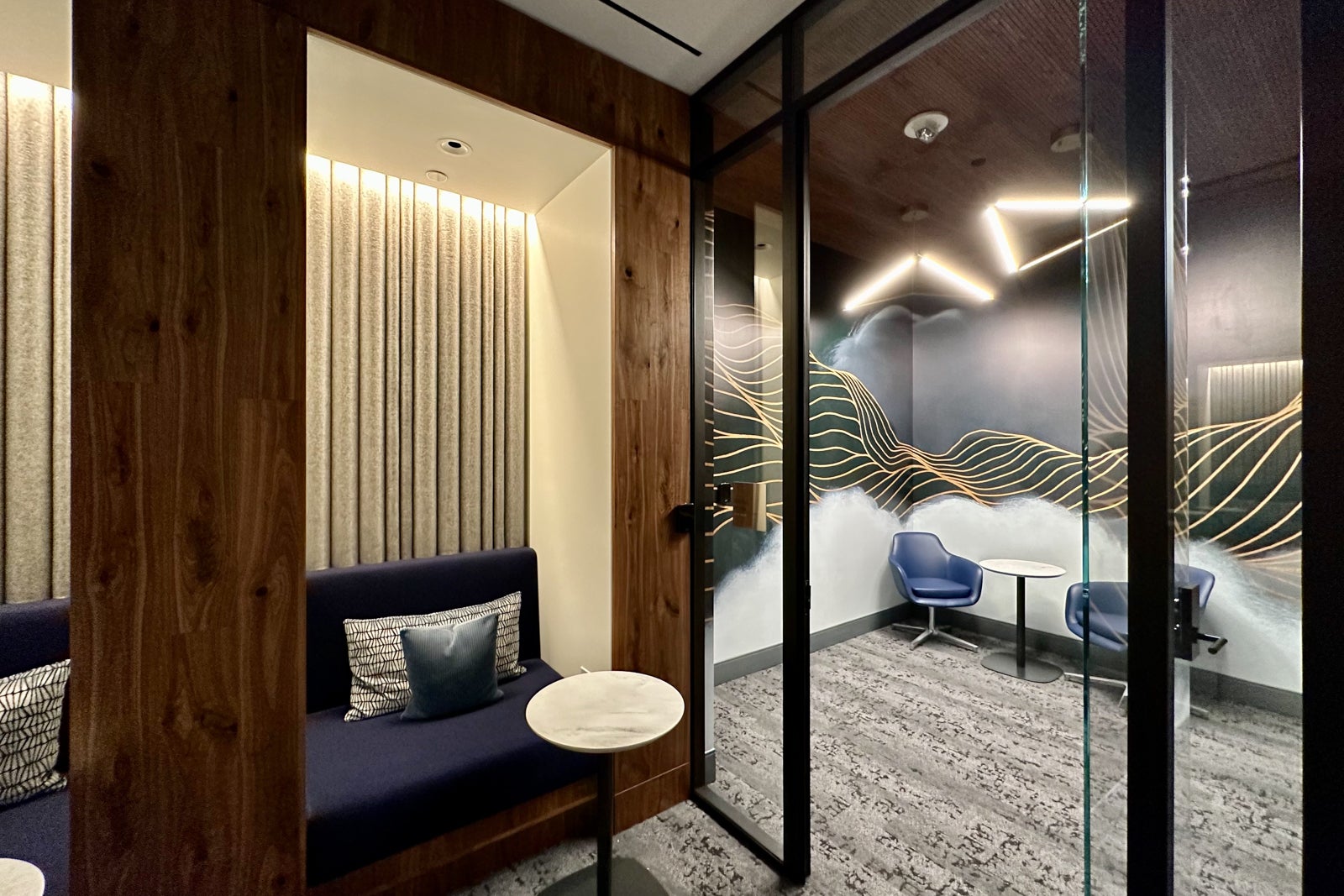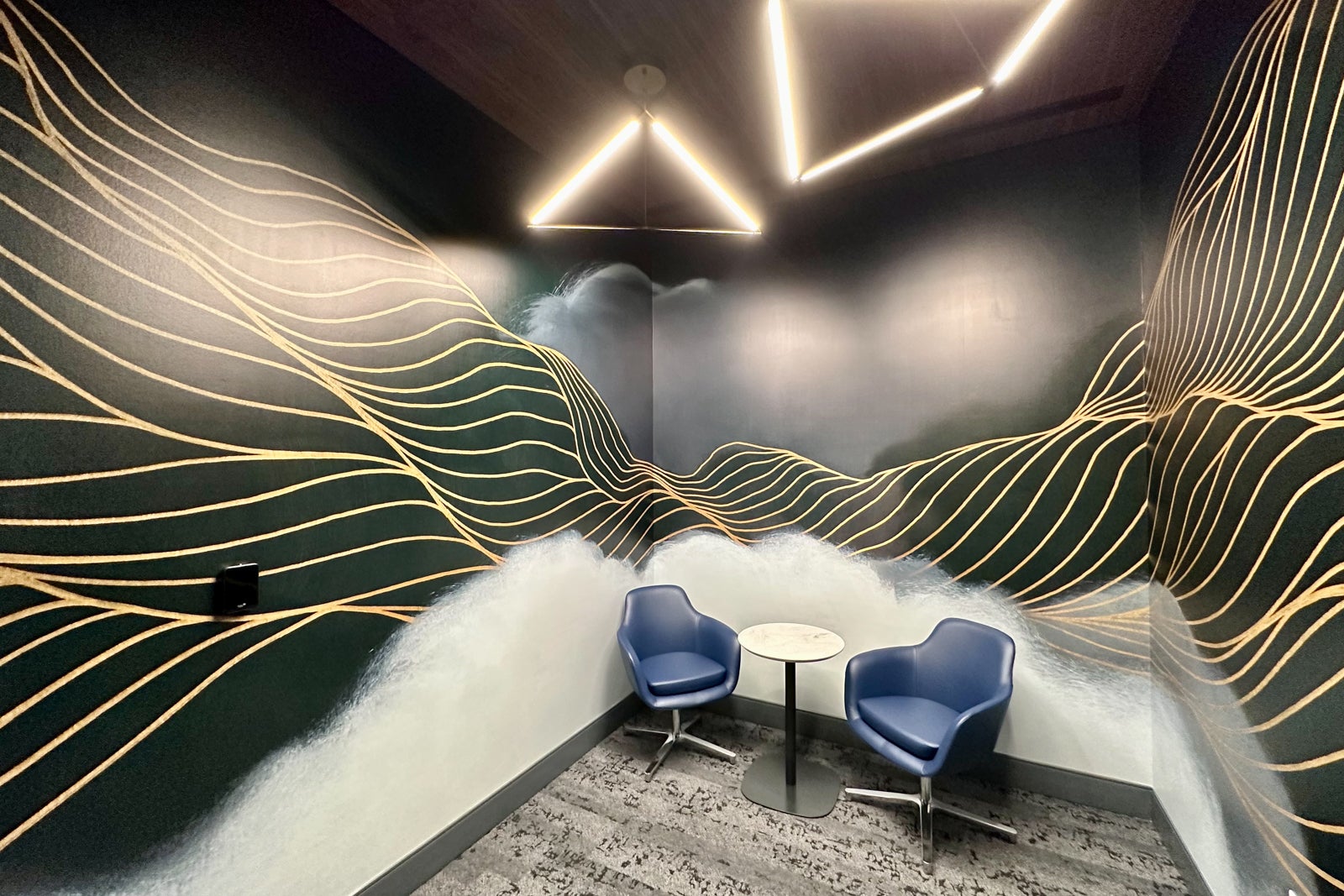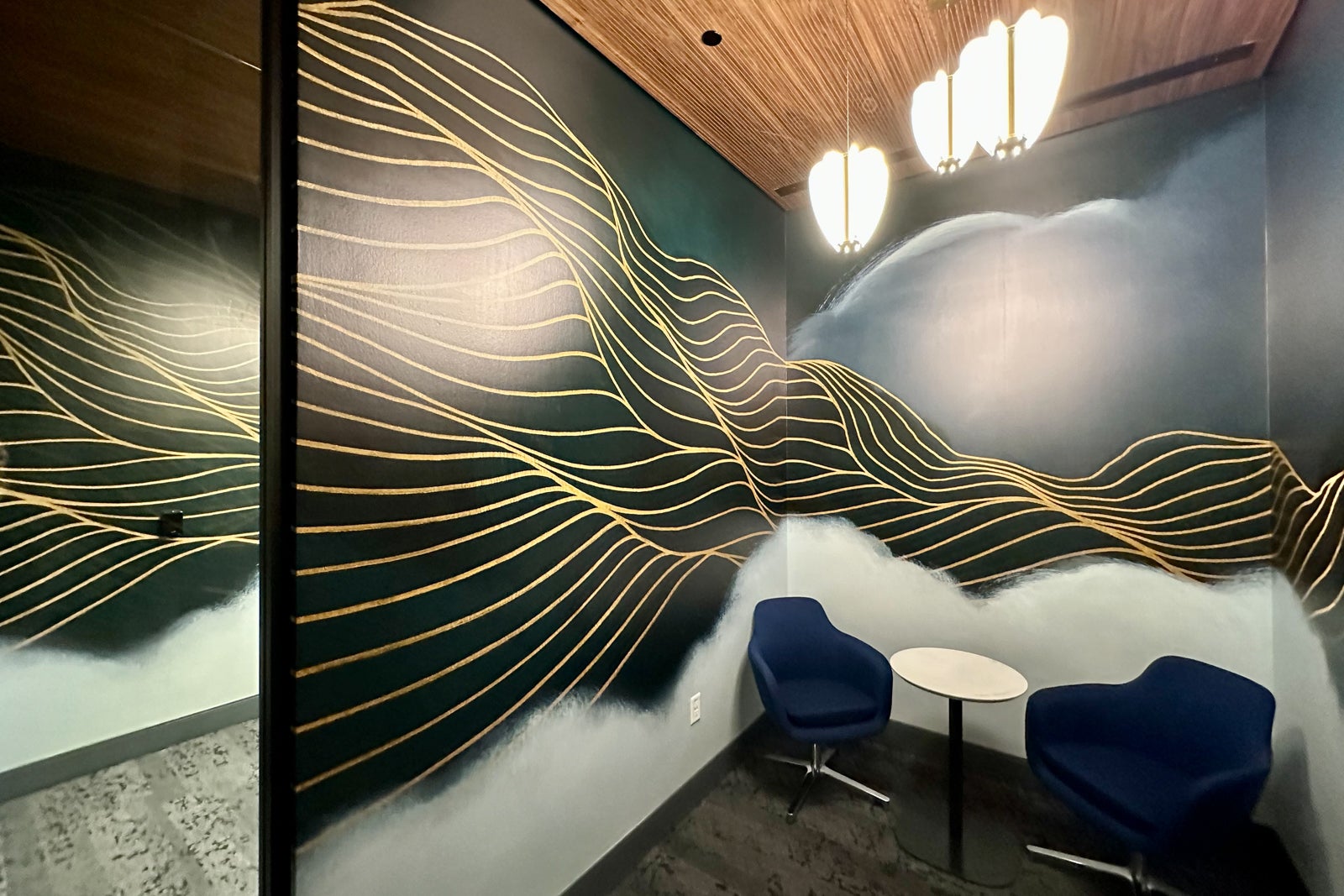 With stylish chandeliers and Cheng's wallpaper, these two private rooms feel especially luxurious.
With the addition of the new dining and relaxation space, the expanded Centurion Lounge in San Francisco now measures nearly 16,000 square feet — or approximately twice as large as the previous footprint.
Upgraded amenities
Perhaps the biggest improvement at the Centurion Lounge in SFO comes in the form of new bathrooms.
Gone are the tiny restrooms that could never fit more than about two people at a time.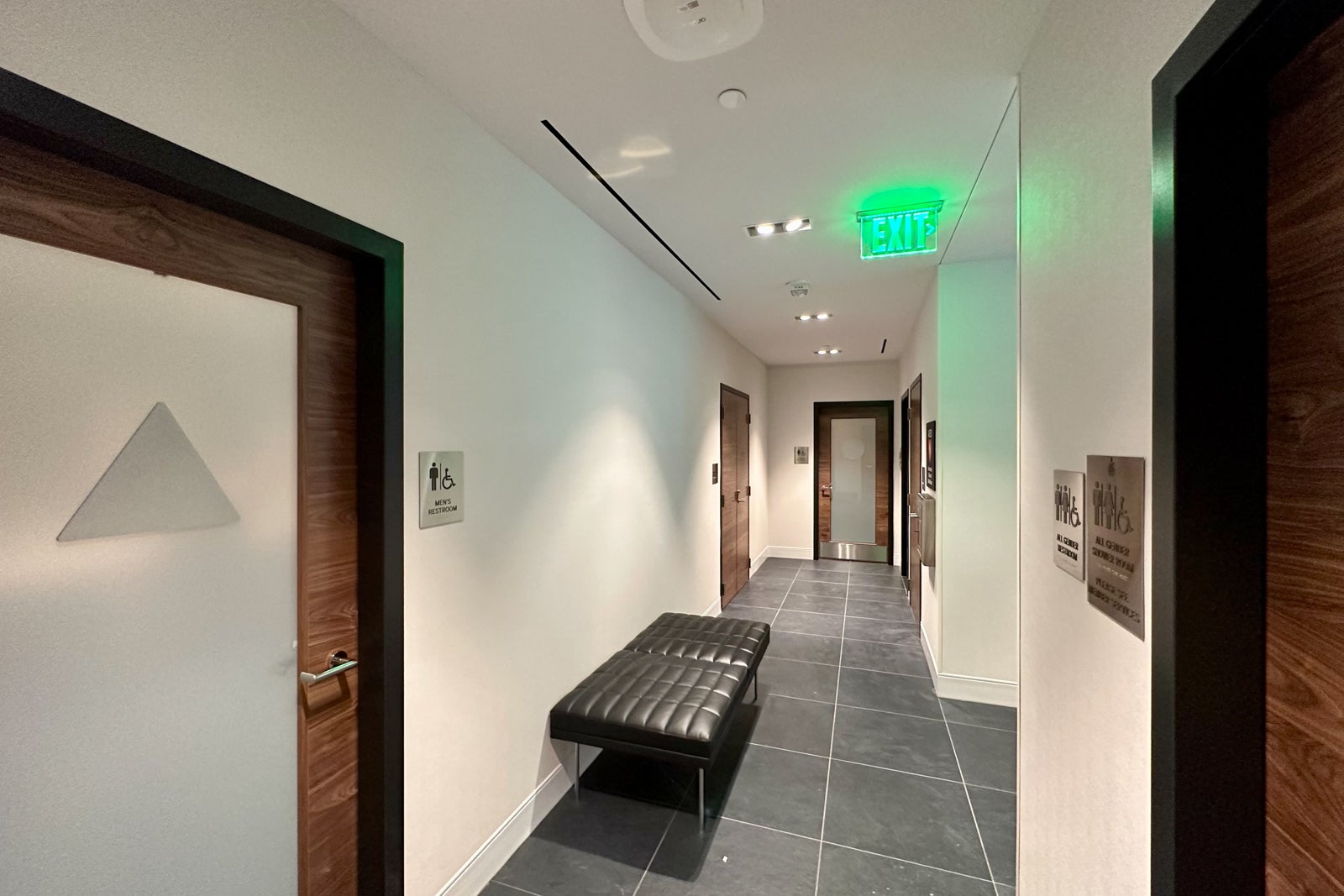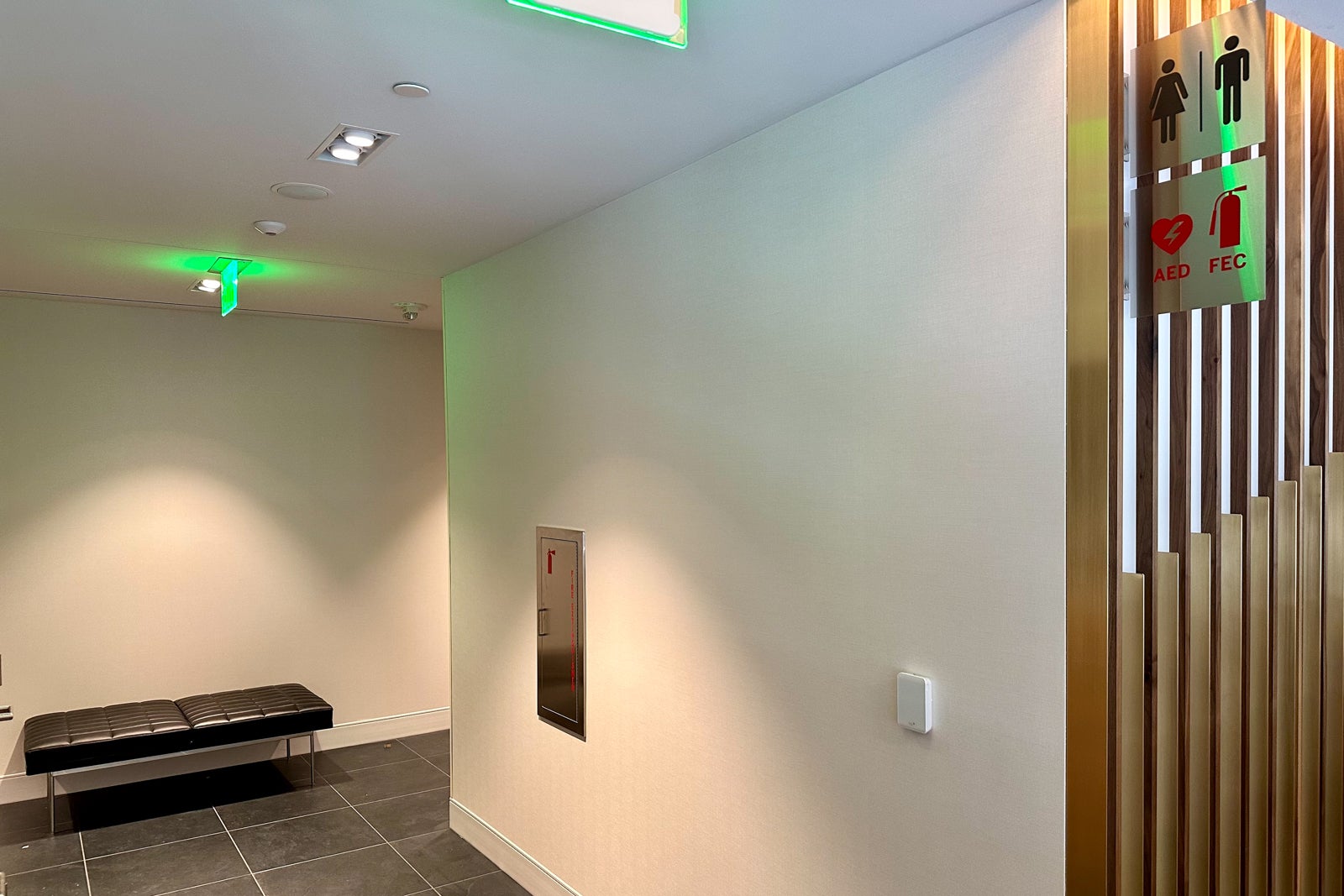 In the new space, the bathrooms have been relocated to the middle of the new hallway connector, and they're significantly larger and nicer than the ones they replace.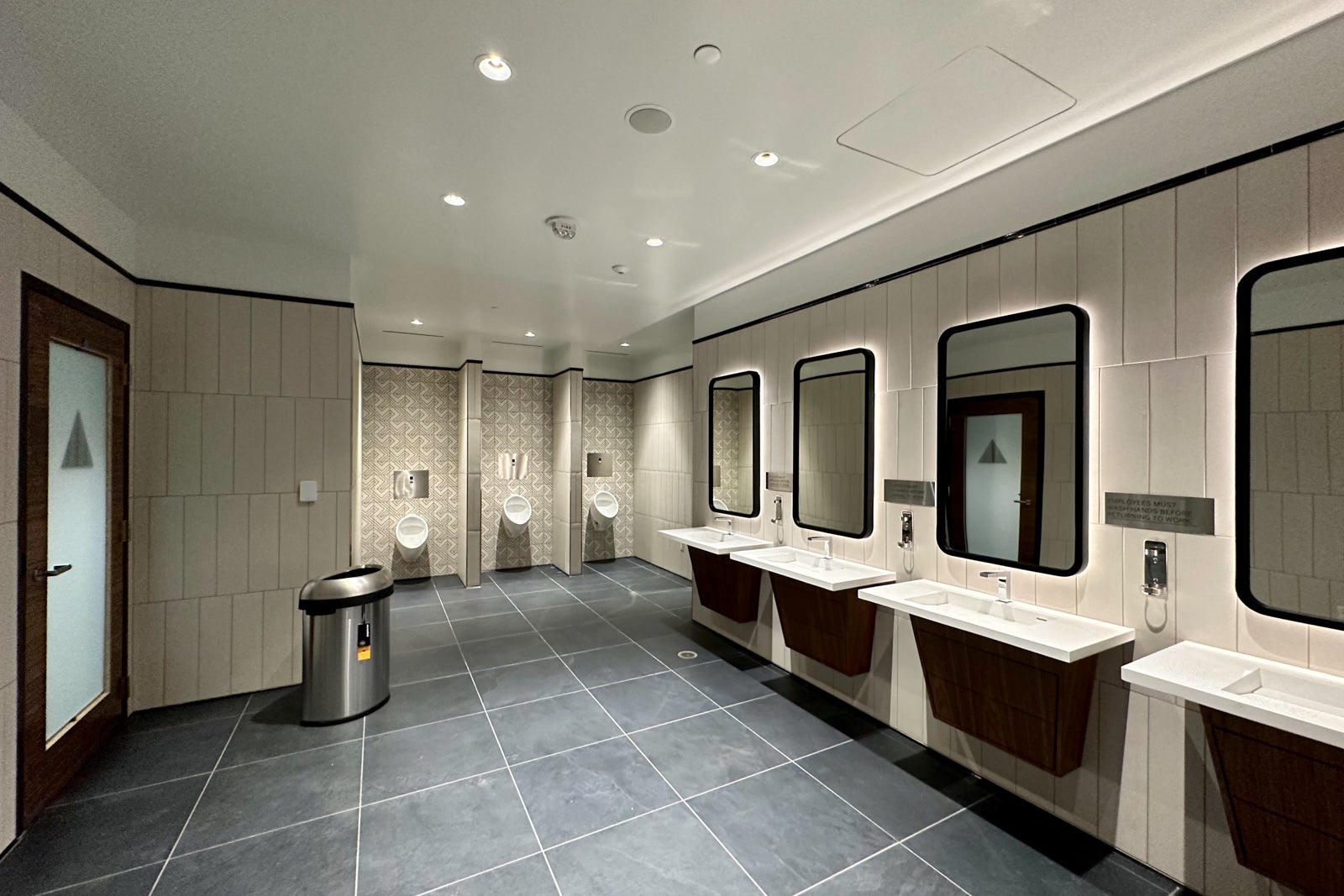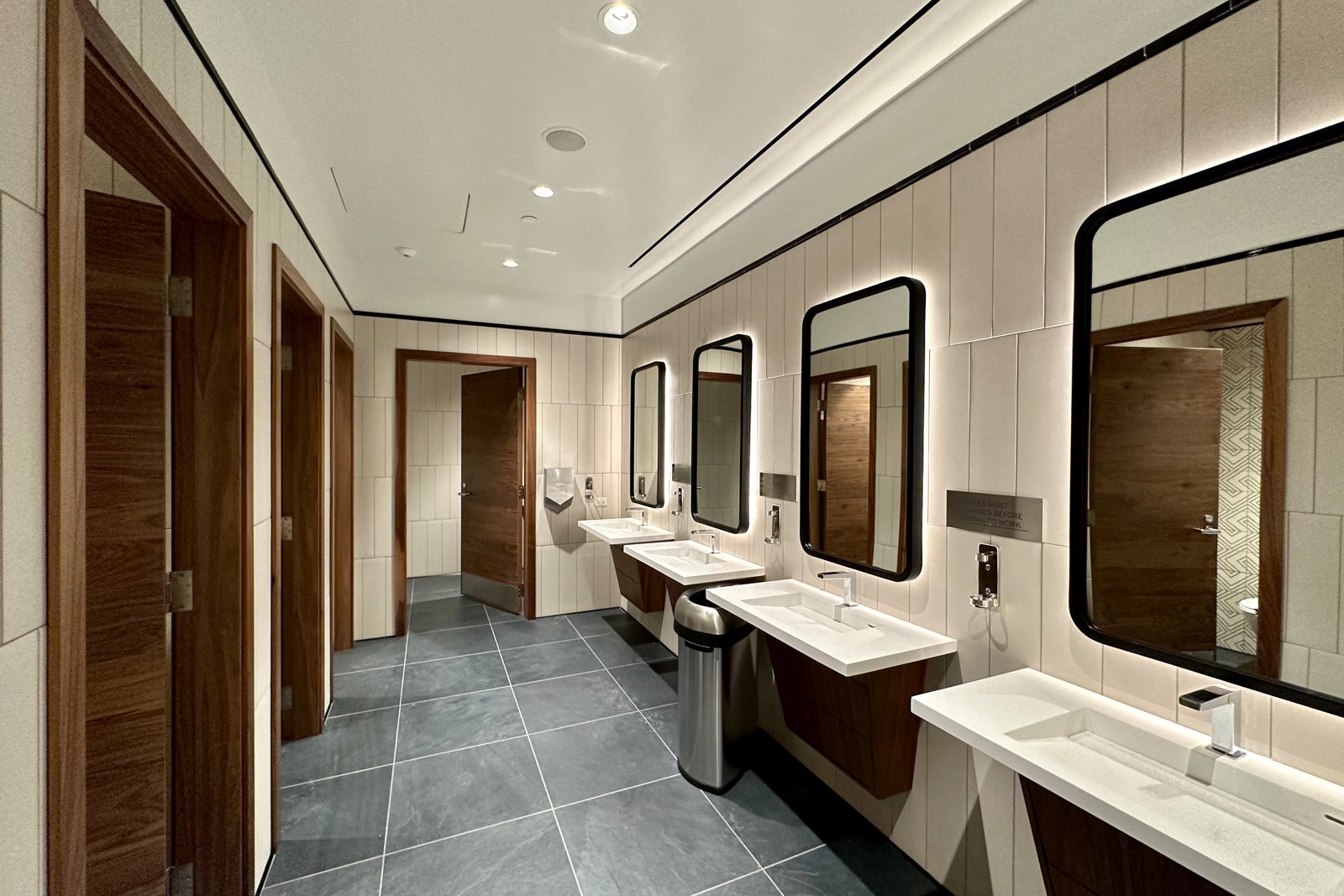 The men's room has more than twice as many urinals as the old one, and the ladies' room is noticeably bigger than it used to be. Plus, Amex added two all-gender private stalls in this area for more inclusive facilities.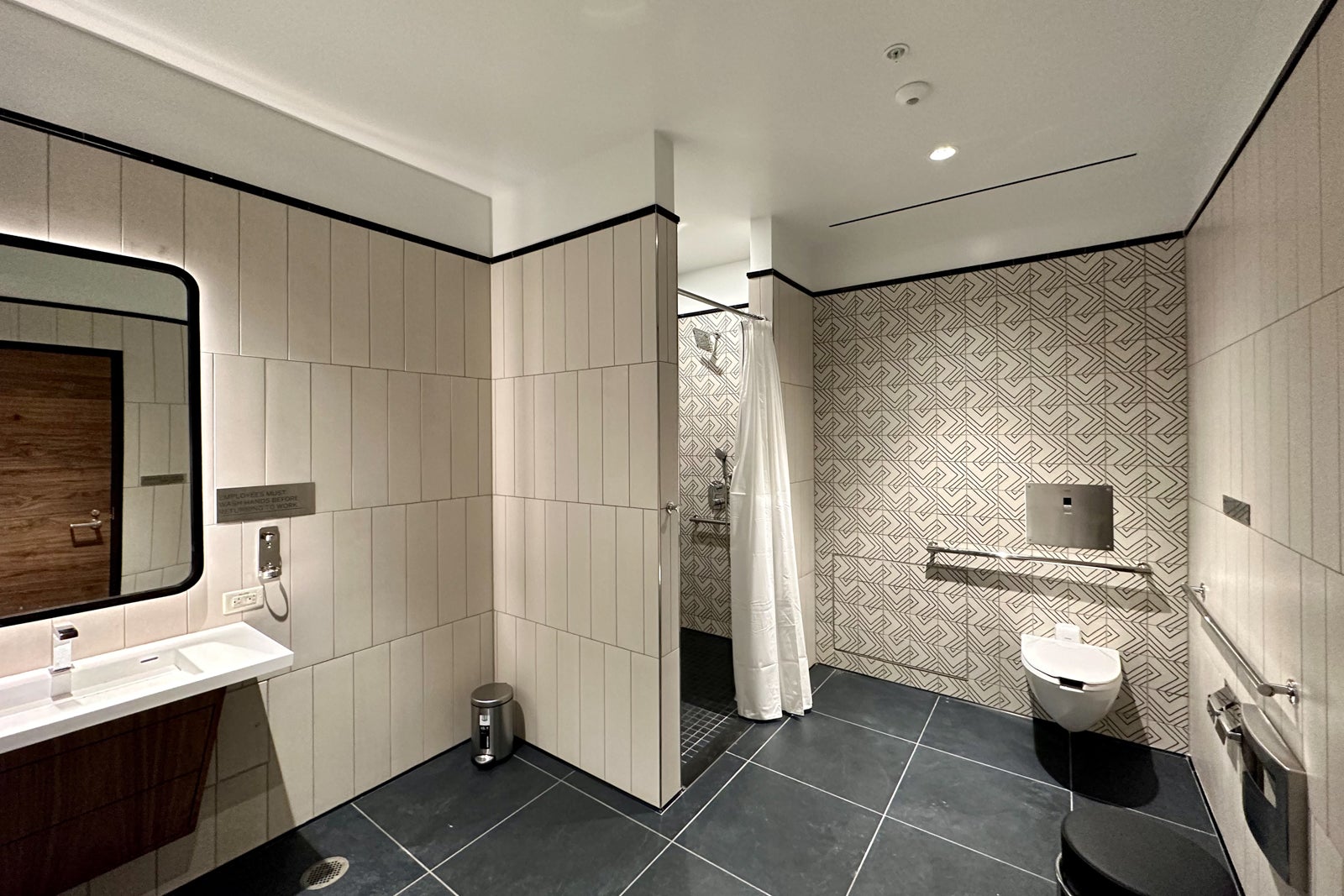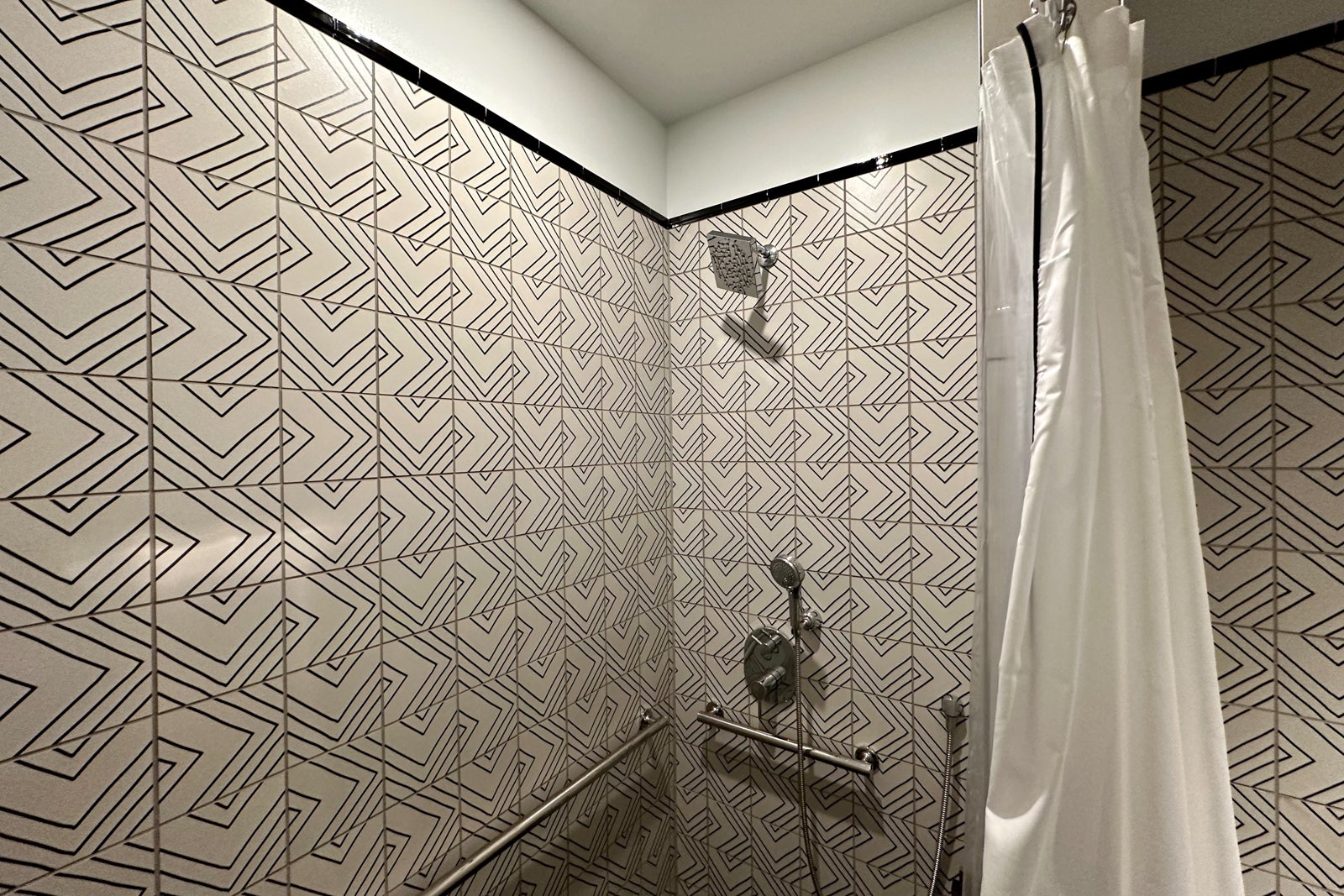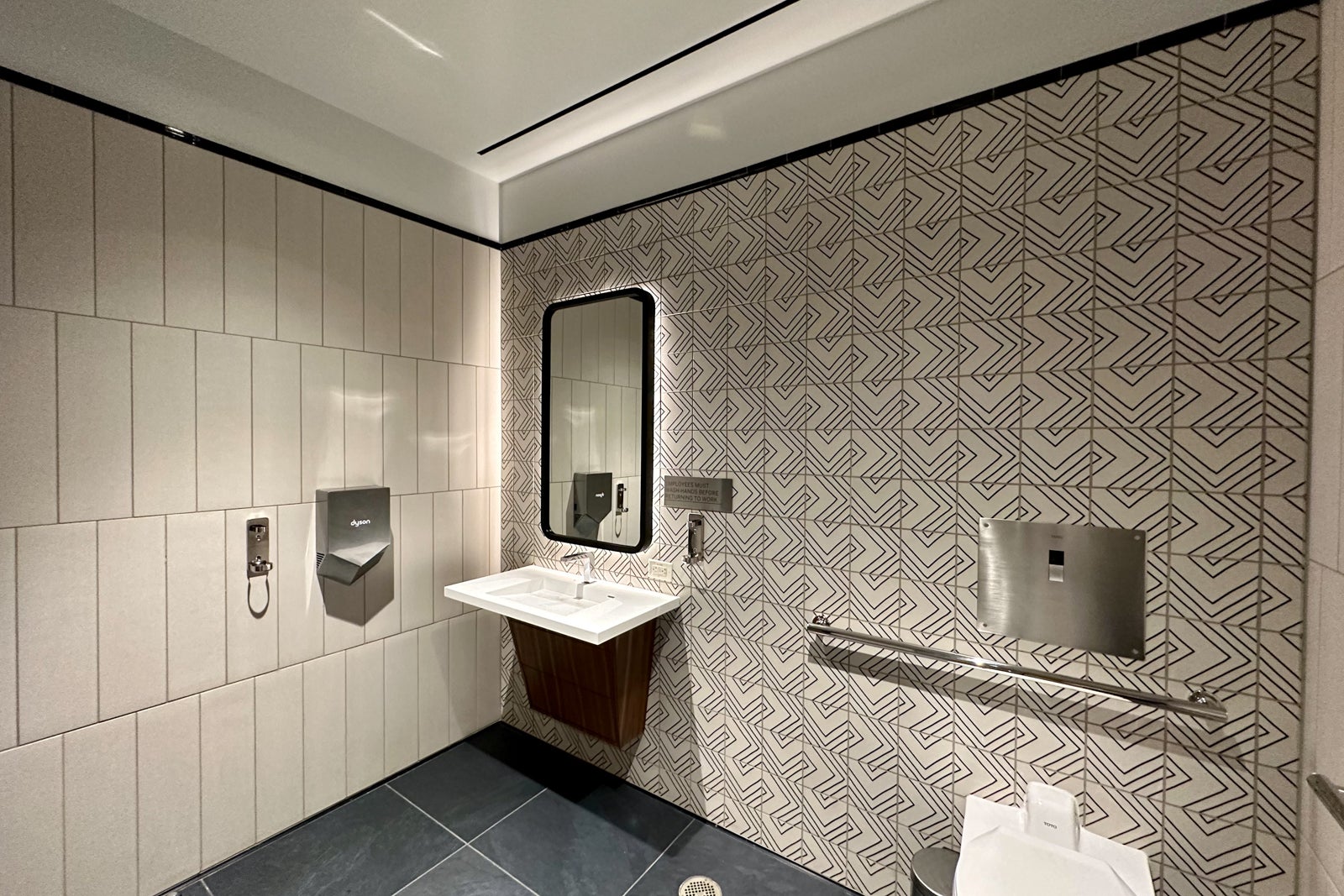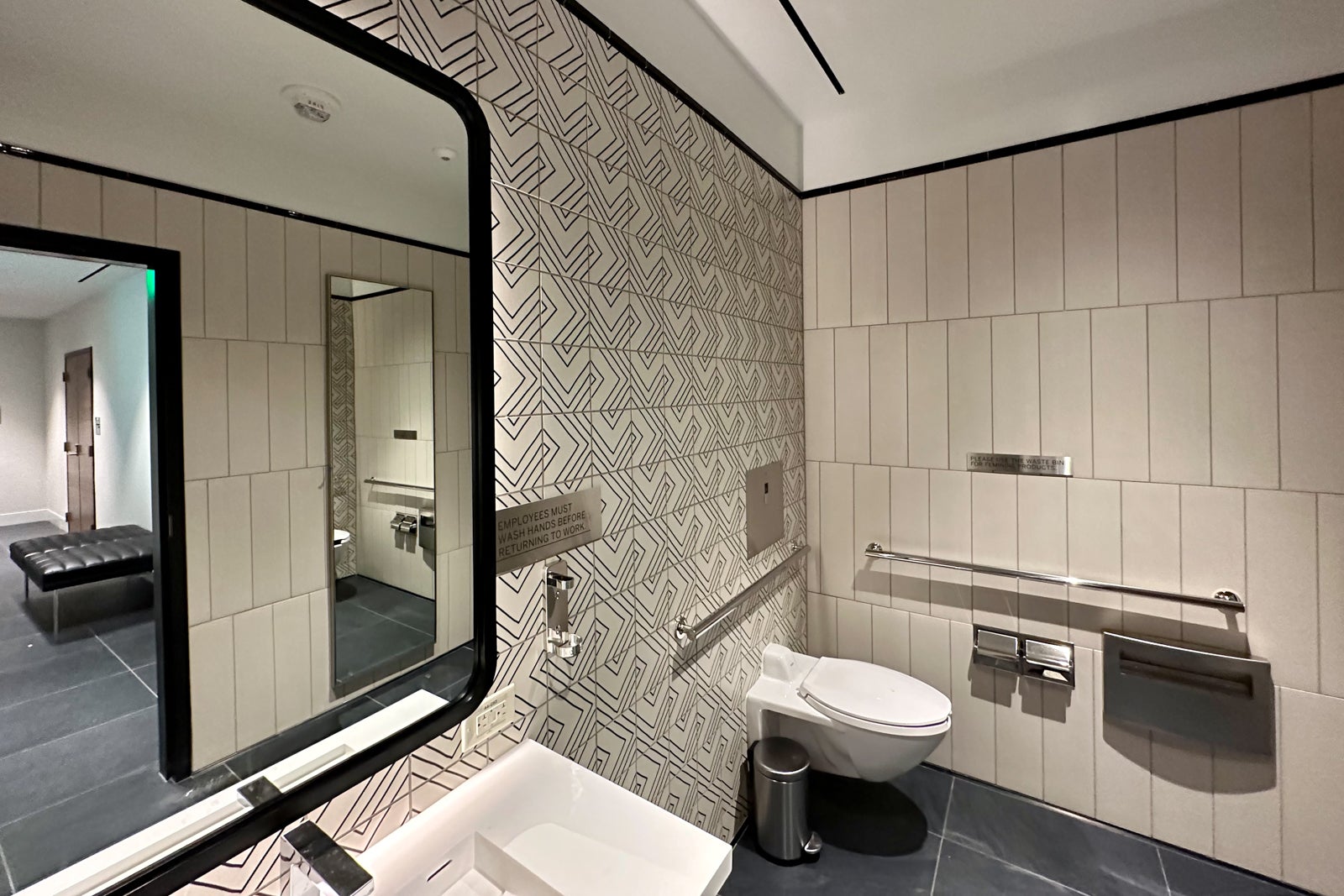 Additionally, there are two brand-new shower suites, both of which are larger and more spacious than the single one they replace. Hopefully, this will help reduce the wait for a shower for passengers connecting to or from long-haul flights.
Building on a strong foundation
Opened in 2014, the Centurion Lounge in San Francisco was Amex's first West Coast location.
It was designed at a time when there were fewer Platinum cardmembers, and when decor touches like neon green couches were in vogue.
Along with the expanded footprint, Amex has refreshed the lounge's existing space with new chairs, reupholstered sofas and plush throw pillows.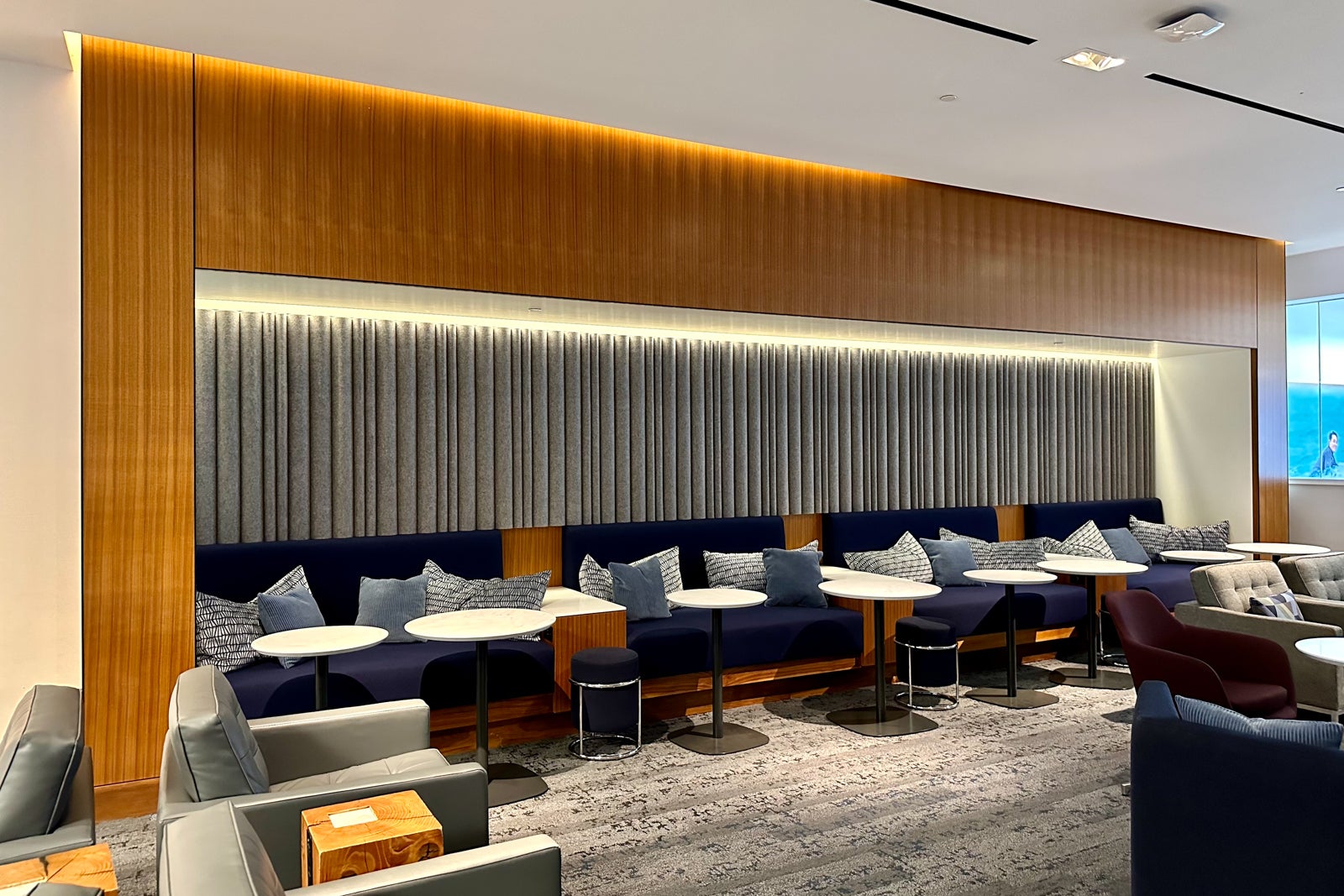 There are even some new paintings and prints hanging from the walls.
Unfortunately, I wasn't able to grab pictures of the upgrades to the existing space, which will be folded into the new, larger lounge, as it was still largely under construction during my visit.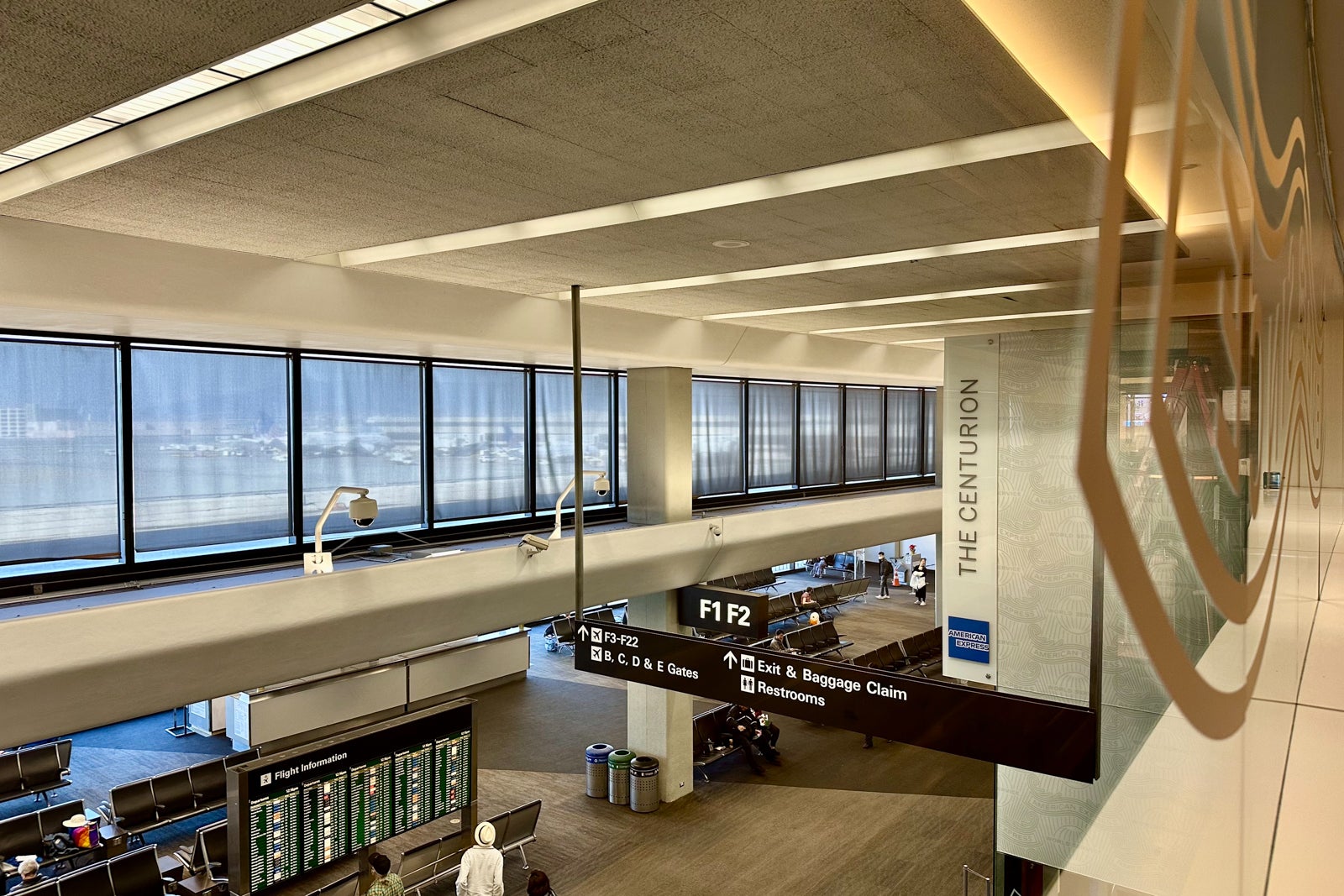 That said, I reviewed the original space in its entirety right before the pandemic, so it should definitely give you a good sense of what you can expect from the physical space.
Along with the expansion and renovation, Amex is bringing some other improvements to its San Francisco airport lounge.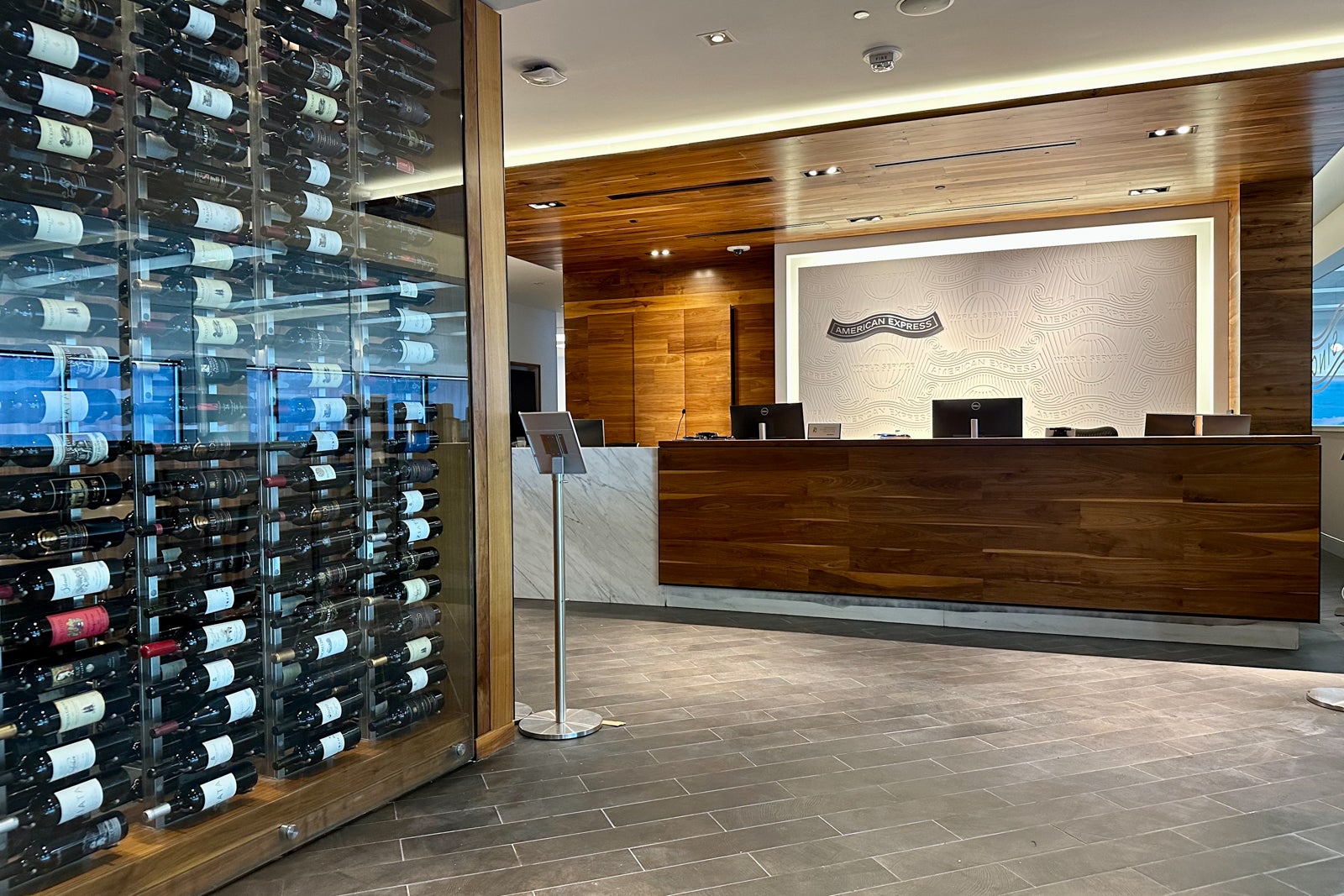 This includes a new menu from Chef Ravi Kapur and a refreshed wine list curated by the Centurion Lounge wine director, Anthony Giglio.
Travelers will also be able to try a new "wine flight" concept with a menu that rotates seasonally. At the outset, two flights will be available, with the bottles on offer listed below.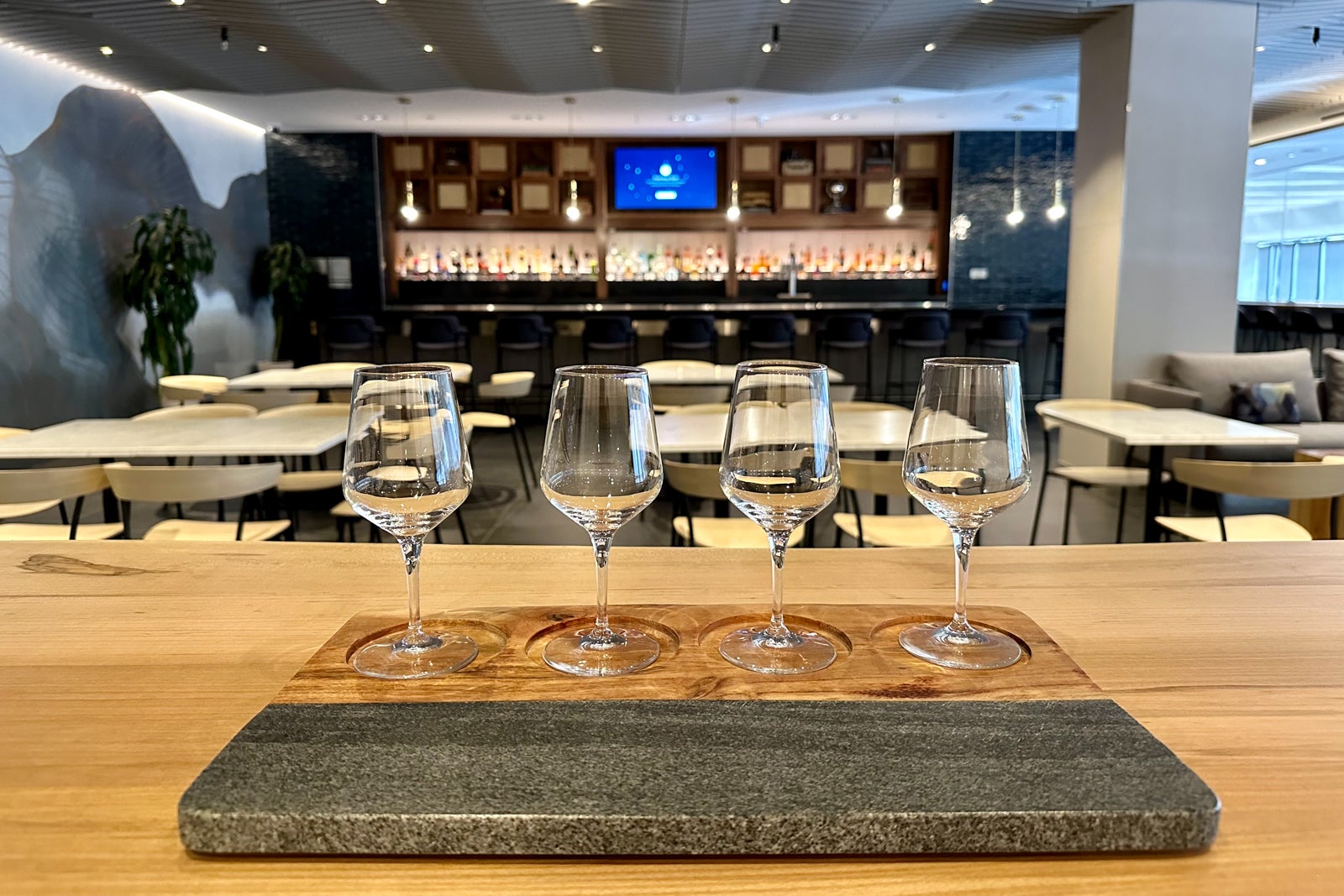 Sonoma Chardonnay flight:
Gundlach Bundschu Sonoma Coast Chardonnay 2020
Head High Sonoma County Chardonnay 2021
Sonoma-Cutrer Les Pierres Sonoma Valley Chardonnay 2019
Walt Sonoma Coast Chardonnay 2019
Napa Cabernet Sauvignon Flight
Emblem Napa Valley Cabernet Sauvignon 2019
Miner Emily's Cuvee Napa Valley Cabernet Sauvignon 2018
The Critic Napa Valley Cabernet Sauvignon 2019
Twenty Rows Napa Valley Reserve Cabernet Sauvignon 2020
Hopefully, Amex won't feel the same cost-cutting pressure that United did when it stopped offering wine flights in Polaris business class in February 2018, just over a year after launching the concept due to rising costs and increased wine consumption. Given the San Francisco area's connections to California's wine industry, though, that would be a disappointing outcome.
Bottom line
American Express is addressing lounge overcrowding by building larger clubs and expanding existing ones.
The San Francisco outpost, historically one of the most crowded in the country, is getting a major upgrade as it's nearly doubling in size to about 16,000 square feet.
The expansion brings an additional dining room and relaxation area, along with overhauled restrooms and more space to spread out. The existing footprint also got a facelift with new and reupholstered furniture, as well as some new decor hanging from the walls.
While Amex deserves kudos for doing what it can to build larger lounges, it's likely that the San Francisco outpost will continue to suffer from overcrowding at times.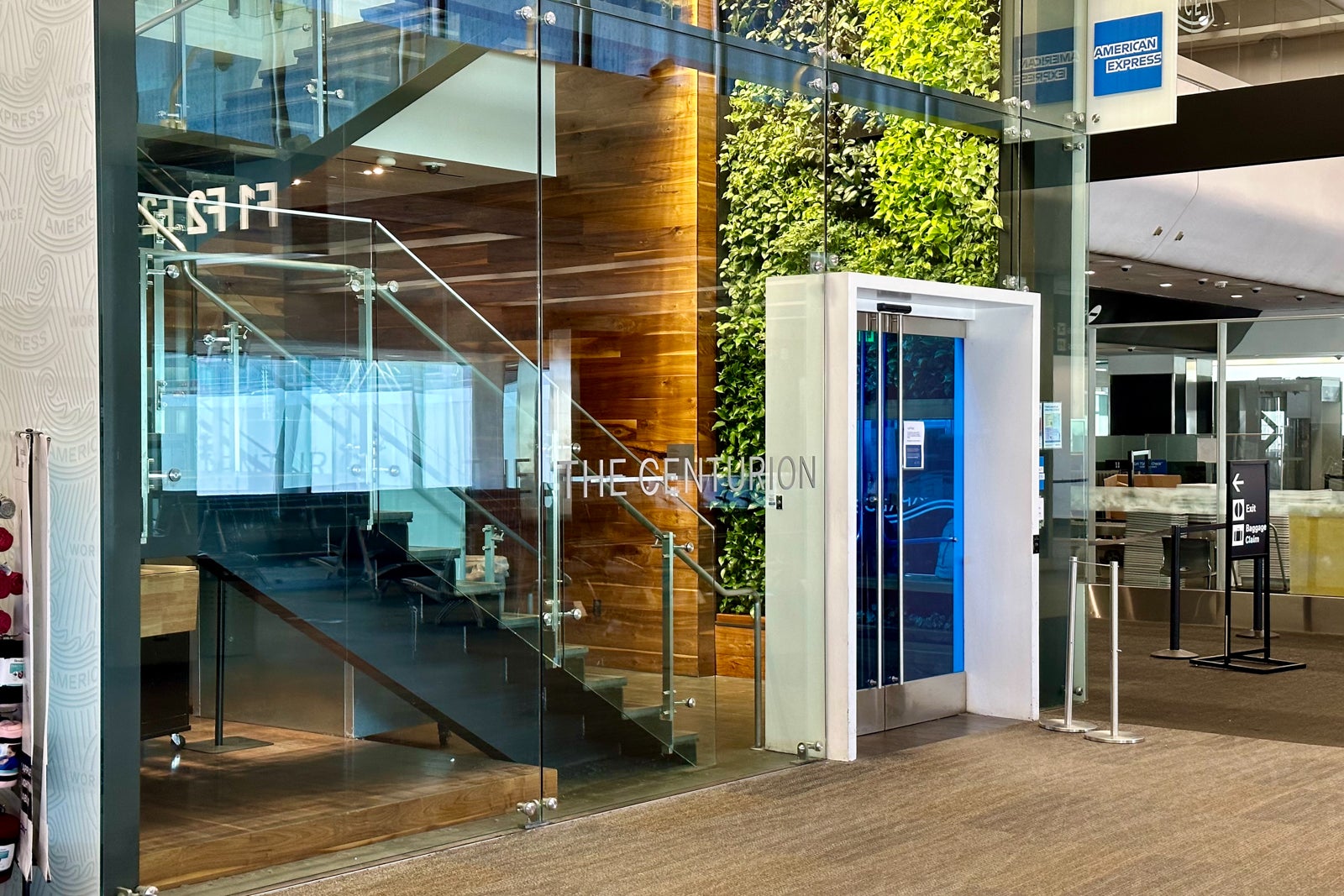 At some point, it's simply a numbers game. Even though the issuer is clamping down on guest access as of Feb. 1, 2023, there are just a lot of travelers headed to or from the Bay Area with Amex's premium cards that include complimentary access for the primary cardmember, and those numbers are only likely to increase.
That said, the expansion is certainly better than the pre-pandemic situation. Once you do get inside the lounge, there are also a lot more amenities and spaces to enjoy.
For more about the Centurion Lounge network, be sure to check out: