Farol da Ponta dos Rosais in São Jorge, Portugal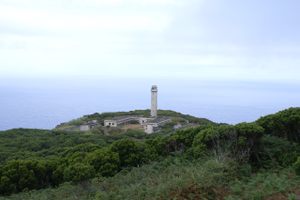 Along the cliffs of Ponta dos Rosais on the northwestern coast of São Jorge stands what remains of Farol da Ponta dos Rosais (Ponta dos Rosais Lighthouse). Shortly after the lighthouse's formal inauguration, the entire island was struck by an earthquake that caused widespread damage.
The lighthouse and its surrounding buildings were completed in 1958. The 27-meter (89-foot) tower was surrounded by a number of residential buildings to house lighthouse keepers and their families. By the time all of the lighthouse's equipment was in place, it was considered the most technologically advanced lighthouse in Portugal.
But in February 1964, a seismic event forced everyone to evacuate the lighthouse. An underwater volcanic eruption caused a series of major earthquakes on São Jorge that hit the northwest part of the island the hardest, destroying hundreds of buildings. Over time the damage was repaired, and the lighthouse began operating once more.
On New Years Day 1980 another, even more powerful earthquake rippled through the Azores, with the most severe effects felt on the islands of Terceira and São Jorge. The quake caused landslides at Ponta dos Rosais and significantly damaged to the lighthouse's operating mechanisms. After that, the lighthouse was abandoned.
Today, the main tower still stands, though it is in a state of ruin. The abandoned residences are accessible, but the tower is closed because it's too dangerous, due to heavy infrastructure damage. Going to the left of the ruins allows you to reach the very end of the island with a unique view. 
Just before the lighthouse, you have the point of view Vigia da Baleia, with a perfect view of the entire complex, plus a view of the surrounding when the weather is clear.