Cost of Living in Granada Spain – 2023 Practical Guide
In this Cost of living in Granada guide I will include all the types of bills and expenses that you may come across. Whether you purchase a property here, rent or share a place. If you have already read my Moving to Granada article, you may also be interested in the finances of living in Granada. This useful resource should help you to plan.
Cost of Living in Granada
Monthly expenses to be taken into account are your rent or mortgage payment. If you rent a place in Granada the price can be from 400 euros upwards per month depending on the location and size of the apartment. Here surface area is measured in square metres which is abbreviated to m2. So for example the size of an apartment could be 105m2 with 2 bedrooms.
The best way to find a rental property is to be here in Granada. The rental market moves quickly. Demand is high but the amount of rental properties (not tourist apartments) are difficult to find. If you see offers online, especially with descriptions in English language, the prices are probably inflated. (can be 50% higher than what locals pay). Do take into account that you can´t see the place until you arrive either. I would stress that you should visit a property before renting it.
Other fees that you need to consider if you rent are Electricity bills, water rates, phone, internet and gas bills. When you rent the owner or the agency must tell you in advance what is included and what you need to cover.
There are also services like Homestay that give you the possibility of cultural immersion. You can live in with a local family rather than just renting a room. Learn Spanish with locals and enjoy home cooked food as well as having somewhere to stay.
Utility Bills
Electricity Bills in Southern Spain
The main companies are Endesa, Iberdrola and Gas Natural Fenosa. Ask the owner for a guide of what is paid each month. Of course it will depend on your own lifestyle too. You need to consider what is being run on electricity inside the property. For example in my case I have the oven, washing machine, dishwasher, 2 computers, a TV and 3 air conditioning units. Choosing LED light bulbs makes a difference too. In winter you may plug in an electric heater or additional radiator.
Electricity bills in cold months or summer months will change. Depending on your air conditioning and heating usage. (if run on electricity). Spring and Autumn bills may be considerably less. The cost of living in Granada can be quite different if you compare May to January for example.
With recent pressure on electricity and gas supplies. Prices have shot up across the world and in Europe. A handy tool os this site with Spanish electricity prices per hour. Try to use your most powerful appliances (washer, dishwasher etc) at times when the electricity is cheapest. I use a mobile app to check electricity prices and know the cheapest times.
For those with butane canisters. The current price in August 2022 is 19.55 euros. (12.5 kg size)
Water Rates
In Granada the local water company is called Emasagra. The bills are sent out monthly bill which also includes a fee for refuse collection too. The rubbish collection fee is calculated based on your neighbourhood.
Depending on the building you live in the hot water supply and cold water supply may be invoiced separately. Some buildings have a main water tank for the whole building. Each neighbour pays a part of that fee to the community invoice. For property owners this is easy to manage but something to take into account.
If you rent, the home owner takes care of this fee. Another system is when hot water is heated inside your flat with a boiler. Usually near the kitchen, in a utility room or inner patio area. Again check about water rates if they are included in your rental agreement or not.
Phone & Internet Bills
Usually your internet connection and mobile phone connection are from the same company. The main providers are Movistar, Vodafone, Jazztel, Orange and Yoigo. Depending on where you live coverage can vary. (particularly in rural areas)
Pricing depends on what you are looking for. Most offer bundles where you have internet connection at home with one or two mobile phone lines added into the package. Expect to pay anything from 40 euros to 100 euros depending on what type of speed and usage you agree to. Lots of operators try to include TV bundles..football matches..
Do check before signing if there are any clauses that are for a minimum contract time. Or extra fees to pay if you cancel early. I also have a VPN tool so that I can watch TV from other countries. I have been using Flow VPN for three years now. It´s one monthly subscription I couldn´t be without.
Community Fee
Linked to each apartment there is a community fee. This cost covers the maintenance, repair and cleaning of the common areas such as the staircase, building façade, roof and lift. If the building has gardens, a swimming pool, tennis courts or additional services then this amount tends to be higher. Basically the total amount of monthly bills for the general building running costs is divided between all the owners.
The community fee is a fixed amount to be paid each month. It can range between 60 euros and 200 euros depending on the facilities in the building and how many neighbours occupy the block. As a home owner you will be asked to neighbourhood meetings where different decisions are made about the building. Occasionally the group of owners will decide to do major work. You will have to share the cost between you all. This could be building work, painting, getting a new lift or repairing damage or wear and tear to keep the building safe.
Just think that if you owned a home in the UK or USA for example. You do the maintenance of the whole building right? When you own a flat or apartment you take care of your apartment and your proportional share of the common areas of the building. If you rent an apartment usually the community fee is not paid for by the tenant (unless clearly stated)
Council Tax – IBI
As a property owner you pay IBI or local council tax. This applies to homes, commercial properties and garages – parking spots. This is calculated by the local council Ayuntamiento based on the location of the building, the market value and age of the building.
This tax is usually somewhere between 0.4% and 1,3% of the land register value for the property. (not market value)
In Granada (city) they are reducing the IBI by 2% in 2023 to help locals with their bills.
This council tax bill can be paid once per year on 3rd June or quarterly if you prefer to pay in 4 instalments. (3rd June, 31st July, 30th Sept and 2nd December) It can be done by setting up a direct debit or paid directly by going to a bank. The specific branches where you can pay appear on the tax invoice when you get it by post.
Food Shopping in Granada
Cost of living in Granada
Again your monthly food costs will depend on how many people are living with you and your lifestyle. I have compiled this list of basic food items that most families will buy each month to do a comparison chart. Carrefour and Mercadona are two major local supermarkets that have similar prices.
Other supermarkets worth noting are El Corte Inglés which is good particularly for imported foods and specialist items. Dani every year comes out on top of the cheapest supermarkets in Spain. This is a local Granada company and if you have one nearby and you are on a budget is worth checking out.
I originally did this in August 2020. Then the costs were lower. The increase on this average supermarket shop has increased 18.76% at Carrefour and 13.99% at Mercadona over those months. So it does pay to shop around and price check. On the 1st Jan 2023 I updated this yet again. Prices have increased further. Especially Toilet Rolls and Eggs!
Please note that the Spanish government are introducing a tax reduction on main food items in 2023 and this has not been taken into account yet. The tax was already low at 4% on these items, such as eggs, potatoes, cereales, milk, bread, flour and fruit. Now the tax will be 0% to assist with the cost of living crisis. For Cooking Oil and Pasta the tax will be lowered from 10% to 5%.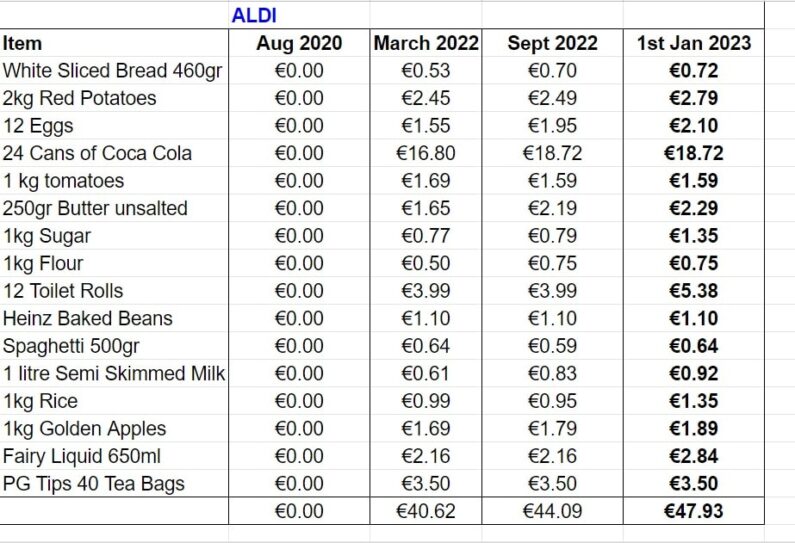 Other Monthly Expenses
If you are taking a year out or spending time in Granada as a digital nomad. You may need healthcare cover, it depends on your country of origin and if there is an agreement with Spain/EU of course. Safety Wing has a specific policy for digital nomads that offers great health coverage.
Other monthly expenses tend to vary but some to take into consideration would be the amount you spend on eating out or your social life. In Granada having coffee and a piece of toast in the morning at a café costs around €2.40. It is generally an inexpensive place to eat out.
A menu del dia will cost around €11.00 and that includes a three course meal with a drink. A pizza delivered to home tends to be more expensive than eating out. You may have heard about the Tapas Culture in Granada. You get a free snack when you order a wine or beer in the evenings. Expect to pay around 2.40 – 3.00 euros.
Eating Out
A Beer with a Tapa €2.10 – €3.00
Midday Menu (midweek) €11.00 – €13.00
Coffee and toast €2.30
McDonalds Meal Deal €7.75 (big mac, medium fries + drink)
Mid range restaurant 3 course evening meal €32.00-€42.00
Cinema
Going to the cinema costs 5 euros on Wednesdays (discounted day) and 6 or 7 euros the rest of the week. There are not many opportunities to see original soundtrack films. The majority are dubbed (poorly) into Spanish.
Personal Expenses
Cost of Living in Granada – Healthcare
If you work in Spain and contribute to the Social Security system you will get access to healthcare. This is run by the Junta de Andalucía (regional government). However if you don´t work you will need to get private healthcare. In Spanish it is called a Mutua.
Some of the largest companies in Spain offering health care plans are Adeslas, Sanitas, Mapfre and Asisa. When you decide to choose a company the most important factor is to know the amount of specialists that you have available in your specific area. In Spanish this is called the cuadro medico. Its a list of which doctors are included in your coverage. Some private healthcare plans include dental work but only the basics (like an annual clean or check up).
The amount you pay depends on the health insurance coverage that you choose, your age and current health. The payments can be made annually or quarterly. If you are not going to live full time in Spain you might want to consider a part time coverage. SafetyWing offer a policy that is for long term travel. It also includes COVID specifics in their documentation too.
Hairdressers and Barbers
Getting your haircut for a man can be around 8 euros to 15 euros. A women´s hairdresser can cost from 15 euros upwards depending on if you have a blow dry, colour or treatments. Some of the more expensive places can cost around 140 euros in Granada if you have highlights or other styles. It all depends on how fancy you want your salon to be.
Dry Cleaners in this part of Spain are good value. Known as the tintoreria they usually turn garments around in a few days. You can take in your ironing or dry cleaning depending on what you need. It is also pretty normal to take in your heavy blankets or quilts once winter has passed before putting them away for storage. Some of the local ones are Niagara and Garci.
Cobblers are also good value here too. Offering shoe repairs and key cutting services, they tend to be very good with any leather repairs too. Expect to pay 5 euros to have heels redone. I tend to get the soles of shoes covered in a non slip protection when I buy new shoes. The streets of Granada can be slippery (some are marble) and this way the shoes last much longer too.
Gym membership in Granada
Signing up to the gym in Granada can cost between 30 euros and 60 euros depending on the tariff and gym that you choose. Many have swimming pools. spa facilities and classes such as Spinning, Zumba, Yoga etc.
The largest ones in town are the 5 below:
O2 Centro Wellness Neptuno
YO10 on Camino de Ronda
MCFit inside Neptuno Shopping Centre
Holmes Place at Serrallo Shopping Centre
WE Fit on Calle Pintor Fernando Belda (Chana)
Transport in Granada
Getting around in Granada is easy as the city is walkable. You also have the bus system which is run by Transportes Rober. Especially to get to the hilly areas like Albaicin, Sacromonte or Alhambra. The bus pass (bonobus) can be prepaid with 5 or 10 euros. Then you just swipe to get on each bus. Each journey costs 0.85 euros with this card. If you get on and buy a ticket is 1.40 euros. (pay the driver)
Taxis are generally inexpensive in Granada. Especially if there are 2 or 3 people sharing. Expect to pay 7 euros from bus station to plaza nueva (approx). Most city journeys will cost between 5 and 10 euros.
The Metro system is useful for those villages and towns on the edge of the city (Armilla, Maracena, Albolote…). The route only runs along the edge of the city and connects the bus station, train station and Nevada shopping centre to the city (camino de ronda).
Renting a Car in Granada
If you live in the city you may prefer to use a car on occasions rather than owning one. Renting a car can be a good option for daytrips. Trying to park a car in Albaicín, Realejo or the city centre can be stressful (one way system, narrow streets) as there is a lack of parking.
If you rent a parking space by the month, it can cost between 50 and 100 euros. It may not be right outside your door, you may need to get the parking space a few streets down from where you live. You will need to check that your car actually fits as spaces vary in size.
Some people do ship their car to Spain but you will need to be sure about the parking situation as street parking in the city is almost impossible. One day can easily cost 20-25 euros to park in one of the public car parks.
You can also purchase a garage or car parking space. Price can be anything from 12,000 euros upwards depending on the surface area and location.
Repairs and uncertainty
If you are planning on moving to Southern Spain, I would emphasize that you will always need to have an emergency fund to hand. Whether that´s enough money to get home quickly if some family matter comes up. Or in case the washing machine breaks or you get locked out without your keys.
Granada is an inexpensive place to live when comparing other European cities. However you will need to take care of unexpected costs that may come up. The cost of living in Granada changes according to your family situation too. There are many students that come to study in Granada who will be looking to share accommodation or use halls of residence. Whereas if you need to work and travel you will be looking for something quite different. Good internet connection and a garage with the property.
Final thoughts – Cost of living in Granada
I took care to take in all aspects behind the cost of living in Granada in this guide. Prices are up to date in Spring 2022. As things progress some may alter especially with the volatility in world markets at the moment. I will refresh this article now and again, particularly when there are important changes to the above.
Most of the province of Granada costs more or less the same. Rural areas will be a little less expensive. Coastal areas very similar to the city. Almeria and Jaen also have similar costings to Granada province too.
Did any of the costings here surprise you? Is there something missing from this guide?
Let me know in the comments.
The post Cost of Living in Granada Spain – 2023 Practical Guide appeared first on Piccavey.