Carnival Celebration: What we loved and what needs work on Carnival's newest, biggest ship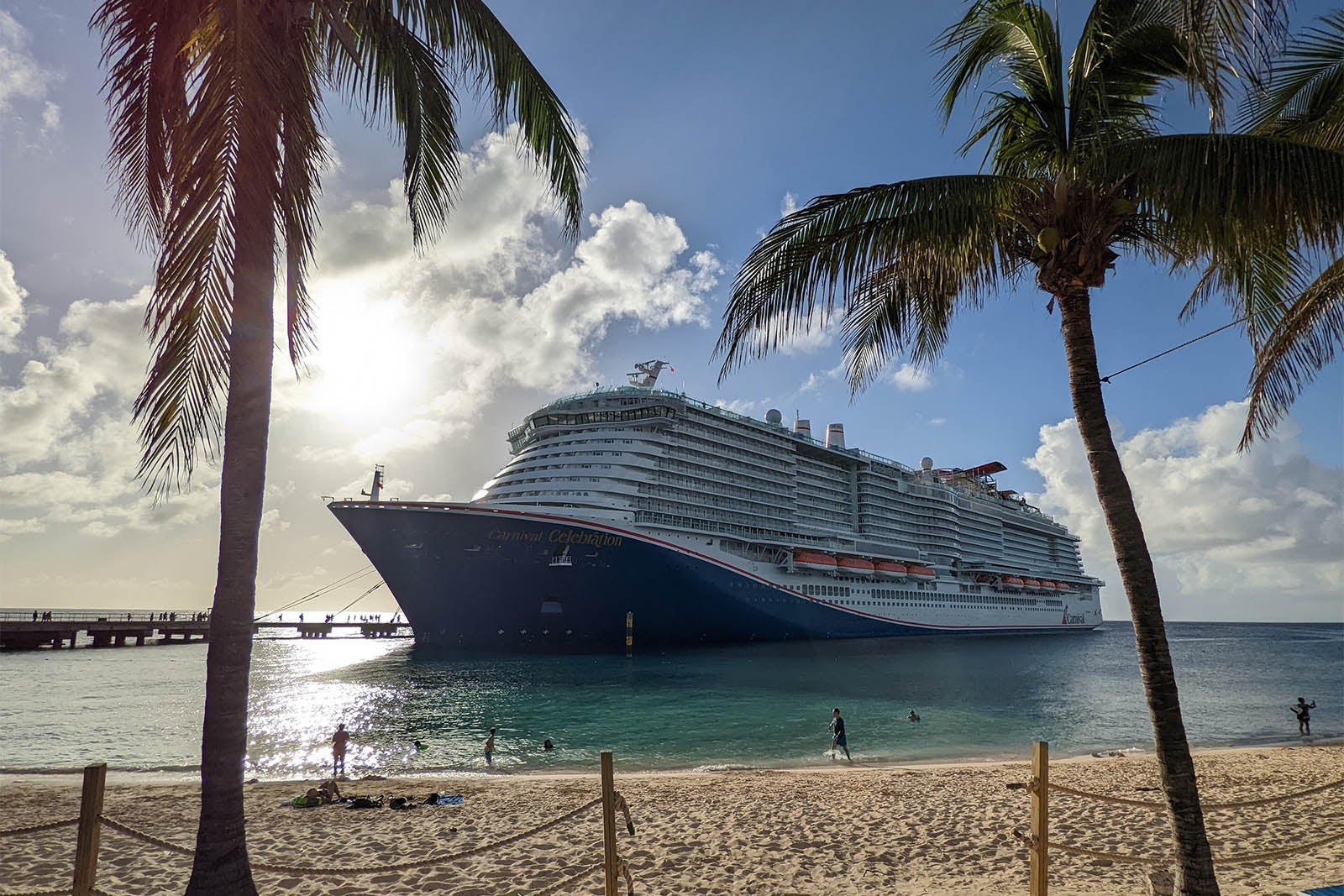 Editor's note: TPG's Erica Silverstein accepted a free trip from Carnival Cruise Line to cruise on Carnival Celebration's first sailing from Miami. The opinions expressed below are entirely hers and weren't subject to review by the line.
---
For its 50th birthday, Carnival Cruise Line gave itself a celebration — specifically, the just-unveiled Carnival Celebration, the second ship in the line's Excel class. And it's clear that Celebration isn't your mother's, or grandmother's, Carnival cruise ship, taking the company into its next half-century with a more modern, updated version of Carnival's "Fun Ship" style. Carnival referenced this evolution when it chose Cassidy Gifford, daughter of Carnival's original spokeswoman Kathie Lee Gifford, as godmother of the ship, closing the books on the old era and welcoming in the new.
To be fair, most of Carnival Celebration's modern updates were debuted on sister vessel Mardi Gras, which launched in 2021. Carnival Celebration is now the second ship in the fleet to be powered by liquefied natural gas. It's also the biggest ship Carnival has ever sailed, along with Mardi Gras, carrying 5,282 passengers at double occupancy.
Gone is the line's iconic soaring atrium, replaced by the three-deck-high Celebration Central with panoramic windows looking out to sea. Guy Fieri is no longer the only celebrity chef in town; he's joined by Shaquille O'Neal and Emeril Lagasse. Carnival's thrilling water parks now have to make room for a top-deck roller coaster, and the RedFrog Pub has been replaced by the indoor hangout in the Summer Landing zone.
The ship is also the second Carnival vessel to bear the Celebration name. The first, known simply as Celebration, set sail for the line in 1987. It left the fleet in 2008 before ending up with Bahamas Paradise Cruise Line as Grand Celebration, which was scrapped during the industry's pandemic pause in 2021. Now, Carnival Celebration resurrects the name to offer more fun to more people.
TPG was on board Carnival Celebration's second sailing and the first from its Miami home port to the Caribbean. Here, I'll outline what's new, what we loved and what could use some tweaks.
For more cruise guides, news, reviews and tips, sign up for TPG's cruise newsletter.
Things to know about Carnival Celebration
Carnival Celebration is divided into six themed zones, three of which are different from the zones on Mardi Gras. Some zones feel more distinct and self-contained than others. The zones are:
Celebration Central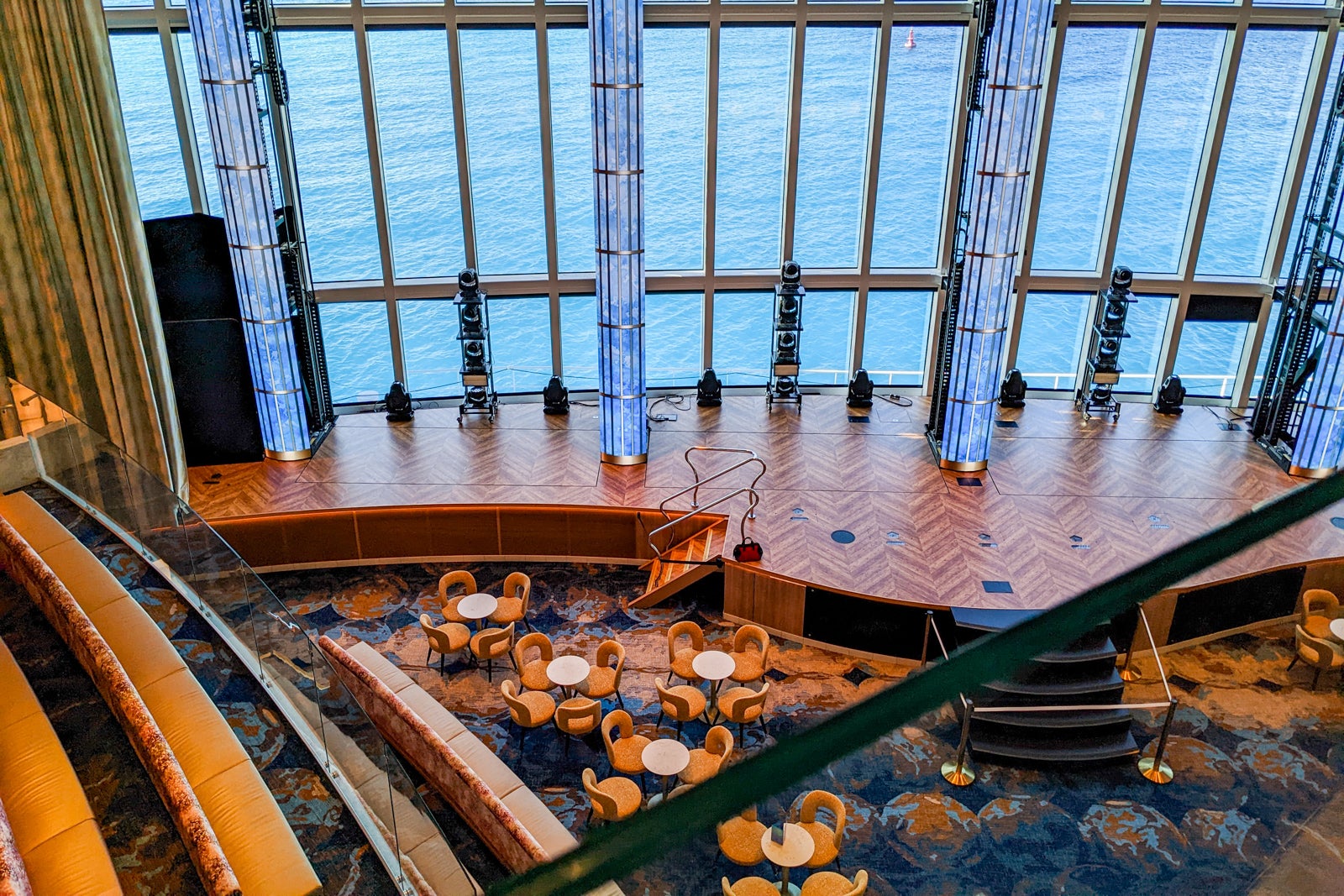 Celebration Central incorporates the atrium/performance area of the same name, JavaBlue Cafe, Bonsai Sushi, Bonsai Teppanyaki, Piano Bar 88 and the Punchliner Comedy Club. You'll also find the new Aquaria Bar, featuring two-deck glass murals rescued from Carnival Victory, and the Tropicale Bar on Deck 6, named after former ship Tropicale, which was the first ship in Carnival's fleet to have the brand's well-known whale-tail funnel. Look for the vintage blue 1934 Rolls-Royce, brought over from Carnival Ecstasy before that ship was scrapped, and the Golden Jubilee Bar, named in honor of the line's 50th anniversary and decorated with pieces formerly found on past Carnival ships.
Related: Why I'm sad Carnival is retiring its oldest ship
820 Biscayne
A nod to the address where Carnival Cruise Line was born 50 years ago, Carnival Celebration's 820 Biscayne zone is designed with a purposeful Miami vibe. Located on Deck 8 midship, this new area is a dining mecca, featuring Rudi's Seagrill (seafood), Cucina del Capitano (Italian), Miami Slice (pizza) and Deco Deli (Latin-inspired sandwiches). The area also includes Bar 820, serving Cuban-inspired coffee drinks and cocktails.
The Gateway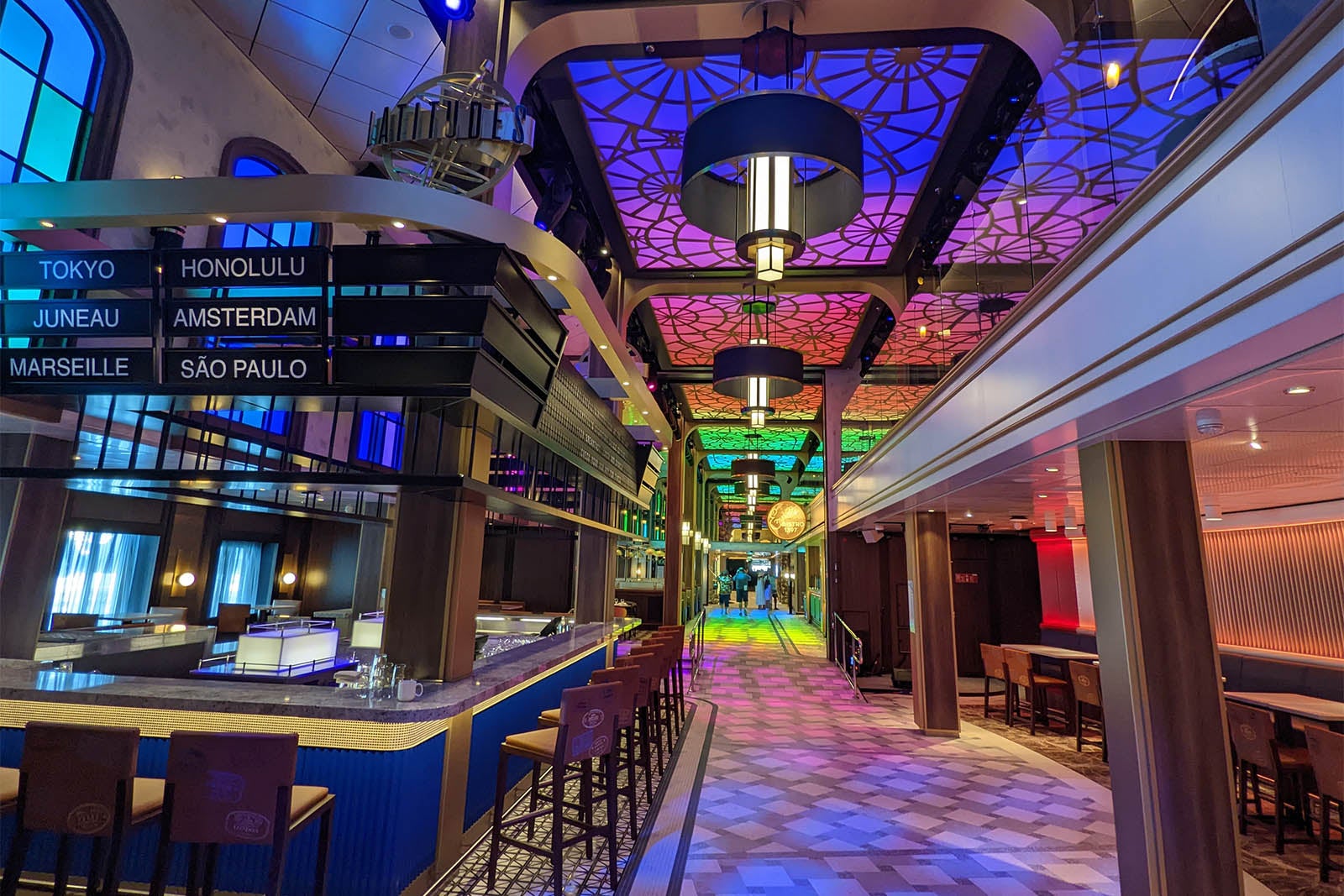 The new travel-inspired neighborhood The Gateway on decks 6 and 7 midship is most noticeable for its LED "windows" that display scenes from countries around the world, depending on the evening's theme. The new train station-inspired Latitudes Bar and returning Emeril's Bistro 1397 anchor this area, with the popular pharmacy-themed Alchemy Bar above. Emeril's serves Louisiana-style breakfast, lunch and dinner as well as three evening specials based on the day's international theme.
Related: The 5 best destinations you can visit on a Carnival ship
Also in this area are the Carnivale Restaurant and Festivale Restaurant, main dining rooms that pay homage to the second and third ships to sail for the brand, as well as the Limelight Lounge nightclub, Fahrenheit 555 steakhouse and Carnival Kitchen (a demo kitchen for cooking classes).
Summer Landing
Aft of 820 Biscayne, Summer Landing makes a comeback on Carnival Celebration. This area is your living room and backyard. Inside, the Heroes Tribute Bar, with its comfy couches and giant TV, spills into Guy Fieri's Pig & Anchor Smokehouse | Brewhouse; you'll find soft-serve machines in a military truck, a game room for foosball and table shuffleboard and a stage for live music. Outside, a small pool, two hot tubs and the Watering Hole provide an inviting spot to hang out on a hot day.
The Ultimate Playground
Thrill chasers will flock to the Ultimate Playground to get their hearts pounding. Here, the Bolt roller coaster, the second in the fleet, zooms over the mini-golf course and around the water park and ship's funnel. A packed basketball course and an elevated ropes course keep the fun going; foosball, pingpong and bean bag toss offer an easier form of competition. A jogging track encircles the entire Deck 18 playground.
The Lido
For all other outdoor pursuits, the Lido is your go-to spot. The midship pool brings back Dive-In Movies on a giant LED screen and is surrounded by a two-deck RedFrog Tiki Bar, Street Eats, BlueIguana Cantina, Seafood Shack and, one deck up, Guy's Burger Joint. Aft of the Lido Marketplace buffet is another pool, plus Shaq's Big Chicken. All the way forward on Deck 18 is the adults-only Serenity Deck, with a pool, two hot tubs and the Fresh Creations custom salad bar. Above is the Loft 19 sun deck exclusive to suite guests.
What we loved
The Ultimate Playground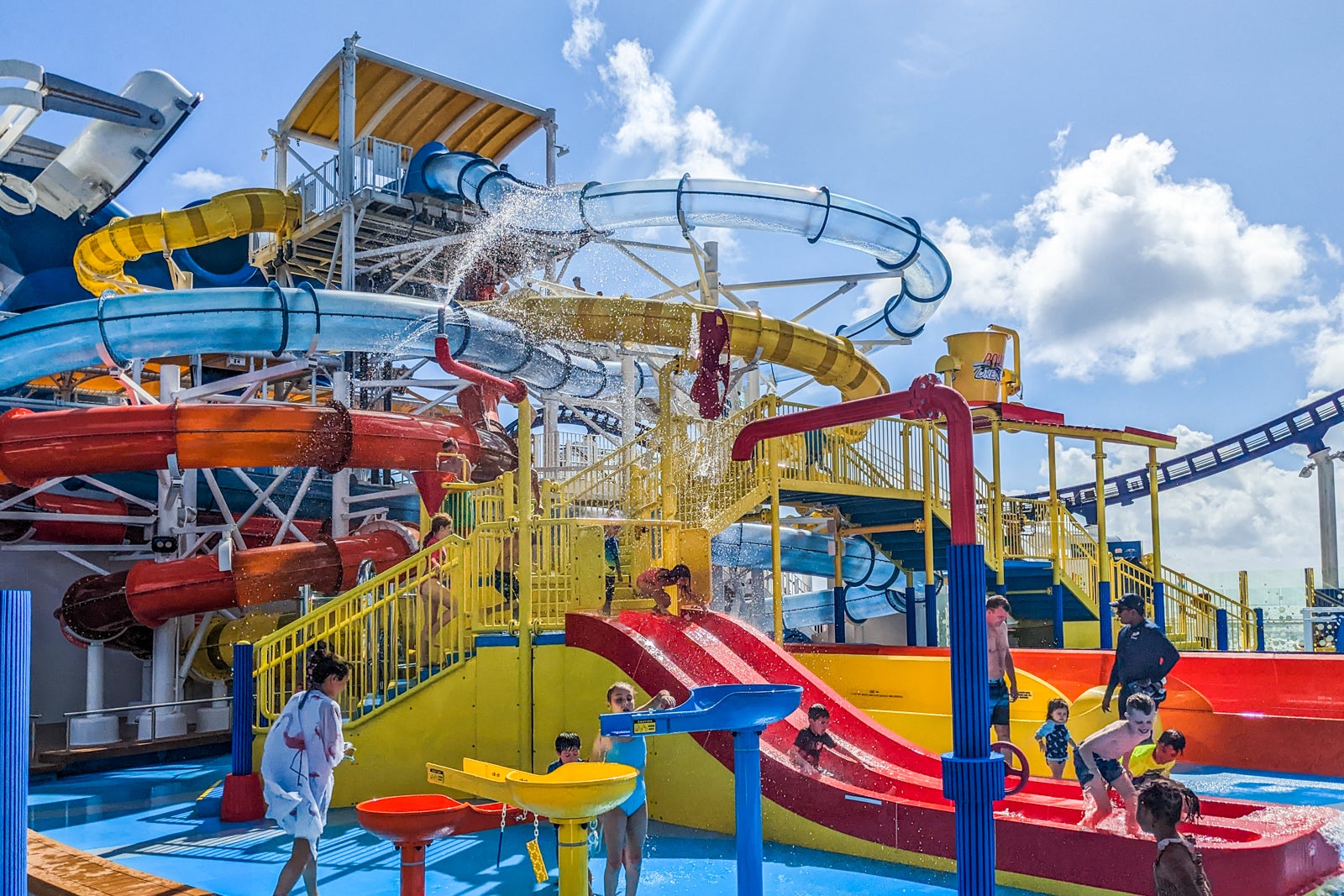 I've seen ships from other lines where the top-deck attractions take up so much space, the pools and lounging space get short shrift. Carnival Celebration manages to pack a lot into the Deck 18 playground, leaving plenty of real estate for the sun worshippers. The Bolt roller coaster is a worthy thrill ride — my only complaint is that for $15, it could be a bit longer. The ropes course manages to be both scary and completely manageable; you might feel like you'll fall, but the obstacles are easier than they appear. Definitely try the short zip line and "walk the plank" over the edge of the ship.
Related: The 8 types of Carnival ships, explained
The water park has three different slides to suit all tastes plus a splash park, and the mini-golf course is a fun time and actually tricky. I saw everyone from little kids to adults enjoying the basketball court, and Carnival lost the ridiculous outdoor exercise equipment from its Vista-class ships and kept only the games cruisers actually play.
Casual dining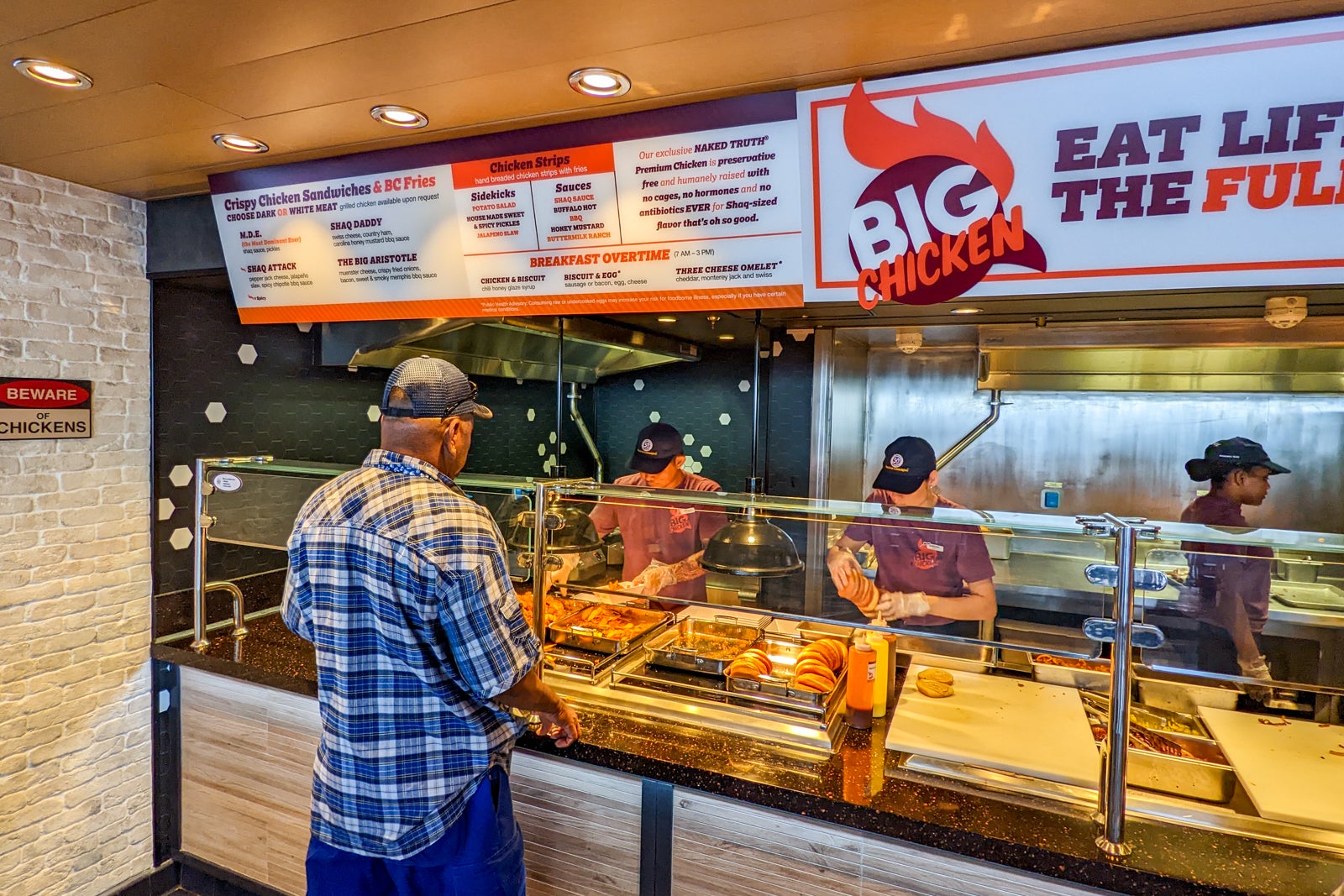 One of my favorite things about Carnival is that the line's ships offer a diversity of casual, included dining venues. Carnival Celebration continues this tradition. New with the Excel class is Shaquille O'Neal's Big Chicken venue serving variations on the fried-chicken-and-biscuit theme from breakfast through the late afternoon. The slightly spicy tenders are delicious. Carnival's pizza is some of the best in the biz, and the customizable tacos and burritos at BlueIguana offer something for everyone.
However, I've been on older Carnival ships where all the casual venues are on the lido deck, and the area gets incredibly busy at lunchtime. Too many people crowd into the same spaces, lines snake around corners and bumps and spills are unavoidable.
The Excel-class ships solve that problem by spreading out the casual venues across multiple decks. Guy's Burger Joint is up on Deck 17 instead of by the midship pool; Big Chicken is outside the Lido Marketplace at the very back of Deck 16. Each is accompanied by a duo of soft-serve machines that get heavy use.
Related: The ultimate guide to Carnival cruising
The deli, pizza and Guy's barbecue eateries are all on Deck 8, with a third ice cream outlet in the Heroes Tribute Bar. The only issue with this arrangement is that neither of these spots are big on vegetables; you can no longer get a salad at the pizza venue. If you want some greens with your pizza or turkey sandwich, you have to travel seven decks to the Lido Marketplace.
Sit-down dining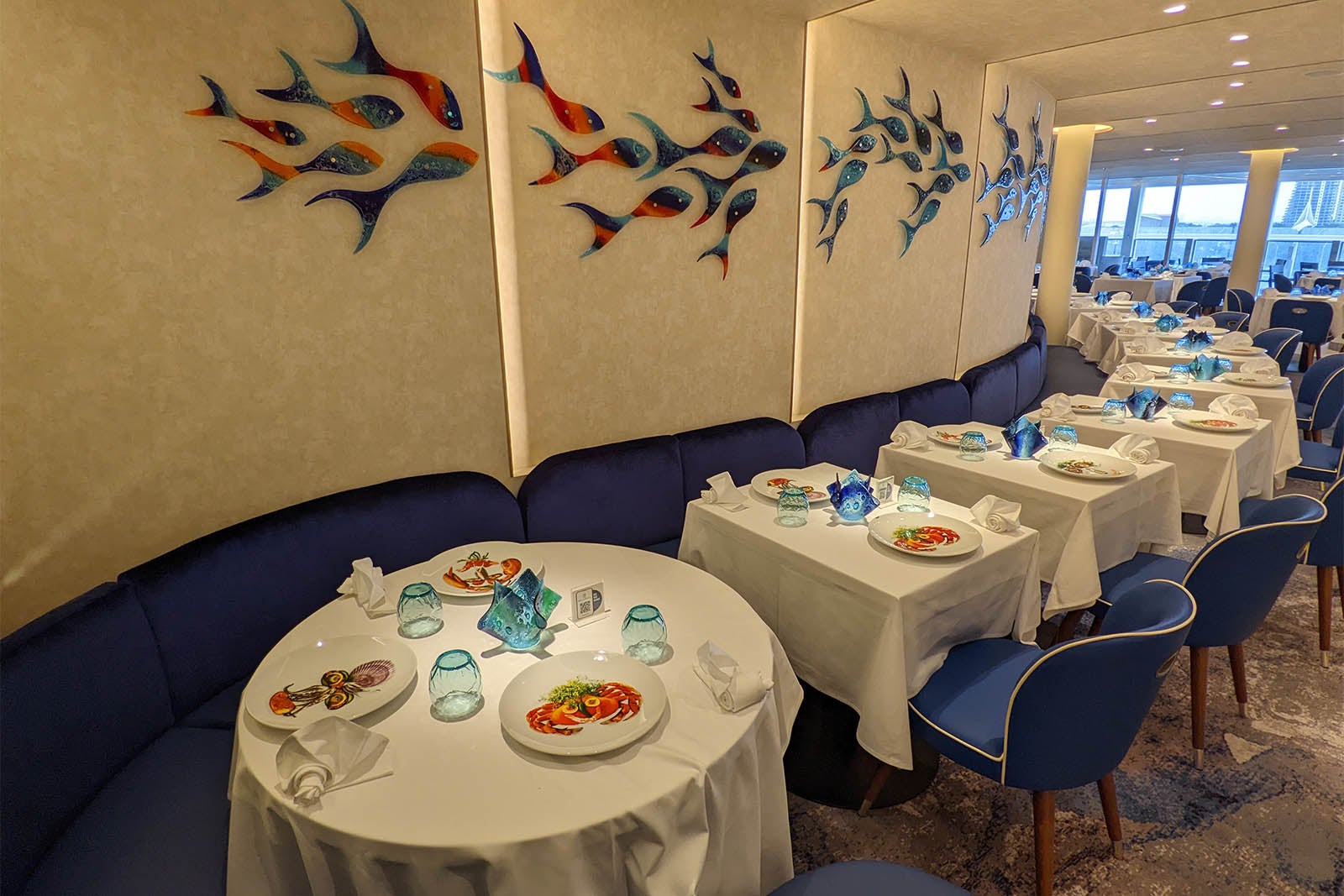 If you've never sailed with Carnival, you might be surprised to discover that it has some of the best sit-down dining among the big-ship lines. I have always enjoyed the main dining room, and Carnival Celebration continued the tradition of expansive breakfast menus, delicious Indian food, daring appetizers (where else can you order frog legs?) and the best molten chocolate cake on the high seas.
We sampled a few of Celebration's specialty restaurants, and they also impressed. Rudi's Seagrill delivered an enormous cioppino and a Dover sole that was soft and moist. Emeril's Bistro 1397 wowed my husband with a flavorful ceviche, while I enjoyed hot-from-the-oven beignets. We dined at Chibang! twice to try both its Asian and Mexican specialties. Both were delicious but we agreed that the Mexican menu stole the show. My kids slurped up pasta at Cucina del Capitano at lunch, and I heard others rave that the steakhouse was as good as I remember from other ships.
Cabins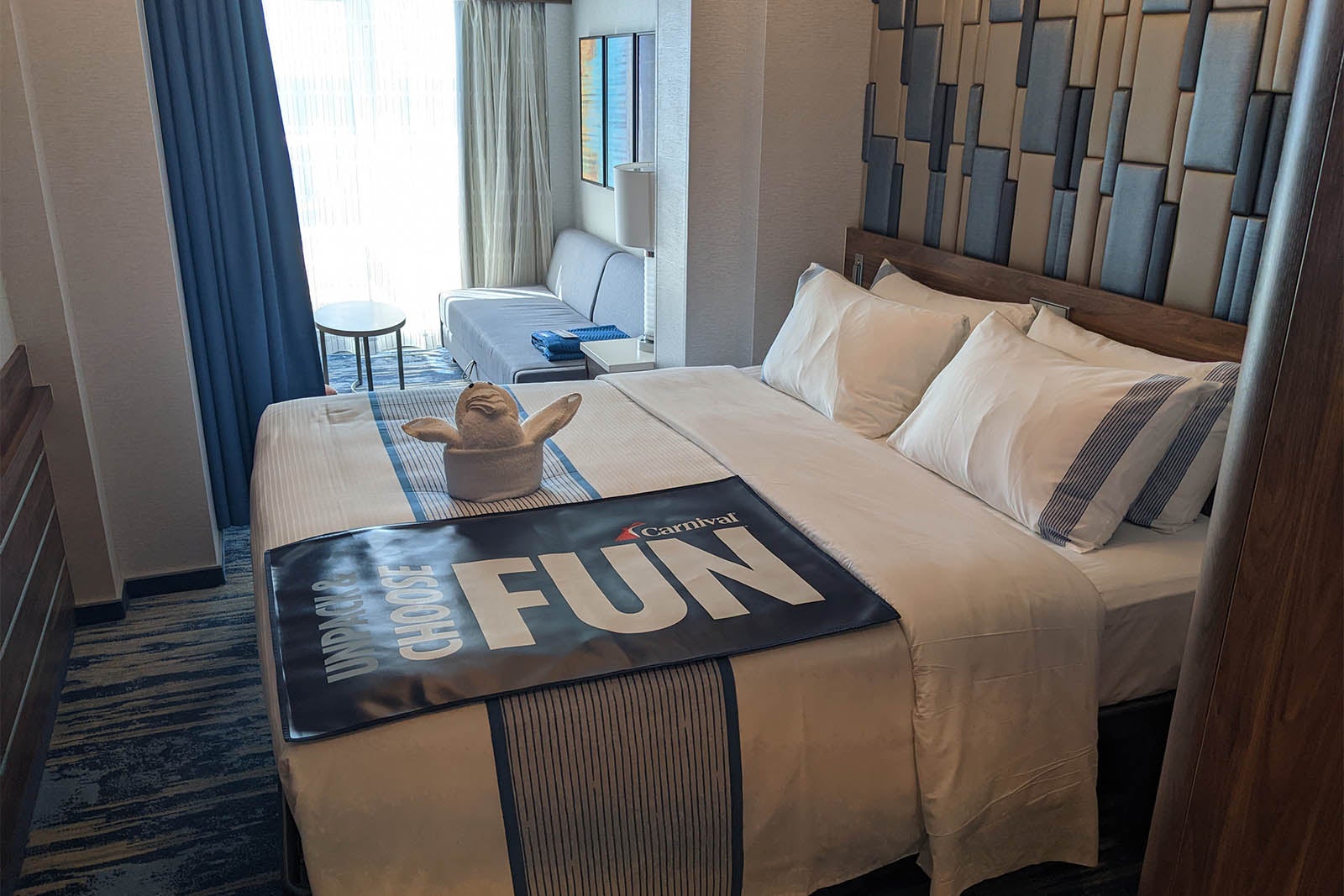 Carnival's Excel-class ships offer more cabin types than ever before, with family cabins, Havana cabins with patio swings, and all kinds of suites. I stayed in a standard balcony cabin with my family of four and was impressed by how well designed the room was to accommodate four people in a small space.
I'm always talking about cabin storage and Carnival nailed it. Its four-section closet had it all: tall and short hanging spaces, shelves and three pullout drawers. The desk area has two deep drawers and one shallow drawer, two shelves and an ottoman stool with storage inside. I had to ask for extra hangers (quickly delivered), but all our stuff found a home.
Related: Everything to know about Carnival cabins and suites
The bathroom was also impressive. I'm not sure two people could stand next to each other without someone stepping into the shower, but the shower itself is roomy for a bathroom that small. I never banged my elbows or kicked open the door in an attempt to pick a bottle off the floor. Plus, it has an adjustable shower head with a removable wand and a shave bar in one corner — thoughtful touches.
New bars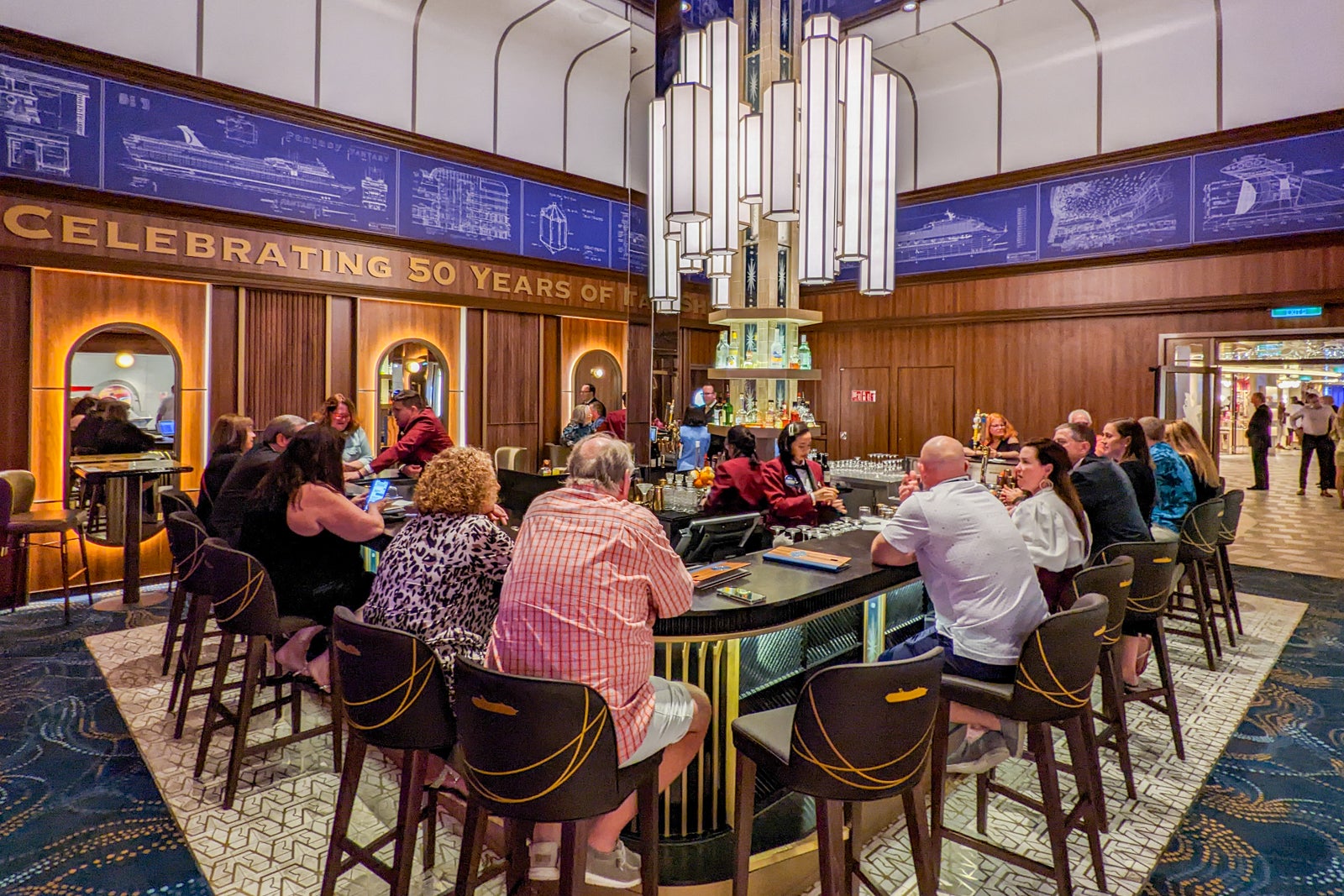 As a professional traveler, it's not a huge surprise that one of my favorite public areas on the ship is the travel-themed The Gateway. The Latitudes Bar called my name with its seatbacks decorated with faux passport stamps and split-flap departure board signage. My husband and I spent an enjoyable hour trying a couple of the bar-specific cocktails, inspired by countries around the world. For a photogenic and tasty tipple, order the Sakura, which comes with a surprise presentation.
And as a cruise buff, I also loved the new Golden Jubilee Bar, decorated with doors, glass, tabletops and other pieces from previous Carnival ships. It serves classic cocktails and takes up its own space, rather than spanning a public thoroughfare. It's the perfect place for a drink before a meal in the Carnivale main dining room next door.
Summer Landing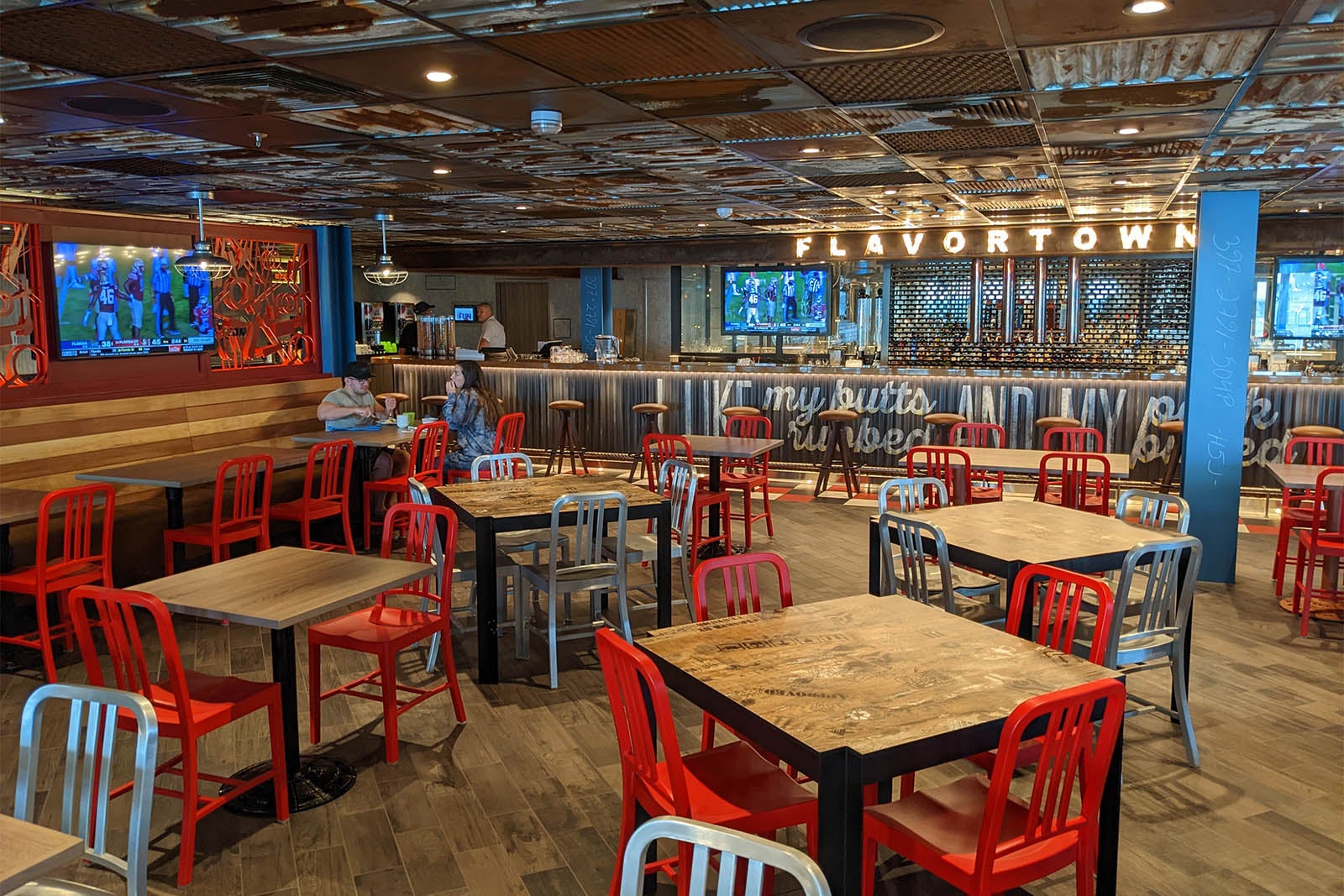 The Summer Landing zone on Carnival Celebration is the ship's living room, and my family found ourselves there often. My son was a big fan of the foosball and table shuffleboard, and my daughter loved the aft pool, with its loungers in the shallows. Both loved the easy-access soft-serve machine. We swung by Guy's Pig & Anchor Smokehouse | Brewhouse for breakfast and barbecue dinner, played trivia, sampled beers brewed right on board and watched other people watch sports at the Heroes Tribute Bar. I was bummed that I never got to hear the band that played here after-hours because the setting is perfect for kicking back with a drink and listening to live music.
The area takes the place of the RedFrog Pub, a venue I've loved on other Carnival ships. The decor here is a little darker, but the expanded size and proximity to a pool, hot tubs and outdoor seating are a definite plus.
Mixed bag
Celebration Central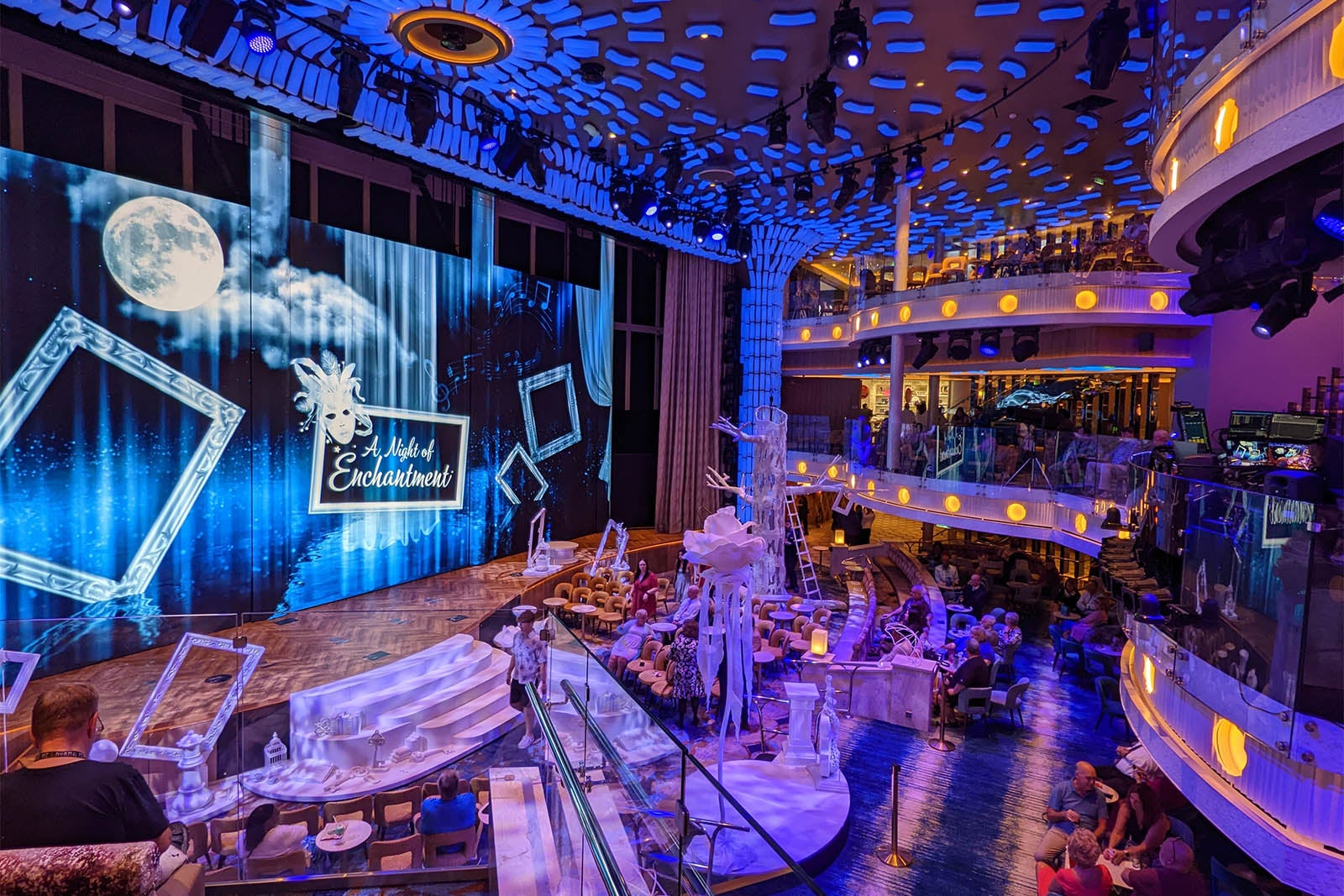 Unlike their fleetmates, Carnival Celebration and Mardi Gras both skip the soaring, multi-deck-high central atrium and replace it with a three-deck-high ocean-facing atrium along the ship's starboard (right-hand) side. The area was revamped and renamed Celebration Central area on this ship, decorated with color-changing lights designed to look like confetti. Guest services and shore excursions have been moved out of this central area to a more out-of-the-way spot on Deck 8 aft.
By day, panoramic windows offer port and ocean views to guests enjoying coffee and a snack from the JavaBlue Cafe across from Celebration Central's lower level. At night, video screens come down to serve as the high-tech animated backdrop for musical production shows featuring multiple aerialists and performers who dance in and out of passengers sitting closest to the stage.
Related: How to make the most of Carnival's loyalty program
I loved how the atrium area is now more incorporated into the daily flow of the ship, rather than an area you pass by to get somewhere else. The shows are stunning, with the action extending beyond the stage, including into the air. They make full use of the high-tech capabilities of the performance space.
However, the area lacks seating with full sightlines of both the stagebound singers and the aerialists. My family arrived at a show 40 minutes early and only by luck found close-up seats with obstructed views. At another show I attended solo, I found a lone seat in the stadium-style section of banquettes between decks 7 and 8. Even in this area clearly meant for show watching, I could not see all the action, and the noise from passengers wandering around Deck 8 and coming in and out of Bonsai Sushi was loud and distracting.
The hotel director assures me his team will find ways to schedule shows so fewer people show up, but I'm not convinced that enough seats in Celebration Central have full sight of the stage or that putting a theater in a public space is the best idea for focusing on a show.
Dining times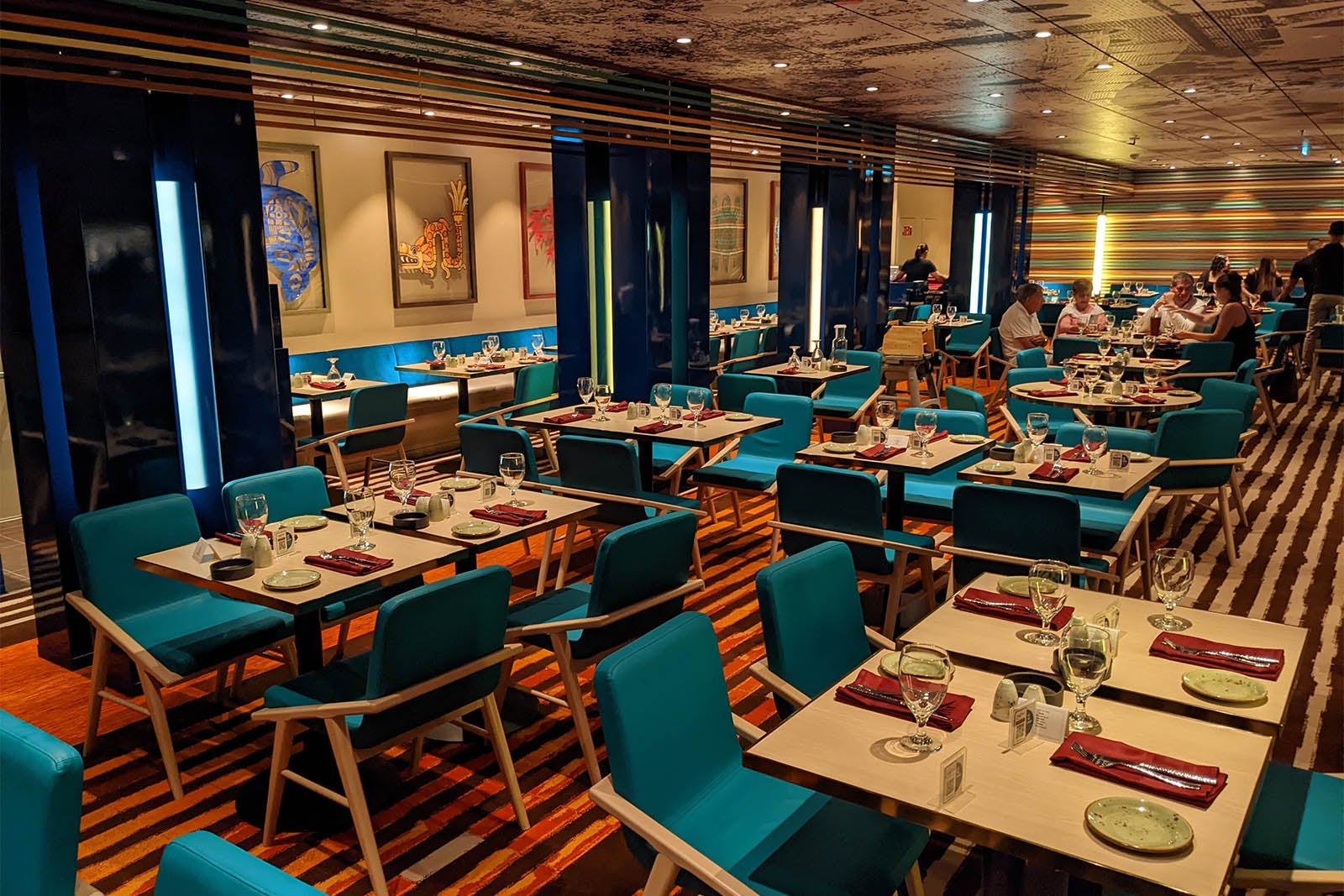 I appreciate what Carnival has tried to do on this ship to make flexible dining more accessible. In addition to the main dining room, passengers who have selected the Anytime Dining plan can enjoy dinner at Cucina del Capitano or Chibang! where they can choose dishes from the restaurant's menu or the always-available options from the main dining room menu.
You can request a table at a specific venue or choose the first available among all three.
The problem is that guests on the early or late assigned dining plan cannot access those restaurants before 7:45 p.m. We were assigned early dining, so the night we wanted to try Chibang! we requested a table exactly at 7:45 p.m — but there was a 50-to-60-minute wait, which led to a very late dinner for our kids.
And that wasn't the only restaurant with a wait. You can't request a table in advance for Bonsai Sushi, but when my husband and son came for dinner at 8:20 p.m., the hostess wasn't sure she could get them a table until close to 10 p.m.
It's likely that many of these dining issues are startup problems. The hotel director told me that it takes around six months for a new ship to be running like clockwork. So if you're on an early sailing, my advice is to dine early or request tables half an hour to an hour before you want to eat. If you like to try out different restaurants for dinner, choose the flexible dining option so you get earlier access to Chibang! and Cucina del Capitano for dinner.
Bottom line
Carnival Celebration, like Mardi Gras, takes the Carnival Fun Ship concept to the next level with a bigger ship and an updated layout that still hold true to the line's core values of dining variety, plentiful bars, entertainment for all interests and a focus on fun. Loyalists will find many of their favorite places and spaces and come to develop new beloved hangouts, while first-timers will be wowed by the nonstop options, livable cabins across all price points and the always-friendly and helpful crew members.
Planning a cruise? Start with these stories: