A Mystical Ride through Icebergs at the Glacier Lagoon in Iceland
Of all the other-worldly places in Iceland, the Jokülsárlón Glacier Lagoon is one of the strangest. After traveling two hours from Vík through some of the most barren landscapes we had observed in the South of Iceland, we arrived at Jokülsárlón for our glacier lagoon tour.
Like finding an oasis in the desert, the lagoon appears alongside the road after mile upon mile of bleak dark volcanic rock and ash. Suddenly you find yourself side by side with a lagoon that stretches back as far as you can see. My expectation was that from the shore we would see a few ghostly-white icebergs floating in the distance.
To my surprise, there were many icebergs so close it felt like you could practically reach out and touch them from the shore. And these weren't lifeless-looking, Hollywood-style icebergs. They were vastly different in shape, size, and color. A visit to the Iceland glacier lagoon is one of the unique things to do in Iceland.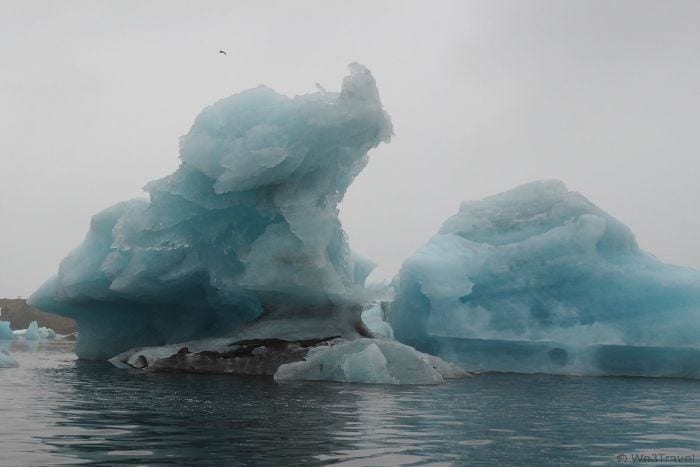 Note: My tour was hosted by Jokulsarlon, all opinions are my own. This post contains affiliate links. If you click a link and make a purchase, I may receive a small commission.
Some visitors drive out just to see Diamond Beach, the black sand beach that glitters with small chunks of ice, like diamonds on a velvet background.
Luckily, we had booked ourselves on a zodiac boat tour with Jokülsárlón, so I knew we were going to have a chance to get up close to not just the icebergs, but the glacier itself. But first, we had to gear up.
Going into a zodiac boat, I wasn't quite sure how wet and cold we were going to get and exactly what gear we might need. Luckily it wasn't a concern as they provide you with a floatation suit that makes you feel like a sumo wrestler. As long as you have a warm layer underneath, a hat, and at least a pair of thin gloves, you'll be fine — no need for additional bulk or waterproofing. You might get a little spray from the wake but no water gets into the boat, even though it does ride low enough to touch the water.
Jokülsárlón also offers amphibian (or duck) boat tours that are larger groups, can accept younger children, and are less expensive. However, these mostly go in and out of the icebergs and don't get up close to the glacier. We wanted the full experience so decided on the zodiac boat — which gets you close to the glacier but also really gives you a sense of the vastness of the lagoon.
After about a dozen of us were geared up in our flotation suits, we headed out into the lagoon. Once again, I was so surprised to see the great differences between the icebergs. Some were white, some were icy blue, others were zebra-striped, and others had sections of clear ice. The icebergs are always changing and moving, with some breaking up and others forming, creating a different experience day-to-day.
On our way out into the lagoon, our guide filled us in on the formation and ecology of the glacier lagoon. I was surprised to learn that the lagoon itself has only been around since the 1930s, as the Breiðamerkurjökull glacier beats a swift retreat from the ocean, leaving a lagoon that is up to 250 meters deep in its wake. The lagoon gets larger every year as global warming rapidly melts the glaciers.
In addition to the variations in color, we found the sizes and shapes of the icebergs to be as wholly unique as one snowflake to another. Some had that typical iceberg shape where you just know there is a lot more lurking underneath the water. Others were towering giants, while some were as pock-marked as Swiss cheese.
To add to the mystical feeling that we had happened upon a place from another planet, we visited late in the day and the sky was slate gray, with a bit of mist in the air. The lack of sun added a spooky factor that was especially apparent as we approached the glacier. If you have ever read the Game of Thrones books or seen the HBO series, the glacier edge resembles "The Wall" that separates the North from the land beyond. I couldn't help but expect to see the white walkers scaling its heights.
Even in the zodiac boat you still can't get too close to the glacier, as you never know when one might calve and send mountains of ice plunging into the lagoon and everything around it. While that certainly would be a sight to see, I'm actually relieved that we weren't there to see more effects of global warming — although I do admit feeling guilty and uncertain about taking a tour that was undoubtedly contributing it its effects. Sometimes trying to find that balance between protecting our earth and wanting to see the natural wonders of our world is a tough call.
It is really easy to see why Hollywood has been drawn to the glacier lagoon in Iceland as a movie set for movies like A View to a Kill, Batman Begins, and Lara Croft: Tomb Raider. In the James Bond film Die Another Day, they actually froze the lagoon so that Pierce Brosnan, as James Bond, could drive his car onto the ice.
The glacier lagoon in Iceland should be on everyone's bucket list. Whether or not you take the zodiac boat tour is up to you. It was cool to see the glacier itself, but if you are visiting other glaciers and are more interested in the icebergs, the amphibian boat tour is probably all you need — or just take a walk along the coast to view them from the land.
If you can't get there anytime soon, take a look at what a glacier lagoon tour with Jokülsárlón is really like:

Frequently Asked Questions about the Iceland Glacier Lagoon
What is the Glacier Lagoon?
The Jökulsárlón glacier lagoon is the deepest lake in Iceland. It is formed by the melting of the glaciers of the Vatnajökull National Park. It has quadrupled in size over the last 50 years and in recent years, the rate of growth is increasing.
Where is the Iceland Glacier Lagoon?
There are two glacier lagoons in Southeast Iceland. Jökulsárlón is the larger and more famous glacier lagoon, and Fjallsárlón glacier lagoon is located nearby. Jökulsárlón is approximately a five-hour drive from Reykjavik between the towns of Vík í Mýrdal and Höfn. The Glacier Lagoon is often included in a tour of the South Coast.
Where is Diamond Beach?
Diamond Beach, famous for the black sand that glitters with chunks of ice that wash up on shore, is located right across Route 1 from the Jökulsárlón glacier lagoon.
What can you do at the Iceland Glacier Lagoon?
Many visitors spend time walking along the shoreline to take in the view of the icebergs in the lagoon. However, you can also take an amphibian boat tour (also known as a duck boat tour) or a Zodiac boat tour that is smaller and takes you much closer to the glacier face. It is also possible to join an ice cave tour in nearby Vatnajökull Glacier.
Can you swim in the Glacier Lagoon?
The Jökulsárlón glacier lagoon is the deepest lake in Iceland at 200 meters deep. It is not recommended to swim in the lagoon, even in a wet suit.
How long do you need at the Glacier Lagoon?
Plan to spend about two to three hours if you have booked a boat tour. Because it is hard to judge exactly how long it will take you to get there, be sure to leave extra time in your itinerary to arrive early and spend time stretching your legs and enjoying the views.
Is the Glacier Lagoon worth it?
If you can work it into your itinerary, it is absolutely worth the drive out to the Glacier Lagoon. I can't think of another place in the world with such unique and spectacular views. I would suggest spending a day driving along the South Coast, stopping at some of the sight. Then stay two nights near Jökulsárlón and on the second day you can take a boat tour, visit Diamond Beach, and probably also fit in either a glacier hike or ice cave tour.
For more ideas on what to do in South Iceland, check out my five-day sample itinerary and these Iceland travel tips.
SaveSave
The post A Mystical Ride through Icebergs at the Glacier Lagoon in Iceland appeared first on We3Travel.